Garmin Forerunner 30 review
Garmin's cheapest Forerunner is a solid budget motivator for road runners...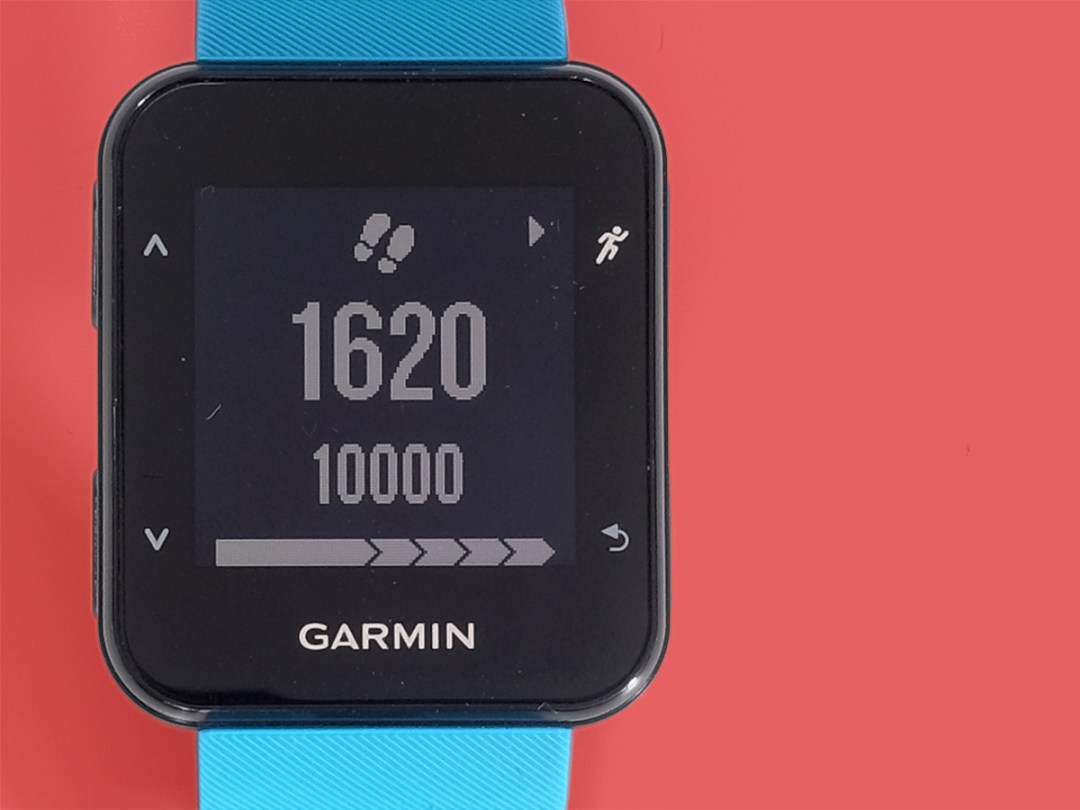 The Garmin Forerunner 30 is a watch that's been built for new year's resolution runners.
That's no demeaning dig at either this Forerunner or its wearers – whatever time of year you resolve to start running regularly, it's a decision that's to be both applauded and, ideally, supported by gadget-based motivation. And you don't need a £500 Fenix 5 for that.
The Forerunner 30 is a runner's watch that's been simplified as much as Garmin can stomach. So while it's more involved than a Fitbit Flex, it's also far more accessible than the multi-sport Fenix.
If you regularly head to the gym, the greater flexibility offered by the likes of the TomTom Spark 3 or Forerunner 35 are better bets. But if you are, or plan to be, a road runner and that's it, the Forerunner 30 is a great, affordable option…
Design: do ya think I'm blocky?
The Garmin Forerunner 30 design is a case of "if we add some colour, maybe it'll look less ugly".
Its face is a dumpy rounded-off rectangle lumbered with icons that'd make most lifestyle wearable designers wince. But the colourful, wide turquoise strap really does take some attention away from what looks like something that should be hidden in a pocket, not shown-off on a wrist.
The Forerunner 30 also comes with purple and slate grey straps if turquoise isn't your colour of choice. The strap comes right up by the glass face of the Forerunner 30, helping to hide that it is actually fatter than it appears in many photos.
When some of the design elements are right, it makes you wonder why its face is still, well, just look at it. Looks-bashing aside, one important element of the Forerunner 30 is that it doesn't immediately look like a hardcore run tracker. It's fuzzier, friendlier, and that suits the little thing's aims perfectly.
Interface and screen: simple pleasures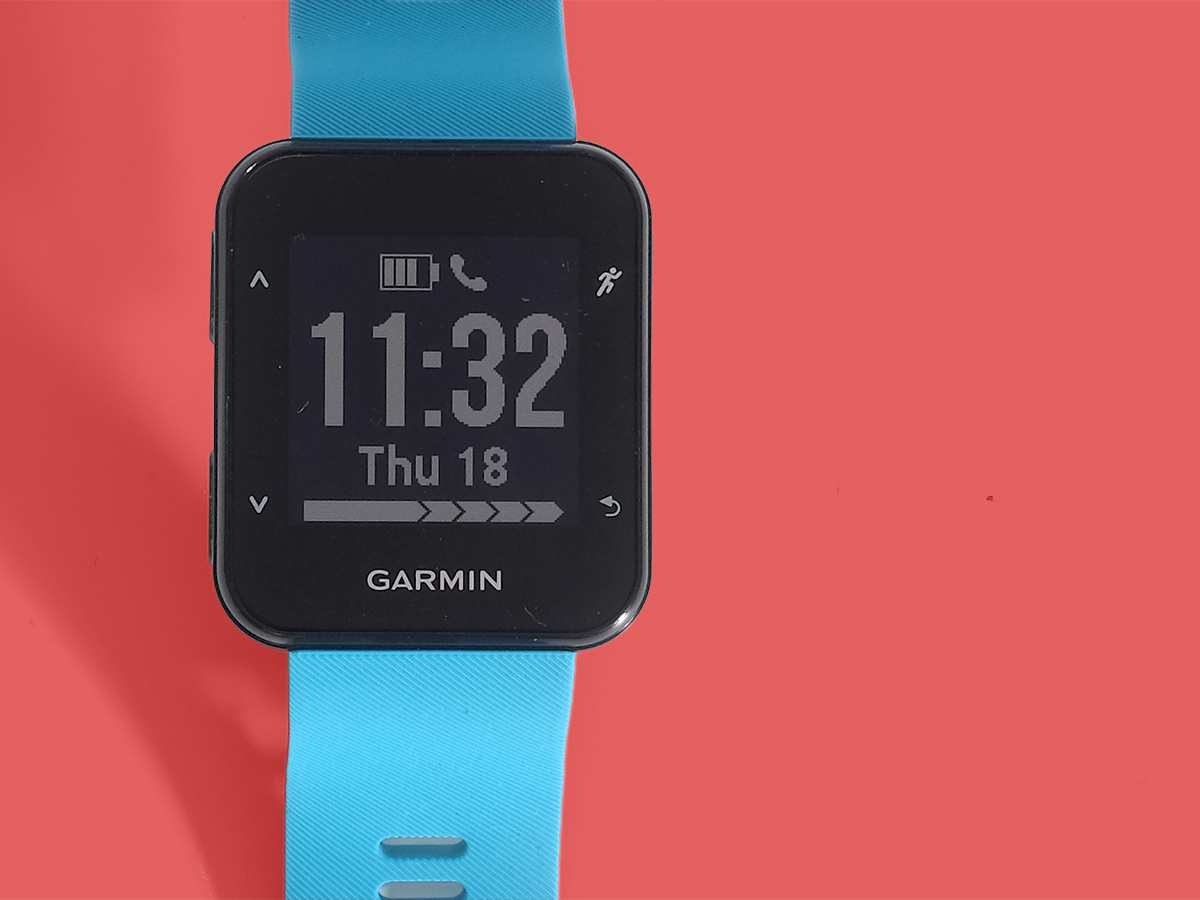 The Forerunner 30 is also extremely easy to use. There's no touchscreen, just four chunky buttons, two on each side.
The buttons on the left-hand side let you scroll through homescreens. These show you your heart rate, notifications, step total, calories, active minutes that week and the stats of your last activity.
Just use these and the Forerunner feels much like a light and breezy step tracker. The screens flip by fairly quickly too, and the Garmin Connect app lets you zap most of these, making the interface even simpler.
You don't have loads of watch faces to choose from, just analogue or digital, but the Forerunner 30's screen is extremely clear in daylight.
Like Garmin's other gear, it uses a transflective memory-in-pixel screen. It's always-on, and only gets clearer in bright light, unlike a normal LCD. At night you have to press one of the buttons to make it light up, but is fairly clear then too.
There's no colour, just light sepia-tinted monochrome, but we've been fans of Garmin's screens for years. Wearing a Forerunner 30 feels much like wearing a proper watch.
Fitness tracking: keeping it casual
To start an activity you press the turquoise button on the right side, then once again to start the timer. That's it, no menu faff required.
There's no need to select the kind of activity because the Forerunner 30 uses its Move IQ software to judge what we you were doing. In my experience, it had no trouble separating walks from runs.
Move IQ finds its limits when you head to the gym rather than staying outside. Run on a treadmill and your activity may just be listed as "cardio". A less simplified tracker will often let you pick from a range of indoor activities, but this one is really made for the outdoors. That said, it does switch to using accelerometer data for distance when there's no signal or you're not moving.
The Forerunner 30 is smarter than it may initially appear. You get 24×7 heart rate tracking, although unlike some of the latest models the sensor doesn't actually run all the time.
It also struggles a bit with high-intensity training. At times when it should have read 170-odd bpm, the Forerunner 30 happily displayed 150-something — way off. There's no way to connect a separate heart rate sensor wirelessly either. If you demand great HR accuracy, think twice, although it might be possible to get better results by wearing the watch even tighter.
Out on the street, the watch's GPS offers solid tracking, and the app shows your route in map form. There's some smoothing-off of your route, but it's easily good enough to satisfy most casual runners.
Smarts and battery life: a mixed bag
Other smarts need work, though. This watch can get notifications from your phone, but getting this to work is a struggle.
To start with, the Forerunner 30 didn't receive notifications at all. After a couple of days of fiddling around we reset the watch and re-paired. It worked, sort of, but the Forerunner 30 now only receives basic notifications, and hangs when you scroll through them.
Garmin Connect makes it look as though you can get all kinds of notifications on the Forerunner 30, but Garmin's own website only mentions "basic" ones (SMS, calls). Either way, notifications have problems.
This may have affected our read on battery life a little, but Garmin's claim of five days of general use seems about right. If you use GPS for short stints, perhaps 20-30 minute runs, you'll still get the better part of a week's use between charges.
It'll last for up to eight hours of full GPS tracking, which is on-par with Garmin's other small trackers. The TomTom Spark 3 lasts for up to 11 hours, though, or three weeks of life as a watch and step tracker, so it doesn't lead the field here.
Garmin Forerunner 30 verdict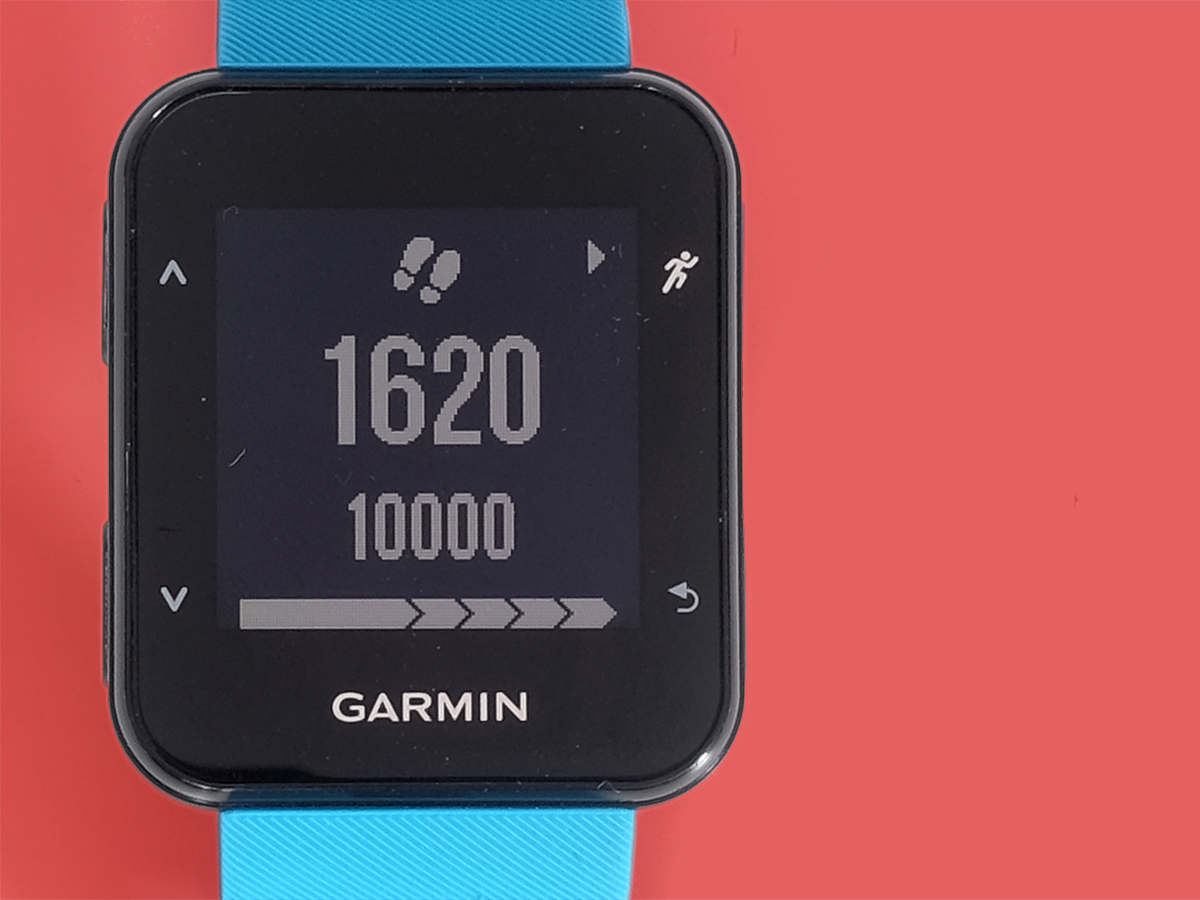 Should you buy the Garmin Forerunner 30? That really depends on whether you'll miss the bits chopped out of the Forerunner 35 – namely ANT+ for hooking up external heart-rate sensors, and the ability to track sports other than running.
If you use the gym rather than just run outside, you probably will. If you want to use a chest strap HR sensor, you definitely will. The HR sensor struggles a little with high intensity exercise and the notifications need work too.
But despite all of this, the Forerunner 30 remains a great buy if you mostly stick to outdoor running. It's a stripped down Garmin watch for casual pavement pounders, and for that it's a great option at this price.
Stuff Says…
Garmin's simplest running watch lacks flexibility and software sheen, but it's a great budget choice for road runners
Good Stuff
Very easy to use
Clear screen
Solid GPS tracking
Garmins don't get cheaper than this
Bad Stuff
Buggy phone notifications
Not a looker
HR sensor struggles with high intensity workouts