Garmin Venu Sq – Music Edition review
More than just a fitness tracker?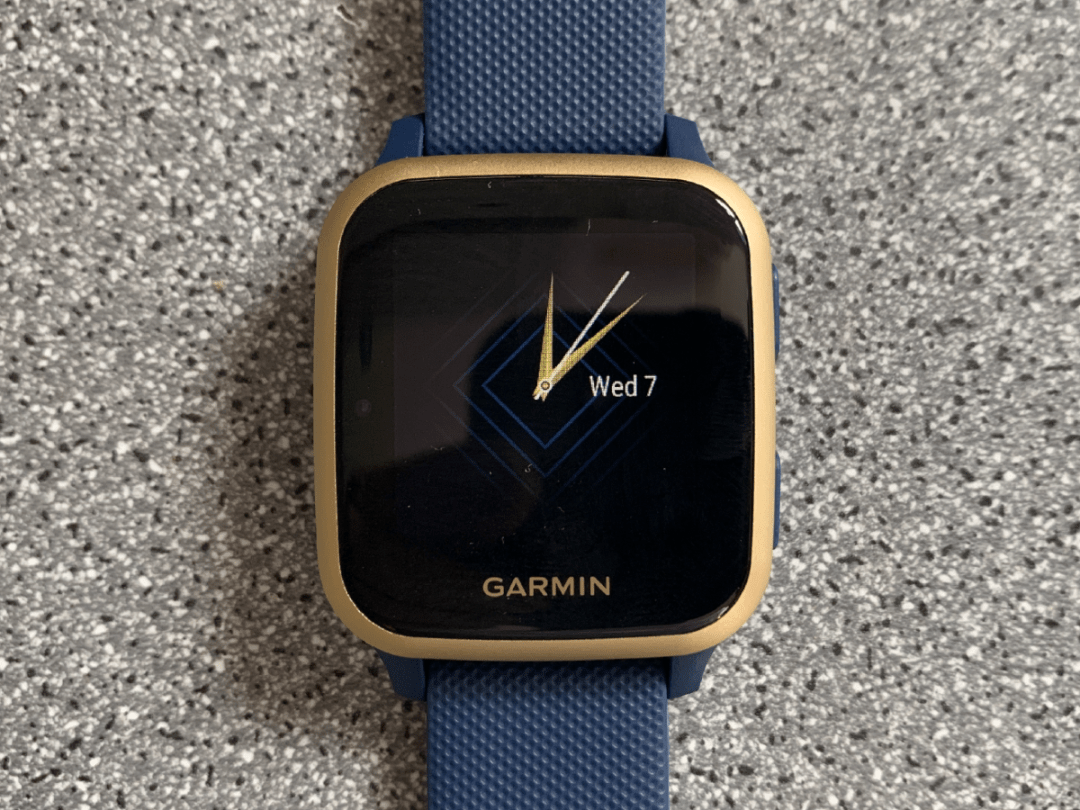 If you're running your first marathon, training for a triathlon, or trekking 170km along Egypt's Red Sea Mountain Trail, Garmin's range of high-end, adventure-ready wearables has always had you covered.
But with mere mortals now aware of things like VO2 Max and kale, there's a growing need for more affordable, everyday watches that combine normal smartwatch functionality with fitness-tracking features that are more sophisticated than just basic steps.
Enter the Venu Sq – a smaller, cheaper, squarer version of Garmin's more premium Venu that swaps stainless steel for plastic and LCD for OLED, hence the lower price tag. In fact, if you opt for the standard version it's even cheaper, but we've got the £230 Music Edition, which allows you to connect Bluetooth headphones and listen to music without needing your phone nearby.
That puts it in proper smartwatch territory price-wise, so can the Venu Sq stake a claim for your wrist? Or is this just a fitness tracker with ideas above its station? We spent a week wearing one to find out.
Design: A familiar face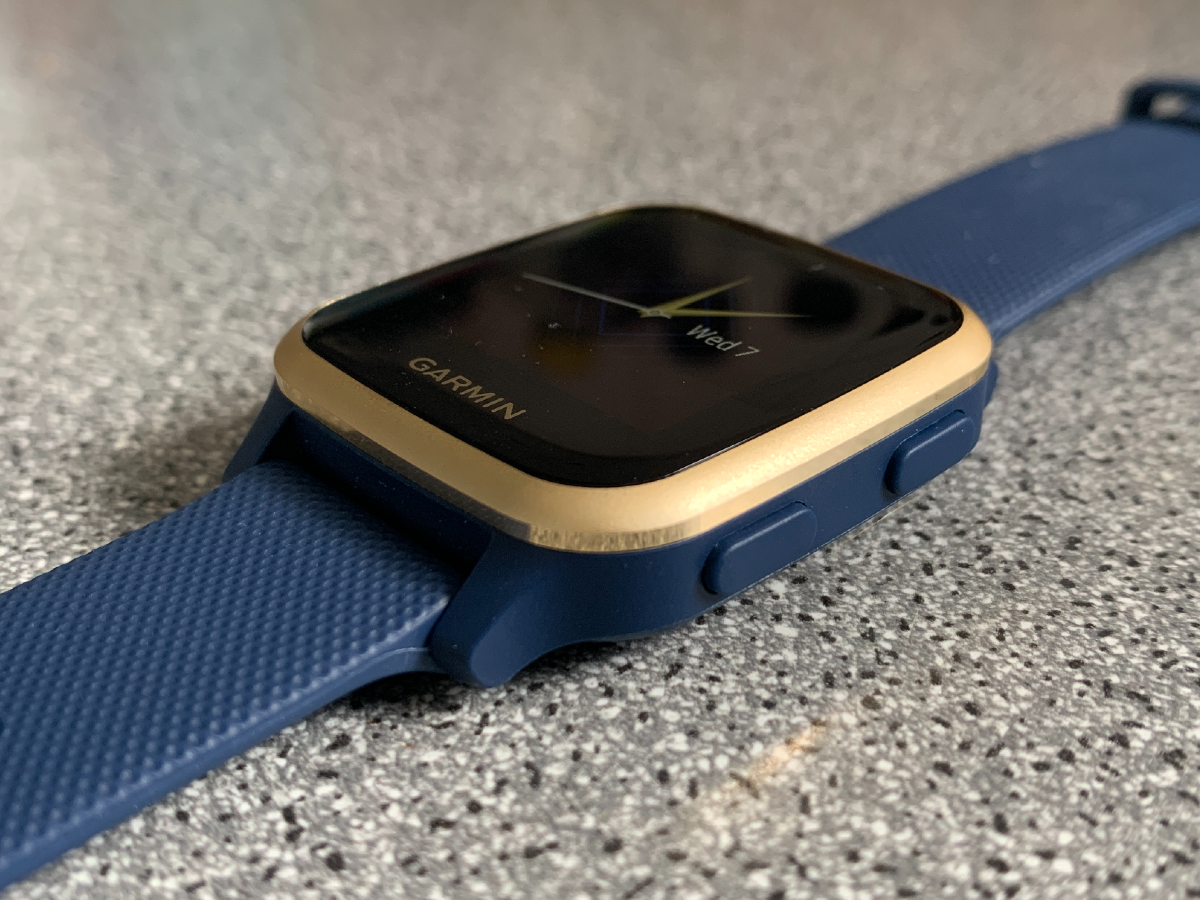 Apple frequently leads where others follow and there's no better proof of that than the recent glut of smartwatches that look like they've been hanging around an Apple Watch for a bit too long.
Up close, the fully waterproof Venu Sq's plastic case, smaller 1.3in touchscreen and double-button design all give it away, but at a glance the rounded-off corners of its squarish display will probably have a few people fooled. The aluminium bezel is a nice touch too, but the actual visible screen is smaller than it looks, which does make the watch feel a bit dated.
We're not crazy about the blue and gold version Garmin sent us to test, but there are six other finishes on offer, although which ones you can choose from will depend whether you plump for the more expensive Music Edition or not, which seems unnecessarily limiting. The dark green version with slate bezel is nice, for example, but not an option unless you're willing to pay more.
The quick-release silicone strap is very comfortable though, and you can buy various coloured replacements in silicone, nylon, suede, leather and Milanese mesh if you fancy a change. While it hardly screams luxury, the Venu Sq certainly isn't as utilitarian as Garmin's more explicitly fitness-focused watches. Wear one of these and nobody's going to assume you're a PE teacher who's popped out to buy some new shuttlecocks on their lunch break.
Features: Fitness fanatic
While the Garmin Venu Sq's notification powers are pretty limited – you'll need an Android phone if you want to do any more than just read them – it's very well stocked when it comes to health and fitness.
It'll help you monitor hydration, respiration, menstruation and other things that don't end in 'tion', while the list of exercises it'll track goes from bog standard outdoor runs, rides and general cardio to skiing, stand-up paddleboarding and pilates. There's GPS and an optical heart-rate sensor onboard, which both posted comparable numbers to those logged by an Apple Watch SE, Coros Pace 2 and Garmin Forerunner 45 on the same route, although it's perhaps a little generous when it comes to distance.
You can also instruct the Venu Sq to take regular Pulse Ox readings, otherwise known as SpO2. If you've been paying attention recently you'll know that's one of the features left out of the Apple Watch SE, and while we're still not entirely convinced how useful it is for the majority of users, its inclusion here means you don't necessarily need to shell out for a Series 6 if the amount of oxygen in your blood does happen to be of interest.
In fact, as health and fitness features go, the Venu Sq has got pretty much everything covered and Garmin's no-nonsense approach to activity tracking is a real strength. Starting and stopping workouts requires nothing more complicated than a single push of a button, while the unfussy screens make it easy to see your vital stats even when you're gasping for breath.
If you spend the extra £50 on the Music Edition you'll be able to listen to your own tunes phone-free, with support for syncing offline playlists from Spotify, Deezer and Amazon Music. Using Wi-Fi to do so absolutely hammers the battery – our 130-song running playlist took about half an hour and wiped just over 30% off it – so you'll want to plug it in first.
It's a useful feature if you don't like exercising with a 6in glass slab strapped to your arm, but it's not without its issues. We found the touchscreen controls to be a bit fiddly while running and it could occasionally be temperamental with playback. We kept having to re-pair our headphones as well. Considering the price drops to £180 without it, we'd suggest it's probably worth saving your cash.
The Venu Sq also has Garmin Pay onboard, so if you're out without your phone and remember you need to pick up some carrots it's still got your back. It'll also sync with your calendar and tell you what the weather's doing, but that's about as far as it goes for smartwatch features. If you're looking for extra apps you'll need something that runs a more sophisticated operating system. Speaking of which…
Software: Simple but effective?
The Venu Sq runs Garmin's own software, which is a bit on the basic side. That has its benefits when you're out pounding the pavement, but it also means the day-to-day stuff suffers somewhat.
Garmin's pre-loaded watch faces are uninspiring, particularly when you add extra data fields such as current heart rate or remaining battery, and the vast majority of the downloadable ones look very DIY, which isn't surprising considering most of them are user-submitted.
Swiping up or down on the Venu Sq's screen allows you to scroll through its widgets (although it doesn't like the rain) but to make the most of the data generated by the watch you'll need to familiarise yourself with Garmin's Connect app, which can be a bit of a cat's brunch. It's fine for the basics, giving you a daily at-a-glance breakdown of your vital stats, but it does overcomplicate some things and it can be a pain to find what you're after, even when you've been using it for a while.
When you do track it down though, there's plenty of data to get stuck into. While we're not totally sold on Garmin's own Body Battery stat, the graphs and charts on things such as heart rate, VO2 Max and sleep are easy to understand. The latter breaks things down into light, deep and REM slumber, plus it has separate screens for Pulse Ox and respiration. What you're supposed to do with that information, however, is less clear.
Performance and battery life: Always-on time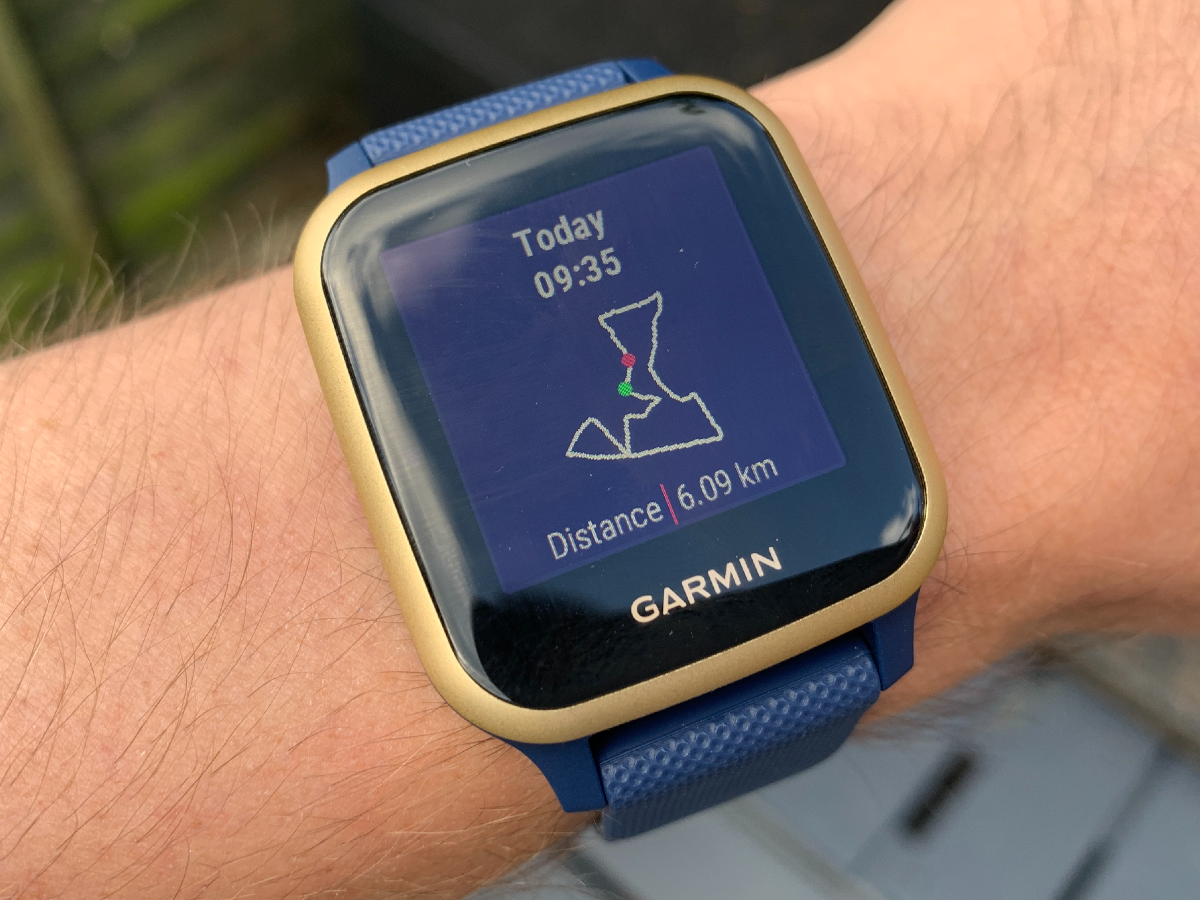 If the idea of having to charge your watch every night puts you off, the Venu Sq's six-day battery life should put your mind at rest. Whether you get that out of it depends on which features you have turned on – and there's one we'd say is crucial that'll shorten it fairly significantly.
24 hours into our week with the Venu Sq we activated the display's always-on mode, which dims it and drains out the colour when it's not in use. Without it the watch just wasn't responsive enough to arm movements and wouldn't always illuminate when needed. We also had regular Pulse Ox readings turned on, went for a soggy 6K run with music, and wore it to bed each night and still got three full days out of it. More stamina-conscious use can easily extend that (just turning off the SpO2 sensor, for example, seems to make a real difference).
While the Venu Sq doesn't feel underpowered or sluggish to use, it can struggle to keep up if one of your WhatsApp groups suddenly bursts into a flurry of activity. The 240×240-pixel screen is sharp enough but sometimes feels a little cramped; it can be fairly easy to prod the wrong thing, although it's generally very responsive.
When the time comes to plug it in, the fact that you have to use Garmin's special charging cable is a bit of a pain but you don't need to leave it tethered for too long – charging from flat to full only takes about 90 minutes.
Garmin Venu Sq verdict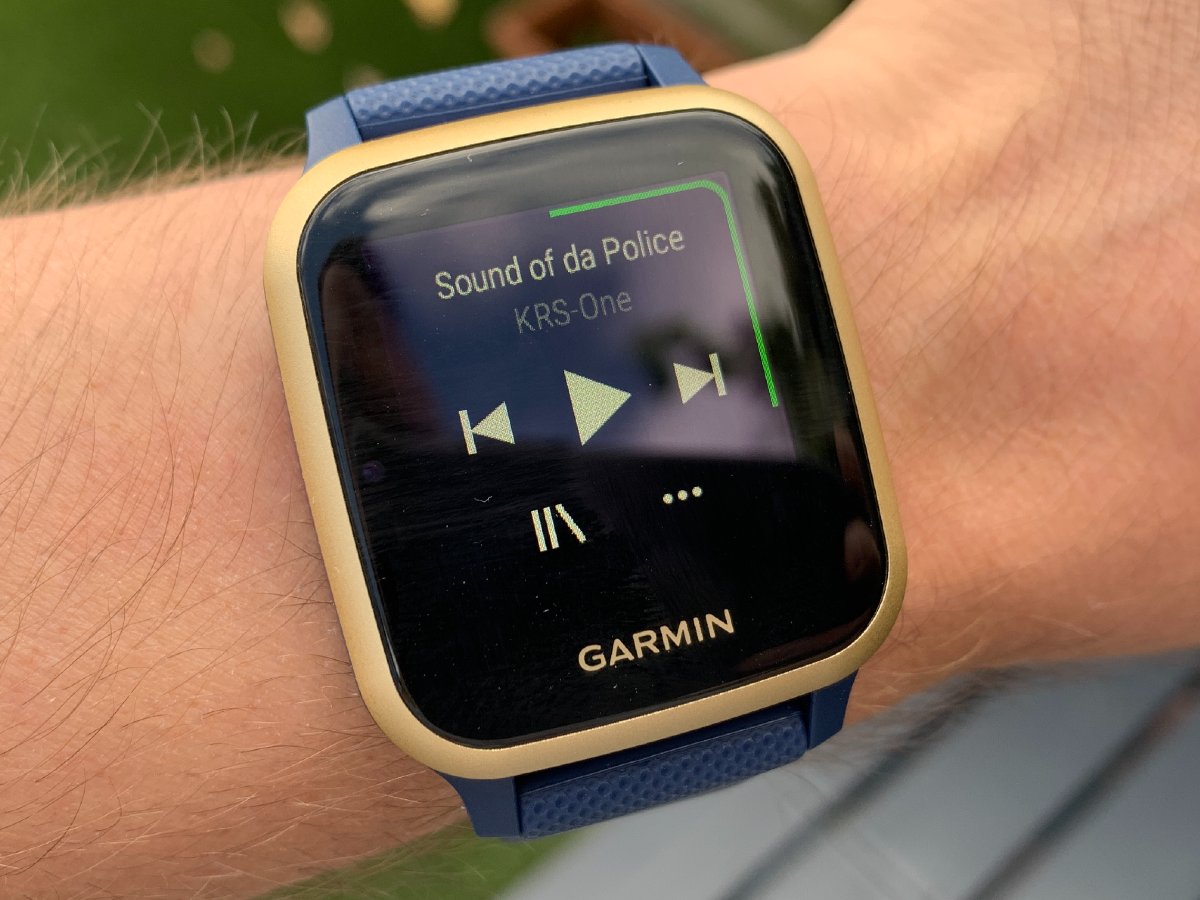 When it comes to health and fitness there's no doubting the Venu Sq's credentials. It's packed with features that you often have to pay much more for.
The Venu Sq is being touted as a lifestyle device, though, and on that front it's less successful. Garmin's interface also looks rather dated when compared to the competition.
Eschew the music functionality, save yourself £50, and the Venu Sq starts to look like a much more tempting prospect – just don't expect top-of-the-class smartwatch skills.
Tech specs
| | |
| --- | --- |
| Screen | 1.3in, 240×240 LCD |
| Sensors | GPS, Heart Rate, Compass, Accelerometer, Pulse Ox |
| Connectivity | Bluetooth, Wi-Fi, ANT+ |
| Waterproof | 5 ATM |
| Dimensions | 40.6x37x11.5mm, 37.6g |
Stuff Says…
A very capable fitness tracker – but its smartwatch credentials can't keep up
Good Stuff
Loads of stats
Decent battery life
Comfortable
Bad Stuff
Music Edition costs too much
Dated interface
Limited smart features