Garmin Vivosmart HR+ review
A top tier tracker that's got some GPS smarts too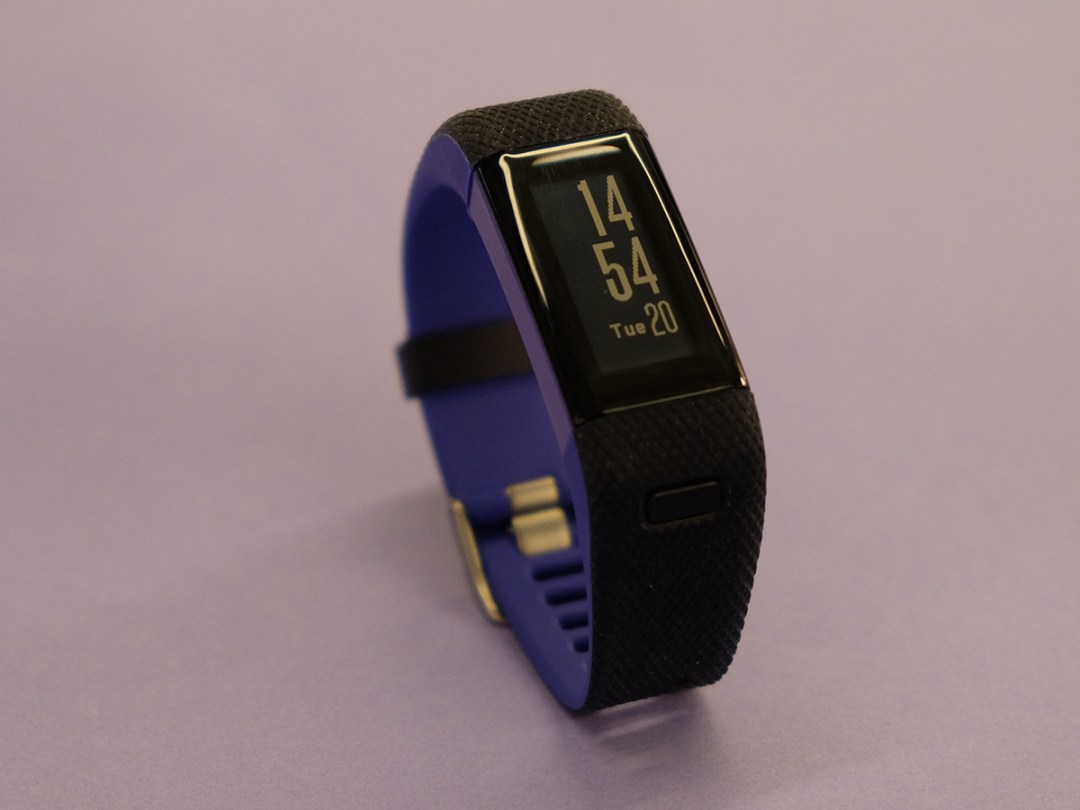 Garmin has been pumping out some seriously great fitness trackers lately.
From the stylish Vivomove to our current number one, the Vivoactive HR, Garmin seem to have something for all tastes. Here's hoping they manage to keep up that streak with an upgraded version of last year's Vivosmart HR.
The original went down a treat upon release, but for the Plus model they've thrown in GPS for good measure. Oh, and they've had a bit of a play around with the looks, but other than that it's pretty much the same.
Will that be enough though to warrant the £50 price hike, though? I strapped on the HR+ to find out.
Garmin Vivosmart HR+ Design: Bit of a minus
Is the HR+ much of a looker? Nah, not really. It's a big lump of coloured plastic, covered on the top side by an almost tyre-like rubber texture.
Does that sound like your cup of tea? Then all power to you, but for most it's fairly bland. That shoe-sole-esque coating picks up dirt like no one's business too, so you'll have to give it a good scrub every week or so.
It's also a bit on the bulky side for a fitness tracker – possibly on account of the added GPS smarts.
The thick and wide unit spans your whole wrist, regularly getting caught coats and giving you one massive cuff whenever you wear anything with sleeves. Unless your wardrobe consistst exclusively of baggy hoodies.
The strap's not all that comfy either. To make sure the tracker doesn't slide (and to ensure it gets a proper heart rate reading) you need to wear it pretty tight, making the clasp and the heart rate sensor (which sticks out a bit) dig into the wrist.
It's not so bad at first but, get moving and the friction could leave some chaffing. Not what you want from something designed to get you active.
The display is alright, though. It's a nice, simple little monochrome affair. There's enough detail to give you a clear readout of whatever you want, without having to cram things in, but just like with other small-screened trackers, you'll have to do a bit of swiping to take in everything you need.
Thankfully, it's not all touch-controlled, or the feature-packed Garmin would have you scrolling for days.
There's a little button just below the screen that swaps from the standard activity tracking mode into workout mode, as well as letting you access your settings.
Garmin Vivosmart HR+ Features: Jam-Packed
The Vivosmart HR+ does pretty much everything a fitness tracker should do (think time, steps, calories, distance) and a whole bunch more besides.
Once you're hooked up to your phone via Bluetooth, you can receive notifications, control your music and even check the weather to make sure you don't get caught with your shorts on in a storm.
If the weather does turn nasty, you won't have to worry about your watch: the HR+ will be fine in the shower or in the pool. The only downside is that the heart rate monitor won't work while wet.
The main attraction is of course GPS. This gives a much more accurate measure of your speed and distance than a simple accelerometer, and can map out routes for you as you run – handy for checking back later in the smartphone app.
The phone finder function is a little more novel, unless you're seriously forgetful, and the virtually silent vibration alarm is useful for getting you up for those pre-dawn runs without driving the whole house mad.
Something a little more contentious is the inactivity notifier. After sitting still for a while, the HR+ will buzz and on-screen you'll literally be told to "Move!".
If you're a fitness fanatic who's always ready to take a breather from mixing up a smoothie to run a couple of times round the block, then I'm sure this would be a cool little nudge to keep you active during the day. As someone who works in an office though, it's just a really irritating nag. No, I can't move you daft watch! I'm too busy reviewing you!
Thankfully you can turn this reminder off, but the option's tucked away in the depths of the settings menu, so it can be quite fiddly to get to.
Garmin Vivosmart HR+ App: Smart indeed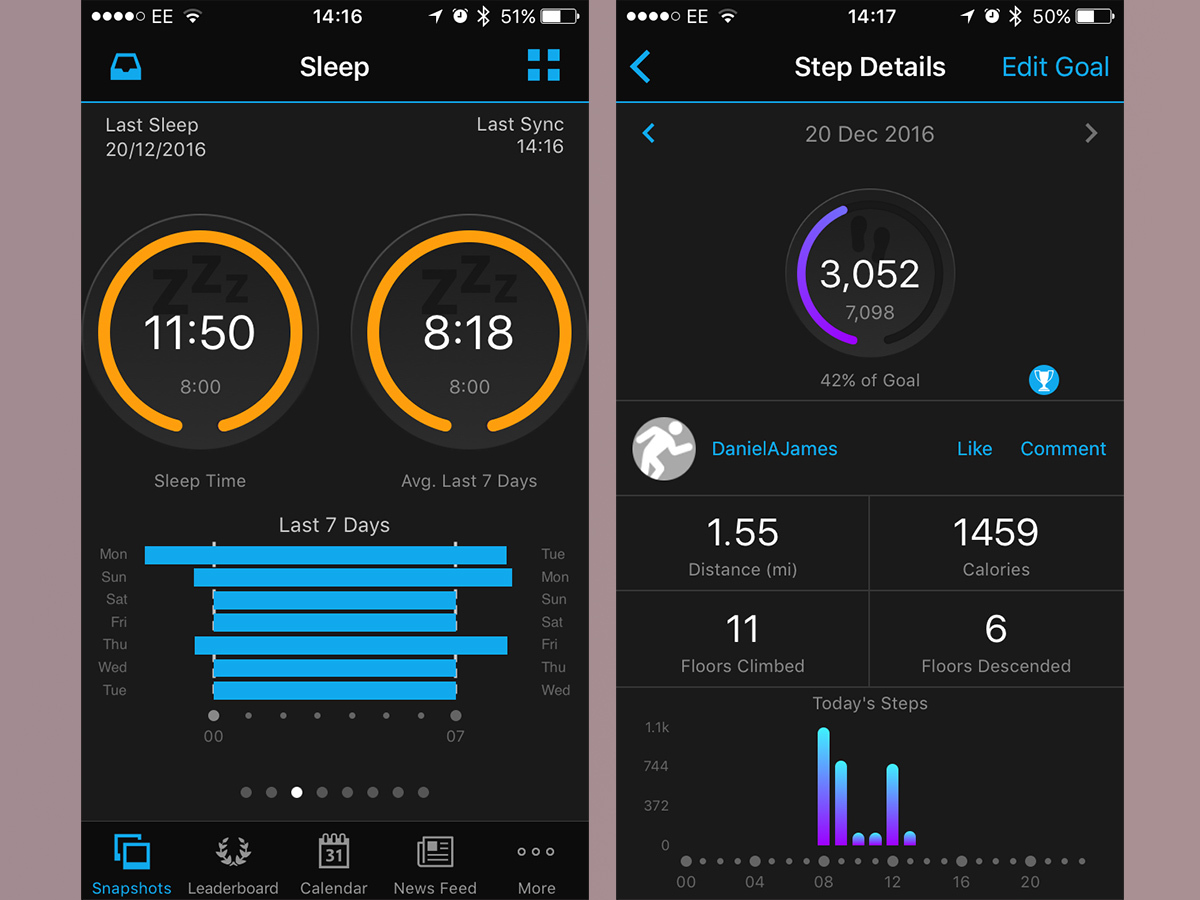 Once you've finished your workout, you'll need to download Garmin Connect onto your phone to check out your progress.
It's a seriously slick fitness app, with a clear homescreen giving a rundown of all your stats. Steps walked, time slept, calories burnt – its all right there, clear as day.
There's also an individual page for each statistic, which gives you a more detailed breakdown, showing variation over the past week and giving you an average. For the commited fitness fans, it's a great way to track your progress.
As is fairly standard for most fitness apps now, there's a fair bit of community going on here too. You can add any mates that are also using the app as friends, so you can compare your progress for a bit of healthy competition.
The daily challenges are a neat little extra, though, with the app creating a leaderboard to show who's shedding flab the fastest.
Garmin's app also connects really easily with a bunch of other fitness apps, to give you all your data in one place. My favourite combination was UnderArmour's MyFitnessPal calorie counter. The Garmin app took the data from my food diary and used it to give an up-to-date readout of how many more snacks I could have before I started putting on the pounds.
Your daily goals automatically adjust, too. They'll start out at a certain point based on your normal activity level, but once you start consistently hitting the milestones the HR+ sets, it'll move the goalposts slightly, encouraging you to keep on improving.
Garmin Vivosmart HR+ Battery: for the long run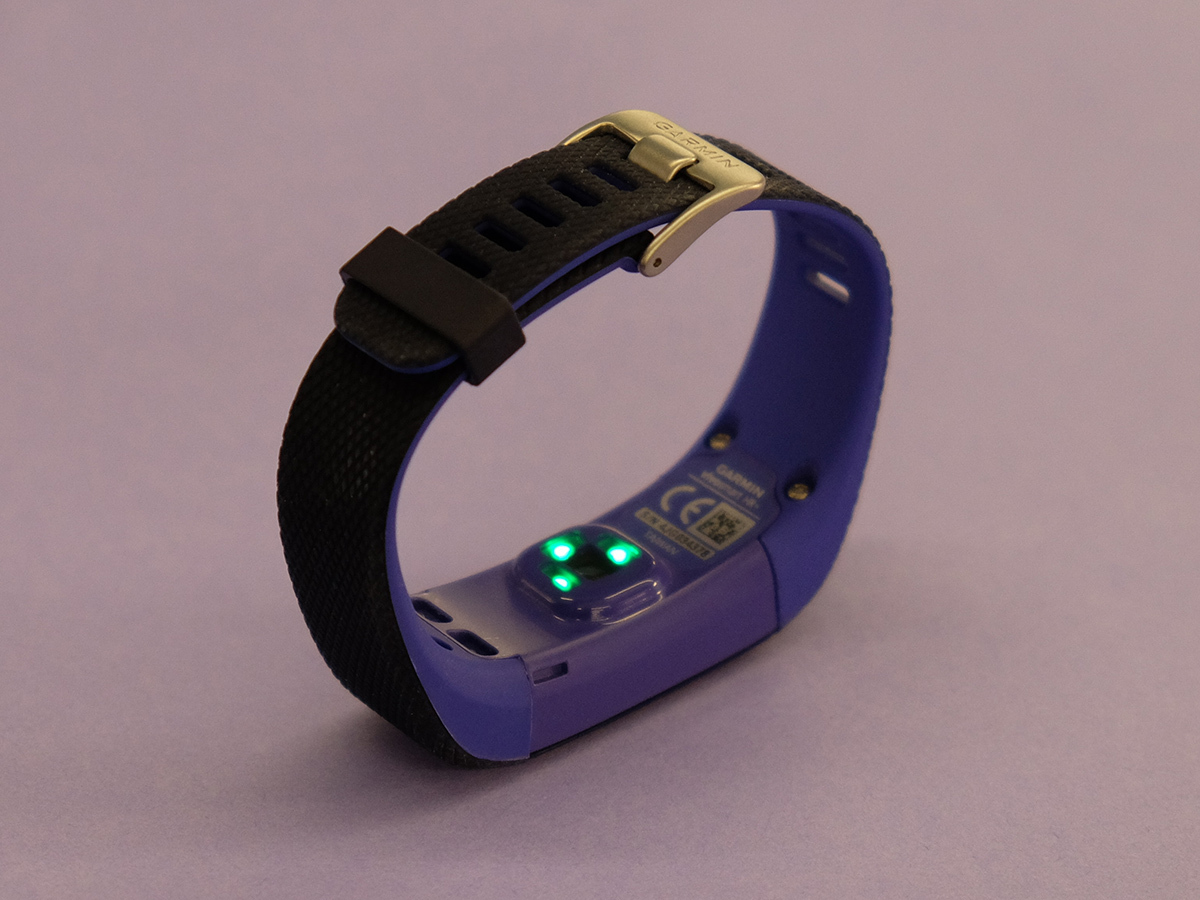 Five or six days of battery life between charges, depending on how often you drag yourself up off the sofa? Not bad, Garmin. Not bad.
That's only if you're not using GPS, though. Fire that up when you head off on a run and battery life will tank down to only about eight hours.
You'll only ever use GPS for those outdoor cardio calorie-burners, though, so unless you're running daily marathons, you'll easily get between three and four days on a single charge.
Annoyingly, though, there doesn't seem to be any way of telling exactly how much juice you've got left – at least from the tracker itself. There's no charge indicator on any of the normal screens and I spent about an hour trying to find one in the settings menu without any luck.
You do get a notification when the battery is starting to get a little low, but this could come too late if it pops up on your way to work. Then again, the low-battery warning could pop up when you've got a full day's worth of juice left; I don't know, there's no way of checking.
Another minor irritation? The HR+ uses a proprietary charging cable, rather than generic USB. If you do need to top up your device and you haven't got your charger to hand, you're going to have a really tough time finding a replacement.
Garmin Vivosmart HR+ Verdict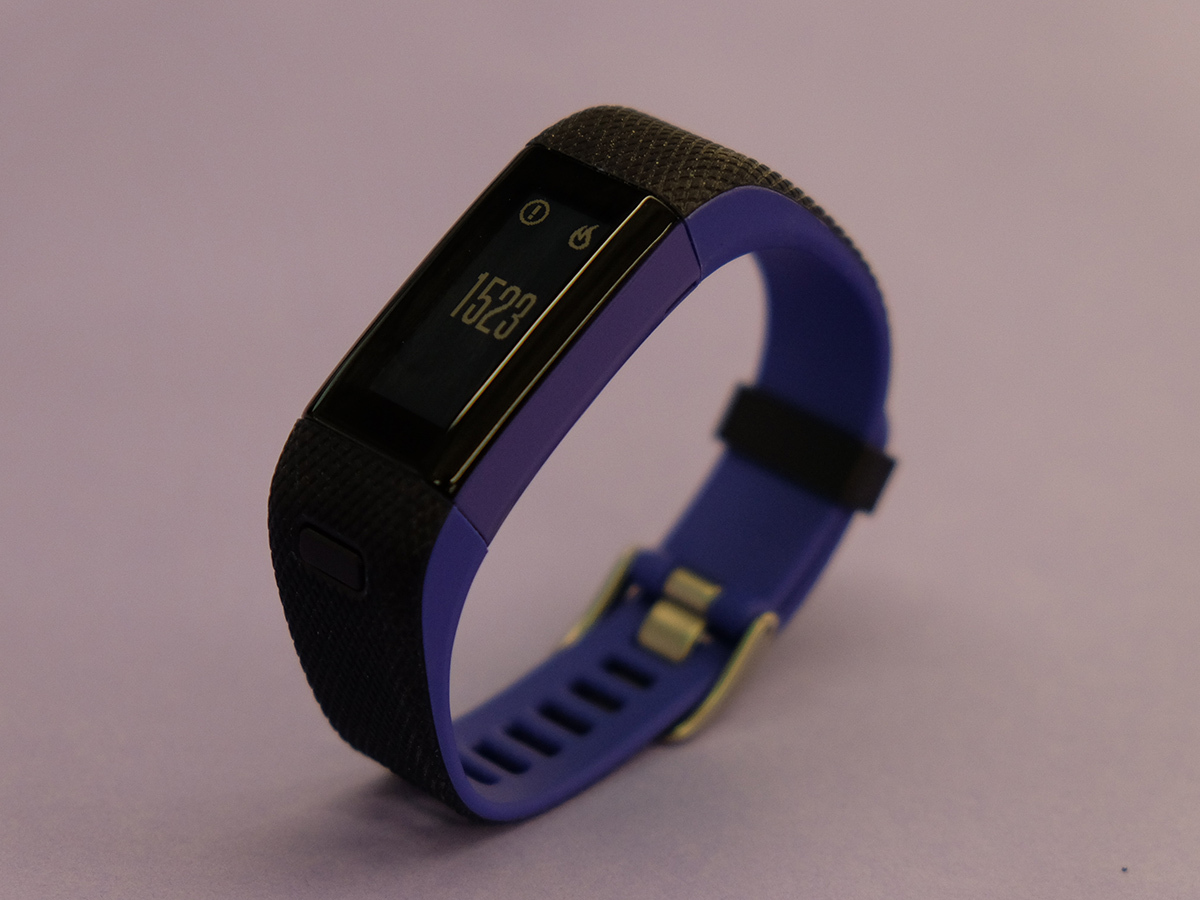 For getting fit, without going the whole hog and edging into sports watch territory, the Vivosmart HR+ ticks a lot of boxes.
It's jam-packed with all the features you'd expect, including a few bonuses like GPS. With one of these on your wrist, you'll be well on your way to that Adonis-like physique you so desire in no time.
Plus, its got incredible battery life and uses Garmin Connect, a great app with loads of easily accessible info for you to help push yourself that little bit further away from the flab.
The only real issues I have are with the design. It's bulky and uncomfortable on my wrist, making wearing it 24/7 a pain. If you're keeping it casual on the fitness front and need something unobtrusive to wear, this one's probably going to get on your nerves.
Stuff Says…
A superb tracker packed with features – it's just not so great to wear day-to-day
Good Stuff
Awesome App
Marathon Battery life
GPS on the cheap
Bad Stuff
Big & bulky
Not so comfy
Nags worse than your Mum