Genesis Electrified G70 review
Chunky all-electric SUV boasts performance and luxury but for a premium price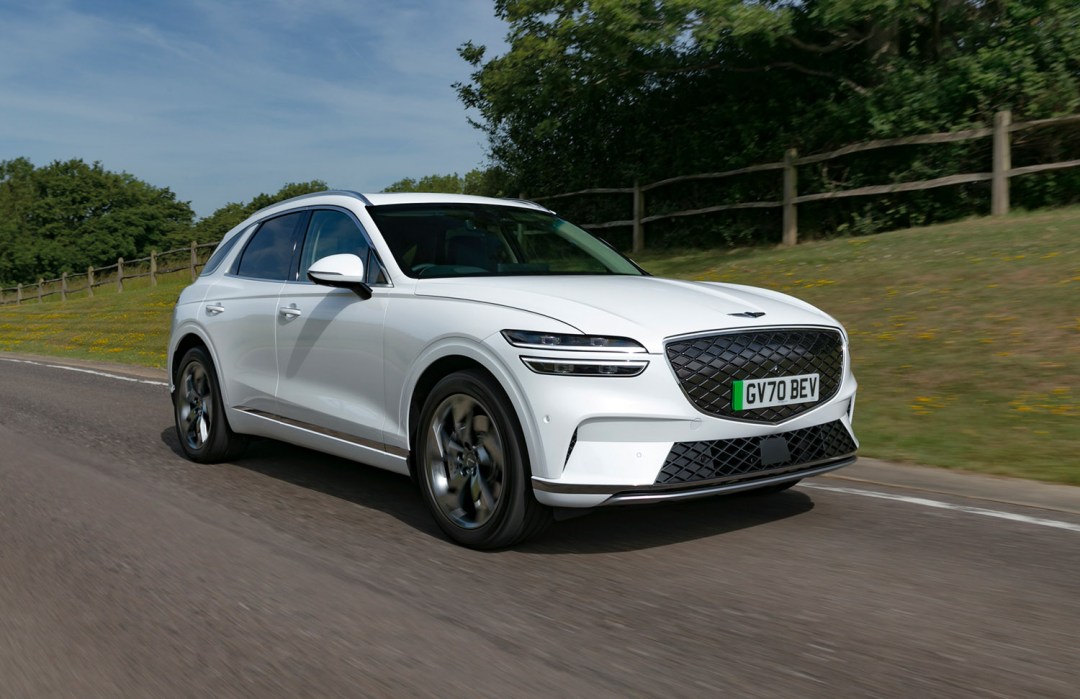 Decisions, decisions… Genesis already has plenty of premium EVs worth considering, which isn't a bad effort seeing how it hasn't really been a thing in the UK for very long. The Genesis GV60 is the obvious for something that appears 'compact', even if in reality it's a crossover that'll comfortably swallow a small family. If you're after a full-fat SUV, though, the Genesis Electrified G70 better fits the bill.
This big bruiser of a car has the performance to match, with a 77.4kWh battery, twin motors producing a whopping 483bhp and and all-wheel-drive offering up a very lively driving experience. It being a Genesis though, it's much more enjoyable to simply waft around in, making the most of the undeniably luxurious interior.
Despite the size and power, it still offers a respectable range of up to 283 miles, and there's lots of clever Korean tech to keep everything working efficiently. It's yours from just £64,405, though our review example comes in at nearly £80K. Ouch.
The styling
It's hard to be disappointed with anything in the current Genesis range when it comes to design, and the Electrified G70 is no exception. This is helped by the very cool range of colours, including one or two matte finishes. Ironically the white seen in our pics is perhaps the least complimentary of the lot towards its luscious curves.
Even though it's a bit of a beast, the battery-powered SUV still manages to look quite elegant, thanks in the main to some cool styling lines. You also get the signature grille styling, a common theme on all Genesis models, plus neat inset LED headlights and similarly styled taillights. These trademarks always help a Genesis stand out from the crowd.
If you're fond of more conventional cockpit layouts, the interior of the Electrified G70 isn't going to disappoint either: it's basically the same as that seen in the petrol engine version, which arrived first. There's loads of space, naturally, but the arrangement of the features and functions feels similar to any number of petrol or diesel-powered SUV rivals. The centre console in particular makes it decidedly different to the GV60 and its open plan approach. There's a rotary gear selector and a dial for navigating the 15.4in touchscreen relatively easily.
Elsewhere, the seats are big, plush and offer lots of adjustment. Fit and finish is largely excellent too and the overall effect is, without doubt, one of stylish opulence especially with an abundance of leather trim. The convenience of the large boot shouldn't be overlooked either, which can be made even more spacious if you drop the rear seats down. Got a manbag and a Rolex you'd rather keep out of sight? There's a wodge of 'frunk' space under the bonnet. Job done.
The drive
If you start your first journey plodding around narrow country lanes, as we did, the Genesis Electrified feels every bit as big and cumbersome as you'd expect from a nigh-on two-and-a-half-tonne SUV. Although the steering is surprisingly light, especially given the size of those 19in wheels and tyres, there's the width to contend with when you meet other people who seem unable to stick to their side of the road.
Put your foot down and head into a sharp corner and the ride gets even more interesting – you can feel the weight pulling the Electrified G70 all over the place. Unkempt lanes and tracks make the ride quite skittish too, but things improve once you've got used to its limitations.
Join the motorway though and the Genesis Electrified G70 settles down beautifully. This thing is so smooth and cruises along so effortlessly. It's easy to see why so many people love their SUVs, especially in the case of the Genesis where you're riding so high and the view out of all windows is very agreeable.
Much has been made of the Genesis 'Boost' mode, access to which is via a button on the steering wheel. Pressing this unlocks a 10-second performance rampage, where the dials turn red and only revert to their cooler tones once the power surge has timed out. The feature is all present and correct on the Genesis Electrified G70 and, as always, needs to be handled with care. It'll propel you from 0 to 60 mph in 4.2 seconds, which is exceedingly fast when you're in something this big. While the SUV can hold its own in smoothly surfaced corners, you'll want to save Boost button for straight line duties and the occasional overtaking manoeuvre, or that occasional body roll might make you come a cropper.
When you've almost depleted the battery, there's charging at up to 240kW. On top of that, and given escalating charging costs, Genesis' deal with the Ionity network to offer discount rates seems like a very good move. It's well worth investigating if you're not already put off by the high price of the car itself.
The technology
There's much that will look familiar to anyone who's put their head inside any other Genesis, but you'll still find the Electrified G70 of interest for its tech tweaks.
The views offered up by the 8in digital instrument cluster are respectable enough, but you'll do most of your business via the central touchscreen, which is a generous 14.3in set in a landscape orientation. Seats, as you'd hope for, are electrically adjustable and can be both heated or cooled. There's wireless phone charging, plenty of ports and the dual-zone climate controls are a breeze to use too.
It all works without a hitch, though if you want the additional tech treats you'll need to splurge a few grand for the Innovation Pack. Hence the high price of the car we drove, which also boasted a fab panoramic glass sunroof.
Things like the active road noise cancelling, which works to scrub out any unwanted road noise, are often quite hard to judge – and seeing as this SUV is all-electric anyway, it's pretty quiet to begin with. However, a run up and down the M1 was astonishingly silent.
Genesis Electrified G70 verdict
One of the best things about this brand is it is still relatively exclusive. Buy yourself the Genesis Electrified GV70 and it'll be a much less common sight on the roads than an Audi E-tron or BMW iX3. However, parting with a lot of cash for a car with little in the way of history here in the UK might be a little bit too nerve-wracking for some. Still, think just how good everyday less posh Hyundai's have become and work from there.
You can certainly see and feel the quality of a Genesis, and the Electrified G70 is wonderfully trimmed inside. There's plenty of kit, even in non-options mode, and the comfort levels are up there with the best of them. You can't quibble with the performance either, although quite how much mileage you'll really get from that Boost button over time remains to be seen. It's nice to know it's there though.
While the Genesis Electrified G70 works best on long motorway runs it's a bit tasty on B roads too, even if you've got to remember its limitations due to that bulk. Genesis is really focusing on a personalised customer experience in order to gain customers, so give them a call and get one sent round. Chances are, you won't want to send it back…
Stuff Says…
It's big and bulky but if you're after a premium battery-powered SUV the Electrified G70 rocks
Genesis Electrified G70 technical specifications
| | |
| --- | --- |
| Motor | Dual electric |
| Battery | 77.4kWh |
| Power | 483bhp |
| Torque | 380lb ft |
| 0-60mph | 4.2sec |
| Top speed | 146mph |
| Range | 283 miles |
| Charge rate | 240kW |
| Cargo volume | 528 litres |