The best free iPhone and iPad games to play today
Got an iPad or iPhone? Load it with the best iOS games – none of which cost a penny!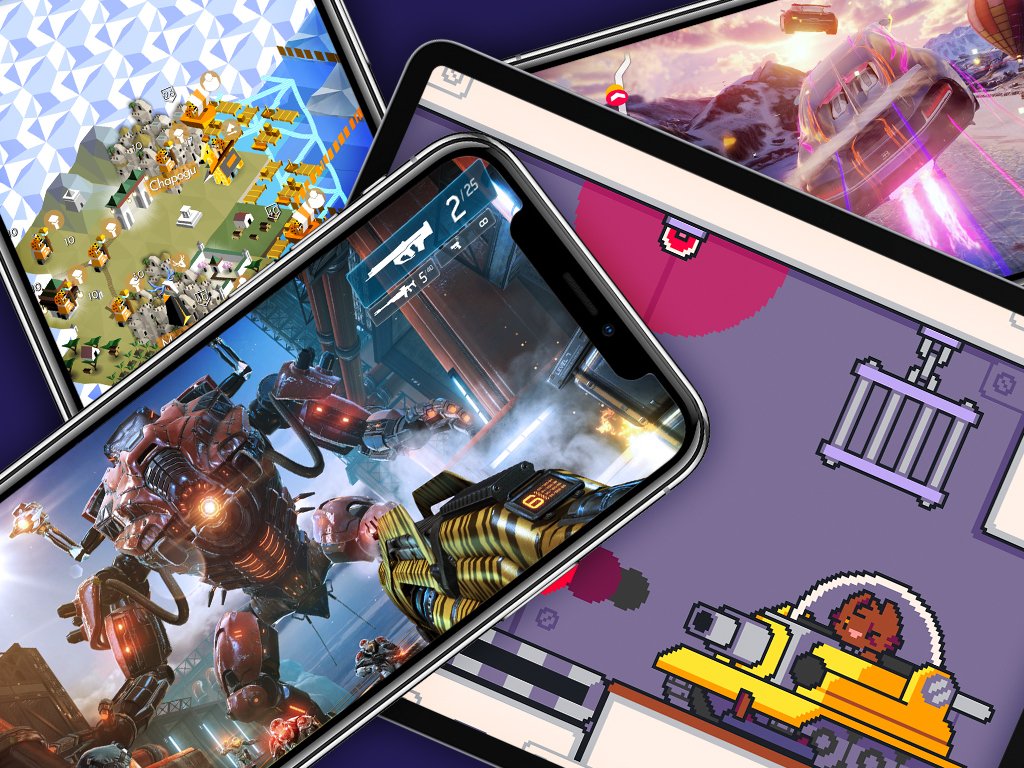 Thousands of the best free iPhone and iPad games are available to download for free. The sheer selection is part of the reason the iPhone is among the top phones on sale today.
The snag is that many are awful to the point they'd be an embarrassment on a 1980s home computer – or packed with enough freemium gunk to suffocate a hippo. However, the standouts are some of the best free games around for mobile. That's what we're interested in at Stuff: the very best iPhone and iPad games to play today!
To help you find your next mobile obsession, we outline our new favourites below and then group older choices into sections, starting with racers, ending with puzzlers and taking in pretty much everything you can imagine on the way.
The best new free iPhone and iPad game to download today is…
Coolson's Pocket Pack
Chocolate letters fall into a well. It's your job to sort them into packages of various sizes, ensuring the finished items always spell out a word. Because candy is educational. Or something.
The trick is to rack up massive scores by chaining packages, which means never throwing a letter back into the stack. And, of course, if the stack hits the top of the well, it's game over.
A simple concept, perfectly executed. And if you like it, the same creator offers an equally tasty treat in the form of the similar but deeper Coolson's Chocolate Alphabetfor iPad. Nom.
Download Coolson's Pocket Pack
Rocket League Sideswipe
Super Arcade Football
The best footie game ever is of course Sensible World of Soccer, and this freebie is the closest you're going to get to it on an iPhone. Dinky players sprint about a pitch, booting the ball about in pinball fashion. Realism? Pah. But the game's energy neatly recreates what you feel football to be like when you play.
Like the Sensi games, this one's tongue is firmly in cheek. Some mean-spirited cut scenes are a mis-step, but otherwise it makes you grin with absurd pitch customisation (mud pits; meteor strikes) or the manner in which game have almost as much violence as Speedball 2, with the refs surprisingly reticent to hand out cards. A funny old game, then? Yep – but a playable and frequently exciting one too.
Download Super Arcade Football
Kitty Death Room
We're not sure what's going on with the kitty in this platform puzzler, but things look grim – for the cat. Each smallish level is packed with deadly traps, and the heroic moggie needs to reach an exit. This often requires the kitty eat green pellets that allow it to expel ghost-like versions of itself, which can then be used as platforms.
If that's not weird enough, spooky between-level areas involve cryptic chats with spectral folks – and bring yet more opportunities for death. Although death is not the end – you have endless attempts to reach the goal.
All of which suggests the kitty might be battling its way through a terrifying feline purgatory. Still, you'll have fun in this tough mobile cracker, even if the cat's regularly going splat.
Jump Jerboa
Super Mombo Quest
You get the sense this speedy platformer isn't taking itself seriously on realising its madcap hero can stick to walls using its massive tongue. That's a pretty grim superpower, but the game's a delight.
You make your way through interconnected levels across an expansive map, grabbing gems and jumping on enemies. But this is more than Mario welded to Metroid.
Each level challenges you to attain the coveted Mombo Combo by dispatching enemies at speed. There are deranged boss battles (giant laser cats!), alternate mombo forms, and tons of secrets to find. For free, it's a steal – as, frankly, is the premium mode (no ads; play online) at under a fiver.
Pixel Shooter Infinity
Arcade games originating on systems based around gamepads rarely fare well on a touchscreen. Shoot 'em ups are an exception, a single digit affording you the precision to weave between projectiles and merrily obliterate everything in your path.
Pixel Shooter Infinity draws from Japanese bullet-hell classics, but distils everything into single-screen rounds and dresses them in monochrome garb. The end result feels like Robotron: 2084 and looks like a 1980s vector game.
It's constantly intense and exhilarating as you blow away enemies, temporarily halt to let your gun cool, and grab gems to power up your weapons. It's tricky too – more like Pixel Shooter You'll Be Dead By Level Ten than Infinity.
Download Pixel Shooter Infinity
Otteretto
Making a game about palindromes would be tricky, given that there aren't that many of them. Palindromic sequences, though… That's where Otteretto heads, coming across like a turn-based Tetris or Columns that has you select strings of coloured tiles to net the points you need to smash through each level's target.
We already mentioned in our best browser games list how the web take on Otteretto plays well on mobile. But this proper app version goes a step further, adding a daily mode where you take on the world, with everyone having the same set of squares. And if you're not a massive skinflint and throw a few quid the developer's way, you get a few cracking extra modes too.
Dungeons of Dreadrock
There's a whiff of the familiar about Dreadrock, which dumps you in a bunch of single-screen dungeons and has you set out to save a sibling who's about to be inconveniently sacrificed. The action plays out in real time, with you exploring and defeating each puzzle by way of a mix of brainpower and dexterity.
The basic mechanics are something we've seen countless times on mobile, but rarely does everything come together this well. Beyond the game's cracking pixel art, you get compelling and smart level design, and plenty of surprises – such as when a seemingly defeated enemy pursues you through subsequent (and then very tense) bite-sized challenges.
Download Dungeons of Dreadrock
Linia super
The original Linia caught Stuff's eye some years back, with a mix of game styles we likened to "Fruit Ninja, as reimagined by a lover of precision geometry". This follow-up's in similar territory, having you slice your way through pulsating minimalist works of art, aiming to match a colour pattern at the top of the screen.
It's an exercise in exactness and patience. As shapes whirl and dance, overlapping hues only occasionally display the sequence you need. Even once you spot it, nailing a perfect cut is tricky. But gorgeous visuals and a chill-out soundtrack make for a mesmerising challenge.
Knotwords
Zach Gage has cornered the market in subverting newspaper puzzles for mobile. With co-conspirator Jack Schlesinger, he's had another crack at crosswords. This time, you get all of the letters, but they're scrambled within Tetris-like pieces. It's your job to figure out where each letter should go, in order to complete the puzzle.
Attacking crosswords from the opposite direction causes your brain to do a backflip and your muscle memory to scream. But it's engaging stuff, whether you're trying to blaze through a 'daily mini' or tackle the much trickier puzzles that rock up towards the end of each week. For a tenner, you can go premium; but even for free, there's a slew of word game goodness here.
Super Auto Pets
This game's creator describes it as a "chill auto battler". That is a lie. It's chill in there being no hurrying: you get endless time to fine-tune the team you send into battle. But for all its cute characters, this game will merrily tear your face off.
Much of that is down to how each unit affects others. At first, it baffles when you get obliterated in battle as foes power-up chums, belch out reinforcements and materialise a cartoon bus. But stick around and it will click. You'll learn combinations that work – only to hit another wall you'll have to climb.
If you want your hand held, steer clear. But if you want a game that's hugely rewarding if you put in the effort – and yet bite-sized per game, Super Auto Pets is a must.