Google Home review
Update 25/4/17: Google Home can now automatically switch between accounts thanks to voice recognition wizardry...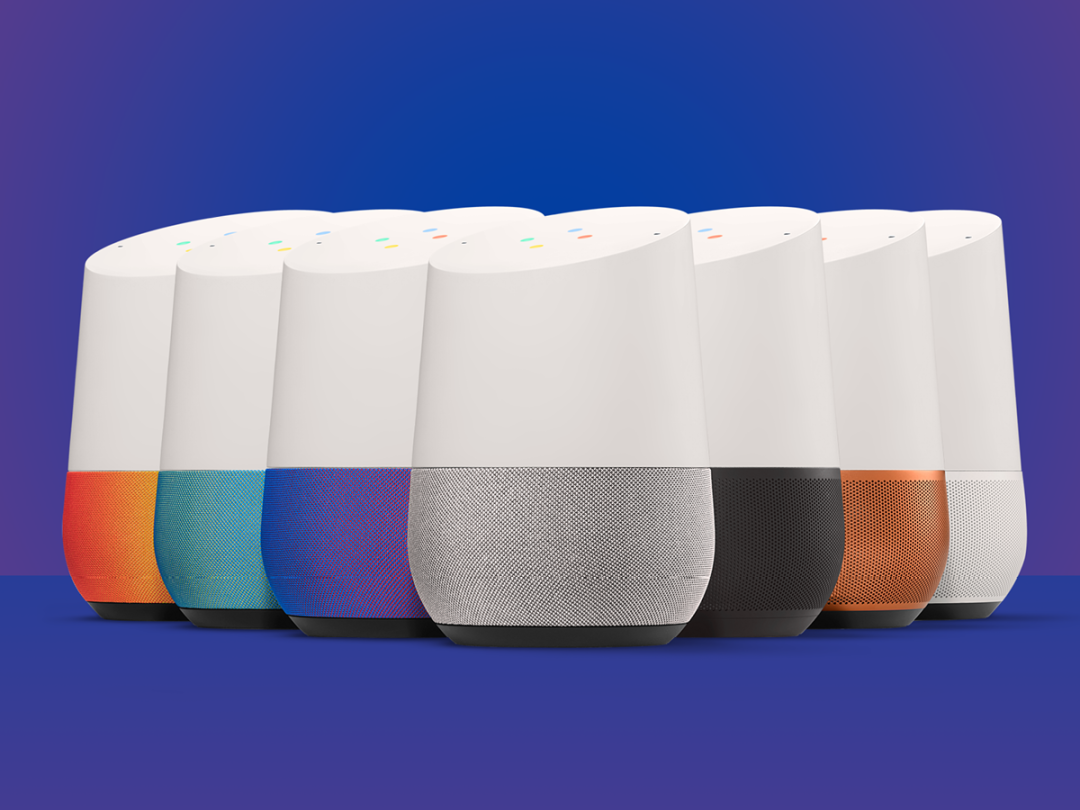 Update 25/4/17: See section 'Trump card: Google Home now has voice recognition for multiple users' for the lowdown on its new Echo-beating trick.
"Hey Google, add a little more pepper to my eggs benedict tomorrow morning. Oh, and drive me the scenic route to work. I want to see some ducks".
The future is a glorious place, where plutonium-powered smartphones never need charging, and personal AI butlers serve us with unfaltering loyalty, tending to our every whim.
The first baby steps to the latter began around five years ago, when the likes of Siri and Google Now began listening to our basic commands, setting alarms and sending garbled voice-dictated messages, but we've come a long way since then.
AI-powered speakers like the Amazon Echo and Google Home are now infiltrating our homes, turning on our lights, playing our music, setting our heating and making sure we never run out of milk.
With the Amazon Echo impressing us with its soothing voice and home automation smarts, we were looking forward to Google Home's UK debut. Here's how it stacks up in the battle to become your house's invisible servant…
Google Home: Design and Build
Y'know those automated, battery-powered air fresheners that insultingly puff out a whiff of lavender whenever you walk by?
Yeah, Google Home looks a lot like one of those.
That's no bad thing, mind. Its angled, cylindrical top and rounded base give it a handsome, modern, and unobtrusive look, which is exactly the sort of thing we want to see. AI butlers should be heard and not seen, after all.
Home also has the advantage of a removable base, with seven different finishes and colour options available to buy separately, letting it blend in with its surroundings even more.
Whether you'll prefer it to the Echo, which is twice its height and more noticeable, is down to personal preference. We certainly do.
Unlike Echo, which has a physical volume ring that lights up like the bottom of a rude boy's modded Vauxhall Nova, Home's main controls are purely touch-sensitive.
A circle of LEDs hide just beneath the top surface, and a quick circular swipe in either direction lowers and raises the volume. Taps pause and resume your music, too.
You can long-press the top to wake up Google Assistant too, but where's the fun in that when you can summon her from across the room…
Hey Google
Google's AI assistant can be summoned with two hot phrases – 'OK Google' and 'Hey Google'. Both are annoyingly awkward to say, though we've settled on the latter.
The Echo's 'Alexa' is is quicker and easier to say and, unlike Home, you can choose from four wake words, including 'Computer'. The day we can get either of them to respond to 'Kif' will be a happy one indeed.
If you like the familiarity of a plummy British accent, you'll be pleased to hear that the UK version comes with a new voice in that style. Which is good, because we found Google Assistant's American voice to sound a bit more jarring and synthetic, although maybe that's just us being biased. You can still choose the American voice if you prefer, we won't judge.
Google Home: Music
So what exactly can Google's little cylinder actually do? Let's start off with its music smarts.
Currently, Google Home supports four music services in the US – Google Play Music, Spotify, YouTube Music and Pandora – though only the first two are available in the UK.
You can set all of these up in the Home app, and select which one you want to have as the default.
Once that's done, it's just a case of asking Home to play a specific song, artist or album. More often than not, it'll reward you with exactly what you're after. Magic. You can also play, pause, and adjust the volume without having to lift a finger.
Another big plus over the Amazon Echo is Home's support for multi-room audio. If you have either Chromecast Audio-connected speakers or one of the increasing number of Google Cast-comptaible devices, the Home app lets you group them together and synchronise music from the likes of Spotify. It works really well.
Unlike Amazon's Alexa, Google's Assistant is a little smarter when it comes to searches too. Ask it to play "that Enya song from Lord of the Rings", for example, and it'll trawl through the movie's soundtrack until it finds an artist match. Clever stuff.
Home does fall short in some areas though.
If you're using Spotify as your music service, you can add songs to your library, or to specific playlists – an incredibly useful feature if you're discovering new music to add to your collection. Oddly though, that's not true if you're using Google's own Play Music service instead. That seems like a gigantic omission to us.
Sure, you can ask Home what song is currently playing if you're not familiar with it, but with no way to add it to your Play Music library, you have to fire up the Play Music app on your phone and add it manually, defeating the entire point of having a smart speaker in the first place.
Sound advice
We never expected Google Home to match the likes of a Sonos speaker for sound quality, but we're still a little disappointed in its performance.
It's not terrible by any means, but considering you can get very good portable sound out of the £85 UE Boom 2, we were hoping for something a little better.
Music on the Home sounds a little muffled, especially if you're cranking out a song with a lot of bass.
While Home can get loud enough to fill a room, we soon learnt to stay away from max volume to avoid the distortion that creeps in.
You're better off with a proper set of speakers connected to a Chromecast Audio device, letting Home act as a voice control relay for it.
This is a particularly good setup, as it's now possible to make a voice-controlled, multi-room system using these components (as well as any device that supports Google Cast).
Right now, this is something the Amazon Echo can't do. Yet the Echo range does potentially have greater multi-room music potential. It'll support Sonos later this year, and while the Chromecast Audios are cheaper than Echo Dots, the former doesn't have built-in voice control – which means you'll need multiple Google Homes, or a combination of an Nvidia Shield TV and its Spot microphones, to get voice control around the house.
Google Home: TV smarts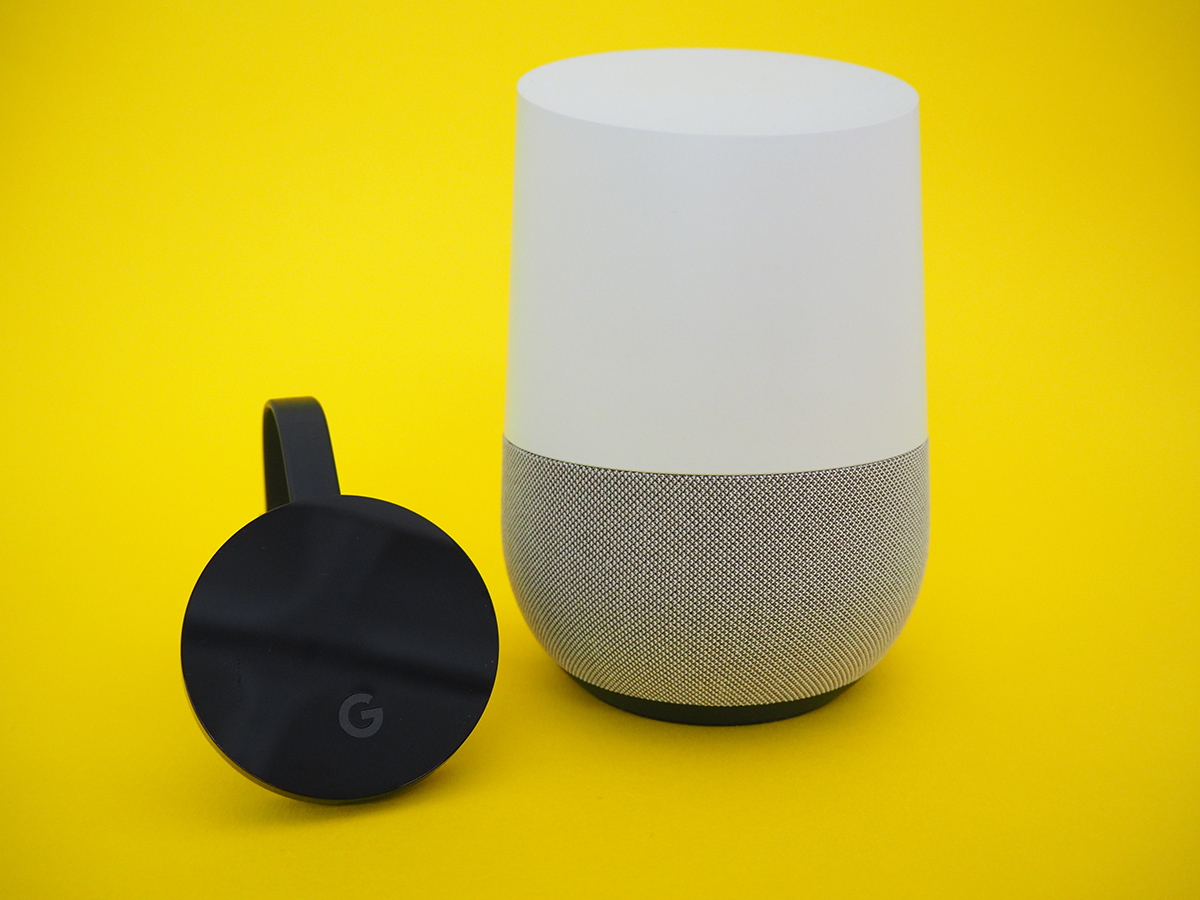 One of Home's most impressive party tricks, and the thing that sets it apart from Amazon's Echo, is how it plays nicely with Google Chromecast devices.
If you've got a Chromecast hooked up to your TV, you can use Home to fire up YouTube videos directly to your big screen, without having to go via your phone or laptop. Even better, it will now do the same for Netflix.
Home's natural search skills also come into play here. If you ask it to play a trailer for the latest Pixar movie (because you've forgotten the name), it's clever enough to work out what you're after, before serving it to you in seconds.
Being able to come in after a long day and start watching your favourite programme before you've even landed on the couch will be a game-changer for lazy gadgeteers.
Google Home: Smart home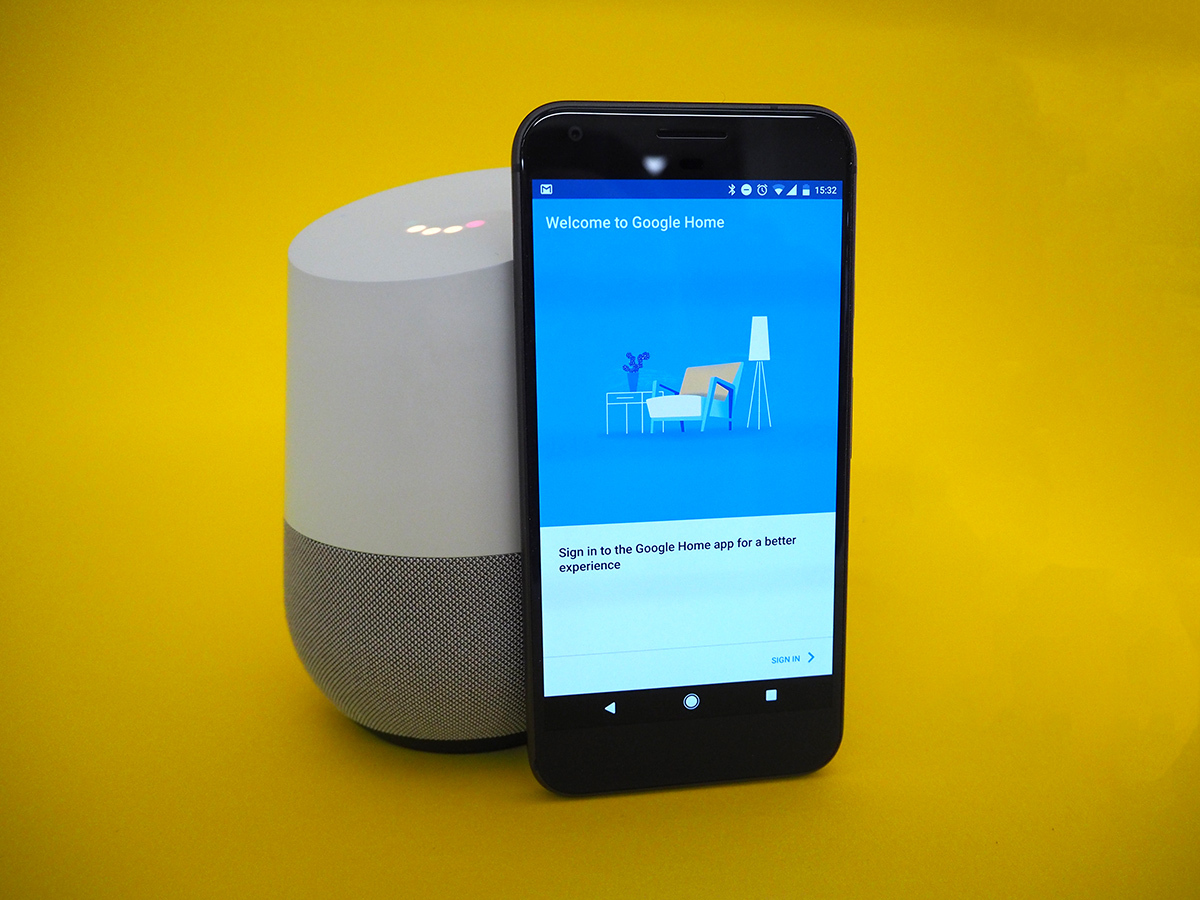 If having Drake's latest music video pop up on the telly simply by asking has blown your gran's mind, she's really going to need a sherry once you show off Home's smart home shenanigans.
At the time of writing, Home is compatible with nine smart home systems – Philips Hue, Nest, Honeywell, WeMo, LIFX bulbs, Insignia Connect, TP-Link, Wink and the Samsung-owned SmartThings. If you're a fan of Tado's smart heating, you'll be pleased to hear that it's announced Google Home support for summer 2017.
That's still slightly less than the Echo's numerous amount of supported systems (it supports everything Home does, too), but still manages to cover the most popular products, thanks to SmartThings' large roster.
The big gap in the UK though, is Hive. We're surprised Home has launched in the UK without support for one of the most popular smart heating systems in the country, but we're sure it's in the pipeline and will appear in Home's list of services very soon.
Hive aside though, Home's voice commands work well. It's so much more convenient to simply ask Nest to crank up the heating to a specific temperature or turn the lights on or off without having to whip out your phone, open up an app, and tap a button.
As long as you've got the compatible tech, Home's smart home controls will genuinely make your life just that little bit easier.
Google Home: Knowledge
If knowledge is power, Google Home is the undisputed king, while the Echo remains an uneducated serf.
Amazon's Alexa can answer basic questions, but Home goes above and beyond, often providing you with supplemental information taken from the top search results.
Ask Alexa whether or not insects have brains for example, and she'll have no idea what you're talking about.
Pitch the same question to Google Assistant though, and not only will it tell you that yes, they do, it will go into more detailed information regarding how they're less developed and not as important, and that some species can even survive with their heads detached, should the conditions be right.
Of course you can chuck a bunch of sums and 'what movie did so and so star in' questions at Home, and it'll handle them easily too, but it's the questions which answer your childlike curiosity in which Home really shines.
It's great for kids, prepping you for pub quizzes, or just settling heated family debates.
Home will easily handle weather queries too, telling you if you need an umbrella, and how cold it's going to be, either in your local area or for a place you specify when asking.
If you're learning a language or brushing up on your rusty Spanish pint ordering skills, Home's got you covered there too, thanks to baked-in Google Translate. It's handled everything we've thrown at it so far, from asking for 'a replacement table for the broken one' in Turkish, to 'my hot water tap is too hot, please can you fix it' in Japanese.
There is some room for improvement though. When asking for directions to a particular place, the best Home can currently do is tell you how far away it is, and how long it will take to drive there. There's no detailed route information and no alternative public transport or walking options.
Google Home: Organisation
Given Google's gigantic services like Gmail, Android and Calendar, you'd think that Home could easily create new appointments, send messages and answer calls. But – and we cannot believe we're saying this – it can't.
Ask Home to create a dentist appointment at 10am tomorrow, and it'll apologise for not being able to help you out.
Worse still, it can't even create a reminder for you. The best you can do is verbally add things to your shopping list, which used to live in the Google Keep app but is now inside the Google Home app instead. If you want to send quick notes to the likes of Evernote, the only way to do it is via an IFTTT applet.
Not only can the Amazon Echo create shopping lists, reminders and calendar entries (in Google Calendar, no less), it can even order things directly from Amazon for you. In the US, Home can now order products from Google Express stores like Costco and Walgrees, but this isn't a feature that's available in the UK yet.
At the very least, we'd expect Home to allow you to make or receive calls, and dictate messages – after all, Google Assistant on the Pixel can do just that – but those features are completely absent too.
Even more annoyingly, while your phone can do all of these things, Home can't pass off these unachievable tasks to your handset to carry out instead.
Google Home: Apps and services
Currently, Amazon's Echo has hundreds of apps, or 'skills' which users can enable.
These range from mini-games and recipe apps, to a Grand Tour quiz and meditation sessions.
Admittedly, a lot of Alexa skills are a bit rubbish, and remind us of the dredge of tacky apps that polluted the App Store in its younger days. Still, there's a hell of a lot more choice than can be found on Home.
Home currently supports Uber and Neato, for voice-controlling robot vacuums. Otherwise its 'services' (the equivalents of Echo skills, only you don't have to install them) are limited to things like Kayak, Headspace, Dominos pizzas – all nice extras, but not exactly essentials. For some reason, these also only work when your voice is set to US English too (yes, even on the UK version).
One of the most useful skills we've found on the Echo is the National Rail app, which gives us a quick rundown of the next trains leaving from our chosen station – a feature which currently draws a complete blank on Home. In fact, here's a telling statistic: last month Alexa celebrated receiving her 10,000th 'Skill', compared to Google Home's current tally of 158 'services'. It's not all about quantity, but that it a bit of a gap to bridge.
The Echo also just edges it when it comes to news, though the Home is catching fast – in the UK, you can get updates from BBC News, The Daily Telegraph and the FT in your 'My Day' summary. There are lots of other sources too, but many are effectively mini podcasts rather than Home-tailored bulletins.
Trump card: Google Home now has voice recognition for multiple users
A new feature recently turned Google Home into the best smart assistant for families – or at least, households of people who are all fans of Google's services.
Rather cleverly, Home can differentiate between the voices of up to six different people, allowing it to bring in personalised preferences and information, just from the voice pattern in the way you say 'Hey Google'.
All it takes is a couple of minutes of voice training in the Home app. Each person will need the Google Home app, but from there they can add their calendar, tweak news sources for a 'My day' summary, and connect their music services.
This is a pretty big advantage over the Amazon Echo. On the Echo you can connect multiple accounts under a household profile, but this then means shared calendars and to do lists. You can also add separate accounts, but because the Echo doesn't yet have voice recognition, you have to ask Alexa to switch between them.
The Echo family has been strongly rumoured to be getting voice recognition for a while, not least because it could help prevent housemates, children and pets ordering things on your credit card. But until then, Google Home has the advantage here, particularly if everyone under your roof is tied into Google's services.
Google Home: Verdict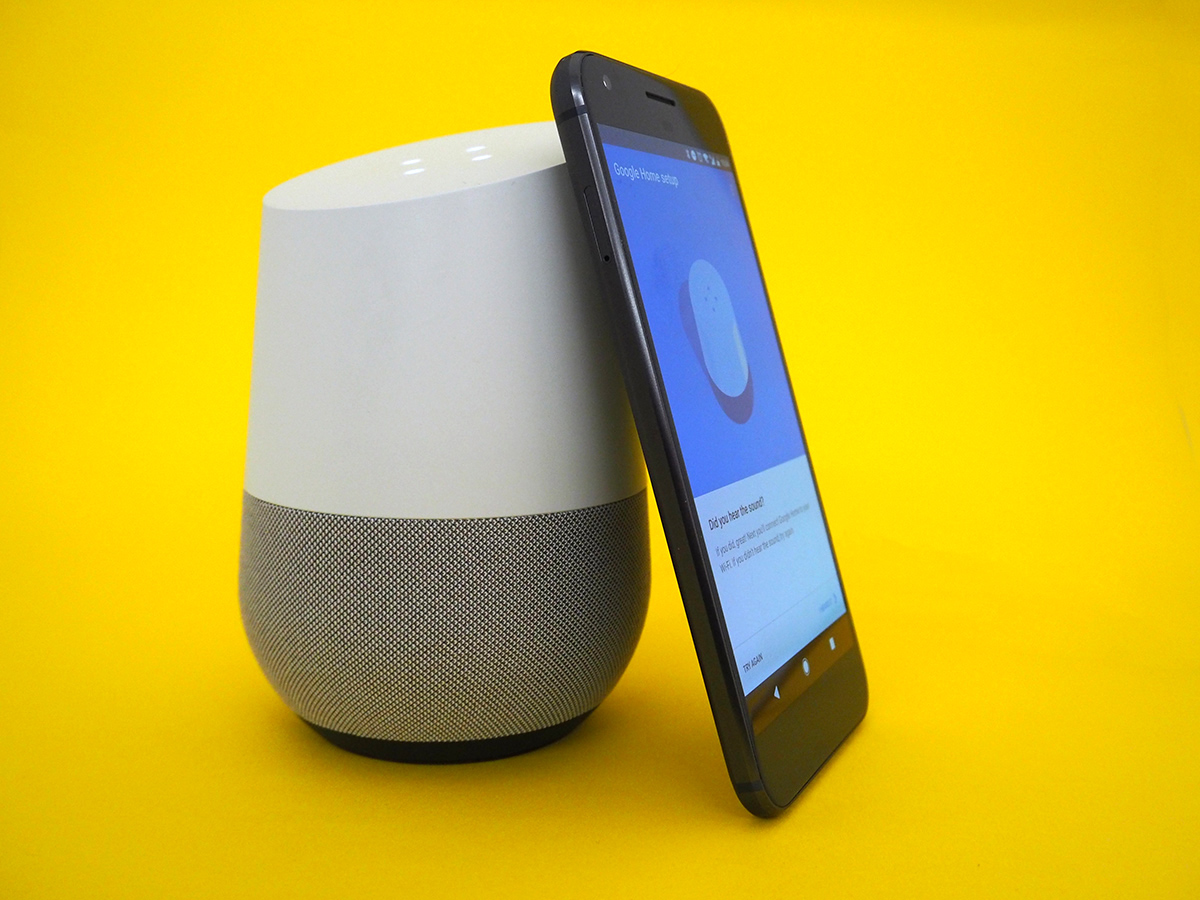 In many ways, Google Home is amazing. It's the all-in-one J.A.R.V.I.S.-like butler we've dreamt of for years. Well, almost.
Its smart home controls are no gimmick – it really will make your daily life just that little bit easier, to the point where using anything but your voice to set the temperature or dim the lights will seem archaic.
Its music controls, when using Spotify and TuneIn to listen to the radio also work well, and Google Assistant's clever natural language search is great at finding songs.
A big let down, though, is Home's inability to add new appointments and reminders, though it can, at the very least, let you know your existing ones. Why it can't achieve these basic tasks while Amazon's Echo can, is beyond us.
And yet, the key word here (for the Echo too), is potential. Home itself is just a vessel for Google Assistant, which will only get better and better as time goes on – without you having to do anything.
As Google tweaks and improves its AI baby, Home will get smarter, gain more features, and become more and more useful.
As with the Echo, it's not a must-buy in its current state, but if you've got the right smart home setup and fancy a taste of the future today, then bon appétit, we say.
Stuff Says…
Genius in some ways, and a dunce in others, Home, like the Echo, is on the cusp of true brilliance. We're just not quite there yet.
Good Stuff
Looks classy, yet unobtrusive
You can control your home and music like Tony Stark
Search and translate functionality is brilliant
Can now recognise multiple users by voice
Bad Stuff
Could sound better
Play Music doesn't support adding to your library/playlists
You can't add appointments, reminders, or send messages