Google Nest Audio review
As a smart speaker with improved audio prowess, it absolutely delivers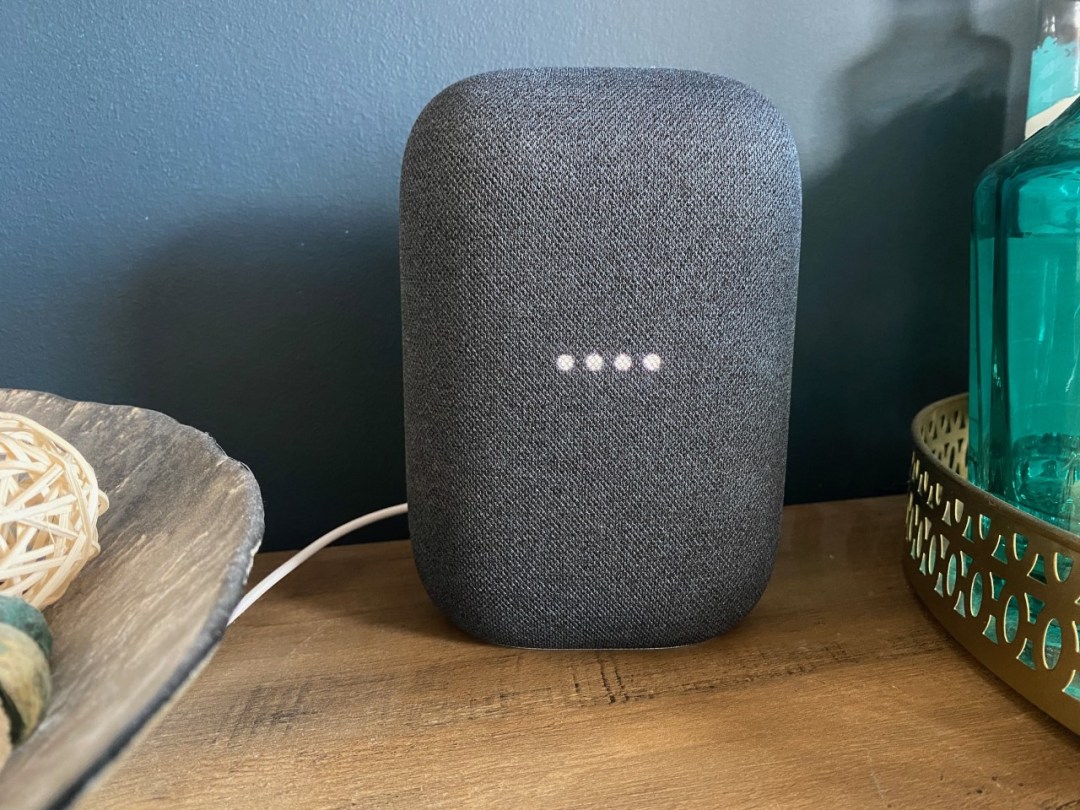 It's been almost four years since the launch of the original Google Home speaker, which is really quite incredible in the world of consumer tech.
In that time, the company has introduced new speakers to sit either side of it in a line up, later rebranding them under the Nest name, and faced competition from a refreshed Amazon Echo speaker, several times over.
Now it's finally the turn of the original Google speaker to get its much-needed makeover, with a new name, new design and fresh focus on audio quality. But does the Google Nest Audio deliver where it counts?
Google Nest Audio design: Less is more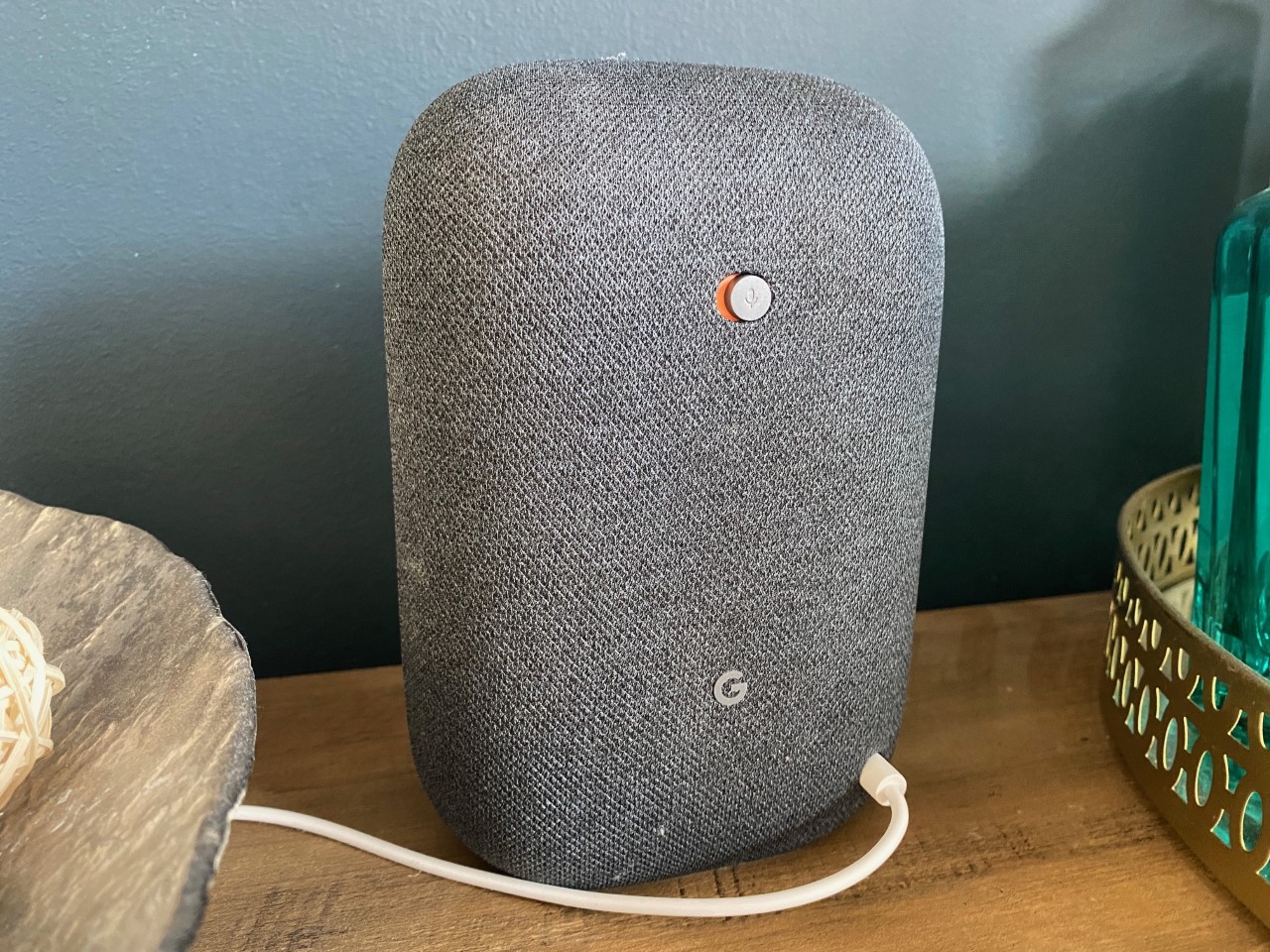 The Google Nest Audio is a rather strange shape for a speaker. It's a sort of squat, rounded-off rectangle, a similar height to a Sonos One, but that's at least half the depth of what you might expect. This helps it to sit happily on a bookshelf or table without taking up a lot of space.
Considering its size, there is a surprising amount of weight to it. It's well built and certainly feels worth its £90 asking price. It's available in a choice of chalk or charcoal in the UK, with its external fabric grille made from 70% recycled plastic, in the same material as the Nest Mini.
It's a very minimalistic design, with nothing to blemish the front of the speaker apart from four LEDs. These will light up when adjusting volume or activating Google Assistant but otherwise remain hidden. We don't mind the less-is-more approach, and we're pretty taken with how the Nest Audio looks on our shelves. However, the unmarked touch controls for play/pause and volume on the top of the speaker seems a little excessive – you'd never know they were there unless you read the instructions.
The only physical button on the whole speaker is the microphone button on the back, which allows you to mute the Google Assistant's three near-field mics and get some privacy. You'll know when this is done because those four usually hidden LEDs will appear constantly in orange while it's muted, giving you at-a-glance reassurance.
Google Nest Audio setup and smart performance: slick, fast and hassle free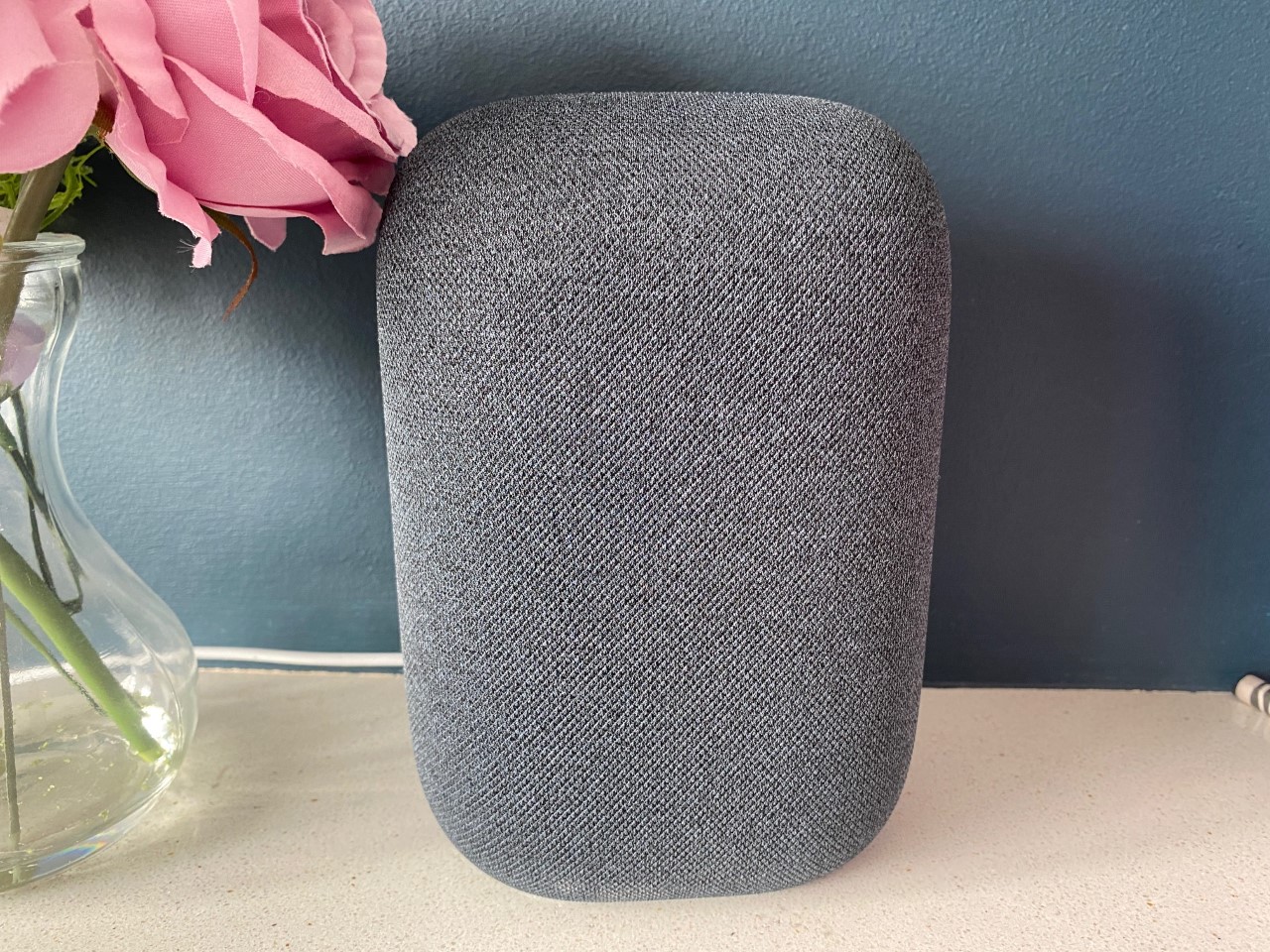 Setting up the Nest Audio is really straightforward via the Google Home app. Once you've plugged it in and opened up the app, you'll see a shortcut at the top to "Set up Nest Audio". Follow those instructions and you'll have your speaker up and running within a couple of minutes, as it walks you through connecting it to your wi-fi network, choosing your streaming service of choice and setting up Google Voice Match, should you wish.
If you opt in for the latter, it means that the Nest Audio can recognise your voice from someone else in your household, and provide you with more personalised results from the likes of Gmail or Google Calendar. Just say a few phrases for it to log your voice and you're good to go. Once it's up and running, you can jump straight in with your voice commands, be that something classic like checking the weather or time, or asking Nest Audio to play your favourite playlist. Of course, it can also do all the smart home control you could wish for too, the devices just need to be set up within Google Home first.
The three near-field microphones built into the Nest Audio do a great job at picking up your voice commands at a regular speaking volume, and can even hear you from the other side of the room or over music at a pretty decent volume. This makes for an incredibly natural experience, rather than feeling like you're having to shout your commands to be heard.
The advanced machine learning engine found in the Nest Mini has made its way into the Nest Audio too, which promises local processing for popular commands to save time and make responses quicker. We certainly don't have any grumbles with how fast the Nest Audio responds to us, though if you're really picky, the Amazon Echo might just have the edge on speed.
Google Nest Audio performance: fit for purpose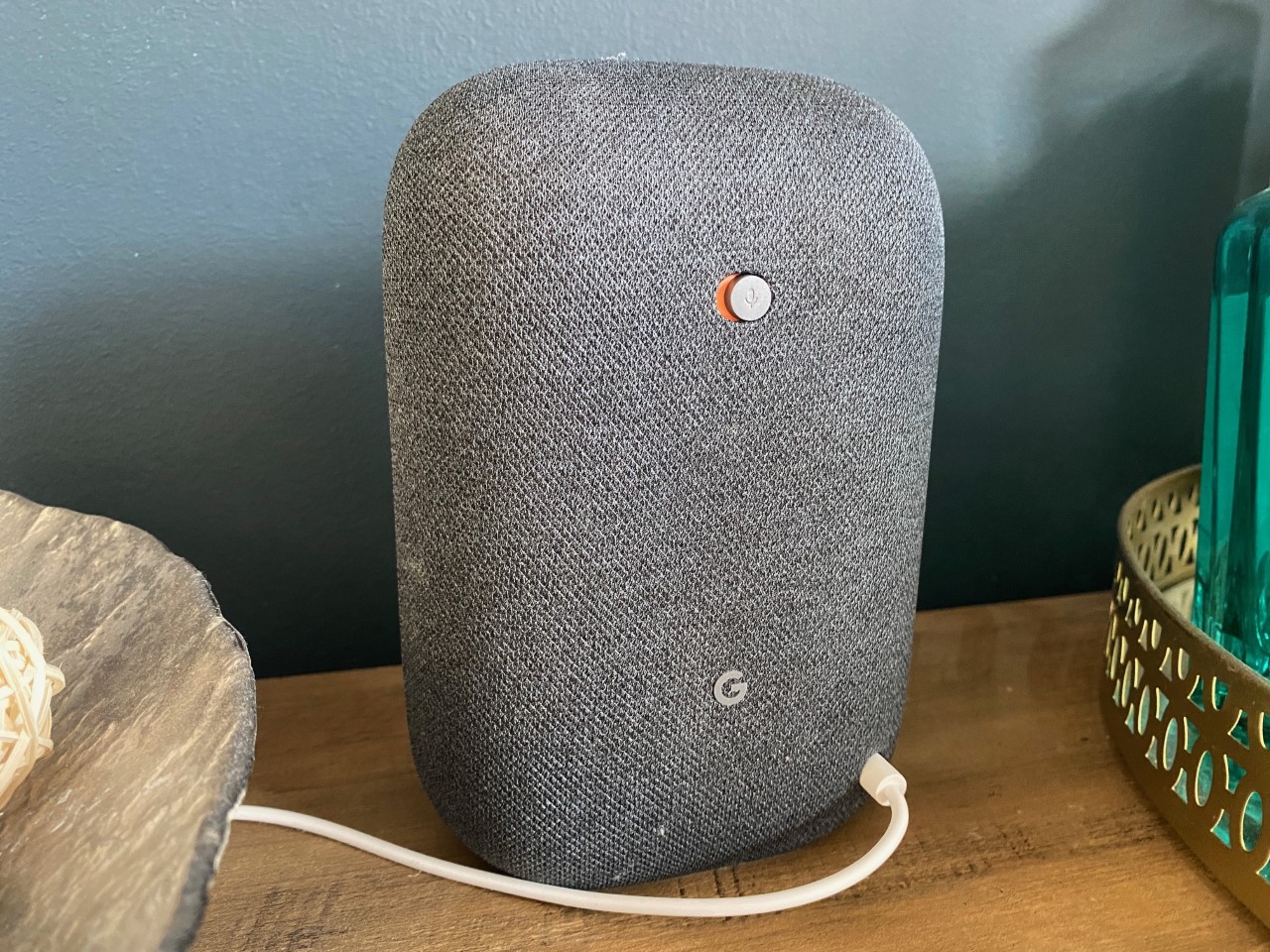 In control of the Nest Audio's improved sound is a 75mm woofer and 19mm tweeter, replacing the single 50mm driver that you'd find in the original Home. These are placed all at the front of the Nest Audio, to create a more traditional directional speaker rather than a 360-degree one. The result is a fuller, clearer and more direct sound that Google says goes 75% louder than the predecessor, with 50% more bass.
We certainly don't find it wanting in the volume department. For a little speaker, it goes pretty loud indeed, though you probably won't want it louder than around 80% in most rooms. Push it above that and you will start to notice some distortion, as well as some loss of control in the higher frequencies too.
Bass definitely makes itself more cleanly known in the Nest Audio, sounding more refined and less muddy than it did on the Google Home. This does add some improved presence and authority to the low end, but it could still go a touch deeper and drum kicks could have more impact to them. There's a lack of dynamism here that can leave tracks sounding a little flat to more critical ears. That's a character that continues elsewhere in the frequency range.
There's certainly more clarity through the midrange than before, but it still doesn't sparkle with detail as much as we'd like, and you won't pick up the same expression and emotion as you might on a more talented speaker. Vocals could have a bit more focus to ensure they aren't ever overpowered too. Although the mix of a track generally holds together well, as you push the volume, you will hear the midrange thicken up ever so slightly. This can strip it of some of the get up and go we'd like to hear, which a slightly brighter treble at moderate volumes might have improved.
All this said, it really depends how you look at the Nest Audio as to how you're going to rate its sound. As a music speaker with Google smarts, you're probably going to find it wanting. As a Google smart speaker with decent audio, it fares a much better. And to be honest, it's the latter that we imagine most people will be in the mindset of when buying it.
So no, this isn't going to compete with a Sonos One in the sound department, but for a speaker that's half the price, it does a good job for the sort of non-critical listening we find ourselves using it for. Whether that's listening to a podcast while we make dinner or a Spotify playlist while we potter around the house on a weekend, this is where the Nest Audio finds itself most at home and really what it's intended for, we'd say. Because the sound isn't terrible by any stretch, and we imagine the majority of people buying this will be very happy with the performance it offers.
It's full bodied, decently balanced and offers up plenty of volume. There's not a lot in it but we'd say it just about pips last year's Amazon Echo in the audio department too, sounding overall clearer and richer.
It's worth mentioning you can pair the Nest Audio into a stereo pair with another, or daisy chain it with other Nest speakers throughout your house for an affordable multi-room experience. It's not something we were able to test, but a feature that we'd imagine could well come in handy for those who've invested in other Google speakers.
Google Nest Audio verdict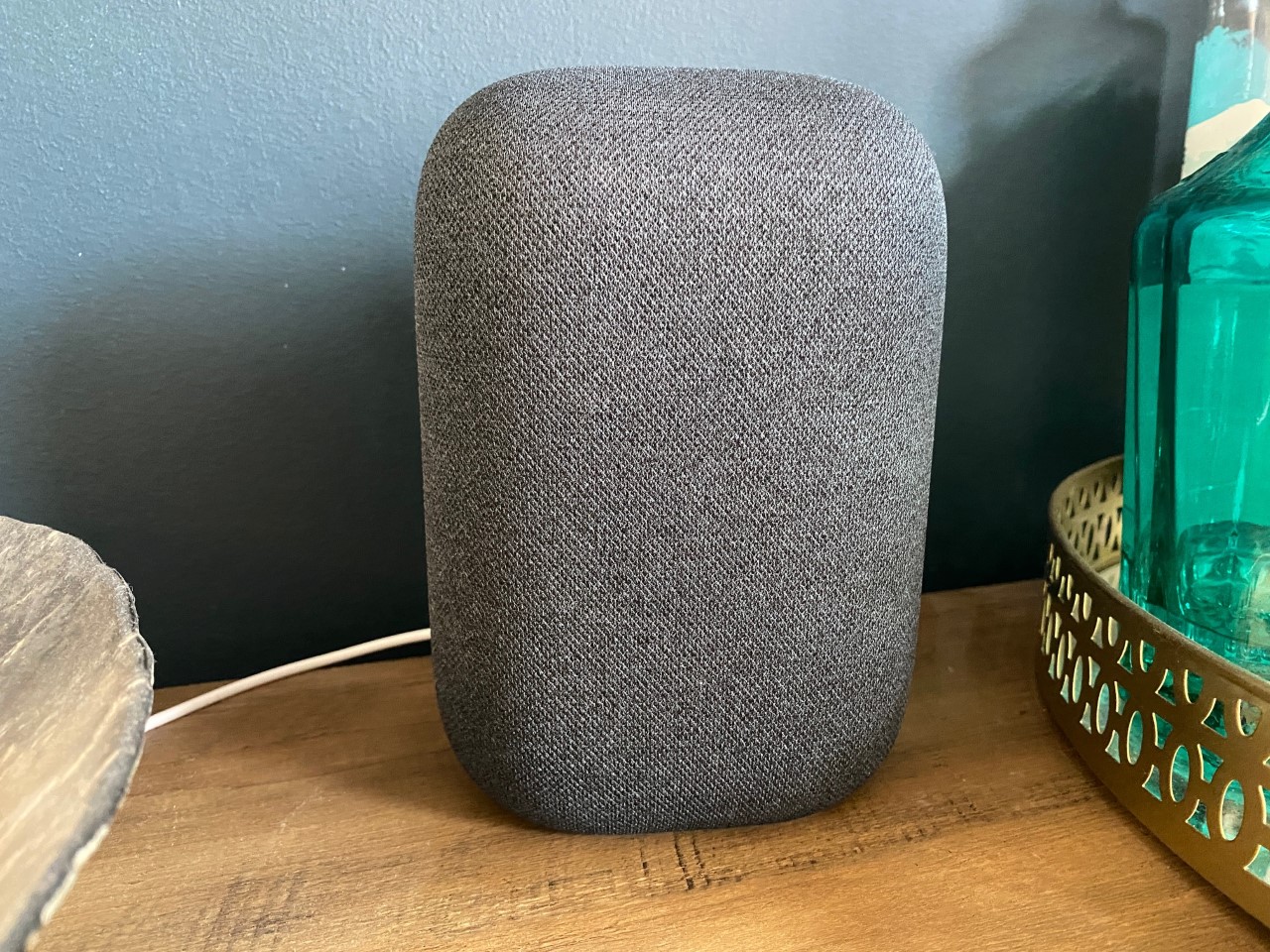 The Nest Audio is a superb little smart speaker that comes with better-than-average sound quality. It probably isn't going to be a speaker you leave in charge of your parties, nor one that you sit down to listen to your favourite album from start-to-finish on, but in terms of offering up an enjoyable sound for ambient everyday listening, it absolutely delivers.
That's all on top of the Google Assistant smarts, which its strengths lie. It works better in this department than any third-party speaker does, so if you're invested in the Google ecosystem, but want better sound quality than the Nest Mini can offer, the Nest Audio provides exactly that. For £90, we'd say that's a pretty good package indeed.
Stuff Says…
If you're focused on sound quality, you might find the Nest Audio wanting. Look at it as a smart speaker with improved audio prowess, and it absolutely delivers.
Good Stuff
Improved sound on Google Home
Voice commands are picked up well
Neat, unassuming design
Good value
Bad Stuff
Sound lacks some detail and dynamism
Can distort at loud volumes