Google Pixel 3 XL review
Incremental advances towards Android dreams
For years iPhone fans have banged on about how their phone is so pure and perfect because the same people make the phone and the software.
That old chestnut got old years ago, but they have a point. Android is as fragmented as a Dime bar whacked with a hammer, but there's a partial solution.
The Google Pixel 3 XL is 2018's purest Android phone. You get Google design, recognisable from half-way across a train platform, and Android without any tweaks that make it seem like a car customised with PoundLand accessories.
It's clean, pure and takes some of the best selfies you've seen. Is there a reason to hate the giant notch? Kinda. Do phones like the Galaxy Note 9 pack in more features? Absolutely. However if you want to experience Android as intended, the Pixel 3 XL is the way to go.
Design and screen: Soft touches
At first glance the Pixel 3 XL looks just like the Pixel 2 XL, but with the cute two-tone panda paint job taken away. It's either all-white, all-black or all-light-ish-pink.
The design has changed much more than the look though. Previous Pixels were made of aluminium, with a window of glass around the camera. This model has a full glass back, with a soft touch coating on the part you hold.
It feels great, almost like a ceramic coating. You get an expensive feel, without the fingerprint magnet effect of standard glass. Early reports suggest the black version's soft touch parts are dead easy to scratch. But after days of case-free use, jangling about in a pocket, the white Pixel 3 XL still looks good as new.
The sides are aluminium, again with a matt paint coating. It's the opposite approach to some makers of more affordable phones. Where they try to dress up cheap plastic as metal or glass, Google uses the fancy stuff but doesn't feel the need to show it off too much. You have to admire that kind of confidence.
Still, put it up next to a Galaxy Note 9 or iPhone XS Max and the Pixel 3 XL isn't as immediately impressive.
In-between the glass screen and the metal sides, there's a visible band of plastic. This is likely used to make sure the screen doesn't shatter should it fall off a table, but it's the design move of a mid-range phone, not a £900 one.
And, yes, we're being picky. All the other expected extras are here. You get IP68 water resistance for those "oh shit, I dropped it in the bath" moments, and a fairly fast, well-placed fingerprint scanner on the back.
Like the last Pixels, the Pixel 3 XL lacks a headphone jack. If this annoys you as much as it does us, consider a Samsung instead. Most other makers have followed this unfortunate Apple trend. You do get a little adapter in the box, though. You're not forced to upgrade to USB-C or Bluetooth headphones.
Also like last year's Pixels, the Pixel 3 XL has pressure sensitive sides, a feature HTC likes too. It can be used to silence alarms and incoming calls, which is neat. But it's really here to try to get us to use Google Assistant more.
This is handy to bring Assistant up when the phone is in standby, but when the screen's on, long-pressing the home soft key feels more natural.
Screen: Oscar-worthy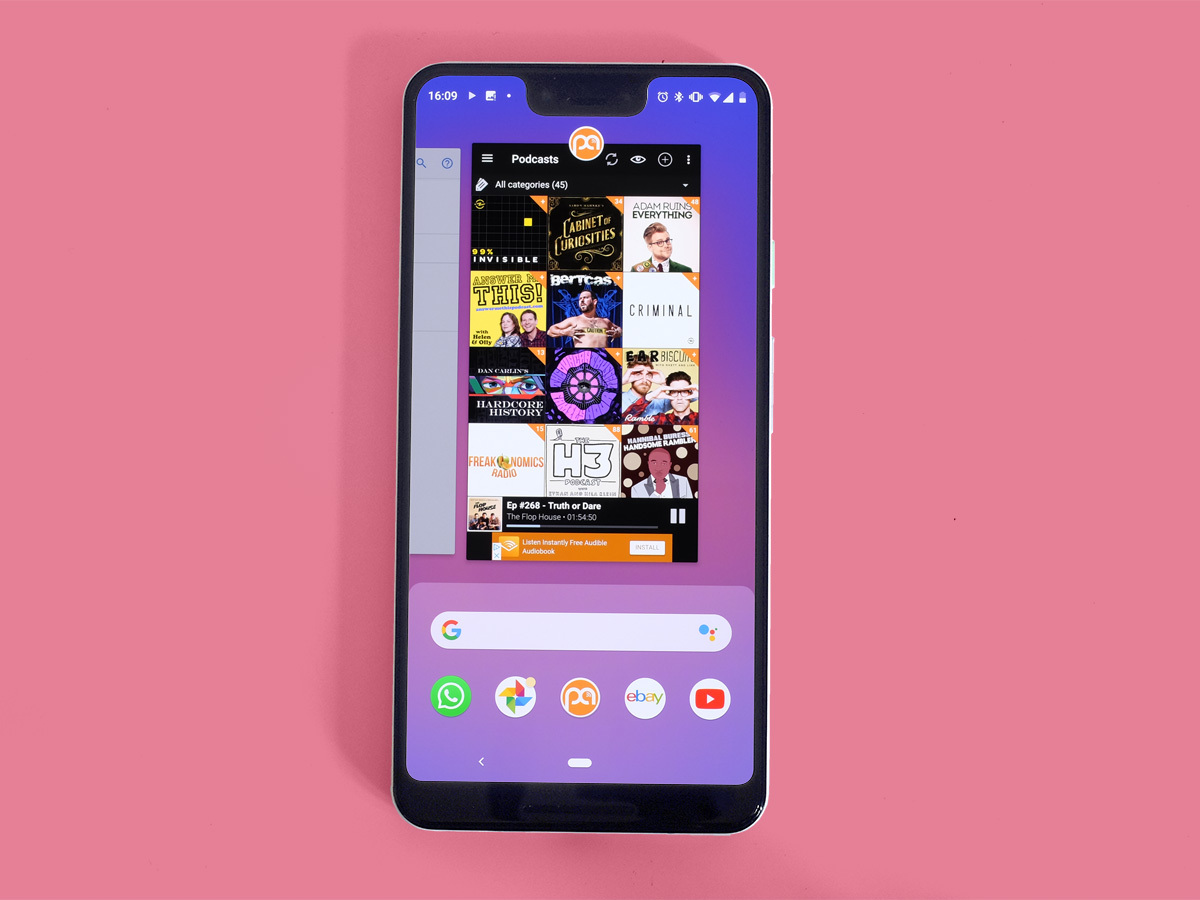 Despite the ultra-plain single-colour design, the Pixel 3 XL is one of the most recognisable top-end phones of 2018.
One of its quirks is sure to put some of your off, though: the fat notch. The deeper a notch, the more it cuts into the amount of display you have for games. It's noticeable. The iPhone XS Max and Galaxy Note 9 are a touch more immersive if you play something console-grade like Ark: Survival Evolved.
It does the Pixel 3 XL's front-on appearance no favours when just hanging about in Android 9.0 too. This is one part you'll have to mentally come to terms with. It's just about the most invasive notch out there, and there's no option to "hide" it, which would make the border look oversized anyway.
Display quality is excellent, though. The Pixel 3 XL uses the Samsung Super AMOLED kind, but all the complaints levelled at the Pixel 2 XL have been considered. The screen no longer turns blue at a slight angle, with just a little more tint than a Galaxy Note 9.
And colour is not muted this time. You can switch between "natural", "adaptive" and "boosted" colour profiles. None of them offer the kind of sugar-soaked saturation you can get with a top-end Sony or Samsung phone, but this is deliberate. OLEDs can "do" ridiculous colour, Google as just decided to keep the Pixel 3 XL looking classy.
The screen measures 6.3in diagonally, with resolution of 2960 by 1440 pixels. Thanks to the notch it seems smaller than an iPhone XS Max's or Note 9'S. But it's still a big 'un, with no sign of pixellation even if you get close enough to give yourself a headache
Software: Rude health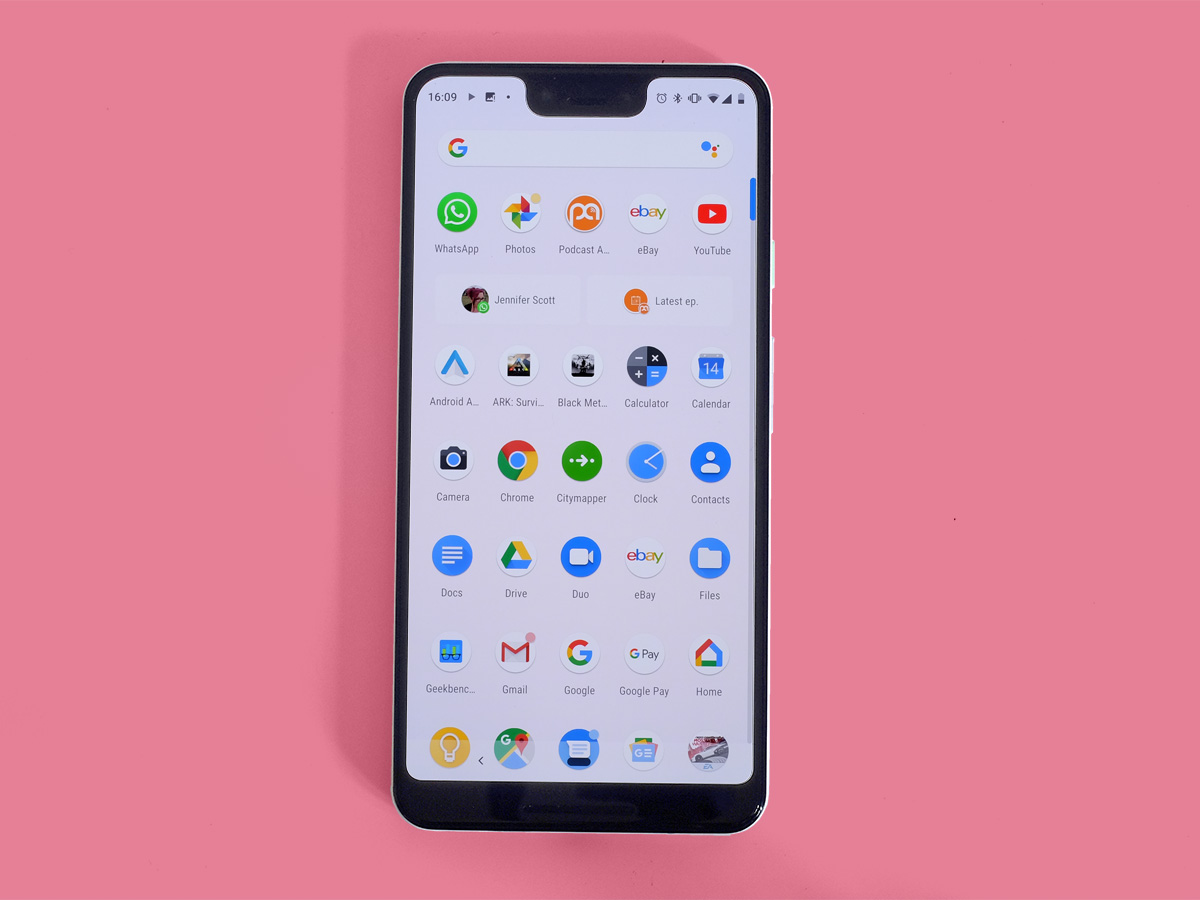 Fresh out of the box there's not much to scrutinise anyway, as the Pixel 3 XL runs the cleanest version of Android 9.0 available.
If you like your phones to be blank slates, only an iPhone can rival a Pixel. After living with the phone for a while, it's clear this version makes the biggest changes to the feel of Android in years. The whole structure is different now.
You don't just flick up to get to the apps menu, like a kid opening a toy box. That same flick takes you to a display of recently used apps, a dead ringer for iOS's app switcher screen, with an additional bar of shortcuts for the apps you use most.
Flick up again and you get to the good old apps menu. Android used to be a happy two-person household. Now the mate you used to see down the pub at the weekends has moved in. Of course it feels a bit odd.
But a few days in, it starts to feel less weird. It's the most "iOS" Android has felt too, mind. The Pixel 3 XL is also the first phone to launch with Google's new digital wellness features. These let you see how much time you spend in apps over the day, set time limits for app use and make the screen turn monochrome at bed time.
These controls are arguably much more useful than Apple's take on the same idea. You can set time limits per app, rather than per app category. Lots of people should probably try to spend less time on Facebook, Twitter or Instagram, but why does WhatsApp have to get lumped in with them? There's none of this nonsense with a Pixel 3 XL.
Performance and Gaming: To continue insert 100 pound coins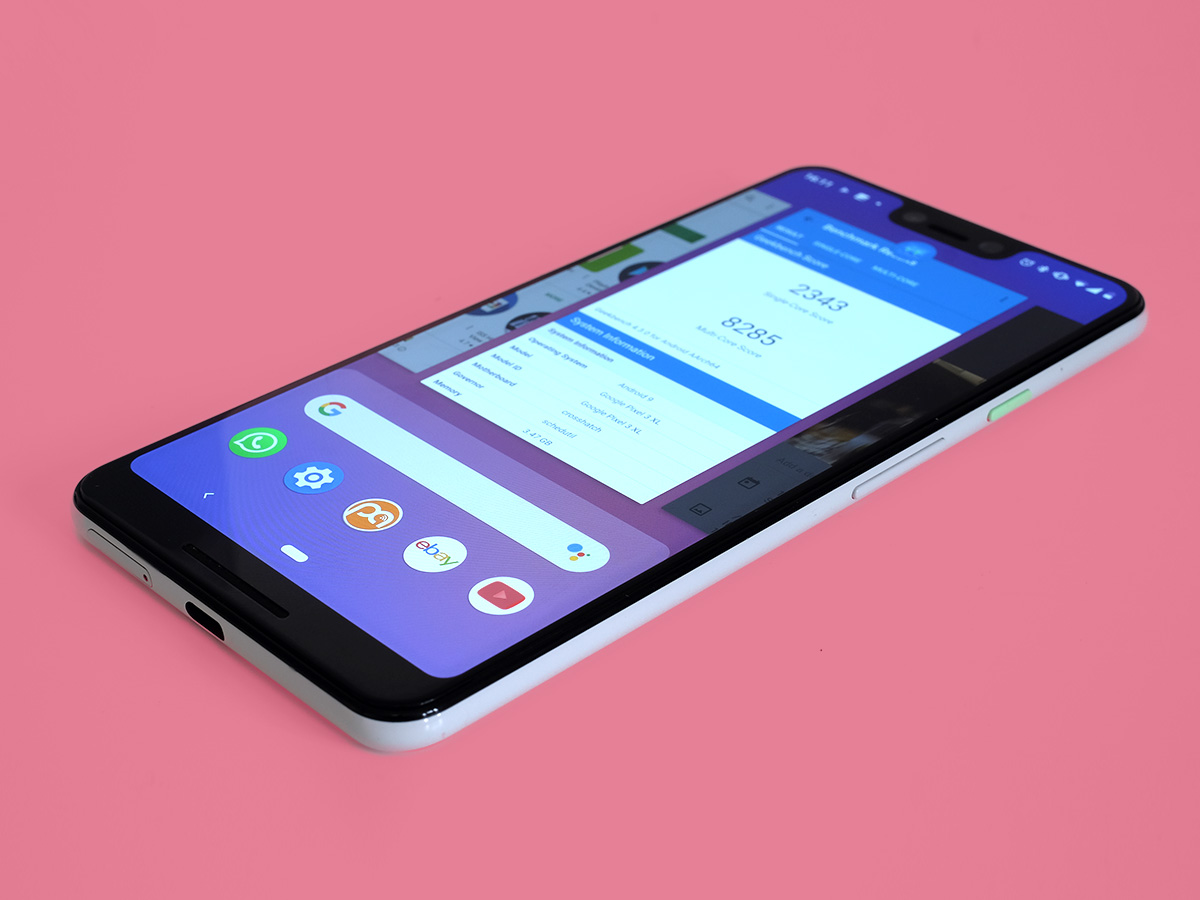 The lean software approach helps the phone feel very fast and responsive. App loads are super-fast, a big upgrade even from a tasty mid-range model. You don't get a brand new CPU to go with the brand new software, though. The Pixel 3 XL has a Snapdragon 845 processor, seen in phones released six months earlier like the Samsung Galaxy S9 and Sony Xperia XZ2.
Google didn't have much choice, mind. It was the newest top-end Qualcomm phone CPU at launch. In Geekbench 4 the Pixel 3 XL scores 8285 points, exactly what we'd expect from a phone with a Snapdragon 845. While not quite as punchy as the iPhone XS's A12 Bionic, the Snapdragon 845 can handle top-end games comfortably.
The only snag is we're already starting to see what's next: Huawei's Kirin 980 CPU is a generation ahead, and we're likely to see Snapdragon 855 phones within a few months. But, hey, you could wait forever for what's around the corner if you take that approach to tech.
The Pixel 3 XL has meaty-sounding speakers with plenty of volume and dual front-facing drivers, aways a great extra for games. Samsung's Note 9 and the iPhone Max XS have a clearer soundstage and deeper bass, but these speakers aren't too shabby at all.
You get 64GB storage with the standard Pixel 3 XL, and the 128GB upgrade is a chunky £100 extra. There's no card slot either, so choose carefully
Camera: A real natural
Google is deliberately stingy with its rear cameras too. The Pixel 3 XL has just one camera on the back, a 12-megapixel sensor with f/1.8 lens just like the Pixel 2 XL.
The aim is to show off what Google can do with software, rather than just piling on hardware. It can produce great HDR images, background blur shots and, according to Google, AI enhanced zoom without need for a second rear camera. It works too, for the most part.
The Pixel 3 XL takes the least processed-looking photos, with the most natural colour, of all the 2018 top contenders. It's HDR optimisation, used in 99% of the shots you take, also favours contrast over lifting shadow detail, compared to the Samsung and Apple models.
This results in rich-looking images, although often the brighter shots from a Galaxy S9 or iPhone XS will appear more superficially impressive. Just like last year, Google earns top marks for normal shooting during the day. It all starts to shift a bit when you crank up the challenge level.
Start zooming in and the iPhone XS Max and Galaxy Note 9 categorically smash the Pixel 3 XL for detail rendering.
Software smarts can get you along way, but they can't replace dedicated hardware. Both of those phones sail past the Pixel 3 XL when shooting in ultra-low light too. The Pixel 3 XL can take fantastic night shots, but the shots become vague compared to the Note 9 and iPhone XS.
If you combined Google's tasteful software with Huawei's "throw all the tech we have at it" approach, who knows what might result.
It's selfie time! And tere are two 8MP sensors up front. One has an ultra-wide lens for group selfies, the other a fast f/1.8 for top drawer duck face antics. You can switch between them in the camera app, and use an in-between view too.
Pick the most zoomed-in perspective and the Pixel 3 XL beats every recently reviewed rival for sheer clarity and sharpness across a range of light levels. Yep, even those phones with ultra-high res selfie cameras. This phone is the king of selfies.
For video you can shoot at up to 4K 30 frames per second. And it's stabilised too, so is actually useful rather than a factory for clips that look a juddery mess.
Battery life: Call it a day
We get extra selfie tech, but no such luck with the battery. The Pixel 3 XL has a 3430mAh unit, which is fine but not worthy of much more than a shoulder shrug.
It slots in somewhere between the Sony Xperia XZ3 and Samsung Galaxy Note 9 in terms of stamina. Left to play a 720p video on loop it was down to 47% charge after 5 hours 25 minutes.
At the same point the XZ3 had 42% left, the Note 54%. Used as an actual phone rather than a glorified display ripped out of an airplane seat, the Pixel 3 XL lasts a full day of solid use.
Stream a lot of audio, play games or watch YouTube during the day? There probably won't be much left by bedtime.
One of Huawei's top phones will probably serve a phone obsessive a little better. However, just about everyone should be able to get the 3 XL to last a full day. That's the main aim covered.
As you'd expect, fast charging is on-board and, thanks to the new glass design, so is wireless charging. Google's own wireless PixelStand charger won't juice the phone up as quick as a wired charger, but it also works as a desk stand. It's a nice change from a plain old Qi pad.
There's even a custom display that pops up when you use the PixelStand, complete with some extra Google Assistant shortcuts.
Pixel 3 XL verdict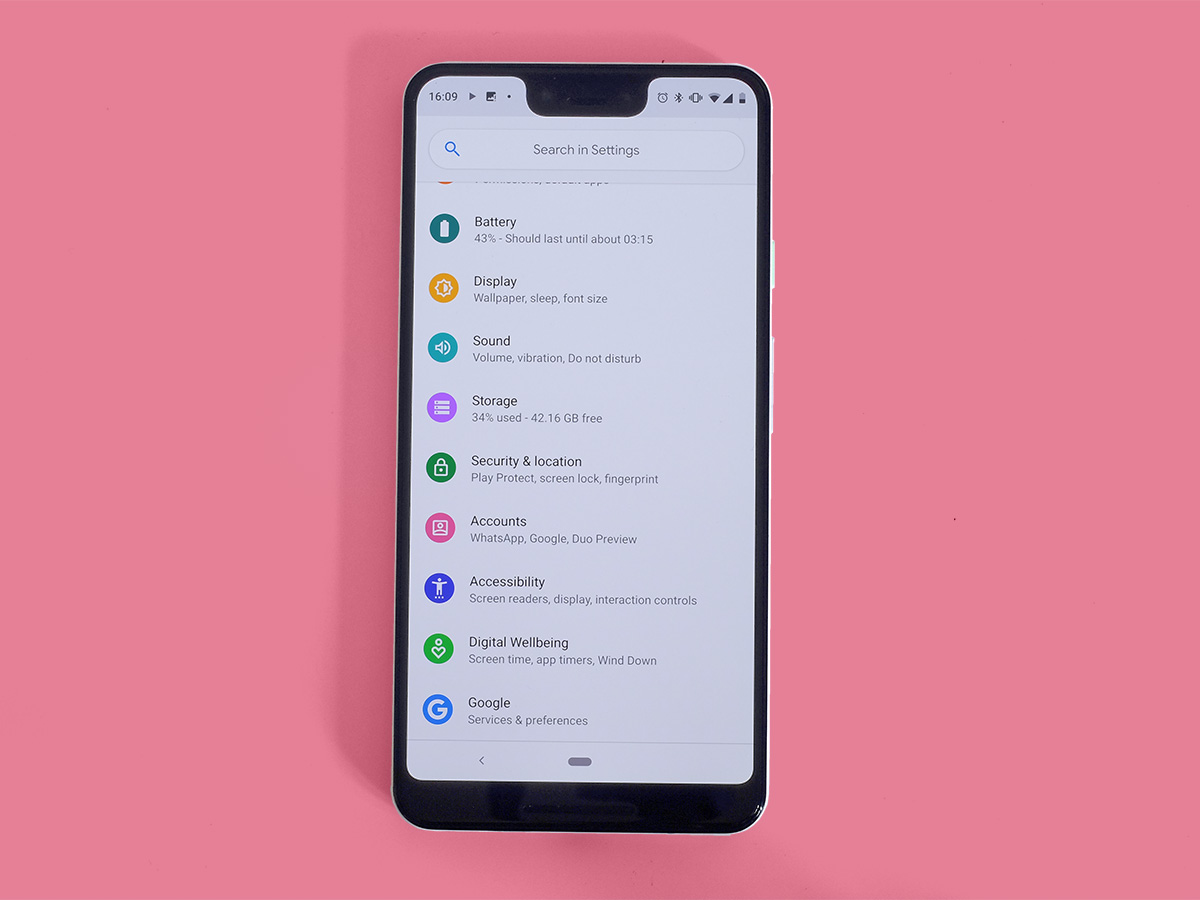 The Google Pixel 3 XL's biggest departure from last year's model is the feel of the software.
And, well, you'll get that with the 2 XL anyway. However, we also get a better screen, all-glass design and a great new selfie array, also to blame for that whacking great big notch in the display.
This phone takes some of the most natural daylight shots with its rear camera too.
However, the lack of extra tech does start to show in its zoomed photos and when you shoot in very dark conditions. The Pixel 3 XL is not a grand step on from the 2 XL. But it's a top showcase for what Google's software engineers are up to.
Stuff Says…
It's not a dramatic revolution but the latest Pixel is still one of the best Androids, and a great Android 9 showcase
Good Stuff
Android as Google intended
Natural-looking camera processing
Fab selfies
Bad Stuff
Giganto-notch is distracting
Camera beaten by rivals in some situations