Google Pixel review
Is this the Google phone you've been waiting for?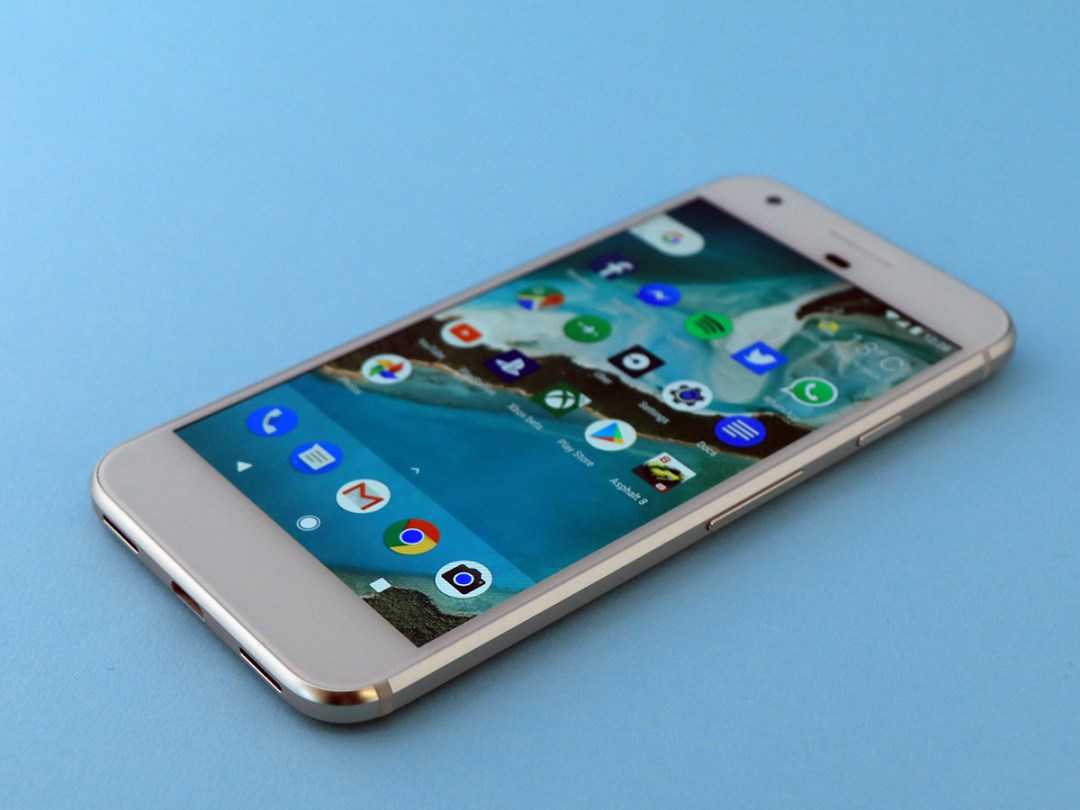 OK Google, so you've made an iPhone. What took you so long?
Anyone who's owned a Nexus since 2010, has wondered 'What if…'. What if Google put its name to a handset for everyone, not just Android nerds. And here it is, the Google Pixel. Unlike the Nexus 6P with its gargantuan 5.7in screen or the Nexus 4 with its future-gazing insistence on wireless charging, the Pixel hasn't been made to push the Android platform forward in weird and interesting directions. It's been made to sell in scale.
To that end, you'll be able to pop into a phone store and find it sitting right next to the Samsung Galaxy S7, HTC 10 and LG G5. Of course, what separates the Pixel from those devices is that it's made by the same people who built the Android OS on which it runs. And that makes it an iPhone in all but name. Despite that home team advantage, the Pixel isn't the best Android phone you can buy right now. Not by a long shot.
The problem? That big 'G' logo slapped on its backside doesn't really count for much. There's no one thing this device does better than any of competitors. It's a fine phone for the Google hardcore, but so were those Nexus handsets. This one was meant to be different.
Google Pixel Design: Plastic, not so fantastic
There is no one big 'gotcha' failing for the Pixel, just a fair spread of features that seem awkward or ill-conceived, and these start adding up as soon you take the device out of its packaging. You see, for a flagship phone, the Pixel simply doesn't look that good. Imagine what might happen if you blended the industrial design of the HTC 10 with the most dated aspects of Apple's iPhone 7 and that's what you get with this device.
A disappointing blend of chunky bezels, glaring antenna lines and glass cutouts, it hardly screams 'premium' and that's a big problem for something that costs £600. Having stood above the Android fray for so long, it's almost as though Google underestimated the level of refinement expected from this kind of device. Samsung and its competition have spent the last decade in a death spiral, trying to turn heads with the most desirable slab of glass and metal. The lesson? It's not that easy.
The Pixel is lighter than a Galaxy S7 – just 143g – and feels pleasingly chunky in the hand, but it also lacks a microSD card and water-resistance, both of which are features you'd expect to find in an Android phone at this price. Personally speaking, I'm not mad about its lightning fast fingerprint scanner being placed on the back of the device. This means if you wanna unlock the Pixel while it's sat on your desk, you'll have to bash in an old fashioned pass code.
More than anything, what the Pixel is lacking is desirability. If no one knew it was made by Google, would they buy it just because it looks cool?
Google Pixel Camera: Point-and-shoot smash
Glance past the Pixel's externals and it still promises plenty. Not least from its 12MP rear-facing camera, which I've been told by a surprising amount of non-nerds is meant to be the 'best ever'. That's because it's received the top DXOMark Mobile score out of all current smartphones you can buy. Full marks for marketing, Google.
That said, Sony's Xperia Z5 was famously sold on the strength of its Number 1 DXOMark rating, and in our tests that phone's snapper wasn't as good as the iPhone 6s'. What makes a great camera isn't a precise science. That's why DSLR geeks have been arguing about Canon vs Nikon since the dawn of time itself. Nevertheless, the Pixel is pretty damned good and certainly on a par with both the iPhone 7 and Samsung Galaxy S7.
Putting some new hardware behind the same sensor and f/2.0 aperture lens we saw on last year's Nexus 6P has really paid dividends to deliver this handset's standout feature. Better still, Pixel's superb electronic stabilisation of its video is a talent that none of its competitors shares. So long as you walk at a steady pace, it'll remove a remarkable amount of choppiness from the footage. Because not every home movie needs to shot like it's the Blair Witch Project.
Google Pixel image quality: No OIS, no problem
And yeah, the Pixels photos aren't bad either. Stick on the HDR+ mode to auto, and you're pretty much guaranteed something decent for your Insta. Outdoors exposure is excellent and colours don't glisten with an unnatural sheen as they often do on a Galaxy S7.
Fretting about the Pixel's lack of optical image stabilisation? Then don't. A combination of phase detection and laser autofocus meant my shots were remarkably sharp, even in low light. I didn't hold out much hope for Google's latest in the testing ground of a grotty East London gig, but credit where it's due. Also, by bumping optical image stabilisation the Pixel's camera is able to be flush to its body. Double bonus!
What's less impressive is the Pixel's performance under strip lighting, which often results in banding in your photos. Basically, because of the rolling shutter used in the S7's sensor you'll often see a weird array of strips running down pictures in these conditions. It's nothing that can't be fixed with a software update, but not exactly what you want to find in a new phone.
You'll get the same from effect from the Pixel's 8MP selfie cam, although its shots are otherwise pretty good. Facial hair still gets reduced to a muddy blur in low light, but that's par for the course with any smartphone. Find the right lighting conditions and your job's a good 'un.
Googel Pixel Google Assistant: Not that intelligent
Aside from its camera, the other thing Google's Pixel claims to be better than anyone else at is Android. Because obviously. For starters it's the first phone to run on undiluted Android 7.1 Nougat, and it also comes with Google Assistant baked in. Assistant is Google's new artificially intelligent helper: essentially an upgraded version of the existing Google Now and a competitor to Apple's Siri and Amazon's Alexa. Like Google Now, you use it by saying the words 'OK Google' then asking it a question, at which point the Pixel will respond with what you want to know. Well, most of the time.
In practice, it's adept at answering the same basic questions and commands you could already fire at Google Now, such as 'Will it rain today?', 'Set an alarm for 7am' and 'What's the capital of Malaysia?'. It'll also do some more complex stuff, like telling you when your next flight is and showing you photos based on their geotagged location. Again, you could already do that in Google Now.
What's new then? In a word: context. Ask 'OK Google, where is the nearest cafe?' and you'll get a selection of cards showing different eateries and their user reviews. Say, 'OK Google, where's good to eat around here?' and you'll get a link to the 'Best restaurants near me' page on TripAdvisor. So Google Assistant relies on you speaking in a set way, and will struggle with more conversational language. It also lacks the ability to book yourself lunch through OpenTable, a feature that's limited to Nougat users in the US at the moment.
Elsewhere, its trivia skills aren't that sharp. Ask "Who's going to be the next President of the United States?" and you'll get a news story. Ask "Who are the nominees for President of the United States?" and you'll get a Wikipedia page. Neither of which are particularly convincing answers.
Ultimately, Google Assistant is good if you know its limitations, but it's not a killer feature. I mean, did anyone actually buy an iPhone 4S to get their hands on Siri?
Google Pixel Android Nougat: Bittersweet so far
Elsewhere, Android Nougat has been lavished with some neat touches. Most noticeably, you can now swipe up from the bottom of the screen to reveal your apps drawer, swipe down on the fingerprint scanner for your latest notifications and long-press on apps for a selection of shortcuts, à la Apple's Force Touch for iPhone.
Trouble is, this last feature only half works. Hold your press on an incompatible app and Android will assume you want to move its positioning on your homescreen. Then there's Google's new GIF-friendly keyboard, which works in some apps such as Messenger but isn't supported yet in WhatsApp and various other third-party alternatives. As someone who's used more than his fair share of Android and iOS handsets this year, I just don't find the same number of quirks in Apple's operating system. And it still gets you the best apps before anyone else. Most recently, Android owners had to wait roughly four years to get their hands on the superb weather download Dark Sky. Before Christmas, Nintendo's Super Mario Run will arrive on iPhone first.
So while Google's operating system generally introduces new features first and gives you a much greater amount of freedom in the way you can use your Pixel, it doesn't yet provide the same consistency and exclusivity as Apple's alternative. The boundaries are smaller in iOS, but that means lot fewer bugs to contend with.
Granted these are early days for Google's Nougat and a lot of its inconsistencies will be soon remedied via update. Still, most people would expect for their new phone to stop playing music from Spotify while they're answering a phone call. The Pixel isn't meant for early adopters, but it often behaves like a phone that's made for them.
Google Pixel Screen: Pin-sharp stuff
You'll have no such trouble with its 5in display, though. A HD affair with 441 pixels per inch, it's pin-sharp and punchy for pretty much whatever you're watching. The Rogue One trailer looked suitably spine-tingling on this phone, while footage from Gears of War 4 oozed with bloody carnage. If you're a YouTube-on-the-bus kind of person, then the Pixel will suit you a treat.
Having also got my hands on the 5.5in Pixel XL, I've got to admit to a mild case of FOMO. Because of its greater size, that phone has a bumper 1440 x 2560 resolution. So not only is it that bit more comfy to stare at on long journeys, you also benefit from a bit of added detail. You get the same thing when stepping up from a Galaxy S7 to the S7 Edge.
If you're not after a bigger handset, though, this display is nothing to sniff at. It serves up good viewing angles and pleasing amounts of detail, and that's good enough for us.
Google Pixel Power: Plenty of speed to spare
As the first phone to rock Snapdragon's new 821 chip and 4GB of RAM, the Pixel certainly isn't lacking for raw power either. But then what phone is these days? If you're anything like me you mainly use your phone for calls, texts, Twitter, Google Docs and a spot of Clash Royale, none of which are especially processor-intensive chores. That's why manufacturers have shifted their focus on to cameras when it comes to smartphone one-upmanship; the difference between a good and bad snapper is more noticeable than power these days.
For the record, the Pixel scores 3991 in Geekbench 4's multi-core benchmarking test, which is some way behind the iPhone 7 Plus' 5452 rating but almost exactly on par with the OnePlus 3's offering of 3975. Bearing in mind that the OnePlus runs on the previous Snapdragon 820 chip from earlier this year, that seems about right.
Why are Apple's latest phones so fast? Because its A10 Fusion chip is designed specifically to work specifically with iOS. Since the Snapdragon 821 is an off-the-shelf solution that any manufacturer can buy, it doesn't provide the same benefits. Believe it or not, some of that 'we're so special' stuff Apple trumpets at every new phone launch is actually for reals.
Back in the land of Android, the Pixel will do you just fine. More than that, it'll breeze through the graphically demanding racetracks of Asphalt 8 without pausing for breath. When placed under duress this phone does begin to get hot, but you'll rarely push it that far. As a day-to-day companion for hopping across apps, it'll more than get the job done.
Google Pixel Battery: All-day stamina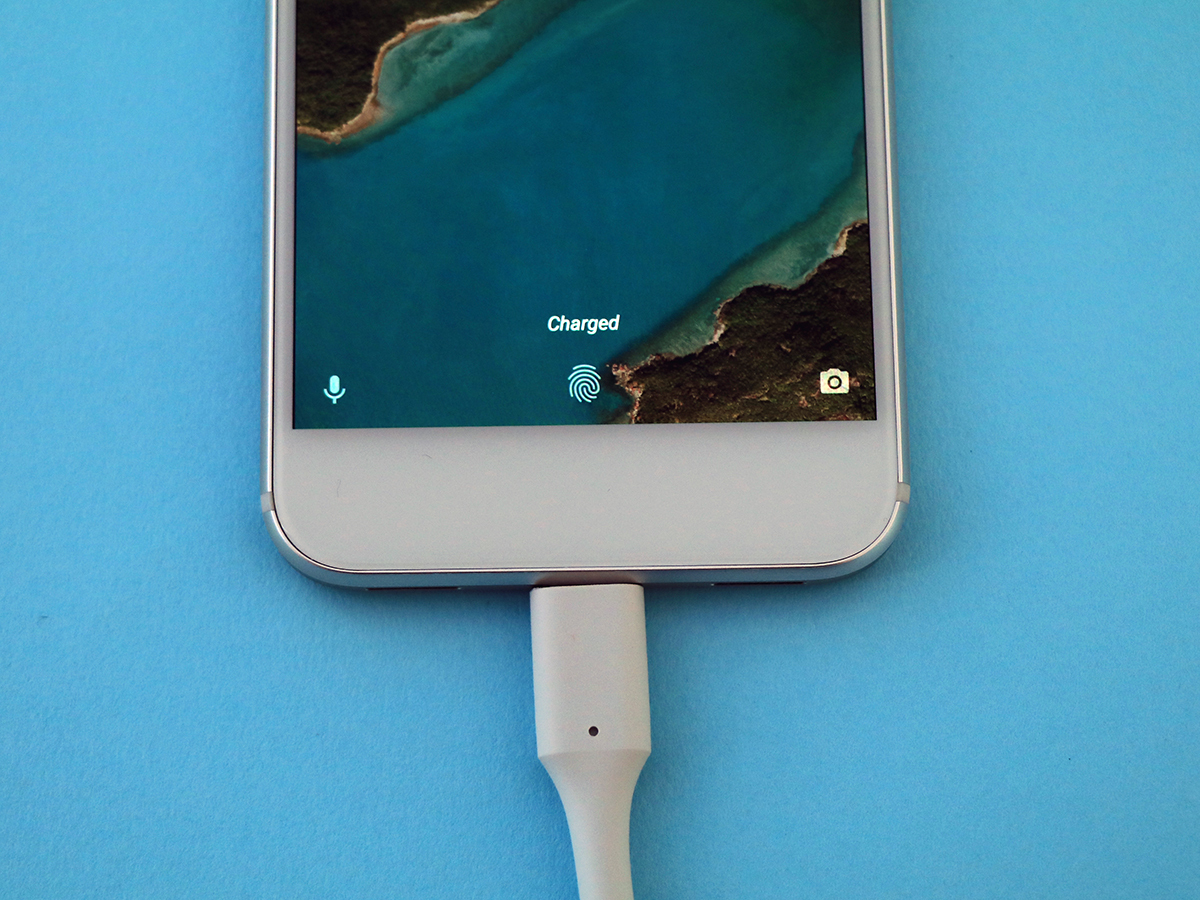 The same goes for its battery life, which is very much par for the 2016 course. Spend your day lounging around in front of a TV and the Pixel's 2770mAh cell (the XL has a 3450mAh capacity) will trundle on for a day and a half before needing a re-up. Start dipping into a few games when your boss isn't looking, checking your Instagram every hour or so and rifling through you inbox and you'll just about scrape through a day's worth of usage.
That's not an astounding amount of longevity, but nor is it anything to be concerned about. Especially since the Pixel's fast-charging capabilities through USB-C give you a claimed 7hrs of battery in 15 minutes. While we haven't had a chance to verify that exact figure, the Pixel will certainly come good if you've only got enough time to chomp down some Chicken McNuggets while hopping off elsewhere.
With a minimum of 32GB, or 128GB if you want to spend an extra £100, the Pixel gives you broadly the same storage options as the iPhone 7. Especially since this phone comes with free, unlimited space for your photos and videos through Google Photos, which is the best such service available. So if you're an Average Joe instead of a Google fanatic, you should be just fine. Tidy.
Google Pixel Verdict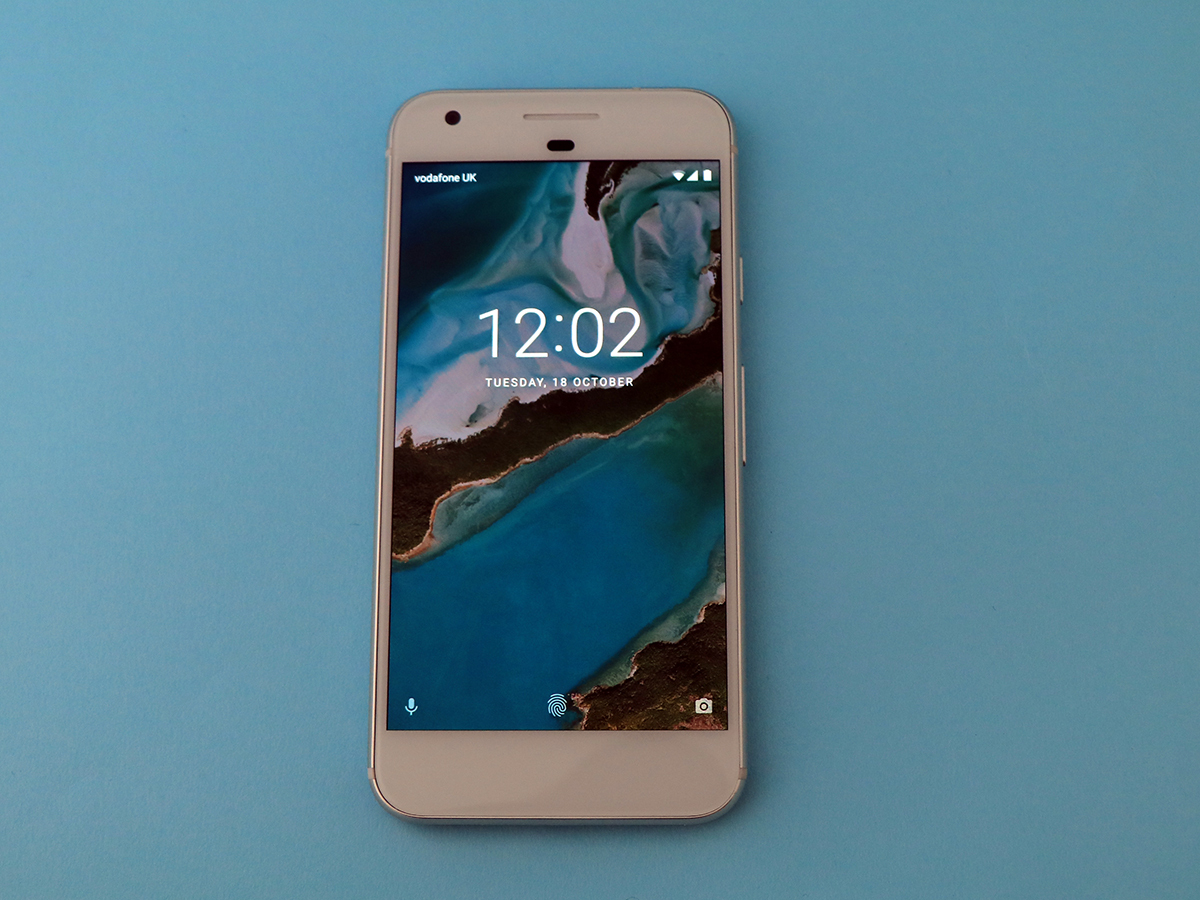 In fairness, getting the Google Pixel right first time was always going to be a tough ask. It's a completely different beast to those former Nexus phones, which were priced competitively enough for you to forgive their shortcomings.
I was OK with the Nexus 4 having a dreary camera, because it was £239. The 128GB Pixel costs three times that amount, so you'd expect it deliver the goods across the board. And this is where it falls short.
From Samsung's Galaxy S7 to the OnePlus 3, the bar has been set ludicrously high for smartphones this year whatever budget you're working to. So while the Google Pixel's camera, screen and performance are all excellent, a ropey design, so-so battery life and buggy user experience hold it back from a full five-star score. These shortcomings won't matter to the Android diehards, but they certainly will to anyone who couldn't care less about how 'pure' their OS experience is.
The Google Pixel is much more of a Nexus than it is an iPhone. And that means there are several better handsets out there for everyday consumers.
Buy the Google Pixel here from PC World
Stuff Says…
Not the slam dunk we'd hoped for, but Google's Pixel still delivers some standout features
Good Stuff
Fantastic camera
First dibs on Android Nougat
Decent screen
Bad Stuff
Weak design
Buggy OS