Google Pixel Slate review
Does Google's tablet live up to its high-end price tag?
Tech is at war with itself. Phones want to kill tablets. Tablets want to kill laptops.
Headphones were just minding their own business, then got whacked around the head by mobiles who want to wipe their wired kind from existence completely.
The tablet's odds of a win in this war are looking pretty rough right now. And their last-ditch effort at survival is with models like the Google Pixel Slate, iPad Pro and Microsoft Surface Book.
They're tablets in laptop disguise, just trying to catch a break. They want to be the only computer you need. Well, outside of the phone in your pocket.
The Google Pixel Slate can be that. It has a great screen, the keyboard is good enough for all-day typing and it has some of the best speakers seen in a tablet. But we just can't get away from the slight ridiculousness of spending £1000 or more on a Chrome OS device.
A Chromebook is a great way to get a £200 computer that can handle all the basics, and save you from a potentially deeply disappointing Windows machine at that price. But in its current wobbly and hollow state Chrome OS just doesn't deserve this kind of flashy treatment.
Design: Simplicity
Say what you like about the software, Google has not messed up the core PIxel Slate hardware. Like the Pixel phones, it's deliberately pure and simple-looking.
The casing is aluminium, the screen toughened glass with curved edges that catch the light prettily. Personality isn't really the aim, but the Slate does at least look and feel expensive.
Next to an iPad Pro it doesn't seem quite as advanced, though. Check out those screen surrounds. That's some 2012-era thickness going on. It does give you somewhere to put your thumbs at least.
And as the screen part is a solid 731g, you're not going to wave it around like a sheet of paper when you use it like a tablet with the keyboard detached.
The Pixel Slate only really makes sense if you'll use it with a keyboard some of the time, anyway.
This is a Chrome OS computer, not an Android one. For the uninitiated, Chrome OS is like a version of Android that desperately wants to be Windows. It's meant for work, not just messing around.
Keyboard: Pricey press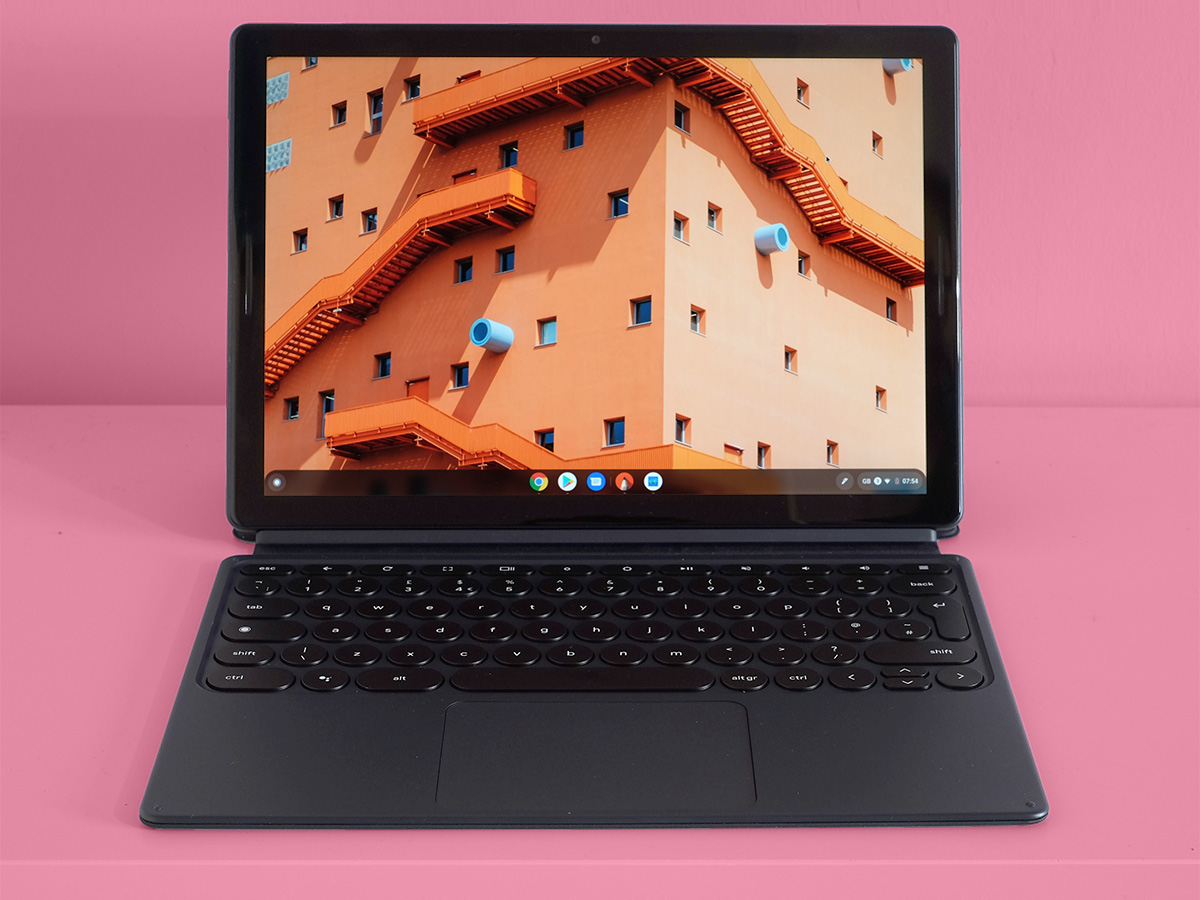 The keyboard you see here is Google's own. It has a soft touch outside, a fairy hard keyboard part, high quality glass trackpad and a magnetised connector.
As the Pixel Slate itself does not have a Microsoft Surface-a-like kick stand, the keyboard case also has to hold up the screen. Again, it uses magnets for this. A fold-over part of the case lets you sit the screen at just about any laptop-like angle you like. Handy.
How's the typing? Less clicky and shallow than a MacBook, but nowhere near a good Lenovo ThinkPad. It's fine. This review was written on the thing, with only the usual healthy amount of typos involved.
The Pixel Slate keyboard only really works well on a solid flat surface, though. Put the thing on your knees and the screen starts leaning over like a grumpy toddler in a high chair because there's only a flap of fabric actually connecting the screen half to the keyboard.
This is probably why Google actually sells a third-party alternative, the Brydge G-Type keyboard, on its very own store. It uses plastic clamps, for a more rigid and practical, if less slick-looking, approach.
Both keyboards are, like every part of the Pixel Slate, expensive. The official one is £189. Acer makes an all-aluminium Chromebook that costs less than these keyboards alone, all in.
Display: Sharp screen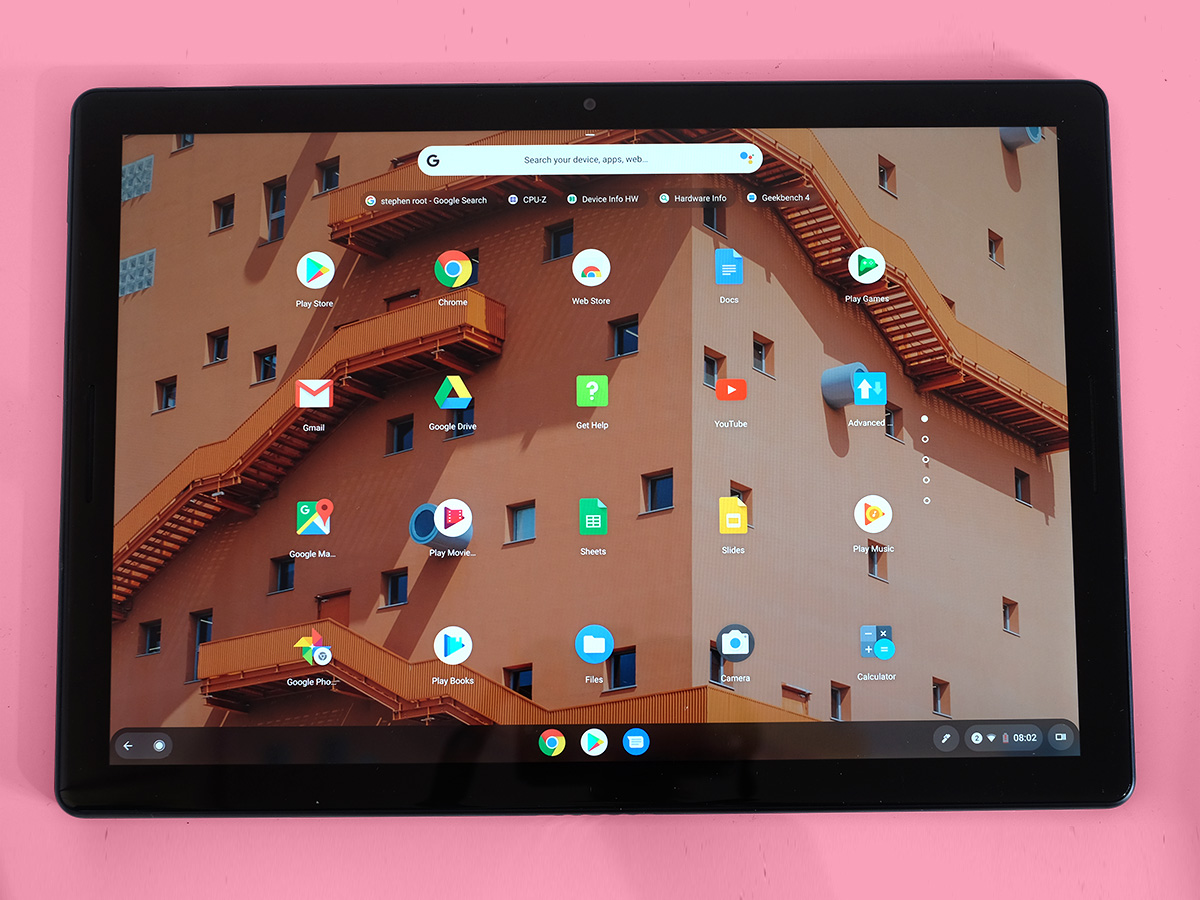 It's a good job the screen is great, then.
The Pixel Slate's display is a good size for proper laptop-style work. It's 12.3 inches across, and the 3:2 aspect gives it a pretty "tall" appearance when on its side, just like an iPad.
Resolution of 3000 x 2000 pixels also makes text look very sharp, and gives you scope to shrink the interface to fit more on-screen. Don't strain your eyes too much, though, eh?
Colour and contrast are both strong, although as this is an LCD screen rather than an OLED the punch in certain situations isn't quite as great as the Samsung Galaxy Tab S4. Still, it can go toe-to-toe with any high-end laptop and come off well.
This is a touchscreen, of course, and the finish is glassy gloss, with no anti-reflective coating. High max screen brightness lets it copy fairly well outdoors, though.
Software and Stylus: smooth and shaky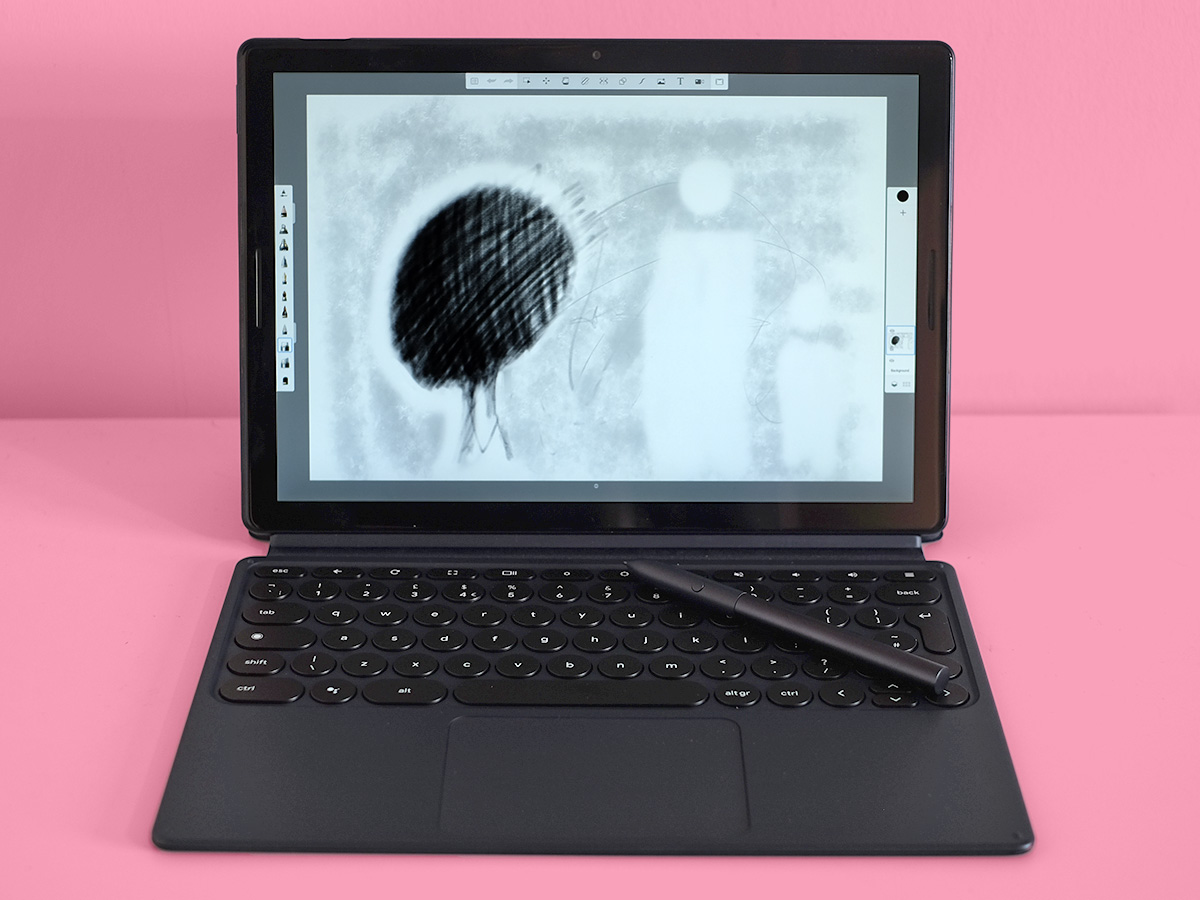 One of the best other parts costs extra, the Pixelbook pen stylus. It's a whopping £99, still a little less than the Apple Pencil (£119) mind.
It's aluminium, and takes an AAA battery. You can use the button on its side to bring up Google Assistant, but the simple feel of the thing is the best part.
Gliding across the screen is ultra-smooth, more so than the styluses Lenovo, Dell and so on ship with some of their convertible laptops.
There's a hair more input lag than Apple's Pencil, but with support for tilt sensing and pressure sensitivity, the sketching experience is pretty natural.
The main limit is the kind of apps you can get for Chrome OS. As it runs Android apps you can use Sketchbook Pro and Infinite Painter, but not the kind of software professionals use.
This is indicative of the odd middle ground in which Chrome OS lives. It's not a fluffy mobile OS, but isn't quite as broad as MacOS or Windows either.
And, again, it makes more sense when you're paying £200-300 for a laptop or convertible rather than up to £1837 with all the accessories added. Sheesh.
We have £1257's worth of Google Pixel Slate here, the Core i5 CPU version with 120GB of storage and 8GB RAM. And even this fairly high-end version feels shaky at times.
Sometimes the software is jerky, and while Android app support began in Chrome in 2016, it still needs work.
Ark Survival Evolved crashes before you reach the loading screen, and there's unexpected occasional judder in games that would run just fine on a mid-range Android phone, like Alto's Odyssey.
You can also watch some apps rescale to the screen as they load, another sign the Google Pixel Slate is running software not really designed for it.
PUBG doesn't recognise the Google Pixel Slate as a "powerful" device either, only letting you run the game with bottom-rung graphics. And as such it looks pretty naff on a 12.3-inch screen.
The top-end versions of the Google Pixel Slate are also not quite as powerful as you may expect.
Yes, they have eighth-generation Intel CPUs, but these are "Y" chips, which only have two cores, not four like the kinds used in most Windows laptops. Their integrated graphics chips are weaker too.
It scores 7941 points in Geekbench 4, only slightly better than the cheaper Samsung Galaxy Tab S4.
This tablet can't run the most demanding apps and games as well as a standard Android tablet or phone. And that's an issue whether you blame the processor or the software. We mostly blame the software.
Chrome OS also feels like a work-in-progress. Why is the homescreen just a place to put a wallpaper and nothing else? Why does it feel a little clunky to navigate around still? Why are there so many fewer features than Android?
As before, these problems don't matter so much when you're paying £180 for an Acer Chromebook 14 for the few jobs you don't want to do on your phone. But they're glaring when you've just emptied your bank account for a Chromebook like the Pixel Slate.
Battery Life and Speakers: solidly sound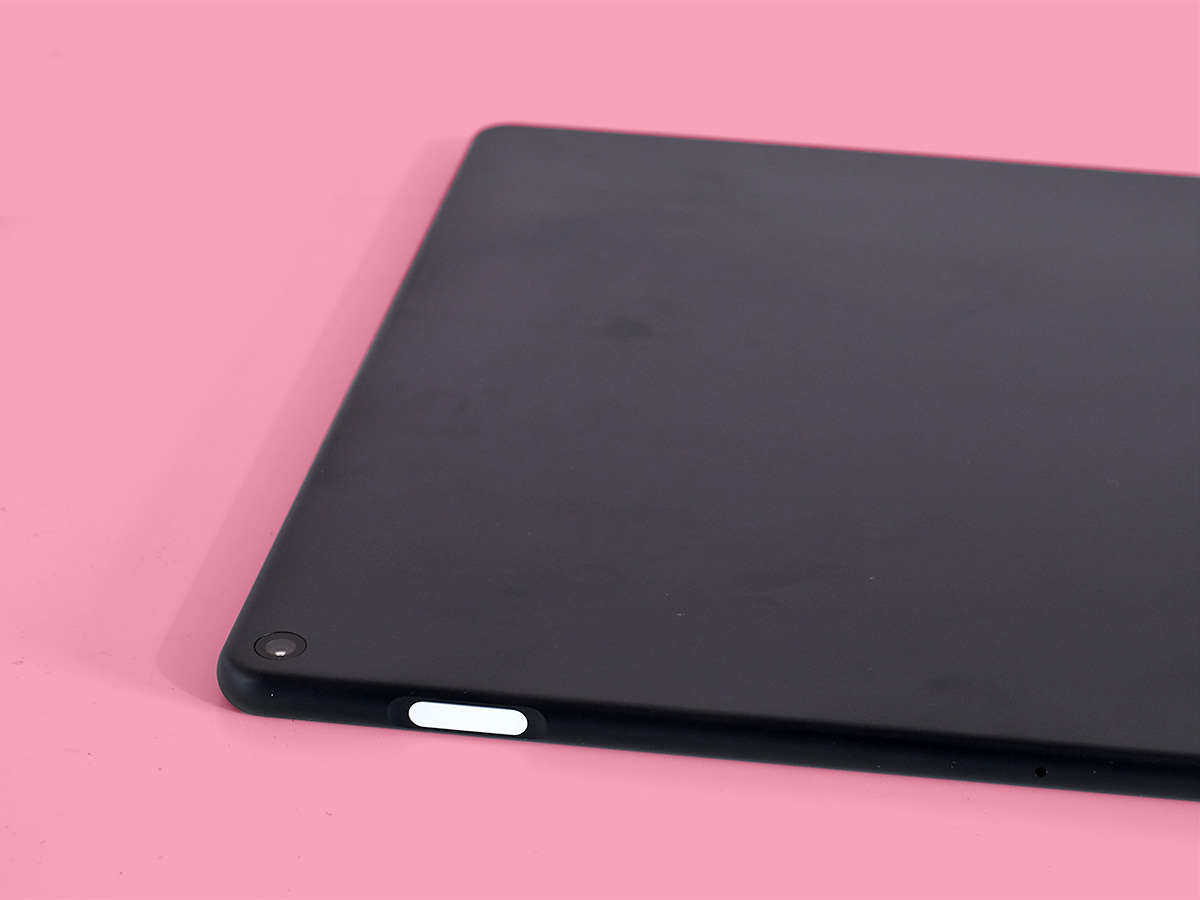 Much as we love Chrome OS in other contexts, the Pixel Slate hardware seems wasted on it. Still, some parts do slot together nicely.
The tablet has great speakers. Drivers on each side of the screen offer stereo sound, and far richer, baser sound than just about every tablet bar the iPad Pro.
Feed the Pixel Slate some YouTube, Netflix or BBC iPlayer and it seems very happy.
Battery life is solid enough too. Using it as a work PC, with lots of internet research, even more writing and the occasional bunk off to watch a YouTube video shared on Twitter, the Pixel Slate lasts between 9 and 10 hours.
You charge it with the usual phone-shape USB-C cable, and there's another on the tablet to let you plug in peripherals like a mouse. It's a serious work machine after all.
The Pixel Slate also has 8-megapixel cameras on its front and back. These are predictably not as good as those of the Pixel 3 XL phone.
But if you're using them for anything more than video chat or messing around at home, we have one question: why?
Google Pixel Slate: Verdict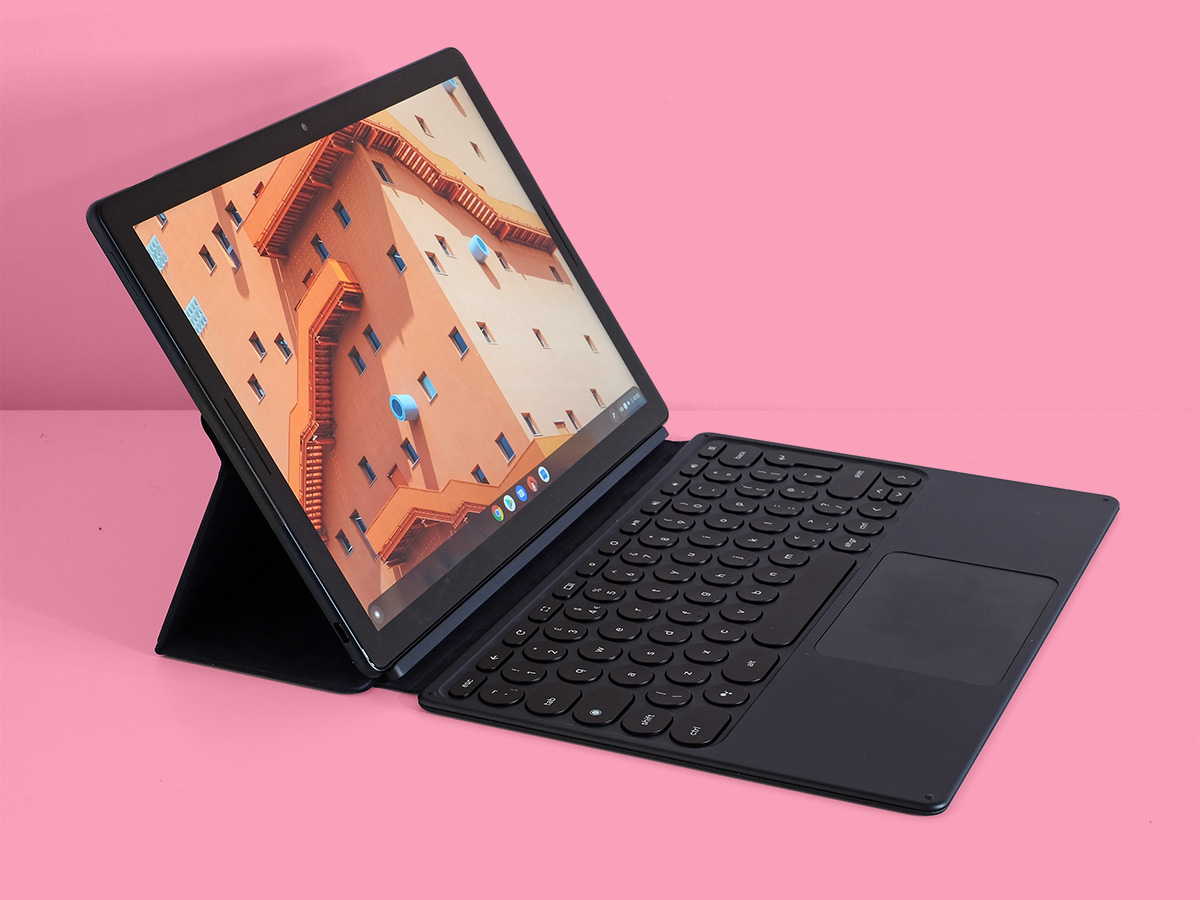 The Pixel Slate is a sweet piece of hardware that makes almost no sense as a piece of tech to recommend to a real person.
Its screen is great, the optional stylus ultra-smooth, the speakers are fab, and while we wouldn't trade in a high-end laptop for the keyboard base, it does the job.
Squaring away spending £1200-plus for the kind of experience is hard, though.
It's not fun to use as iOS, not powerfully versatile like Windows. And while it can run Android apps, it doesn't run them as well as a native Android gadget. Pay extra for more power and it seems to flow right down the drain.
£200 Chromebooks for the basics are a brilliant buy. A £1200 Chrome OS package? Not so much.
Stuff Says…
Top tier hardware matched with software that doesn't deserve it
Good Stuff
Great stereo speakers
Solid battery life
Bright, sharp screen
Bad Stuff
Flaky Android app support
Expensive
Occasional wobbly performance and navigation