Google Stadia review
Nothing but a stream
On paper, Google's vision for video game streaming sounds like a genuine game-changer and then some.
Why buy a console and a pricey external hard drive when you can instantly play games on your phone, PC and in 4K on your TV on a single account, letting Google's data centres do all the heavy lifting?
But of course, it's not quite as simple as that. Google started to roll out its Stadia Founder's and Premiere Edition packages towards the end of last year, and it's been a bumpy road to where we find ourselves now.
From pricing issues – you have to buy each cloud game at full whack without really knowing how committed to the service Google is – to a small and pretty uninspiring list of day one games that has hardly multiplied beyond recognition, it's fair to say that the likes of Sony and Microsoft won't be feeling too nervous about the arrival of a new player just yet.
All of that said, we've finally got our hands on a review unit recently, and while I still have huge reservations about Google's current business model, it's hard not to at least be impressed by the basic tech.
Controller and devices: Jump around
It's been clear from day one that Google Stadia is all about cloud gaming without the need for a console or PC, but that doesn't stop it being somewhat jarring when you flick open the box to find just a controller and a Chromecast Ultra.
But they're genuinely all you need to start playing games. Once you've plugged the Chromecast into your TV's HDMI port and set it up through the Google Home app, you'll need to set up the imaginatively-named Stadia Controller. The wireless pad is itself a Wi-Fi-enabled-device, communicating directly with Google's cloud network.
To activate it you'll need to download the dedicated Stadia app, sign up for the service and follow the on-screen setup prompts. Once that's done it's just a case of entering the button code displayed on your TV to link it up and start playing. The process is impressively painless for the most part, but signing into Stadia on a friend's home network and then returning to my own seemingly required me to restart the pairing process, which was annoying.
The Stadia Controller looks a bit like a mashup of the DualShock 4 and the Xbox One's pad, but doesn't feel quite as nice in the hand as either. That's not to say it's bad, though; it's well-built with decent enough triggers and a clean overall look. The Midnight Blue pad we were given for review is probably the pick of the lot, colour-wise.
As well as the traditional face buttons, D-Pad and sticks, there's a button for capturing screenshots and gameplay, which appear almost immediately on the Stadia app on your phone, and a Google Assistant button, whose functionality at the time of writing is limited to launching a game from the Stadia home screen via the built-in mic.
The round Stadia button that sits between the thumbsticks is the one you're going to be using the most. A short press will bring up the home menu (more on that in a second) and a long press allows you to start and exit a game, and switch between accounts.
While Google intends to make the Stadia Controller wireless with any supported device, it's currently still only possible on the TV with the Chromecast Ultra. If you want to switch to a Pixel phone (still the only supported mobile devices) you have to connect the two with a USB-C to USB-C cable. Open Stadia on the Chrome browser on your laptop and plug in the pad with a USB-A to USB-C cable to play on there. It all works pretty seamlessly as long as you have the relevant wires handy.
If you want to add a Stadia controller to a different account, it's as simple as entering a code shown on screen when the device in question recognises a new pad. And if for some reason you really dislike Google's controller, you're able to use an Xbox controller instead.
Performance: better than expected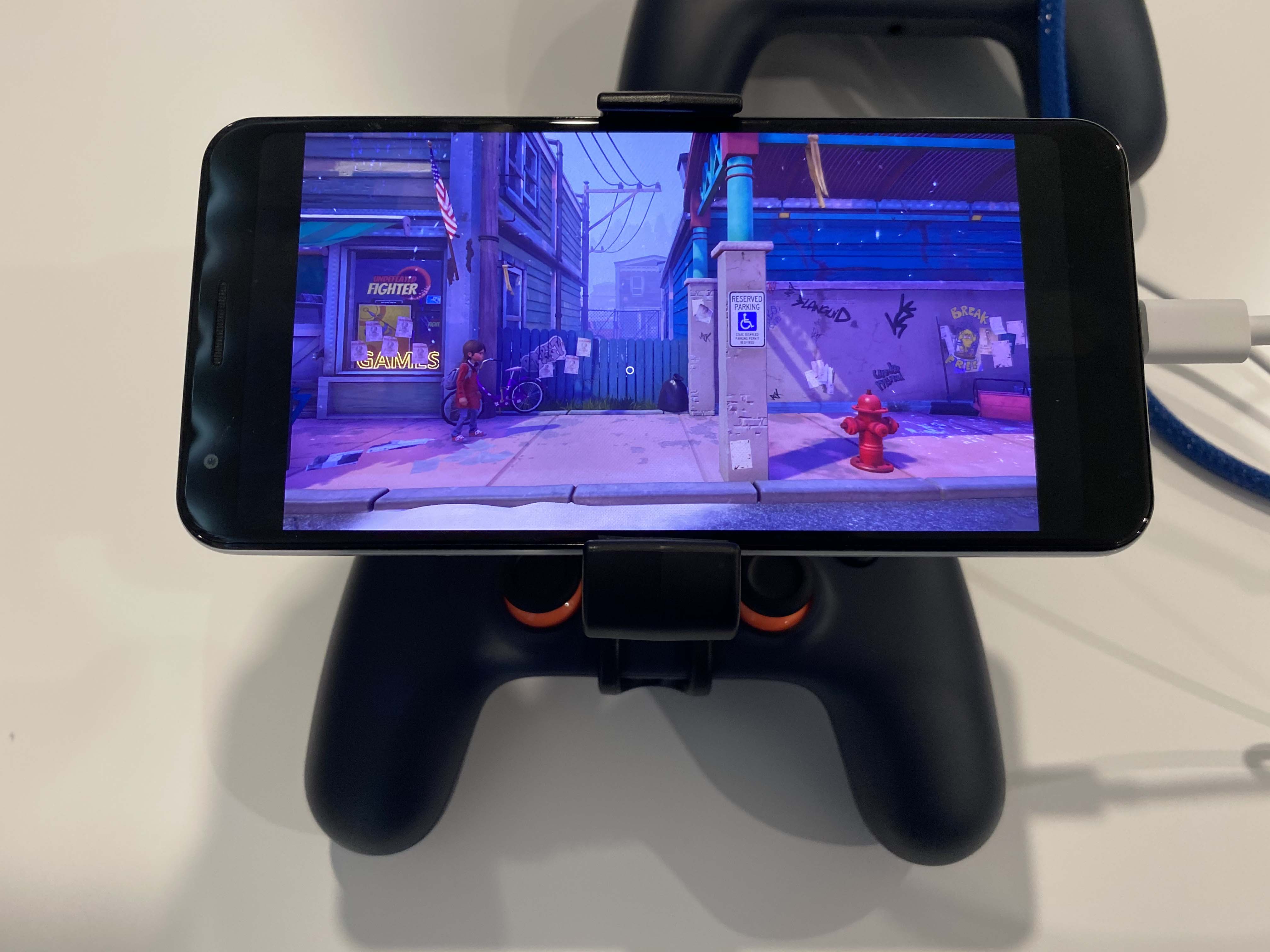 If you've got the equipment and internet speeds to facilitate it, a Stadia Pro subscription allows you to play 4K HDR games at 60fps with a 5.1 audio setup. No downloads, no updates, no patches. Of course, the latter is a very big if, and right now Google doesn't recommend firing up your Stadia account outside of the house.
For 4K gameplay, a network speed of 35 Mbps down or greater is advised. 20 Mbps should handle 1080p, and the minimum for 720p resolution at 60fps with stereo sound is 10Mbps. A 5GHz wireless band is preferable if it's available to you, and you might want to think twice if you have a data cap at home, as you can easily burn through 20GB an hour at the highest setting.
For most of my testing, speed tests informed me that I was getting anything from 55-65 Mbps. Fast, but not spectacularly so, and under these conditions Stadia performed admirably.
The first game I booted up was Tequila Works' horror-lite adventure Gylt, notable for being Stadia's only current exclusive. The game's relatively low stakes Coraline(ish) art style means it's by no means the game to judge Stadia on, but it looked great all the same.
I played some of the far more demanding Red Dead Redemption 2's online mode on a middle-of-the-road 4K HDR set with full 5.1 surround sound and it ran smoothly, with minimal texture load-in and no discernable audio syncing issues. Put it this way: if I didn't know the game was running off a remote server, I probably wouldn't have guessed.
Rage 2 and Destiny 2 also looked good, if a little muddier than their console counterparts. But it was on these games – frenetic first-person shooters – that I convinced myself of some minor input lag. Most of the time it's barely noticeable, but if you're playing a competitive game where every millisecond of reaction time counts, it might well be.
I played the first hour or so of 2015's Rise of the Tomb Raider, hopping between a 1080p non-HDR TV, a Google Pixel 4 XL kindly lent to me by its maker, and a knackered old MacBook Air. As a now fairly old game, visuals on the TV were pretty underwhelming, but the game looked lovely on the Pixel's big and bright display, and totally serviceable on the MacBook Air. Amusing, as you know that attempting to run the game on the Apple laptop's own internals would probably set it on fire within minutes. It takes a while to remember that you're essentially just renting each device's screen.
Very occasionally games stutter under the pressure, but that's hardly a problem exclusive to cloud gaming.
Interface and games: more games needed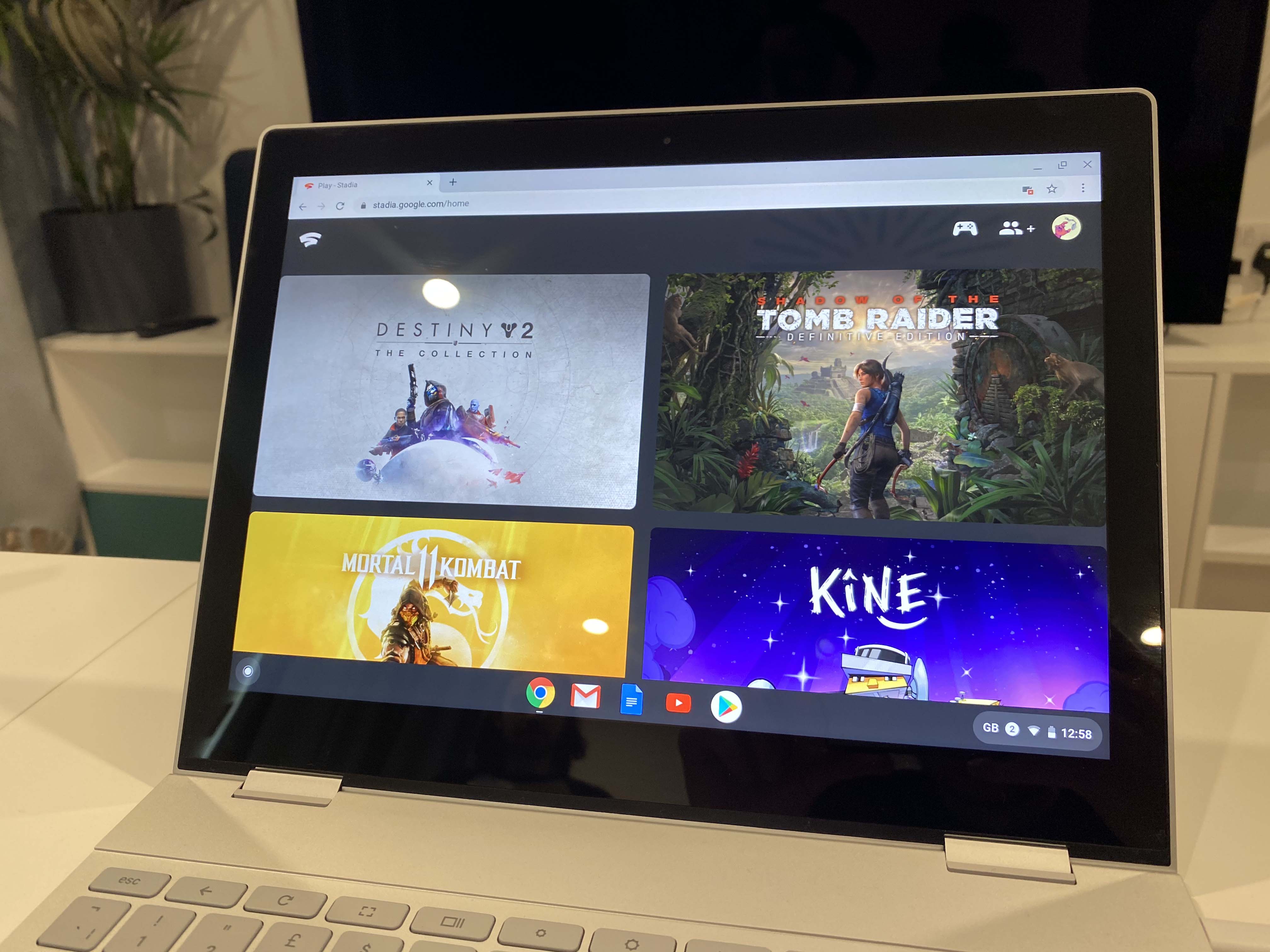 Google had kept its service's UI under wraps in the leadup to launch, but we're pleased to report that it's nicely designed. On the homepage you can scroll through all of your games, which are illustrated by chunky cover art. It's a clean and colourful interface.
Clicking or tapping the top right-hand corner of the page will take you to your Stadia profile, where you can change your name and avatar, browse your friends list, check notifications and manage your subscriptions.
Then we come to the actual games, and this is where Google Stadia is still struggling to make a case for itself. The service launched with a paltry 22 titles, and the big-hitters on the list – the aforementioned Red Dead 2 and Destiny 2, and Assassin's Creed Odyssey – had been out on other platforms for over a year at least.
What's alarming is that since launch that offering has barely expanded, with the only notable addition being Tom Clancy's Ghost Recon Breakpoint, a game that we, er, had a few issues with. This was also the game Google used to launch its Stream Connect feature, which lets you monitor the screens of up to three teammates in online multiplayer. Admittedly pretty nifty.
Google has recently ensured early adopters that 120 games will launch on Stadia in 2020, with more than 10 coming out in the first half of the year pinned as Stadia-first titles. But without any indication as to what those games are, it's quite hard to get excited.
And it's worth remembering that a Stadia subscription only gives you the ability to stream games from the cloud at whatever resolution you're willing to pay for. You still have to buy each game as if they were full-price console titles, even though all you'll actually own is the right to play on Google's servers.
You might argue that a 4K HDR 60fps game that you can play on any screen you like is better value for your hard-earned than one tied to a specific console, but remember that Google's initial pitch is still a long way from materialising, and if it suddenly pulls the plug altogether (it wouldn't be the first time), you'd be right to worry about what then happens to your game library.
The £9-a-month Stadia Pro tier gets you 'additional free games released regularly', and Google has just this week added Gylt and Metro Exodus. They join Destiny 2: The Collection, Farming Simulator 19 Platinum Edition and Thumper. Xbox Game Pass this is not.
The future: so much more to come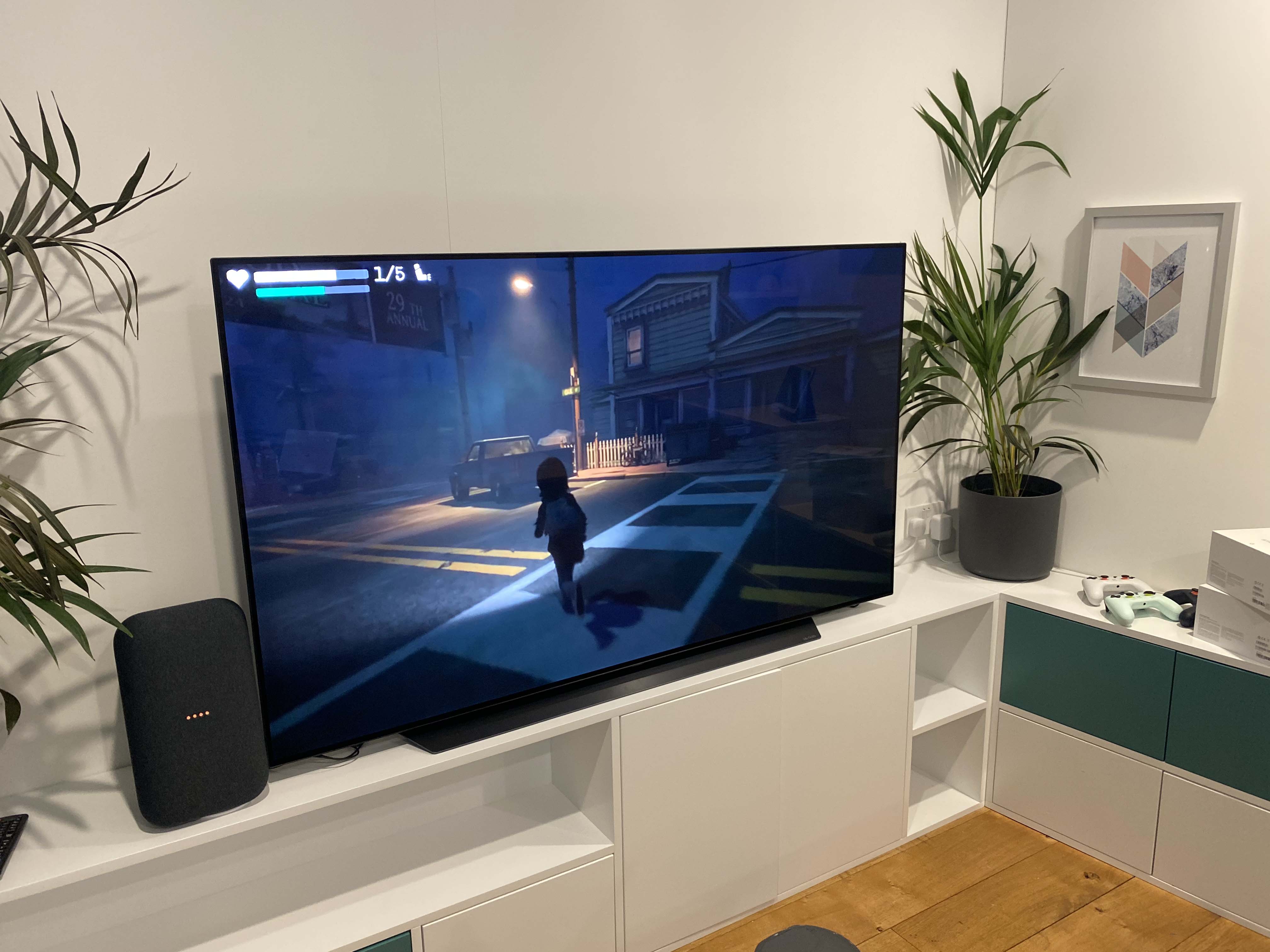 Google Stadia is still in its infancy, with many of its headline features yet to arrive. We're still waiting for 4K gaming on the web, support for more Android phones, iOS support, more Assistant functionality, wireless controller support across all devices and the free 1080p service. Google assures us that all of this and more is still coming in 2020, but we don't know when.
It's hard, then, to shift the perception that Stadia is still just a glorified beta, and until we get a clearer idea of when all of the above will materialise, along with a confirmed list of games, it's hard to recommend that anyone makes the jump, no matter how accomplished the tech is in isolation.
Google Stadia verdict
Google is one of the largest tech companies in the world, with an almost unrivalled infrastructure (though Microsoft might have something to say about that). If game streaming is going to properly take off, Google has as good a chance as anyone of making it work. But right now, Stadia is seriously undercooked.
Now I've stress-tested the tech for myself, I really hope it doesn't stay that way. This stuff does work, and you don't need crazy internet speeds for it to do so. An all-you-can-eat style subscription service in the mould of Xbox Game Pass would make it far more appealing though, especially as we now know that Microsoft will merge that service with its own streaming platform, Project xCloud, when it launches next year.
It'll be worth keeping an eye on Stadia over the coming months to see how the platform continues to grow. Whether Google will remain committed to its latest side hustle in the long-term is anyone's guess, but one thing's for sure: the video game streaming war is only just beginning, and like it or not, it's probably going to be the future.
Stuff Says…
Cloud gaming is exciting, but Google's take is half-baked right now, and far from consumer-friendly
Good Stuff
It works, most of the time
Good controller
Clean UI
Bad Stuff
Lack of display support
Full price games on top of Pro subscription fee
Still missing loads of features
Weak list of games
Wired play only away from the TV