GoPro Fusion review
The Fusion falls just short of being the revolutionary action cam it might one day become...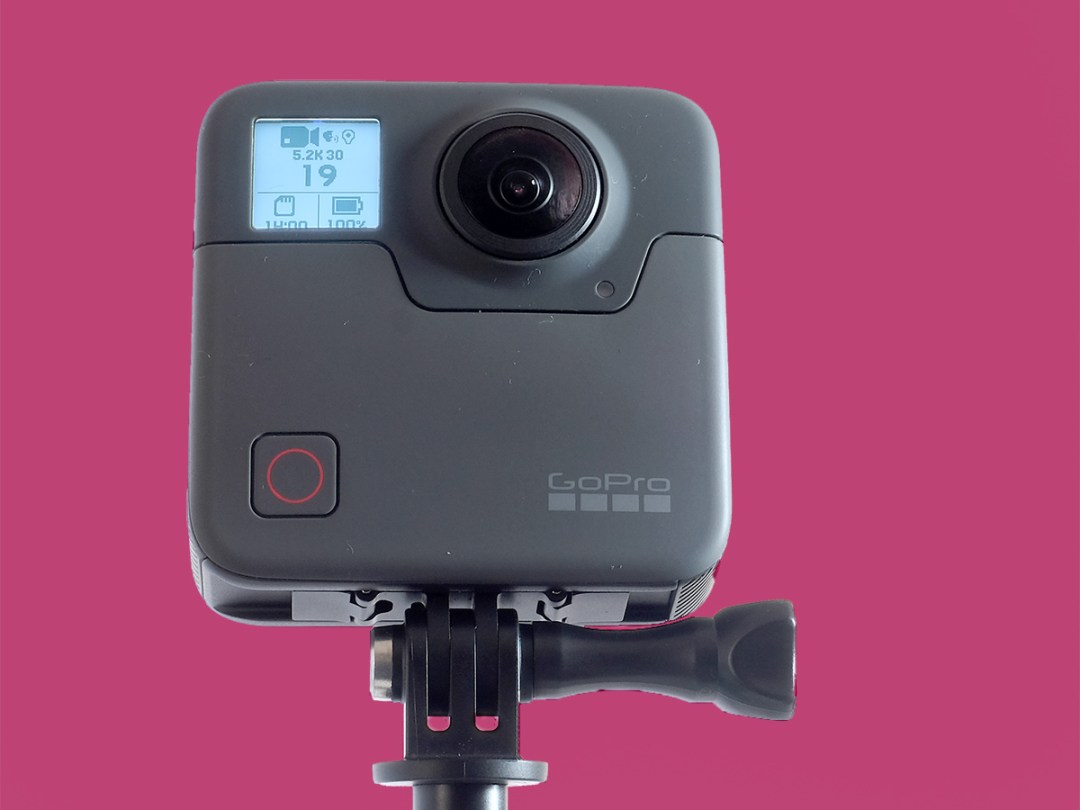 Action cams have reached the dizzy heights of 4K, but they're as useful as a stick-mounted potato if they're pointing in the wrong direction when something amazing happens.
That's why GoPro has come up with its next-gen cam, called the Fusion.
If you thought the Hero5 had an ultra-wide field of view, the Fusion promises 360-degree capture that misses absolutely nothing, wherever you point the thing.
Doesn't this mean warped, fisheye videos that you have to scroll around on your phone? Nope. The Fusion shoots and auto-stitches 5.2k resolution video from its two-eyed cameras, then uses software called Overcapture that promises to let you punch out a flat, phone-friendly 1080p frame from within its all-seeing view.
This is probably the most interesting 360-degree camera yet that normal(ish) people can afford. The hardware and image quality are on the money. Only the software needs major improvements, and that'll come with time…
Design: a super-sized Hero
In the shift from the standard 170-degree field of view to the all-encompassing 360 one, the GoPro Fusion has put on a few grams.
At about 8cm square and a few centimetres thick, it's bigger than the GoPro Hero5. But you'll still be able to attach it to whatever you like and, let's be honest, no-one looks cool wearing a bike helmet with an action cam strapped to it, no matter what the size.
More important, the Fusion is far, far smaller than the GoPro Omni 360, which looks like a mad millionaire's DIY project in comparison. It also has three microphone holes up top, which should mean directional audio for your 360-degree vids.
As part of the GoPro Fusion package you get a quick and easy low-rise tripod. This lets you move it away from your arms and head, making it easier to get solid footage. The stick also doubles as a tripod as it's telescopic and the handle folds out to make little legs. You can take the Fusion just about anywhere too.
Stabilisation is applied in the editing software, and we're pretty sure it's electronic rather than optical, but it's clearly informed by the gyroscope sensors inside because it often looks almost gimbal-smooth.
The GoPro Fusion is even water resistant to 5m, making it ready for a bit of white water rafting if that's your aim.
Special skill: what is overcapture?
Still, as the GoPro Fusion is essentially basically a plastic square with a lens on each side, let's crack on with the most interesting bit, Overcapture.
This offers ways to process all the visual data from the 360-degree camera feed and compress it down into a standard flat format.
The Overcapture mode that looks most dramatic is "little planet". It makes it look like you're shooting from a tiny planetoid, not flat earth. Some of you will have seen something similar in a phone camera app that lets you take a 360-degree photo panorama.
What you end up with is video that looks so wide-angle it appears to have broken the laws of physics. The results can be very dramatic, very cool-looking. Fisheye is the other option, looking closer to what you'd see from a normal GoPro.
For your first few videos Fisheye will seem like the boring mode, but it's important because "little planet" can look pretty gimmicky if overused. And you will over-use it. You don't choose between these shooting styles as you capture, though. That happens in the edit.
Using the Fusion: deceptively simple
Using the GoPro Fusion is dead simple. There's a power/mode button on the side and a shutter/capture button on the front. That's it.
Presses on the mode button flick between stills shooting, video and time lapse. You can alter a few parameters in a settings menu that follows these modes in the interface. But for the most part, you'll just be pressing the capture button when you use the Fusion.
There's no preview screen here, just a little LCD on one side that lets you see the mode used, how much battery you have left and how much space there is on the microSD cards.
Yes, we said cards because there are two slots here, and you need to fill them both. Each camera records its own feed.
You can even see each's file structure if you plug the Fusion into a Windows PC. It's a reminder we're actually dealing with two 180-degree feeds that are stitched together, not a single 360-degree-seeing eyeball.
Software: a work in progress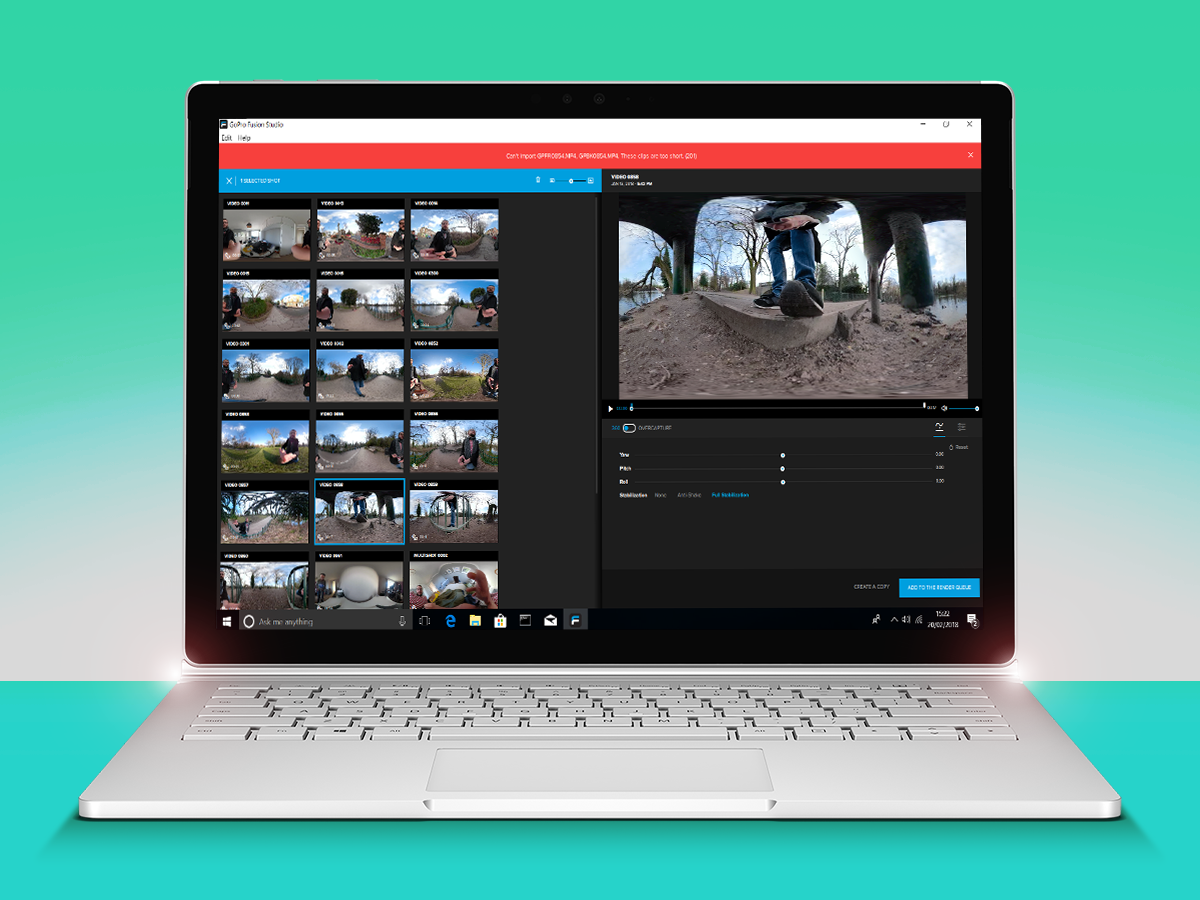 Using the Fusion phone app you can apply cool transitions and zoom the field of view in and out with a pinch. And it does a good job of letting you control the framing options with gestures.
There's a lot of work to do here, though – only a handful of phones work with the Fusion app. And this isn't the sort of soft compatibility issue you see with other apps. If your phone's name is not on the list it's not getting in. The app just won't work.
Check out GoPro's compatibility list before buying. We also tried the OS X and Windows 10 Fusion Studio apps, because it's what a lot of Android owners will be left using. And serious content creators will want to use proper software anyway.
Right now, the desktop software is flaky. It's very demanding, perhaps too demanding for your average dual-core slim and light laptop of 2017 or earlier. Our MacBook Pro from a couple of generations ago did not have a good time with the software.
Switching to a desktop PC with an Nvidia GTX 1060 graphics card, the results were better, but the software still requires patience. Even with a powerful computer, you have to wait several minutes as the software processes your clips and creates thumbnails for them. It's not even copying them to your hard drive at this point.
You can then choose your field of view, pitch and yaw for each clip, and dump it into your rendering queue. With our mid-range desktop PC, a clip of a handful of seconds would take a couple of minutes to render. Don't expect instant results.
This isn't the main issue, though. Using the desktop software you can't create pans or make the field of view alter mid-clip. Right now, you can only set one setting for each, dramatically cutting down on how much you can make use the Fusion's abilities.
The application also has a tendency to crash as soon as you add more than a couple of clips to your rendering queue. We found this in both the OS X and Windows versions.
And it's infuriating if you just spend ten minutes fiddling with the field of view and yaw in another clip. The Fusion desktop app isn't even a proper editor either – you just process clips for use in GoPro Quik or a higher-end suite like Adobe Premiere Pro.
Video quality: impressive away from the peripheries
GoPro likes to talk up Fusion as if it means you don't really have to worry too much about where you point the camera when you're out capturing footage. That's true to an extent. But look carefully at your video and you'll see the quality goes a bit wonky at the areas where the two feeds are stitched.
This is thanks to two effects. First, the stitching isn't 100 per cent perfect, and you can see this on occasion when panning through your footage.
The effect is compounded by the lenses, which go a little soft at the edges. Because they're great big ultra-wide angle things and we don't have thousands of pounds of optical glass to work with.
The fix? Just try to point the Fusion vaguely at your subject rather than holding it 90 degrees on, which is where you'll see the most image distortion. Treat the Fusion right and you can get some pretty incredible-looking footage out of it.
There's lots of detail, good dynamic range and punchy colour. Add this to the dramatic look of Overcapture and you have the potential to make videos that look otherworldly. Even if you're just walking around a park.
The image quality's impact does wane a bit as you use less of the Fusion's field of view, because you're working with fewer pixels.
GoPro Fusion verdict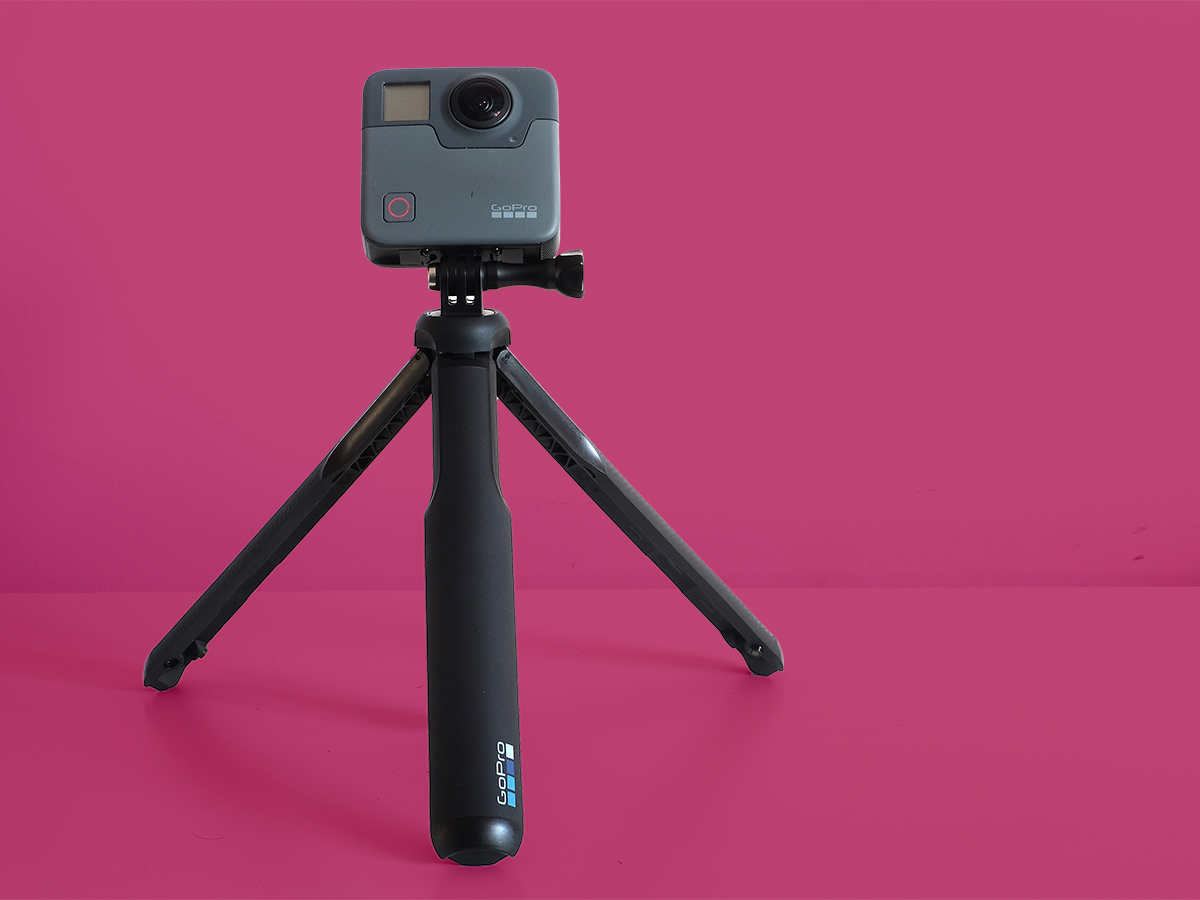 The GoPro Fusion's hardware is great. You can turn 360-degree video into a special effect shot that would have baffled Hollywood a decade ago, and both image quality and stabilisation are excellent.
But right now, there some sizable limitations. The software is a bit undercooked – the mobile version's support across handsets is desperately narrow and the desktop version is buggy and limited. If you're hoping to run a GoPro Fusion off your entry-level phone, that's unlikely to happen.
But we have faith that it won't be this way forever. The Fusion has enough promise to suggest it could yet blossom into the future of action cams, even if it's currently a rough-around-the-edges trailblazer.
Stuff Says…
The software needs work, but this is the 360 camera you should be drooling over
Good Stuff
Great image quality
Top-quality stabilisation
Overcapture is loads of fun
Bad Stuff
Buggy desktop software
Very limited phone support