GoPro Hero7 Black review
Very stable genius
The Hero7 Black feels like GoPro's most exciting new action camera in years.
Yes, last year's Hero6 Black was fantastic (we awarded it a full five stars in our gushing review, but the Hero7 feels like a giant leap forward – and it's cheaper to boot. Much here stays the same as in that impressive camera, but the big innovation is HyperSmooth, GoPro's new image stabilisation system.
Billed as a revolution in stabilisation, with GoPro's founder describing it as "the gimbal killer", does HyperSmooth make the Hero7 Black a must-have companion for would-be extreme sportspeople, would-be vloggers and regular Joes and Joannes?
Let's take it for a spin and find out.
Design: Same old, same old
The Hero7 Black looks almost identical to the Hero6 Black it replaces – or the Hero5 Black that that replaced.
We're not complaining, given that (a) it's a tiny rugged block with a pleasingly grippy rubberised finish, and (b) the shared design means that it'll work with all your old GoPro mounts and accessories.
Waterproofing to 10m comes as standard, thanks to the sealed ports, and the weight and build suggests that you can play rough with the Hero7 without causing major damage.
Controls remain beautifully simple, and will be familiar to users of the previous couple of Heros: a one-touch button up top stops and starts videos and time-lapses, or takes still photos; a second button on the side powers the camera up or down when held, or flips between the three main shooting modes (video, photo, time-lapse) with a short press.
At the front is an LCD panel that gives you a quick heads-up on battery life, SD card space and the current shooting mode, while at the back you'll find the same 2in touchscreen that featured on the Hero5 and Hero6.
It's a tiny but sharp screen, and while its dinky dimensions mean that you occasionally need a second tap or swipe to get the desired effect, GoPro's simple UI makes it easier to use than you might think.
The Hero7 Black keeps its a microSD card slot and removable battery under a flap on its bottom edge, while a side door covers USB-C (used for charging as well as image transfer) and micro HDMI ports. Buy a micro HDMI to HDMI cable and you'll be able to directly play your videos on a TV.
Features: More of the same
Like the design, the feature list bears a close resemblance to the Hero6 Black's.
Inside, there's the same (or a very similar) 12MP sensor and the same GP1 chip running the show, with the same resolution and frame rate options available: 4K at up to 60fps, 2.7K at up to 120fps, and 1080p at up to 240fps (that's 8x slow motion, incidentally).
There's also GPS built-in (which lets you add overlays to your videos detailing various location-based stats like speed, elevation and distance), Bluetooth and Wi-Fi for easy pairing with a phone running GoPro's app, HDR stills shooting and QuikStories – an app-based editing function that automatically generates a pretty cool video from all the clips left on the camera's card, using the GoPro's sensors as a means of working out the most interesting bits.
Oh, and decent voice controls, with 16 spoken commands such as, "GoPro, take a photo" recognised by the camera. All of those you'll find on the Hero6 Black too.
There are, however, a significant handful of impressive new functions. We've already mentioned the HyperSmooth stabilisation, and we'll get deeper into that in the section below, but there's also TimeWarp (a well stabilised time-lapse video mode that's designed for times when you're constantly moving while recording), SuperPhoto (a stills mode that combines HDR, tone mapping and noise reduction in a single shot) and, for the first time on a GoPro, the ability to livestream to Facebook Live. All good reasons to upgrade from a Hero5 or Hero6 Black.
Performance: Steady as she goes
We believe the Hero7 Black's image quality to be in line with what you'd get from the Hero6 – a product we called "the best action cam GoPro has ever made" in our review.
With rich colours, a wide dynamic range, good auto exposure for transitioning between bright and dark conditions, smooth slow motion options and decent low light performance, it's a camera you can use without having to put much forethought into it.
That's perfect for an action camera, because it means you can just point it in the right direction, hit the button and get on with your running/swimming/cycling/kayaking/surfing etc. safe in the knowledge that the results will impress.
What the Hero7 Black adds to the mix is HyperSmooth, which we can say, without hyperbole, is a game-changer. Purely electronic, this image stabilisation tech does an incredible job of removing signs of motion. Footage looks incredibly stable, steady and judder-free, even when you're moving over rough ground, speed bumps or the like.
Mount the Hero7 on your bike, your chest, your head – it works wherever you put it. It's one less thing you have to worry about, and means you can film anything without the need to bring a gimbal along.
As you'd expect, the camera supports RAW stills and ProTune video, giving pixel-peeping types a better basis for post-shoot editing and colour grading. It's also worth noting that many of the resolutions and frame rates require the use of the HEVC/H.265 codec, which means they won't be playable on a lot of devices.
HEVC uses up less card space than H.264 videos, but the trade-off is that it needs a pretty beefy PC, Mac or smartphone to play it smoothly. If your gear is pre-2016, chances are it'll struggle, and clips might require a time-consuming re-encoding session in order to play.
A quick word about battery life: the Hero7 Black really chews through it. During testing I would go out for an hour or so of filming at a time, during which time the camera was mostly recording in 2.7K or 4K, and it would generally leave me with about 50% of the battery left.
While recharging via USB-C doesn't take long, you may want to invest in an extra battery or two, or a portable USB charger, before embarking on any day-long shooting trips. That's especially true if you're planning on recording at 4K quality.
GoPro Hero7 Black Verdict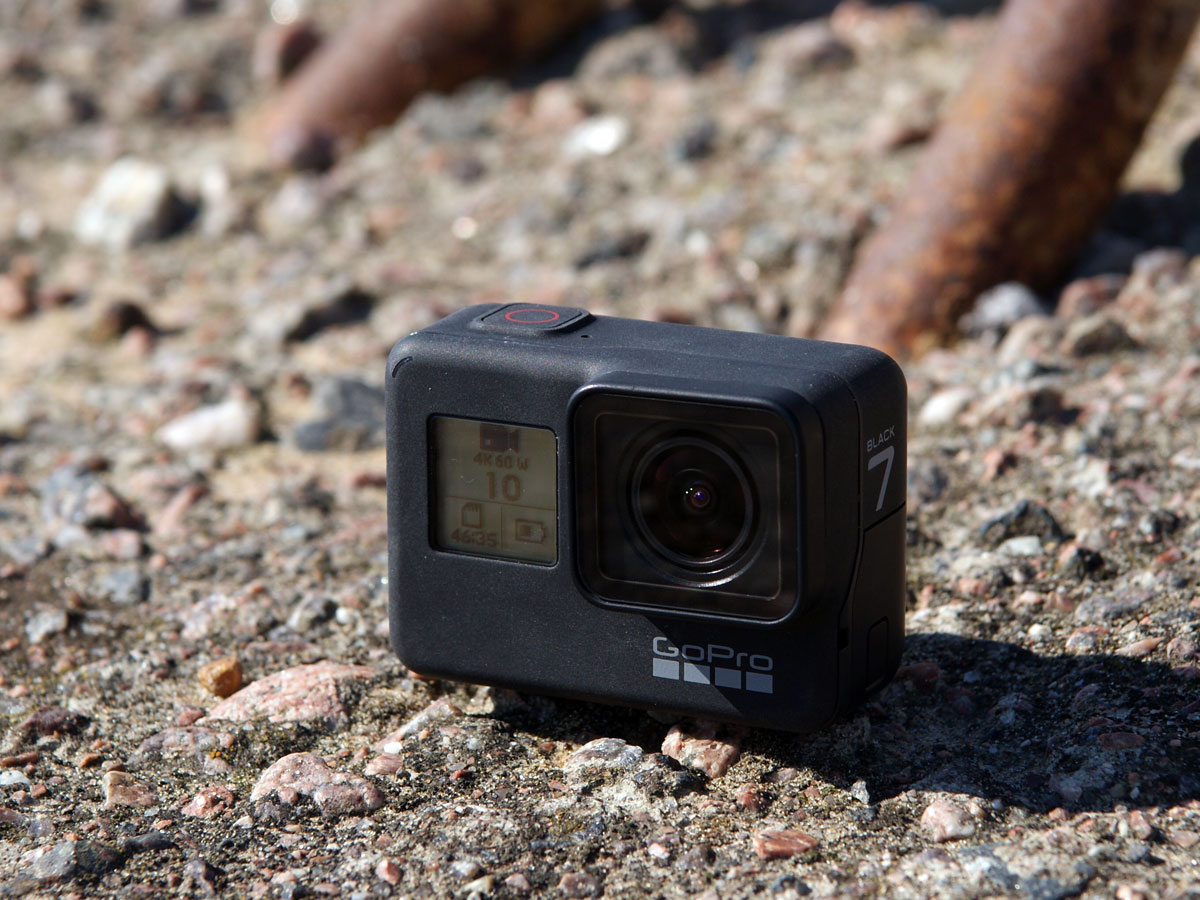 £380 might seem like a lot to pay for a tiny action cam, but we think it's worth it for the Hero7 Black.
It's basically the excellent Hero6 Black (a five-star action cam that cost £500 at the time of its release last year) with a bunch of improvements added – the most useful of which being the incredibly effective HyperSmooth image stabilisation.
HyperSmooth makes a huge impact on videos, which means we'd even suggest owners of the Hero6 Black give some thought into the upgrade. GoPro are making it easier to create top quality shareable video content across social channels too, so expect to see your instagram stories feed get a bit more action-packed.
It's great to see a company like GoPro continue to innovate in ways that are genuinely valuable to its main customer base, and the Hero7 Black feels like the best camera GoPro has made in years.
Stuff Says…
GoPro's smoothest operator ever, and a brilliant flagship
Good Stuff
Excellent image stabilisation
Good all-round image quality
Compact, waterproof and tough
Bad Stuff
Battery drains quickly with 4K
HEVC needs relatively new hardware