GoPro Hero9 Black review
From zero to Hero9 - GoPro's still ahead of the pack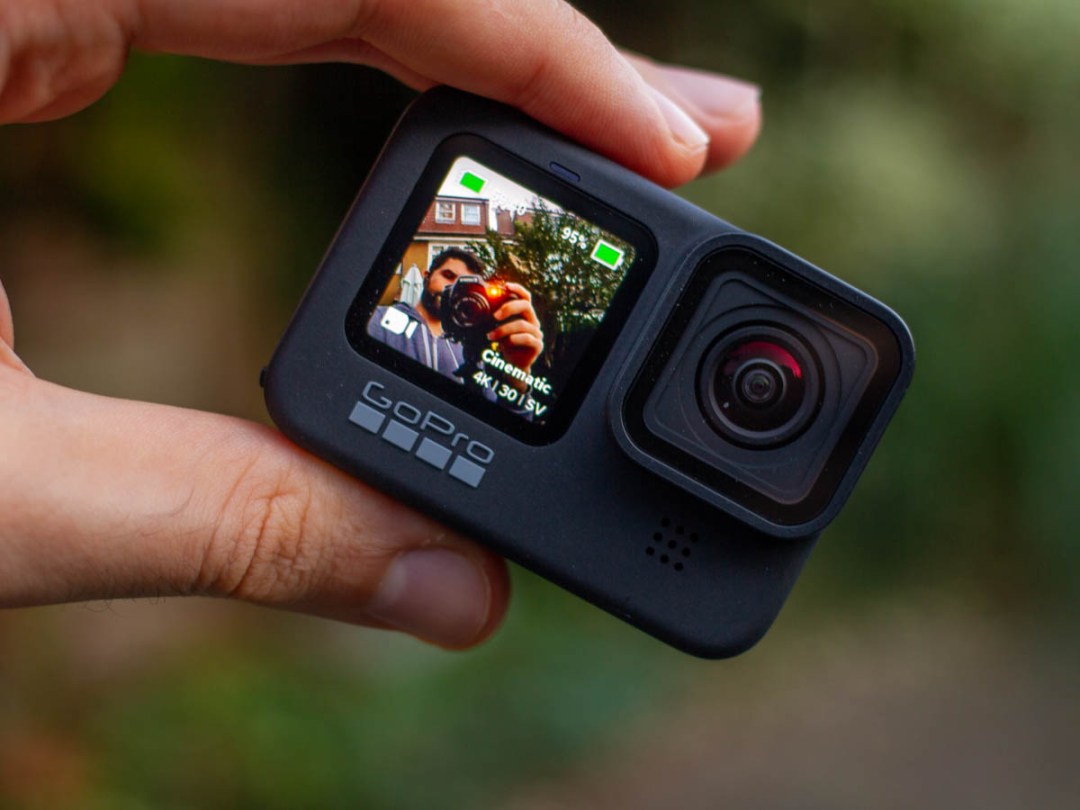 Two screens, better battery life, 5K video and even smoother stabilisation – if you've been holding out for a Hero, this could the one.
The running theme for GoPro in 2020 is 'more'. More resolution, more battery, more features, more screens and more money. The Hero 9 Black packs a new 23.6MP sensor, up from 12MP and with these extra pixels comes extra power, most notably in the form of 5K video capture. That means you can pause your high-octane footage and grab 14.7MP screengrabs.
GoPro's also swapped out the battery for a bigger, better performer, it's upgraded features we love like HyperSmooth stabilisation, and added new ones – HindSight and Scheduled Capture.
It's all packaged in a new, bigger body that's still waterproof up to depths of 10m, and with a fancy front display, vloggers should be rejoicing at the prospect of looking at their stabilised mugs while doing their do. Despite all its boosts, out of the box, the Hero9 Black might not be the best GoPro for you though.
Sure, its video resolution may be better than older GoPros, but the new 2020 edition loses a bit of the 2019 Hero8's ultra-wide field of view. To get it back and then some, you'll need to stump up for a Max Lens Mod, sold separately, and given the fact the camera's already pricier than its predecessor, it might just be one compromise too many.
Design and Screen(s) – It's a pony GoPro
Before we talk about the Hero9's design, we have to talk about its packaging.
GoPro's switched out the hard plastic of old to a smart, fabric zip pouch, perfect for carrying your Hero9 Black for years to come. The packaging will also fit accessories and mounts too, as well as a small grip, adding eco-friendly convenience to the action cam line and making for a fantastic introduction to the camera.
Unzip the case and the GoPro Hero9 Black has a front screen – huzzah. Perfect for vloggers who need to frame their faces to perfection, GoPro has officially caught up with DJI and the Osmo Action on this front.
Look around the back, and you'll see it isn't just the front screen that's worth talking about. The main touchscreen climbs up from 1.95 inches on the Hero8 Black to 2.27 inches on the Hero9 Black. It's the biggest of any Hero to date, is bright enough for easy outdoor viewing, and gives you even more room for frantic fingers prods in the heat of the action.
While we like how the new screen looks, a strike against it is its responsiveness – or lack thereof – something last year's model didn't have any issues with. It isn't unusable, but it doesn't always play nicely with a dry finger – a point of contention given all the hand sanitizer being used these days.
On the plus, GoPro has assured us a software update will address this, rolling out in November 2020. At 71mm wide and 33.6mm deep, and weighing 158g, with its bigger battery and higher-resolution sensor, the Hero9 Black is a generally bigger GoPro than last year's flagship. That means old accessories won't work with it, other than mounts, thank goodness those excellent flipping feet have returned for easy mounting.
There are other improvements too – the lens is interchangeable, so can be swapped out for a spare, or a Max Lens Mod (more on that later). The battery door is also hardier. In turn, if you don't mind the extra size and the less responsive touch screen, the Hero9 Black is an upgrade across the board.
Photos and Video: Peter Five Kay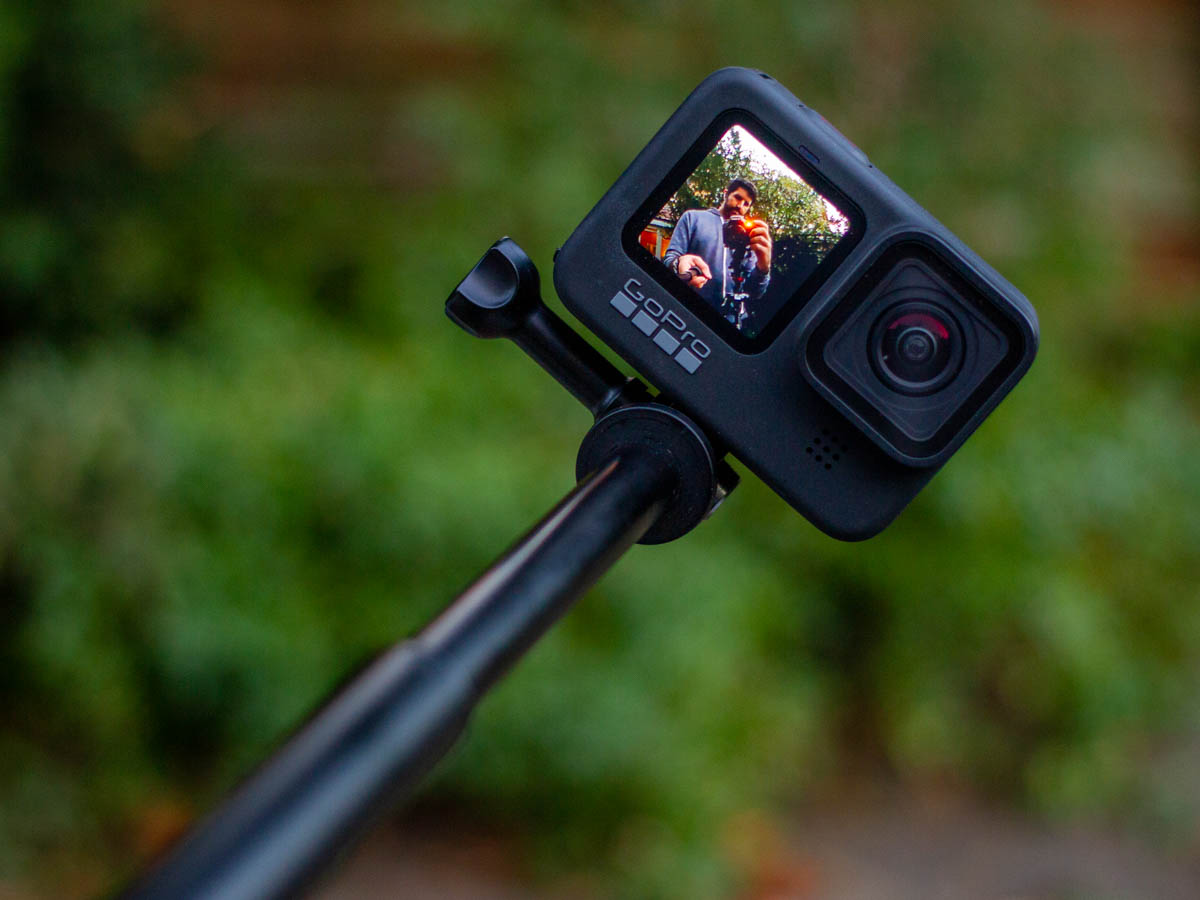 Thanks to a 23.6MP resolution sensor, the Hero9 Black shoots 5K video – sharper than most top-end smartphones and DSLRs. That means crystal clear HyperSmooth 3.0 footage, with screengrabs taken from its footage look like tack sharp photos provided there isn't too much motion blur.
Best of all, the video quality sports improved dynamic range in most scenes and a punchier, better-looking picture. With great resolution, comes great heat, and the GoPro Hero9 Black can struggle to keep its cool. 30 minutes of 5K capture and ours overheated, getting very hot to the touch.
On the plus, it was able to shoot at 1080p for a continuous two hours and ten minutes, so if you're planning a long shoot, drop the quality and you'll be golden. There are new modes and features too.
Take Linear Horizon Levelling. If you've had a few too many and can't see straight, start recording on your Hero9 Black and your side to side sways will look like beautifully anchored pans – a feature the Hero8 Black only supported when paired with the Android or iOS app.
Next, Hindsight. Fire up this feature and the Hero9 Black can step back in time. Hit record to capture the five seconds before you hit the button – and provided it's been turned on and facing the action, missed moments could be a thing of the past.
You can't talk about GoPro without talking about HyperSmooth, the world-famous trademarked stabilisation that turns your action camera into a gimbal. The Hero9 Black at least matches the Hero8 Black on this front, but unlike last year's Hero, you can activate Boost at full resolution, 60 frames per second, for the ultimate in steady footage without a resolution drop.
Whether you're vlogging, off-road racing or just strapping it to your dog and hoping for a viral hit, the Hero9 Black is the bee's knees.
As for photos, they're captured at 20MP, and as with past GoPros, you can take standard snaps, HDR, RAW and Super Photos. Results in middling light aren't any better than last year's Hero8 Black – though Night Mode definitely helps things along. In good light though, the extra detail is welcome, making for crisper crops.
Battery and connections: Super Hero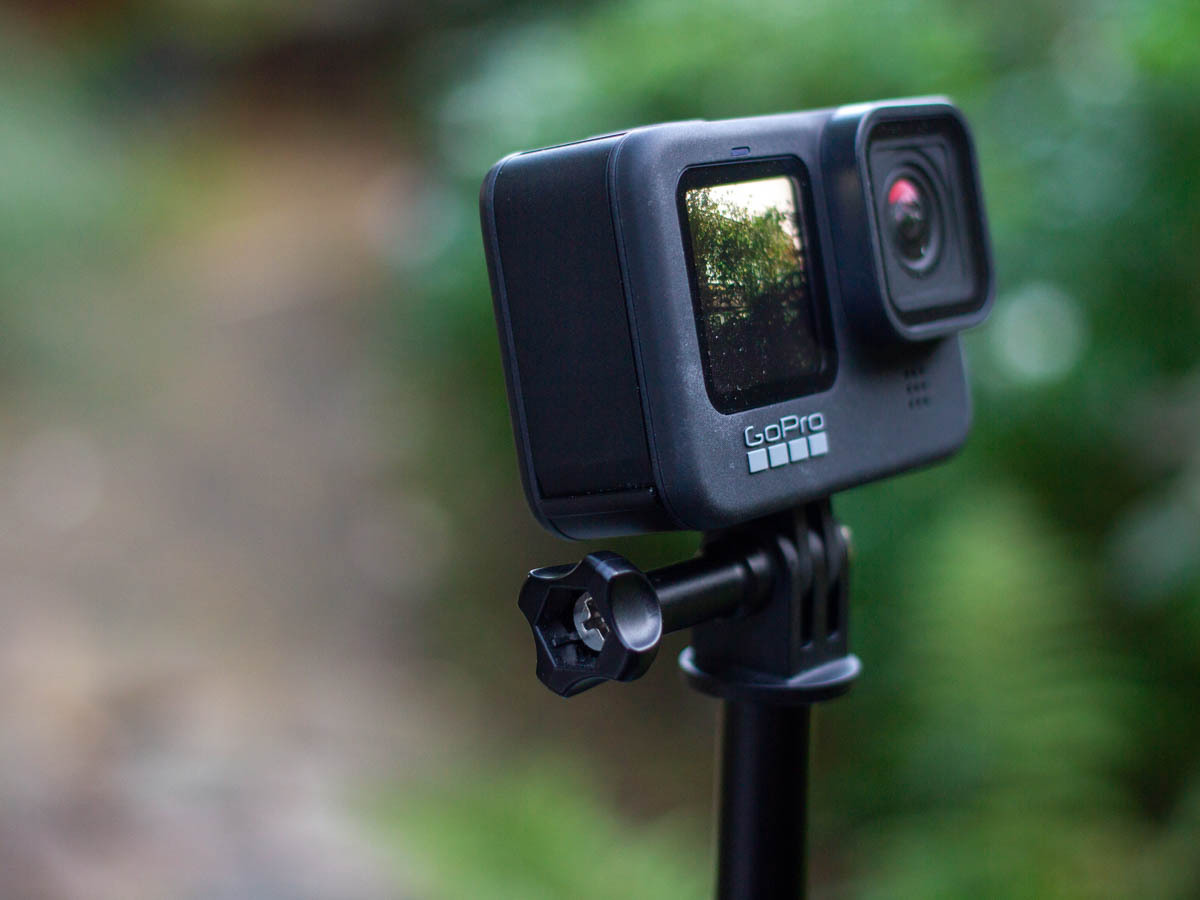 The GoPro Hero8 Black's battery was only ever fine. An hour and a half of continuous recording at 1080p and it reliably conked out.
The Hero9 Black battery's been bumped up from 1220mAh to 1720mAh, so despite powering an extra screen, it keeps recording for a full two hours and ten minutes, running circles around its predecessor.
That time goes way down when upping the resolution, but it consistently beats out its predecessor. Also worth noting, the Hero9 Black's brings back swappable lenses to the series, and while it has a seriously wide-angle lens, it isn't as wide as that of Hero8 Black.
To get that extra field of view, you'll need to stump up some cash and switch the kit lens out for a Max Lens Mod, sold separately. The Max Lens Mod shoots with a 155˚ FOV at up to 2.7K resolution (60fps), and brings GoPro Max horizon locking to the Hero line for the first time ever. Cool stuff, if you can stomach the extra cost. That said, if you're just after the widest angle possible out of the box, there's a strong case to pick up the more compact Hero8 Black.
If you've been battling with a crusty laptop webcam in lockdown, the GoPro Hero9 Black could be your hero on the slopes and in your home office. Doubling up as a smart USB webcam for crisp video calls and crystal clear audio when hooked up to your computer via USB-C, it should be a welcome addition to your workflow, and it can also live stream in 1080p too – very handy.
Finally, our least favourite part of the GoPro experience – the GoPro app, available for Android and iOS. This powerful but clunky tool is your portal to video edits on the fly, and eking the most from your action cam. It's also how you backup your camera content to the Cloud with a GoPro subscription, and the app turns your phone into a remote viewfinder, so you can control your camera from afar. So while it can be slow to connect and hang every so often, if you're not a fan of plugging your camera into a computer, the GoPro app's many payoffs may well be worth the pain.
GoPro Hero 9 Black Verdict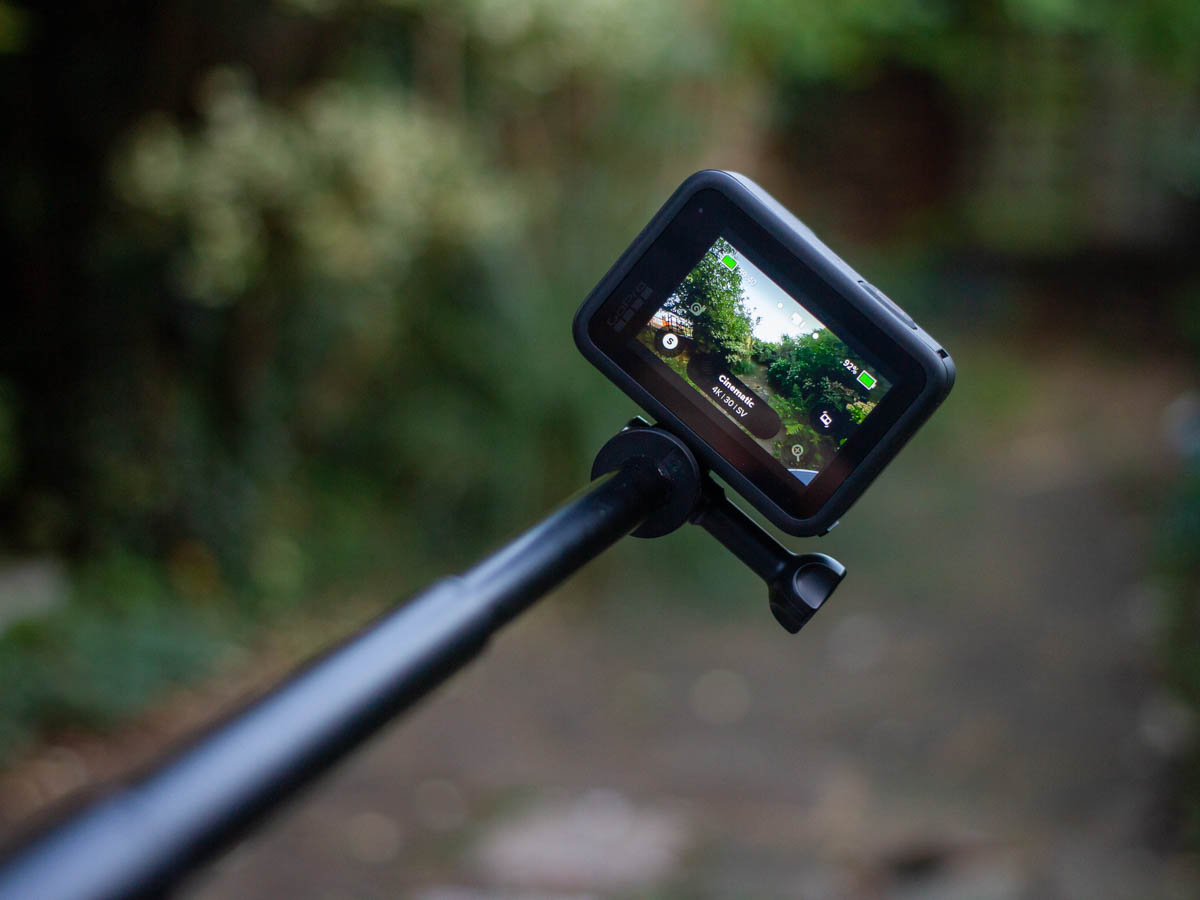 Despite the fact the Hero9 Black is a bulkier camera than the Hero8 Black, gets hot when filming 5K video, and you need a Max Lens Mod to match (and better) its ultra-wide predecessor, GoPro's latest is still going to be the best action camera for many. Its improved detail, jacked-up battery performance and richer feature-set all come together to make one of the most versatile bits of kit we've used.
From a webcam to a vlogging tool, dirt track companion to a waterproof snorkel cam, it's got you covered.
Stuff Says…
Boosts in all the right places make the Hero9 Black the pinnacle of action cam excellence, but if you don't need 5K, you may well be better off with last year's model.
Good Stuff
Better battery despite two screens
Sharp and stable 5K video
In-device horizon levelling
Bad Stuff
Overheats after 30 minutes of 5K capture
Slightly narrower field of view than Hero8 Black
Bulkier than the dinky Hero8 Black