GoPro Max review
Shoot first, frame later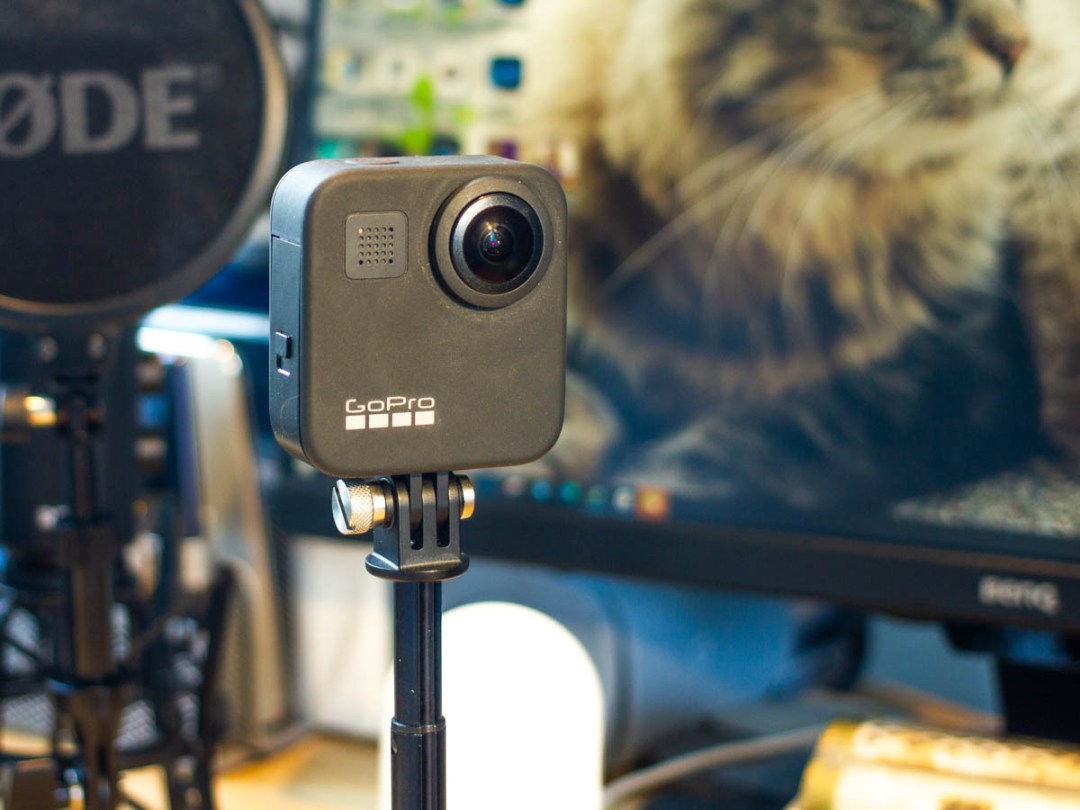 Thank the 360-degree gods, GoPro got a lot right with its new OmniSync-directional action cam, the GoPro Max.
This all-seeing set of eyes grabs everything in its sights at every angle, then you get to frame it up when you come to edit it on your phone or tablet. It's also an action camera, complete with water resistance and a tonne of other neat features.
The Max doesn't exist in a 360-degree bubble. Insta360 launched the OneX last year, and the OneR this year. Between them, they offer lower cost omni-directional video, with the OneR also doubling up as an action cam too. What's more, this isn't GoPro's first rodeo, with the GoPro Max replacing the hit and miss GoPro Fusion.
Far from being a one-trick pony, it doubles up as a 2.7K action cam too. It's also a solid selfie vlogging cam and can be used in tandem with a self-facing screen for some ultra-wide vlogging. It also packs six microphones for directional stereo audio capture and shoots fantastically all-encompassing panoramic stills without any painfully awkward panning.
Design and screen – Pocket square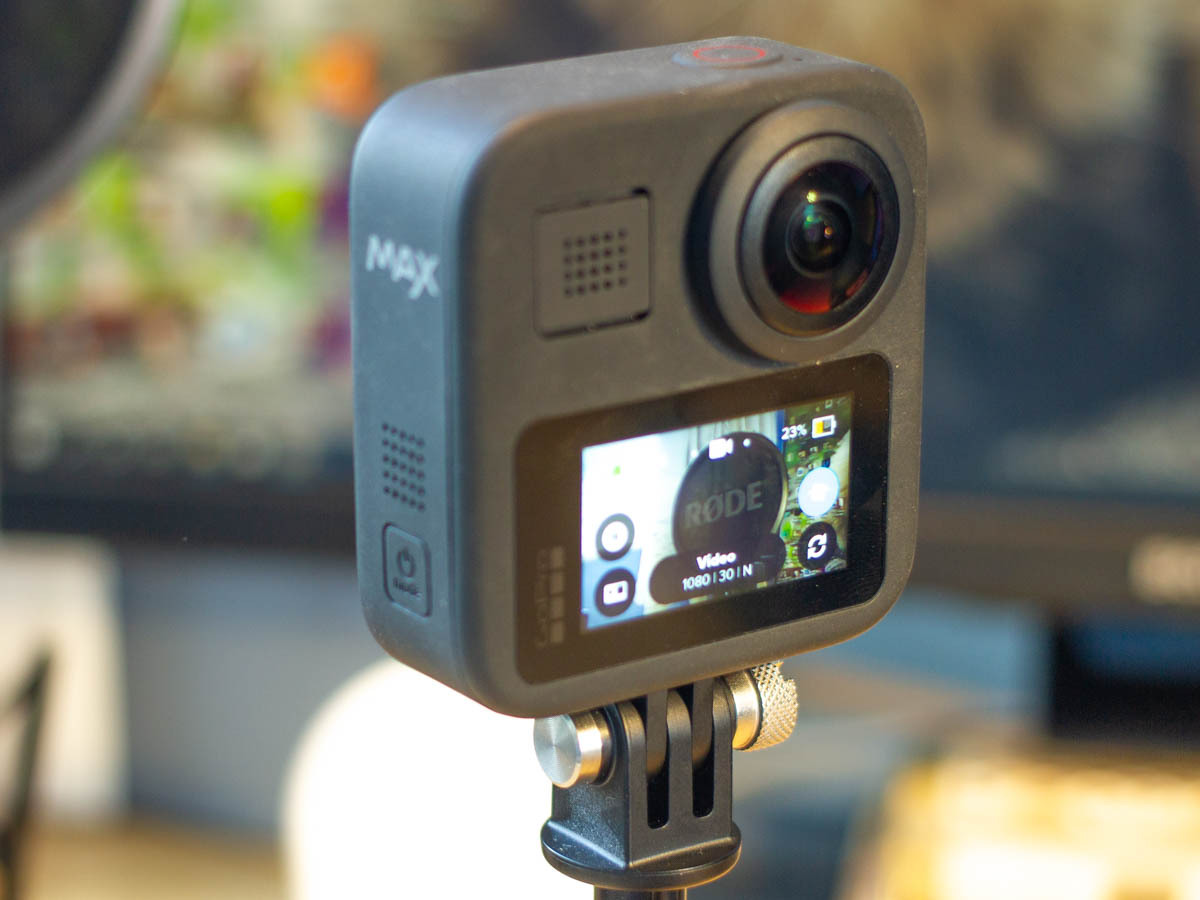 At first glance, the GoPro Max is a chunky, squared out version of the Hero 8. It has a matte body, a lens on either side, though and a screen on one.
The touch screen is 1.7-inches with a 16:9 aspect ratio. It's bigger than that of the Insta360 OneR, is super responsive and gets nice and bright, delivering a solid indoor and outdoor experience.
If you've used a GoPro before, the buttons will all be familiar; record, and power, which cycles through presets. There's also a battery flap, which when opened up reveals the microSD card slot and USB-C port.
The bottom is a real highlight: just like the Hero8, the Max's undercarriage sports a pair of flip-out mounting fingers. This means no housing is needed to mount it, and also makes swapping out batteries a doddle even when mounted.
The Max's lenses aren't quite as scratch-resistant as those of the Hero8 Black, which is why you get rubber lens covers with it, so try not to scuff it up too much should you pick one up. All this isn't to say the GoPro Max isn't durable. It's waterproof up to 5m, and the half-orb plastic lens-guards onto either side help, though these do impact the quality of video captured, naturally.
360 video: Insta 360 killer?
Shooting 5.6K footage in all directions, rather than compare the GoPro Max to the last-gen Fusion, it makes more sense to compare it to the Insta 360 One X, its main rival.
The Max is more squat, shorter, chunkier around the middle, though is more ergonomic to use as an action camera. Its thickness explains why the GoPro Max has a more visible stitch line than the Insta 360, though everything else when it comes to video quality leans in the GoPro Max's favour.
The 5.6K footage captured gives scope for comfortable 720p output. Colours are richer on the Max than those captured by the Insta 360 One X, and while there's no HDR mode on the Max, we didn't miss it.
The GoPro Max is also steadier – it looks like the camera is floating on a gimbal or drone. As with all 360-degree cameras, detail is stronger in the centre of each lens.
The footage from the forest was the worst fringing we experienced in around a month with the camera though, with most cityscapes and country scenes handled beautifully. That said, when the lights drop, every footstep makes the earth shake, and dark spots get noisy.
As for Max TimeWarp, this is seriously cool. It's a timelapse mode which can be edited in much the same way as the GoPro Max's standard footage, but has all the impact of pans, zooms and tilts for more impact than we've seen from a 360 camera to date.
Vlogging: Be a star from every angle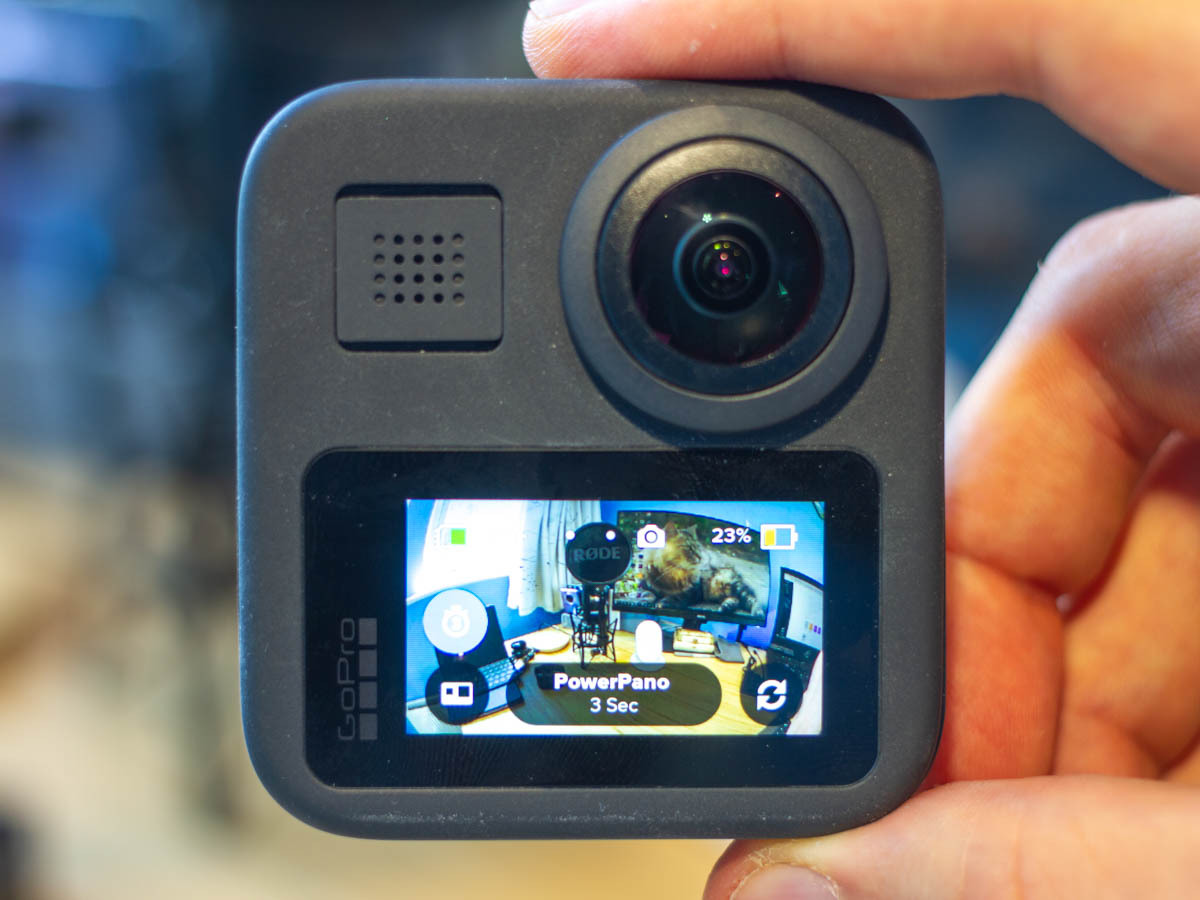 The GoPro Max is a surprise hero of a vlogging cam, with its multiple mics and front screen. Capping out at 1080p 16:9 or 1440p 4:3, its resolution won't blow you away, but you seldom need it for vlogs anyway – crisp pore-exposing detail does not a great blog make.
The versatility it delivers, shooting across four digital focal lengths (13mm, 16mm, 19mm and 27mm) makes the GoPro Max a dream vlogging cam. It also has smart horizon levelling, so you're always going to be level, and that stabilisation is incredibly gimbalesque.
GoPro app: Powerful but clunky
With Android and iOS GoPro apps available, editing 360-degree footage should be a breeze no matter what phone you've got. And it can be, but it can also be very clunky.
The app processes out footage that smoothly pans and zooms across your video as set by keyframes. This means incidental, unintentional capture can be transformed to look so incredibly dynamic you'll feel like a pro. That said, the iOS app is more fully-featured and reliable than the Android app, with more control over transitions and a more stable phone-to-camera connection.
The Android app also saves files in the app itself, so you can't easily access your GoPro app's downloaded content, locking you into GoPro's ecosystem, from app, to web storage, to desktop app. Not cool.
Battery and connections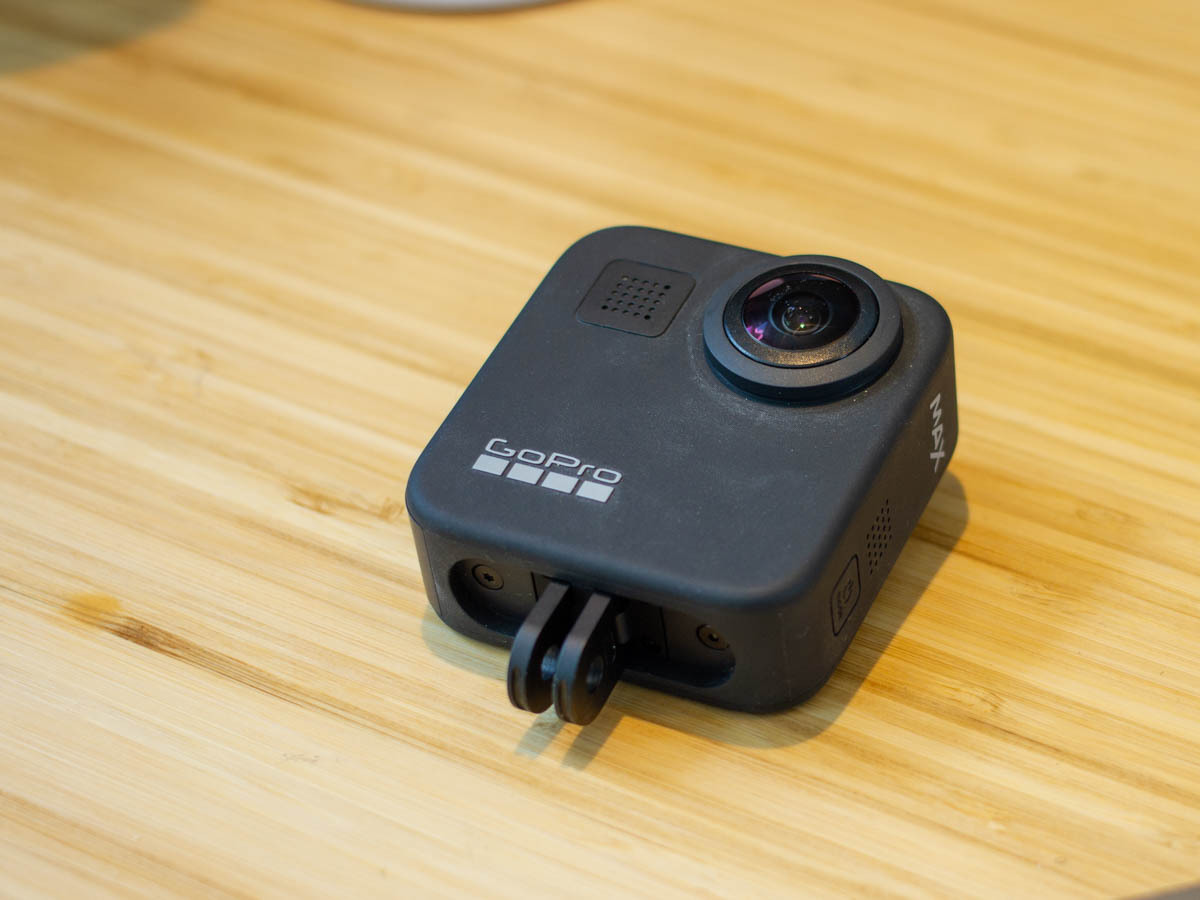 The GoPro Max's 1600mAh capacity will comfortably last a day, but we'd pack a spare or a USB-C power bank for longer shoots.
The Max also supports voice control which works well, it has WiFi onboard, and while the camera can connect to your phone, it also connects to the net and is able to livestream at up to 1080p directly to YouTube, just like the Hero8 Black.
GoPro Max verdict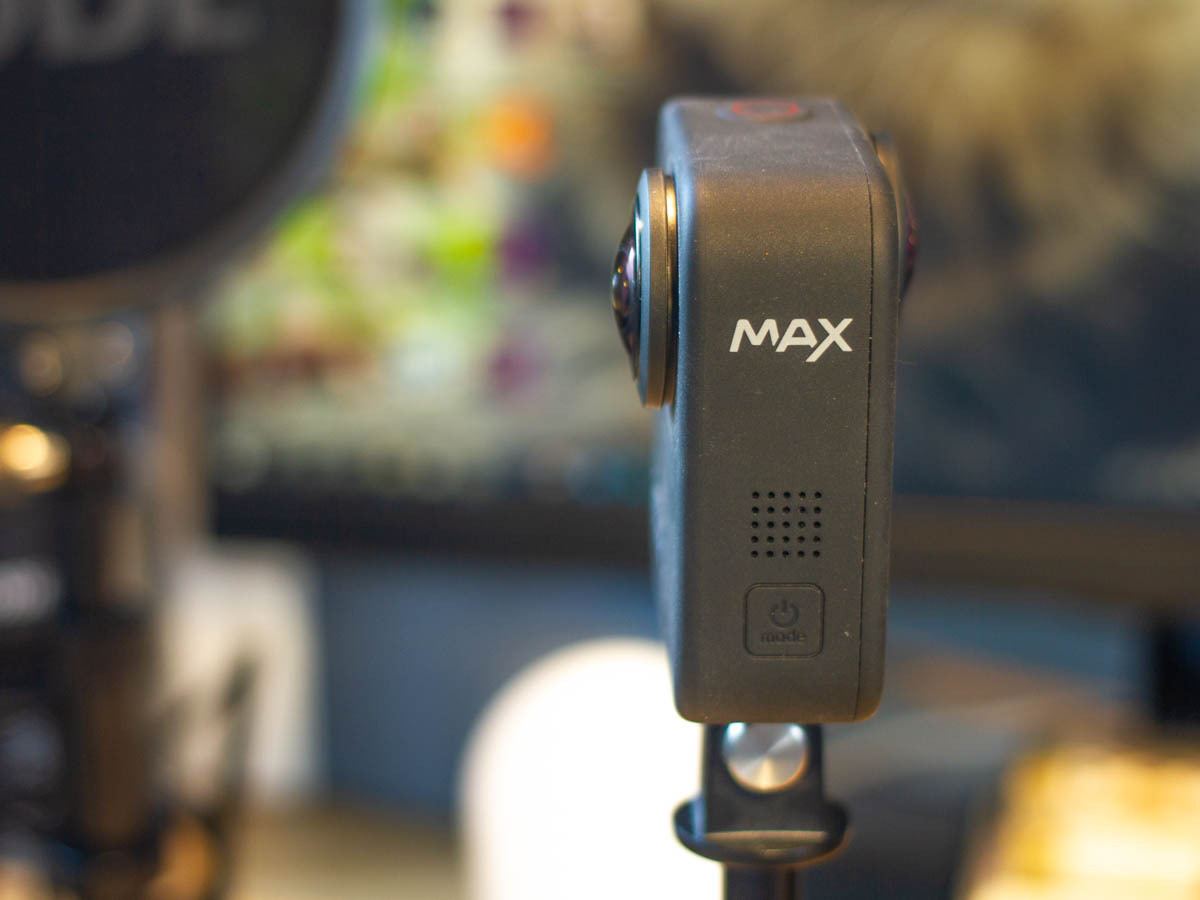 GoPro has given 360-degree video capture a long overdue shake up with the Max, adding an action camera element to the Insta 360 mix. There's no denying it won't match the vanilla Hero8 Black for action cam quality, and the app could do with some improvements.
That said, as far as 360 footage capture goes, the GoPro Max is an excellent tool for creators and anyone who wants to change the way they capture content.
Stuff Says…
If you need the shiniest, sharpest footage around, get the GoPro Hero8 Black – but if you want ultimate editing flexibility, nothing tops the Max
Good Stuff
Easy to edit 360-degree video
Easy to edit 360-degree video
Decent audio capture
Bad Stuff
16:9 video caps out at 2.6K
Seam lines noticeable
No 360-degree editor for Windows