Hammerhead Karoo 2 review: phone-friendly ride tracking
Like strapping a phone to your bars
When it first showed up on the scene, the Hammerhead Karoo 2 did things a little differently. Here was a bike computer that arrived fully featured enough – but also promised iterative updates on a regular basis, thanks to a heavily modified version of Android instead of the more bespoke software seen on rivals.
It quickly developed a reputation among cyclists, and now considers the Wahoo Elemnt and Garmin Edge its closest competition at the upper echelons of cycle computers. We've revisited it to see whether OS improvements have helped it keep pace. Is a smartphone-esque spin on the classic bike computer still a great choice for the pedal-proficient?
Design & setup: fits right in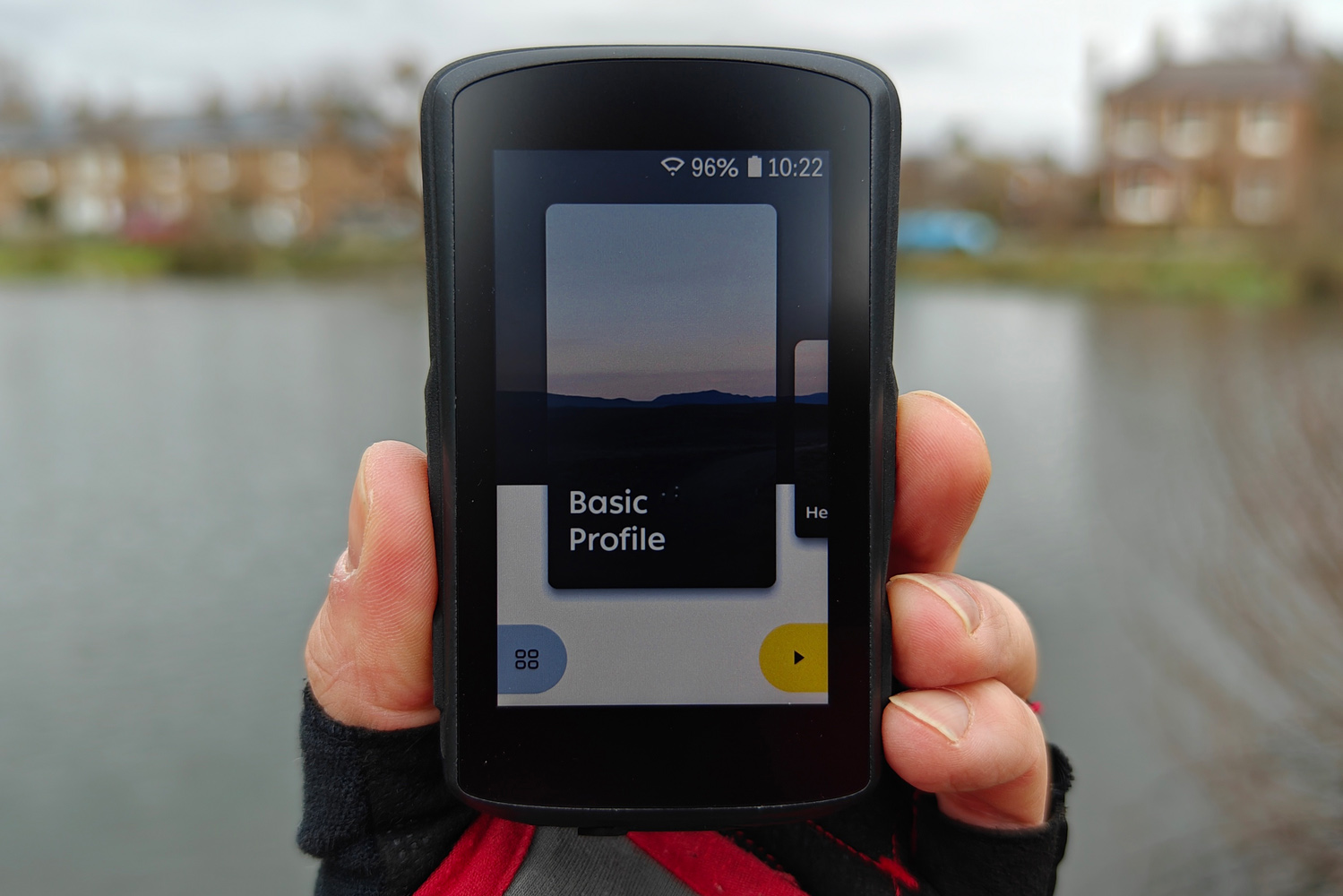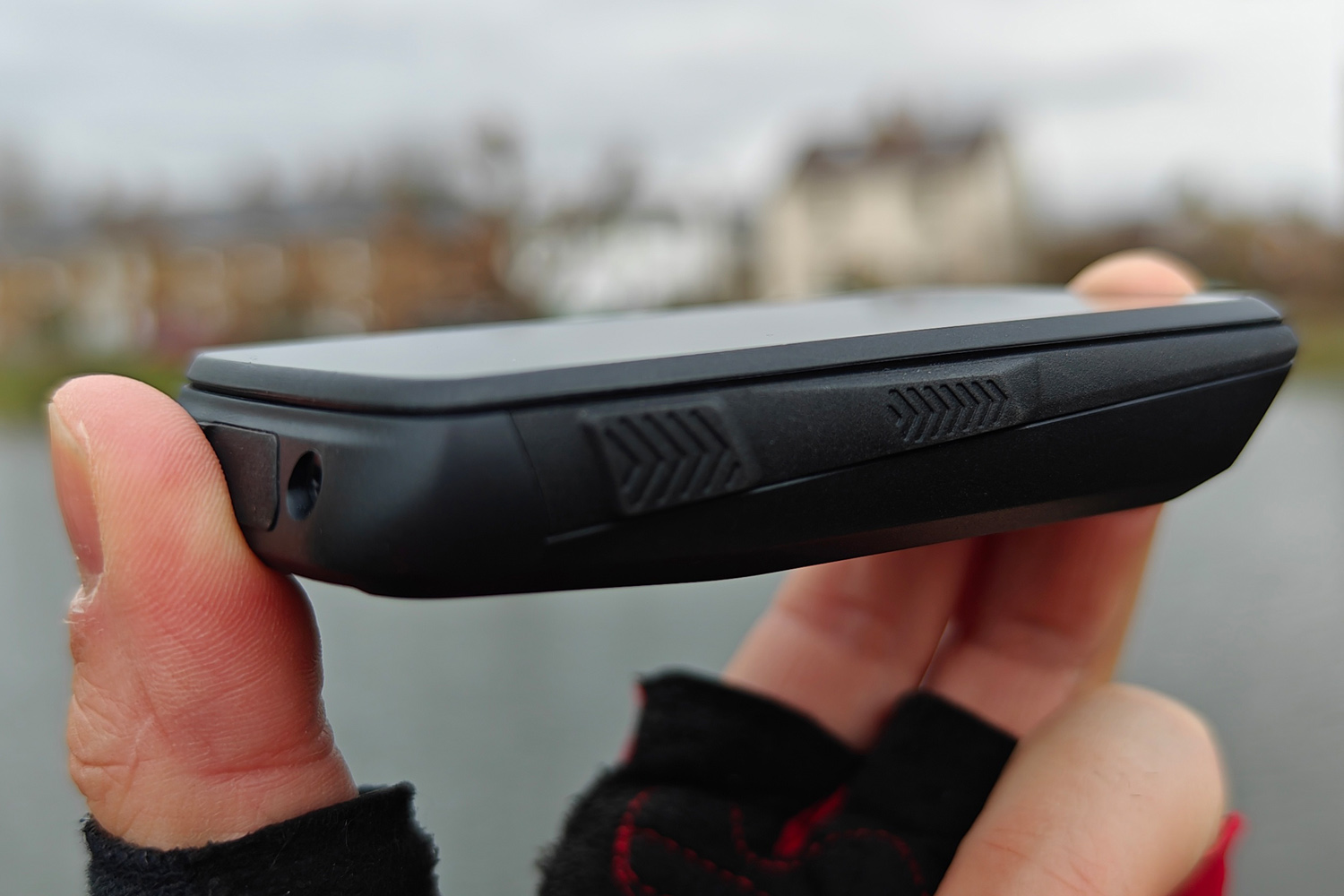 The pocket-friendly Karoo 2 has the nostalgic feel of an early smartphone. It packs a 3.2in touchscreen into a chunky black case made from a durable mix of plastic and rubber. The whole thing's IP67 water resistant, so will cope just fine when cycling through a downpour, and feels like it'll survive any accidental encounters with the ground too.
The included handlebar mount takes mere moments to fit using a hex key (also in the box), and the Karoo 2 slips right on. A satisfying click lets you know it's locked in place, with a twist to one side unlocking it for safe storage or charging. You'll need to break out a USB-C power adaptor to juice the unit up. The port is protected by a rubber gasket, which stays firmly in place to stop water seeping in.
Setup is a breeze, thanks to on-screen instructions that walk you through the basics like connecting to Wi-Fi, installing any software updates, and downloading the maps for your region. The UK map was about 3GB, but with 32GB of on-board storage you can fill up with multiple countries before you'll run short on space.
Display: eye for detail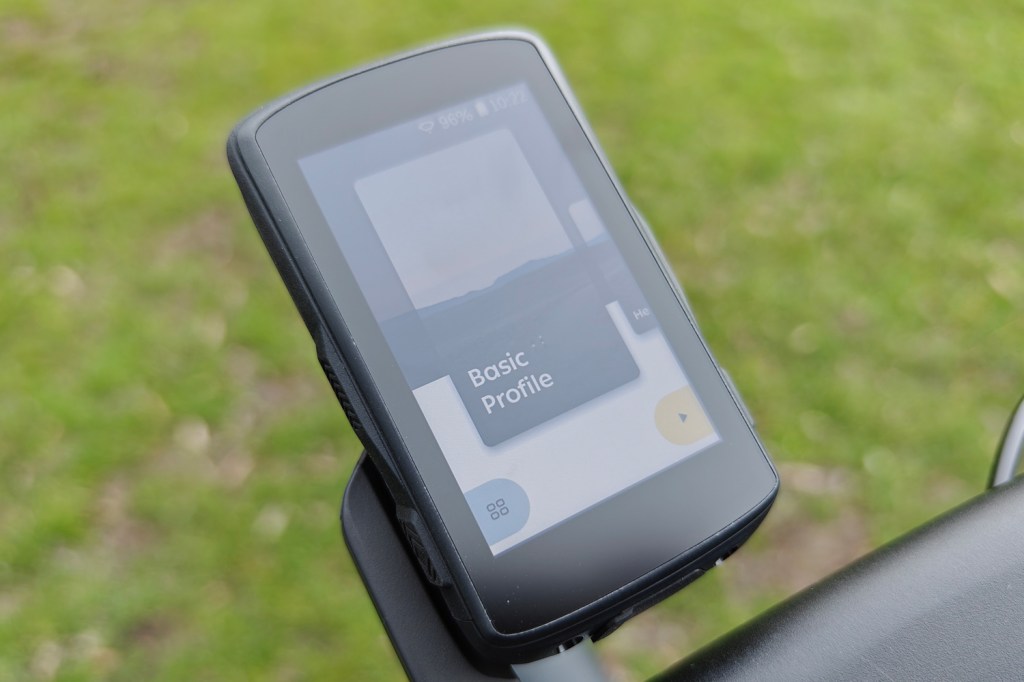 Powering up the Karoo 2 for the first time left us shocked: video on a bike computer? Crisp animations? A responsive touchscreen? While rivals have slowly caught up in this department, such things were unheard of when the Karoo 2 first launched, and are still the minority today.
The 3.2in display was a delight, with its 800×480 resolution helping us spot new trails branching off from main routes. It's always on, so you don't have to worry about it going to sleep and leaving you wondering where your next turn will be.
It doesn't have a blindingly bright display on par with a present day phone, but the matte finish helps diffuse reflections. We rarely struggled to see what was onscreen, regardless of conditions. Brightness is easily tweakable through the Settings menus, which are just a swipe away from the main screen. Images and text look wonderfully sharp, with icons and graphics making it a breeze to find your way around the interface.
Touch inputs are brilliantly responsive, with 'droplet rejection' tech meaning it worked just fine even in heavy rain. Swiping up on a notification to read the full message or pinching to zoom into a map is so much easier than having to remember which button does what all the time. That said, there are physical buttons around the edge to handle the basics while you're wearing thicker gloves.
Features & battery life: phone it in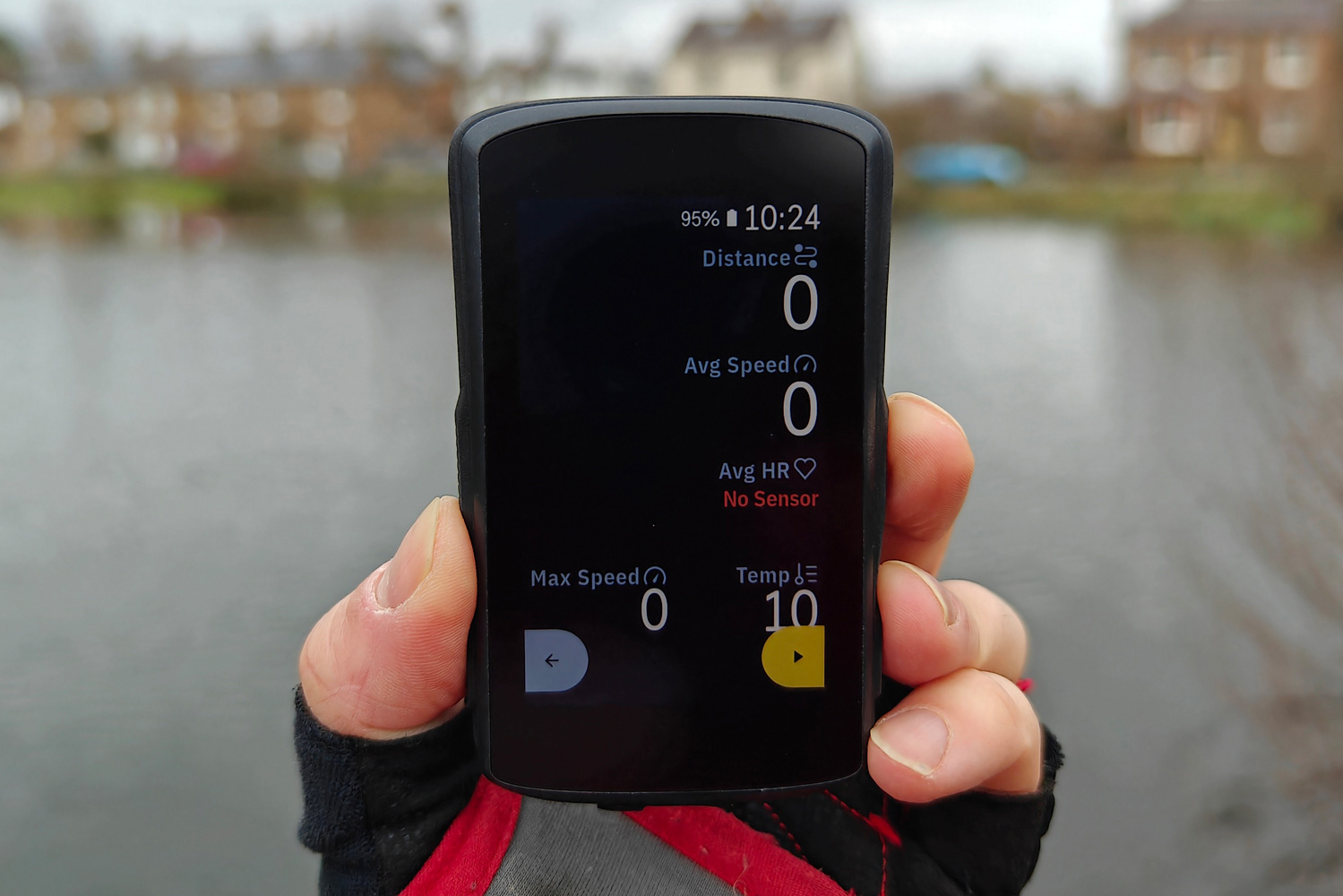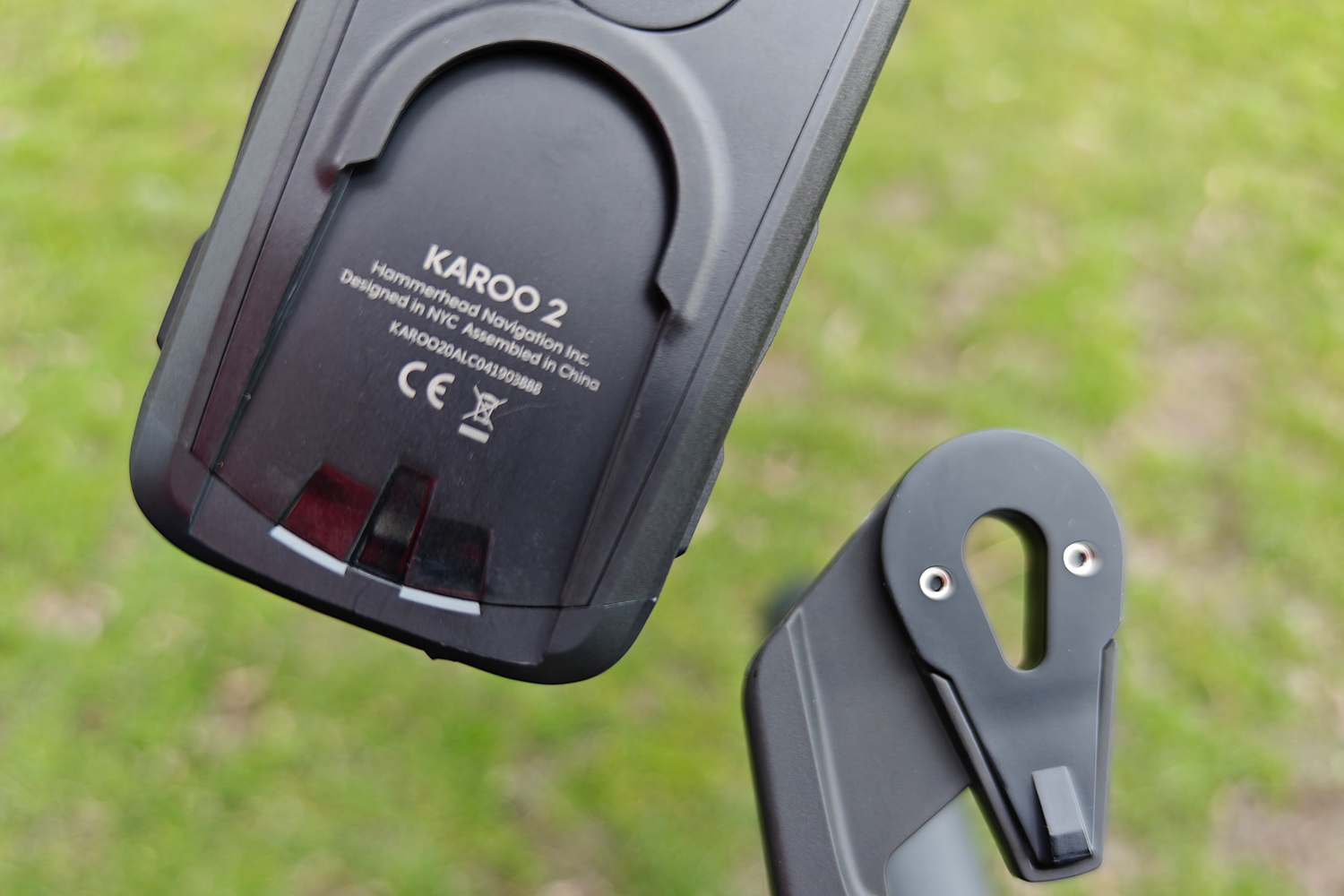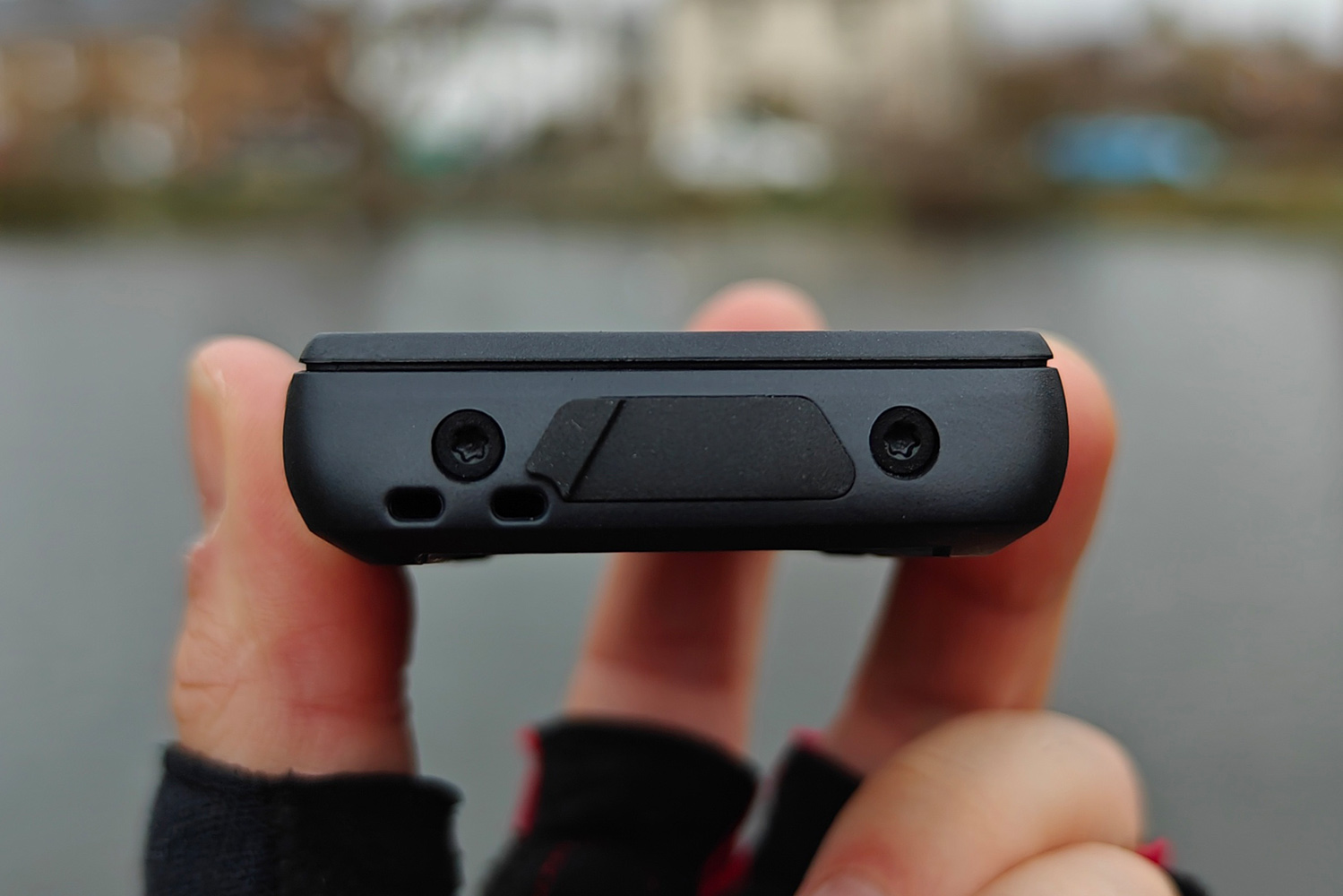 Pairing your phone through the Karoo Companion app lets your notifications appear on the head unit, so you can keep your handset stashed in your kit bag. Unlike Garmin and Wahoo, Karoo brings through notifications from all of your phone's messaging apps. You might want to dial back some of the audible alerts if you're particularly popular, but they come through quickly and are easy to read on the screen.
The Karoo 2 can pretty much perform all of its functions on the device itself, so there are a fair few menus and settings to get acquainted with. Some might prefer the simpler on-device settings seen on the Wahoo Elemnt, which offloads more complex functions to a computer or companion app when you're back at home. You can import routes from third-party services or create them on the device, which then appear as thumbnails to easily pick the right one at a glance.
It's effectively running Android 8, a now antiquated version of Google's mobile OS, but given it has been so heavily customised you're unlikely to notice. It plays nice with Komoot and Strava post-ride, automatically exporting each trip once it rejoins your home Wi-Fi, or you can side-load apps (the major benefit of Android) if you prefer. Having a tiny keyboard for putting in place names, searching for routes or naming your ride before uploading is really useful, too. No more renaming in Strava and accidentally comparing yourself with much better riders.
The Karoo 2's other USP is constant updates. Hammerhead has added many helpful little nips and tucks since launch, while still keeping the experience consistent for long-time users. Enhanced maps or clearer UI elements are always a pleasure to see. If only our legs could be upgraded so easily. Climb without route was added a while back, automatically detecting gradients and plotting your distance to the summit very effectively. The latest is support for e-bikes, recalculating your burned calories based on how much assistance you're getting, although only those with LEV+ connectivity.
Pedalling new paths is a doddle with easy route planning, top-notch navigation prompts, rapid missed turn auto-rerouting and on-the-fly climb profiles. The ride screens are nicely customisable and there's good connectivity for third party sensors. Missing a turn doesn't always mean immediately turning around, either. The Karoo 2 reroutes you on the fly and does a fine job, even when you're on a twisty single track. Mind you, with the clear map and overlaid route, plus big notifications and loud beeps, this rarely happens.
Just don't expect the longest battery life. A runtime of between 8 and 12 hours isn't the most generous going, but with USB-C charging you can grab a top-up while sorting out your kit and route. That's easily enough juice for a few hours out on the road or getting muddy.
Hammerhead Karoo 2 verdict
For ages cycling computers were held back by outdated hardware and custom software… then Wahoo gave Garmin a scare with its super-easy-to-use Elemnt Bolt, and now Hammerhead has shaken things up even more. The Hammerhead Karoo 2 is a superb bike computer with every feature you would expect given the price – and with the promise of more to come later down the line.
The sharp screen really is a game-changer here, and effectively running a tiny Android phone inside a custom case feels like a no-brainer. It's expensive, yes, and doesn't have the battery stamina of some rivals, but those are minor gripes given its other abilities.
Stuff Says…
A compact and capable bike computer with a fantastic screen, fast interface and clever on-the-fly climb profiles. Just don't expect great battery life.
Good Stuff
Software is extensive yet delightfully simple to use
High resolution display looks superb
Lots of on-device customisation
Bad Stuff
Battery life a step behind the compeitition
Post-ride analysis could be better
Hammerhead Karoo 2 technical specifications
| | |
| --- | --- |
| Screen | 3.2in 800×400 LCD, w/ Dragontrail glass |
| Connectivity | Bluetooth 4, ANT+, Wi-Fi, 4G (with sim), GNSS |
| Battery | 2500mAh |
| Durability | IP67 |
| Dimensions | 100x61x19mm, 131g (167g with mount) |