Honda Civic Type R first drive review
Type R returns in the form of a 300bhp beast with the nattiest spoiler in town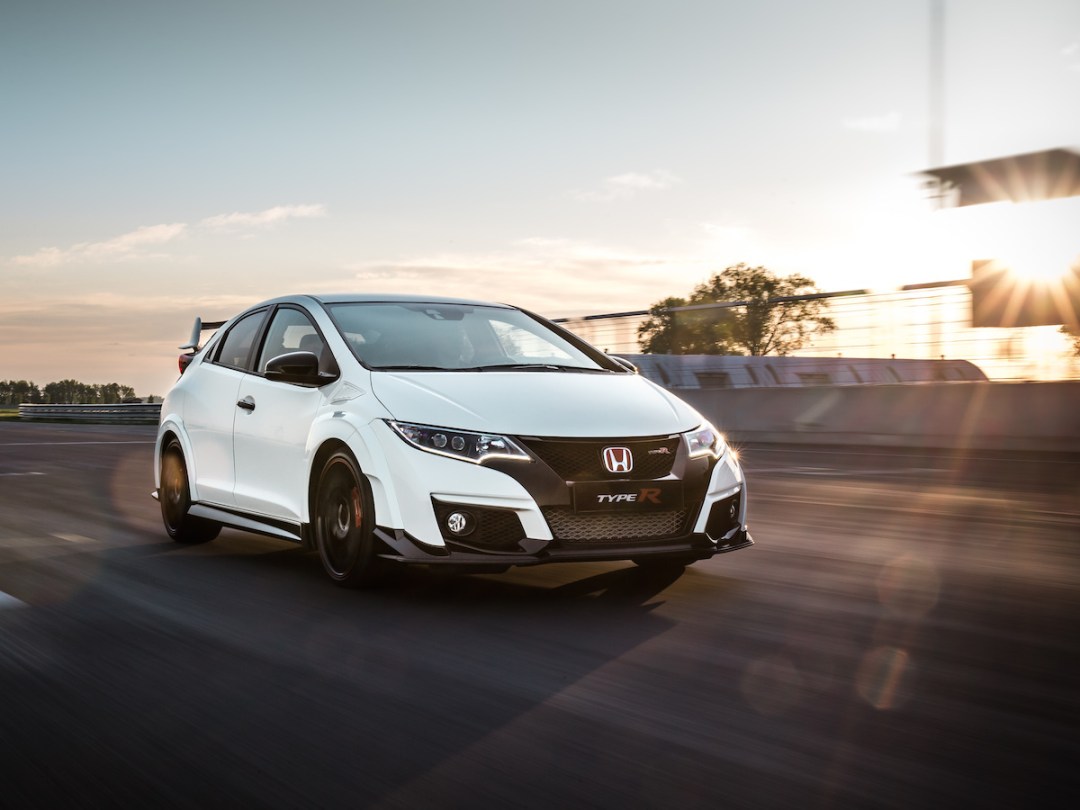 The new Honda Civic Type R isn't really a hot hatchback.
Hot hatchbacks are pretty standard cars given a sporting tweak or two so that buyers can squeeze just a hint of feeling as though they're in a racing car during the otherwise tedious commute. They're Golf GTIs or Corsa VXRs.
The Civic, though, is way beyond that.
This is a hyper-hatchback. A 300bhp beast only barely disguised as a normal Civic. At £30,000 it commands a rather beastly price, too.
Subtle this is not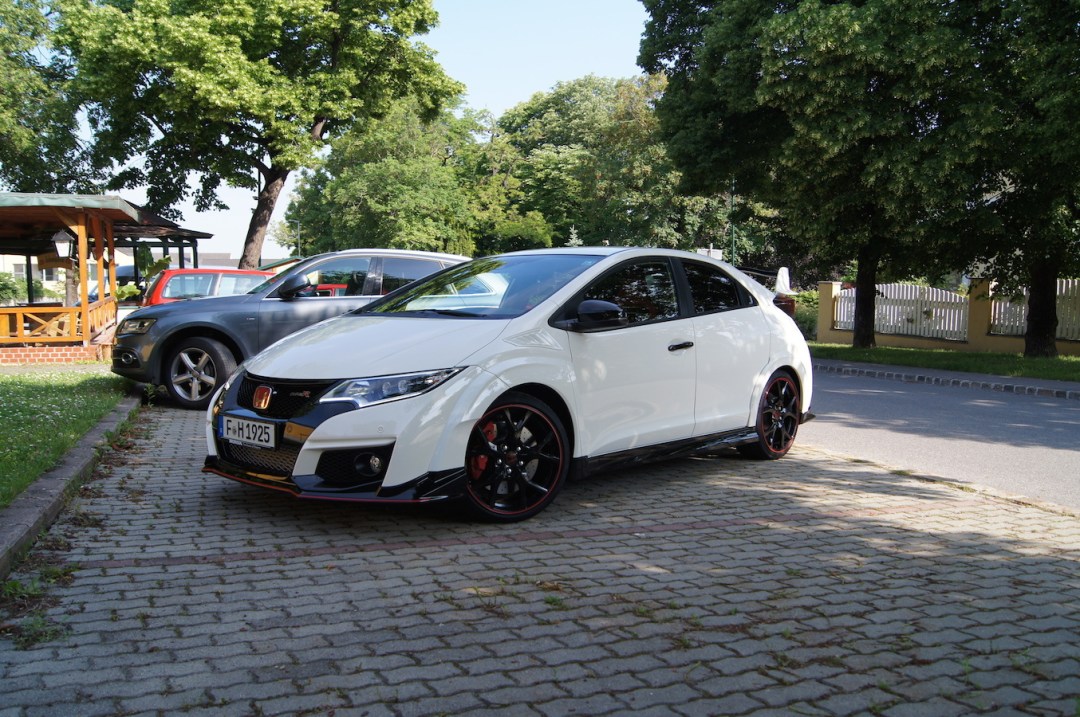 That this is related to the standard Civic is clear to see, but so are the extra bits. There are the 19in black wheels with the sporting red trim, the two twin exhausts either side of a black rear splitter, the big front splitter, the properly massive rear wing, the massively flared wheel arches and the vents that adorn them.
Frankly, I think it's a bit OTT, but Honda says these aren't fashion accessories. Each contributes to cooling and aerodynamics – this is a car that creates real, actual downforce. And that's much rarer on a road-going car than you might imagine.
VTEC + Turbo = oodles of power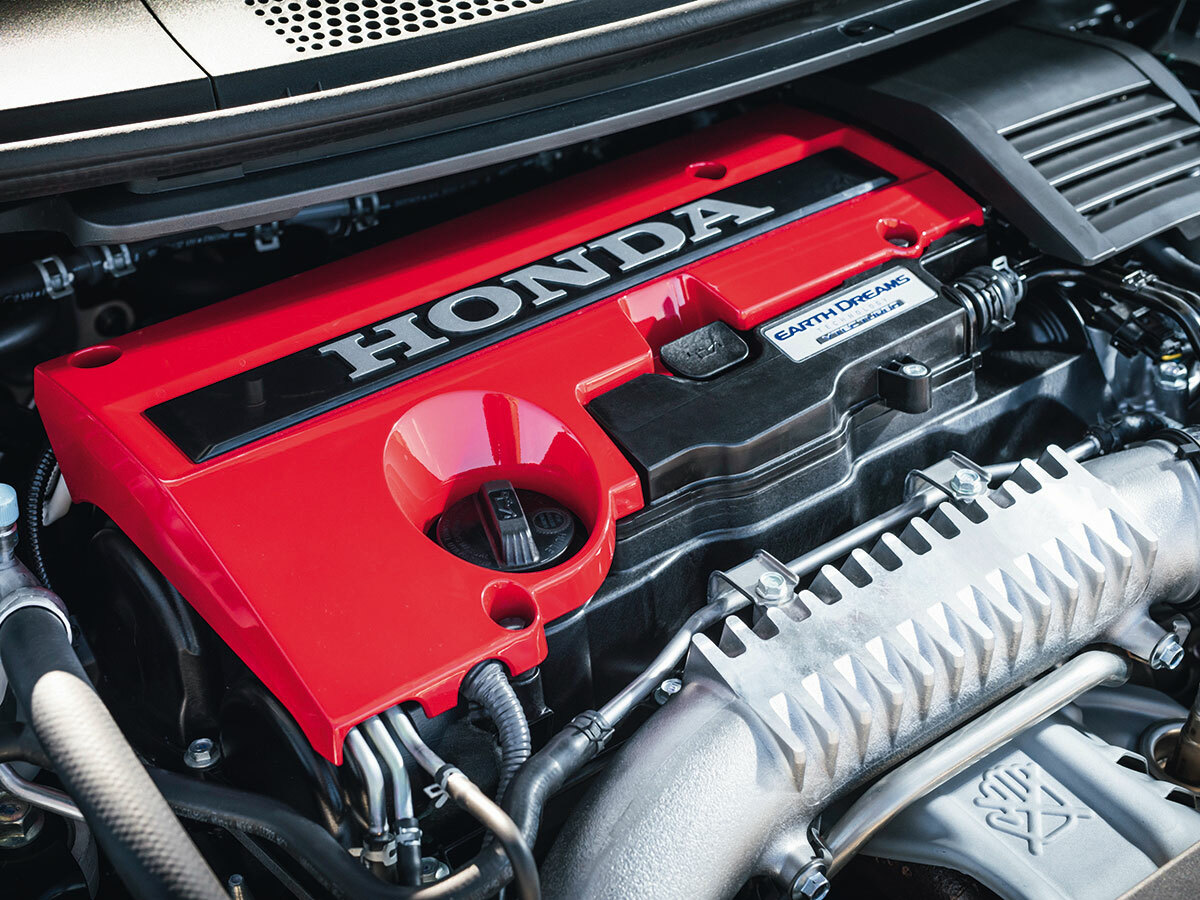 Underneath the bonnet is one of Honda's famous 2.0l VTEC engines, very much like that of the outgoing Type R. However this one has been mated to a big ol' turbo, boosting power from the 200ish horsepower of before to that ludicrous 300bhp figure.
But it's not simply that the new Type R has lots of power – it's the way it delivers it. The variable valve tech that Honda's so famous for is extremely clever, but it meant the old car had to be revved very hard to access the bulk of the car's torque. By carefully blending the turbo's power with the VTEC Honda has managed to create an amazingly smooth delivery. There's almost no discernible lag from the turbo and no need to thrash it to access the VTEC – it's just got loads of power, all of the time.
Essentially, you put your foot down and the thing goes like stink. You'll see 62mph pop up just 5.7 seconds after planting your foot on the accelerator. And if you're silly enough to keep the pedal pushed down you'll hit a terrifying top speed of 167mph.
Push da button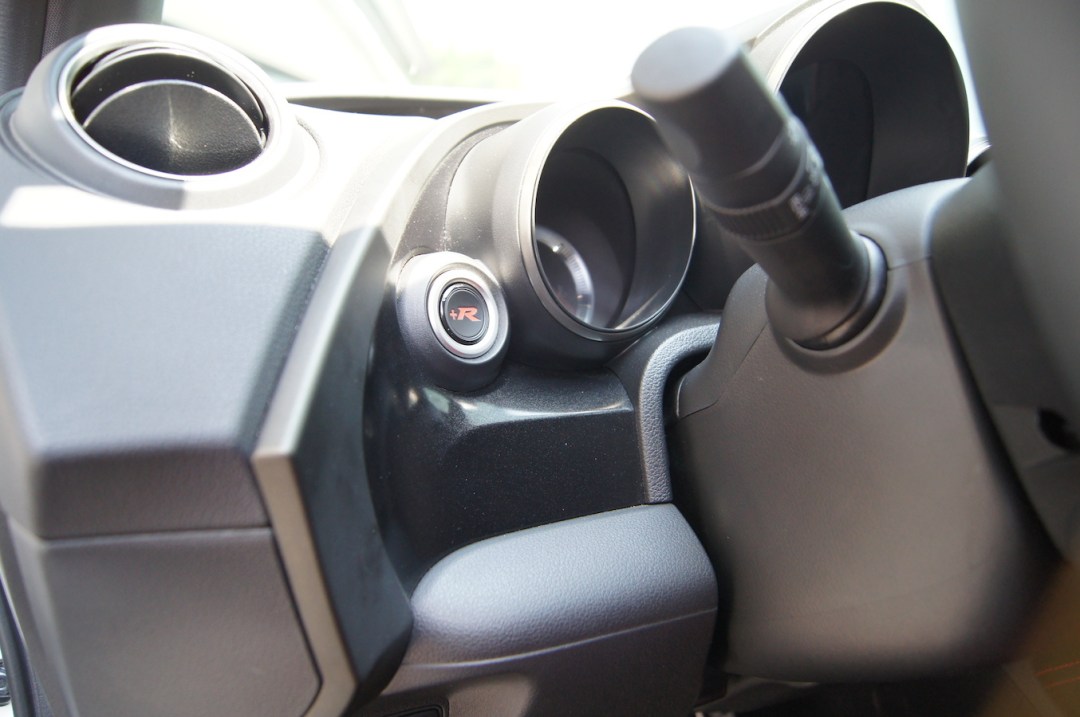 To experience the car at it's sportiest you're going to want to press the +R button – which will soon be known as the "fun button" to Type R drivers. This stiffens the suspension, improves the responsiveness, adjusts the electronic assistance and reduces the effect of the power steering. It makes the car throb with every touch of the accelerator, allows you to throw it even more enthusiastically into corners and provides real feedback through the chassis and wheel. Oh, and it turns all the dashboard highlights red and gives you a new set of available readouts such as turbo pressure and engine temperatures. There's even a screen for lap and launch timing, should you be into that sort of thing.
If you're ever lucky enough to take one of these onto a track you'll discover a car that's exceptionally racey, but also manageable and fairly forgiving. Steering is weighty but precise, with none of the twitchiness you can find with other race-tuned cars, and you get lots of feedback and just the right amount of assistance – you know features such as the limited slip differential and adaptive dampers are helping you pull out of that corner like a cheetah chasing a doomed gazelle, but it still feels as if it's all you.
Of course these characteristics also allow you to safely access the car's raciness on the road, which I did – legally, of course – on a test route just outside Bratislava. The lovely short-shift gears (the Type R is only available as a six-speed manual) makes even a short and simple drive engaging, and the hiss from the turbo as you shift is both gleefully boy racerish and subtle enough to not be anti-social or annoying.
Living with it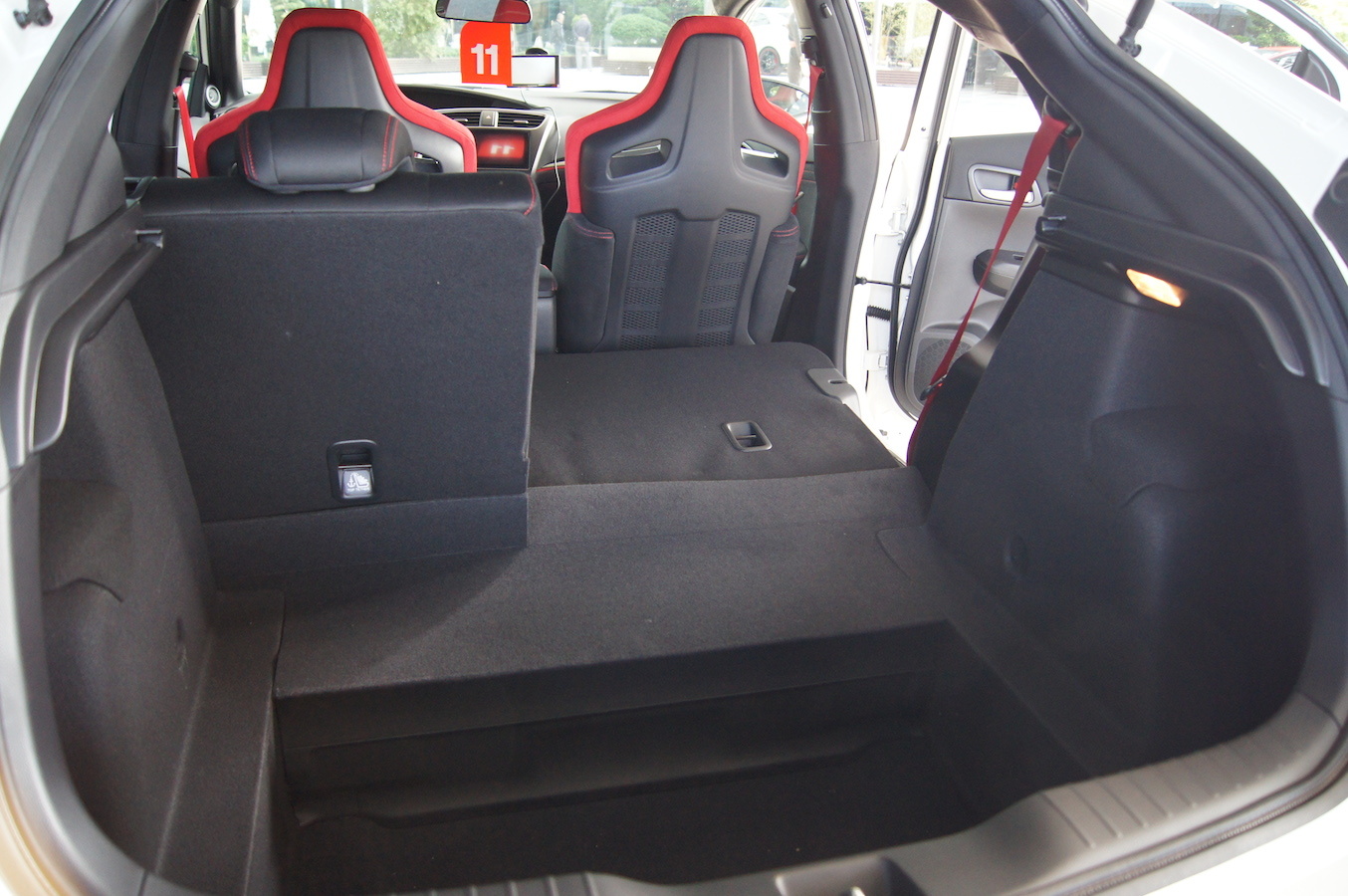 So with the +R button pushed this is a serious racing machine, which also means it's rather stiff an unforgiving. Take it out of +R mode, though, and you've got a far more compliant car. It's still great fun to drive, but it rides an uneven road more smoothly. Certainly more smoothly than the last-generation Type R, although whether it's supple enough for the pot-holed tarmac of good old Blighty remains to be seen.
It's a mighty practical car, too. That might sound like a boring thing to talk about in the context of a performance car, but the reason you buy a hot hatchback rather than a more dedicated sports car such as a Lotus or Porsche is for that extra practicality. This is the first Civic Type R to have five doors, boosting its credentials as a family car (although there are only two proper seats in the back), and it retains the very large boot and fold-flat rear seats of the old model (which you can get a bicycle into with wheels still attached) – it's in fact just a little bit bigger.
Android Infotainment – but this isn't Android Auto
For infotainment you get the new Honda Connect system. This is an interesting one – a Tegra-powered, touchscreen-toting affair that runs a modified version of Android.
Unfortunately you don't get access to the full range of Android apps, but instead just get a few that have been developed specifically for the Honda system. That means no Google Maps, Waze, Spotify or Tidal. Instead for music there's something called Aha, which includes podcasts and the Aupeo streaming service, and for navigation your only option is a bespoke Garmin-powered app – and even then only if you've opted for the £2300 optional GT pack (which does also include some nice safety features such as lane assist, parking sensors and a rear camera).
During the brief play I had with the Honda Connect system it seemed pretty decent, but I can't help but think that Android Auto and Apple CarPlay support would have been much more sensible. Mirrorlink is supported, but that's not really the same thing and is only available on certain Android devices.
Honda Civic Type R Initial Verdict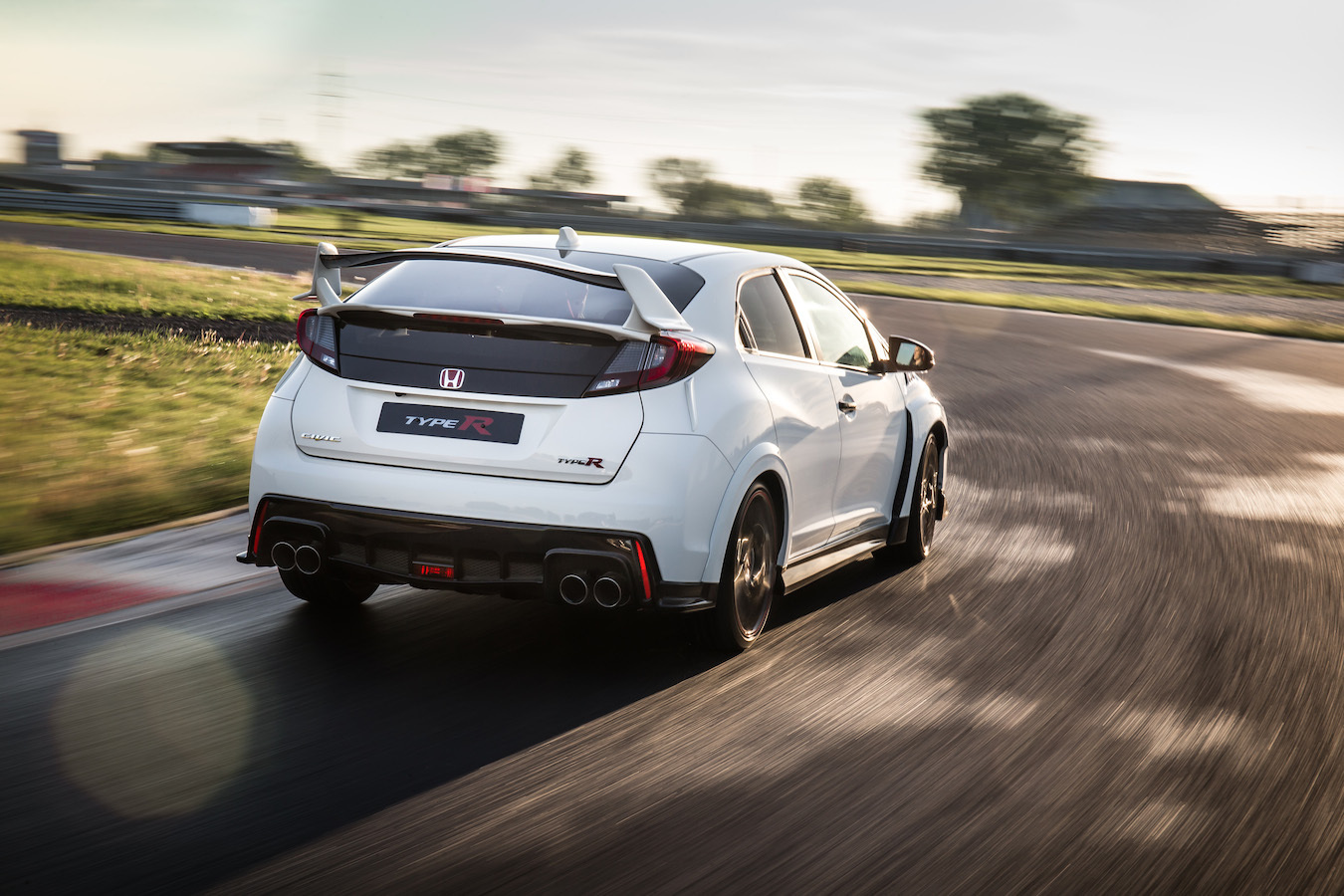 Overall I'm so far pretty smitten with the new Civic Type R. It's both much, much racier than the car it replaces, and more practical and livewithable every day.
But it's also far more expensive than the old car (which launched at around £18,000), putting it into the hyper-hatchback category currently owned by the Golf R and Focus RS, and even the latter seems subtle next to the stand-out styling of the Civic. Honda's making a big thing of the fact that you can buy one on finance for £300 a month, but that relies on a 30% deposit and is still plenty of money in its own right.
So would I buy one? I'm honestly, seriously tempted, but I want to wait until I can test out the ride quality on a longer drive on UK roads and also want more of a play with the Honda Connect system before making a final decision. That's when I'll also publish a final, full review.
Tech specs
| | |
| --- | --- |
| Engine | 2.0l VTEC Turbo |
| Transmission | 6-speed manual |
| Power | 310ps @ 6500rpm |
| Torque | 400nm @ 2500rpm |
| 0-62mph | 5.7sec |
| Top Speed | 167mph |
| Economy | 38.7mpg (combined) |
| CO2 | 170g/km |