Honor 9 Lite review
Could this be the smartphone steal of the year so far?
Getting the latest, greatest tech in a phone is supposed to cost a bomb, right? Not much good if you're on a tight budget.
But it doesn't have to be that way.
Honor is rapidly becoming the name to check out if you want a phone that looks cutting edge, but doesn't cost enough to make your bank balance shrivel to the size of a microwaved pea. The Honor 9 Lite is the latest in a long line of budget blowers, following on from the Honor 9 and View 10.
Just take a look at the Lite's spec sheet: it has quad cameras, an 18:9 screen and a glass back – that's a total steal for under £200. Well, a penny under, anyway.
HONOR 9 LITE DESIGN & BUILD
The Honor 9 Lite is one of just a few sub-£200 phones that could pass for a £500-plus handset. Well, as long as you don't let anyone look too close.
That's glass on both the front and back – not Gorilla Glass, admittedly, but it's still some form of toughened glass that shouldn't scratch too easily. There's also a light curve at the edges of both panels, to make the Honor 9 Lite feel premium.
The back is like a mirror. A blue mirror, in this case. The 9 Lite is one of the flashiest budget phones around. Think that blue is a bit too flashy? The grey version should look slightly less eye-catching.
It's not just about the glass, either. The Honor 9 Lite is also dead slim at 7.6mm thick, and while the 5.65in screen sounds big, the phone is only about as wide as a Galaxy S6. It's a delight.
There's no water resistance, but you do get a fingerprint scanner on the back. Like other Huawei and Honor phones, it's pretty fast. You can use it for gestures too, if you like, such as dragging down the notifications display with a quick flick.
The plastic sides are a giveaway this isn't really an expensive phone – a pricier handset would use metal. The Lite still feels classy, though, and if you're asking for true flagship at this price, you're asking for too much.
HONOR 9 LITE DISPLAY & SOUND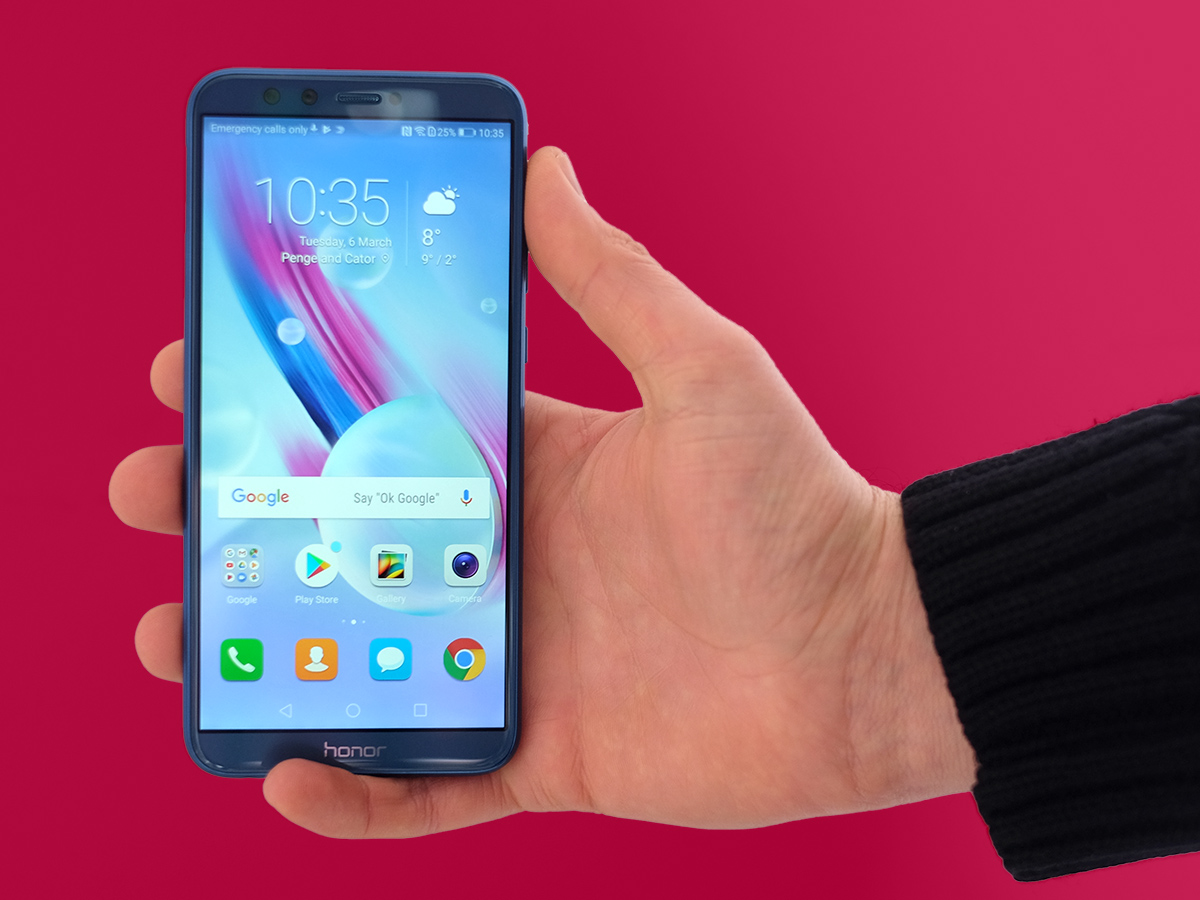 The Lite's screen style is where Honor has blazed ahead of most of the competition.
It's an 18:9 aspect display, filling almost the whole front of the phone with Android-y goodness. It'll actually make your friend's Samsung Galaxy S7 look kinda old. No joke.
Colours aren't quite as rich as those of a phone like that, mind. But they are still good, sitting somewhere between neutral and the deep, oversaturated look most more expensive phones aim for.
Viewing angles are a reminder of quite how far budget phone screens have come, too. The 9 Lite looks great from any angle, with very little loss of brightness.
New and expensive phones are always floating around Stuff HQ, but we'd be perfectly happy to live with this sort of screen. It's bright and perfectly sharp enough.
You can make some tweaks too. You can alter the colour temperature in the Settings menus, and an Eye Comfort mode turns things all orangey at night to stop the screen's blue light from keeping you awake until 3am.
The speaker could be better, though. There's actually a tiny smidge of bass to the bottom-loaded mono driver, but almost no mid-range bulk and the treble sounds a bit brash. Everything is just a bit hard on the ear, at max volume. It doesn't go all that loud either.
HONOR 9 LITE SOFTWARE & OS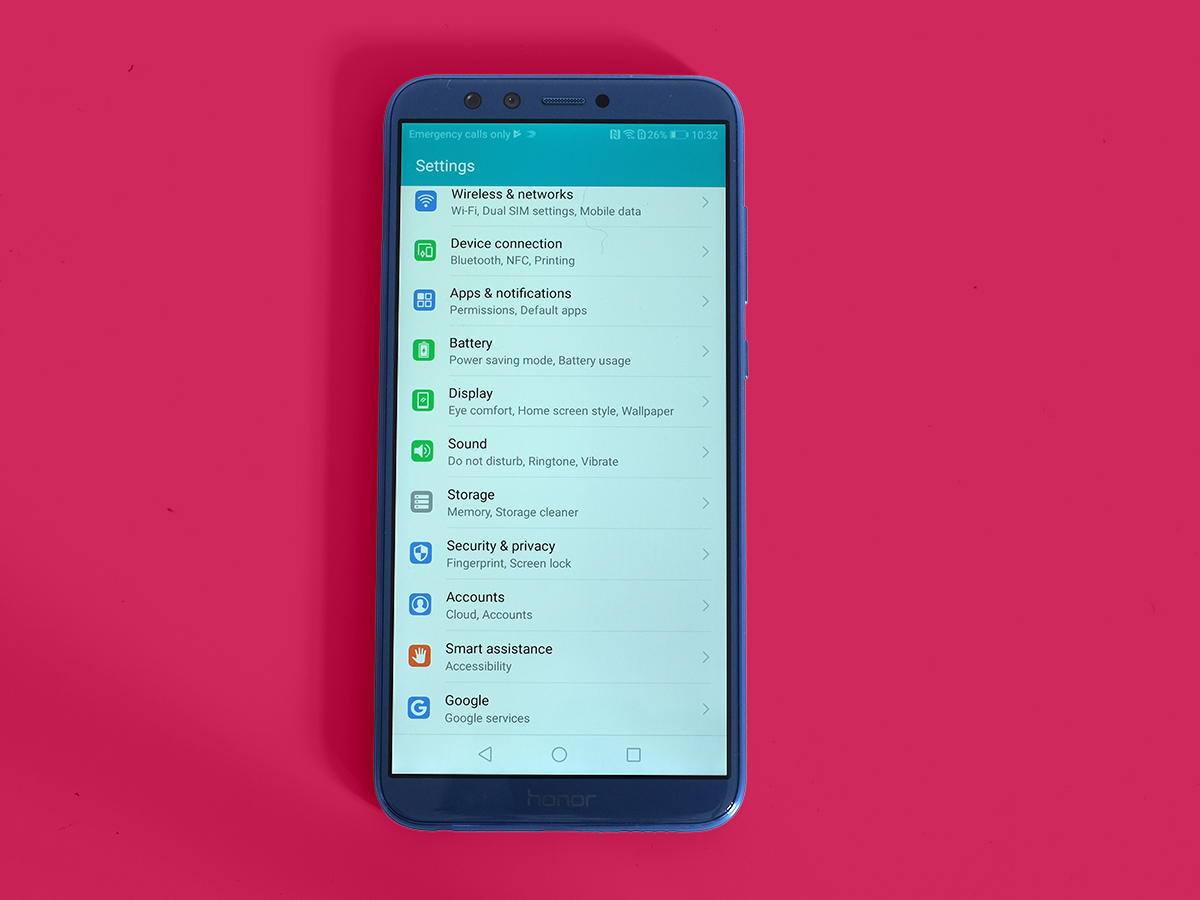 Honor's custom Android treatment is where a few of you may peel off. That's because the 9 Lite runs Android 8.0 underneath the EMUI interface, which is also found in other Honor and Huawei phones.
Used it a few years ago and hated it? Don't run away just yet. EMUI used to be a bit clunky, forcing an all-homescreen interface onto you like a bad iPhone impersonation – but EMUI 8.0 is far better than the older versions.
You can now have an apps menu if you like. The notification tray, system icons and Settings menus will look a little different if you're coming across from any other version of Android, but it won't take long to adjust.
The whole system looks pretty good and it's mostly quick, too. Every now and then we noticed the odd stutter, but nothing we think should put you off a buy. Although there's still a fair whack of bundled software when you first get it out of the box.
You can also alter the general look with themes. A fiddle about is a good idea, as EMUI comes with an odd lock screen that shows random images every time you unlock. It's not to everyone's tastes.
HONOR 9 LITE PERFORMANCE
The Honor 9's Kirin 659 CPU is made by parent company Huawei, and has eight Cortex-A53 cores that actually outperforms its obvious Qualcomm Snapdragon-powered rivals.
In a Geekbench 4 drag race, the 9 Lite scores 3629 points, while Motorola's G5S only manages 2100-2750. That's a real turn-up for a sub-£200 phone
Not everything smells of roses, though. Play a demanding game like Asphalt 8 at max settings and you'll see the frame rate isn't quite as smooth as it is in the Moto G5S Plus.
That's because the Kirin 659 uses a dual-core Mali-830 GPU. It might be designed for Full HD-style screens like the Honor 9 Lite's, but it's only just powerful enough. The phone is just begging for a wee bit more graphics juice.
Or, y'know, you can just knock the graphics settings down. Some high-end games let you do this. There have to be some compromises at this price, eh?
3GB of RAM for multitasking, 32GB of on-board storage and microSD expansion for adding more capacity later are all on the money, at least.
The 3000mAh battery is par for the course, too. Plenty of phone makers have honed in on this as the capacity for a self-respecting phone in 2018. It's a pretty good strategy.
This phone won't last two days between charges, but it does last a solid day unless you hammer it. It'll handle a good bit of Facebook life-sucking, a few hours of podcast streams and your WhatsApp obsession without dying before you leave work.
It's not an ultra-battery phone, but isn't meant to be one either. For a less fluffy look at the stamina we played a movie on loop. The Honor 9 Lite lasts just under 10 hours at 50% brightness. Not bad, not amazing either.
The lack of fast charging and fiddly microUSB port are the only complaints. The Honor 9 Lite only has a 10W charger, which takes over 2 hours to charge the phone.
HONOR 9 LITE CAMERAS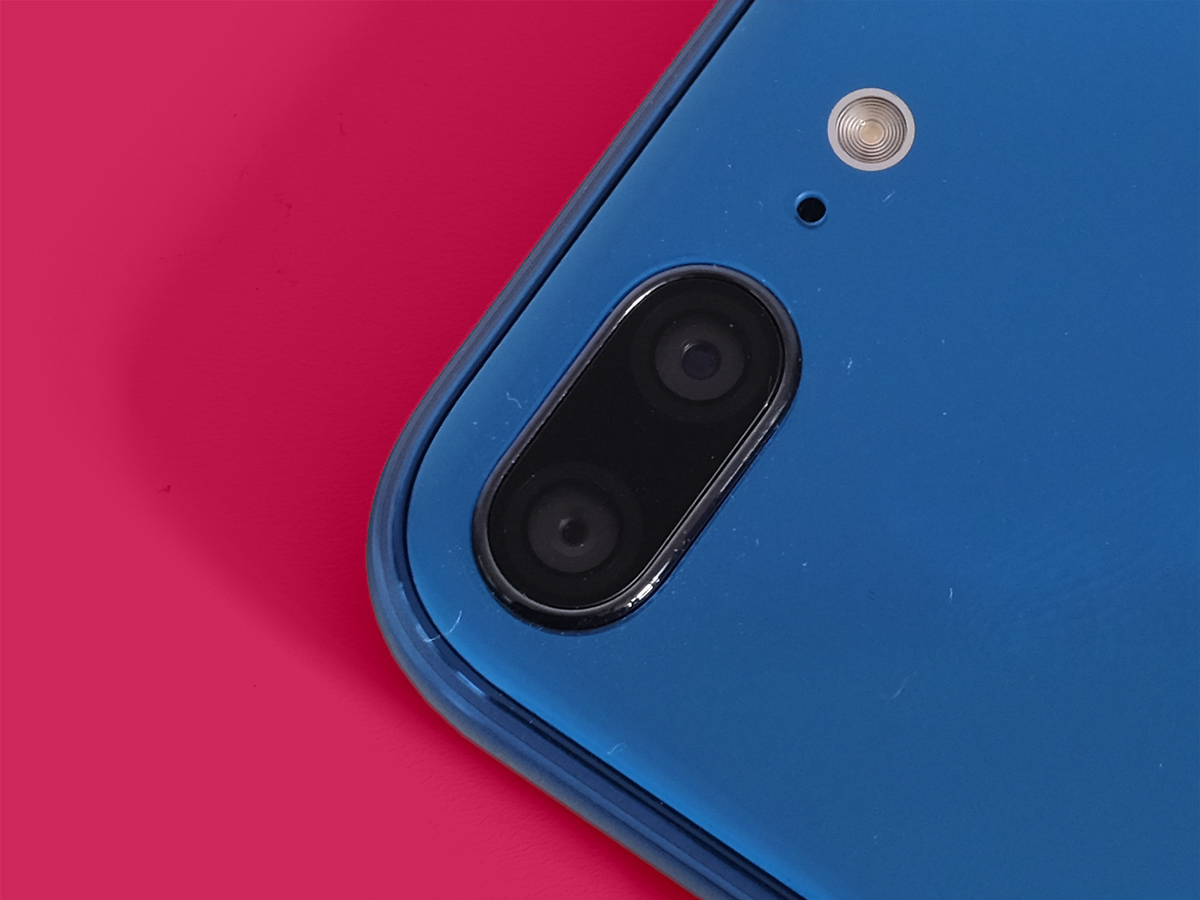 For a relatively cheap phone, the Honor 9 Lite has a big boast: it's Europe's first quad-camera phone. There are two on the back, and two on the front.
These are used for "bokeh" or shallow depth of field photos. The second camera makes a depth map of a scene, letting the Honor 9 Lite blur-out the background. Or foreground.
This isn't quite the same depth setup you'd see in a phone two or three times the price, though. The secondary sensors are quite low-quality, which only lets the Honor 9 Lite sketch out a basic depth map.
That means photos using this Bokeh mode tend to blur out the very edges of some objects, as well as the background. And it can't cope with complicated objects either. Still, having the option is neat.
Daylight photos are pretty good. The main camera has a 13-megapixel sensor, and it's not a rubbish one. There's a decent amount of detail for an entry-level phone, shooting is fast and the camera app makes great use of automatic HDR optimisation to bring out shadow detail and avoid overexposure.
It doesn't quite hit the heights of the Moto G5 Plus, though. Shots that use a lot of HDR chops can look undersaturated, and there's some noise in the mid tones of photos even in daylight.
Could we live with it? Sure, given the price. Like just about all sub-£200 phones, though, the image quality isn't too great at night. Without image stabilisation or great big sensor there's no way it could be, really.
The Honor 9 Lite doesn't make truly dark scenes all that clear, the detail level drops significantly and images become much more noisy in dim indoors conditions.
The front cameras are rather good, though. They retains detail, including beard hairs, even when you shoot in a glum room, and the secondary sensor lets you add some blurry DSLR-style drama for your Instagram feed.
Like every other Huawei and Honor phone of recent times, there's also a mode that'll smooth our your wrinkles and smudge out any blotches. Just don't max it out unless you want to look like you've been airbrushed by an intern.
HONOR 9 LITE VERDICT
Plenty of style and enough hardware substance make this the phone to get in early 2018 if you want a modern-looking budget handset.
There's just one little problem. The Honor 9 Lite's graphics chip isn't powerful enough to make high-end games quite as fast as some other £200 phones. The Moto G5 Plus has the edge here, and takes slightly better photos too, but can't match Honor for looks.
Right now, this is one of the best budget phones to buy if you want something that looks and feels up-to-date.
Tech specs
| | |
| --- | --- |
| SCREEN | 5.65in, 2160×1080 LCD w/ 18:9 aspect ratio |
| CPU | HiSilicon Kirin 659 octa-core |
| MEMORY | 3GB RAM |
| CAMERAS | 13MP+2MP rear w/ PDAF, LED flash. 13MP+2MP front |
| STORAGE | 32GB on-board, microSD expansion |
| OPERATING SYSTEM | Android 8.0 Oreo w/ EMUI 8 |
| BATTERY | 3000mAh non-removable |
| DIMENSIONS | 151x72x7.6mm, 149 g |
Stuff Says…
Cutting-edge design at a price that won't shred your wallet. Even with its average gaming performance, this is an excellent budget phone
Good Stuff
Tempting price
Expensive-looking design
18:9 aspect screen
Bad Stuff
Performance compromise with high-end games
Speaker can sound harsh