Honor Magic VS hands-on review: one fine foldable
Slimline foldable gets a beefier CPU and bigger battery for its European debut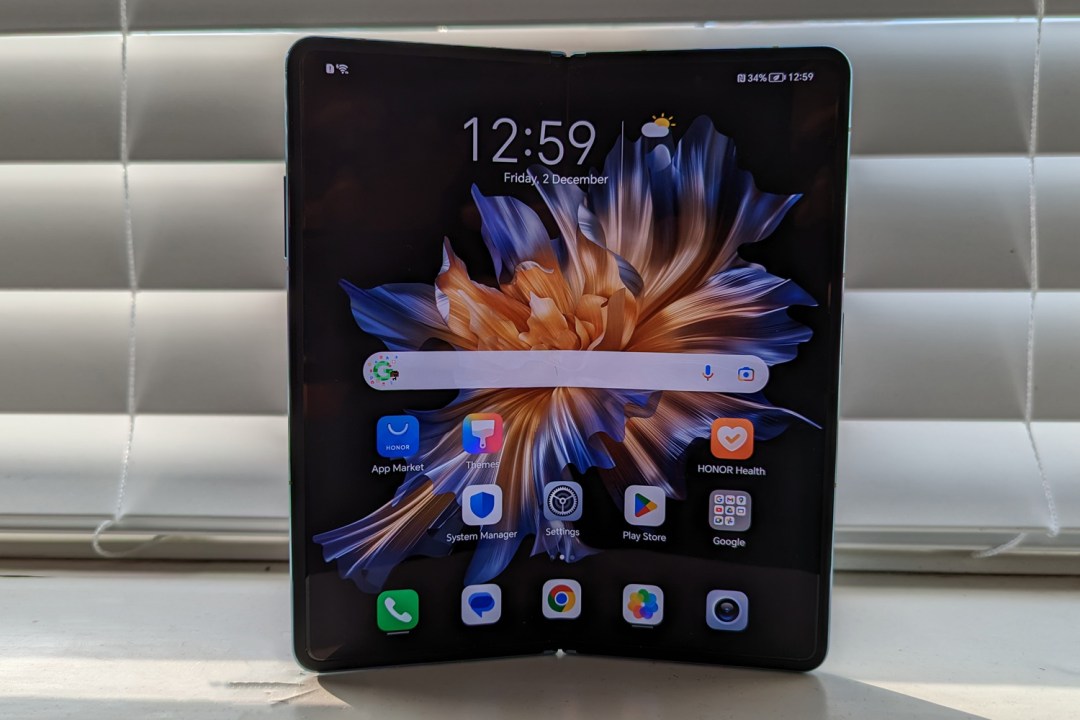 It's still early days for the tech, but book-style foldables seem to be where the premium end of the phone world is headed. Samsung leads the charge with its Galaxy Z Fold line-up, although it's not alone. Honor joined the party with the China-only Magic V earlier this year, and is now back for a second attempt. The Honor Magic Vs won't just stay at home, though: it's also heading to the wider world very soon.
More of a mid-life update than an all-new model, the Vs adds a bigger battery and more powerful hardware while keeping the same trio of competent cameras and inward-folding OLED display as before. It's about as high-end as an Honor phone gets. We've been putting a pre-release version through its paces to see if the firm has done enough to ruffle feathers over at the Samsung factory.
Design & build: goodbye gap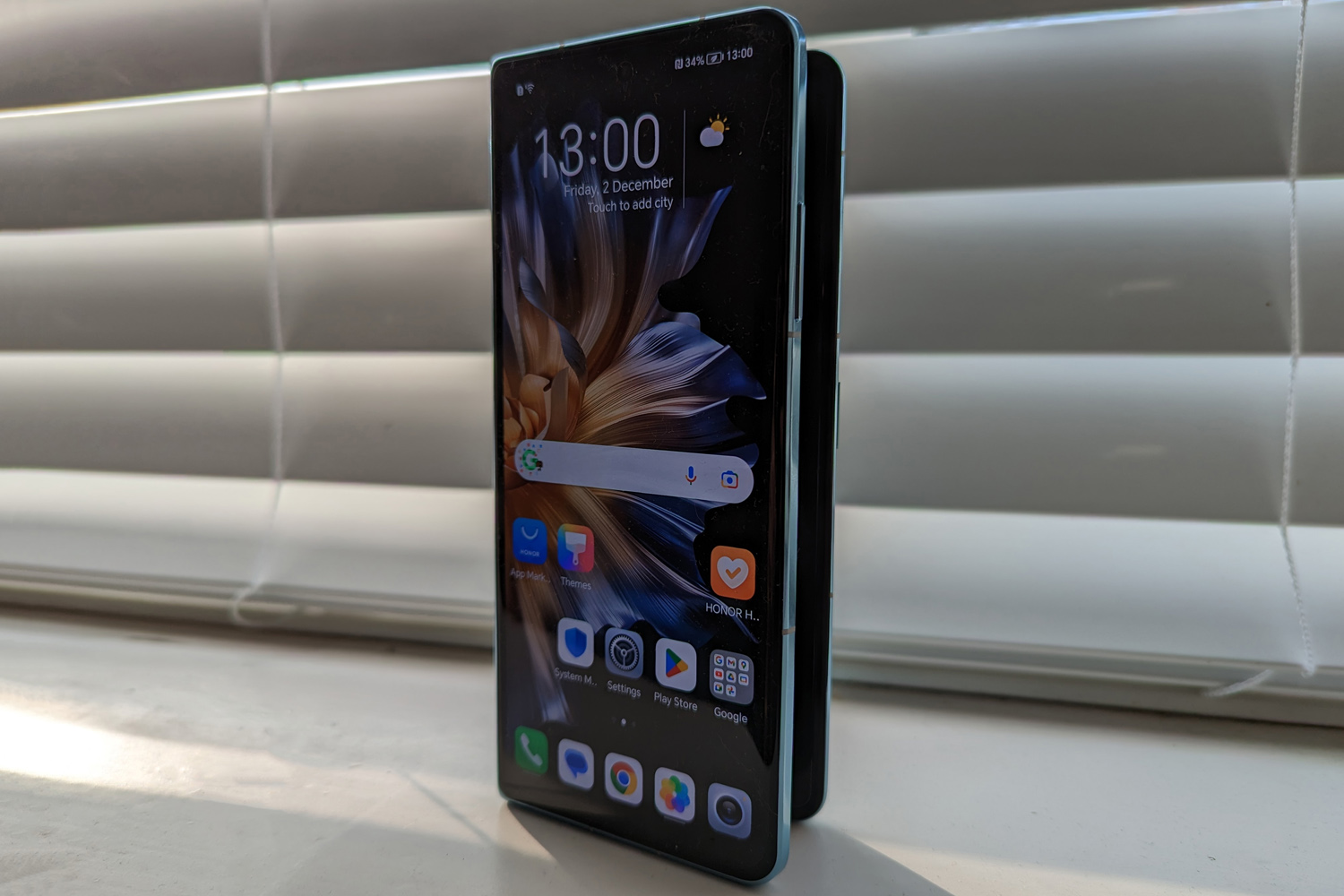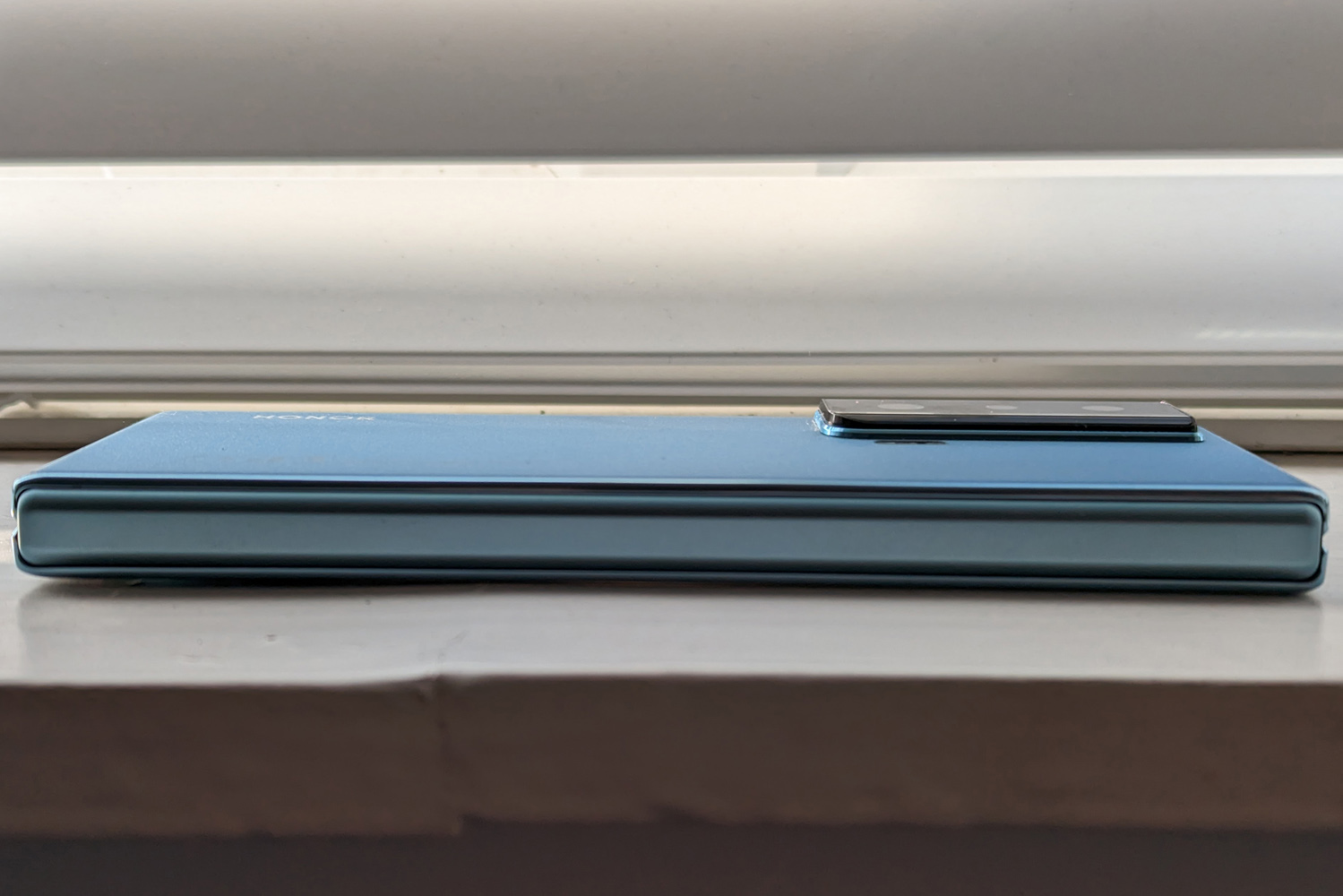 At a scant 12.9mm when folded shut, the Magic Vs is a few millimetres thinner than the Galaxy Z Fold 4, and weighs less too. The outer display also uses a more traditional 21:9 aspect ratio, rather than the skinnier screens seen on Samsung's Galaxy Fold phones. Add in the redesigned hinge, which lets the two halves close shut with no gap, and it feels a lot like using a regular-non-folding phone before you open it up.
There's the usual mix of metal and glass holding it all together, with a mirror-like finish on the frame and a textured matte on the rear that's not quite as slippery as regular glass. You'll still want to keep a good grip on it, though. The rear camera module sticks out a fair amount, but has rounded edges so as not to catch on your clothes when pulling the phone out of a pocket.
The hinge opens smoothly, feels sturdy enough when opened part-way, and has no visible seam gap at either end. Honor reckons the mechanism is good for 400,000 folds, or ten years of typical use, although we're barely 0.001% of the way towards testing that claim. What we do know is that the inner screen's crease is still visible if you go looking for it, although it doesn't stick out in regular use.
You've got the option of a side-mounted fingerprint sensor, which is quick to detect your digits, or you can rely on face recognition to bypass the lock screen. Unsurprisingly for a 2022 flagship, there's no 3.5mm headphone port, and the dual-slot SIM card tray doesn't play nicely with microSD cards. That means the 256GB of on-board storage is all you get.
Screens & sound: golden ratio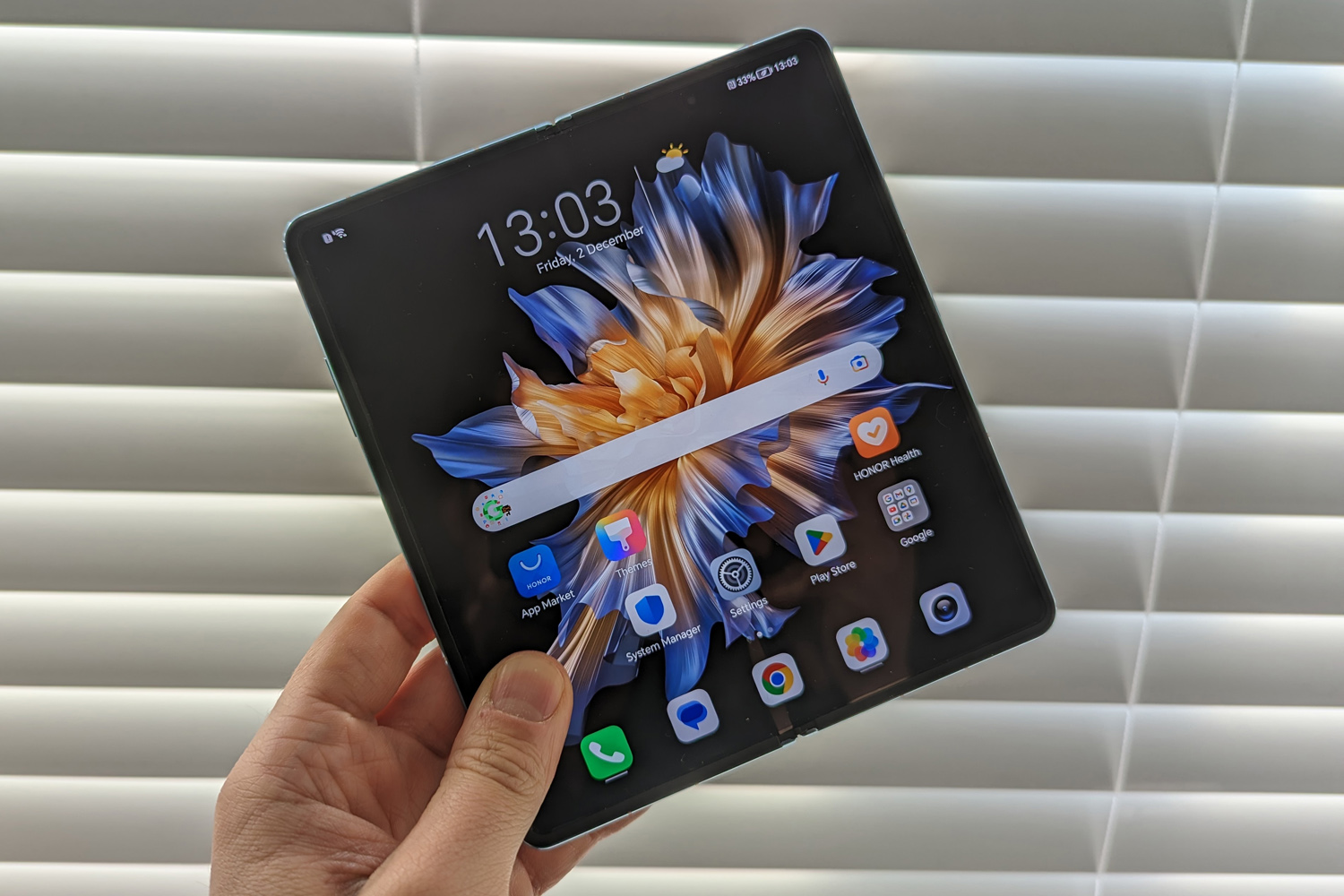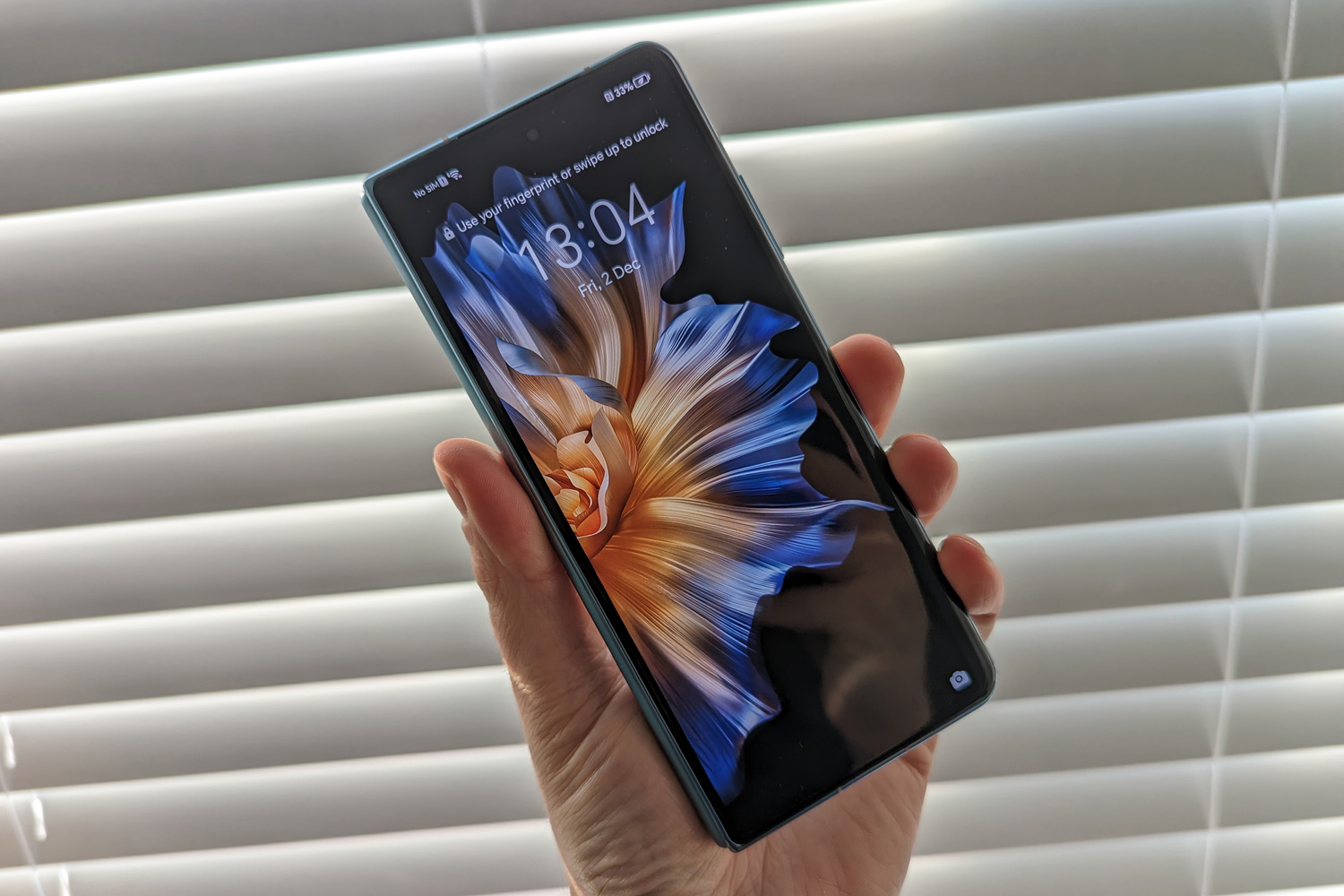 It's clear from the spec sheet that the Magic Vs is a phone-first sort of foldable. Size and resolution aside, the outer display seems to be the superior screen, with a higher refresh rate (120Hz to the inner screen's 90Hz) and better brightness (1200nits to the inner one's 800). The 1080p resolution OLED looks the business, with a thumb-friendly 21:9 aspect ratio and wonderfully vibrant colours.
The inner display is a not-quite-square 7.9in, with a 2272×1984 resolution. It has excellent viewing angles, equally punchy colours, and doesn't feel overly plasticky like some foldables we've tried. The coating does a decent job of minimising reflections, even outdoors in bright sunshine.
Both screens support HDR10+ videos, with clear highlights and deep shadows helped by inky blacks from the OLED panels. There's also stylus support now, something that was absent on the OG Magic V, although we didn't have one available to test during our time with the phone.
It's a shame Honor has restricted refresh rate on the internal screen, as it puts the phone on the back foot compared to the latest Galaxy Fold. That said, we found ourselves using the outer screen a lot more here anyway, thanks to the wider aspect ratio, and only swapping to the inner display for watching videos, reading or multitasking.
Performance & software: Flagship speed – for now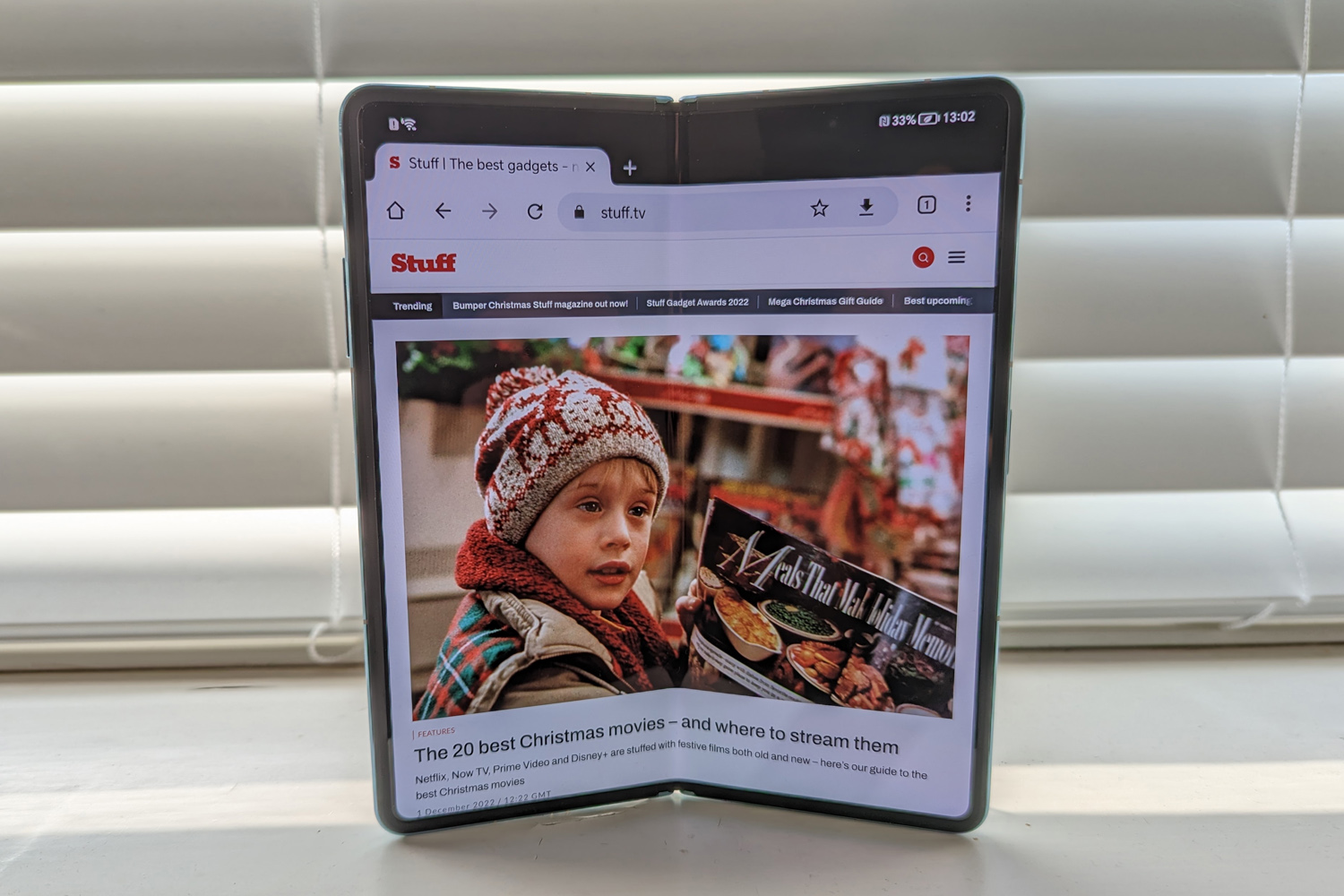 Right now, the Honor Magic Vs is packing one of the most powerful mobile CPUs doing the rounds. Qualcomm's Snapdragon 8+ Gen 1 can absolutely blitz just about anything in the Google Play Store, be it apps or games, and can manage multitasking without breaking a sweat. Handy for a foldable, where doing two things at once on the larger internal display is a big part of the appeal.
That said, us Brits won't be able to buy one until early next year – at which point non-folding rivals should start showing up with even juicier Snapdragon 8 Gen 2 chips inside. Closest competitor Samsung likely won't arrive with a new Galaxy Fold until July or August, though. That gives Honor a decent window where it can trade benchmark scores with the best of 'em.
While our review sample was running non-final software that stopped us installing certain Play Store apps, we saw no signs of stutter or slowdown. Games ran smoothly at good frame rates, even with the detail settings cranked, and apps don't need to redraw very often even when you've got several on the go at once.
What Honor has planned on the software side, especially in terms of making multitasking a breeze, remains to be seen. Our pre-release sample had floating windows and side-by-side split screen using a pop-out shortcut bar, but lacked the app dock Google introduced with Android 12L (and Samsung adopted for the Galaxy Z Fold 4).
Honor Magic Vs battery life: size matters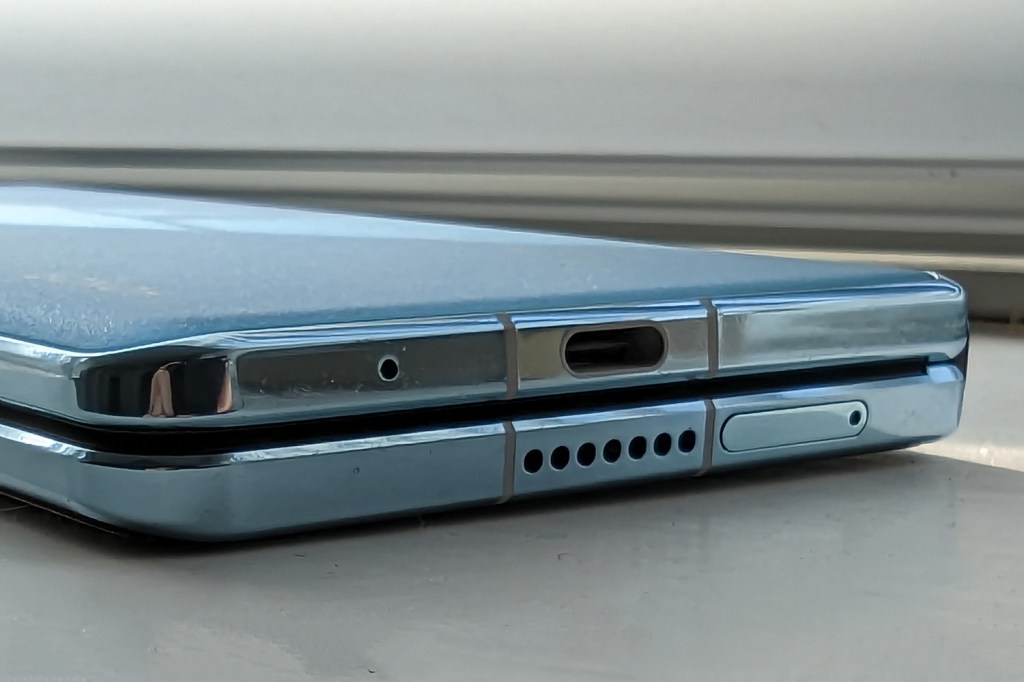 At 5000mAh, you're getting a 10% increase in battery capacity over the outgoing Honor Magic V, and puts the Magic Vs on par with traditional flagship phones. We've been able to last all day between top-ups, even while taking lots of photos and watching YouTube videos on the larger internal display.
There's no wireless charging, which might come as a disappointment to some, but at least wired charging is suitably rapid. The phone tops out at 66W, and Honor includes a power brick in the box. A full top-up takes less than an hour, with a quick 20 minute pitstop usually good for at least 50%.
Honor Magic Vs cameras: not short on sensors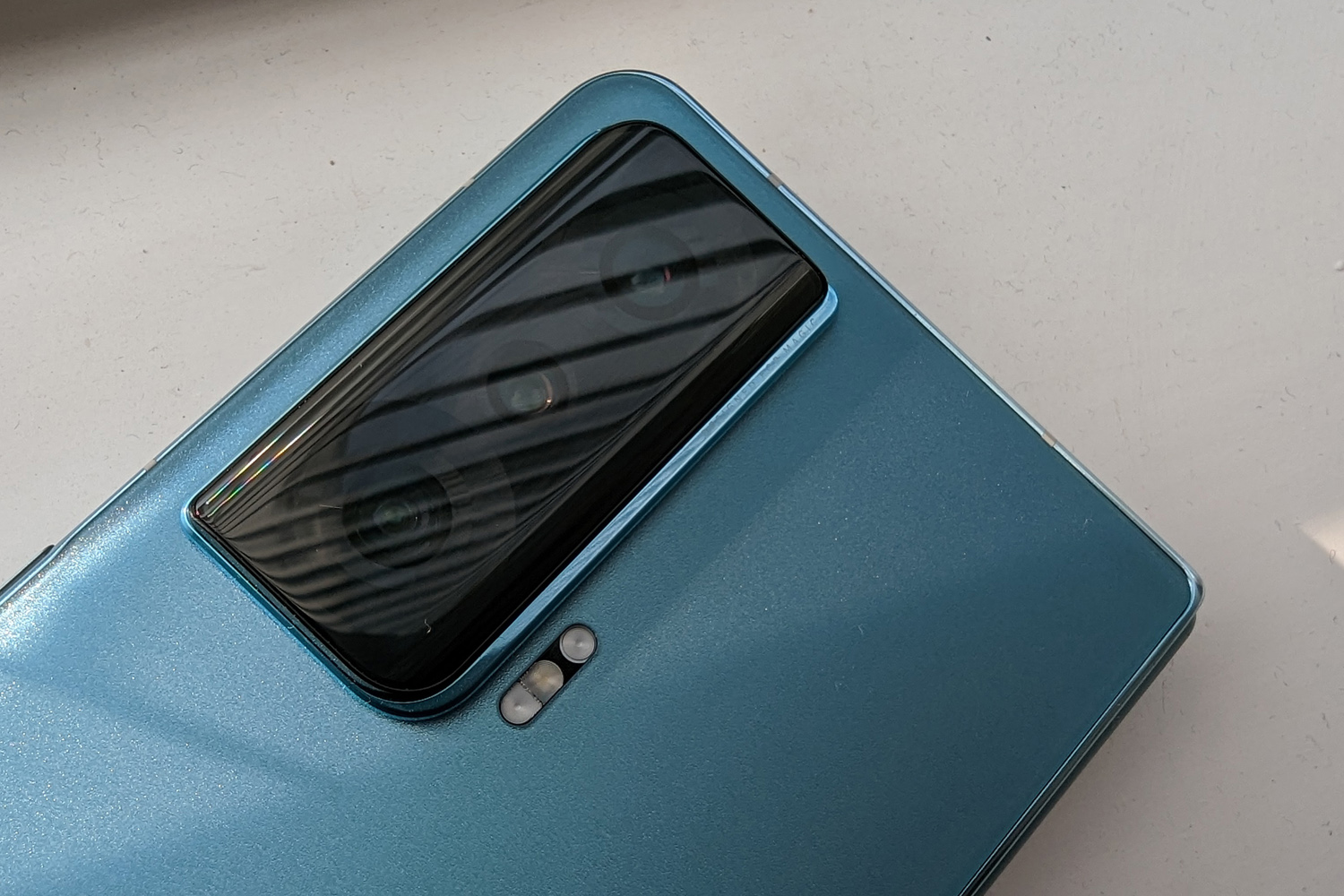 With further software refinements expected between now and launch, we can't deliver a final verdict on image quality, but the Magic Vs certainly has the sort of hardware you'd expect from a folding flagship. There's a 50MP main snapper with an f/1.9 aperture lens and sizeable Sony sensor for capturing plenty of light, with two more cameras playing supporting roles.
The first is a 50MP, f/2.0 ultrawide with a 122-degree field of view. That's a fair bit wider than some rivals, and means you can fit an impressive amount into every shot. In some cases we actually found it too wide, effectively zooming so far out from our subjects they got lost amongst the wider scene, although the camera app lets you digitally zoom between 0.5x and 1x to compensate.
The second is an 8MP telephoto with 3x optical zoom and an f/2.4 aperture lens. That may not be an especially high pixel count, but it should still be able to deliver consistent results in good light. Honor's image processing has impressed us as recently as the Magic 4 Pro, and we're expecting a similar performance here.
There are also two punch-hole selfie cams: one on the outer screen and another on the inner one. They've both got 16MP sensors and seem perfectly fine for video calls.
Honor Magic Vs initial verdict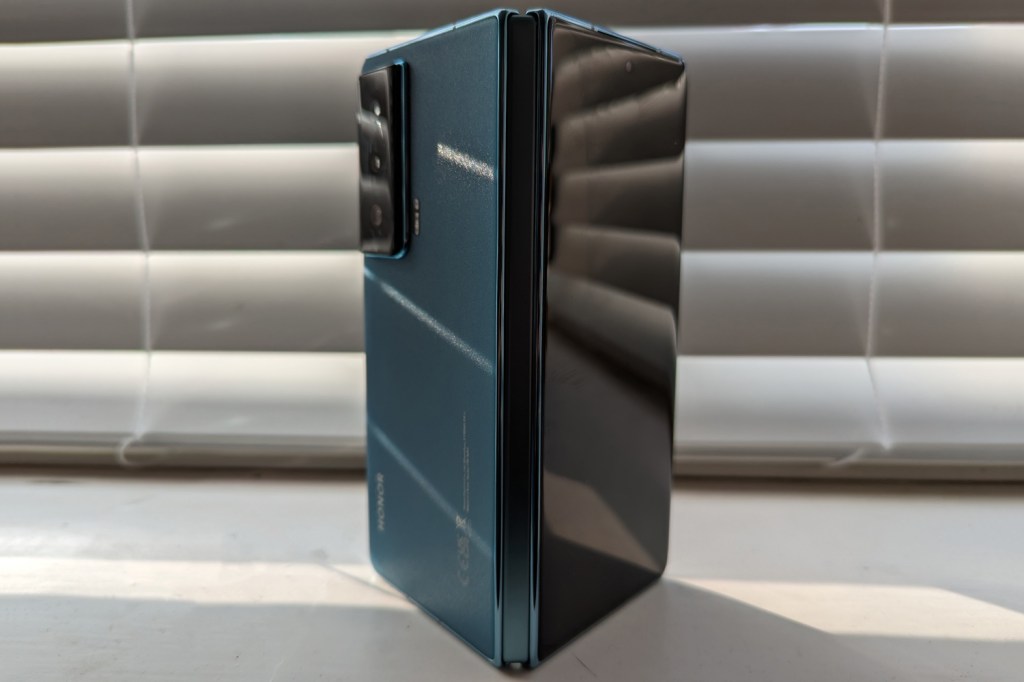 With properly premium looks, a great set of cameras and very respectable battery life, the Honor Magic Vs is shaping up to be a serious contender in the foldable phone world. Samsung should absolutely be taking note, and everyone else has some real catching up to do.
It also proves Honor has successfully escaped the budget/entry-level niche it used to be pigeonholed in, and stepped out of the shadow of former owner Huawei. This is every bit the premium phone.
There are a few missing features that would put it truly toe-to-toe with the Galaxy Z Fold 4, like wireless charging or a water resistance rating, but hopefully that'll be reflected in the price. Honor has so far only confirmed Chinese customers can expect to pay ¥7499 (around £880), with a UK release to be announced early next year.
That does mean by the time it lands we'll likely have rivals with newer, more powerful CPUs – but as long as it can undercut other foldables on price, we don't think that'll stop you from seeing plenty of 'em in the wild in 2023 and beyond.
Honor Magic Vs technical specifications
Screen
7.9in, 2272×1984 folding OLED w/ 90Hz, HDR10+
6.45in, 2560×1080 OLED w/ 120Hz, HDR10+
CPU
Qualcomm Snapdragon 8+ Gen 1 octa-core
Memory
8GB RAM
Cameras
50MP, f/1.9 main w/ PDAF + 8MP, f/2.4 telephoto w/ OIS, PDAF, 3x optical zoom + 50MP, f/2.0 ultrawide rear
16MP, f/2.5 front / 16MP, f/2.5 inner
Storage
256GB on-board
Operating System
Android 12 w/ Magic UI 7
Battery
5000mAh, 66W wired charging
Dimensions
160x142x6.1mm (unfolded) / 160x73x12.9mm (folded), 261g