Honor MagicBook 16 review: a value-packed smash
Another classy, but good value, laptop from Honor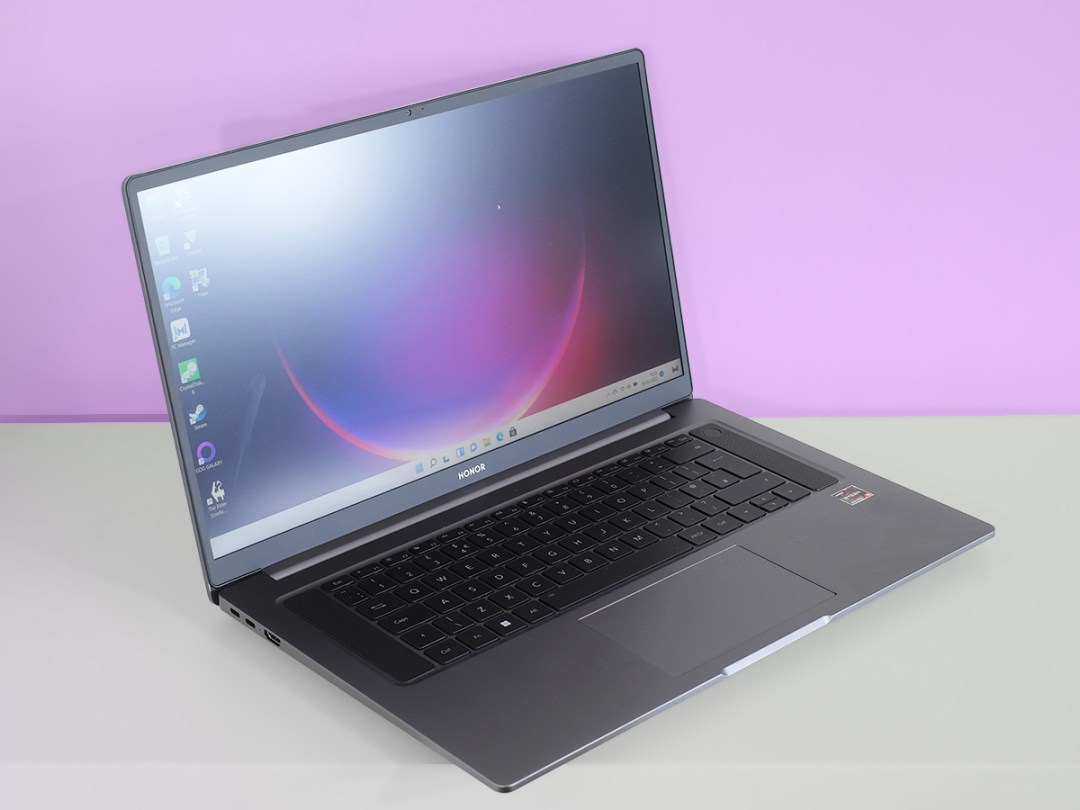 The Honor MagicBook Pro 16 is a large-screen, relatively affordable laptop with a metal casing. That's the sell here: high-end thrills for well under a grand. The underside, keyboard surround and lid are all aluminium – here's our Honor MagicBook 16 review.
Honor's unspoken message is you get design and performance comparable with a significantly more expensive Apple MacBook Pro 16 for less than half the price. But is this really the case?
Yes, sort of, kinda, no, maybe: they apply in different areas. We'll touch on them all in this review.
Design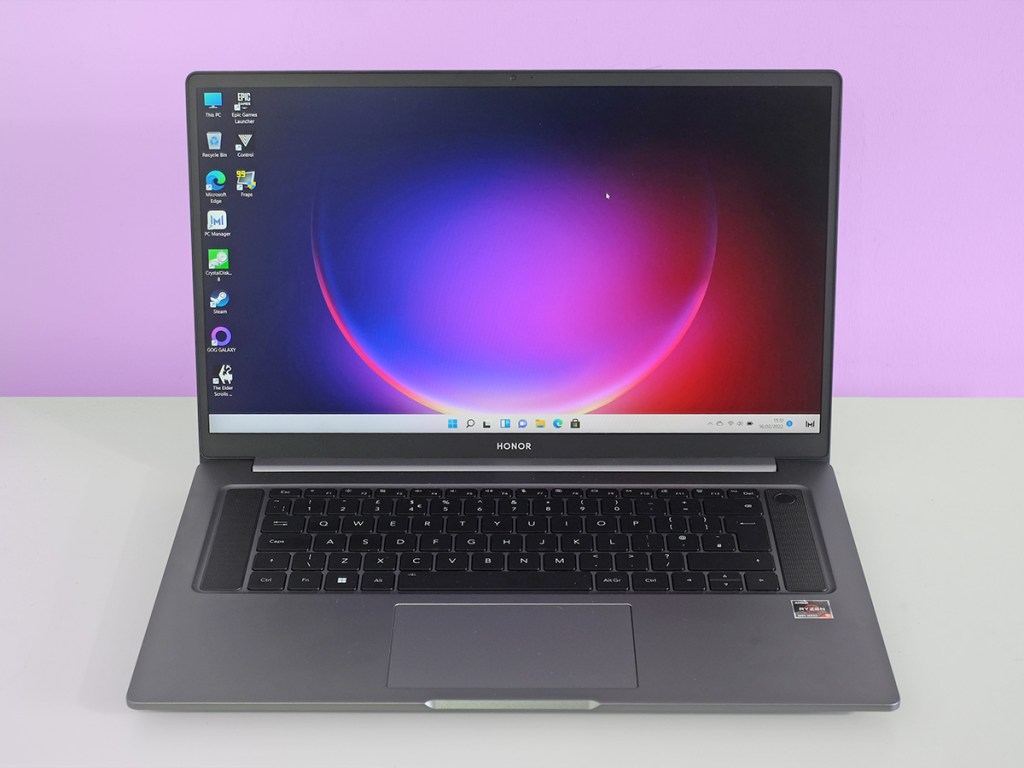 First up is the aluminium casing. It's a lot nicer than plastic, and Honor has done a great job with the finish. It's not shiny, as the anodised finish scatters and softens reflected light.
Honor makes a lot of bold-looking phones, but the MagicBook 16 is nice and reserved. The only stand-out design feature is that set of speaker grilles, which sit to either side of the keyboard.
However, the feel of the MagicBook 16 isn't quite the same as a 16-inch MacBook. Keystroke force and taps on the casing reverberate through the laptop a bit more, because the internal construction doesn't dampen them in the same way. It's what can make a laptop feel slightly hollow, where the most beautifully designed laptops almost seem as though they are made of a single piece of metal.
You don't get that effect here, but the MagicBook 16's screen is stiff, keyboard flex is minimal and the casing doesn't bend much when you hold it up by one corner. It's also worth noting that some more expensive 16in laptops, like the LG Gram 16, have a lot more of that "hollow" sense than is felt here.
In the LG Gram 16's case, it's a deliberate choice because that laptop is almost excessively light. The heavier you're willing to let a laptop get, the more dense you can make it seem. Honor's MagicBook 16 weighs 1.84kg. That is around 250g less than the MacBook Pro 16, 650g more than the LG Gram 16.
The LG Gram 16's weight is remarkable, the Honor's is not. But this makes sense when the MagicBook 16 trades on value. LG doesn't to the same extent – while you can pick up a Gram 16 for £1099 these days, its "RRP" is £1449. Way pricier.
The feel of the MagicBook 16 is good for the money, but it's how it looks that really hits. Slim screen borders, the larger 16in screen format and largely MacBook-adjacent styling with just enough of its own design features to seem "inspired by" rather than "a cheap copy of" a MacBook – it's all good stuff.
Screen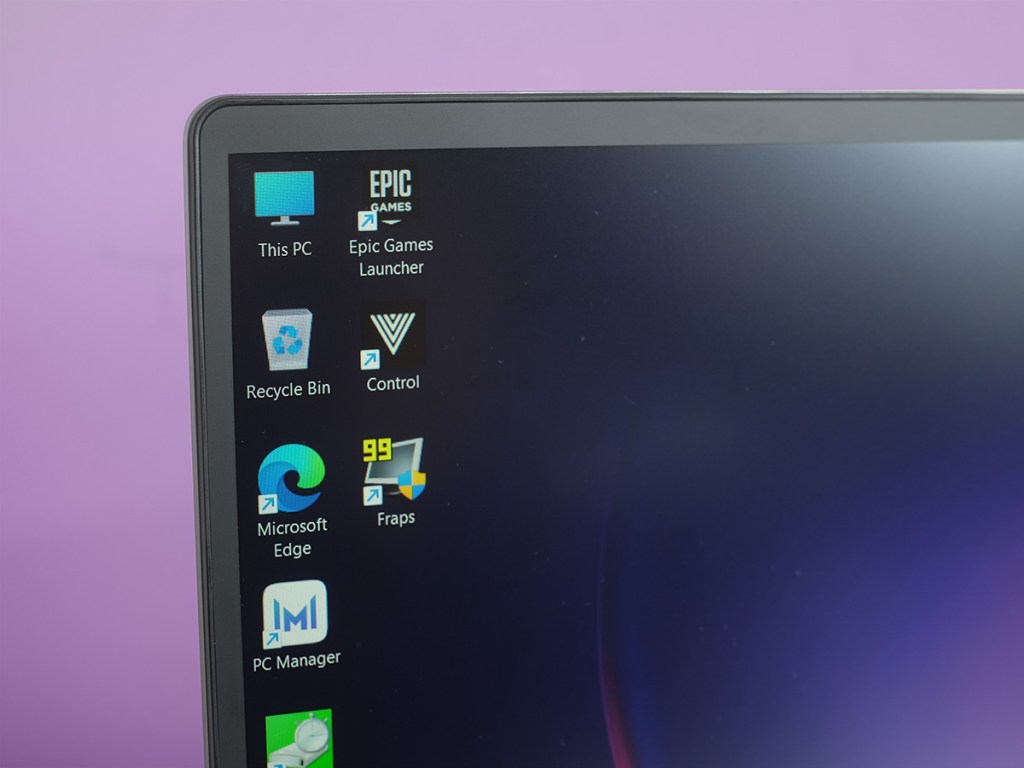 This doesn't bleed through into the substance of the Honor MagicBook 16 in all cases, but it does in the screen. It's a 1080p IPS LCD with a matt, non-touchscreen surface. There's no glass to stiffen up the display part, making its rigidity all the more impressive.
Colour is great, just as Honor promises. It covers 98.5% of the sRGB standard. This was what all laptops were judged by before the days everyone became obsessed with ultra-wide gamut screens, capable of reds so vivid they look like they might melt through the surface. You don't get those here, but the display is well-saturated enough for photo editors and to make movies look great.
The MagicBook 16 looks punchy and colourful even though it has a matt surface, which typically appears less bold than the more glossy kind if display. It has slightly above average contrast too, of 1100:1, which helps. This is better than Honor's own 1000:1 claim but contrast will vary slightly laptop-to-laptop.
Maximum brightness is as good as you could hope for in a laptop at this level, matching or beating some that cost well over £1200. The Honor MagicBook 16 can reach 357cd/m, a good 10% higher than what we consider to be a "good" level of brightness for a higher-end laptop. Again, the results beat Honor's own spec sheet. Score.
It works in concert with the matt finish to let you use the Honor MagicBook 16 just about anywhere. Direct sunlight is not a major issue, as long as you're trying to write docs rather than watch a moody movie.
The Honor MagicBook 16 even has an unusually high refresh rate for a non-gaming PC, of 144Hz. Most all-purpose style laptops like this still have 60Hz screens, which refresh their image at less than half the speed. After giving the Honor MagicBook 16 a quick motion test, we think its motion clarity does not match an ultra-responsive OLED panel. There's still a wee bit of blur, but it outclasses the average 60Hz display.
Any drawbacks? This is "just" a Full HD screen. Small fonts don't have the high pixel density smoothness of a 1440p or 4K screen. One of the best higher-res alternatives we've seen at this size is in the Lenovo Legion 5, a lovely 1600p number with a 165Hz refresh rate. But that's a gaming PC that costs a bit more and weighs a lot more.
As mentioned earlier, there's also no touch layer. And, as usual, this leads to a slightly raised bezel around the display as there's no flat pane of glass covering the screen. The top surface is plastic, which is much cheaper and easier to make non-reflective than glass.
Keyboard and touchpad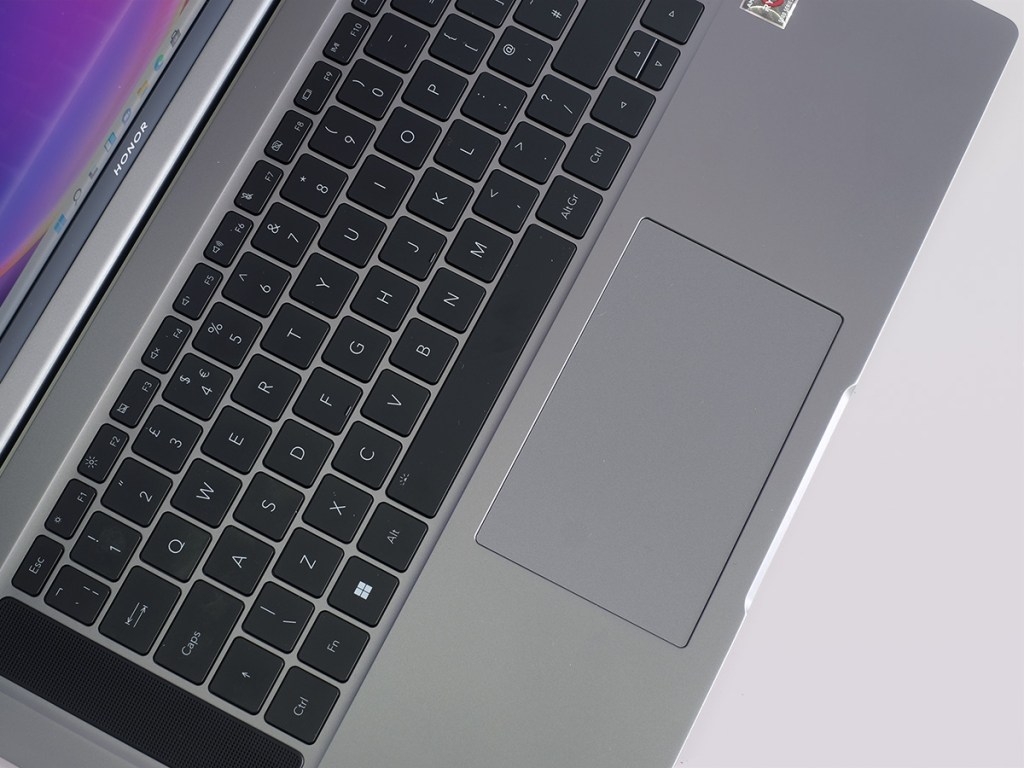 A bright, reflection-scattering screen adds a lot of credibility to the Honor MagicBook 16 as a serious work machine. But as you can tell from a quick glance it doesn't have a serious deep-dish Lenovo ThinkPad style keyboard to match.
As in so many other areas, this keyboard takes inspiration from Apple MacBooks, but thankfully the more recent style. Apple "invented" the contentious ultra-shallow keyboard, but has since rolled back, introducing a more substantial one in the MacBook Pro 16.
The Honor MagicBook 16's keyboard is still on the shallow side. Its feel is fast rather than meaty, but the key depress does at least seem more like a clonk than a click.
There's no NUM pad to shift the keys away from the centre of the frame, but we did take a couple of days to bed into its layout. Compared to a Dell XPS 15, the left-most row of keys is compressed, hemmed in by those big black speaker grilles. A few thousand words and a few dozen typos/CAPS lock incidents later, though, we are locked in to its style.
It's still not our favourite for long-form typing, but is OK. The Honor MagicBook 16 also has a nice-looking two-level backlight.
The keyboard gets an accepting shrug, but the reasons we didn't fall in love with it are the result of deliberate choices. Its touchpad cheapens the laptop as a whole, though.
Pricey laptops have glass touchpads. This one is plastic. Some plastic pads can get close to the feel of glass by using a lightly textured surface. Fresh out of the box the Honor MagicBook 16's is tacky and creaky, far less smooth than the Acer Vero we had in at the same time.
It's not a great pad. The one saving grace is that – and this may sound gross – natural grease from your fingers eventually takes the judder out of glides across its surface. A Honor MagicBook 16 pairs well with a pack of Walkers. Or a mouse.
Performance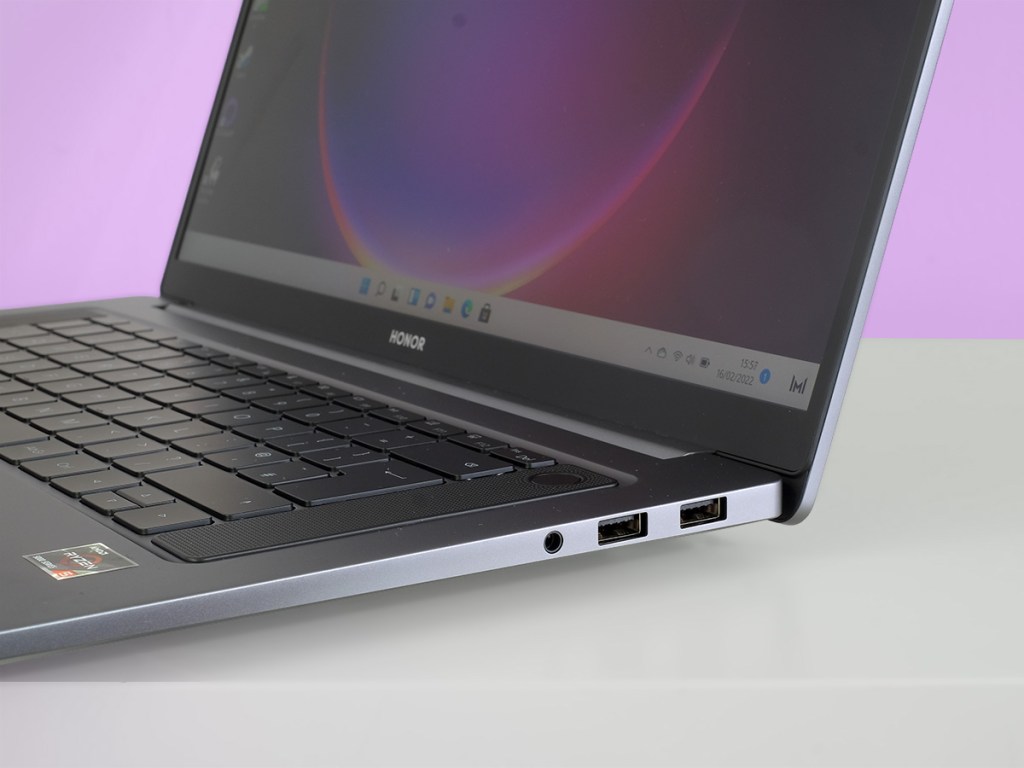 The Honor MagicBook 16 is a real performance machine, even though Honor clearly cares about style just as much. It has an AMD Ryzen 5 5600H processor with 16GB of RAM and a 512GB SSD — plenty of RAM, plenty of storage.
When you first boot it up you'll notice Honor has actually split the SSD into two drives, but wrench this thing open and you'll find a single Samsung SSD inside. It's a nippy one too, capable of reads and writes just a fraction above 3500MB/s.
The Ryzen 5 5600H is also a mini-monster, much less restricted in the amount of power it can use than the Intel Core i7-1165G7 you'll find in a lot of laptops at around this price. It's closer to an H-series Intel chipset, found in workstation Windows laptops.
In Geekbench 5 the Honor MagicBook 16 scores an excellent 6355 points, similar to the score of the old Intel version of the MacBook Pro 16. The new MacBook scores almost twice as much, but the fact Apple's M1 Pro CPU is a blistering performer is not news.
The MagicBook 16's score is also up to 2000 points higher than a normal low voltage Intel-powered laptop, an improvement of ~50%. There's loads of power on tap here.
That said, we do find Intel alternatives at this level to be more fun all-round. The Honor MagicBook 16 has a 7-core Radeon graphics processor that at best roughly matches the Intel Xe of the Acer Vero, and sometimes is thoroughly outperformed by it.
Both manage frame rates in the low-mid 30s in Skyrim Special Edition, with graphics set to 1080p, Medium. Busy city areas in The Witcher 3 run at around 25-28fps in the MagicBook 16, more like 30fps in the Acer Vero. This is at Low settings, 1080p, so a drop to 900p resolution is a sound idea in both cases.
The more recent Control shows a much greater disparity. At low settings, rendering at 720p and upscaling to 1080p, the MagicBook 16 manages 35fps in the same in-game scene the Acer Vero reaches 45fps.
This is a powerful laptop, but you'll only appreciate that power if you largely use CPU-taxing jobs. Judging by our testing, it's slightly worse for gaming than a slim and light Intel-powered laptop. A lot of laptops with this processor also have dedicated graphics cards. The MagicBook 16 does not.
The Honor MagicBook 16 is also less powerful on battery power than it is when plugged in. However, we're still talking about benchmark scores on par with a good Intel Core i7 CPU – you won't notice the difference when doing most jobs.
Battery life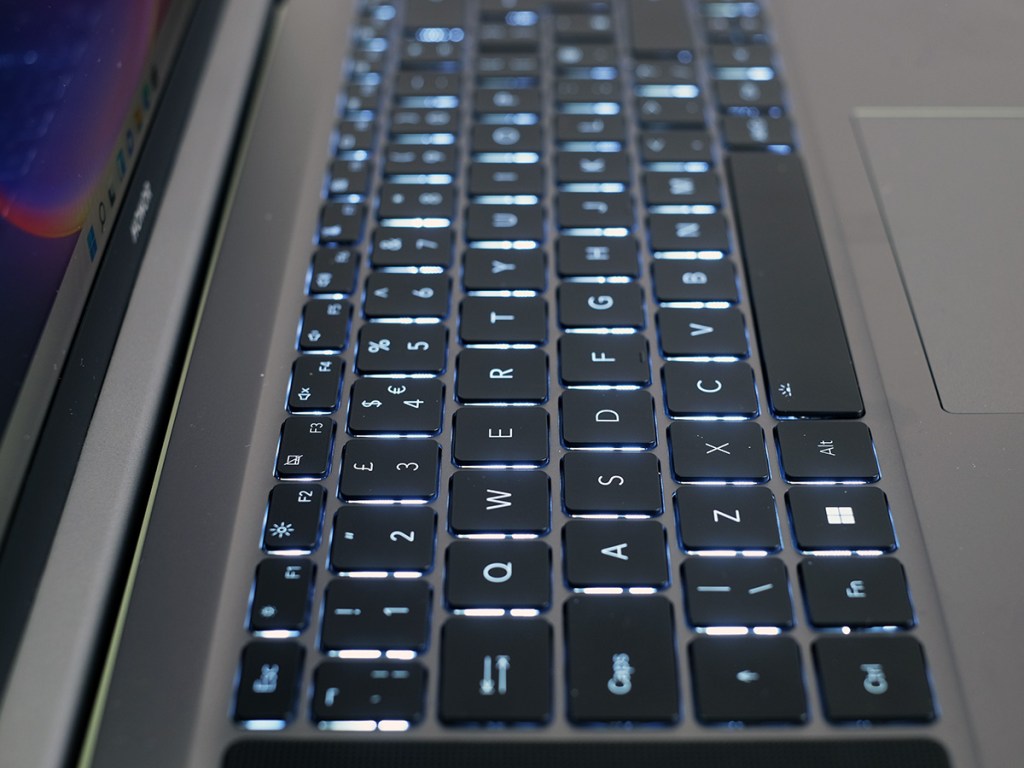 This throttling is part of an AMD strategy that helps to make laptops with its processors so attractive. They tend to last longer off a charge.
16 hours isn't unrealistic with some AMD-powered laptops. The Honor MagicBook 16? It's not going to reach those heights because it has a punchier processor designed to bridge the performance gap between laptops and PCs. But it's not bad.
One of the first things we did with the Honor MagicBook 16 was a YouTube streaming test. It lasted eight and a half hours. This was at a 144Hz display refresh rate. Dropping down to 72Hz, an hour of streaming only took nine percent off the battery, suggesting it can last upwards of 10 hours.
Further monitoring while we wrote articles and did some light browsing suggests light mixed use will see the battery last around eight hours. You get a whole work day of use, just, which isn't bad for a laptop with a performance processor. It's also dead on Honor's own claim — these folks aren't lyin'.
The Honor MagicBook 16 lasts 95 minutes when playing Control. Standard stuff. Is up to eight hours battery not good enough? Buy a laptop with a low voltage CPU instead. The LG Gram 16 mentioned earlier isn't a bad shout.
We are very pleased with how much noise the MagicBook 16 generates. While writing documents and doing a bit of browsing, it's silent. No fan noise, no coil whine. Nothing. Even after playing Control for a while, the whir of the fans was not really audible over the game's soundtrack.
This is real praise because, sorry folks, despite taking up a big chunk of the keyboard plate, the Honor MagicBook 16 speakers are not very good at all. There's no bass, the mid-range is thin, maximum volume is poor and while the upward-facing grilles avoid any speaker-blocking situations, the sound field ends up narrower than a good set of outward-firing drivers.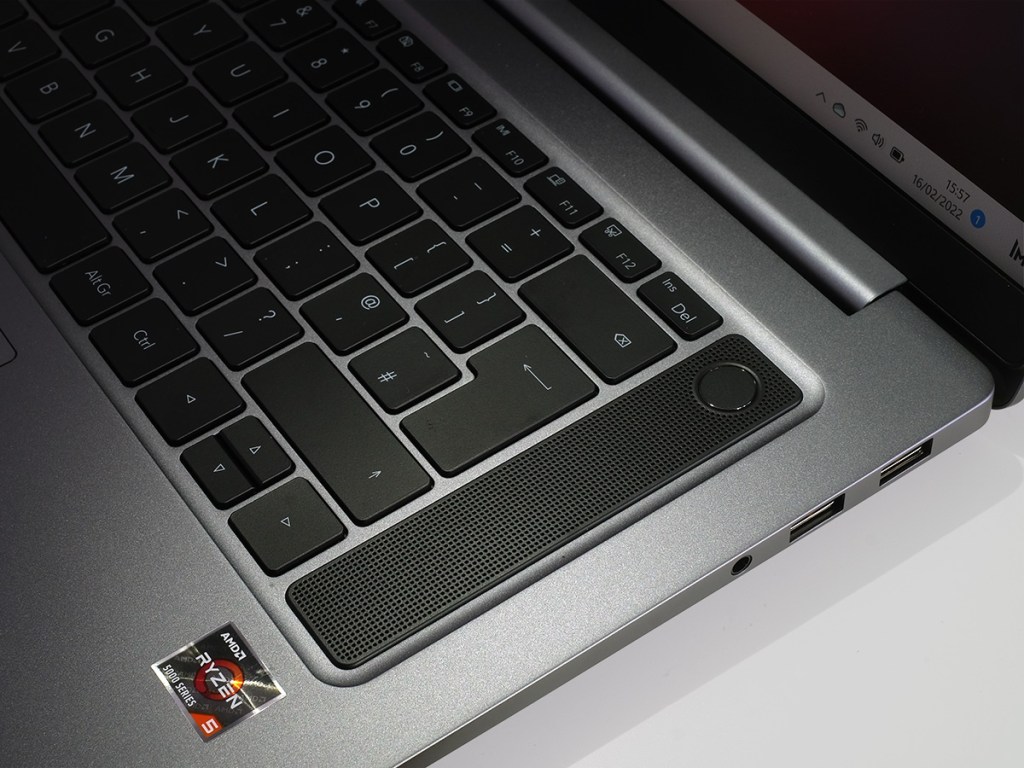 Honor seems to suggest the laptop has one USB 2.0 connector. Wrong. It actually has two USB 3-speed classic USB-As on its right, two USB-Cs on its left. There are no crappy 'n' slow USB 2.0s here.
The Honor MagicBook 16 also has a full-size HDMI, always useful, and a headphone/mic jack. There's no memory card slot, but they are rare these days.
Let's end with another minor hit. Honor has solved one of the most common complaints about the original MagicBook Pro. It had a webcam that lived under a keyboard key, resulting in an angle unflattering enough to make every video meeting a drag. The Honor MagicBook 16 has an old-school webcam that sits in the screen surround.
It's a basic 720p camera that produces a splotchy image with plenty of dancing noise in typical indoor lighting conditions. Just like your average laptop webcam, in other words, but it's still far more enjoyable to use than the old style.
Verdict
The Honor MagicBook 16 is a great value performance laptop that combines a bunch of admirable characteristics. It has a nice all-metal shell. Its screen is large but the laptop itself isn't so big and heavy you'll avoid carrying it around. The display delivers good colour and powerful maximum brightness.
Like several Honor laptops, the MagicBook 16 is a top deal. Just don't come expecting an actual miracle. The touchpad is plastic, and its tacky surface pulls off a much less persuasive impersonation of glass than some. Those spotlight-stealing speakers? Nah, they're no good.
And while the Ryzen 5 5600H packs a punch, its performance in the games we tried is a little worse than what you'd get from a low voltage Intel CPU laptop, which looks much less powerful on paper.
Stuff Says…
The MagicBook 16 is another value smash from Honor. It's a dead classy-looking laptop, but there are some clear budget cuts involved, resulting in a mediocre touchpad and poor speakers.
Good Stuff
Powerful CPU
Big, bright and colourful 16in screen
Slick aluminium casing
Bad Stuff
Weak speakers
Cheap-feeling plastic touchpad
No better for gaming than some smaller, lighter models
Tech specs
| | |
| --- | --- |
| CPU | AMD Ryzen 5 4600H |
| RAM | 16GB |
| Storage | Up to 512GB PCIe NVMe SSD |
| Screen | 16.1in |
| Operating System | Windows 11 |