Honor Pad 8 review: big screen, little cash
Slim dimensions and a big screen, but Honor's Europe-bound slate isn't packing much power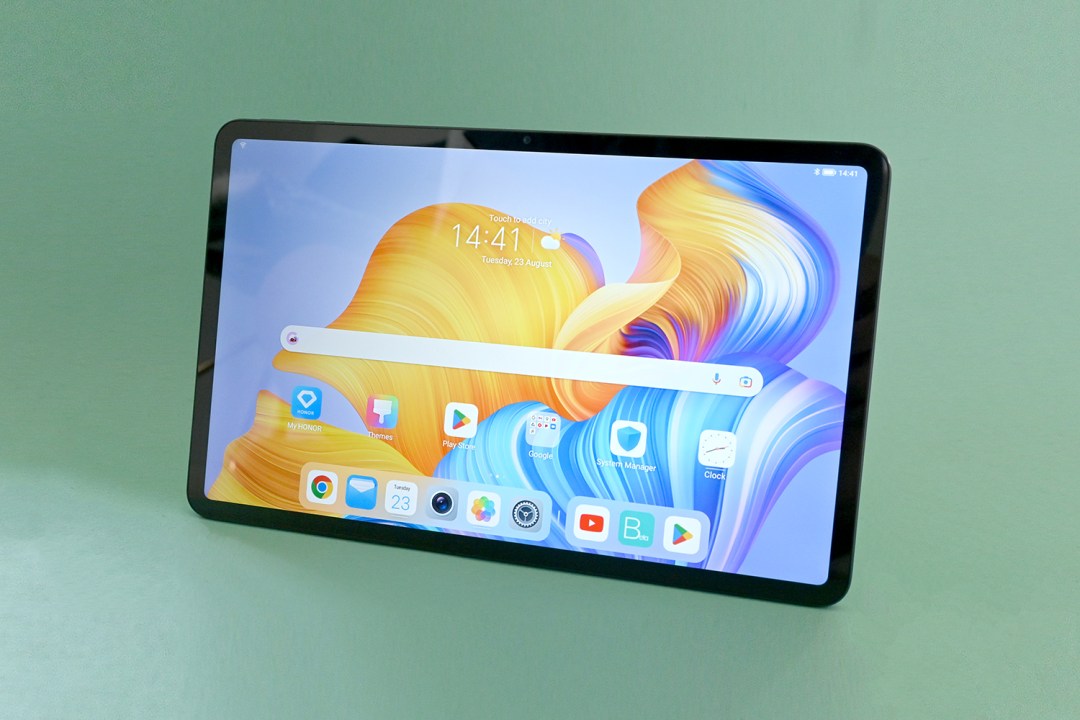 Honor has gone big for its first tablet to receive an international launch – literally. the Pad 8 has a sizeable 12.1in display that puts it almost on par with considerably more spendy slates like the iPad Pro and Samsung Galaxy Tab S8 Ultra. Not that it's trying to compete elsewhere, mind: this is first and foremost an affordable model, with the specs to match.
That means a modest display resolution, basic cameras front and rear, and a processor that's more suited to one app at a time – although as with any tablet worth its silicon in 2022, it's packing a few multi-window modes as well. It lands in the UK at £269, which neatly undercuts the most affordable iPad and squares off against the capable Lenovo Tab P11.
Size isn't everything, of course (no matter what you might have heard). Are you missing out by putting a big screen above all else?
Design & build: slimline slab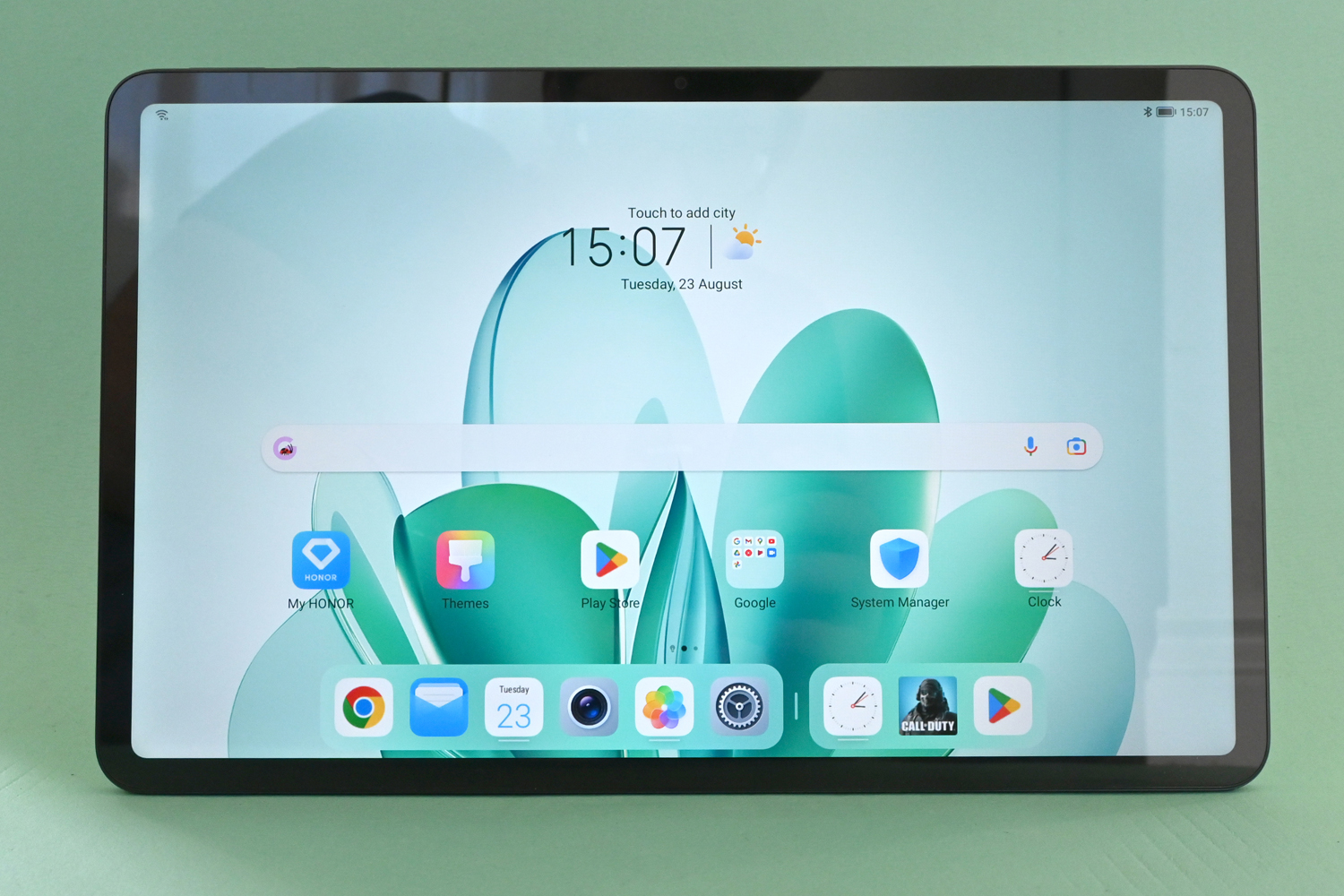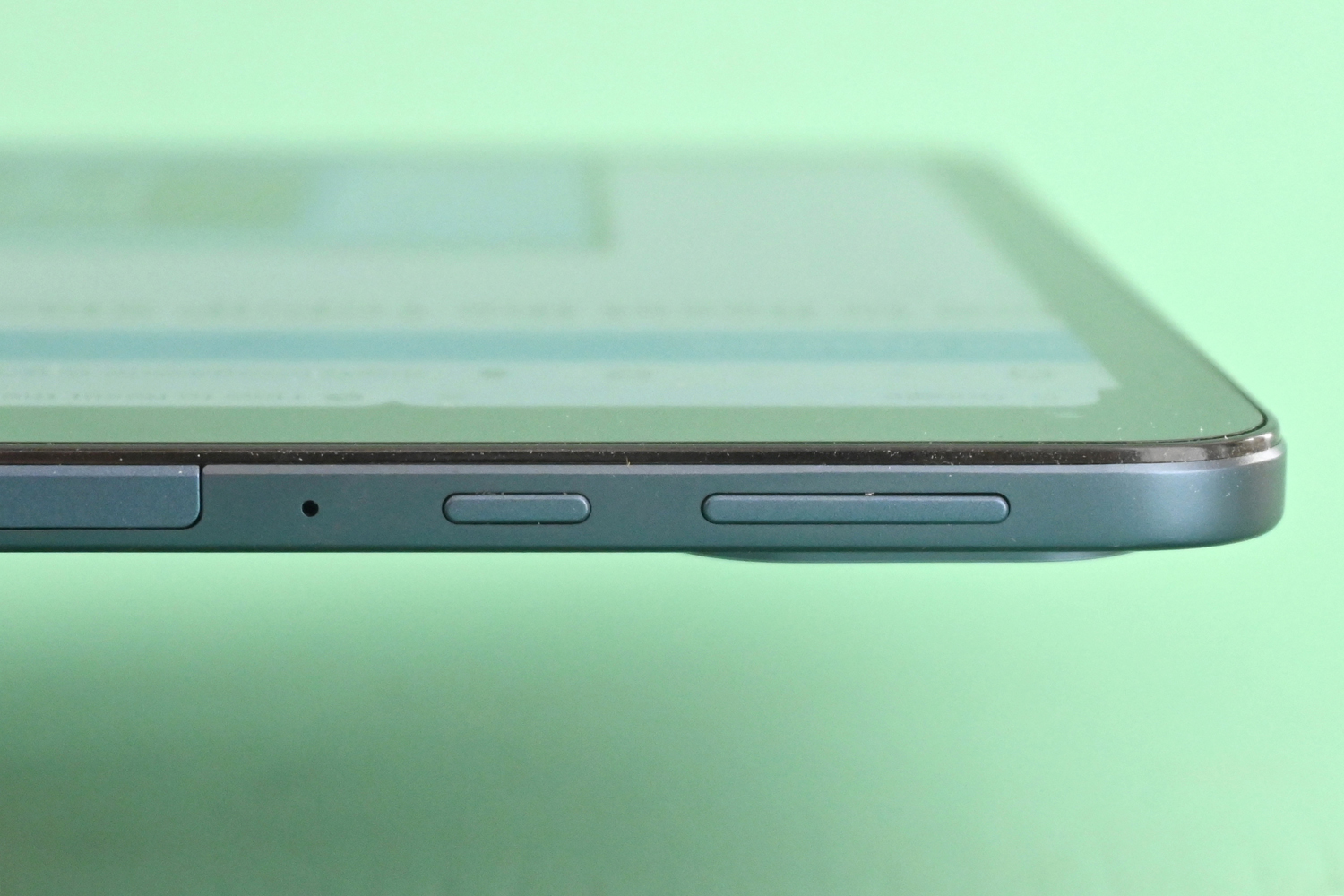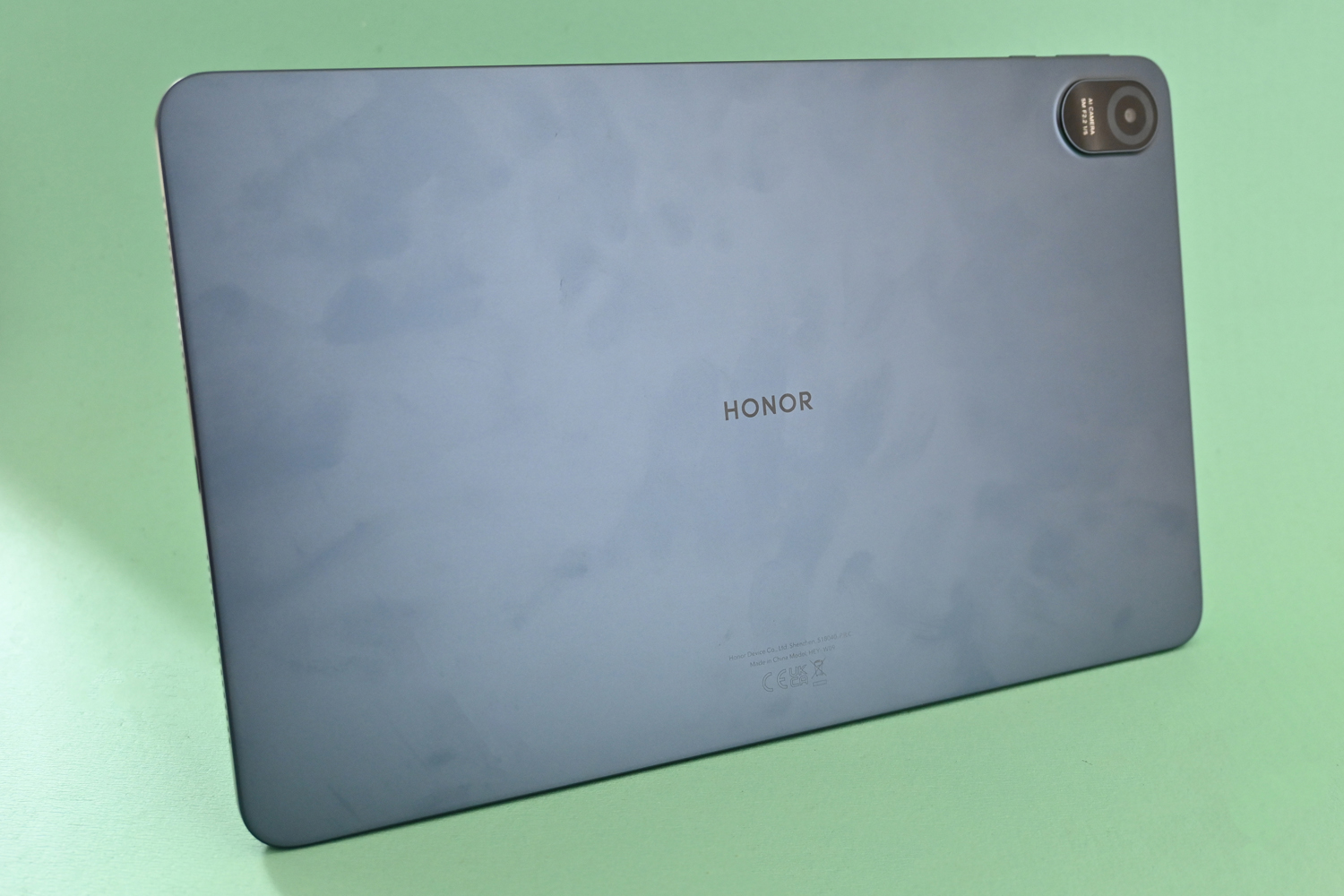 No complaints here: Honor has delivered a svelte tablet made entirely from aluminium, finished in eye-catching "blue hour" colours. The rear panel does pick up fingerprint muck quite quickly, though.
At 6.9mm everywhere except the rear camera bump, it's remarkably thin for a budget device, yet feels reassuringly sturdy. It's not especially heavy at just 520g, undercutting the basic iPad (which, let's not forget, has a considerably smaller screen), but can be a little unbalanced when held one-handed, given it's so wide/long.
It looks pretty premium when you power on the screen, thanks to those skinny bezels. They're 7.2mm on all four sides, making for an 87% screen-to-body ratio that has some pricier iPads beat.
You don't get luxuries like an in-display fingerprint sensor here, or any kind of fingerprint sensor at all, but it does have basic facial recognition if you really hate tapping in a password every time you unlock your tablet. It's not the quickest we've used, and doesn't have any dedicated hardware to make it especially secure.
Aside from the power and volume keys, there's just a USB-C port on the bottom for charging, with no 3.5mm headphone port. That's a shame: Bluetooth 'buds might be cheap as chips now, but we'd still expect affordable models to cater to those still holding on to their wired headphones.
Screen & sound: Size matters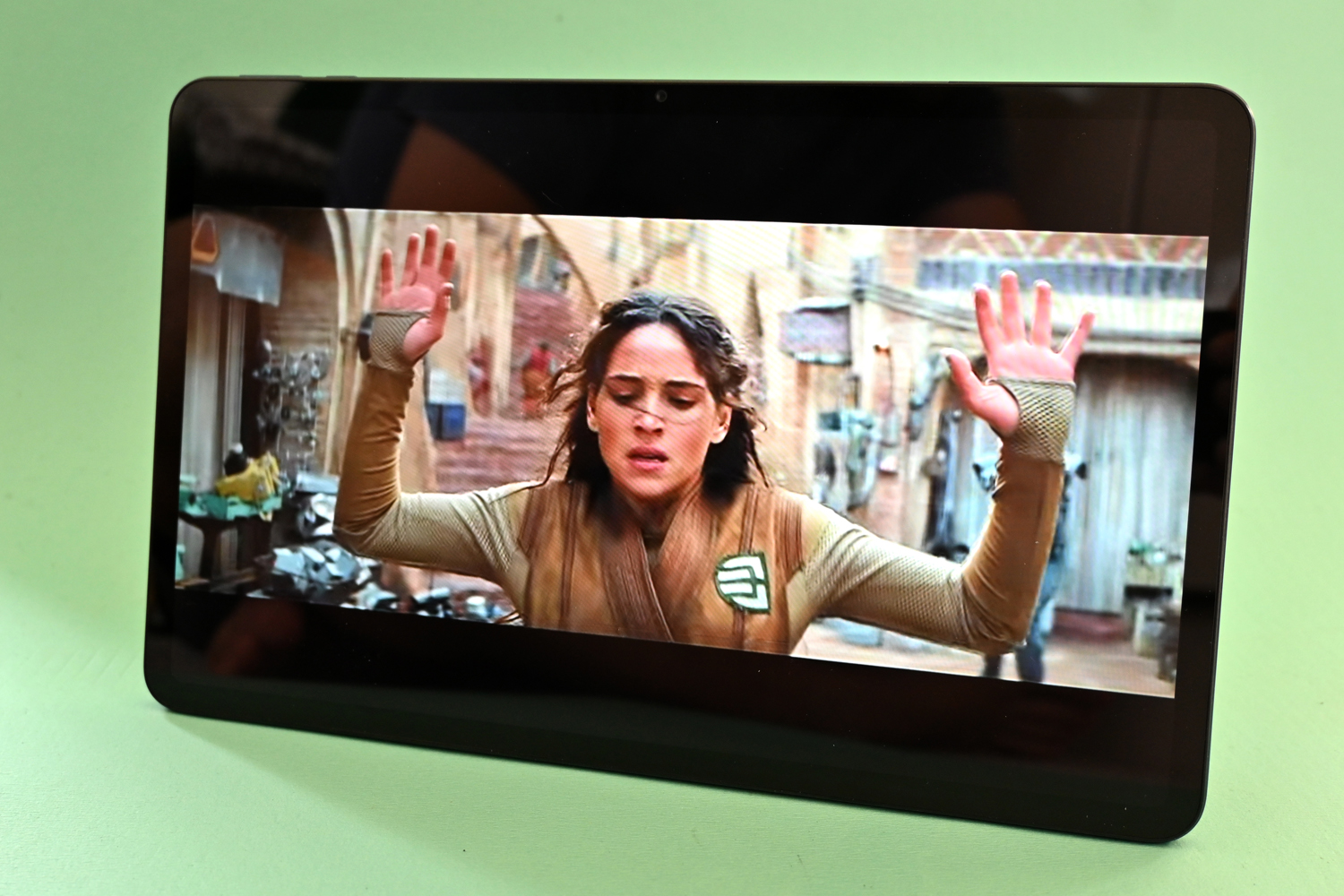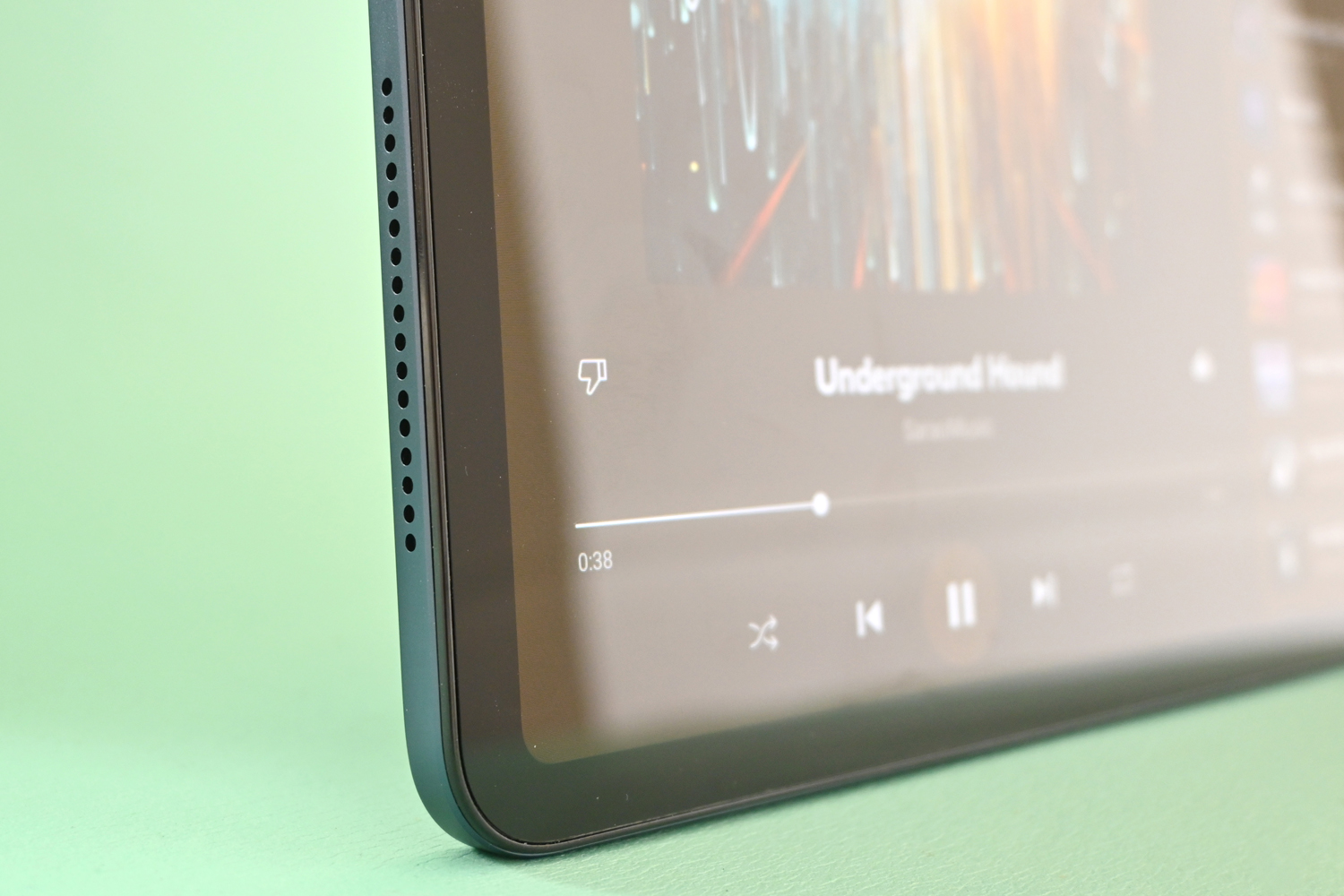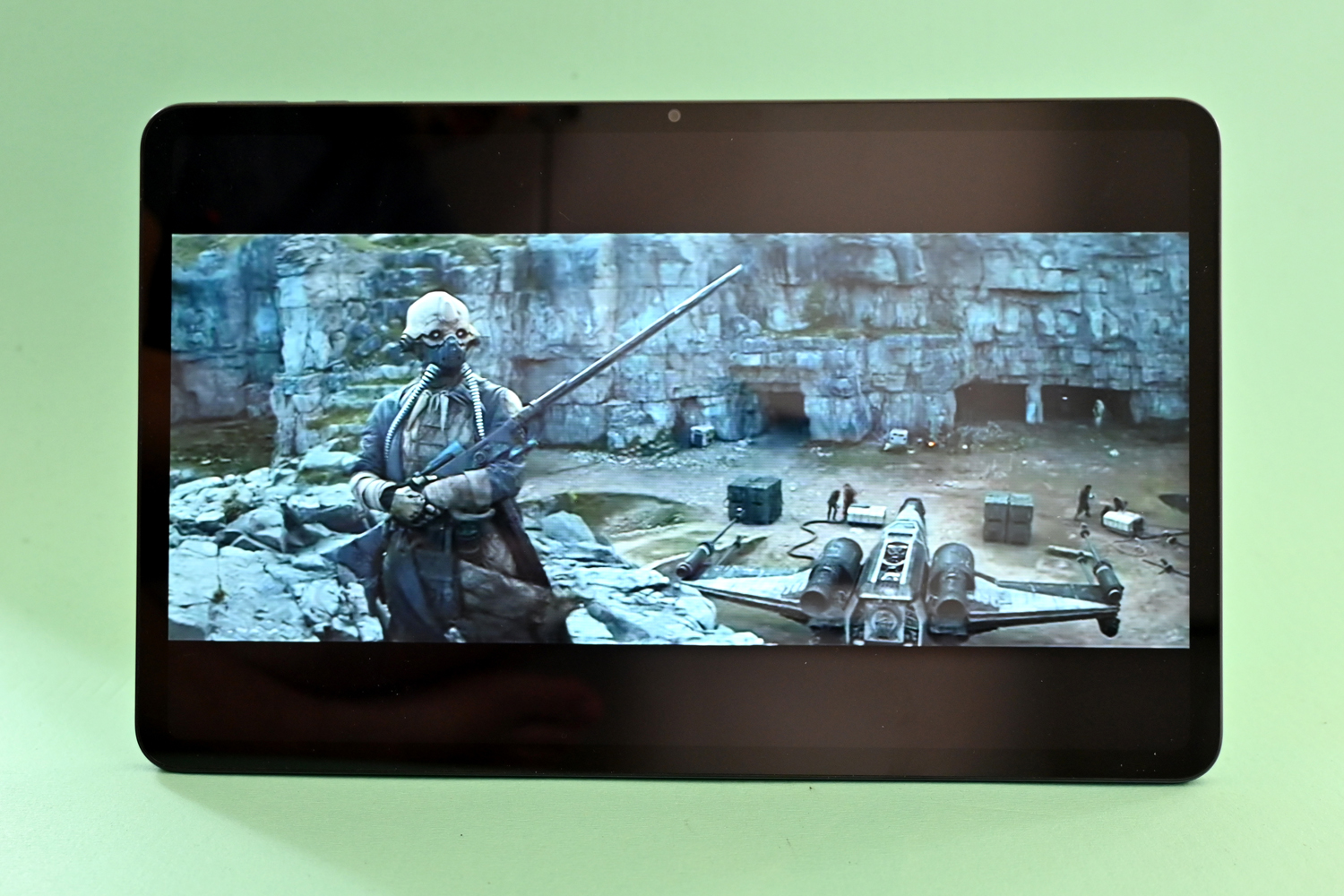 By going for a slightly obscure 10:6 aspect ratio, Honor has managed to cut down on how much of the screen is eaten up by black bars when streaming TV shows or watching movies. It's effective, without slimming things down so much that portrait mode becomes a pain to use.
You don't get a fancy high refresh rate here (not that the CPU would be particularly adept at feeding the screen too many frames per second) and the underlying panel uses LCD tech. It doesn't get especially bright, but colours have a decent amount of pop and contrast is reasonable. We preferred the Default colour mode, but you can pick between warm and cool, or use a colour wheel to tweak things to your personal preference.
A 2000×1200 resolution is a small step up from Full HD, but not one that makes a massive difference in daily use. Images and text look sharp enough for the most part, but he pixel grid is visible if you look hard enough. Honor has also done something funky with icon scaling so everything bar the firm's own apps looks blurry on the home screen, even at arm's length.
The speakers pack a punch, with eight separate drivers and DTS:X Ultra processing to give sounds a little extra wallop. They get plenty loud and are pleasantly clear, with a high-end that isn't overwhelmed by the mid-range. Bass isn't especially impactful, but that's no big surprise given how slim the thing is.
Performance & software: get what you pay for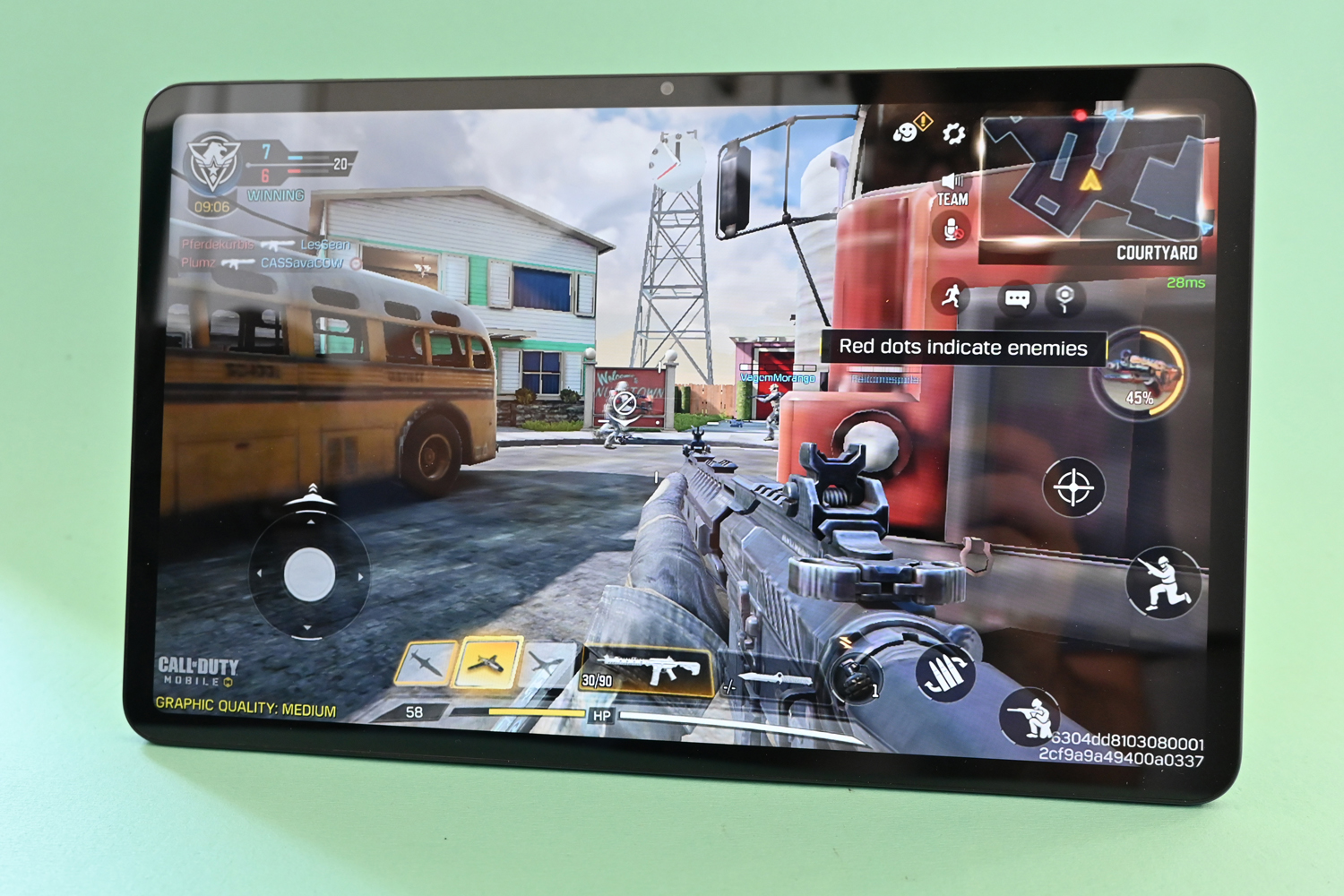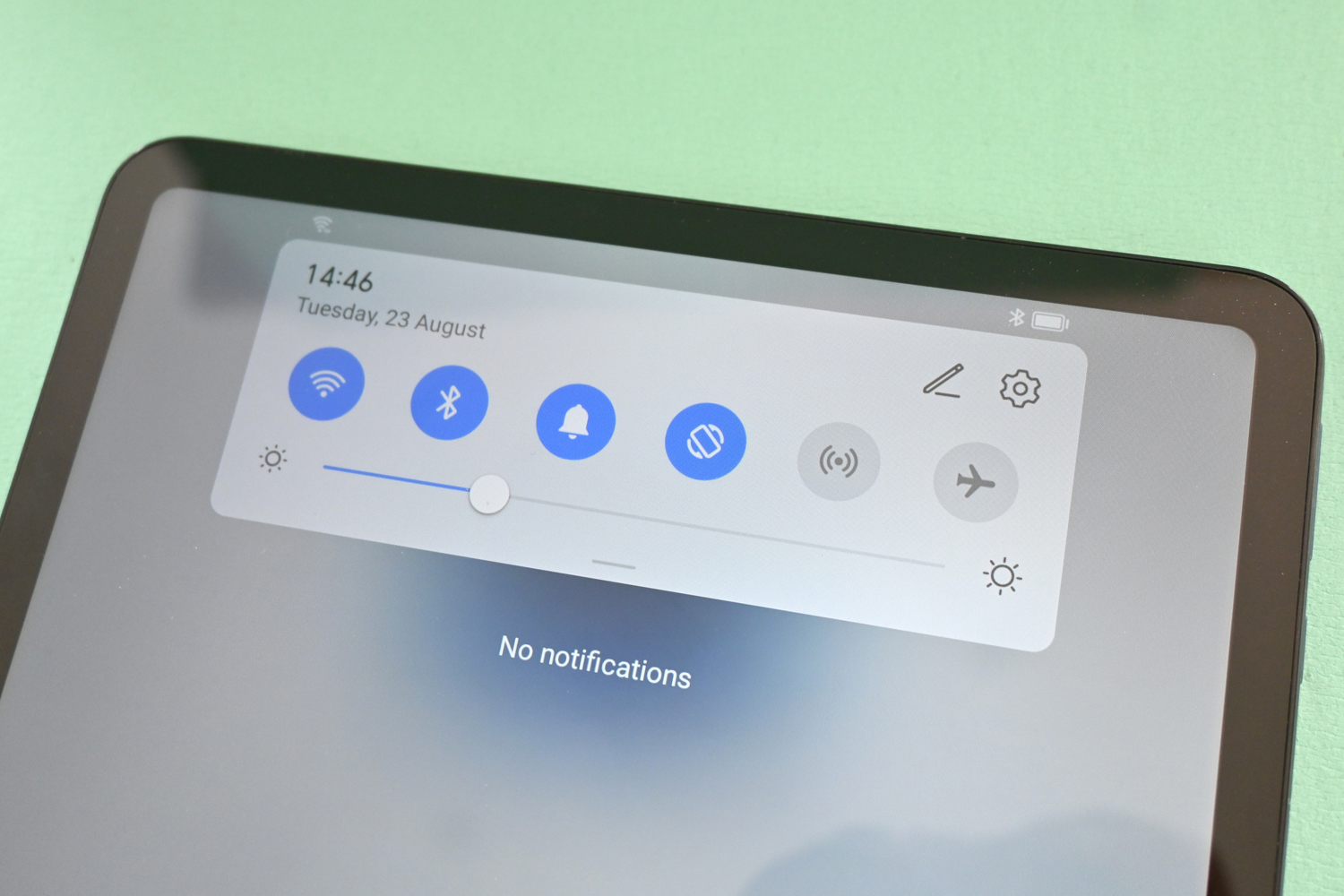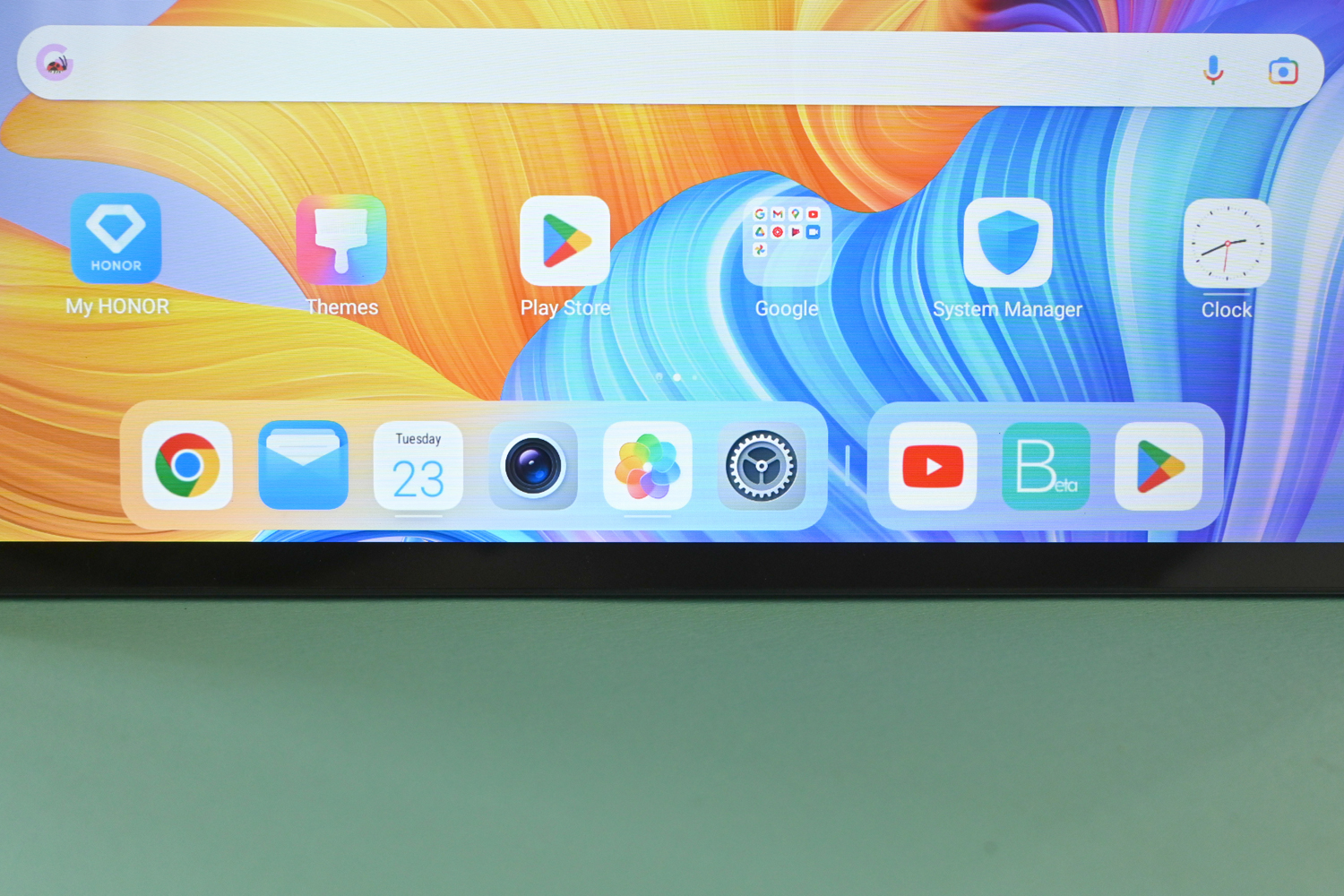 With a Qualcomm Snapdragon 680 CPU and either 4 or 6GB of RAM, the Honor Pad 8 is most definitely near the bottom of the ladder in performance terms. It's still a good few rungs above the Unisoc chips you'll find in Nokia's cheap and cheerful tablets, though, and is happy to run most Android apps at a reasonable lick.
They aren't always especially snappy to open or load, though, and we've seen much smoother homescreen animations – even among the affordable competition. That's a shame, as it's able to run a web browser side-by-side with YouTube, plus a third app in a floating window without stuttering.
Perhaps MagicUI 6.1, Honor's take on Android, is a bit more demanding because of its MacOS-like taskbar. It's not quite as big screen-friendly as the one seen on Android 12L, with no obvious way to drop pairs of apps in, or a way to bring it up on top of your currently open app, to save a trip to the homescreen. MagicUI 7 is apparently on the way, as is an upgrade to Android 13, although Honor has yet to announce a timeframe for either.
Battery life: Day tripper
With a modest CPU and sensible screen resolution, the Pad 8 isn't left wanting for battery life. It's packing a 7250mAh cell that'll happily truck on for around ten hours of typical use. Dim the brightness a bit and stick to locally-saved videos and you might nudge that figure closer to 13.
That's reasonable for a budget tablet, and should mean it'll last you a full work day between charges. Honor bundles a power brick in the box (not always a given now, even at the affordable end of the spectrum) which is good for an oddly-specific 22.5W. You're looking at a few hours on mains power before you're good to go again.
The real highlight is the exceptional standby battery life, with the tablet barely dipping a few percentage points when left to its own devices for a day.
Honor Pad 8 Cameras: token inclusions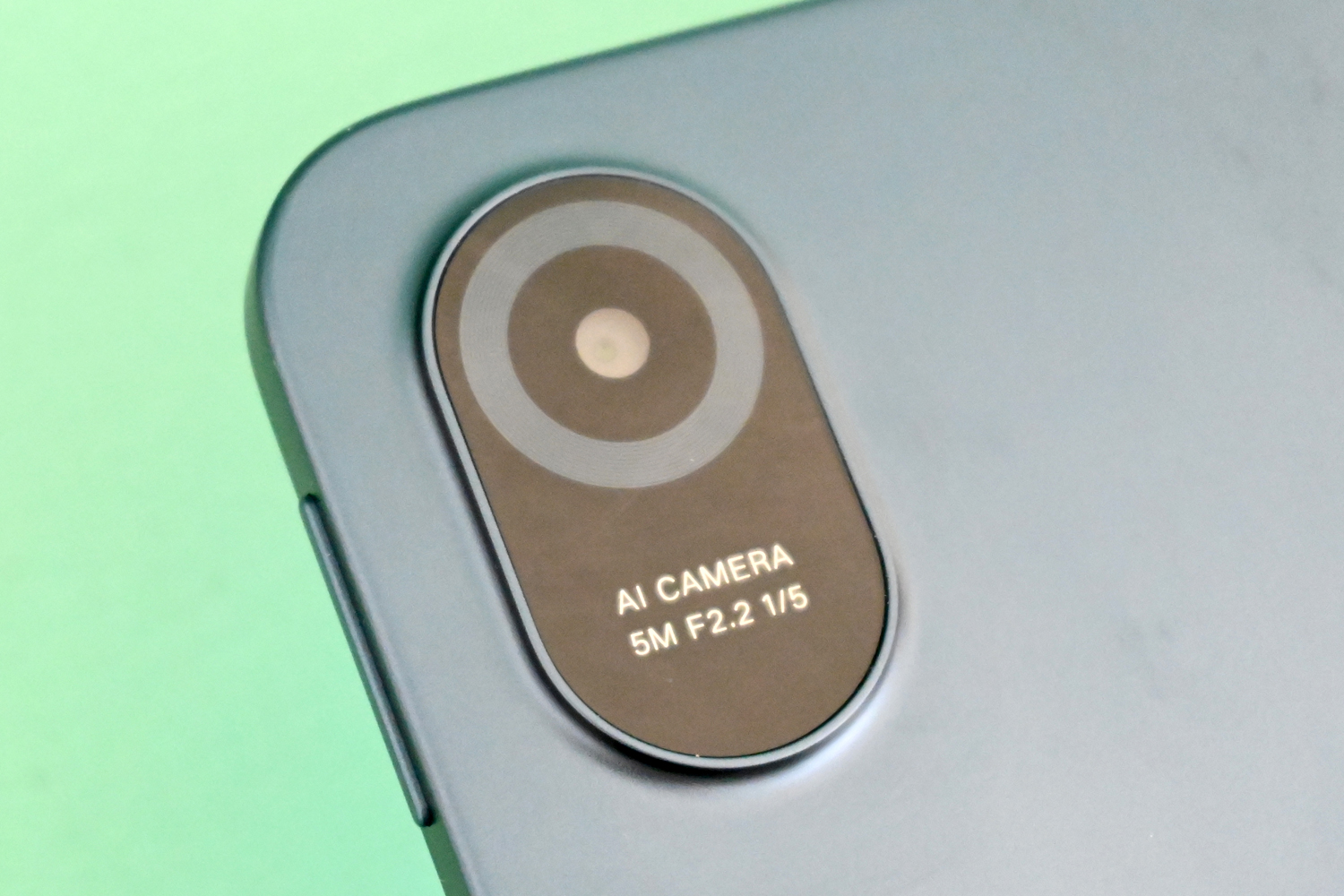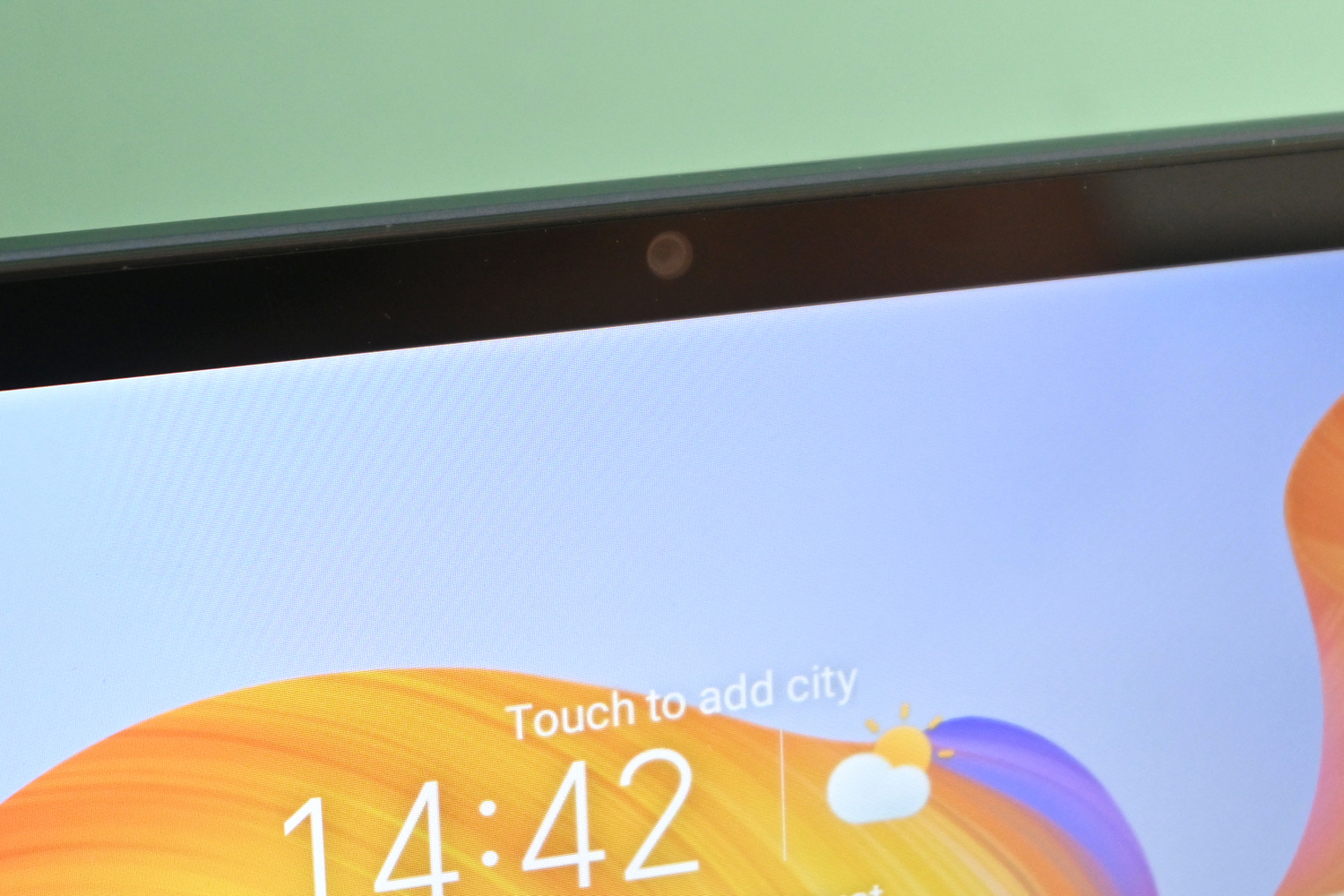 The Pad 8 is packing a pair of 5MP cameras: one on the rear for candid snaps and one built into the screen bezel for video calls and selfies. It will hardly come as a shock that neither exactly blew us away with their quality.
Even in well-lit conditions, and with Honor's "AI" image processing algorithms switched on, photos looked smeary and lacked a lot of detail. We're not talking oil painting-levels of precision, but even a basic smartphone will do better. It struggles to balance highlights and shadows in the basic mode, with HDR (buried in a menu, as is seemingly always the case with Honor phones) not able to rescue things entirely. Low-light is even worse.
The rear cam can capture a moment if you're in a pinch, and the front snapper is fine for a low bitrate video chat, but nothing more.
Honor Pad 8 verdict
It wins on design and impresses for its sheer size, given the price, with a decent battery life showing to boot. If you want the biggest screen around for your cash, the Honor Pad 8 fits the bill.
Sadly it falls down in some areas. The cameras really are nothing to write home about, and while performance is decent enough once you're in an app, the homescreen experience is rather chuggy.
That said, there's still plenty to like, so we're inclined to forgive its lack of photographic prowess: few similarly-priced rivals can claim to be much better, after all.
Stuff Says…
A slim slab with a big screen and sensible price. Homescreen performance isn't all that great, though, and the cameras are very basic.
Good Stuff
Slim proportions and solid build
Sizeable 12in display
Long-lasting battery
Bad Stuff
Screen resolution not the sharpest
Performance isn't always that smooth
Cameras don't impress
Honor Pad 8 technical specifications
| | |
| --- | --- |
| Screen | 12in, 2000×1200 LCD |
| CPU | Qualcomm Snapdragon 680 octa-core |
| Memory | 4/6GB RAM |
| Storage | 128GB on-board |
| Cameras | 5MP rear w/ LED flash. 5MP front |
| Operating system | Android 12 w/ Magic UI 6 |
| Battery | 7250mAh |
| Dimensions | 279x174x6.9mm, 520g |