Samsung Galaxy Tab S8 Ultra review: brilliant but niche
The ultimate Android tablet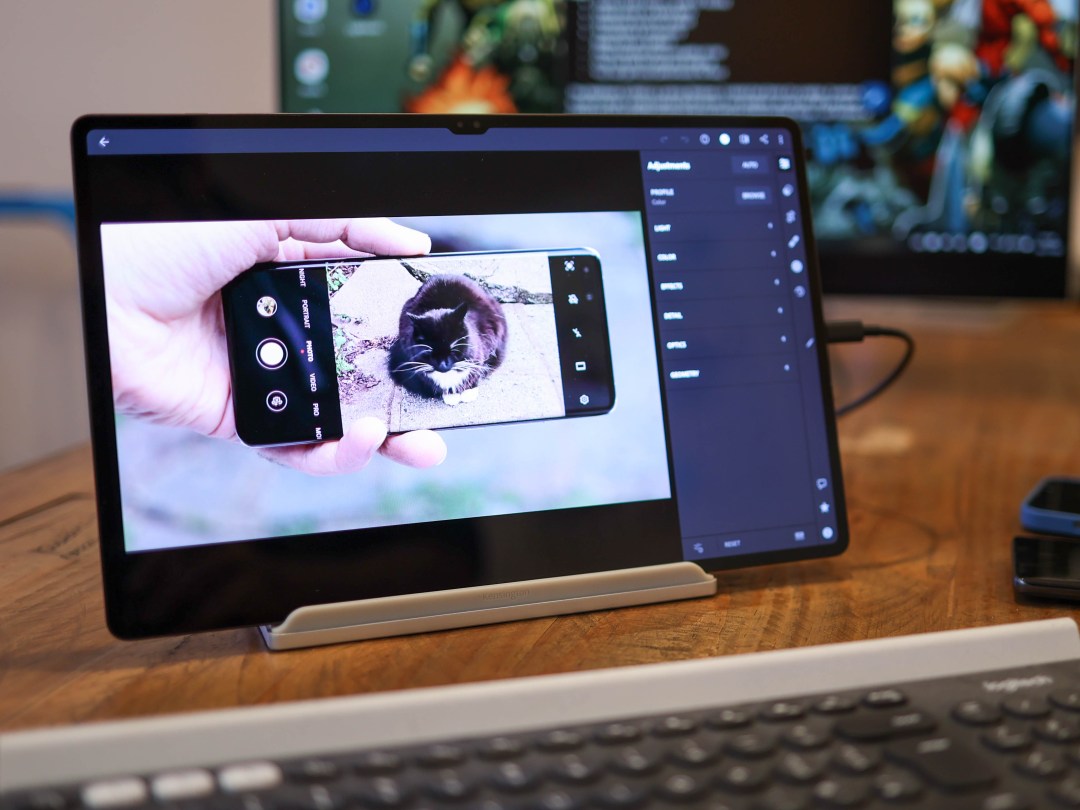 From its size to its power, the booming quad-speakers dotted around its frame through to its class-leading connectivity, there's nothing middle of the road about the Galaxy Tab S8 Ultra. The biggest screen this side of a large laptop, no other comes close to its 14.6 inches – with the largest iPad Pro measuring 12.9 inches. This makes Samsung's latest tablet massive, niche, and exciting from the offset.
What makes the Tab S8 Ultra even more eye-popping is its screen quality. While iPad screens are LCDs, which look great but miss out on ultimate depth and saturation, the S8 Ultra is blessed with an AMOLED panel. That means deeper blacks, punchier colours and ultimately more atmospheric watching can be expected from it.
While the Ultra costs as much as an iPad Pro 12.9, it ships with an S Pen in the box and a full desktop interface, so Samsung's Tab S8 Ultra arguably offers more value. But with Android being a weaker tablet interface than iPad OS, is the Tab S8 Ultra fighting a losing battle despite its incredible specs?
Design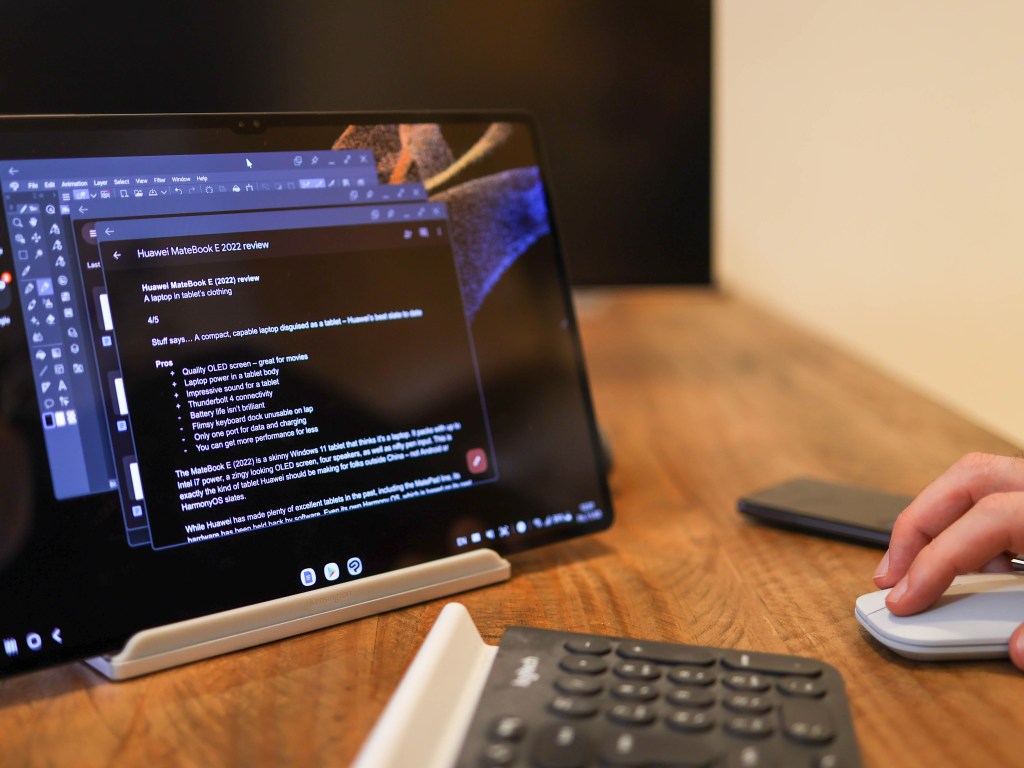 Giant and elegant, expansive yet sleek, the Tab S8 Ultra is a slice of tablet that's as robust as it is delicate.
On the one hand, the tablet is huge – the 14.6-inch screen measures up to many laptops that are advertised as 15-inch machines. Put into real terms, we could read a two-page spread in Stuff magazine without needing to pinch in on more than a couple of occasions. It's also incredibly skinny and feels like a sliver. Most phones are around 7-9mm thin; the ultra measures just 5.5mm.
Despite its slim chassis, the 726g Tab S8 Ultra is still solid. For context, the 11-inch iPad weighs 466g, while the 12.9-inch iPad is 682g.
Made of Gorilla Glass 5 on the front and Armoured Aluminium around the back and sides, all three Galaxy Tab S8s are well protected on paper. With the Tab S8 Ultra's enormous surface area, we were concerned it would feel extra fragile. After a week with it though, we didn't see any sign of flexing or warping. What's also striking is how clean the Ultra's design is. It has a basic set of buttons dotted along the frame – power and volume, quad speakers, and a slight camera bump around the back. The fingerprint scanner is under the screen as with the Galaxy Tab S7 Plus, and there's a USB-C port on the side. At the base is a POGO connector for the keyboard dock.
Screen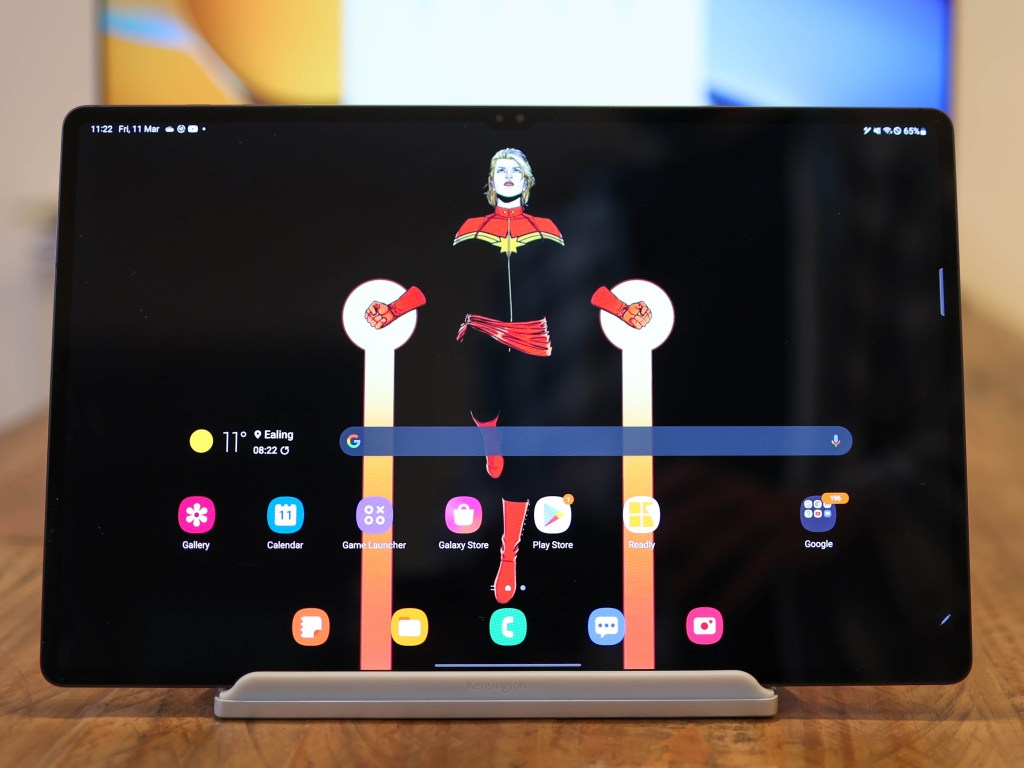 The Tab S7 Plus's screen was excellent with its giant 12.4-inch AMOLED panel. In true technoverse fashion, a year on and it's been superseded by the incredibly impressive Tab S8 Ultra.
With WQXGA+ resolution, and 240 pixels-per-inch, the S8 Ultra is crisp, and thanks to a 120Hz refresh rate, menus glide fluidly. Even premium tablets like the iPad Air (2022) miss out on high refresh rate screens, so the Tab S8 Ultra is already a spec above, but the fact it's also Super AMOLED takes it to another level.
A 16:10 aspect ratio ensures that it's excellent for watching 16:9 shows on – the letterboxing is minimal, and it's still usable for widescreen movies – more-so than the 10:7 iPad Pro.
More immersive than Apple's finest tablet, the tiny bezels that frame the Tab S8 Ultra's giant screen create a 90 per cent screen to body ratio, which is helped along by a small notch. When compared to the still immersive iPad, with a 78.3 per cent screen to body ratio, Samsung's tab wins at almost every turn.
The one area Apple edges ahead of Samsung is with its display brightness, with the Tab S8 Ultra capping out at 300 nits. The iPad Pro (2021) can climb nearer 1,000 nits. While we had no issues indoors or in an overcast London, anyone who'll be using their tablets outdoors in bright climes may struggle with the Ultra.
Performance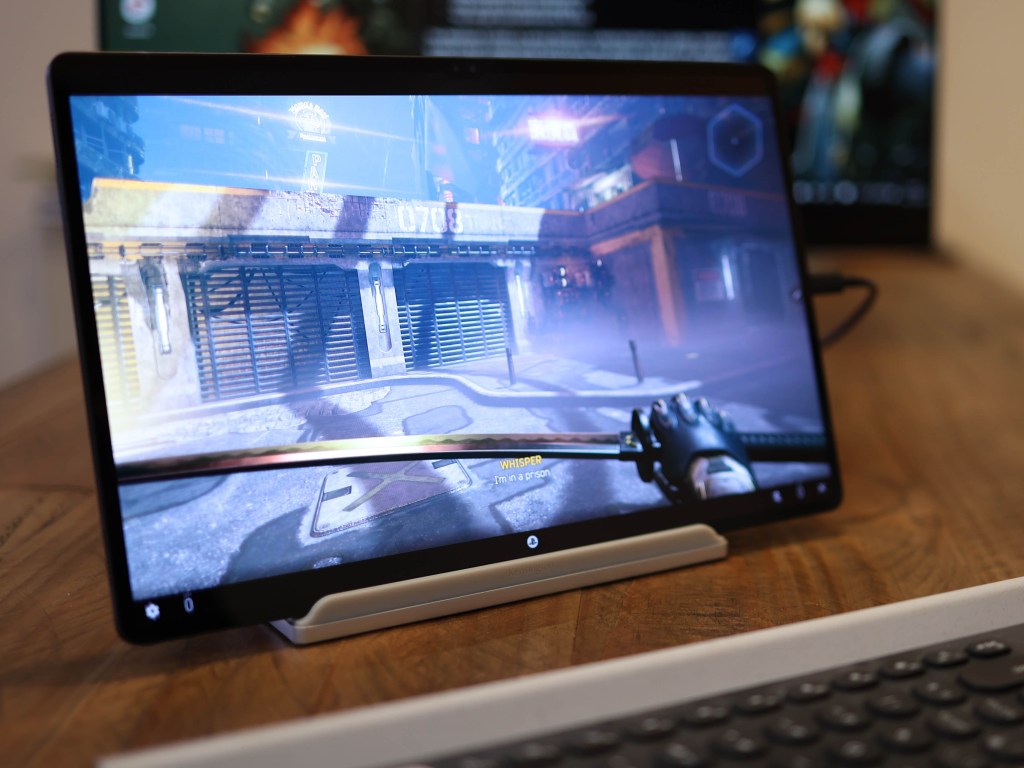 There's been a bit of hoo-ha about throttling since the Galaxy Tab S8 and S22 series launched – the devices' clock speeds have been dialled back to help with heat management. So while the Tab S8 Ultra's Snapdragon 8 Gen 1 chip might not slay the greatest smartphones out there, its performance definitely wasn't lacking.
During our time with the Ultra, games played back smoothly and benchmarks impressed, with 3D Mark Wildlife scoring as high as 92,000. Most notably, we found Wi-Fi and connectivity in general to be stellar.
Hooked up to Playstation Remote Play or Steam Link with a Wi-Fi 6 router, the tablet played back games with virtually no latency. We were also able to stream games using Xbox Game Pass over 5G with decent results, though Google Stadia didn't play ball on the device with the image not appearing on-screen in our tests (it isn't an officially certified Stadia device).
Then there's DeX, Samsung's desktop interface that fires up on the tablet screen or when connected to a big screen via wireless or wired casting. Hook up a Bluetooth mouse and keyboard and the whole system starts to feel more like a desktop or laptop than ever. The main downside of using the Tab S8 Ultra like a laptop is the fact its keyboard dock just doesn't work on a lap, making the on-the-go ergonomics its biggest limitation. Use it at home though, and the lines are getting blurrier between devices.
S-Pen in the box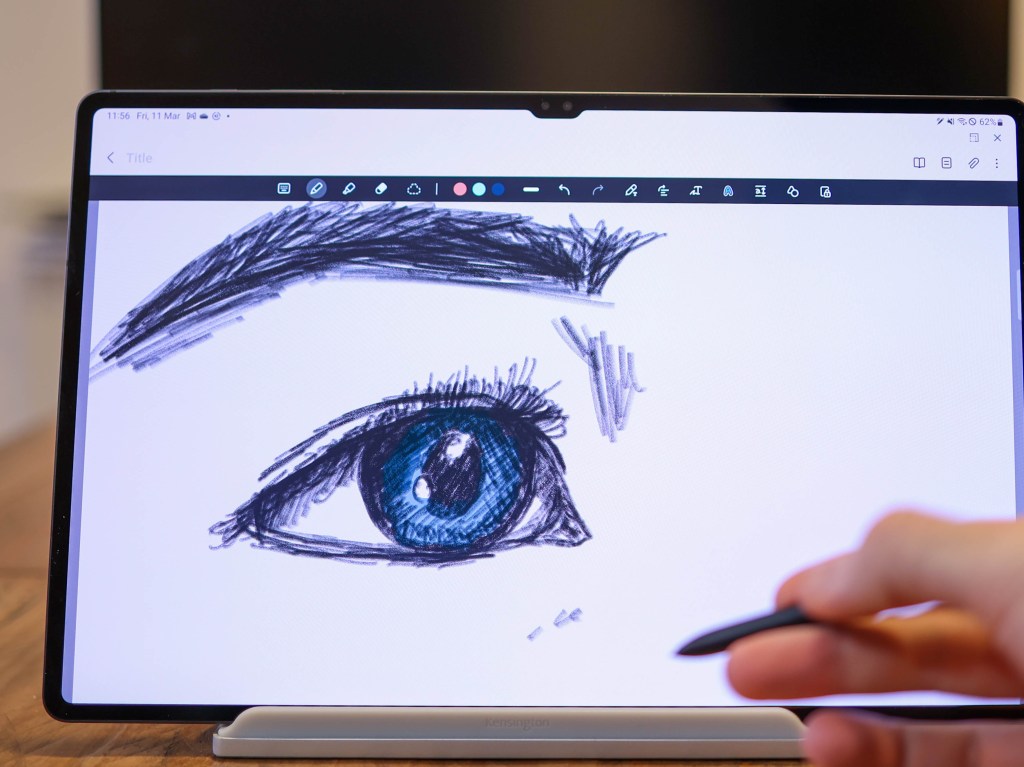 The Tab S8 Ultra ships with an S Pen that delivers the lowest latency of any Samsung tablet to date – 2.8ms. Samsung also customises its One UI interface to take advantage of the pen and all that screen space. Split-screen multitasking works across three apps plus one floating window, and that includes Samsung Notes, so you can take notes in half the screen with a PDF open in the other half – perfect for students. The screen also gives users a massive canvas to draw on, and Samsung has also partnered with app developers to bring some of the best around onto its premium tablets.
Last year, Samsung introduced Clipstudio, the powerful Photoshop alternative. Now, with the Tab S8 series, LumiFusion, the most powerful third-party video editing app for iPad is set to be ported over – a massive win for creators. It isn't available just yet, so keep an eye on the developer's page for updates.
Battery and extras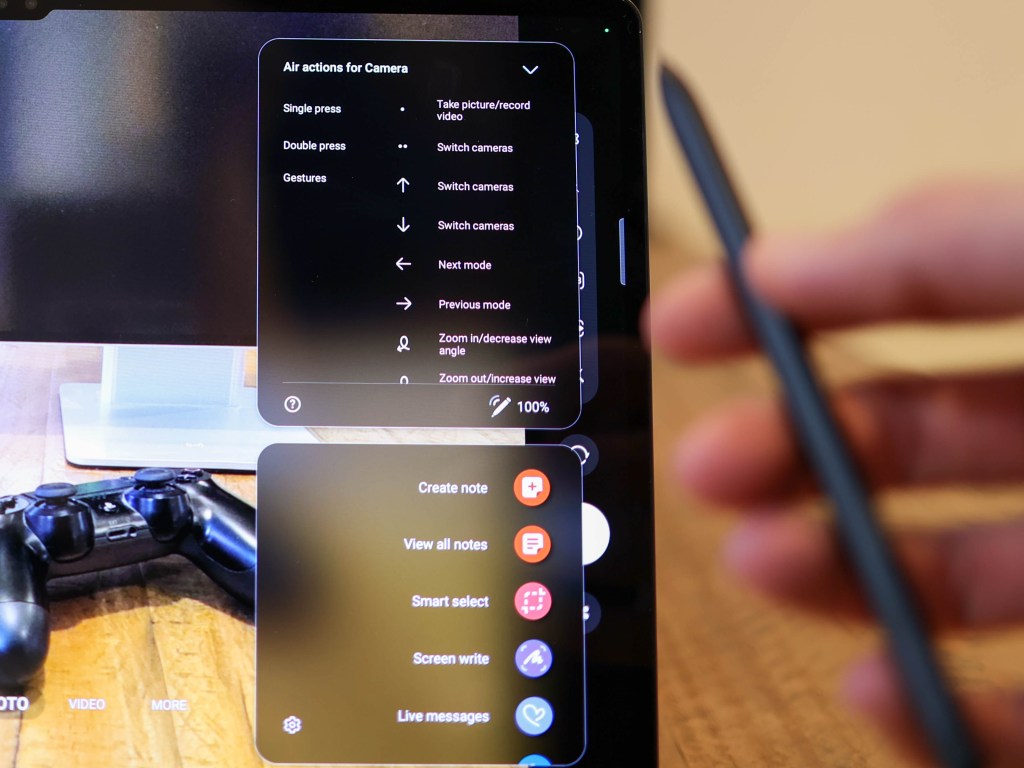 With a tablet comes a big battery, and the Tab S8 Ultra's clocks in at 11,200mAh, versus roughly 9,720mAh in the iPad Pro (12.9). That big battery also brings with it a big opportunity to use the Tab as a power bank for your smartphone with the supplied USB-C cable. You'll get great standby time on the Tab S8 Ultra – easily a few days with casual use, but screen-on time is around eight to 10 hours depending on brightness.
Also handy – the Tab S8 Ultra charges up at 45W, though you won't get a charger in the box. We used a fast Anker 735 charger which achieved 28 per cent in 30 minutes, and a full charge in under two hours. As for battery life, 30 minutes of video playback at full brightness only drained the tablet by 30 per cent, and gaming drained it at around the same rate.
Your phone camera is probably better than your tablet's camera – so if you care about quality, stick with your smartphone. That said, the Samsung Galaxy Tab S Ultra's dual-front and dual-rear cameras hold their own in the tablet world.
On the back is a 13MP main camera and a 6MP ultra-wide, while on the front, there's a 12MP wide and a 12MP ultra-wide. Video capture caps out at 4K resolution, and Samsung loads up the Tab S8 with plenty of shooting modes including Night Mode, Portrait Mode and Pro Mode. Picture quality from the front camera is impressive, as is Samsung's take on Center Stage – Apple's subject tracking feature.
You can pick up the Tab S8 Ultra in three memory configurations – 8GB RAM and 128GB storage (£999), 12GB RAM with 256GB storage (£1099), or 16GB RAM and 512GB storage (£1249). Each configuration is available with 5G for an extra £150.
Verdict
The Galaxy Tab S8 Ultra is both excellent and niche.
It's too big to read books on but perfect for magazines or chunky textbooks. It's a bit clumsy to watch a movie on it hand-held, but prop it up, and it's the best tablet for big-screened blockbusters money can buy. Touch-screen games won't be the best unless you've got giant fingers but hook up a controller and you'll lose yourself with PlayStation Remote Play, Steam Link or a 3D Android game.
The tablet's speakers are excellent, its screen is mesmerising and the fact it also ships with an S Pen means it's an impressive note-taking tool. Add to the mix Samsung's DeX, and the most expensive Android tablet on the scene is also the most fully featured, and the best for watching on.
With the only strike against it being good, not great brightness, the Tab S8 Ultra is still a top-quality tablet that's easy to recommend to a power-user who wants the finest slate Samsung's released to date.
Stuff Says…
The ultimate Android tablet
Good Stuff
Stellar screen and speakers
Wafer-thin design
Stacks of power
S Pen in the box
Bad Stuff
Priciest Android tablet around
The screen could be brighter
Android isn't as tablet-optimized as iPadOS
Tech specs
| | |
| --- | --- |
| Screen | 14.6in, 1848 x 2960 AMOLED w/ 120Hz adaptive frame rate, HDR10+ |
| CPU | Qualcomm Snapdragon 8 Gen 1 Octa-core |
| RAM | 8, 12 or 16GB |
| Rear camera | 13MP, f2.0 main; 6MP, f/2.2 ultra-wide |
| Front camera | 12MP, f/2.2 main; 12MP f/2.4 ultra-wide |
| Storage | Up to 512GB on-board, microSD expansion |
| OS | Android 12 w/ OneUI 4.1 |
| Battery | 11,200mAh |
| Dimensions | 326.4 x 208.6 x 5.5 mm, 726g |