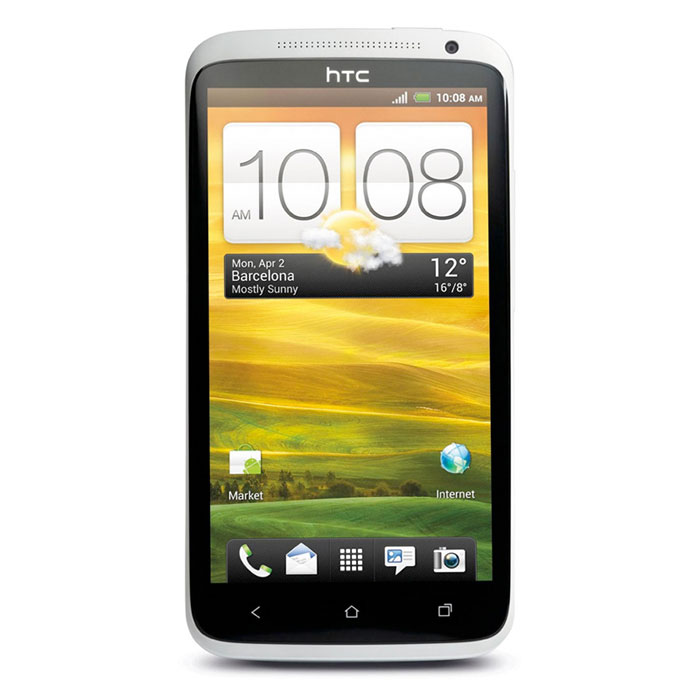 HTC One X review – overview
The current smartphone market is dominated by dual-core masterpieces like the Sony Xperia S and Samsung's Galaxy Nexus and Note, not to mention Apple's mighty iPhone 4S which is still single-handedly standing up against an impressive Android onslaught. HTC has always provided quality handsets, but it's become rather misguided as of late, churning out so many phones that none of them ended up standing out.
Read our Samsung Galaxy S3 review
That looks set to change with the new flagship One series smartphone, the HTC One X. It's one of the first phones to arrive packing Nvidia's mighty quad-core Tegra 3 processor, and with a large 4.7in screen and a heavy emphasis on imaging as well top quality design, HTC is clearly aiming for the top of the smartphone pile with its latest entry. Read on to see if the HTC One X has what it takes to play in the big leagues.
HTC One X review – design, build and connectivity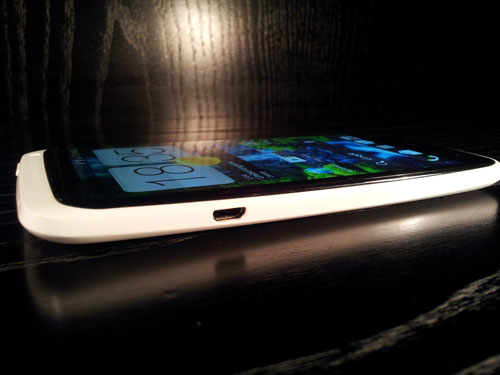 The 8.9mm thin HTC One X is hands-down one of the nicest, most well-built phones our hands have ever had the pleasure of fondling. Its light, 130g single-piece polycarbonate body is a joy to hold, and its subtle curve, rounded edges and minimalist design simply ooze quality. Small details like the piano gloss white edges that meld into the smooth pure matte white back and individually machine-drilled speaker holes add to the overall premium feel.
Connectivity-wise the HTC One X has a single micro USB port, a standard 3.5mm headphone socket, NFC capability and an iPhone-like mini-SIM slot that's ejected with a drawing pin. The only downside to the solid single-piece construction is the inability to replace the 1,800mAh battery. There's also no option to expand the memory, but you do get 25GB of Dropbox storage for two years as well as a generous 32GB of built-in memory.
HTC One X review – screen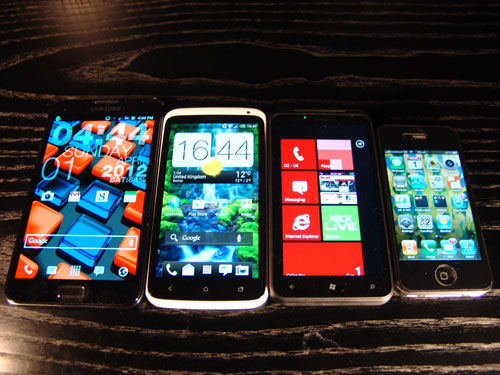 The HTC One X hits the screen size sweet spot with its 4.7in 1280×720 (720p) Super LCD2 screen, which is the same size as the HTC Titan's, although slightly smaller than the Samsung Galaxy Note's gargantuan 5.3in display.
The HTC One X dwarfs the iPhone 4S' comparatively postage-stamp sized display and offers a comfortable web browsing and movie watching experience. Unlike the Samsung Galaxy Note, the HTC One X also offers comfortable one-handed use and single-thumb typing is a breeze. We've seen smartphone screens that produce deeper blacks, but few that can match the One X for punch, dynamism or detail. Make no mistake – this is a superb display.
HTC One X review – processor, power and gaming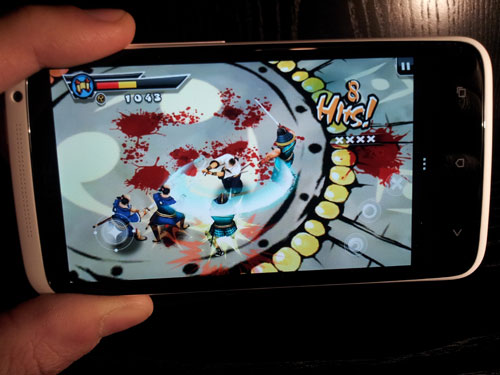 The HTC One X is one of the first phones to pack Nvidia's mighty quad-core Tegra 3 processor into its innards, and with four 1.5Ghz cores plus a fifth, 'battery saver' core for low-grunt tasks, power is an area the HTC One X is definitely not lacking in.
1080p movies run flawlessly and without stutter, while made-for-Tegra 3 games such as Samurai II: Vengeance and Dungeon Defenders run as smooth as warm butter, even with hordes of fast-moving enemies on the screen.
The One X handled all multitasking challenges that we threw at it thanks to the combination of its quad-core brains and 1GB RAM, and the only sign of lag we found was in in the Zen Pinball THD game, which we attributed to a software glitch as opposed to a lack of processing firepower.
Given the processing power, the 1,800mAh battery didn't take too much of an extra hit thanks to the power-saving core, but as with most smartphones these days, you'll be needing to charge up by bedtime for another full day's use.
HTC One X review – camera and video recording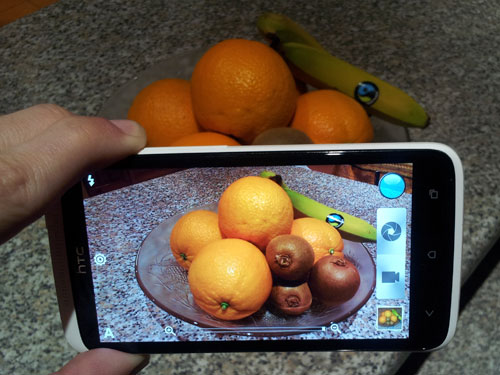 HTC has made it clear that the one X's camera and optics were designed from the ground up to provide the ultimate point and shoot experience. The 8MP camera is powered by a custom-made HTC imaging chip and the light-guzzling 28mm F2.0 aperture lens offers up very impressive levels of detail in dark rooms.
HTC has incorporated a plethora of useful functions into the One X's camera app, including the handy ability to hold down the shutter button to take up to 99 pictures in burst mode, with the option to auto-pick the best of the bunch. A smart flash with varying levels of brightness depending on the subject also prevents white-washed faces, which is another welcome feature.
Those hoping that HTC had managed the (seemingly) impossible and produced a smartphone camera to rival a dedicated snapper will be disappointed, but there's no denying that the HTC One X captures photos to rival the very capable iPhone 4S, and it certainly beats it for speed. A dedicated two-stage camera button would be nice, though.
1. The One X captures photos with lushly vibrant colours
2. Photos taken in low-light conditions are impressively detailed, as long as you stay close to your subject
The HTC One X's camera app displays separate video and shutter buttons for easy switching between video and photo mode, and 1080P video recording is clear and smooth, with decent stereo audio. The ability to snap pictures both within a live video recording and during video playback is an absolute godsend, and something we wish was standard in all cameras. It doesn't even incur a drop in the quality of the snaps.
There's also a decent smattering of effects and filters as well as the ability to record in slow motion, albeit without sound. HTC has kindly thrown in 25GB of Dropbox storage for two years, so there's no need to get worked up about saving space. It may not be as automatic and as fluid as Apple's iCloud solution, but it's nice to have nonetheless.
HTC One X review – web browsing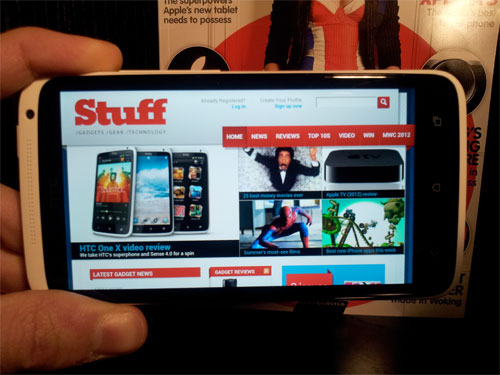 The HTC One X's stock web browser actually loaded some pages quicker than our office MacBooks during testing. The full desktop experience is on offer, with an iPhone 4S-beating full Flash capability baked into the browser. Our only gripes were with the one-too-many button presses required to open a new tab and the split second delay in re-rendering the surroundings of a zoomed-out page section. We also tended to miss-hit densely packed links when zoomed right out, which occasionally caused an annoyance.
HTC One X review – audio and music
Although the HTC One X's speaker's offer a fairly decent phone speaker experience with plenty of volume, you'll be wanting to stick in your headphones for any solo tune-listening. Naturally the Beats logo is emblazoned on the One X, and while we'd question the value of that in general, it's true that this particular smartphone delivers music with plenty of rich detail and punchy bass.
The special Beats audio setting is a step too far, though. At best it's a bass booster, shifting the tonal balance to the bottom end in the same unnatural way that your ghetto blaster was doing back in the early '90s. Some might like it, but the better balance and more than adequate bass levels provided when the mode is turned off will suit more people and more varied types of music.
HTC One X review – Ice Cream Sandwich and HTC Sense user interface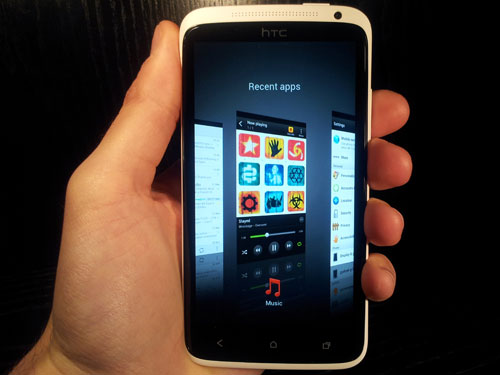 Ice Cream Sandwich is mercifully pre-loaded on the HTC One X, meaning you've got Google's latest and greatest Android OS to tinker with straight out of the box. Naturally, HTC has skinned out Android 4.0 with it's newest Sense 4.0 skin, and it's by far the best supplement to Android we've seen to date. It's the only manufacturer-added set of customisations that actually betters the stock Android experience – so much so that we wish HTC would release Sense 4.0 in the Google Play Store so that other Android device owners could get in on the action.
HTC's usual clock and weather widgets are present as expected and its four-shortcut lockscreen is a nifty solution to gaining access to your camera, phone and messages. Just drag the camera icon into the ring for example, and watch the camera app fire up in a jiffy without having to unlock the phone. The custom email and messaging apps are good enough not to warrant third-party offerings, although we'd still pick SwiftKey as our personal Android keyboard of choice thanks to its scarily clever prediction accuracy.
HTC has also replaced Android 4.0's stock recent app list with a fancy 3D Cover Flow-like affair that lets you swap between all open apps and flick unwanted ones off the screen to close them, webOS and BlackBerry Playbook-style.
Our only real gripe with the user interface is the space taken up by the onscreen black options bar during certain apps and games, in which it appears to serve no function other than to take up screen real-estate.
HTC One X review – verdict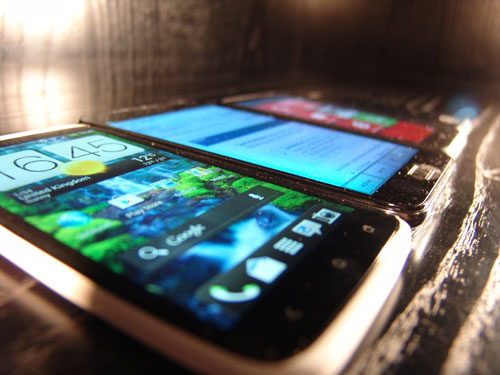 We started by asking whether or not HTC has created in the One X a phone that can genuinely play in the big leagues and go toe-to-toe with the likes of the Sony Xperia S, Samsung Galaxy Nexus and Apple iPhone 4S. Now we can comfortably say that it has. The One X is without a doubt one of the best smartphones available for gadgeteers striving for the very bet in all-round pocket firepower.
In fact, we'd go further: combining awesomely powerful innards with a premium, ergonomic, minimalistic body, a fast and polished camera experience and a gloriously capable, large screen, the HTC One X can proudly claim the crown – at the time of reviewing – as the best Android phone that money can buy. What's more, even the most faithful of Apple fans should by now be feeling a strong urge to jump aboard the Android bandwagon.
Promotional link: Click here for the latest HTC One X deals