HTC U Play review
Bets big on design, but could be more a case of game over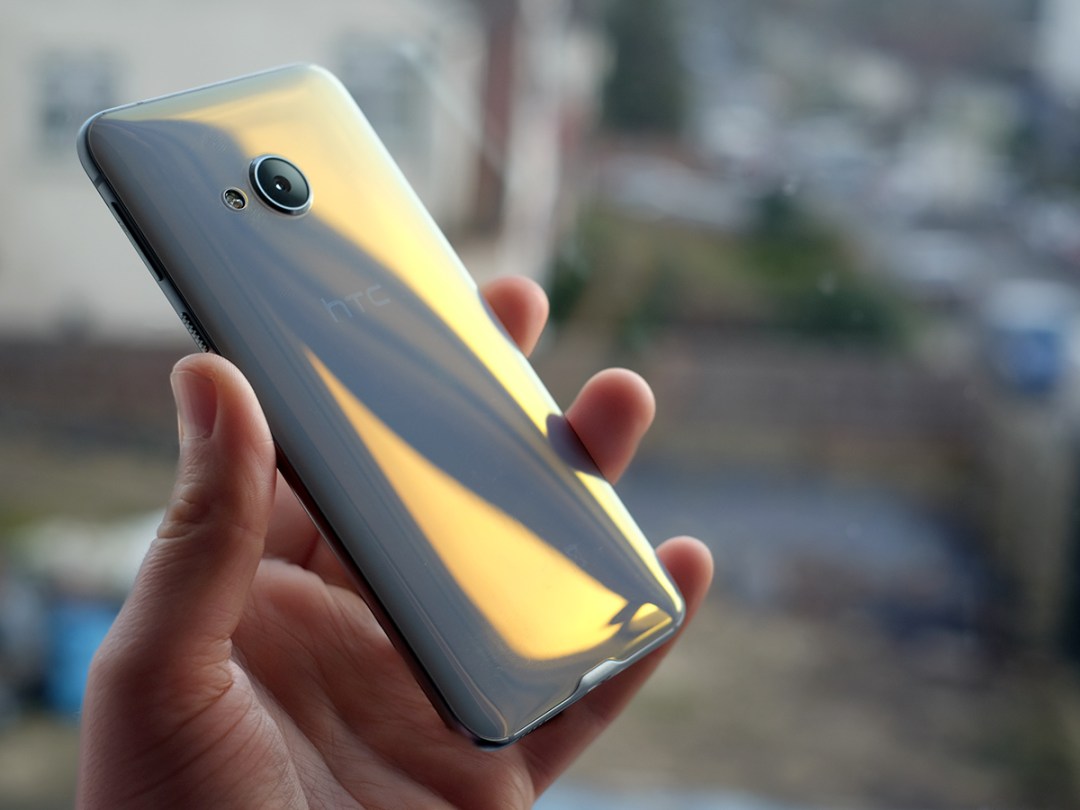 If you want HTC's vision of what a future phone should look like, check out the HTC U Ultra. It has a strange little second screen: a bit like someone glued a MacBook Pro touch bar to the thing.
But not everyone can afford to spend on a phone what could buy you an only-slightly-dodgy second hand car. For the rest of us there's the HTC U Play. It's the 'normal' version.
Normal size, normal tech and a slightly more normal price: £399. The U Play's funky build gives it something to brag about, but is that enough?
Spoiler: not really.
Bring back the funk
A few years ago, HTC made coolest-looking phone of 2013 – the HTC One M7. Anyone that bought one in those glory days will remember: it was the bomb.
Since then, HTC has tried some awkward re-treading of that look, and some, erm, homages to other phones, like the very iPhone-like HTC One A9. The job of the U-series is to prove HTC's designers still have some original-ish ideas left.
That doesn't mean the U Play is outlandish or weird, though. It's glass on the back, aluminium on the sides. Pretty familiar stuff.
However, it has an unusual pearlescent finish, at least in the white version we have (it also comes in black, blue and pink). HTC says it's meant to look like liquid is flowing over the phone. Presumably petrol, in this case.
It's a good look, and the U Play feels as expensive as something like a Samsung Galaxy S7. You'll probably want to use the included transparent clip-on case to make sure it stays looking smart, though.
This adds a millimetre or two to each side, but the U Play isn't going to be a stretch for adult hands, not like the U Ultra, because the display just isn't that big at 5.2in.
The phone is also smooth and comfy, with or without its plastic armour, and has a great fingerprint scanner just below the screen. It's not a button; you just put a finger on it when the phone's sleeping and the U Play wakes up.
Jack off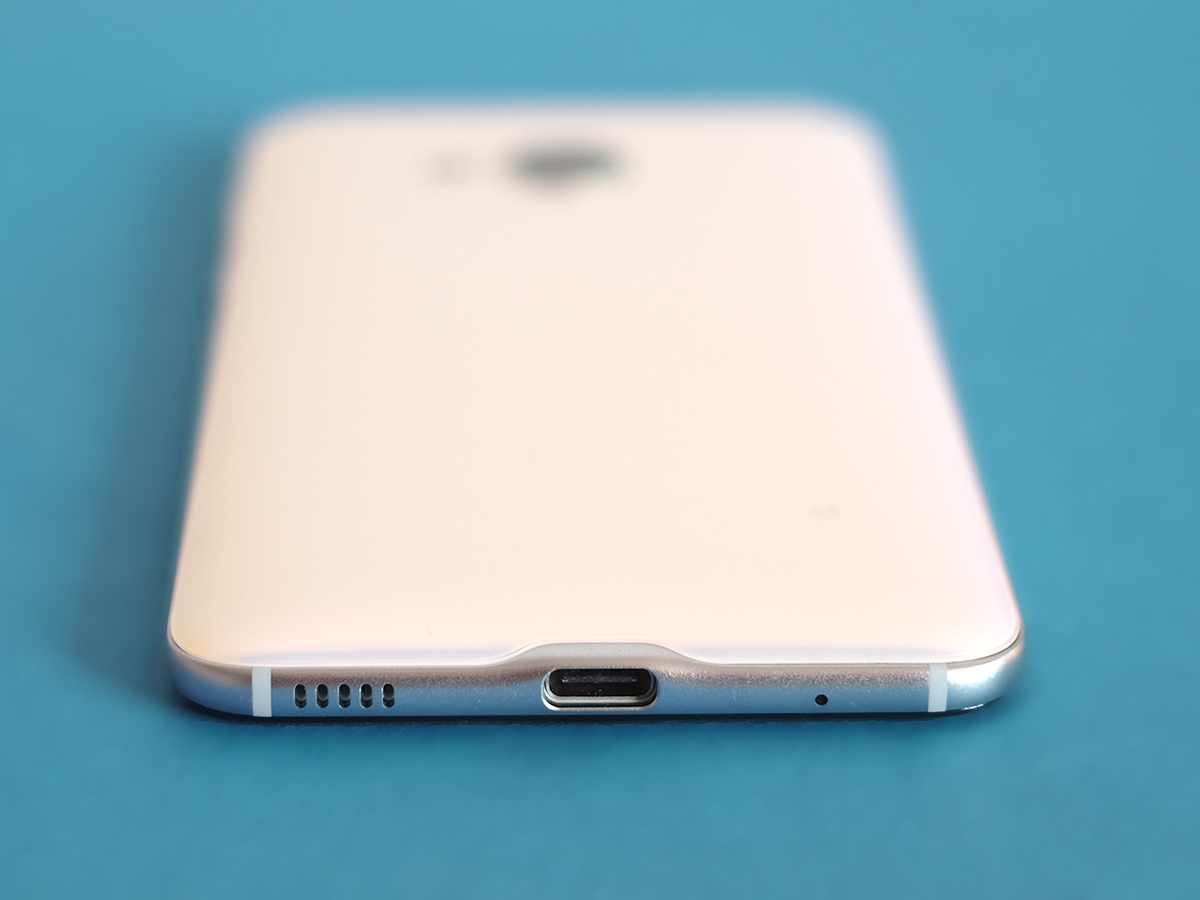 It's a pretty-looking phone, but one with a design decision that's up there with chocolate oven gloves. The HTC U Play doesn't have a headphone jack.
Sure, the iPhone 7 did it already, but at least Apple owns a headphone-maker, Beats, and the Lightning connector forces a sound quality issue.
Y'see, Lightning sockets can only deliver digital audio, so every pair of Lightning headphones needs, effectively, a tiny little DAC to convert the signal. USB C can transmit analogue audio, making USB C headphones (potentially) functionally identical to normal ones.
The U Play comes with a pair of USB C earphones, and while HTC has stamped them with the Hi-Res audio logo, that's used so widely these days it's about as credible as a Donald Trump tweet.
They sound fine, and have decent bass punch, but aren't leagues better than the best pairs that ship with more expensive phones. The treble is a bit harsh, the mids congested and low on detail, and they tend to fall out of your ears pretty easily. Fine for a freebie, but you could do better for £30.
Oh, but you can't, because no-one makes USB-C earphones yet.
Superman LCD
That's a real pain, but at least there's one part of the U Play that won't leave you disappointed. The screen is a perfectly nice, 1920×1080 Super LCD panel, functionally identical to an IPS display.
The Samsung Galaxy S7 still beats it, with deeper blacks and much higher resolution, but you can at least tweak it to your own tastes, using a colour temperature slider in Settings.
It doesn't fiddle with colour potency, which is typical: punchy, but not so oversaturated your eyes will need a break after a while. It just makes the U Play display more orangey or blue-y.
The 5.2in screen is a good size for just about anyone: not so big it'll fill your pocket like expanding foam, but not small enough you'd never want to watch Netflix on the thing.
Let's be straight, screens in higher-end phones are pretty boring these days. They're all good, which is perhaps why HTC decided to bung another one onto the U Ultra to set it apart.
Stop making sense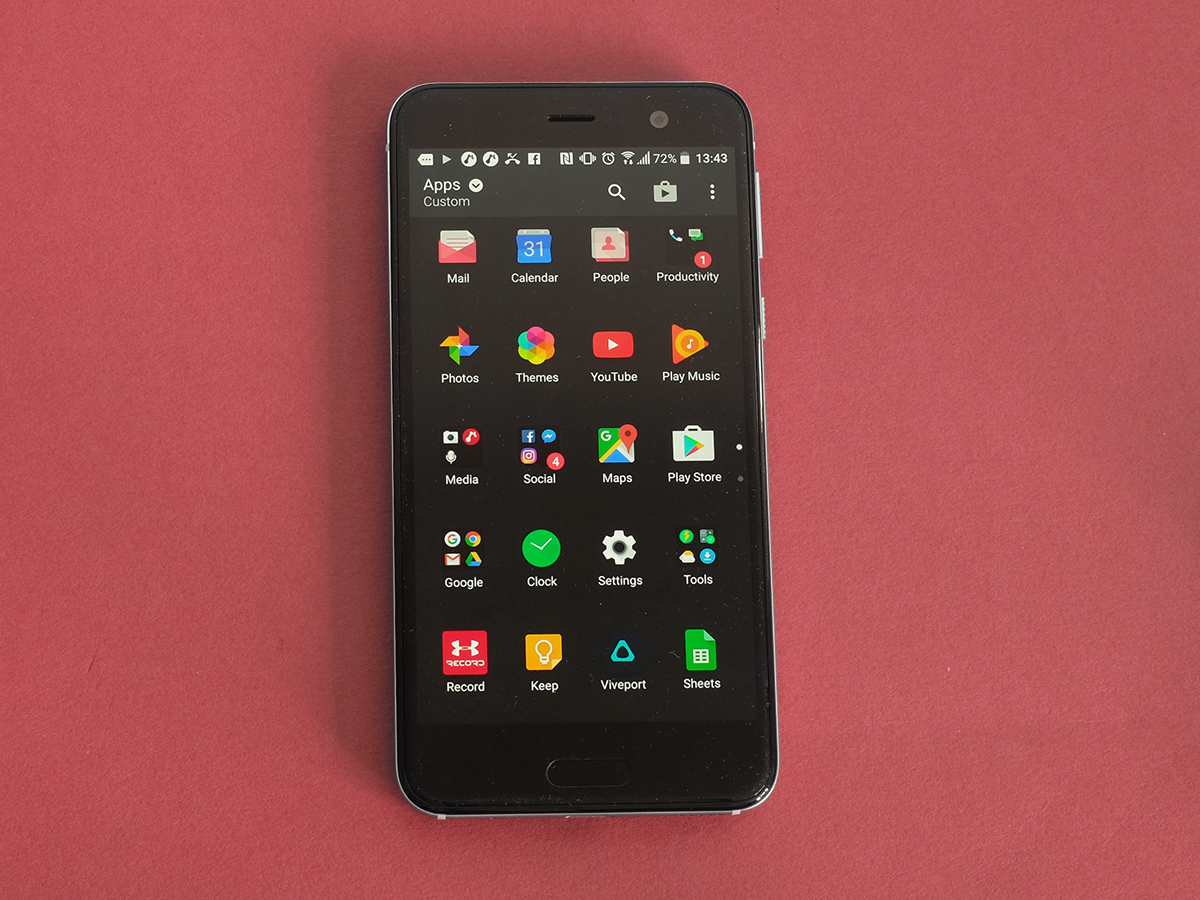 The U Play also has familiar software. It runs Android 6.0 (with an upgrade to 7.0 planned) and a new version of HTC Sense. It looks and feels a lot like the older version, though.
There are still pages in the apps menu, a slightly stiffer took than normal Android, and you can still change that look with themes. A preinstalled app lets you flip between them.
Flick from the left-most home screen and you'll find good old BlinkFeed, the scrolling news feed you can either populate with news stories or updates from social networks. It seems to feature a lot more 'sponsored' ads than before, but is still a good way to waste five minutes on the tube/toilet.
HTC banged on about software AI that would set the new U-series phones apart at their launch, but we've noticed nothing different about how the phone operates, to be honest. Hopefully whatever it's doing behind the scenes will be more obvious in the HTC U Ultra, with its second screen.
One slightly eye-opening part of the U Play is that it uses a Helio P10 CPU. This is not a powerful CPU, given you're paying £400 for it, using four Cortex-A53 cores rather than any true high-end ones. It's not all that far off the Motorola Moto G4's CPU, using the same kind of cores, just running more quickly.
Switching from the £1200 Huawei Mate 9 Porsche Edition, there is only a slight difference in general responsiveness. This still feels like a fast phone, but it's not that fast given the price. In Geekbench 4 it scores 2800 points, for example, a few hundred more than the Moto G4 but only half of what the Galaxy S7 achieves.
Day-to-day, the difference doesn't matter too much. However, as we've seen in other phones that use the Helio P10 CPU, its graphics chip just isn't powerful enough for flawless 1080p gaming with Android's best-looking titles.
Asphalt 8 runs pretty badly at the default 'High' graphics setting, making your driving feel as juddery as a 16 year-old's who just passed their test. We don't want to have to be cutting down graphics in games after spending £400. Do you?
The U Play has a dual-core Mali-T860 graphics chip, which never seems to quite cut it at 1080p with certain games. HTC sensibly doesn't use the Helio P10 in the much pricier U Ultra. Phew.
Maxing out on megapixels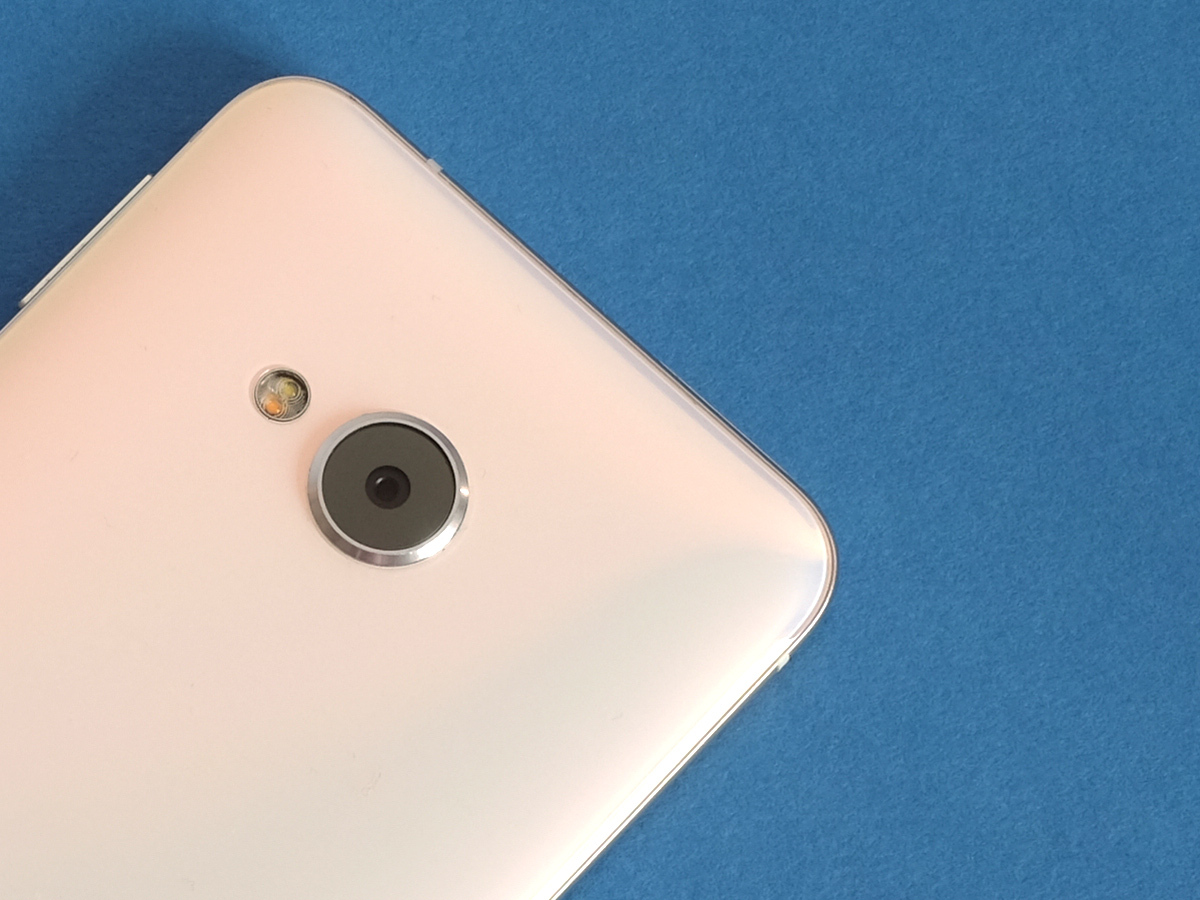 Next up is the camera, and this too is more low-end than the U Ultra's setup – but isn't too shabby either.
There's a 16MP sensor on the back, and another 16MP one on the front. That's a lot of megapixels, although it's no secret the very best phone cameras (as of mid-February at least) have 12MP sensors.
The U Play has a good camera spoiled by one thing: shutter lag. Use the proper camera app and switch off HDR (it on Auto as standard) and it's not too bad, but try to take a photo in WhatsApp and it feels as though you are left waiting an age just for the shutter to fire. Try to shoot a fast-moving object and you'll end up with a shot of spot where a dog/baby/car just was. It's annoying.
Image quality is generally good, focusing is pretty reliable and as there's optical image stabilisation you don't need hands with the stability of granite to take non-blurry low-light pics. However, the U Play still clearly has a mid-range camera, not a great one.
Taking pictures indoors, you'll notice some photos take on a slightly lifeless quality, which is what happens when dynamic range dips and colours start to lose their spark and realism.
In good lighting, the U Play's photos have a decent amount of detail, but some of this gets wiped out by noise reduction as the conditions get trickier. HTC may be the king of "Ultrapixels", but the U Play's cameras have tiny 1-micron sensor pixels, meaning image quality is going to go downhill as soon as sensitivity is increased.
For a bit of context, the Moto G4 Plus's 16MP camera has 1.3 micron sensor pixels. Before we nerd out completely, this is offset by optical stabilisation, and the U Play does seem to take better night photos than the budget Motorolas. But it doesn't quite get close to the Samsung Galaxy S7 or LG G5's night pics.
It does seem completely immune to overexposure, though, which plagued just about every HTC phone for a couple of years. This is where the brighter parts of an image become blocks of white, all detail crushed into a white hole of nothingness. The U Play tends to play it safe, resulting in some shots that could do with a little bit of post-shoot brightening, but don't lose detail through overexposure.
It didn't help that the weather was pretty miserable when we took the phone out shooting, mind.
A little brightness slider pops-up next to the little focus point to let you tweak this, but with the current version of the camera app it's weirdly difficult to use. 95 per cent of the time it disappears as soon as you try to use it.
A few little software fixes are needed throughout the U Play, actually. We couldn't get swipe-typing to work, for example.
One other camera feature worth mentioning is Zoe, which takes three seconds of video along with each of your pics. It got there before Apple's Live iPhone photos. But it's not as good as Apple's take because it's not invisible. It actually feels like you're taking three seconds of video: not much fun.
The flip side of the HTC U Play camera is that the front camera is very good. It seems to use the same, or a similar, sensor as the rear camera, but with a slightly wider lens and no optical stabilisation. Photos get a little scratchy up-close in those late-night pub shots, but still look realistic.
As with other parts of the HTC U Play, the camera is mostly good (apart from that annoying lag) but a bit of a stretch at the price. You can get an LG G5 for less nowadays.
Pound shop battery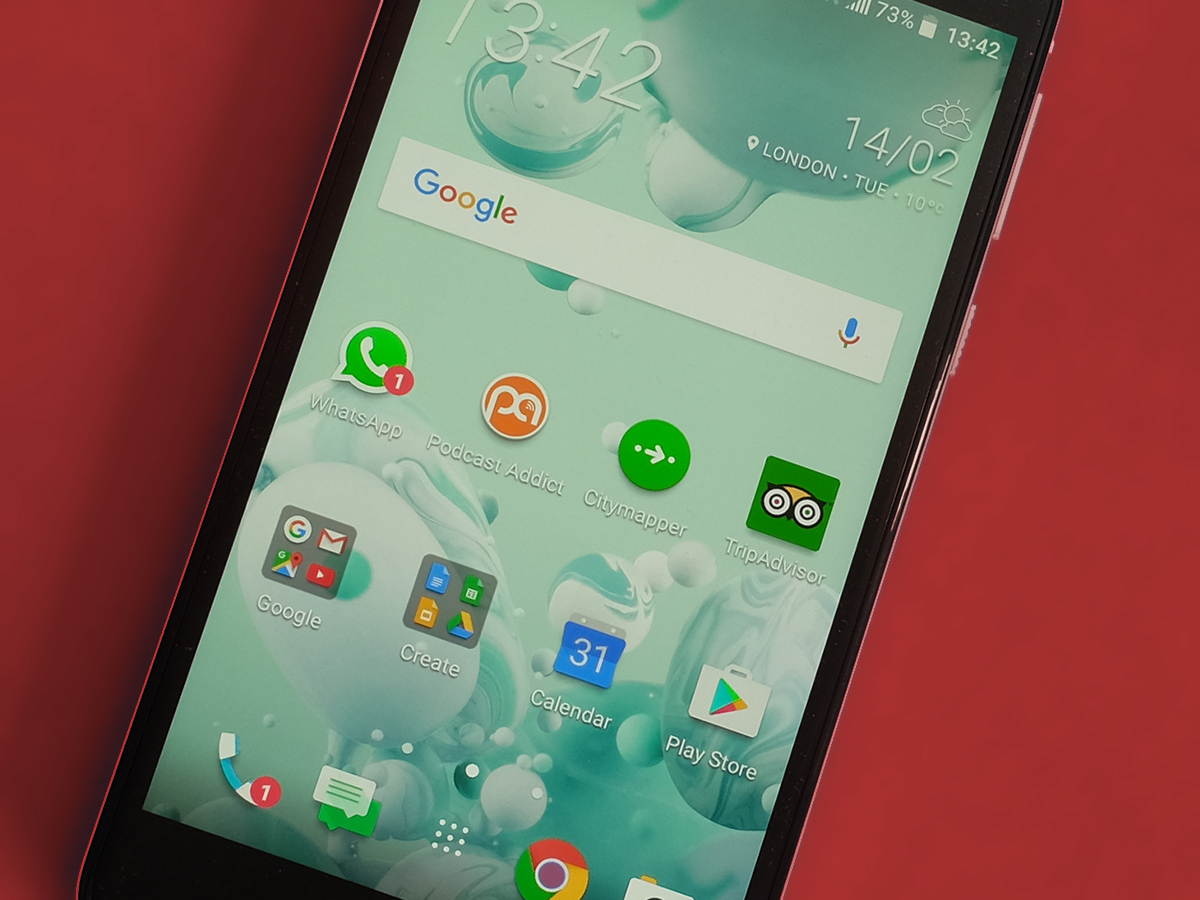 The U Play is an inconsistent patchwork, then, but there's no question that the battery is a bit of a stinker. A 2500mAh unit just isn't good enough for a phone with a 1080p screen.
It only lasts a full day when you strip back on basically all its connected features, like web browsing or music streaming. With normal use (some 4G browsing and a few podcasts) it burns through two full charges in a single day. As I write this, it's 12:30 and I'm already down to 40% charge. Bad times.
There's no ultra-fast charging if you use the bundled 5V/2A charger, either. It's not slow, but not super-fast either.
If you're expecting the U Play's solitary speaker to match the quality of HTC's classic BoomSound HTC One, you may be disappointed too.
It's louder than the average, passing the all-important test of making a podcast audible while you boil a kettle for a brew, but is also slightly harsher and less full-sounding than the best.
HTC U Play verdict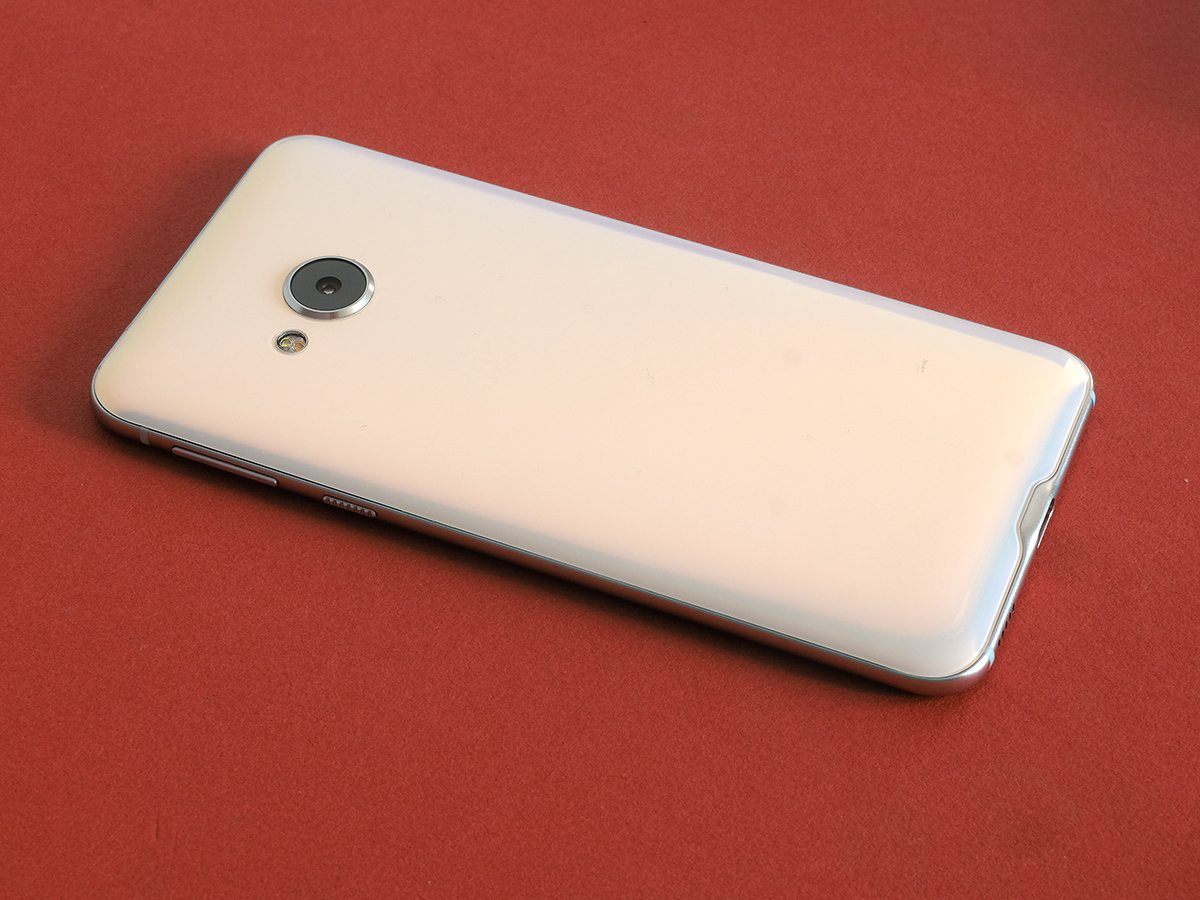 HTC struggles to get it right these days, and the HTC U Play doesn't change that.
This is a phone that looks and feels expensive enough for its £400 price, but the closer you get, more and more of the little things you notice chip away at its appeal. Top-end games don't run as well as they should, the camera is a lag-fest at times, and you have to be pretty careful to get through the day without needing to plug in.
If the price was competitive maybe we could suck these issues up and just bask in its glassy loveliness. But, well, it's not.
Buy the HTC U Play SIM free here on Amazon
Tech specs
| | |
| --- | --- |
| SCREEN | 5.2in, 1920×1080 LCD |
| CPU | Mediatek Helio P10 octa-core |
| MEMORY | 3GB RAM |
| CAMERA | 16MP rear w/ OIS, phase detect AF and flash, 16MP front |
| STORAGE | 32GB on-board, microSD expansion |
| OPERATING SYSTEM | Android 6.0 w/ HTC Sense |
| BATTERY | 2500mAh non-removable |
| DIMENSIONS | 146x73x8mm, 145 g |
Stuff Says…
Classy and glassy on the outside, but there are a few too many problems inside to warrant the high price
Good Stuff
Lovely glass-metal combo body
Decent enough screen
Bad Stuff
No headphone jack
Faulty gaming chops
Laggy camera