HTC Vive XR Elite hands-on review: strong VR, but mixed reality is, well, mixed
HTC's Meta Quest Pro rival makes mixed reality more portable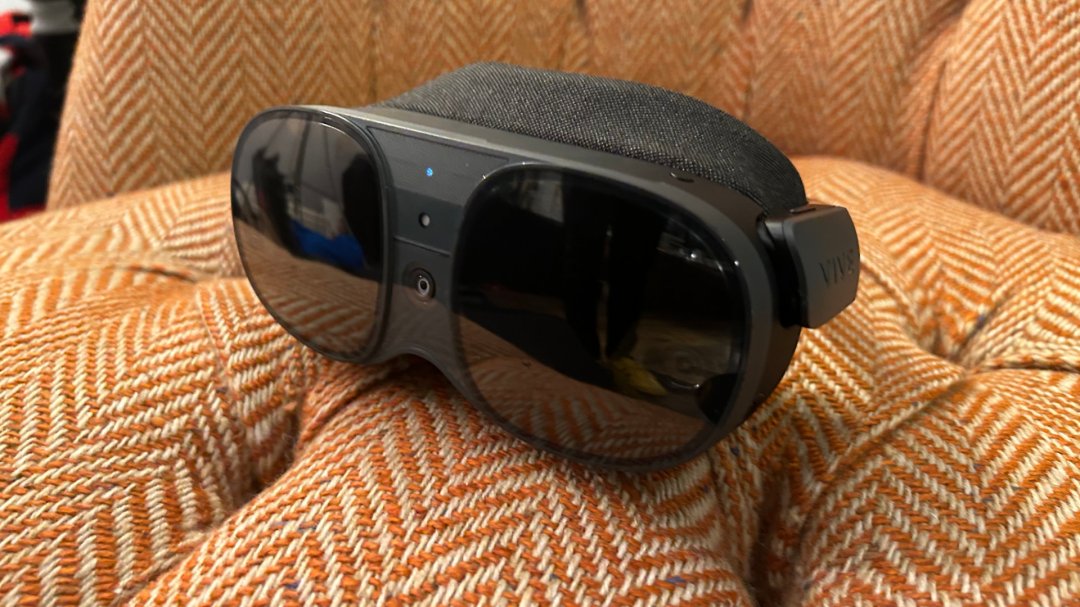 As we eagerly await Apple's much-anticipated foray into the mixed reality headset realm it's up to HTC and Meta to bring that high-grade VR and AR into our homes. The HTC Vive XR Elite, announced at CES 2023, wants to be the headset you can reach for to give you that immersive feeling for the bank balance-decimating cost of $1,099/£1,299.
In return, it's promising a headset that works with or without being powered by a PC and comes in a significantly more compact package than its previous high-end headsets.
We've managed to spend some virtual and augmented time to see what the XR Elite is capable of and whether this is a headset that's going to be worth spending some very big bucks on.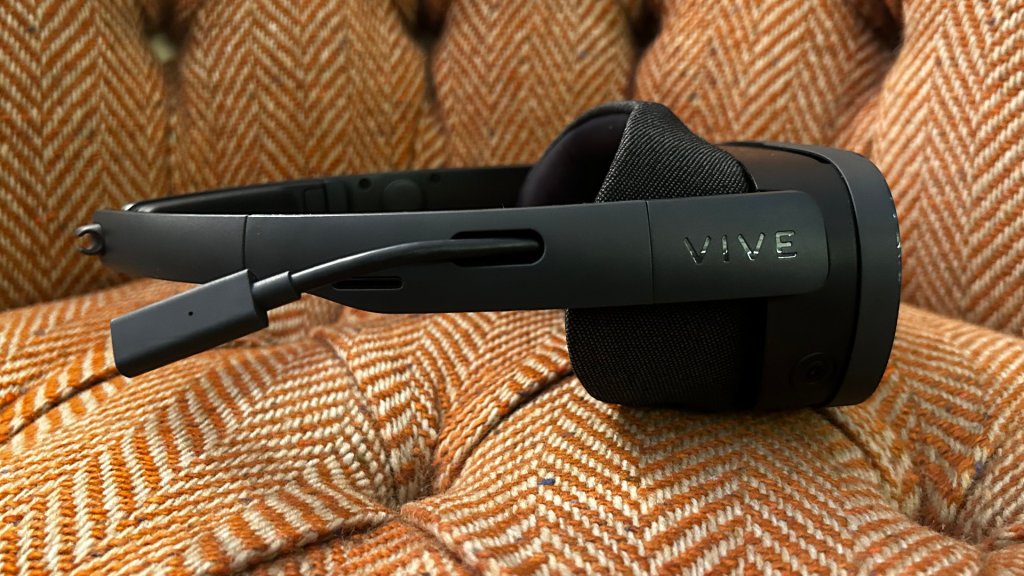 Design and build: a lighter feeling
The setup of the Vive XR Elite is a big departure from headsets like HTC's Vive Pro and Cosmos headsets and has in more common with its smartphone-powered Vive Flow goggles that launched (and we tested) back in 2021.
At 625g (with the battery attached), it's roughly the same weight as three iPhone 14 Plus handsets and that does make it lighter than Meta's similarly pricey Quest Pro (722g). Even with that battery attached, which clips simply to the back of the glasses, it didn't feel worryingly heavy or bulky to wear. That battery is capable of delivering up to 2 hours of playtime and can be swapped out for fully charged ones to keep you using the Elite for longer.
If you want to lighten the load you can whip that battery off and then use the headset connected to a PC via cable or over Wi-Fi. Our time was spent untethered, but simply removing the battery makes a noticeable difference in overall weight.
Specs-wise, you're getting a display that can deliver a 4K resolution, so that's 1,920 x 1,920 pixel resolution per eye. You're getting up to 110 degrees field of view and a 90 Hz refresh rate to make sure games and experiences are delivered in a smooth fashion. There are four cameras in total and a depth sensor to form the foundations of the Elite's mixed reality and overall tracking abilities.
There's room for speakers and dual microphones to cancel out echo and performance is powered by a Snapdragon XR2 processor with 128GB of storage and 12GB of memory. So you're getting some pretty beefy specs here.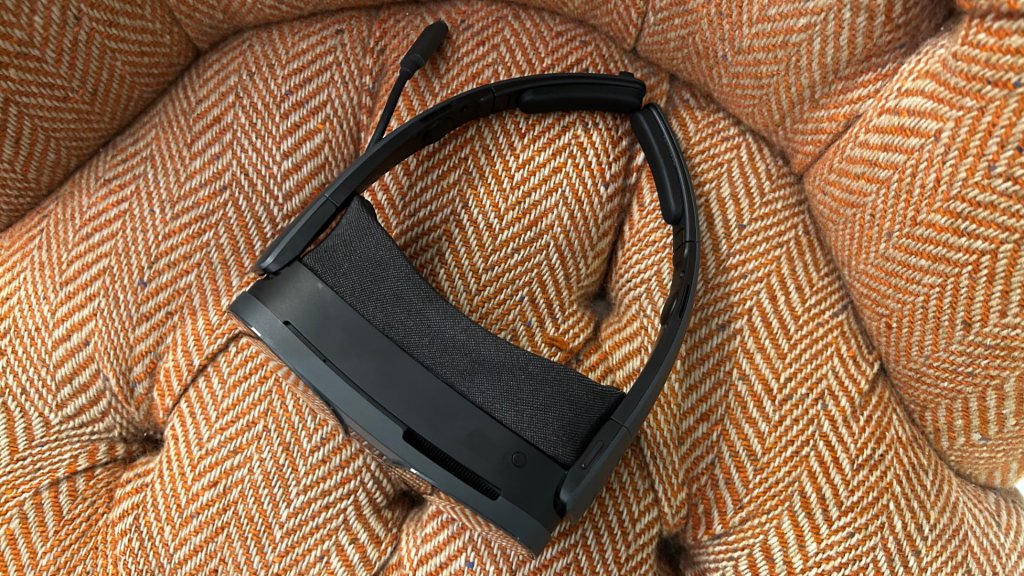 To keep things comfortable, HTC uses a removable fabric front gasket, which magnetically clips into the headset with a twisting dial at the rear of the headset to make sure it sits snug and securely in place. It also offers the ability to adjust the Interpupillary distance (or IPD) to make sure the headset is matched up to the distance between the centre of your eyes to provide the best viewing experience.
Last up, we have the controllers, which have essentially been grabbed from HTC's enterprise-centric Vive Focus 3 headset and feature some pretty standard physical, grip and trigger buttons and a strap to make sure those controllers don't fly through the air during more energetic movements. Outside of those physical controllers, the Elite does also support skeletal-level hand tracking, which means you can use your fingers and hands to perform actions like selecting and dragging items and typing.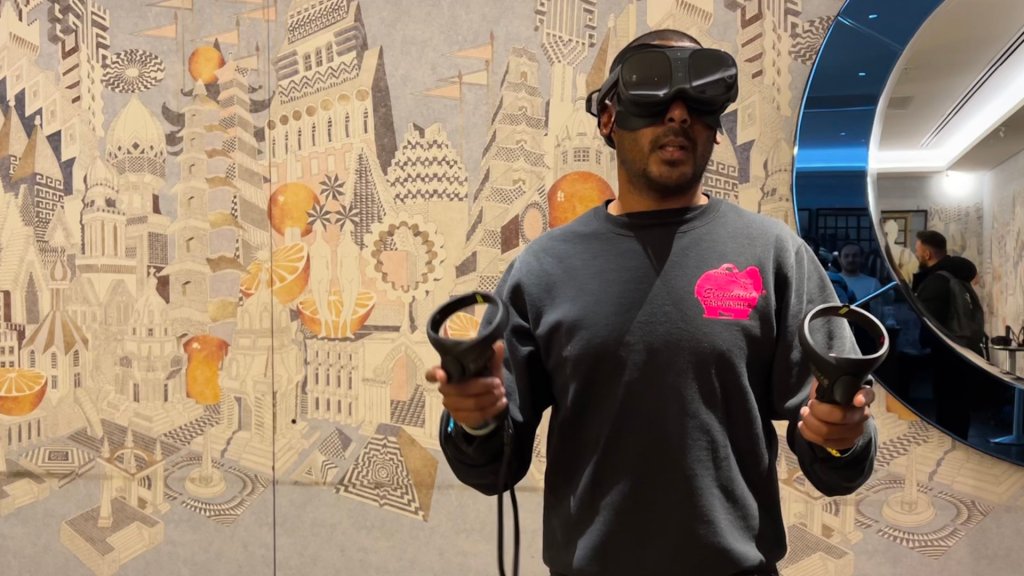 Performance and software: Mixed Reality lite
We had a small but nice collection of games and experiences to try out in a pretty sizable room giving us good scope to move around in virtual spaces. HTC recommends a play space of 10m x 10m and it does support creating standing and seated tracked areas depending on how much space you have to play with.
While this is a headset that can deliver VR experiences solely and there's no denying you're getting a high-grade experience here on that front, we were interested to see what it had to offer on the mixed reality front. HTC creates that mixed reality environment letting you see your actual environment and virtual one at the same time through its Passthrough mode, which uses the onboard cameras and depth sensor to do that.
While you absolutely don't get a crystal clear view of those surroundings it's surprisingly good how well it works. We were able to identify different people in the room and even look down at our watch to check in on the time.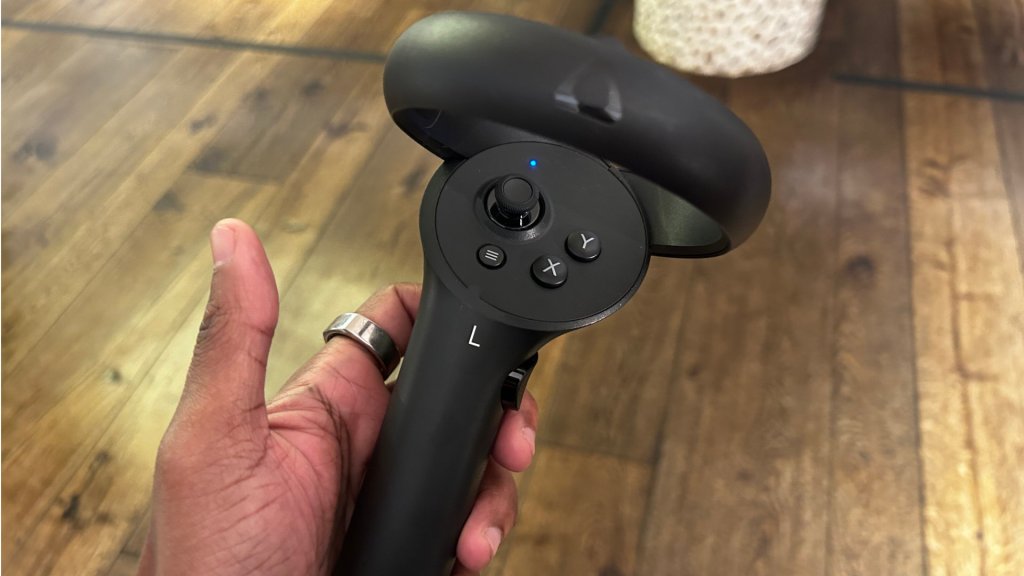 Into the testing and we first tried out Rezzil Player, a VR tool designed for athletes to fine-tune their vision, skills and fitness. We tried a reaction light exercise, designed to help improve coordination and agility. It was a pretty straightforward process of reaching out the controller to turn out the lights. We also practised throwing a football (the American kind) through hoops using the controller trigger to grab and throw the ball. In terms of that mixed reality experience, it was simply about swapping a virtual football field with what we could see through that Passthrough mode.
Next up was Maestro to put our conducting skills to the test. It uses a mixture of skeletal-level hand tracking and the controller to wave a baton and gesture towards the correct sections of the orchestra. Again, the mixed reality use is a case of swapping the virtual background for the Passthrough one during the tutorial phase only before you're back fully immersed in VR.
It's the same story for the cutesy shooter Yuki while the Tilt Brush-like Gesture VR showed the potential of how Elite's mixed reality mode could potentially work to recreate something you're looking at in your actual, physical environment.
Last up for us was Paradiddle, a VR drumming app, which lets you freestyle it on a virtual drum set or play alongside songs in a Guitar Hero-like fashion. We arguably had the most fun with this one, but again, the mixed reality elements weren't particularly impressive.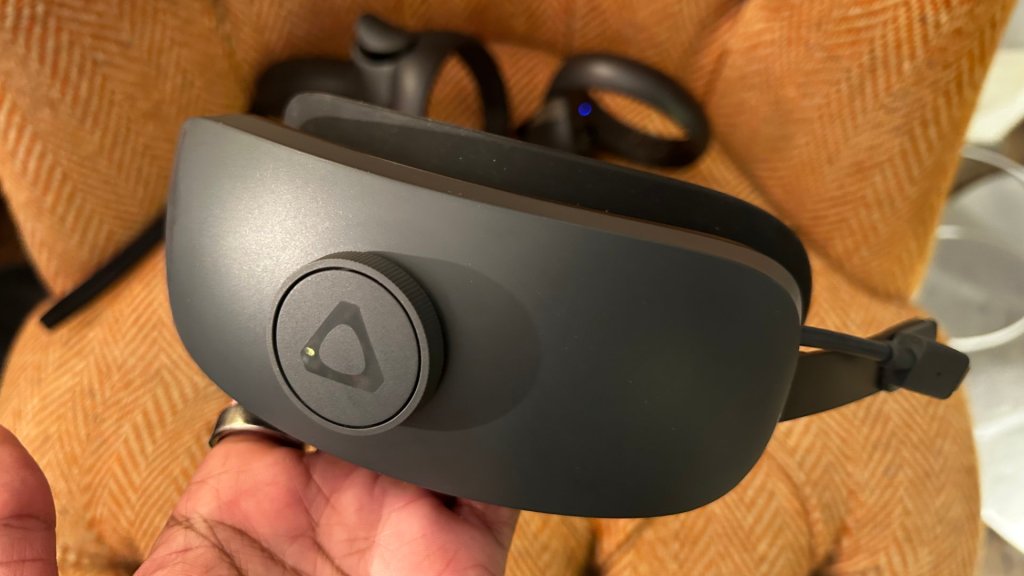 HTC Vive Elite XR early verdict
What our largely fun hour with the HTC Vive Elite XR has told us is that this feels like a big step in the right direction for where VR headsets need to be, in terms of portability and a design that is going to make it more appealing to spend extended periods in those virtual realms.
There's also no doubt that for a pretty big stack of cash the Elite offers an impressively strong level of VR both visually and with the level of tracking and controls on offer.
The big question mark here is over its credentials as a mixed-reality headset because based on our experiences of it, we can't say we were blown away. The Passthrough mode that enables it is certainly to a good clarity level with room to get better, but now it needs something to really showcase what it's capable of.
That's going to be up to HTC and developers to do that. There are obvious scenarios where mixed reality could be useful. We'd feel more comfortable using it for fitness over other headsets, it's one that would be ideal for learning skills where you still need to be connected to the real world and the prospect of multiplayer mixed reality games in one room would be a great prospect with the Elite as well.
To make that mixed reality a reality, it still feels like a lot needs to happen. Right now, £1,300 seems like a lot of money for more portable, high-quality VR. If HTC can get the mixed reality support up to speed, it would really elevate the appeal of the Elite; over and above what the competition is already doing well at.