Huawei FreeBuds 3 review
Android users rejoice, iPhone users avoid
When we first heard about the AirPo…, er, FreeBud 3s, we were quietly sceptical – noise-cancelling without an in-ear bud or over-ear fit? Surely not!
Huawei is clearly fearless when it comes to hardware though. While manufacturers like Apple and Google bide their time and launch new tech once it's failed a few times first, we have to give the politically precarious tech giant credit – it innovates, hard.
The FreeBuds 3, Huawei's third generation of AirPod rivals, are the world's first active open-fit noise-cancelling earbuds. They also promise high-quality audio and zippy charging, attempting to carve out a niche between buds like the Sony WF-1000MX3 and Libratone Track Air+, and the ubiquitous AirPods and AirPod Pros. But do they deliver on these lofty promises?
Design and build: Ctrl+C, Ctrl+V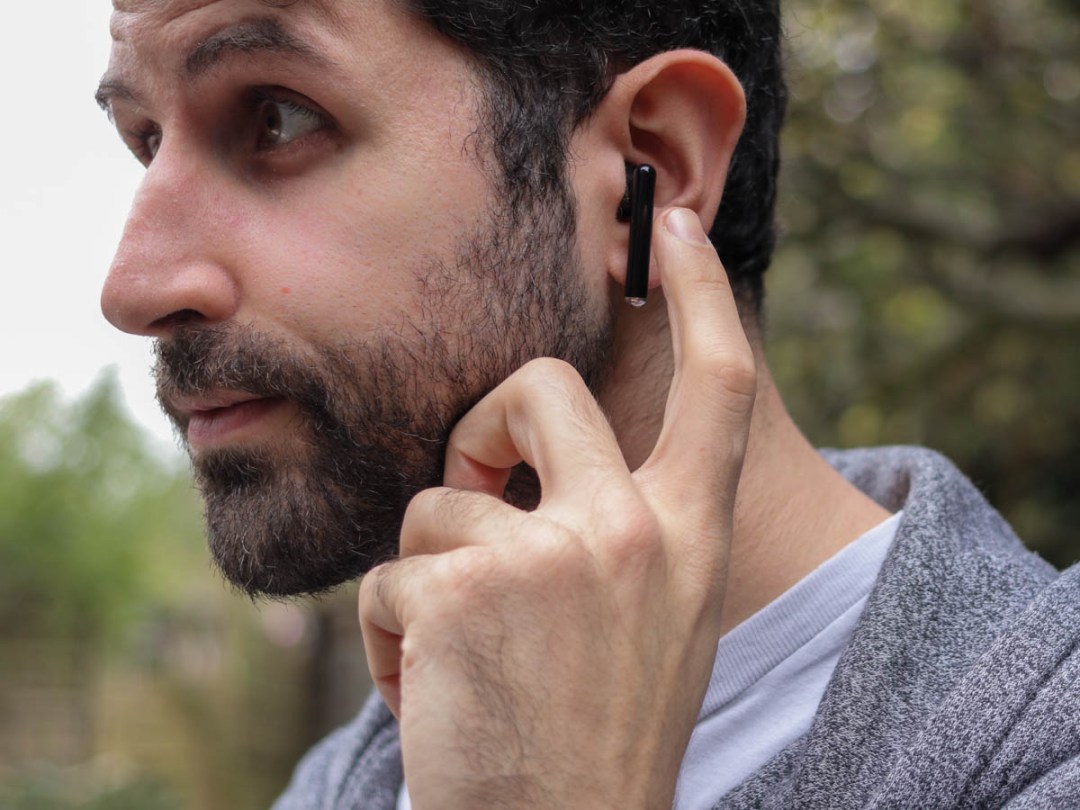 We know we've hammered this drum already but the design of the FreeBuds is mega AirPoddy, with an earbud component and appended stalks that hang down from your ears.
The FreeBuds are a bit larger than AirPods but don't look bulky in the slightest and the polished plastic finish feels premium – better than some of the more affordable options, like Motorola's exceptionally mediocre Verve Buds. They also come in black or white, with the black version being our preference if only to differentiate them from Apple's ubiquitous buds.
The best thing about the FreeBuds after our month using them was just how well they fit and stayed in our ears. We went jogging, had a few workouts and went on a couple of long-haul flights without them budging. At 4.5g each they're light, too – over 1g lighter than the Galaxy Buds, though they don't feel fragile.
At the base of the stem is a silver accent which houses the microphones, while the top section is touch sensitive – double-tap either side to engage predefined actions which you can set in the app. The FreeBuds can also detect when you're wearing them.
Ultimately, if the AirPods never existed, we'd be fawning over Huawei's latest buds. As it stands though, they're a very competent copy > tweak > paste.
Performance: ANC but not as you know it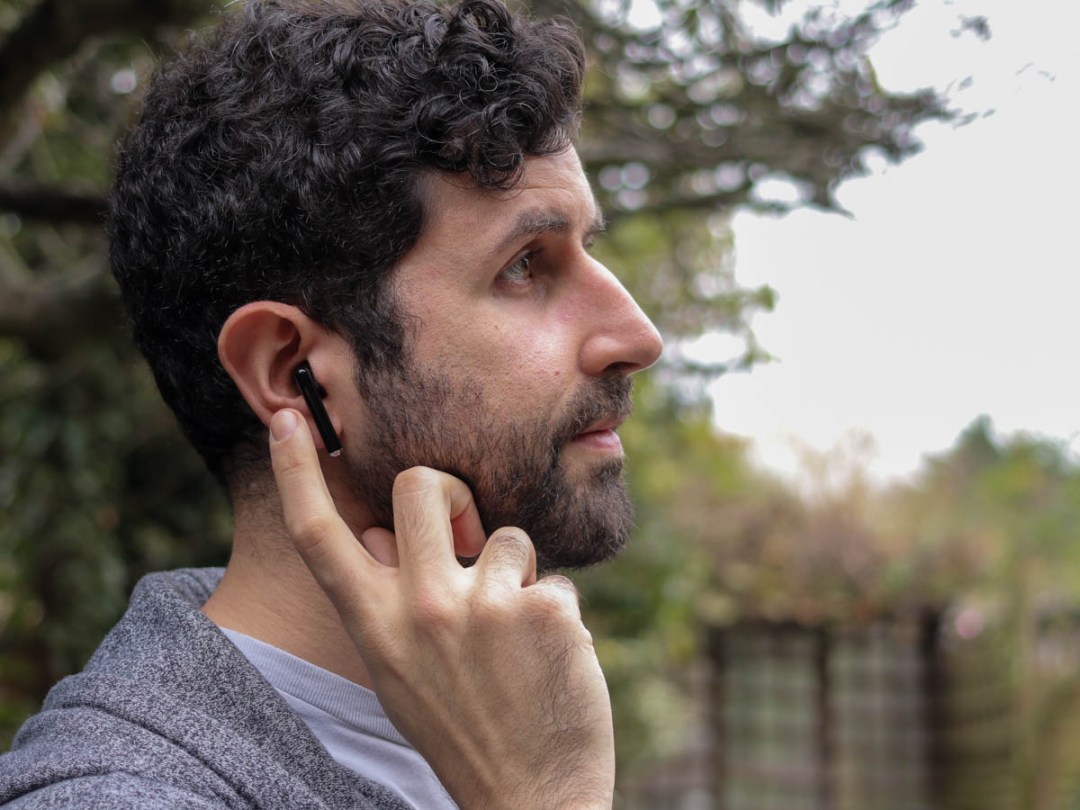 First, let's talk call performance. The metal nubbin microphone duct handles interference well, but not perfectly. Huawei claims that 20mph cycling is no match for the FreeBud's microphone, but a noisy London cafe was pushing it. Interestingly, walking through a busy street was less problematic, so these buds seem to be tuned to dealing with movement well when making calls.
There's active noise-cancelling up to 15dB, and given the FreeBud's open-fit design, the noise cancellation is nothing short of strange. Within the Huawei AI Life app, there's a dial you can twiddle to change the frequency of the feature, so the sound suppression is manually optimised for your environment.
It works much better than we thought it would on public transport or even when flying, taking the edge off engine hums and dull drones, without blocking out background noise completely. When out and about walking though, it can work one minute, then phase out the next, so we found ourselves toggling it on and off more than we do other ANC headphones. Given all that took was a double-tap of the left bud, however, we didn't mind this.
If all you're looking for is ambient sound suppression 24/7, you'll want to look elsewhere – the passive sound isolation of more traditional buds is often more effective than the active cancelling of the FreeBuds. That said, we loved getting decent audio without having to jam bits in our ears.
Sound is handled by a 14mm high-sensitivity dynamic driver with a dedicated bass tube, while Huawei's new Kirin A1 chipset is onboard to pull the whole thing together. The quality is great for open-fit buds, with clear middle and high tones, and a good effort when it comes to the lower, more bass-heavy stuff.
That said, the FreeBuds audio can't quite stack up to much more affordable in-ear, sound-sealed options like the Urbanista Athenas. Traditional buds just create a better seal, it's that simple.
When it comes to latency, however, the FreeBuds 3 are head and shoulders above the likes of the Athenas, and most other wireless buds we've tested, making them a great option for mobile gamers and movie watchers. Pairing is also a doddle, and sound sync between the buds was solid too.
Battery life: Fair pods, great case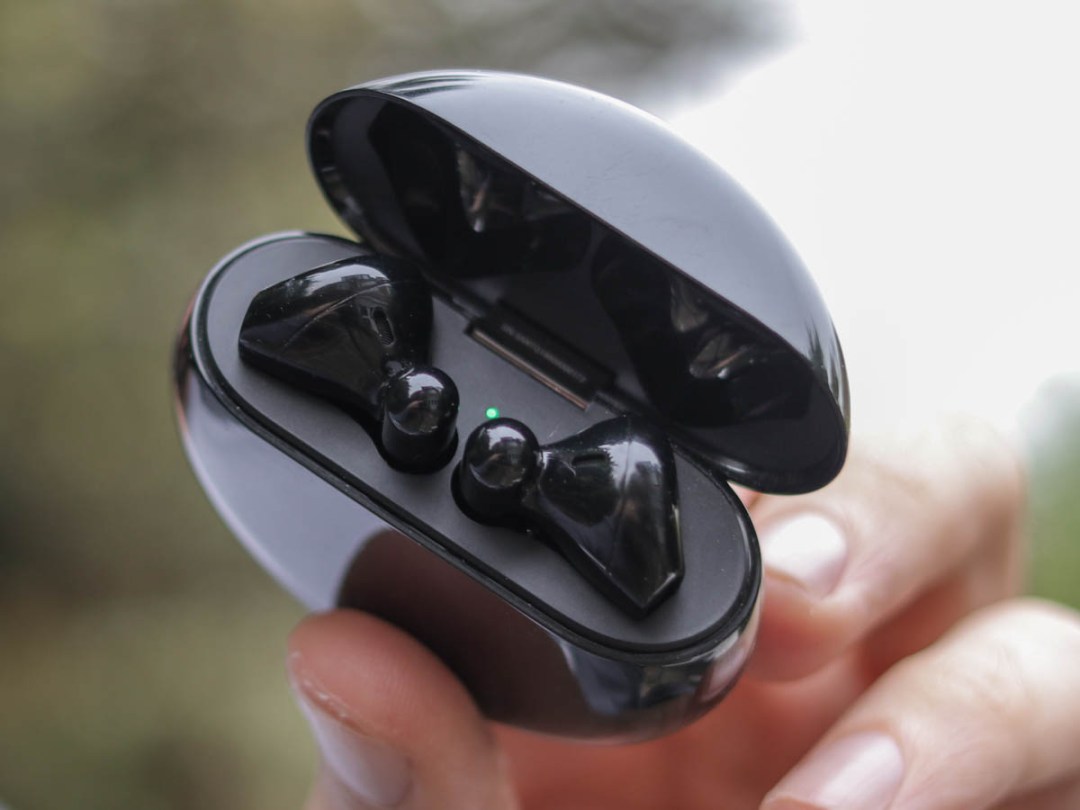 The FreeBud 3's case looks pretty unique – think Babybel but black or white instead. With fast charge tech, Huawei's buds power up twice as fast as the AirPods 2, with a charging time of 30 mins. When full, they deliver four hours of playback time, though this time drops if noise-cancelling is fired up.
The case doesn't just resemble your favourite cheesy snack – it also charges up your buds, delivering 20 hours of playback. While we weren't blown away by the battery life of the buds themselves, with their dinky cells dying after a few hours of films on a flight, we were more impressed with the case, which we hardly ever had to charge.
Interface: Why no iOS?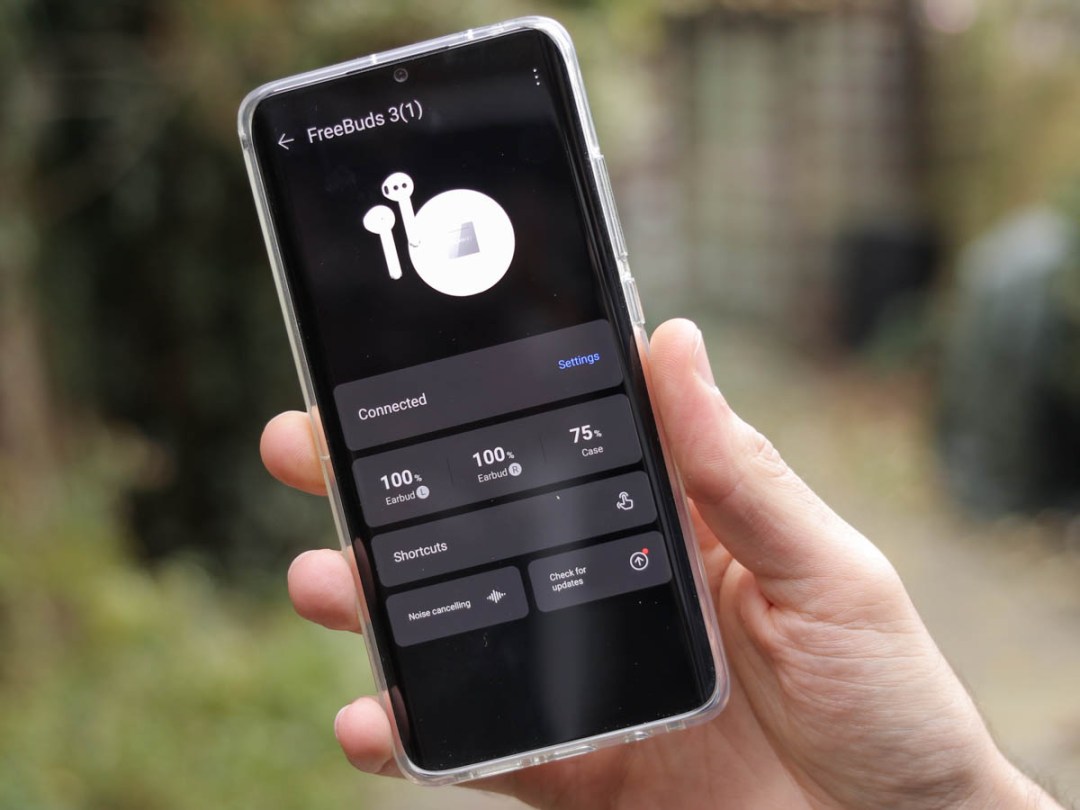 It's possible to use the FreeBud 3s without Huawei's AI Life app, which is only available on the Google Play Store, not Apple's App Store: just treat them like traditional Bluetooth buds, fire up pairing mode and you're done.
While that means they're technically compatible with iPhones, there are some deal-breaking caveats. You need the app to customise the left and right touch controls, tune the noise-cancelling to match your current environment (an essential part of the experience), check case and bud battery status and update your FreeBuds with new firmware.
These are more than just nice-to-have features, so if you're living in an iOS ecosystem, don't buy the FreeBuds. For Android users, however, the novelty and experience of open-fit noise cancelling is both cool and useful, especially for frequent travellers who don't like jamming silicone squishy bits into their ears.
Huawei FreeBuds 3 verdict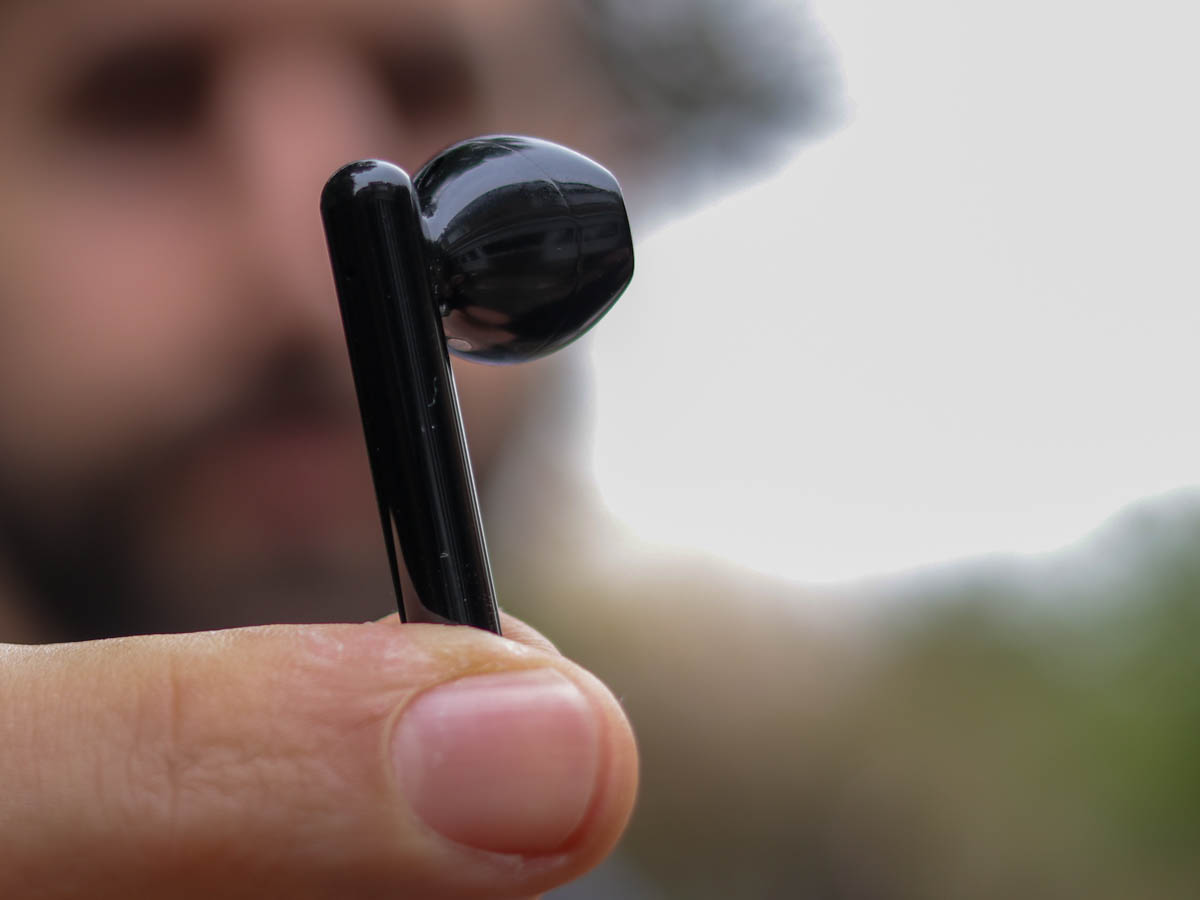 At £169, the FreeBuds aren't cheap, but they undercut the AirPod Pros (£249) and the Sony WF-1000XM3s (£219), the two most popular ANC bud options around. The FreeBuds also offer more for Android users than the similarly priced AirPod 2s (£159), which lack ANC.
Snugger in-ears sound better when it comes to sound quality, isolation and noise-cancelling. Due to their open fit, though, the FreeBuds are less intrusive while still delivering clear sound, very good microphones and a great fit that stayed put whether we were walking or working out.
If you don't fancy jamming squishy buds into your ears but still want a bit of help drowning out the drone of your morning commute, provided you have an Android phone, the FreeBud 3s are the only way to go.
Stuff Says…
Innovative noise-cancelling buds for Android owners, but steer clear if you're on iOS
Good Stuff
Stable connection
Stays put even when exercising
Fast charging
Bad Stuff
Sound doesn't best in-ear buds
Middling bass
No iOS app