Huawei FreeBuds Pro review
Huawei's smartest and best performing flagship earphones to date
When Huawei launched its FreeBuds line of earphones back in 2018, they didn't exactly turn heads. They looked like everything else on the market at the time, with no standout features and mediocre battery life.
But, like most things Huawei does, the earphones series got better over time. Two years later when the FreeBuds 3 hit the shelves, Huawei's flagship wireless buds began to prove themselves, being the first set of true wireless earbuds to sport ANC alongside an open-ear fit.
Now, in its fifth iteration after the Lite that feels like they were released just a second ago, the FreeBuds Pro are Huawei's latest in-ear cans and by 'eck they've been given quite the upgrade. They're now packed with a host of fancy sensors to give you an audio experience like no other. But are they really worth the near-200 quid asking price? Well, that's what we're here to find out. Innit.
DESIGN: CUBIC PAIR
With a new "cubic" design, Huawei's FreeBuds Pro earphones look nothing like the firm's other wireless buds. Still, in the grand scheme of things the design isn't that refreshing. They do look suspiciously similar to Apple's Airpods Pro, just with a more boxy design.
Copycat name-calling aside, the FreeBuds Pro are exceptionally comfortable. The soft silicone earbud tips and curved oval-shape of the speaker grilles, which sit nicely within the ear's concha (yes we had to Google that), ensure that they not only stay put in your lugs but can be worn comfortably for long periods with zero issues or irritability.
We are also very happy Huawei ditched the open-ear fit as found on the FreeBuds 3. Those buds just loved to fly out of your ears at any given opportunity – especially when cycling (Grr!). Now, the FreeBuds Pro even come with different sized silicone tips to fit different ears. The cool thing here, though, is that Huawei has taken this one step further by adding a clever AI feature that uses sensors to test for sound leakage and tell you if you're using a bud that isn't quite best suited for your ear size. It will then advise a tip size to get you the best performance.
Traditionally, Huawei has released its wireless earphones in bog standard black and white colour options. This time round, perhaps to celebrate the distinctiveness of these new buds, the firm is offering the FreeBuds Pro in an additional "silver frost" colour, which is essentially a dark chrome-like finish. As you can see, these are the ones we were sent by Huawei for our review.
While it's nothing that remarkable, the finish is a bit different to most wireless buds on the market these days, making for a nice change. Despite having a metallic aesthetic, they're really lightweight, too. While this only adds to the comfort, it does make the buds feel a bit cheaper than they look. And while the FreeBuds Pro's cube-y and chrome-y design is unique, it's not always practical. Slotting them in and out of the charging case, for instance, is a tad fiddly due to their "cubic" shape.
PERFORMANCE AND SOUND: so many sensors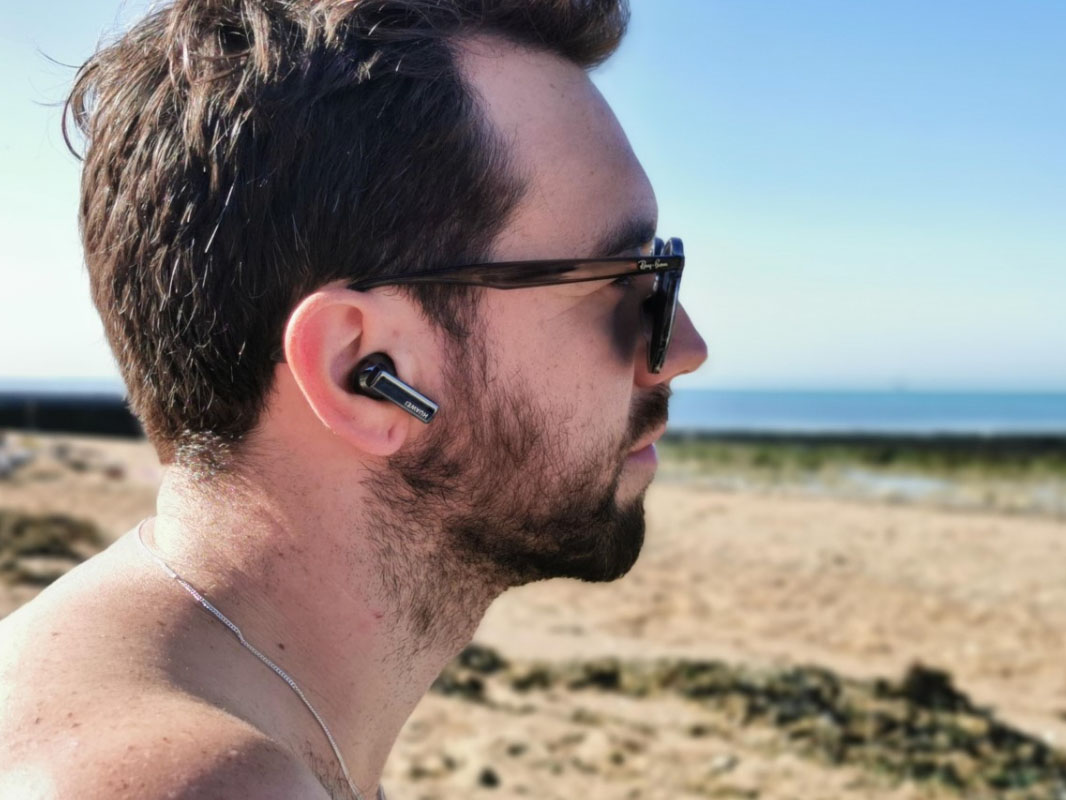 As mentioned earlier, Huawei has packed the FreeBuds Pro with a bunch of innovative sensors and such to ensure users get the most out of them. But first, let's talk about sound. Driven by two 11mm drivers for ultra large amplitude and much better audio quality, the FreeBuds Pro sound nice and crisp, with juicy mids and bass that doesn't lack that dynamic edge we're always looking for in earphones. There's also a great level of detail in vocal representation; it really stands out from the background audio without feeling separate to it.
Another feature that really accentuates this excellent audio quality is the 40db active noise cancellation (ANC). Huawei has done an incredible job here with the FreeBuds Pro. ANC is top notch; it blocks out external sounds impressively well but can also be cleverly adjusted within the companion app (strangely called AI Life) on your phone to a choice of different levels: Ultra, General, Cosy, and Dynamic.
However, you don't need to constantly adjust this yourself. This tech is powered by two highly-sensitive dual HD mics – one on the outside and one on the inside – alongside some machine learning algorithms to understand what you're hearing and what's going on around you, cleverly adjusting the level of ANC fed to your ears accordingly.
For example, if you're on a plane it will detect the loud sounds of the roaring engines and automatically turn the dial all the way up to Ultra mode. We love this feature and day-to-day it works effortlessly well.
On the other end of the spectrum is Awareness mode, which enhances the sounds of your external environment allowing you to listen clearly to specific sounds, such as when you're ordering something at a busy cafe. This is backed up by some nifty voice enhancement tech, which you can select to enhance and clarify the voices of anyone bold enough to try speaking at you (the horror) when you've clearly got your ears full with Spotify tunes.
Yet another great new feature is the built-in mechanical audio stabilisation. Acting as a sensor so that the audio driver is still available if any vibrations are detected during use, this is ideal if you're doing exercise, or perhaps more fittingly, dancing around like a lunatic while listening to your ABBA: Best Of playlist.
The one and only thing that we really don't like about the FreeBuds Pro is that Huawei has switched out the tap controls found on previous versions to a "pinch" gesture. So, instead of simply tapping the side of the right bud to skip tracks, you now have to pinch the boxy earphone's leg. It just feels so awkward. The newly-added slide-up and slide-down volume control is cool, though and works well.
Before we move onto battery life, let's talk about call quality. We were pleasantly surprised at just how good the FreeBuds Pro sound when on a call. Voices are crystal clear and this is likely thanks to Huawei's upgraded uplink audio feature, which it says is for better for understanding people on the blower. This also brings with it an anti-wind feature. Using the in-built microphones, the FreeBuds Pro will listen to external wind sounds and remove the noise from your voice when on a call.
BATTERY LIFE: IMPRESSIVELY LENGTHY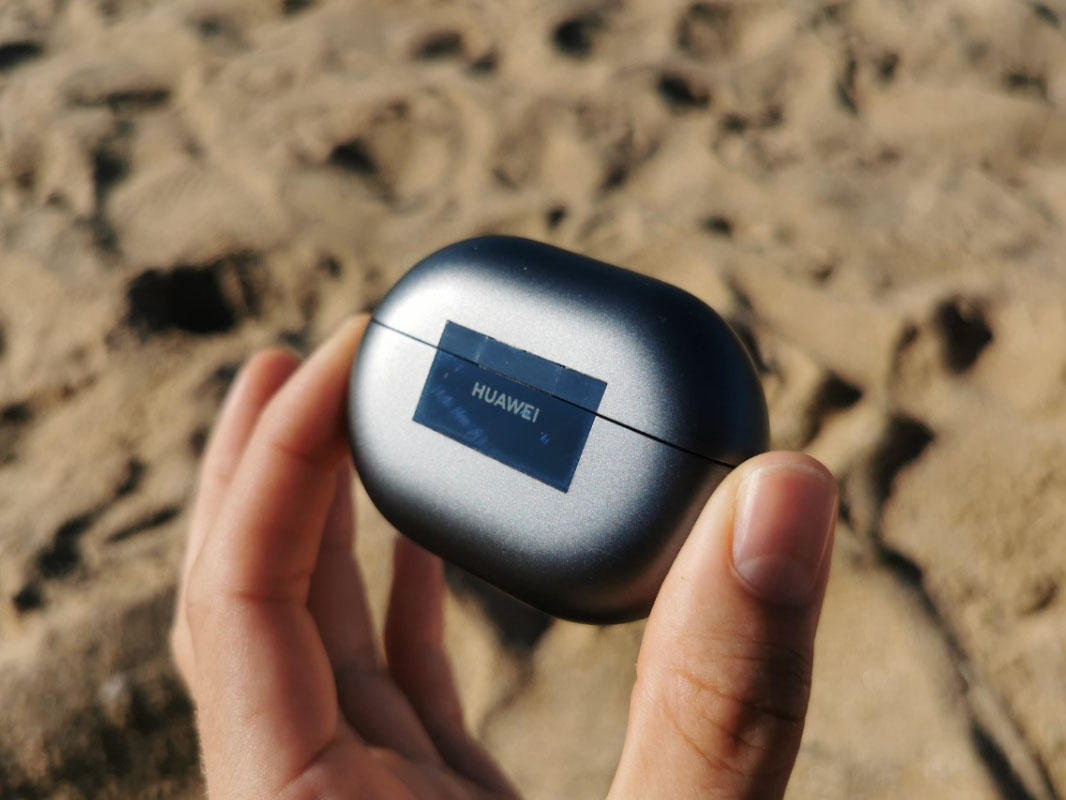 The FreeBuds Pro are quoted as having up to 30 hours battery life between charges including the power you get from the case. In our experience, this is more or less correct, but completely depends on the volume you have them set to during use, how many calls you're doing with them per day and the level of noise-cancellation you have selected.
Once they've been ejected from their snazzy case, though, we found that you can expect around six hours or so of continuous use with them at full volume and with noise-cancelling on full whack, before having to (awkwardly) place them back inside for charging.
When it comes to bringing them back to life, the FreeBuds Pro charge super fast, going from zero to 100% in around 20 minutes. They also support Qi wireless charging, so re-juicing them is not only fast but also extremely easy, especially if you've got a wireless charging pad you can just chuck them onto when you get home.
Huawei FreeBuds Pro verdict
Huawei's latest FreeBuds are, quite frankly, a dream to use. They're comfortable and lightweight, they look good and noise-cancellation works amazingly well. They're difficult to fault – especially considering the lengthy battery life. The only downside are the fiddly touch gestures. "Squeezing " in order to skip or pause a song is awkward and not always recognised by the buds. But other than that, these jazzy earphones have hit a home run
At £170 they're obviously not cheap, but they're a lot less expensive than Apple's AirPods Pro, and they're just as good – if not better – in our opinion.
Basically, if you're looking for a good quality pair of wireless buds that tick all the boxes, you won't be disappointed with the FreeBuds Pro.
Stuff Says…
A dreamy pair of wireless buds that not only look the part but boast some impressive noise-cancellation and a decent battery life – all at a competitive price tag
Good Stuff
Sexy design
Excellent noise cancellation
Comfortable and secure fit
Good battery life
Reliable and performance
Bad Stuff
Gesture control is fiddly
Don't slide in and out of case easily