Huawei Mate 9 review
The bigger the better?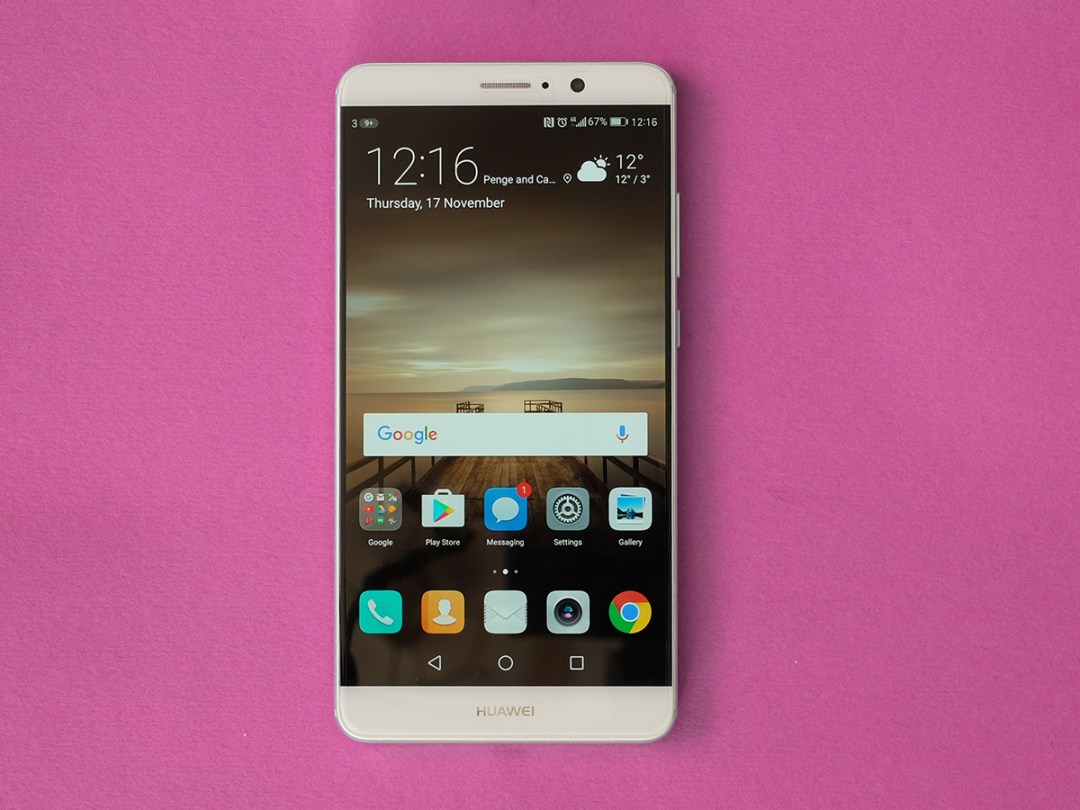 For a while, phones with ultra-giant screens were about as fashionable as stonewashed flares.
Now, though, Huawei seems to think they're the next skinny jeans. Or leatherette leggings. Or whatever Grazia says is fashionable these days.
The Mate 9 is a flat-out huge phone, with a 5.9in screen. Don't start unpicking the seams in your pockets just yet, though.
Thanks to a smart design it's only 1mm wider than the 5.5in iPhone 7 Plus. It's big, sure, but makes Apple's giant phone look like a design dinosaur.
If a big screen is number one on your priorities list, the Mate 9 deserves serious consideration. Even if it does cost a packet at £630.
FINE LINES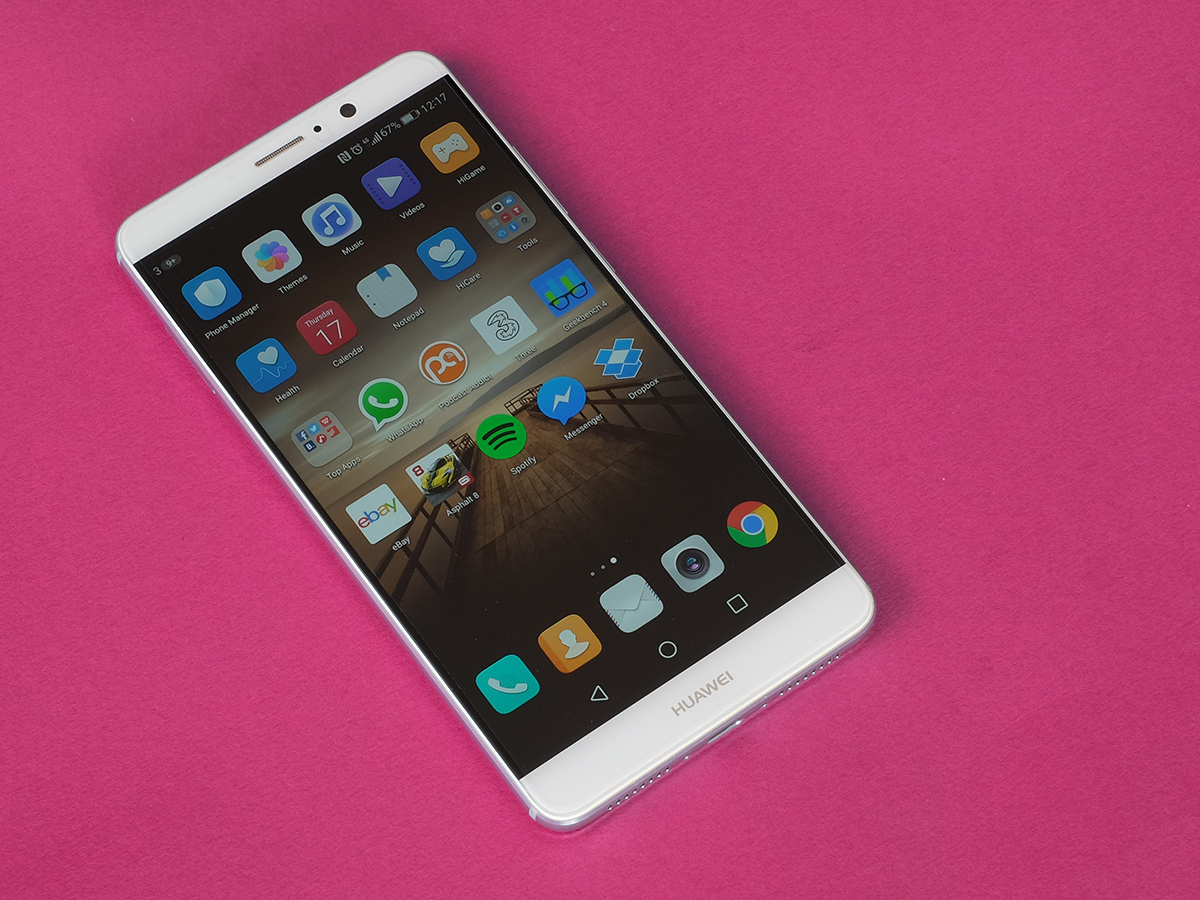 Turn the Mate 9 on and you'll immediately notice the screen.
It's not the size that'll make your eyes open wide, but just how much it dominates the front of the phone. There's only a wafer thin bit of surround to each side, and even the top and bottom are slender.
Huawei is out to prove phones with giant screens don't need to be a laughing stock: mission success.
Let's not go overboard, though. If you hate big phones, you're not going to like the Mate 9. Obviously.
This is among the prettier phones Huawei has made, too, with a slim aluminium body and a slight curve that looks and feels as premium as it gets.
It doesn't set any wider, drop-dead-gorgeous design standards, though. The very top and bottom bits of the back are plastic, for example.
Huawei itself has even shown the Mate 9 up, with the ridiculously expensive Porsche Design edition, complete with curved glass front for a look less ordinary.
Build quality is still fab on the standard phone, so only the style-obsessed need worry.
NERD'S CORNER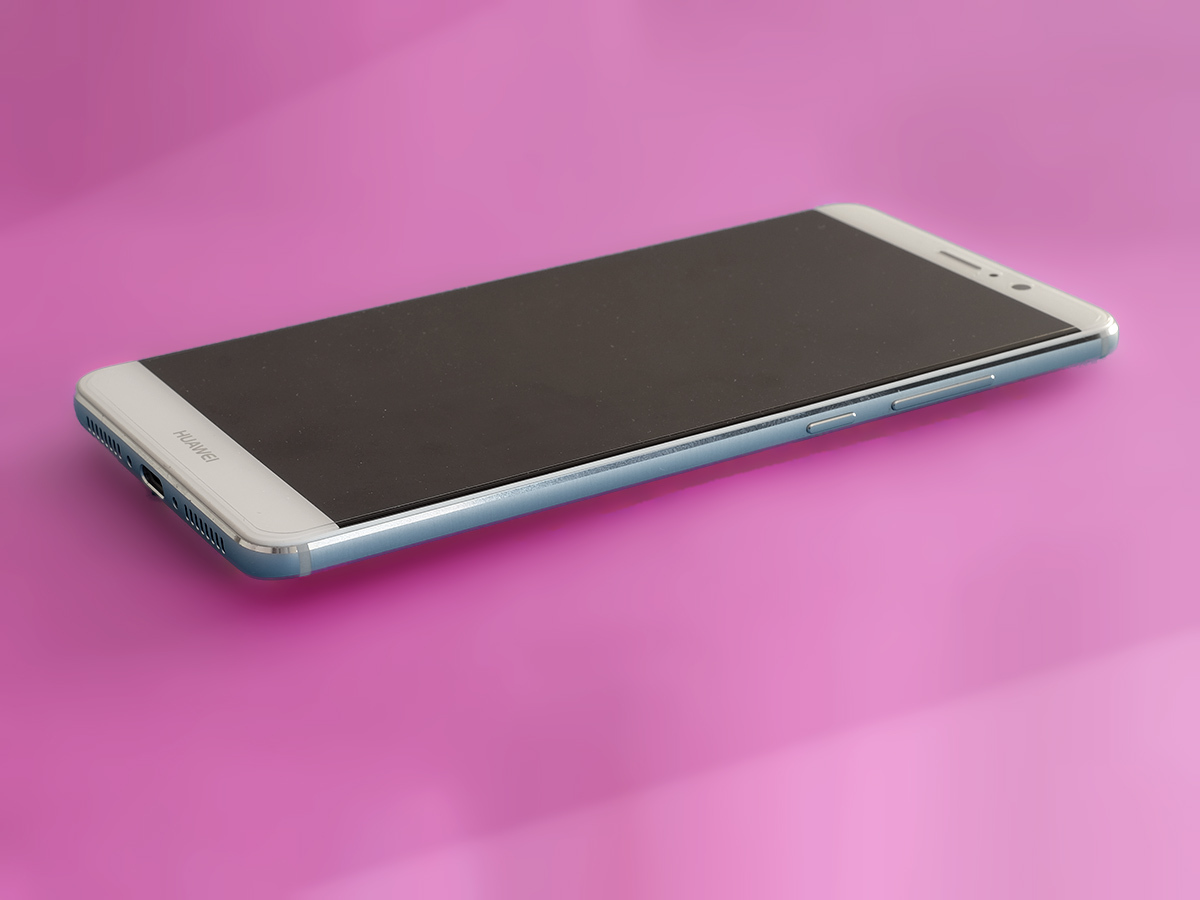 Like Samsung's Note phones, the Mate range has a real nerd-pleaser edge. No problem with that.
If you need proof, there's 64GB storage plus a microSD card slot, and an IR blaster on the top edge to turn the Mate 9 into a universal remote control.
These used to regularly show up on higher-end phones, but it's now one of the rarest phone features in the known universe. Given how many dedicated universal remotes end up gathering dust in drawers, it's no wonder most phone-makers leave an IR blaster out, but it's still a neat extra.
Like other high-end Huawei phones, the Mate 9 has a finger scanner on the back and it's a perfect fit for a device this big. It fits right under your index finger, is dead quick, and can be used for more than just unlocking the phone and the odd password leapfrog. Dive into the Settings menu and you can make a swipe open up your notifications, to silence alarms and even answer calls.
There's just one missing bit: water resistance. We've not tested for any secret squirrel water-proofing, but with no sly rubber seals anywhere, we suggest you don't either.
Do you really need six inches?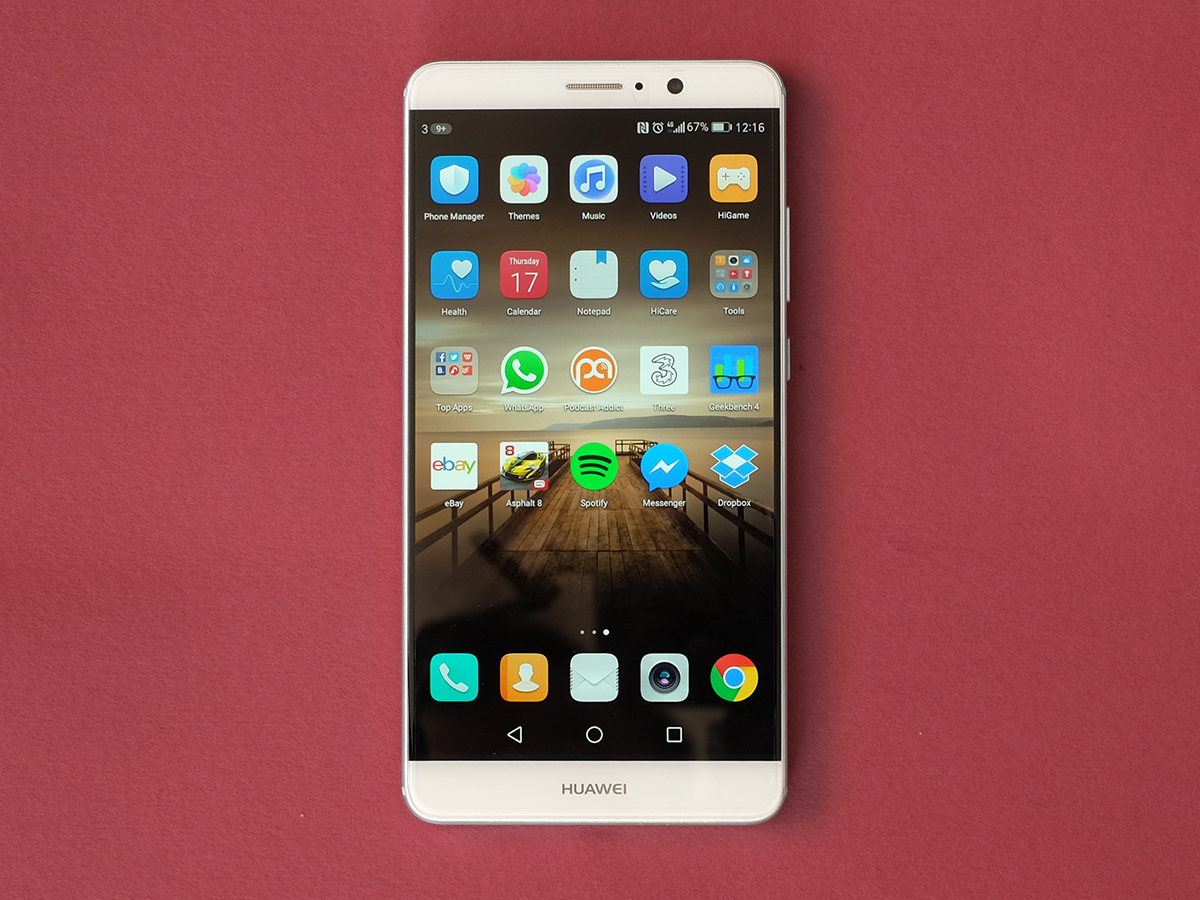 Aside from its size, the Mate 9's 1080p resolution doesn't sound like a world-beating display – not when there are phones with QHD OLED screens for the same price.
Still, it comes across well in person.
It looks a lot sharper than a 1080p Samsung OLED would at this size, with almost no sense we're dealing with a screen that's low on pixels. Teeny tiny text looks a tiny bit softer than it would on a QHD screen, but there's not that much in it.
Colours and rich and deep, with the slight over-saturation that has been flavour of the month for pretty much the entire year. Contrast is great and peak brightness is excellent. Brightness does take a dip at an angle, but this is standard for an IPS LCD.
There is a stinger, one that (rare for a Mate phone) may upset the geek contingent. This screen isn't that well-suited to VR, despite being massive.
You need an OLED screen to avoid that awful seasick feeling virtual reality can cause, and more pixels wouldn't go amiss either. This ain't a Google Daydream VR-certified phone.
It is hard to beat for watching Netflix, though, and we imagine that'd be more useful for 99.5 per cent of people anyway. Like other Huawei phones, you can fiddle with the Mate 9's colour temperature and there's an eyeball-saving night mode that warms up the screen until sunrise.
A SLY SPEAKER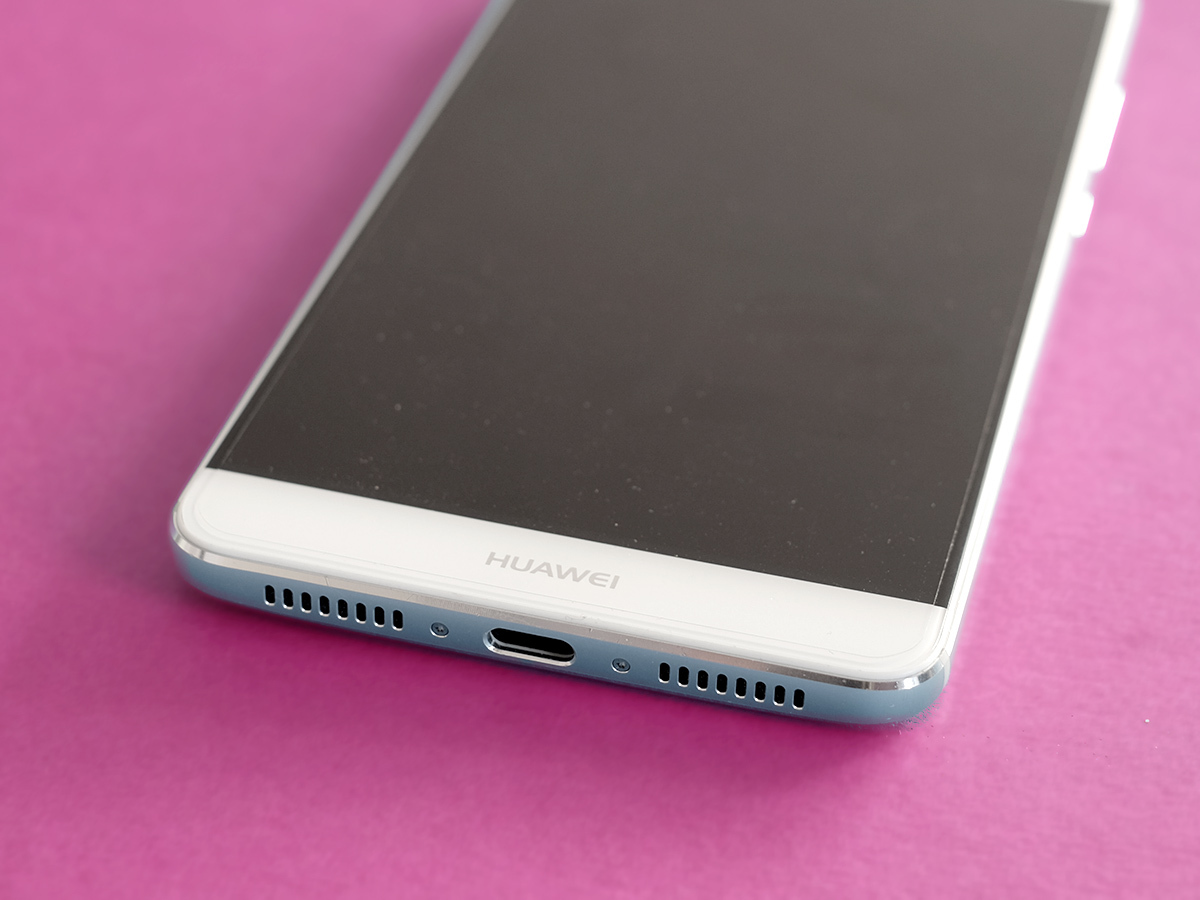 The Mate 9 has the sound to back up its image, but only just. While the main driver sits on the bottom edge, the earpiece speaker also pumps out of a bit of treble to get rid of the sense the sound is only coming from one side of the phone.
It also goes reasonably loud. However, the sound is a little thin for a phone this big, meaning it tends to turn harsh at max volume and isn't as good at competing with ambient noise.
The Mate 9 is also one of those annoying phones that makes it look like there are two speakers on the bottom when there's only actually one. That left grille is just there for the look. This is one fight the Samsung Galaxy S7 Edge and iPhone 7 Plus win.
WASTED INCHES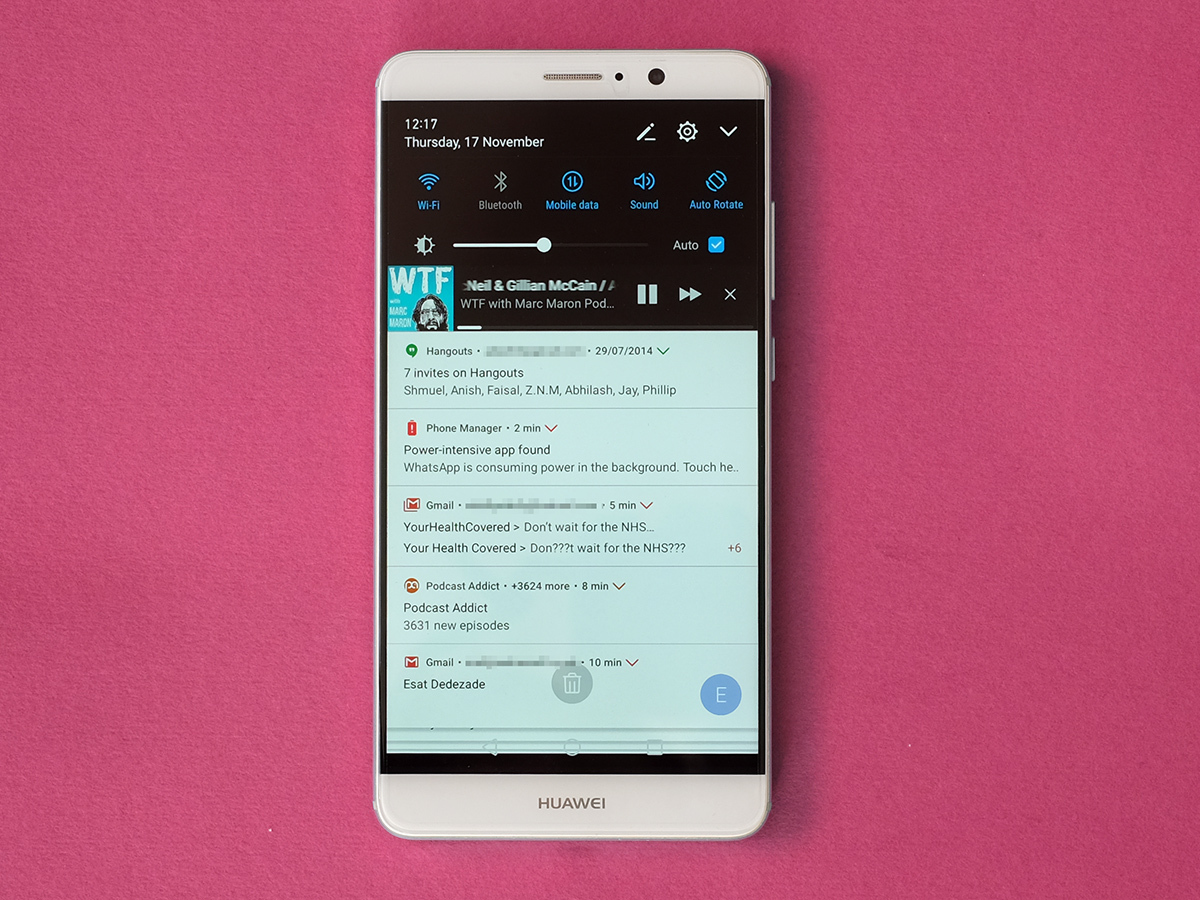 Huawei hasn't exactly done a lot with all that spare screen space.
The Mate 9's Emotion UI only lets you stack five columns of icons on your home screens, just like other Huawei phones. Until we shrunk the system font, the interface looked a bit like a particularly advanced Fisher Price toy.
As ever, not everyone is going to like Huawei's take on Android, which dumps the apps drawer for an Apple-like homescreen. That means fiddling with where apps sit, and arranging them into folders if you're a bit of an app fiend.
Underneath that thick layer of Huawei gloss sits the latest version of Android, meaning you get the new more complicated notifications system and full-fat multitasking.
If there's a phone primed for using two apps at once, this is it.
2017-grade power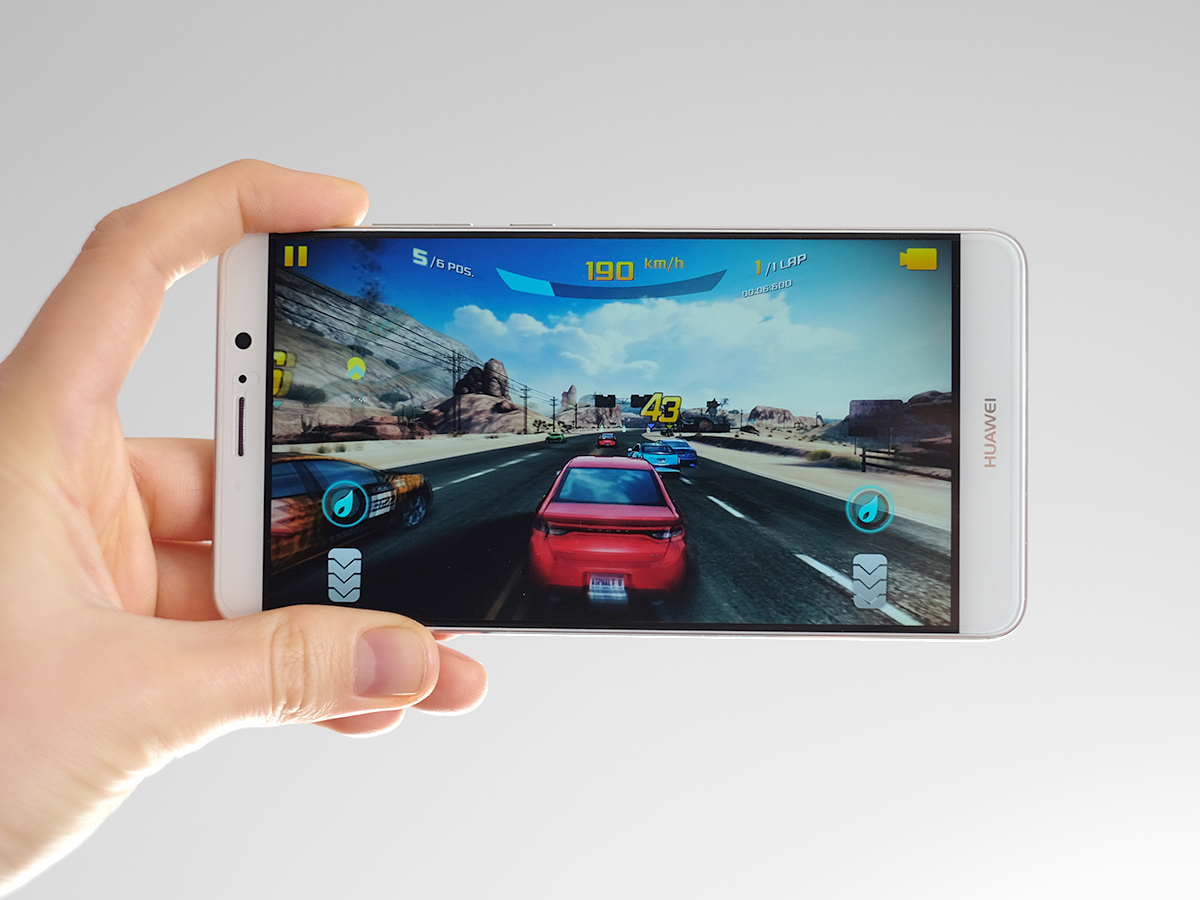 Most 1080p phones get by perfectly well with a lot, lot less than the top-notch hardware packed inside the Mate 9.
The Kirin 960 CPU has four Cortex-A73 cores and another four low-power Cortex-A53s. This is a cutting-edge chip, if one that goes in for the 'loads of cores' antics that went out of fashion a bit in 2016.
In Geekbench 4 it scores a mammoth 5905 points, flattening rival Snapdragon 820 devices including the arch-rival Samsung Galaxy S7 Edge. The GPU is a Mali-G71, which some people have tipped as a potential gaming engine for the Galaxy S8.
If phones were dogs, this would be one of those big scary ones can run at about 70 miles an hour and chew legs off in 10 seconds flat.
Let's be honest: you don't need this much power in a 1080p phone, but booting up Asphalt 8, you can notice the difference. The game runs beautifully, with a clearly higher frame rate than most phones.
Of course, for the difference in price between this and, say, a Motorola Moto Z Play, you could almost afford a PS4 Pro. But we'll just leave that there for you to think about.
We also ran into a few teething problem bugs where apps freeze completely, but no deep-rooted stability issues.
massive screen, massive battery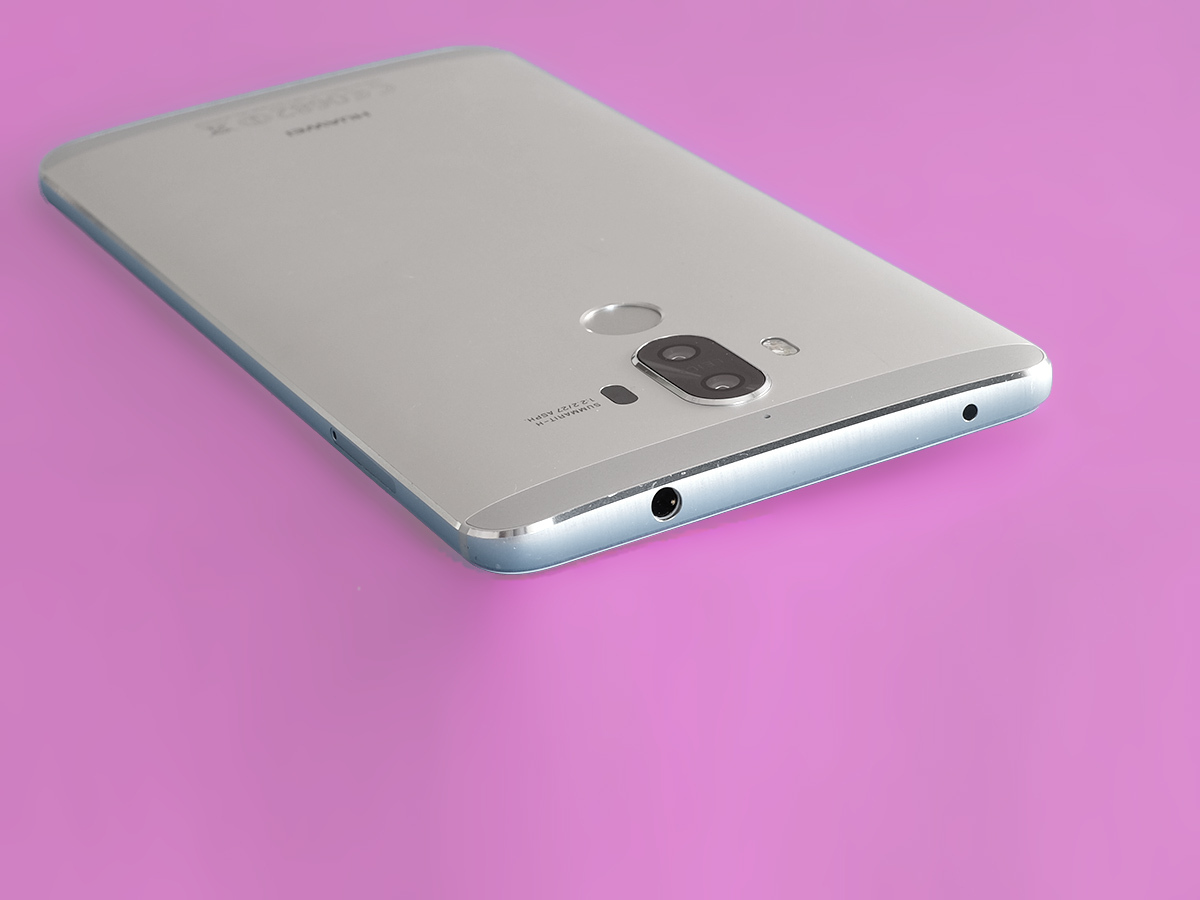 What the Kirin CPU doesn't seem to nail, at least quite as well as some of 2016's other big-name phones, is efficiency. Even with a gargantuan 4000mAh battery, it just doesn't last as long in day-to-day use.
The recently-reviewed Moto Z Play seems to last significantly longer off a full charge.
This phone's stamina is still very, very good, but still manages to drain down most of the way after a day's healthy use. You really have to try hard to kill the Moto Z Play in a day, even though it has a smaller cell.
Keep your expectations realistic: the Mate 9 isn't going to last for two full days if you hammer it with games, loads of browsing and music streaming.
However, you can use it a lot without it conking out before you get to bed. The Snapdragon 820 crowd seems to have the edge for stamina, if not raw performance.
Like almost all top-end phones these days, the Mate 9 has fast charging, and uses the USB-C socket rather than poor old microUSB.
TWO EYES ARE BETTER THAN ONE
The Mate 9 does its best to be the phone that has it all, and you see this in the camera more than anywhere else.
It's a real next-gen take on what Huawei attempted with the P9, combining one colour sensor with another black and white one to improve low-light performance and dynamic range.
Previous attempts ultimately didn't blow our minds, but the Mate 9 adds optical image stabilisation and jacks up the B&W sensor to 20 megapixels in an attempt to give you 2x zoom that doesn't instantly make your shots look scrappy.
With a normal photo, you end up with a 12MP image. Use the 2x zoom, you still get a 12MP image. Magic.
Both cameras have the same zoomed-out field of view, which makes this all seem like the kind of snake oil that'll only be useful for annoyingly slick phone shop salespeople. But, weirdly enough, it really does work.
Take a picture of something with a tight-knit pattern from maybe a metre away at 1x zoom and it looks like mush. At 2x zoom, it's much, much clearer. The Mate 9 has a surprisingly convincing take on a 'fake' 2x optical zoom.
So, how does this work? What seems to happen is that at 1x zoom the 12MP camera is used as the lead eyeball, the 20MP monochrome sensor used to improve image quality a bit. At 2x zoom, the higher-res non-colour sensor must take over, using its colour brother to fill in the shades.
Zoom pics have more evidence of processing noise, but when they also have significantly better fine detail close-up, we'll take the hit.
UTILITY BELT CAMERA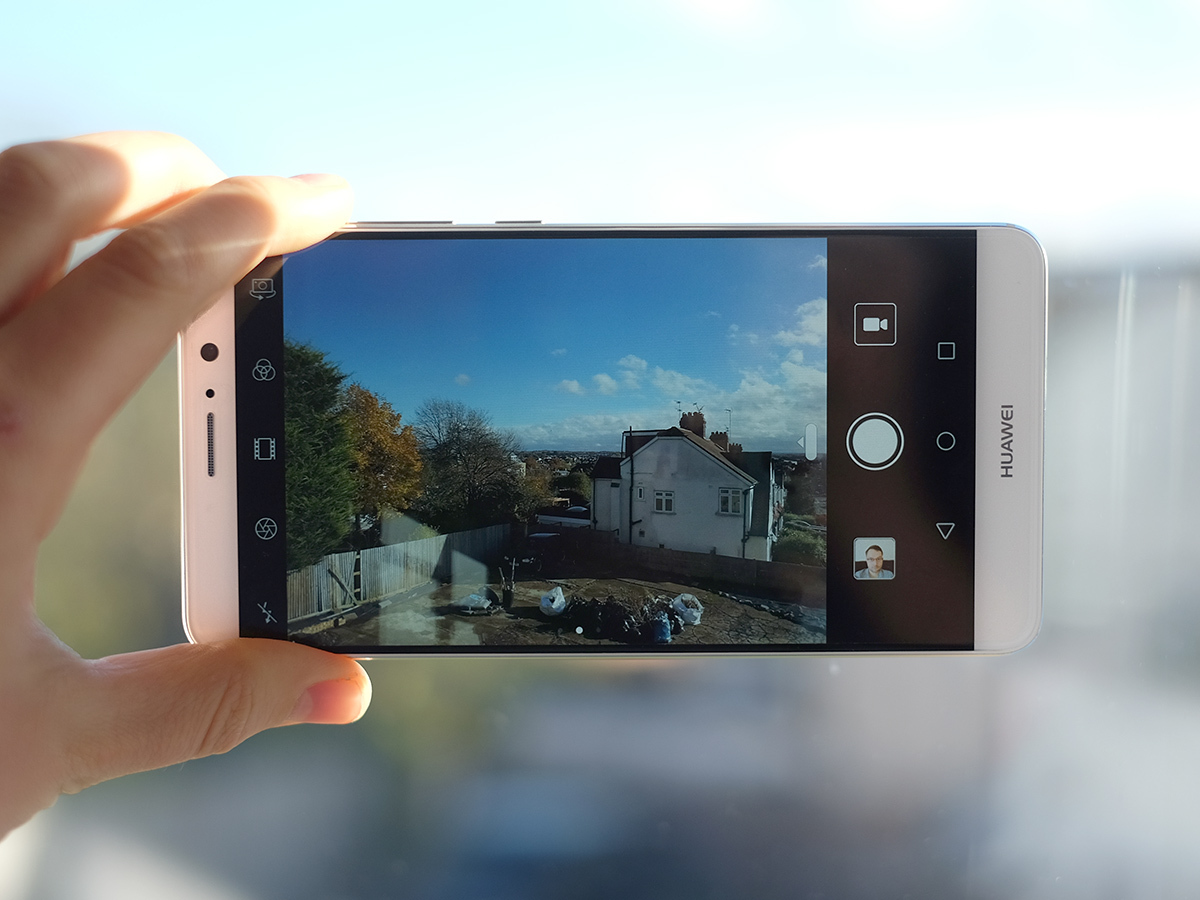 This is just one of several gadgety bits to the Mate 9 camera, too. There's a laser focus aid, phase detection and a very neat take on the shallow depth of field effect that's once again back in fashion.
As ever, it's nowhere near as good as the results you'd get from a proper wide aperture camera lens, but the great thing is you don't have to be X distance from your subject for it to work. Use it in almost any scene and the Mate 9 has a crack at blurring out the background (or foreground).
It's a bit like a smarter instagram-style filter, and can at times rival the iPhone 7 Plus's portrait blur mode. You can also fiddle with the virtual aperture to tweak the extent of the effect. Don't eBay your fancy DSLR just yet, but it's fun to use and with the right scene looks dead arty.
There's also a vivid colour mode to give your shots some extra share-worthy punch.
Forgetting all the fluff for a moment, one of the best bits of the Mate 9's camera is that it's great at simply juggling settings to ensure your photos look right.
OIS both stops your photos looking blurry when your hands aren't perfectly still, and makes taking photos in very poor conditions possible.
This phone doesn't get as creative as Samsung's best with its settings, but it'll slow the shutter right down to a 1/4 of a second when it needs to. That's the camera equivalent of limbo'ing under a coffee table.
The Huawei Mate 9 has a seriously versatile camera, particularly compared with Huawei's recent efforts. It's up there with the best, although some rivals have cleaner-looking processing.
The Mate 9 is happy to leave in some grain, although it's nothing like the ugly stuff you see in the Sony Xperia XZ's shots. We'd also take the Samsung Galaxy S7 Edge over this for night shooting, with superior processing and a faster lens giving it the edge. No pun intended.
This low noise reduction style is more obvious in the selfie camera if anything, The front camera captures loads of detail, but there tends to be a decent amount of noise when you zoom right in. There's the classic Huawei mode that'll aggressively smooth your face out if you're feeling a bit craggy, although it does tend to make you look a bit, well, weird too.
Huawei Mate 9 verdict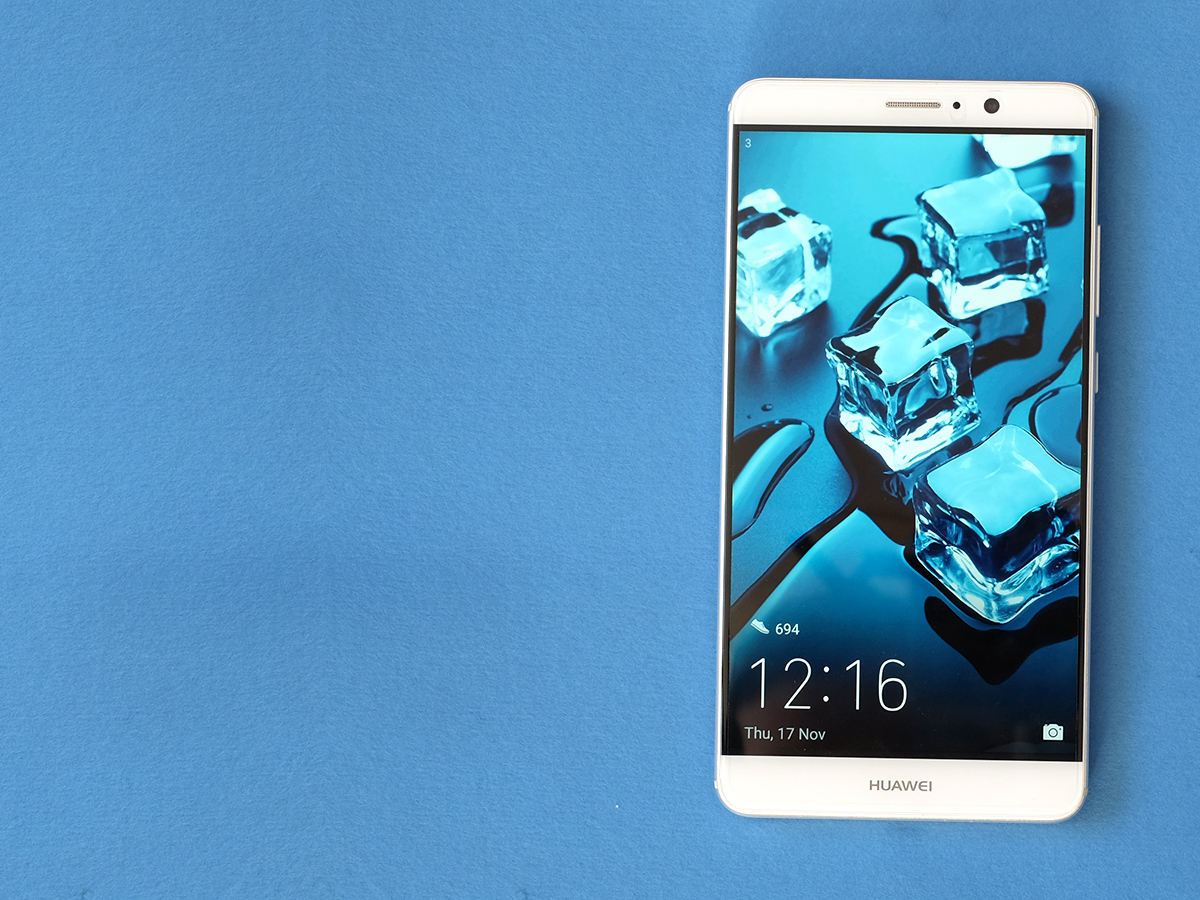 A Mate phone won't be for everyone, but surely just about everyone will have to concede that Huawei has done a fantastic job here.
If Apple made a phone with a screen this big in the image of the iPhone 7 Plus, it'd be the size of a small sled, but the Mate 9 is bizarrely usable.
It also has a fun yet versatile camera, decent battery life, bucketloads of power and a healthy shot at the "Netflix phone of the year" award. If that exists.
A slight lack of design flair, fairly high price and the usual Huawei software quirks keep it off full marks, but if you want a phone that'll keep you entertained on long journeys this mini cinema of a mobile is worth a very close look.
Tech specs
| | |
| --- | --- |
| SCREEN | 5.9in, 1920×1080 IPS LCD |
| CPU | Kirin 960 octa-core |
| MEMORY | 4GB RAM |
| CAMERA | 20MP+12MP rear w/ f/2.2 lens, OIS, laser autofocus & dual-LED flash, 8MP front w/ f/1.9 lens |
| STORAGE | 64GB onboard, microSD card expansion |
| BATTERY | 4000mAh |
| OPERATING SYSTEM | Android 7.0 Nougat w/ Emotion UI |
| DIMENSIONS | 157x79x7.9 mm, 190g |
Stuff Says…
A geek-pleaser Android phone with serious power and huge screen, in a surprisingly manageable body
Good Stuff
Great screen-to-size ratio
Gadget-packed camera
Seriously powerful CPU and GPU
Bad Stuff
Not as striking as some rivals
Battery spec is better than real battery stamina
AAA price