Huawei MateBook 16S review: premium and powerful
A creator-friendly, big-screen machine with plenty of power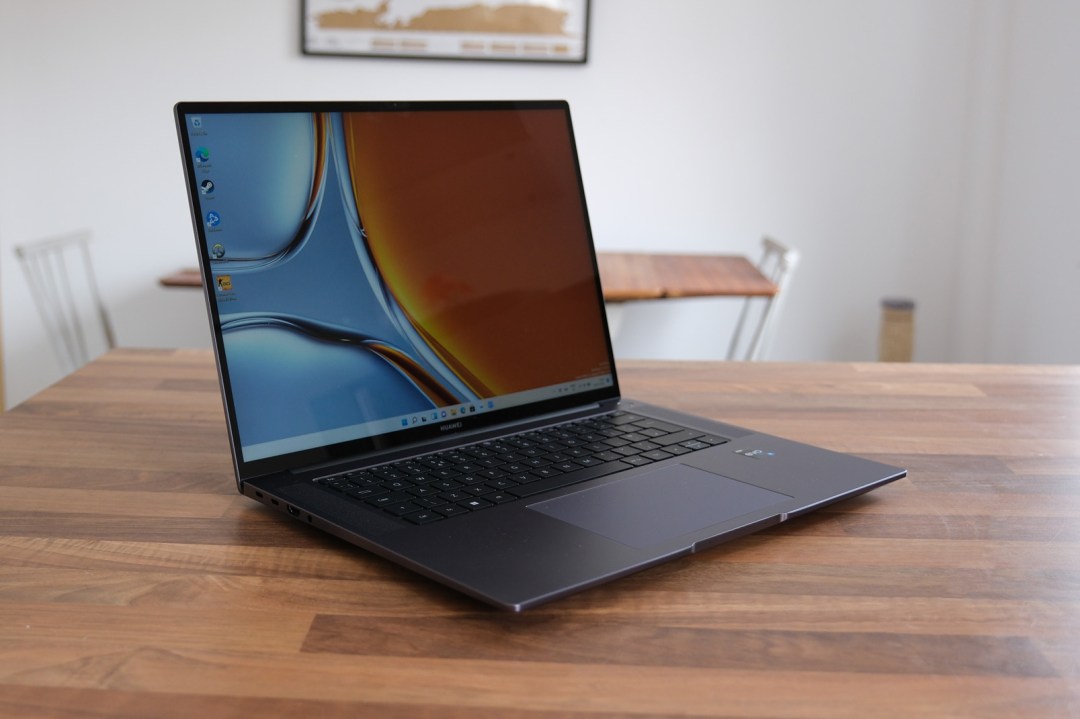 Big screen. Thin and light. Surely when it comes to laptops the two are mutually exclusive? Not so, says Huawei. It reckons the move to hybrid working is driving demand for skinny machines that won't weigh you down when heading to the office, but pack a display large enough not to need an external monitor just to get some serious work done.
The MateBook 16S is the ultimate evolution of that ideal. It's a 16in portable powerhouse that sits towards the top of the firm's laptop line-up. It's aimed at creative pros, with a colour-accurate display and enough performance for demanding jobs – but is also keenly priced to make them think twice about placing that MacBook Pro order.
Huawei MateBook 16S design & build: minimal and metal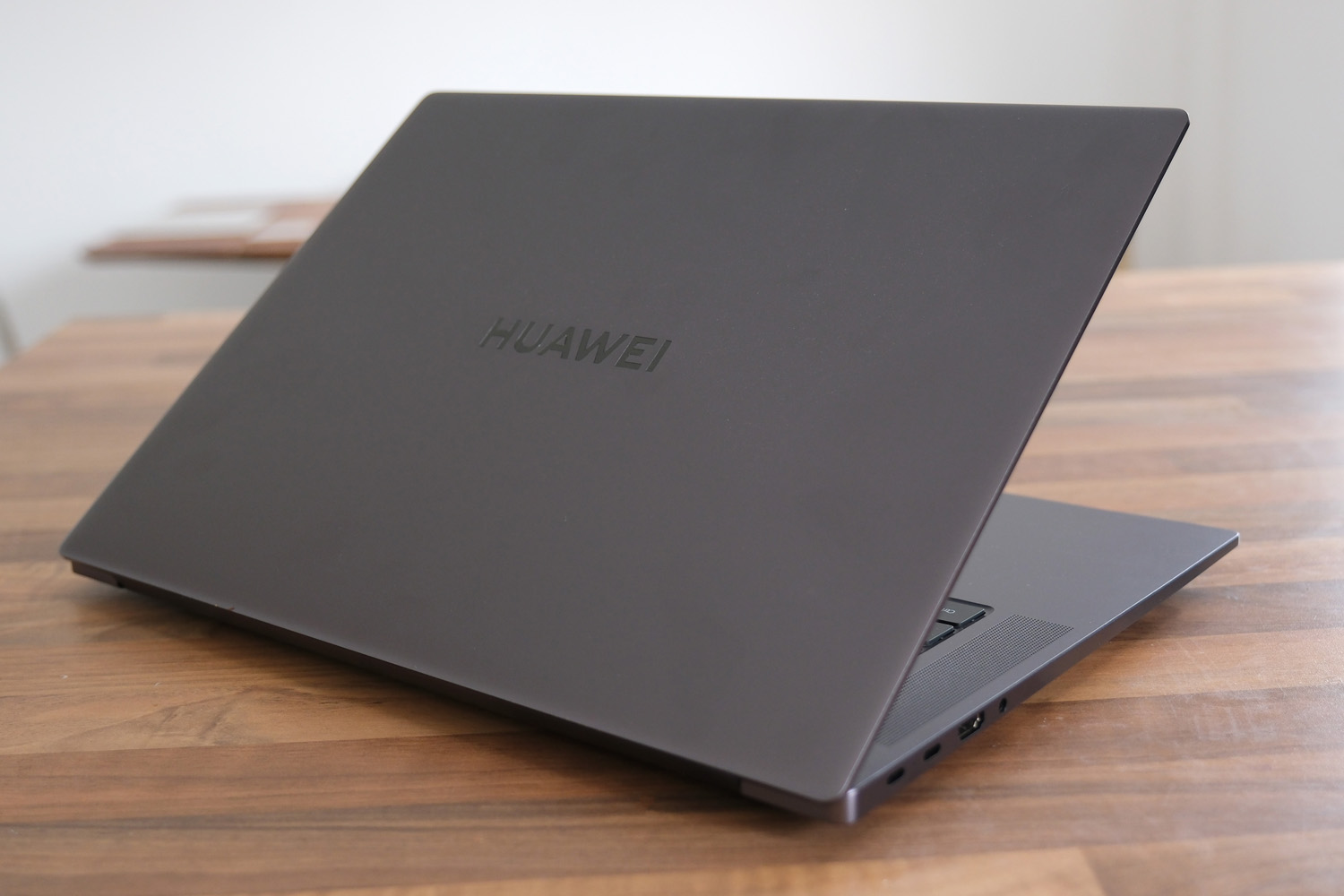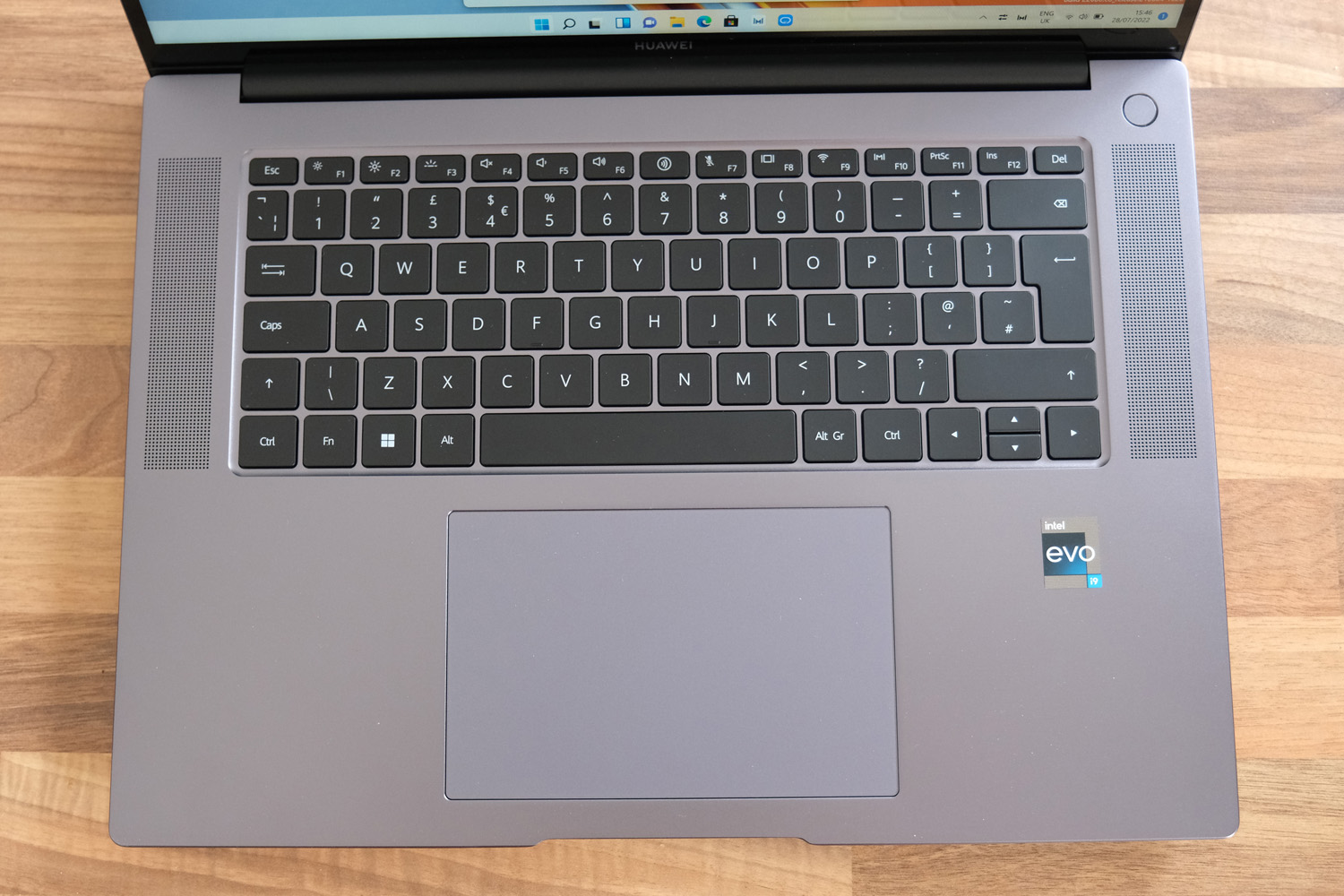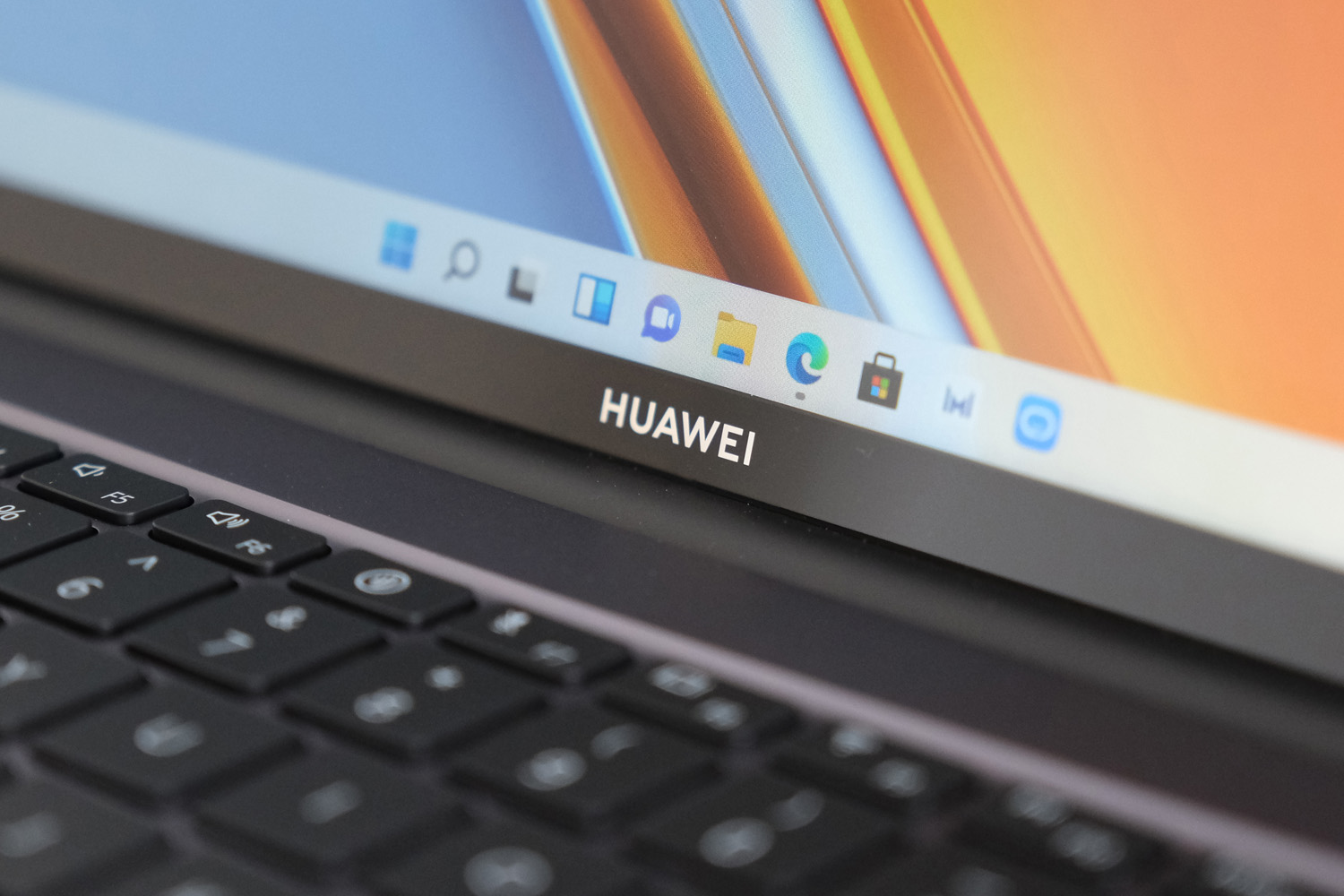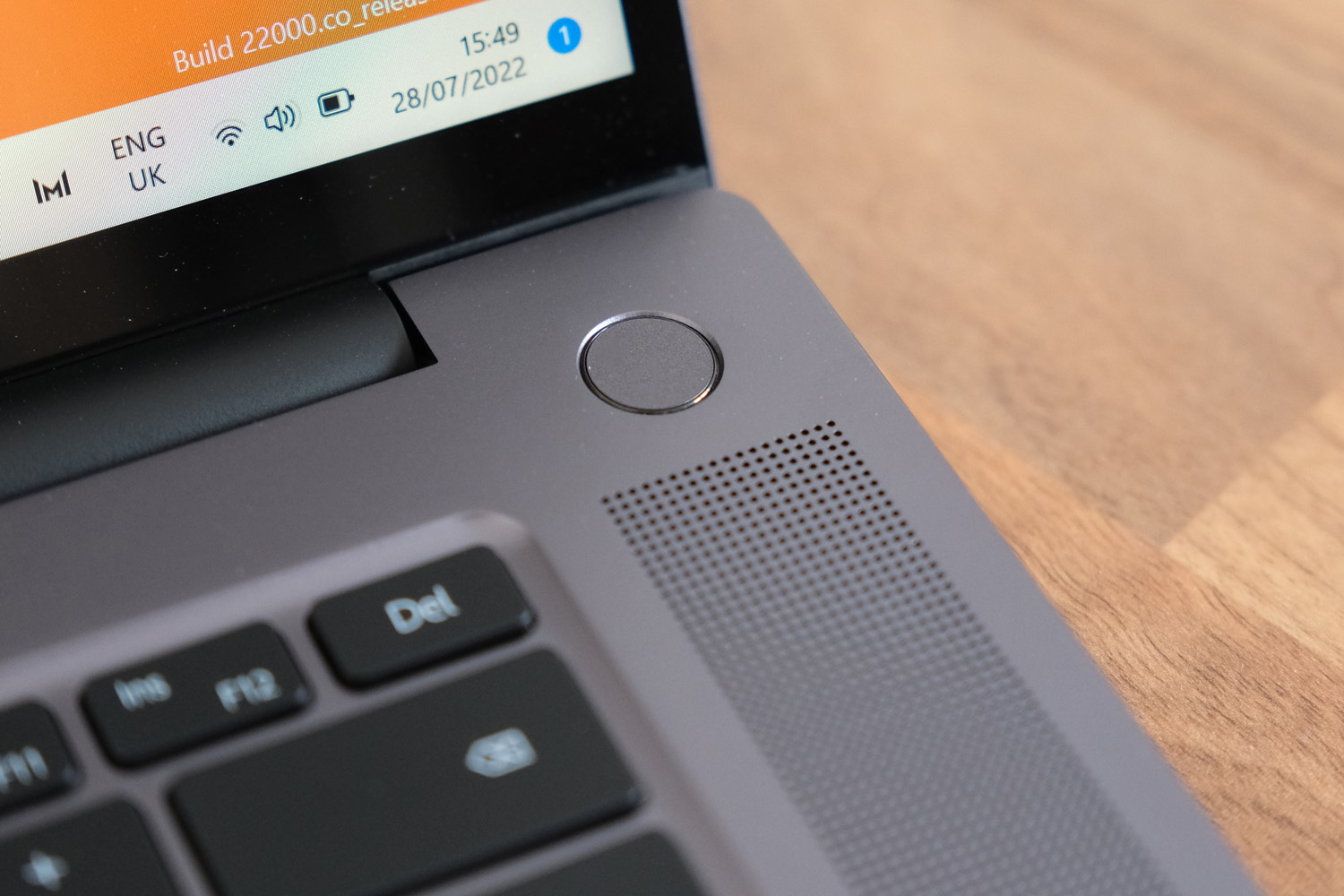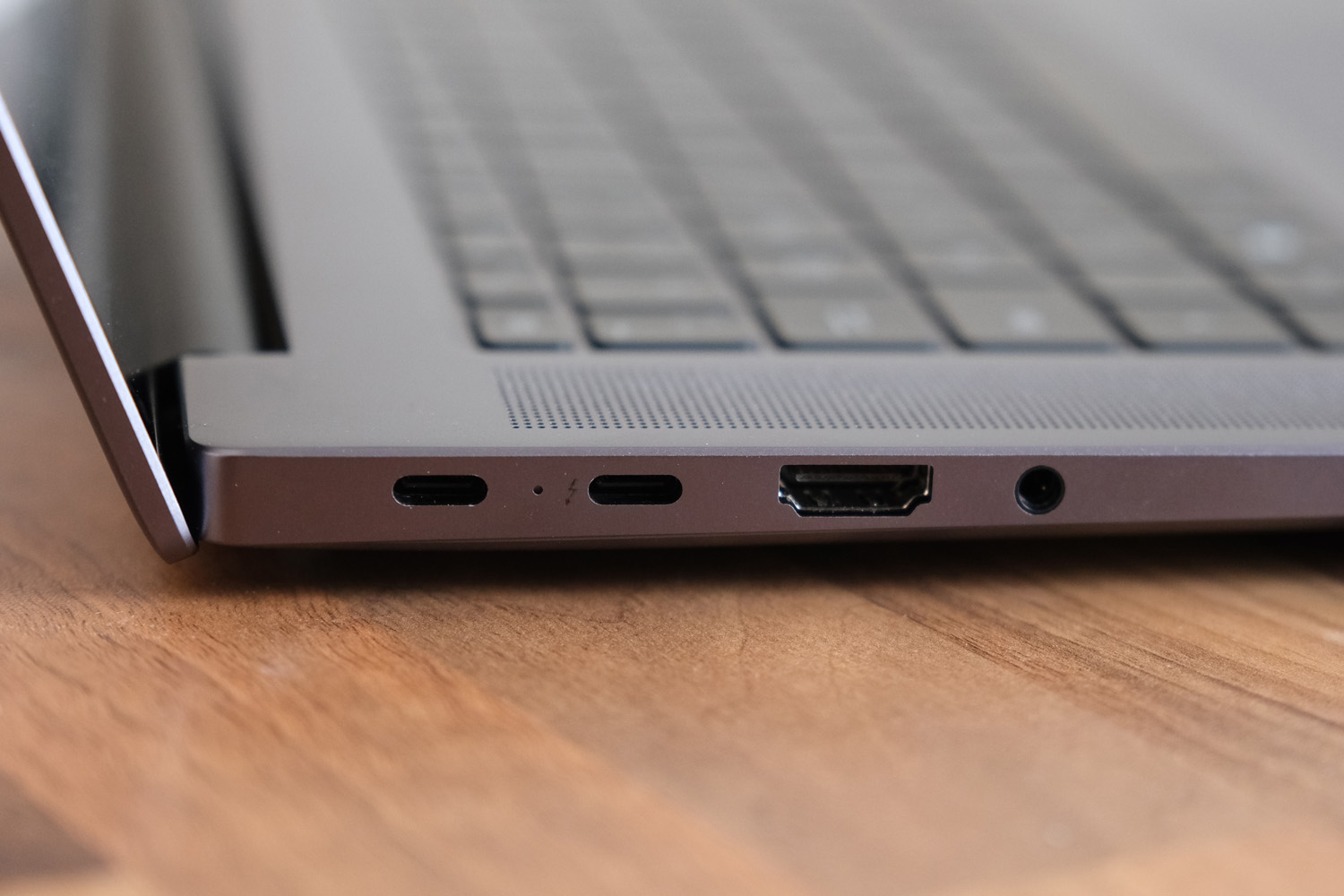 Weighing in at just under 2kg, the MateBook 16S is impressively light for a 16in laptop – at least one with so much power on tap. And that's despite the whole thing being machined from metal, with a ceramic sandblasting process giving it a slightly textured surface. It all looks pretty premium in the firm's now signature Space Gray colour, and at 17.8mm you're not going to struggle to slip it into a laptop bag.
Huawei has managed to fit a decent selection of ports in at the sides, with two USB 3 ports, a 3.5mm audio combo port, HDMI output and twin USB-C ports. Only one of these doubles as a Thunderbolt 4 port for 40Gbps data transfers, but the laptop will happily output to two 4K monitors at once.
We're big fans of the power button/fingerprint sensor combo. It's just as quick as previous Huawei laptops, skipping the Windows 11 login screen in a flash. Which is handy, seeing as the built-in webcam doesn't support Windows Hello facial recognition.
Huawei MateBook 16S keyboard & touchpad: tap happy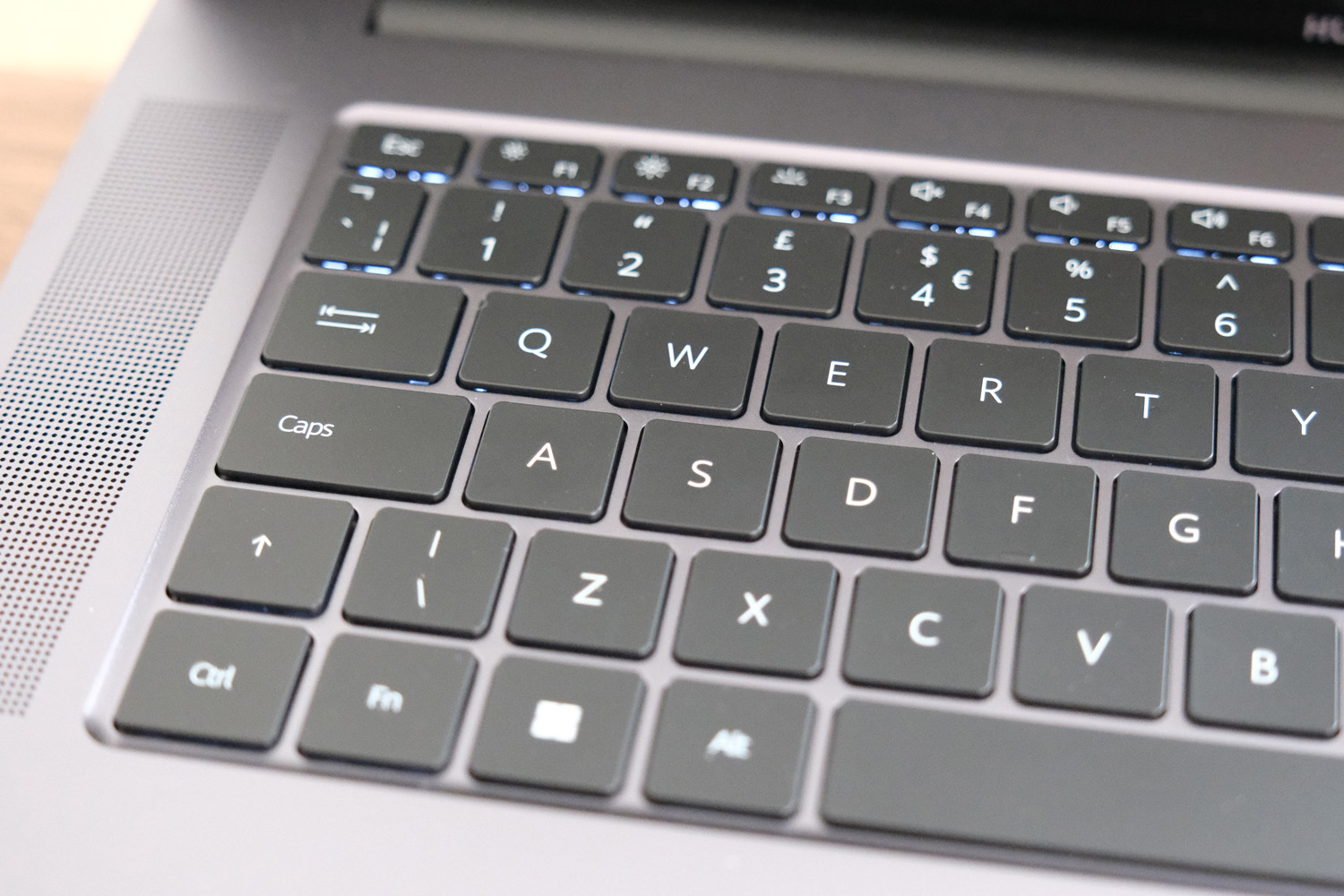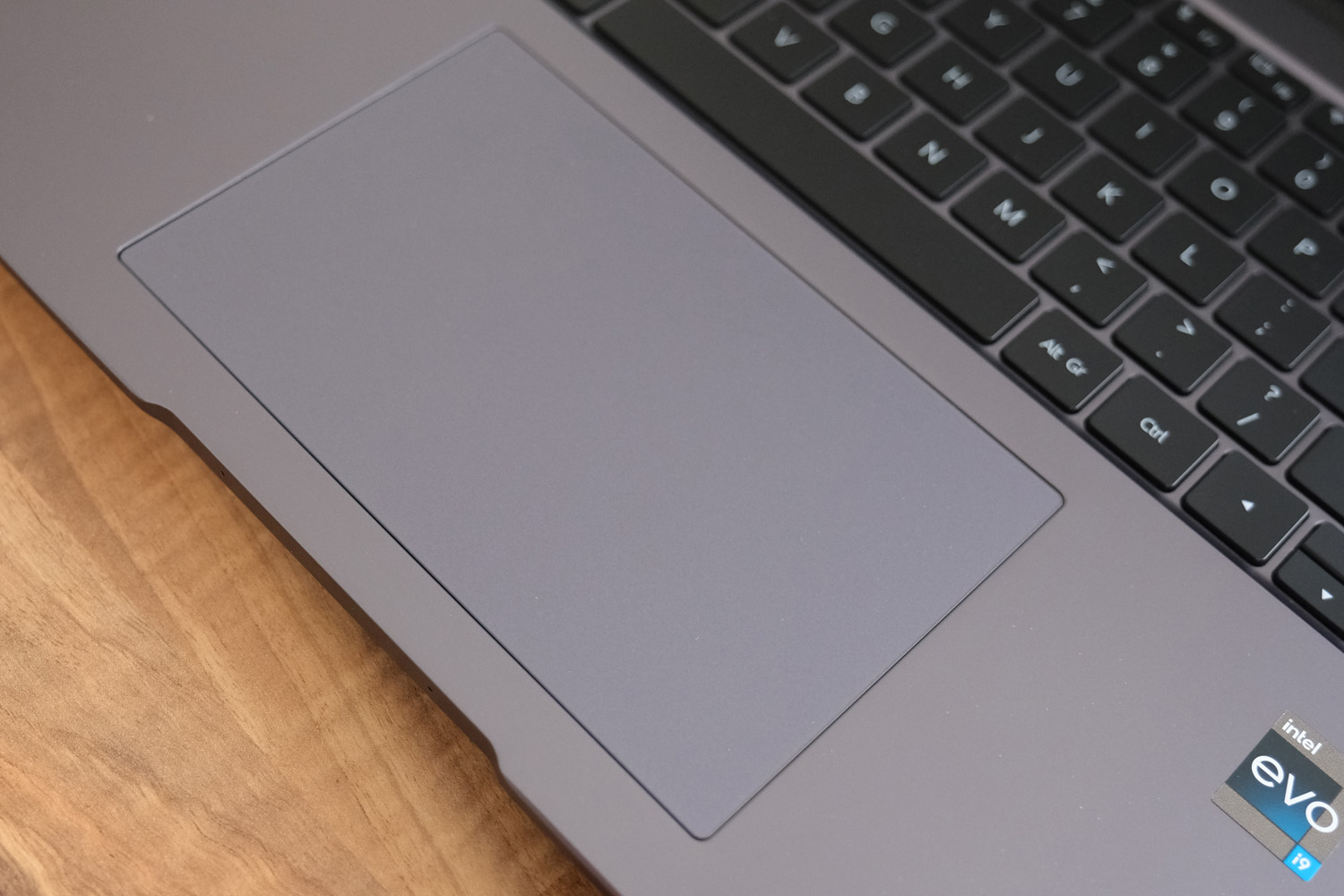 The keyboard goes without a number pad in order to squeeze in a speaker grille on either side. If you spend all your computer time in Excel, you might be better served by the more mainstream mainstream Matebook D 16 and its separate number keys.
For typing, though, the Matebook 16S was perfectly comfortable. Each key is sensibly spaced apart, with only the half-height function keys and up/down arrow keys needing to shrink in order to fit. There's just the right amount of key travel, with a soft cushion helping prevent them from bottoming out. We had no trouble getting up to speed.
The sizeable glass touchpad beneath the keyboard is fairly slick, with left and right click detection points towards the bottom of the pad – or you can use two-finger taps if you prefer. It recognises plenty of other multi-finger gestures for when you don't want to prod the touchscreen.
Huawei MateBook 16S screen & sound: the golden ratio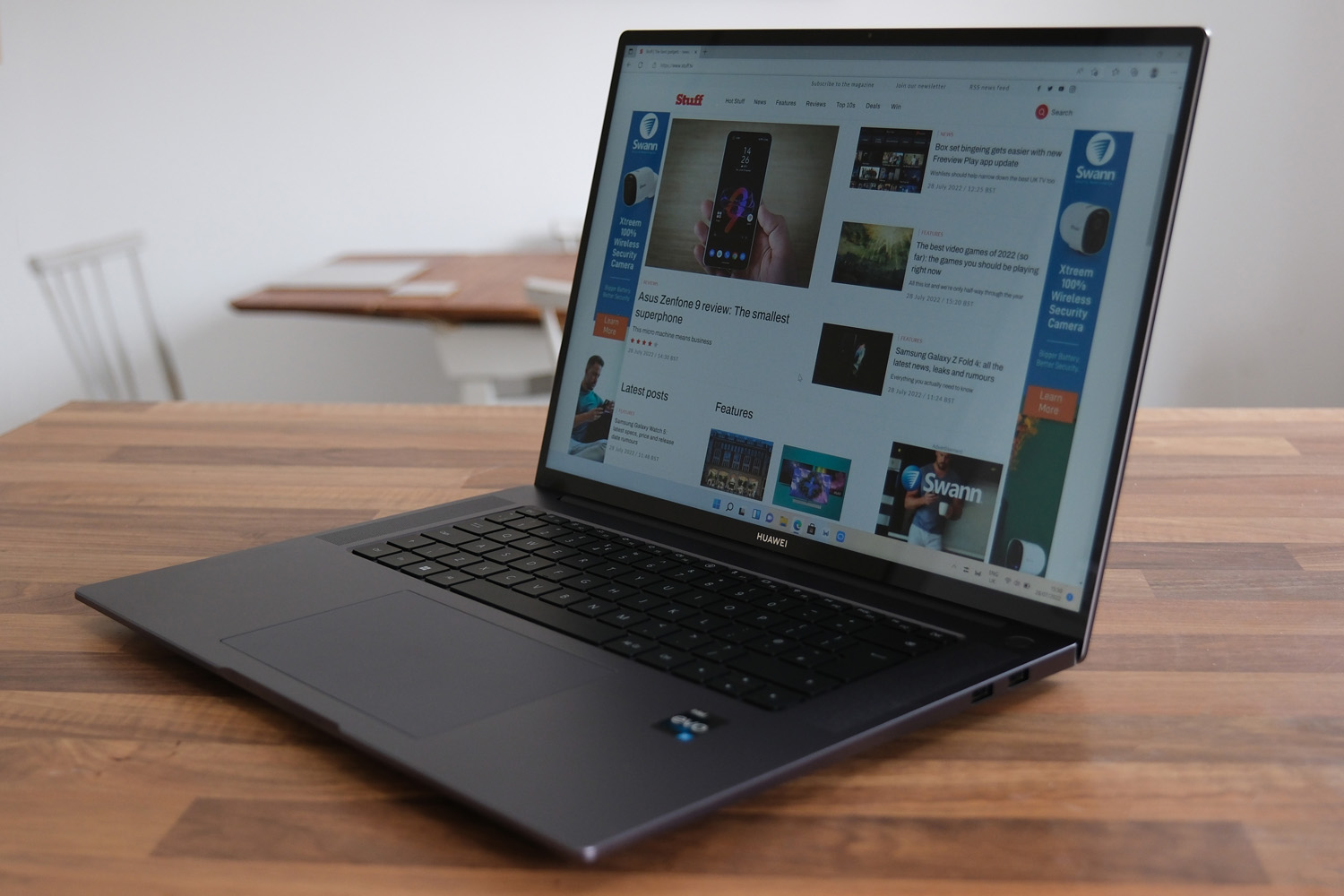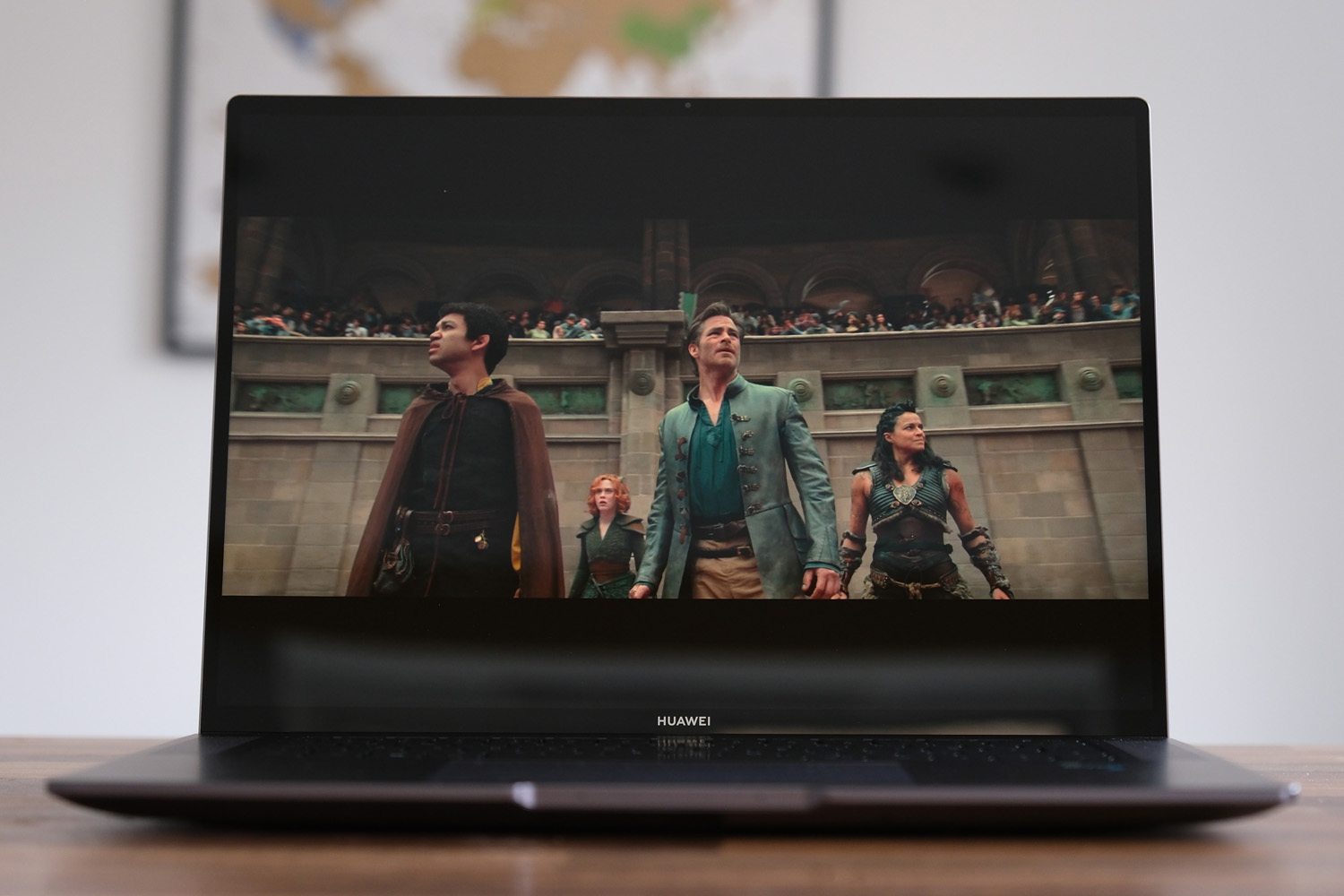 Worker bees will appreciate the MateBook 16S' 3:2 aspect ratio touchscreen, which is comfortably able to fit two documents side-by-side. The bezels have been slimmed down in order to fit the panel into a chassis that's not really any bigger than a 15in laptop, but there's still room at the top for a 1080p webcam.
The 2MP sensor is a big improvement over the pop-up camera seen on older MateBook models, which lived inside the keyboard and insisted on giving you a double chin every time you jumped on a video call. Huawei's FollowCam mode does a great job of tracking your face as you move around the frame, in a similar manner to Apple's Center Stage. It works with Zoom and Microsoft Teams right now, with other chat services set to follow later. Enabling it didn't seem to have a big impact on image quality, despite the use of digital zoom.
The 2520×1680 panel resolution gives images and videos plenty of resolved detail, and it gets reasonably bright. The glossy finish made light reflections a bit of an issue when working next to a window, but the screen hinge has plenty of movement and viewing angles are very good, so it wasn't too challenging to find a workable position. The touch layer is just the right kind of sensitive to inputs, too.
Colour accuracy is Huawei's big play for 2022, with the Matebook 16S promising 100% sRGB coverage and individually calibrated panels to guarantee what you're looking at represents the real world. Images have a pleasant amount of visual punch, with realistic tones and good contrast.
There's no HDR support, though, which might be a black mark for anyone looking for a video editing machine, and it's a shame that a high refresh rate doesn't make the cut – you've got to step up to Huawei's flagship models for one of those. That makes this not the very best display around for the cash, but still a very nice panel to spend your days staring at.
The pair of upward-firing stereo speakers that flank the keyboard tray get plenty loud, and are impressively clear. They don't have the same low-end impact as the latest MacBook Pros, but they get pretty close. You can also crank the volume without any distortion, which might save you scrambling for a portable speaker when it's time for a spot of Netflix bingeing.
Huawei MateBook 16S performance & battery life: make mine a nine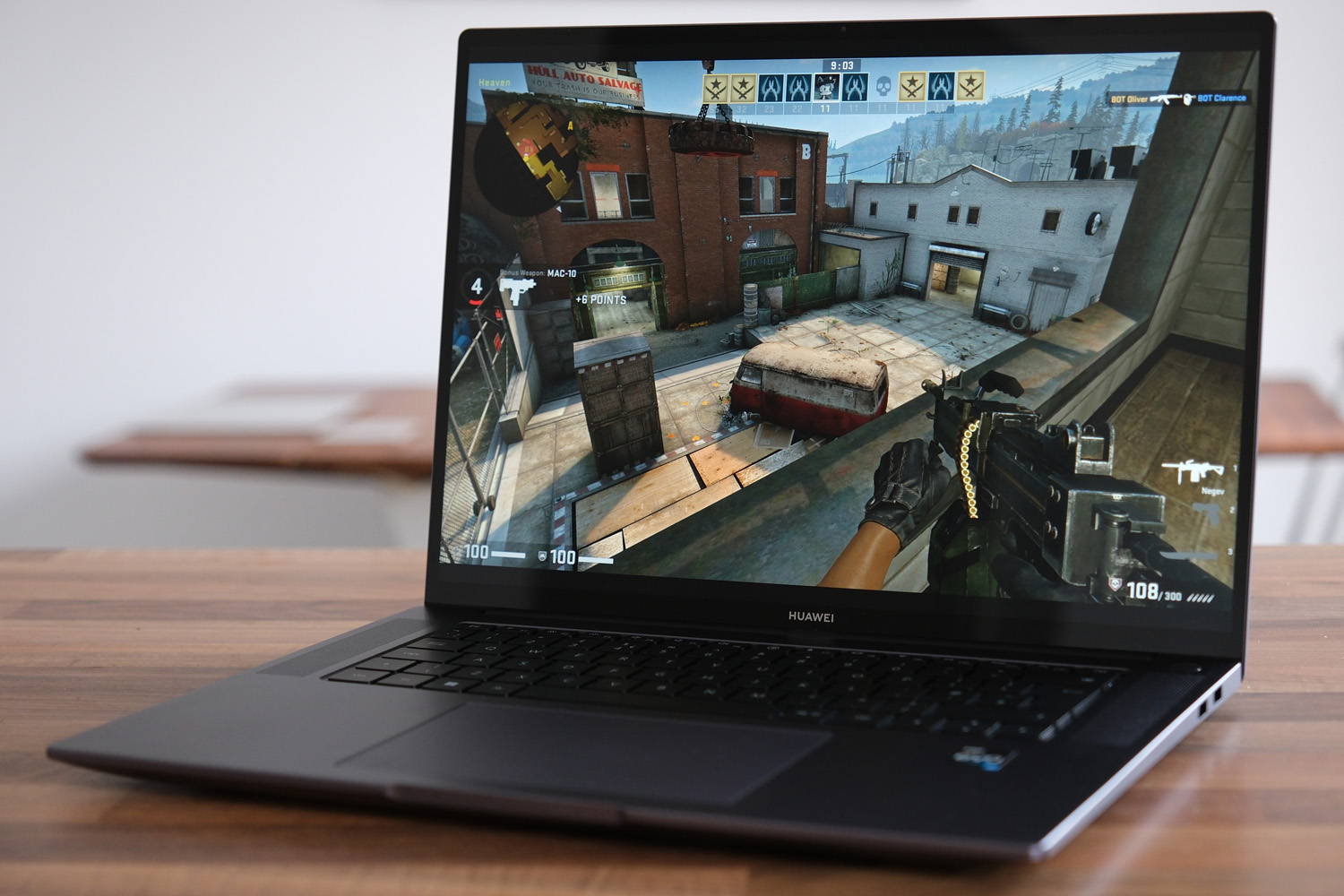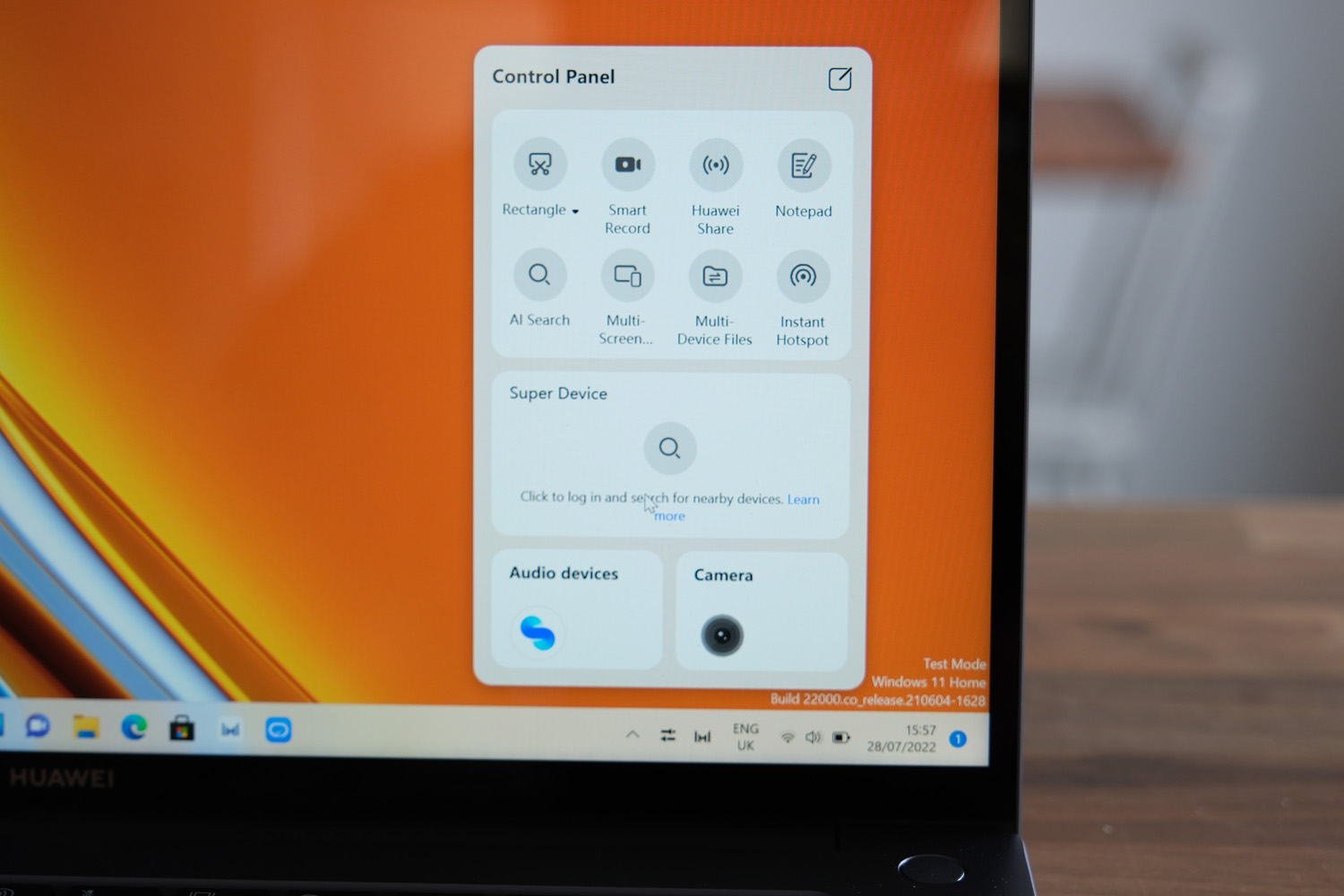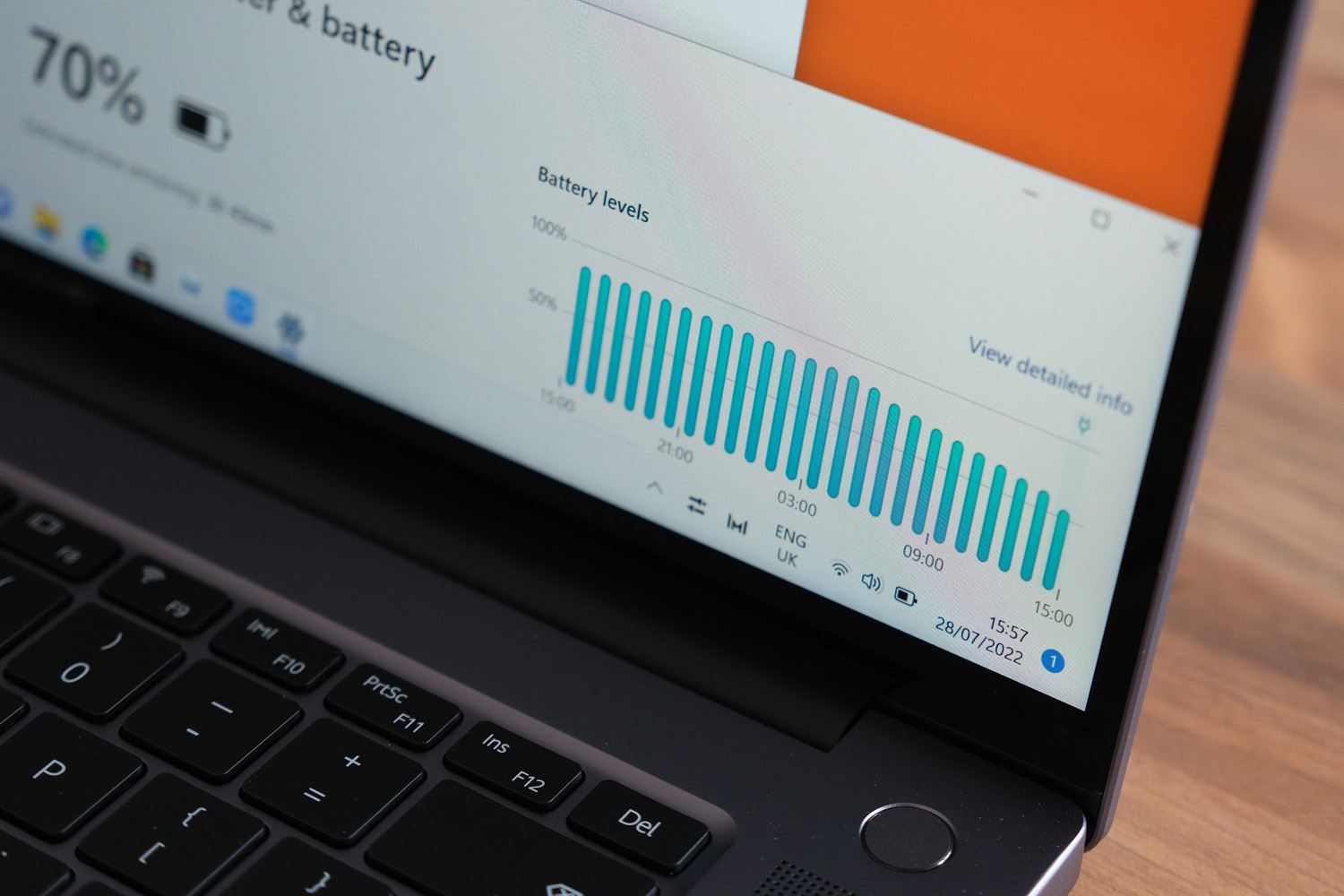 The base model Matebook 16S isn't exactly short on power, with a, H-series Intel Core i7 CPU, 16GB of DDR5 memory and 1TB of NVMe SSD storage. If you've got a real need for speed, though, our review unit was even beefier. It's running a Core i9-12900H, a 14-core, 20-thread behemoth of a processor kept cool by a multi-heatpipe, dual fan setup.
This chip is supposed to reach up to 5Ghz when thermal limits allow, but we typically saw around 3.5GHz while stressing it with benchmarks or games – even after enabling the Performance mode. It's still mighty quick, enough to make regular desktop duties a walk in the park, but the fans have to work rather hard to keep everything cool under load. That makes 'em fairly loud – not obnoxiously so, but enough that you can't miss them spinning up and down. Code developers and data processors will notice the most, as the fans are almost silent when simply web browsing or writing emails.
Intel Iris Xe graphics might be a proper step up from your grandad's integrated GPUs, able to accelerate image and video edits and even manage a bit of gaming, but still falls short of what a dedicated graphics card can manage. 3D artists and renderers are going to be waiting longer here than they would elsewhere. You aren't going to be cranking details and playing games at the laptop's native resolution, either. Esports titles like League of Legends, Overwatch and CS:GO manage about 60fps at 1080p on medium settings.
With an 84Wh cell, the Matebook 16S can be good for 'all-day' productivity – as long as you stick to the simple stuff and don't use Performance mode. With a mix of web browsing, email and document editing we saw around five to six hours, depending on screen brightness. That's pretty tidy for a Windows laptop, although Apple's incredibly efficient MacBooks are still the longevity champs.
At least you won't need to worry about lugging a hefty power brick around with you: the 135W USB-C adaptor (90W if you go for the Core i7 version) is able to top up the laptop by 50% in less than half an hour. It's refreshingly small and light, too – a far cry from the beefy bricks most high-powered machines need.
It's also worth highlighting Huawei's growing hardware and software ecosystem. Other nearby Huawei kit is automatically detected, and you can pair them to the laptop with a few clicks. It lets you run multiple Android apps from a Huawei smartphone on the laptop screen, or use a Huawei tablet as graphics tablet. This is something Apple does brilliantly, so it's great to see any brand running Windows coming so close to matching it.
Huawei MateBook 16S verdict
For a go-anywhere machine with a sizeable screen, the MateBook 16S hits a lot of the right notes. It's well-built, has a colourful display, and can be equipped with the kind of power that would embarrass many desktop PCs. At £1499 for an M1 MacBook-baiting Core i9 model, it also looks like stonkingly good value for anyone that can take advantage of all that CPU muscle.
In real-world use though, the chip is rarely able to fully flex its muscles. Anyone in need of so much power will probably also want a dedicated GPU, which isn't an option here. That makes the i7 version our laptop of choice – it's still mighty quick, and matches the i9 version everywhere else.
Creatives that need more than Photoshop might be underwhelmed, but the Matebook 16S absolutely earns a place on the shortlist for other workers that aren't chained to an office desk.
Stuff Says…
A particularly potent thin-and-light, with a sharp and sizeable screen that's ideal for hybrid working. Battery life is top notch and everything feels suitably premium. If you don't need dedicated graphics, it's a great choice.
Good Stuff
Big, high-resolution screen great for work and play
Build quality and materials match the asking price
Stellar battery life
Bad Stuff
No dedicated GPU option
Core i9 could be seen as overkill
No high refresh rate screen or HDR
Huawei MateBook 16 S technical specifications
| | |
| --- | --- |
| Screen | 16in, 2520×1680 LCD touchscreen w/ 3:2 aspect ratio |
| CPU | Intel Core i7-12700H / Core i9-12900H |
| Memory | 16GB DDR5 |
| Storage | 1TB NVMe SSD |
| Graphics | Intel Iris Xe (integrated) |
| Operating system | Windows 11 |
| Battery | 84 Wh |
| Dimensions | 351x255x17.8mm, 1.99kg |