Huawei MediaPad M5 Pro 10.8 review
All the write stuff
The MediaPad M5 Pro 10.8 is more than a bit like an iPad Pro – but it's more affordable. Let's be honest: if it wasn't, Huawei would be in trouble.
It starts at around £500, and although you'll pay an extra for 4G, every version gets a bundled stylus. The iPad Pro 9.7? It is £619, plus an extra £99 for the Apple Pencil.
Huawei's alternative might not be cheap, but it is about £220 cheaper than an iPad Pro. And there's plenty more to like beyond the price.
Huawei MediaPad M5 Pro Design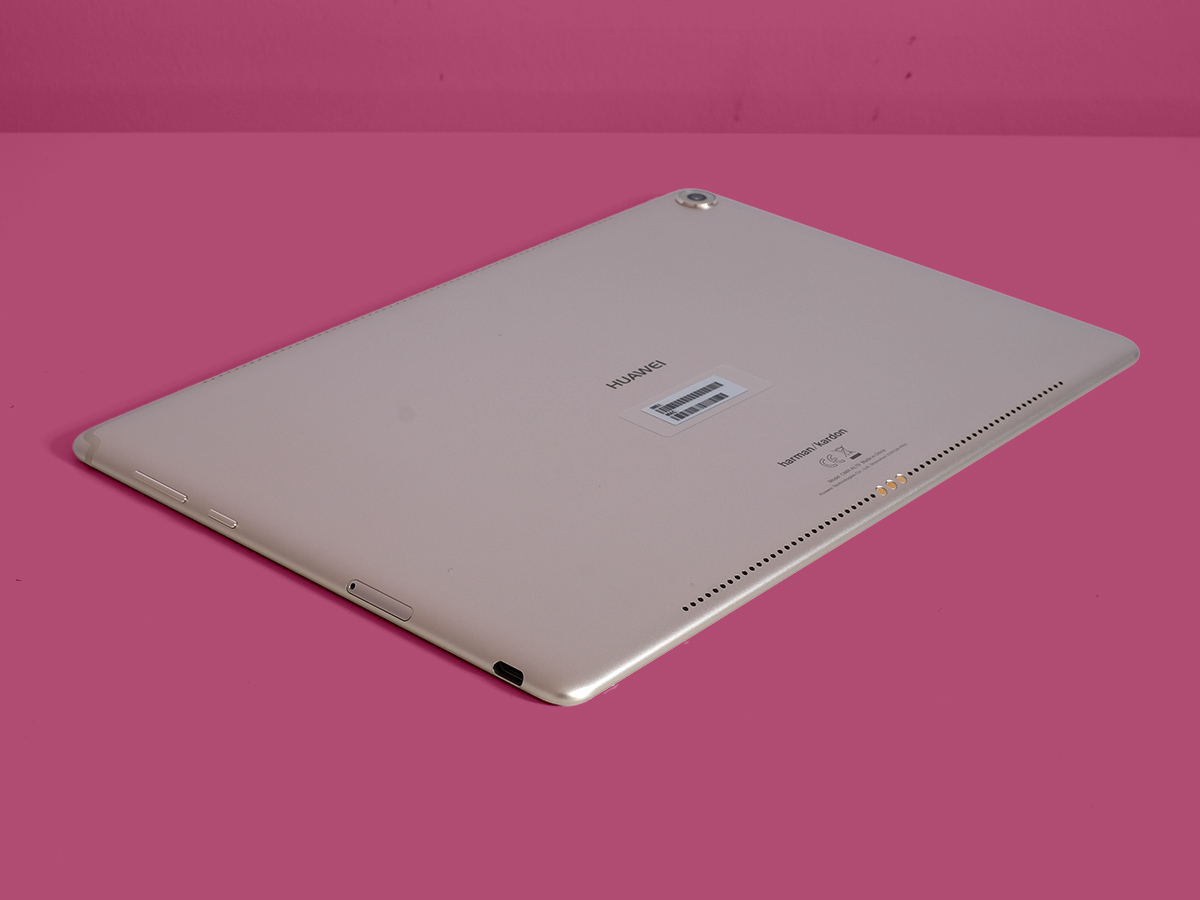 On the surface, the M5 Pro 10.8 looks just like a normal, sleek 10in tablet. You get curved aluminum on the back, and glass on the front which is a treat for the fingers. The glass has 2.5D curved edges that taper right into the metal sides to get rid of any obvious seams or sharp edges.
The M5 Pro is slim at just 7.3mm thick, and light at 498g. However, as with previous MediaPads, this one has a 16:9 screen, which makes it seem more unwieldy than an iPad Pro 9.7 or Samsung Galaxy Tab S3. This is a two-hander tablet you can treat almost like a tiny TV.
Annoyingly, Huawei has taken the same road as recent high-end phones, by getting rid of the headphone jack. Was this really necessary? It's not as if the tablet has water resistance, which is sometimes used as an excuse going jack-less.
This is a tablet designed to be used in landscape, but the the fingerprint scanner sits where it would on a portrait tablet. This works, though, because it rests by your right thumb when you hold it naturally. The scanner is fast and reliable, and if you like you can use it to replace the soft keys – although this involves learning its swipe-y gestures.
Why go for pro?
This Pro edition sits alongside a regular MediaPad M5. The main difference is that here you get a pressure sensitive stylus, and the tablet can be attached to a keyboard base to work as a breezy Android laptop. You don't get this keyboard as standard, though. And Huawei didn't send us one either. It has proper keys, and will make the tablet stand up. Like a laptop.
The stylus is included, though, and has a whopping 4096 pressure levels, like a high-end graphics tablet. Its feel isn't quite as good as the Apple Pencil, but Huawei has nailed the latency: there's virtually none. This the delay between your scrawl and it appearing on-screen.
Drawing in Sketchbook Pro with the Huawei MediaPad M5 Pro 10.5 feels natural, aside from the sensation of sketching away on glass, anyway. Handwriting recognition is top-notch too. The writing box appears in place of the keyboard whenever you use the stylus, and it guesses the right character 99% of the time. If you have terrible handwriting, though, your success may vary.
Huawei MediaPad M5 Pro Screen & Sound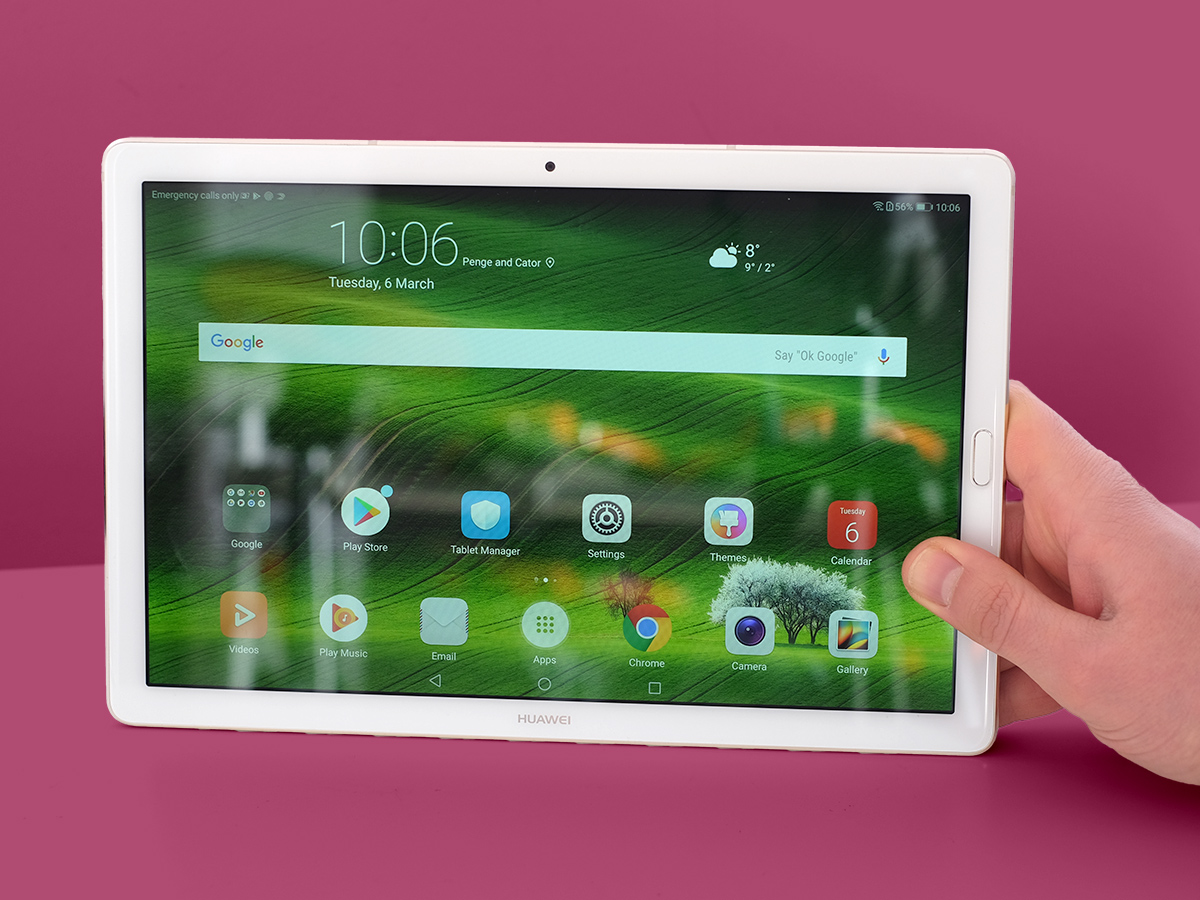 The 10.8in, 2560×1600 display is sharp, with fairly deep-looking colours – and you can switch to a "vivid" mode if you want even bolder-looking tones.
This is still an area where the tablet doesn't lead the pack, though. Max brightness is good enough, but isn't truly searing. And the display loses some brightness at an angle. OLEDs and the very, very best LCDs don't suffer from this quite as much.
Look very close and you'll also see a slight patterning on the screen. Could it be the digitiser layer? Perhaps. The M5 Pro's screen is good enough, even at £500, but it's not the best around.
It does have great speakers, though. There are four of them, two above the screen, two below.
There's actual warmth and bass to them, and the low-end is particularly great for games. These Harman Kardon-tuned drivers do use a bit of compression, so while a solo instrument may sound super-loud, the actual volume level won't ramp-up much when the rest of the band comes in. However, there's only so much you can do with tablet micro-drivers. And these are impressive.
Huawei MediaPad M5 Pro Performance & Software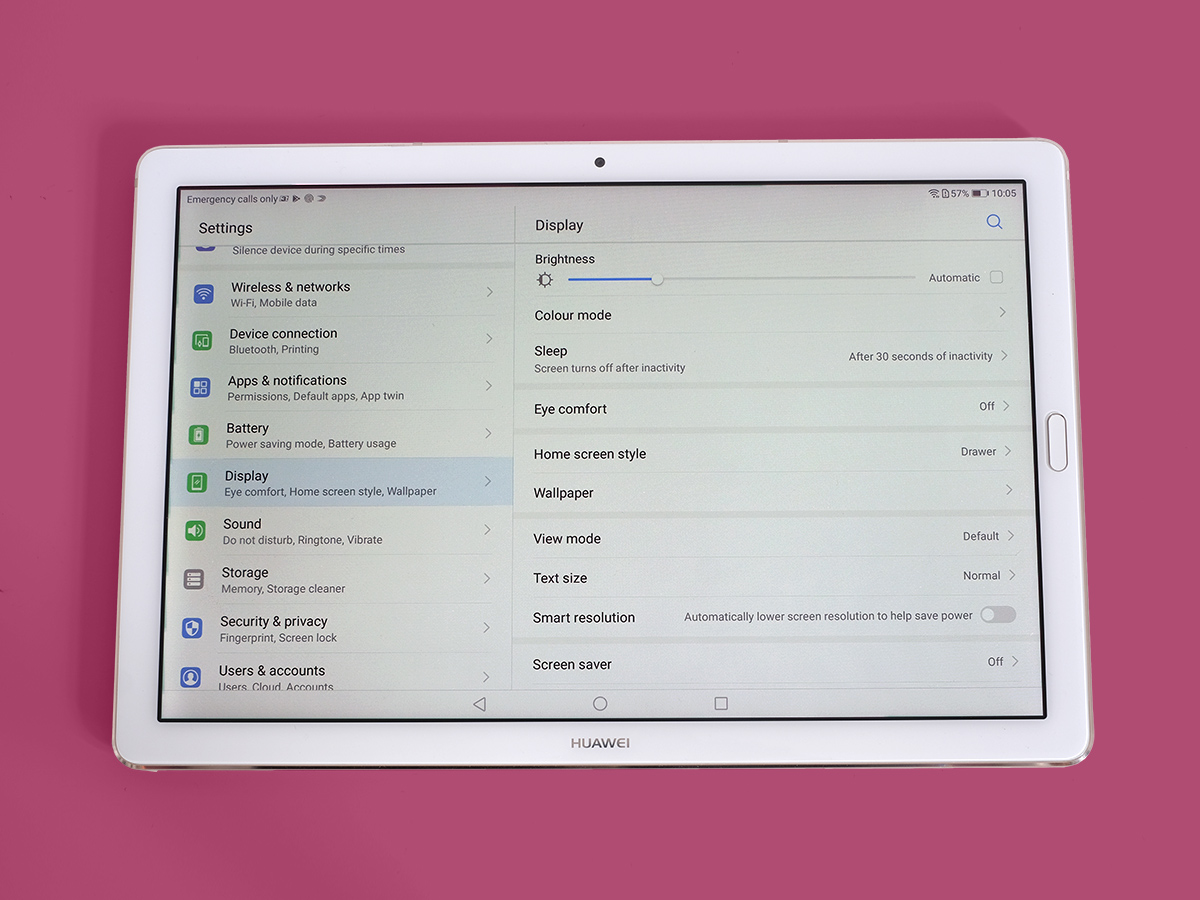 You also get up-to-date software. The MediaPad M5 Pro has Android 8.0 Oreo, along with Huawei's EMUI 8.0 custom interface on top.
If you've tried EMUI in previous years and didn't like it, give the M5 Pro another chance: the UI is good these days, and you have the option of using Huawei's traditional, iOS style apps-menu-free look or one with the app drawer reinstated.
EMUI is quick, too. You can only tweak it a little to make use of the big screen, reducing font sizes to fit more on-screen, but you'd probably only want a non-standard look with the keyboard accessory attached anyway.
The tablet has a Kirin 960 CPU, just a generation behind what Huawei puts into its current top-end phones. It doesn't have the same advanced AI smarts, which are less useful in a tablet anyway, and uses a less powerful GPU. However it's still seriously powerful.
In Geekbench 4 the Huawei MediaPad M5 Pro 10.8 scores 6443 points, beating the Samsung Galaxy Tab S3 and roughly matching the Samsung Galaxy S8 Plus phone.
High-end games like Asphalt 8 run very well, too. The combo of giant screen and quad speaker array make gaming more immersive than just about any other smaller tablet.
The M5 Pro 10.8 is a seriously long-life performer, too, thanks to a 7500mAh battery. That's slightly larger than the iPad Pro 9.7's 7306mAh. You charge it using a USB-C port on the edge, below the finger scanner.
It's a bit of a beast for a tablet this thin. When sat unloved on a table, it holds its charge exceptionally well, and an hour of YouTube streaming over Wi-Fi takes off just nine percent, matching the iPad's traditional "10 hour" stamina. You could waste an entire day on this thing between charges.
Huawei MediaPad M5 Pro camera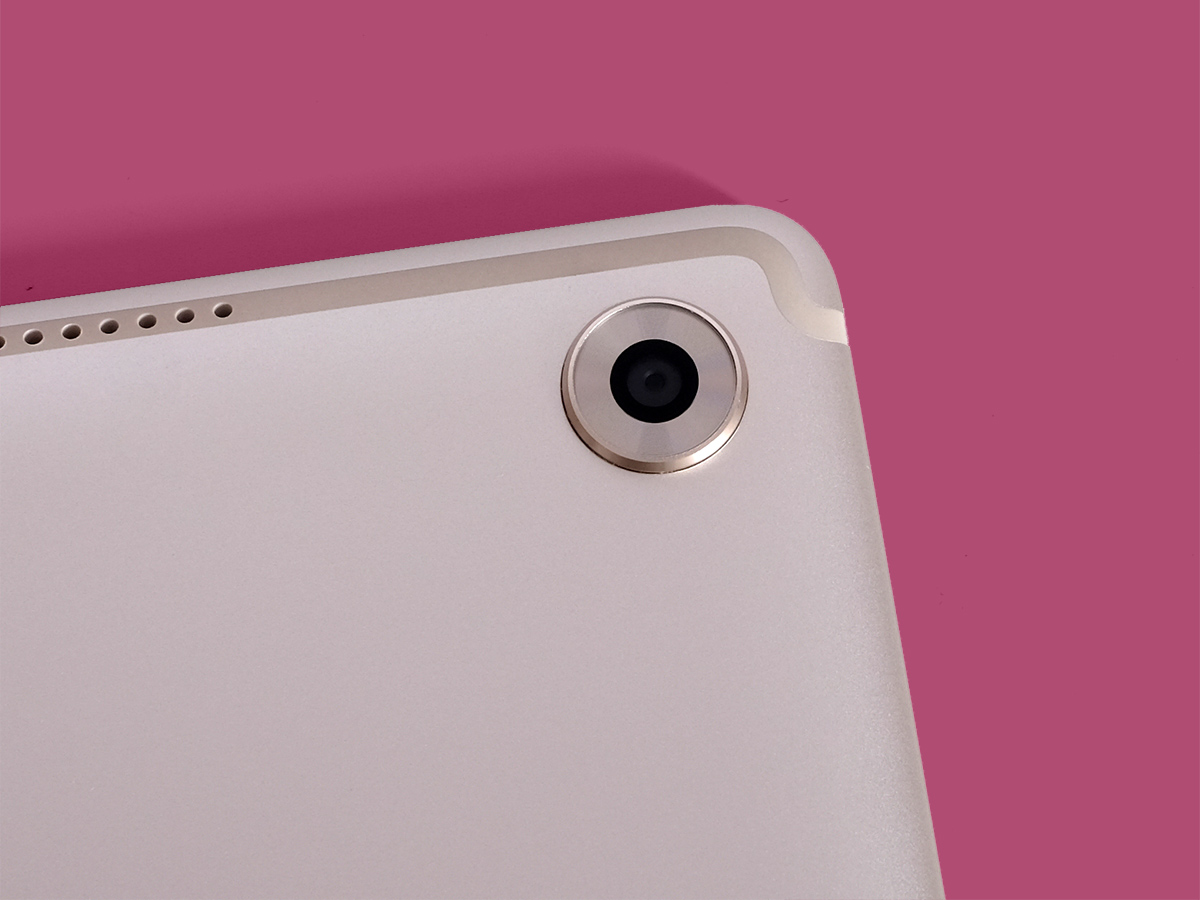 Like just about every tablet, though, the Huawei MediaPad M5 Pro 10.8 does not have killer cameras. There's a 13-megapixel one on the back, and an 8-megapixel one on the front, which out-specs most of its rivals.
Both cameras are quick to shoot, too, with none of that laggy feel that saps the fun out of some phone and tablet cameras. You can even take some quality shots in daylight.
However, indoors and night shots look quite noisy, and detail drops off significantly. There's no flash to help out in these conditions either. Anyway, do you really want to be out taking photos with a 10.5in tablet? It's not a good look.
The front camera takes reasonably detailed selfies, but if you have a good phone, it'll do the job better. That said, this tablet could be a great video chat device, and the front camera is perfectly placed. As long as you can use the M5 Pro in landscape. Hold the thing in portrait and its view is off to the side.
Huawei MediaPad M5 Pro Verdict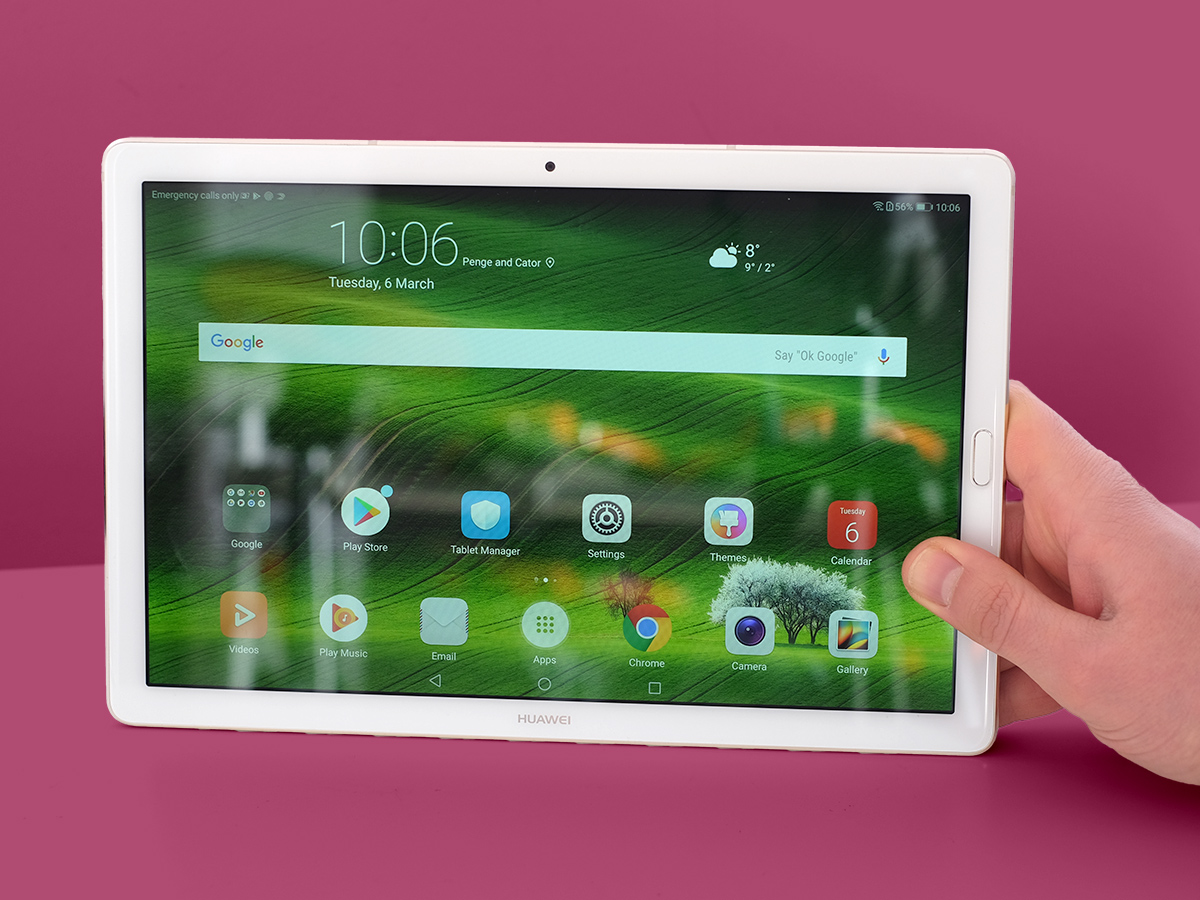 The MediaPad M5 Pro is not a cheap tablet. But it is a lot more affordable than an iPad Pro 9.7, and a chunk cheaper than the Samsung Galaxy Tab S3 too. What's not to like?
Well, the screen isn't immediately as impressive as those models, and there's no headphone jack.
However, this is more powerful than either, battery life is decent and a great speaker array makes this perfect for those YouTube deep dives when you want to veg out but can't find anything on Netflix.
Tech specs
| | |
| --- | --- |
| SCREEN | 10.8in, 2560×1600 IPS LCD |
| CPU | HiSilicon Kirin 960 octa-core |
| MEMORY | 4GB RAM |
| CAMERA | 13MP rear w/ PDAF, LED flash. 8MP front |
| STORAGE | 64GB on-board, microSD expansion |
| OPERATING SYSTEM | Android 8.0 Oreo |
| BATTERY | 7500mAh non-removable |
| DIMENSIONS | 259x172x7.3mm, 498 g |
Stuff Says…
This tablet may not bury the iPad Pro, but it gets you similar skills for hundreds of pounds less.
Good Stuff
Smooth design
Neat included stylus
Great speakers
Bad Stuff
Not the brightest screen in its class
No headphone jack