Huawei P8 review
Huawei's best ultra-premium Android phone yet
How do you compete as a phone-maker when the average Joe not only doesn't know your name, but can't pronounce it when they see it written down? That's Huawei's fix.
It used to reel in the punters by stacking high and selling cheap, but the Huawei P8 tries to outdo Samsung and co at their own game. This is a no-holds-barred phone that goes for a luxury feel and look – and hits that particular bullseye.
The P8 gives the impression of being expensive, but at an expected UK price of around £400 SIM-free it actually costs a chunk less than top phones such as the Samsung Galaxy S6. It's also not quite as pick-your-jaw-off-the-floor amazing, but Huawei has managed to fix most of the faulty elements of previous flagship the Ascend P7 to produce a pretty great phone, and one that'll suit those who are after something a bit, well, different.
Crack open the champagne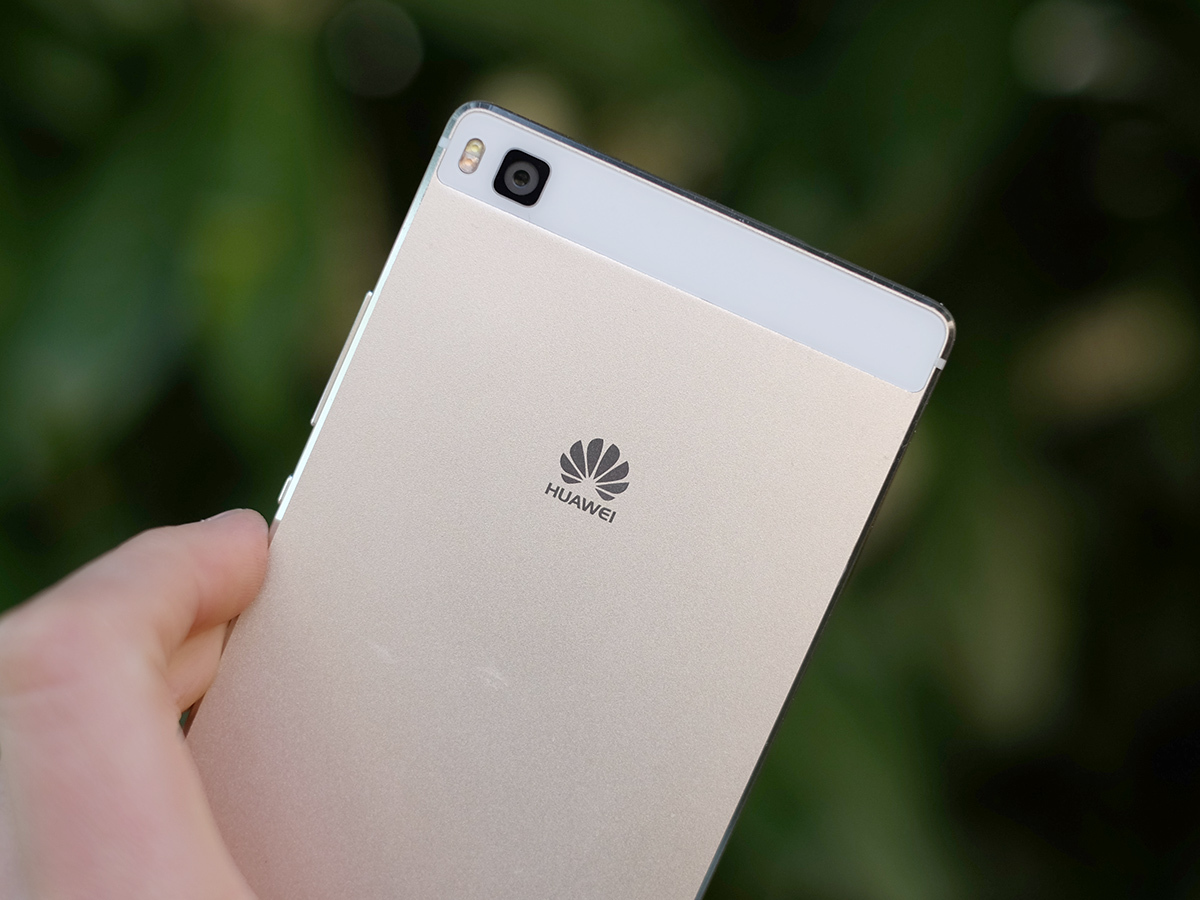 Huawei seems to have relaxed its phone design a bit too – in a good way. At first glance and first feel, the Huawei P8 seems like a top-end phone, but the design is actually quite simple. It's no try-hard.
The P8's back is aluminium, and the front good old Gorilla Glass. There are none of the slightly questionable design flourishes we often get from Huawei. So while it's not an instantly recognisable design classic, it's not going to turn you off either.
What it is, though, is slim. It's only 6.4mm thick, making it skinnier than the iPhone 6 or Galaxy S6. The camera lens doesn't stick out at all either. Being 0.4mm thinner than phone X isn't something to bang on about too much, but it does help make the P8 easier to handle. Wafer-thin screen surround bits to the left and right of the screen mean it doesn't feel like it's out to fill palms and pockets.
Thin phones can end up feeling a bit sharp and severe, especially when they're rectangle-shaped like the P8 rather than ultra-curvy. It's a nasty side-effect. However, the sides of this mobile are carefully contoured to make the thing feel a little smoother. It's a lot nicer in the hand than the Huawei Ascend P7, even if its design seems dead similar.
Assault on battery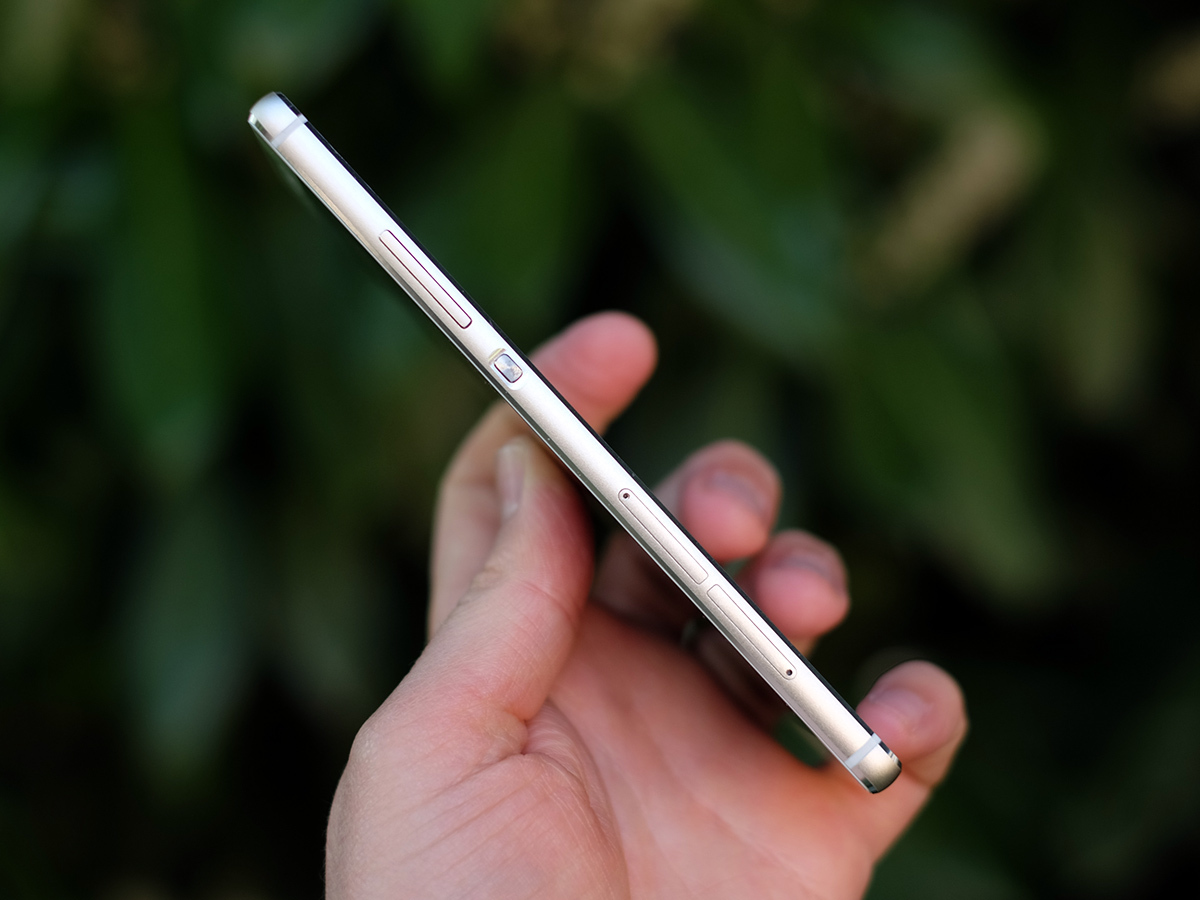 This year, the ultra-slim design doesn't have quite as much of an effect on battery life either. The Huawei P8 has a 2680mAh battery, just a smidge better than the Ascend P7's 2500mAh one. However, in use the improvement is bigger.
On one day I got to bedtime with 50% battery left. While that was cut down to just 8% before lunch time the next day, you don't get the feeling Huawei has forgotten that a phone being good to use (and alive after 24 hours without a charge) is more important than how thin it is.
Before we all get too excited: stamina is not stellar, but it's not bad for a phone not much thicker than a pound coin.
When playing video, it's pretty clear the P8 isn't as efficient as the best all the time, though. It only lasts for about seven hours when playing back a 720p video on loop. When the Galaxy S6 and Sony Xperia Z3 get into the double figures without offering better stamina in general use, it seems clear Huawei just doesn't have quite the same battery smarts going on here.
Still, it's what happens day-to-day that matters most, and I've been fairly happy with the Huawei P8's longevity.
One phone, two versions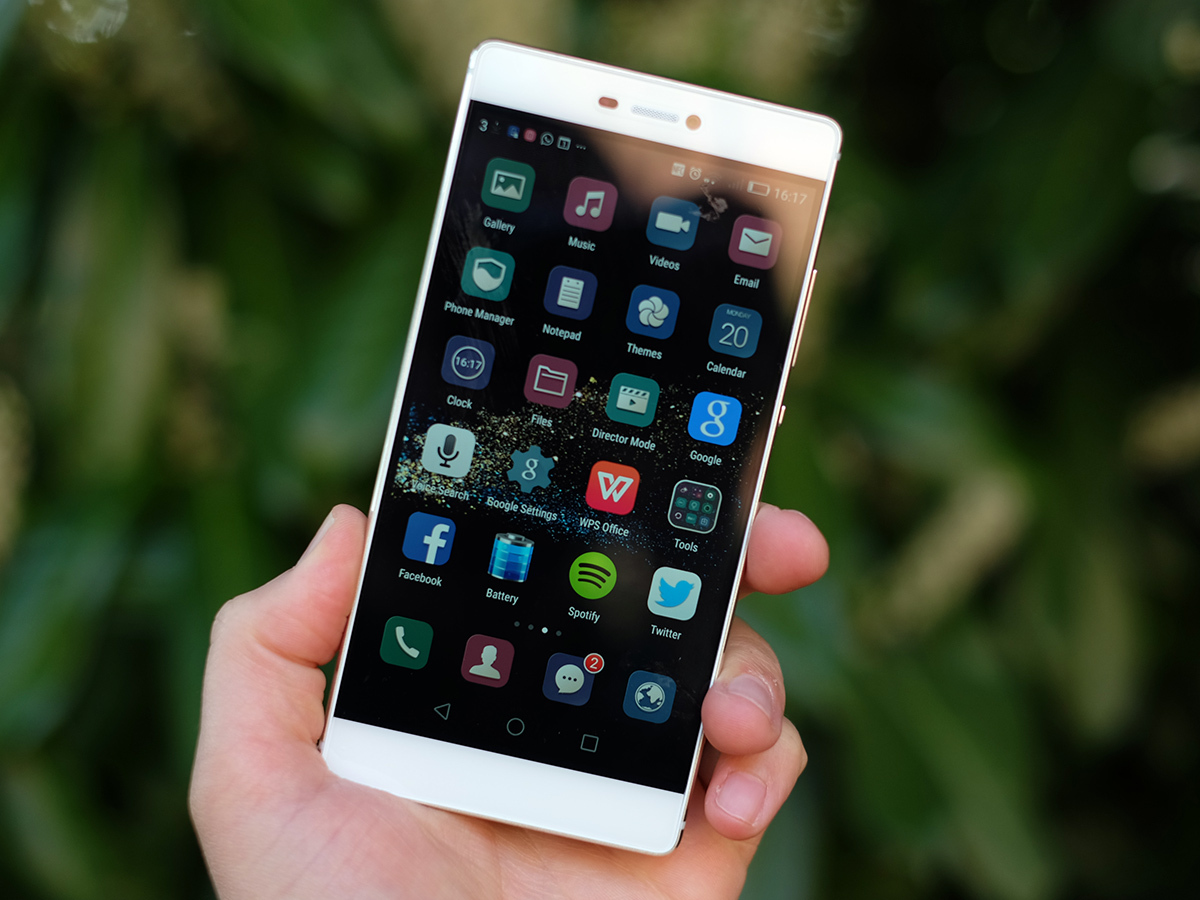 Being a unibody phone, you get no access to the battery. But you do get a microSD card slot on the side, and in the most expensive model this doubles as a second SIM slot. There are two main variants of Huawei P8, you see. One has 16GB memory, the other 64GB.
These versions come in different finishes too. Silver and champagne are the colour options for the lower-end version (I'm using the champagne here), while gold and black are added for the 64GB edition. In all honesty, the champagne's nicer than the gold anyway. But, hey, I'm not a huge fan of gaudy phones.
Mixed emotions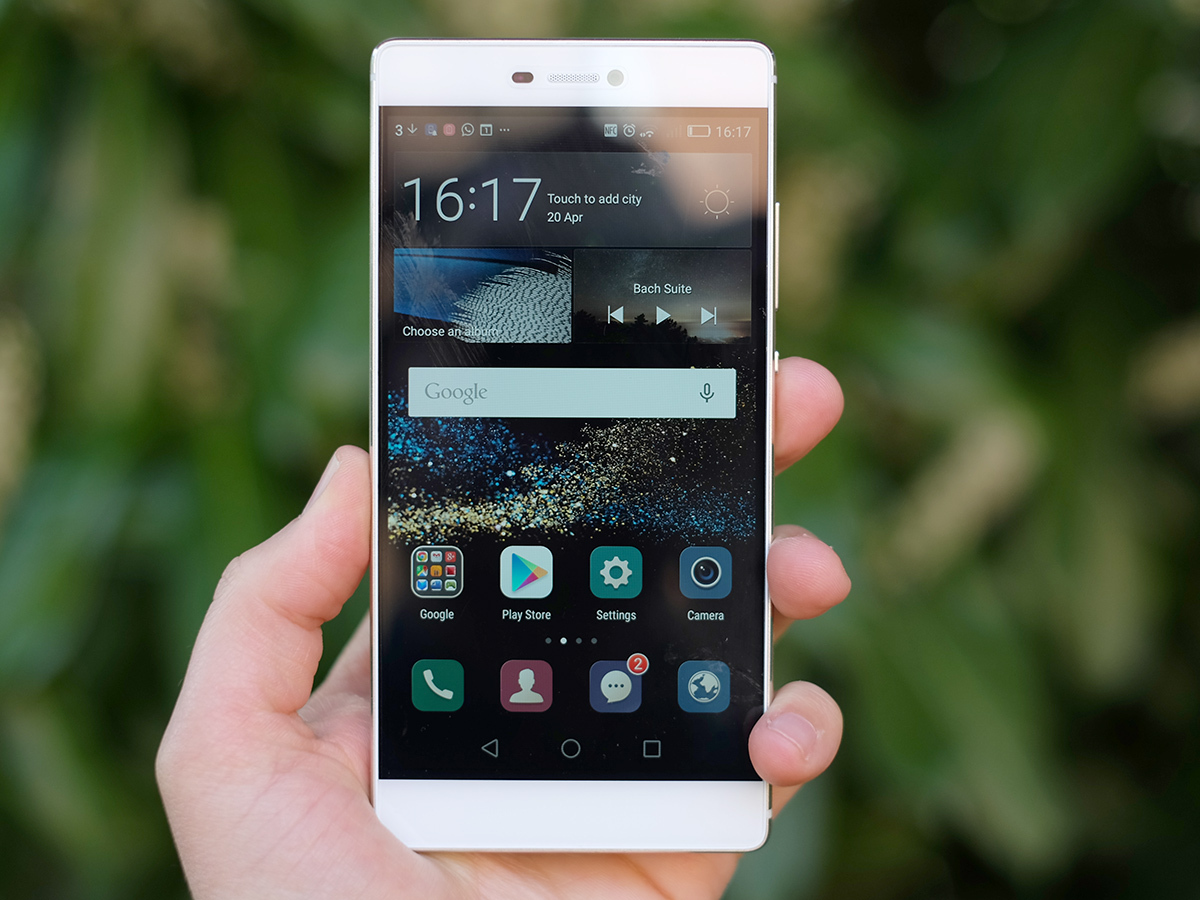 Huawei gets points for classing up its hardware. The software is still going to turn some of you off, though.
Despite being Huawei's flashy new top phone for 2015, the interface looks just like 2014's Huawei phones did. It uses EmotionUI 3.1. For the uninitiated, it makes some pretty big changes to Android.
First, it gets rid of the apps menu in an iPhone-aping move. You just have homescreens, and therefore have to spend a bit more time optimising the P8's layout (unless you're happy to flick endlessly between homescreens). In typical lazy fashion, I was left flicking to the fourth homescreen to load WhatsApp for a couple of days before even thinking about tightening-up the phone's arrangement.
An active approach pays off with the Huawei P8, so make sure you're up for putting in that tiny bit of extra effort.
It's not just about getting everything in the right place, either. The P8's EmotionUI uses themes that alter the look of the phone quite radically, and I didn't exactly fall in love with the default one. Here's the thing: with each phone Huawei seems to conjure up a new theme to give it a distinct look, but they're rarely much cop.
The default lock screen's a bit odd too. It fires up random images from a pre-defined Huawei selection, turning your phone into a gallery of the sort of images you might see in IKEA's poster department. It's not offensive, but we can't imagine many of you wanting to keep it there long-term.
The sour taste it leaves doesn't need to last for long, though. There's a bunch of other themes preinstalled, a couple of which are really quite fetching.
Huawei's EmotionUI is decent if you can handle its quirks these days, and performance is perfectly good. At launch, the Huawei Ascend P7 was a bit laggy and slow, but I found the P8 perfectly snappy 95% of the time. Is anything new? This time we get knuckle operation. This new gimmick-tastic extra lets you capture parts of the screen by drawing around it with your knuckle. And no, I'm not joking. At least it's not an in-your-face extra.
After a tweak here, a switch flicked there, the P8 becomes a phone that looks pretty good inside and out.
Not quite QHD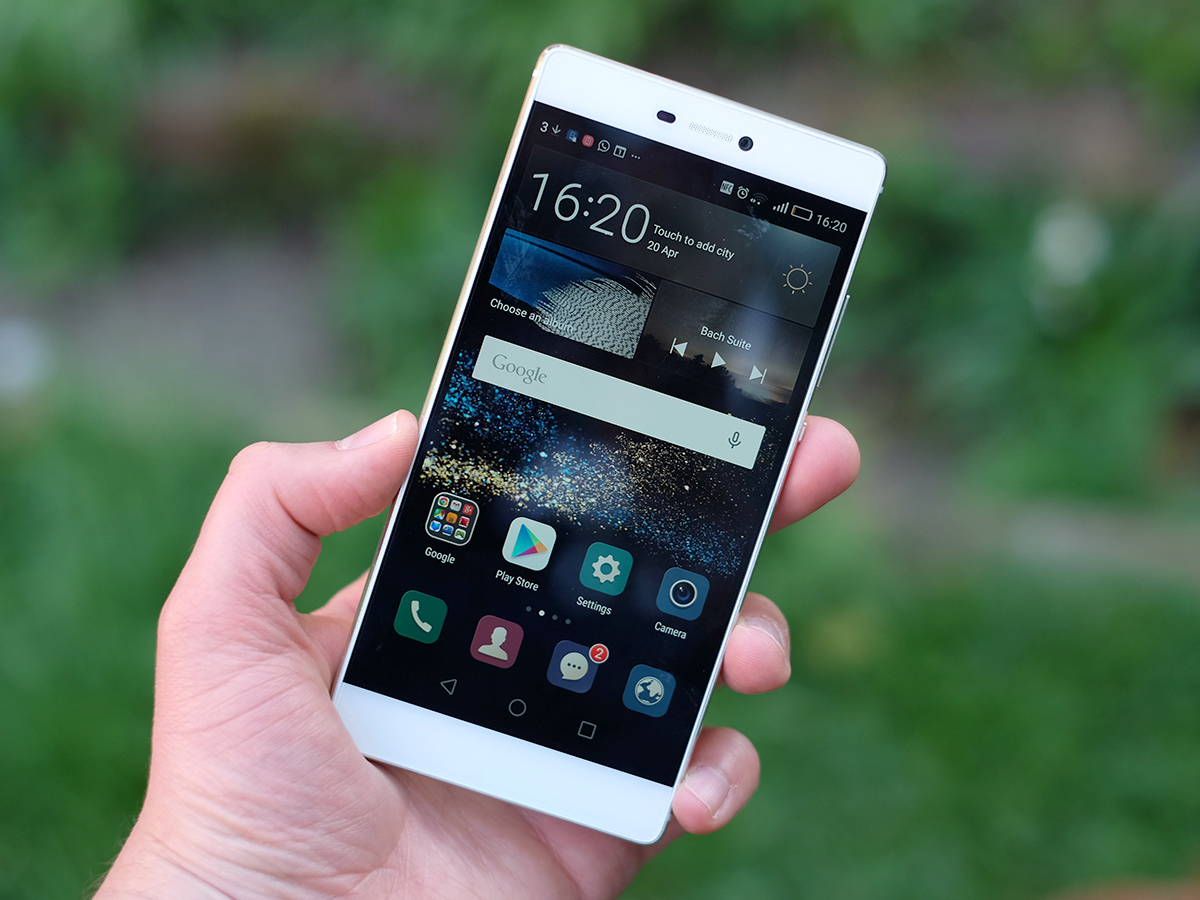 The 5.2in screen is good too, if not quite at the level of something like the Galaxy S6 or LG G3.
Like HTC and Sony, Huawei has stuck with Full HD 1080p resolution this year rather than boosting up to QHD/2K like Samsung and LG. Does it matter? At this size, not really. Everything looks dead sharp, and you'd need to get your eyeball pretty close to the screen to be able to notice the difference in sharpness between this and QHD.
Where the Samsung Galaxy S6 leaves the Huawei P8 chowing down on its dust is contrast and black level. If you like watching TV in bed on a phone (don't do it – you won't sleep properly), you'll notice that the P8's blacks are a little bit grey, where the S6's look deep, dark black in any conditions.
This is a side-effect of using an LCD screen, though, not a particular failing of Huawei's. And it's otherwise very good. Colours and punchy and vibrant, prioritising getting you powerful-looking images rather than aiming for 100% accuracy. But, hey, it looks great.
The Huawei P8 also lets you tweak the colour tone a bit, through a temperature slider in the Settings menu. One other thing to note is that the P8 has software soft keys, not hardware ones. This cuts into the screen a bit, and can be annoying if you accidentally press them when playing games. But part of this is down to the game devs: they can be hidden if it's programmed in.
Eight cores, no regrets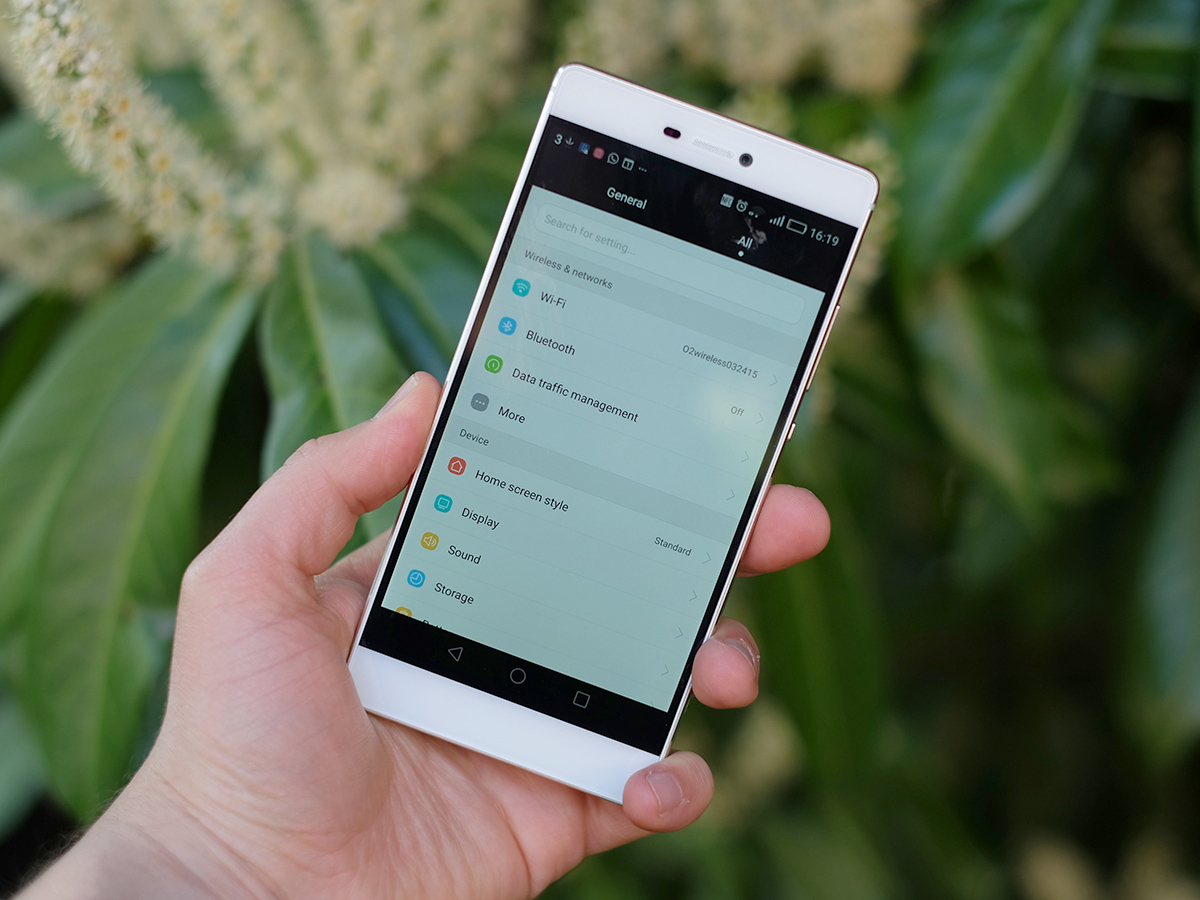 Just as the P8 doesn't have a QHD screen, the processor isn't quite as super-powered as the HTC One M9 or Galaxy S6 either. It uses a Huawei-made Kirin 930 CPU, and what it does is quite interesting.
Get this: it has an eight-core CPU with the same basic architecture as the bigger-name rivals, but the cores are all of the Cortex-A53 style as we see in the Galaxy S6's 'efficiency' cores. Even its muscle cores are fairly chilled out. They're clocked at 2GHz, while its day-to-day ones are 1.5GHz.
This is a pretty interesting move. It's Huawei saying that it doesn't need the raw power of Cortex-A57 brains; that efficiency is just more important.
How powerful is it? In Geekbench 3 it scores 3524 points, which is miles below the 5200-odd of the Galaxy S6. This performance is closer to last year's top phones than this year's key rivals. But does it really matter? It kinda doesn't. What matters more is that the architecture is current, even if it's not going to top any benchmarks.
The Huawei P8 has a 64-bit chipset and as we saw with the phone's fairly decent battery life, it seems to be more efficient than the Ascend P7, this phone's predecessor.
Jumping in bed with Sony
You can see this move as either Huawei being dead classy and restrained, or exploiting a way to cut down costs in a way many people may not notice. However, the camera suggests it's the former (the good one, in other words).
The P8 has an f/2 lens and 13MP sensor, which is lower-res than the top 2015 rivals. Instead of playing the megapixel game, Huawei focuses on other areas. For example, it has OIS and the first RGBW sensor we've seen in a phone.
What this means is that as well as red, green and blue sub-pixels in each pixel of the camera sensor, there's a clear one that takes in more light. Sony actually tried this in 2012, but abandoned the idea, until now that is: the P8 uses a Sony RGBW sensor.
Does it work? Well, what I've noticed most is that, compared to previous Huawei phones, the P8 has a really very smart camera 'brain'. Metering is great, and the phone uses clever post-shoot processing to bring out detail in areas that might look like murky shadow in lesser phone cameras.
As such, you can be pretty careless about how you take photos with the P8 and the results will normally end up pretty decent regardless. The HDR mode can be brilliantly effective too. Right down at pixel level the shots don't look as good as the Galaxy S6's, but I'm seriously impressed at how easy it is to get good-looking shots out of this camera.
What I do wish, though, is that the Huawei P8 was remotely good at letting you know what the results were going to be like on-screen as you're shooting. For a couple of years now, Samsung's top phones have done a cracking job of estimating what HDRs and other modes will look like in the preview window, but with the P8 you only really know what your shots are going to look like when you check them out in the gallery afterwards. By which time it's a little late.
When the lights go down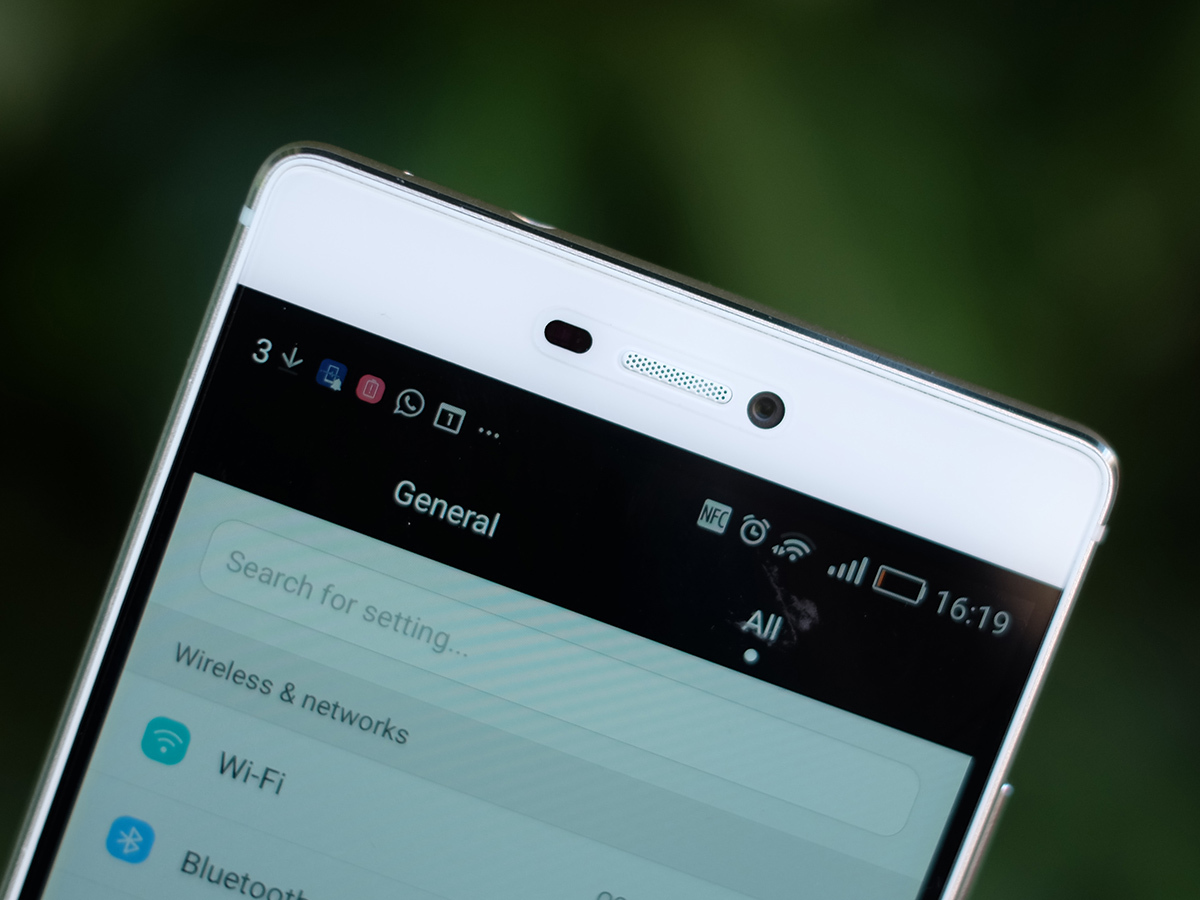 At night the Huawei P8 can produce some pretty great shots too. This is mostly down to OIS, which lets the phone capture reasonable low-light shots without taking an age or the photos being hopelessly noisy. Once again, what I like most is how smart the camera is at times. Stick to Auto and you'll be fine in just about any condition.
There is a Super Night mode, but this is something altogether different. It takes 15-20 seconds, capturing a whole load of shots and then merging their data to get your more detail and less noise. The results have the potential to be great, but 99% of the time it's completely useless. You need a tripod or something to rest the Huawei P8 on, and it's no good for shooting moving subjects.
Similar, but with a different angle, is the Light Painting mode. This is another smart burst mode designed to let you produce funky photos with sparklers and other light sources. I tried it with a candle, and was surprised by how well it works. You'll probably have a go, maybe drop the results onto Facebook or Instagram, before never using it again, but it's fun anyway.
Just like last year, though, some of the camera app interface bits aren't as intuitive as they should be. Maybe it's time for a proper redesign, Huawei?
The P8 takes a software rather than spec-led approach to the rear camera, but there are no half measures in the selfie camera. As is common with Huawei phones, it makes sure it's ahead of the pack. There's an 8MP selfie camera, making it one of the highest-res around.
You get enough detail to pick out those pores in your skin, and there's a Beauty Mode to get rid of them if the naked truth is just too much to bear. This offers a slider that smoothes out your skin and slims down your face. It's real-time airbrushing, more-or-less.
The extras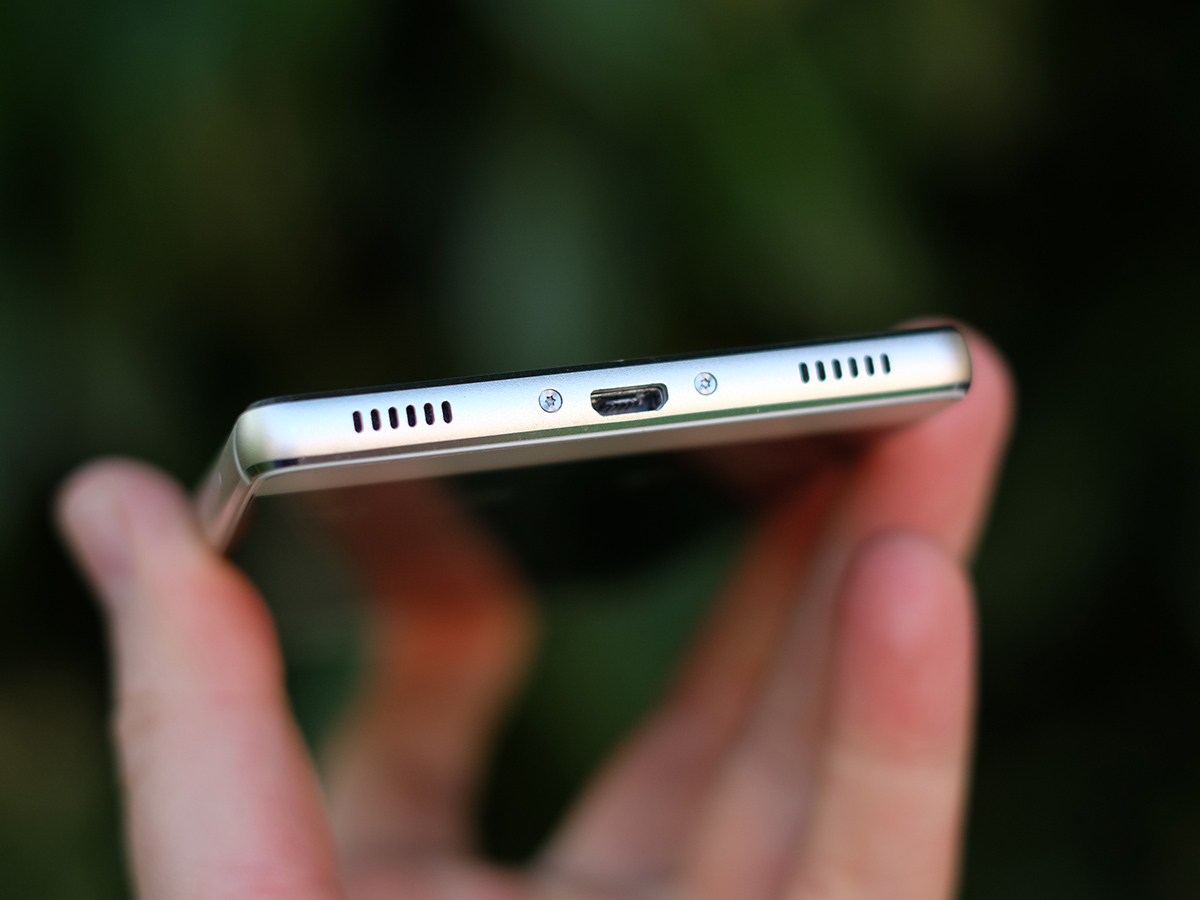 Is there anything else to consider? As you'd hope the Huawei P8 has 4G, and the internal speaker isn't too shabby for a phone this this. It's fairly loud, and doesn't sound reed-thin. However, despite having dual speaker outlets at the bottom it's only a mono speaker: one of the grilles is just for show.
There are also a few bits missing that you get in the big boys from the other brands. There's no fingerprint scanner, no Wi-Fi ac and no IR transmitter here. Does a £200 saving justify these sacrifices? Probably.
Huawei P8 Verdict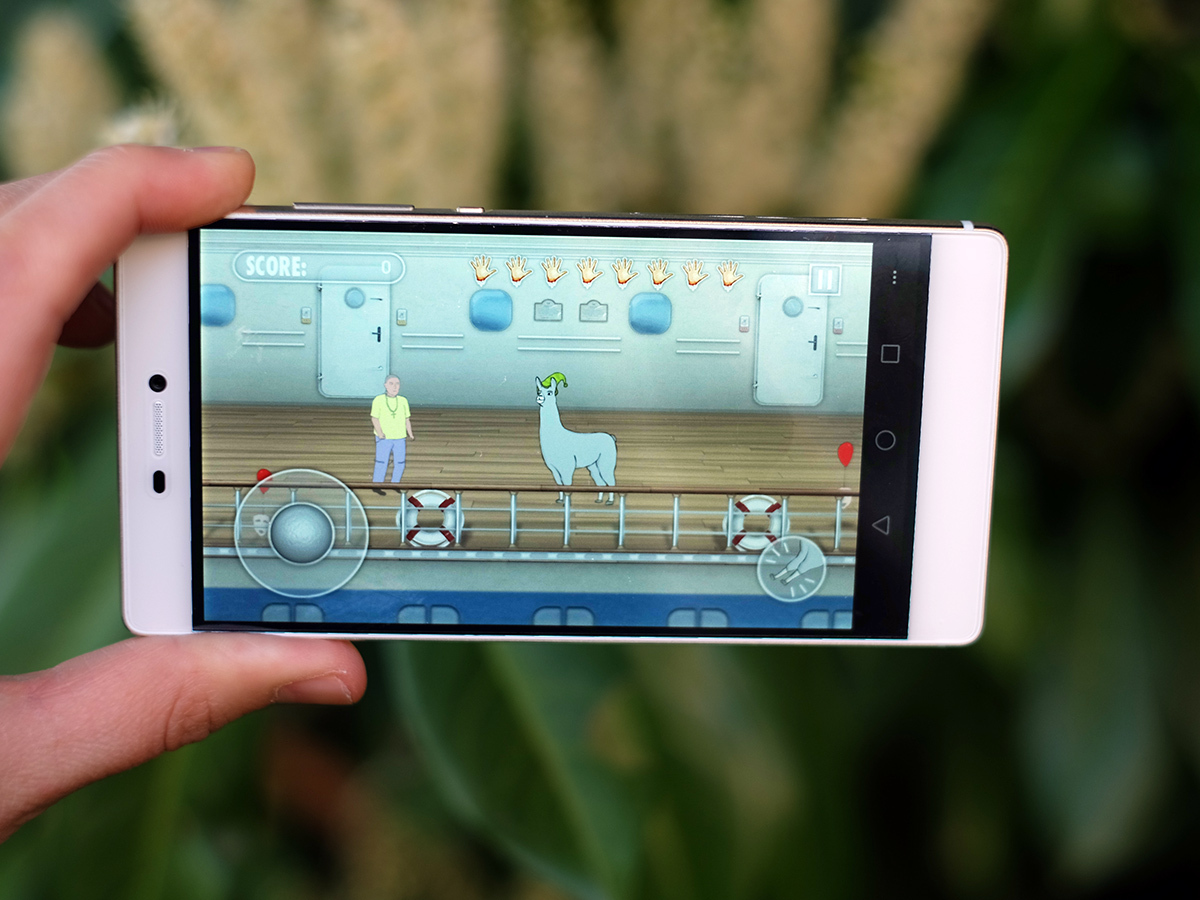 After the disappointing Ascend P7, Huawei's back in action with the P8. It solves the older phone's key issues, resulting in a phone that's a bit of a smasher once you've tweaked away the stranger bits of the quirky custom interface.
Most people willing to put in this extra effort should find it easy to get on with the Huawei P8. However, what it lacks is something to really give it an edge over the bigger names – bar being a shade cheaper.
Coming from the iPhone 6 and Galaxy S6, I do miss the fingerprint scanner, and while the camera is very good it lacks some of the UI intuitiveness of the very best. However, this is still a phone Huawei can absolutely be proud of.
Stuff Says…
Huawei's gaining on the smartphone big boys – the P8's not perfect, but at this price it's well worth a look
Good Stuff
Ultra-reliable camera
High-grade bodywork
Cheaper than the competition
Bad Stuff
Variable battery stamina
No fingerprint scanner, IR or WiFi ac
Quirk-tastic software