Huawei Sound Joy review: gets the party started
A go-anywhere Bluetooth speaker with solid sound, at a very tempting price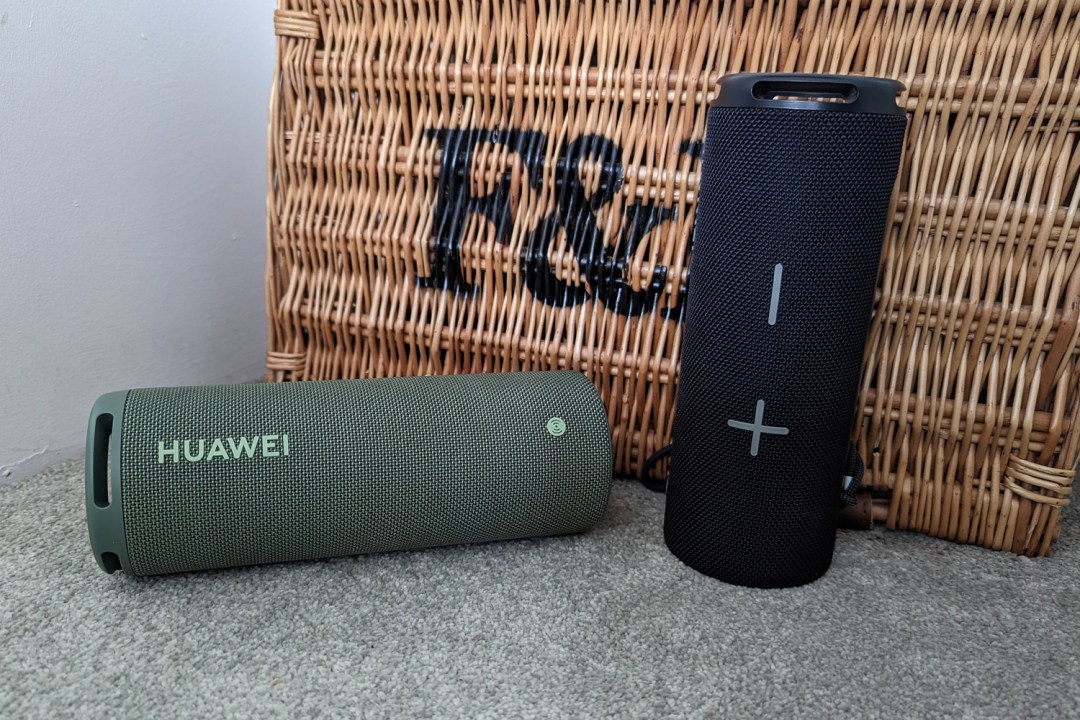 Rugged Bluetooth speakers aren't just for pool parties and summer sunshine, y'know. They've also got to shrug off the mud and muck of wet autumn adventures, and look neat in your living room once you head indoors for the winter. Case in point: the Huawei Sound Joy.
This budget boombox is properly multi-purpose, with sleek styling and a big battery for long listening sessions, proper water resistance, and sound tuning courtesy of French hi-fi expert Devialet. Throw in some LED mood lighting and, on paper at least, it seems like a real contender for our best portable Bluetooth speaker list.
The proof is in the listening, though. Is the Sound Joy a treat for the ears, or a low-fi letdown?
Design & build: tubular swells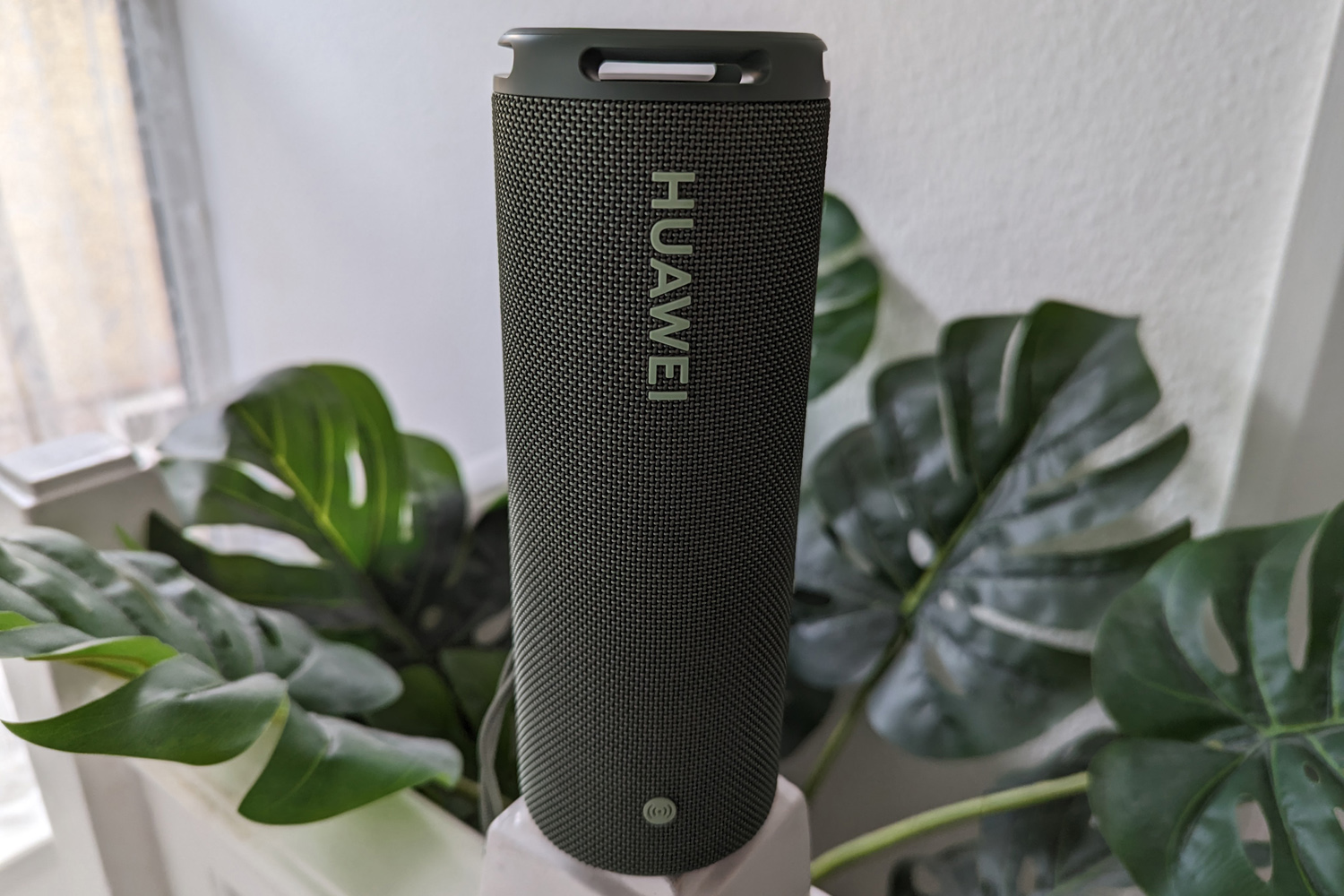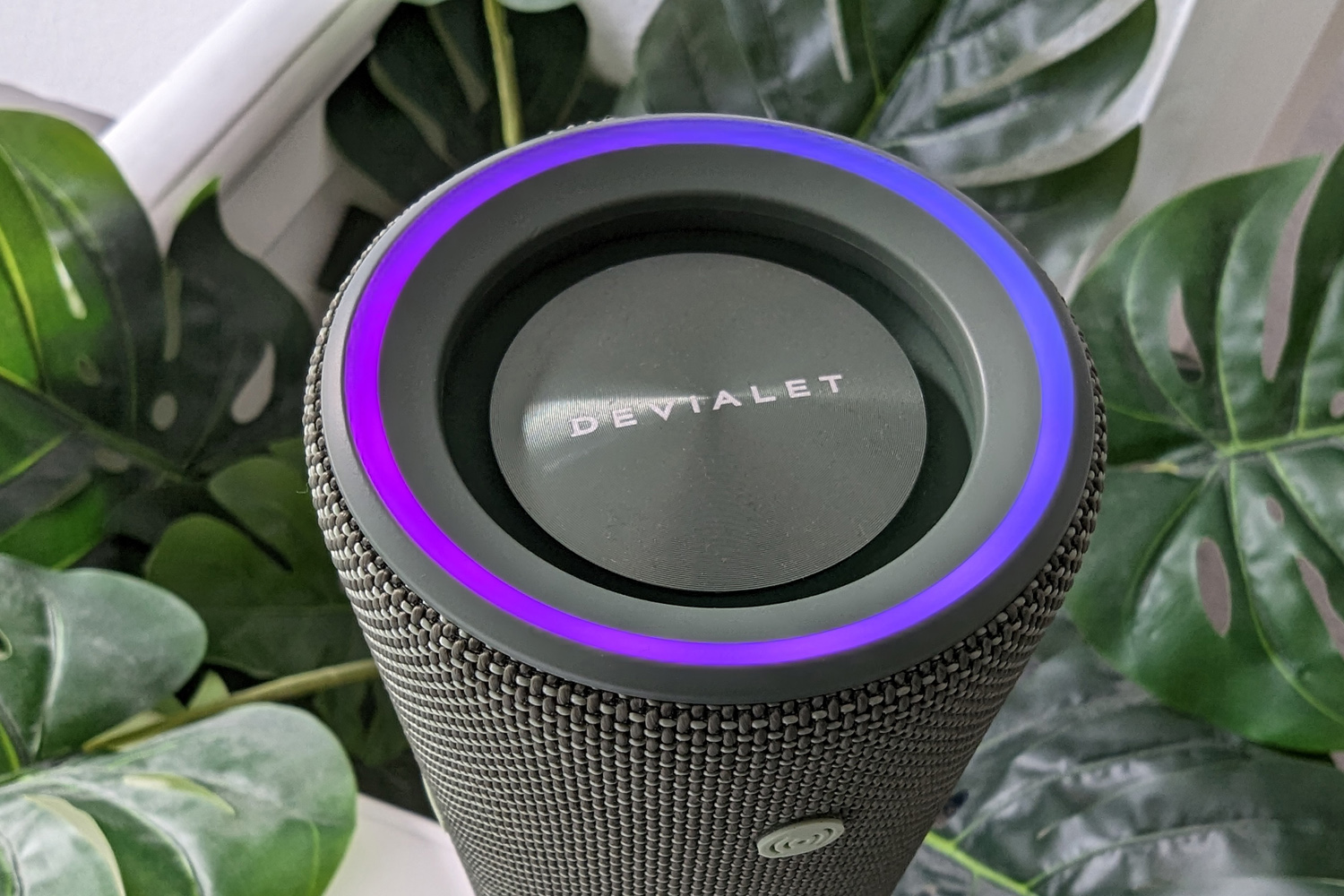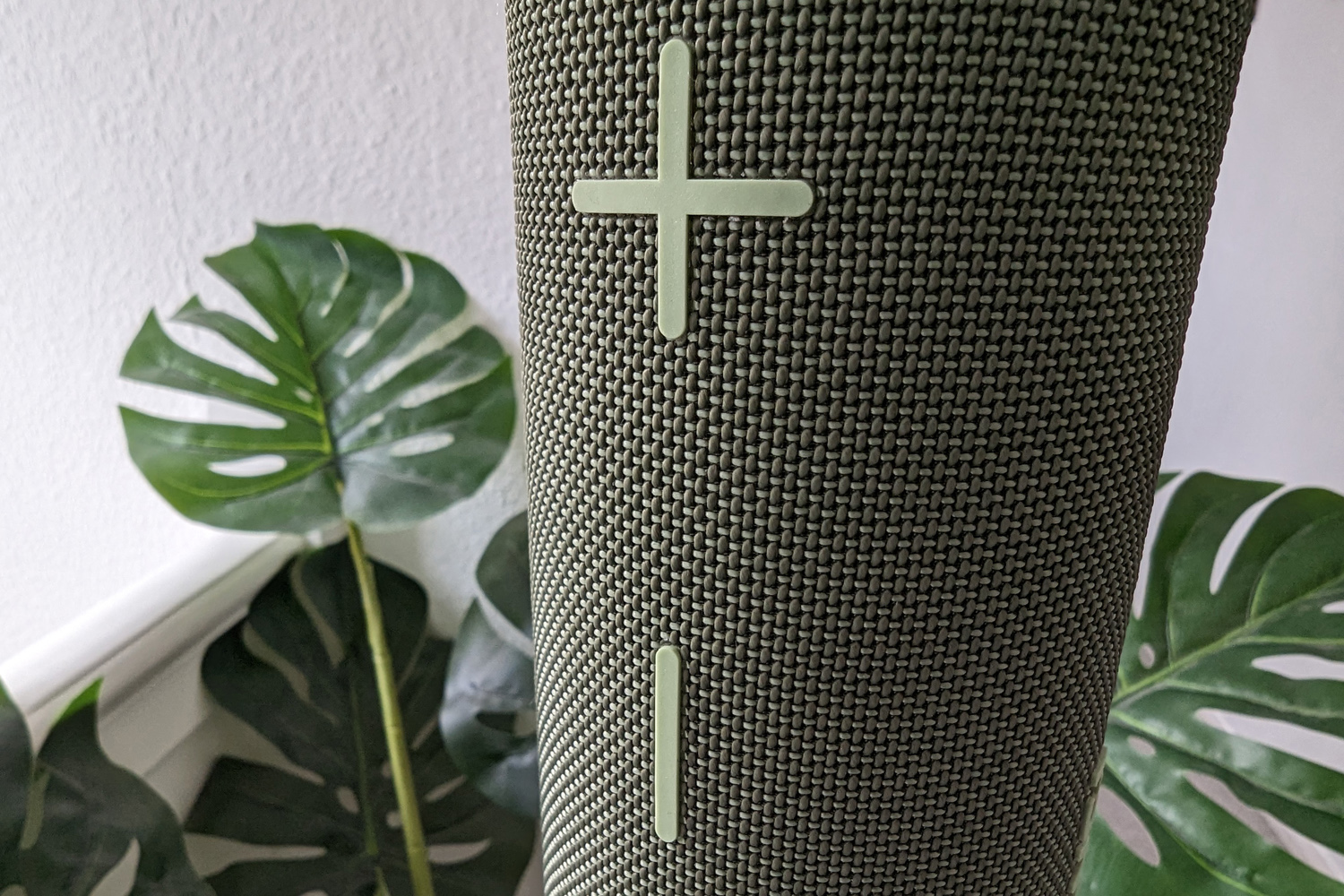 Is the Huawei Sound Joy the most original-looking Bluetooth speaker? Nah, not really: JBL, Ultimate Ears and others have done cylindrical shapes before. The soft-touch plastic and fabric mesh are standard fare for a rugged speaker, too. But Huawei has kept things classy in Obsidian Black and Spruce Green colours, which are less likely to clash with your furniture than the UE Boom 3's bright colours.
The ring of colour-changing LED lights up top adds a little theatre, but it's otherwise quite restrained, with subtle Devialet logos on the passive radiator grille at either end and most of the buttons hidden away at the rear. Only the oversized + and – volume controls are on prominent display. The wrist strap is a handy inclusion, although the bottle-like shape is easy enough to grip as it is, and comfortably fits in a bike bottle holder.
Two tiny feet stop the speaker from rolling away when placed horizontally, and cutouts near the bottom allow sound to escape from the bass radiator when stood vertically.
The whole thing is IP67 dust- and water-resistant, but that's only half the story. The Sound Joy is fine to take a dunking in up to 1m of water with no ill effects, so it ideal for taking outdoors. Dirt and muck brush off relatively easily, and you could always rinse it in the sink if it got properly grimy.
Features & battery life: rhythm of the light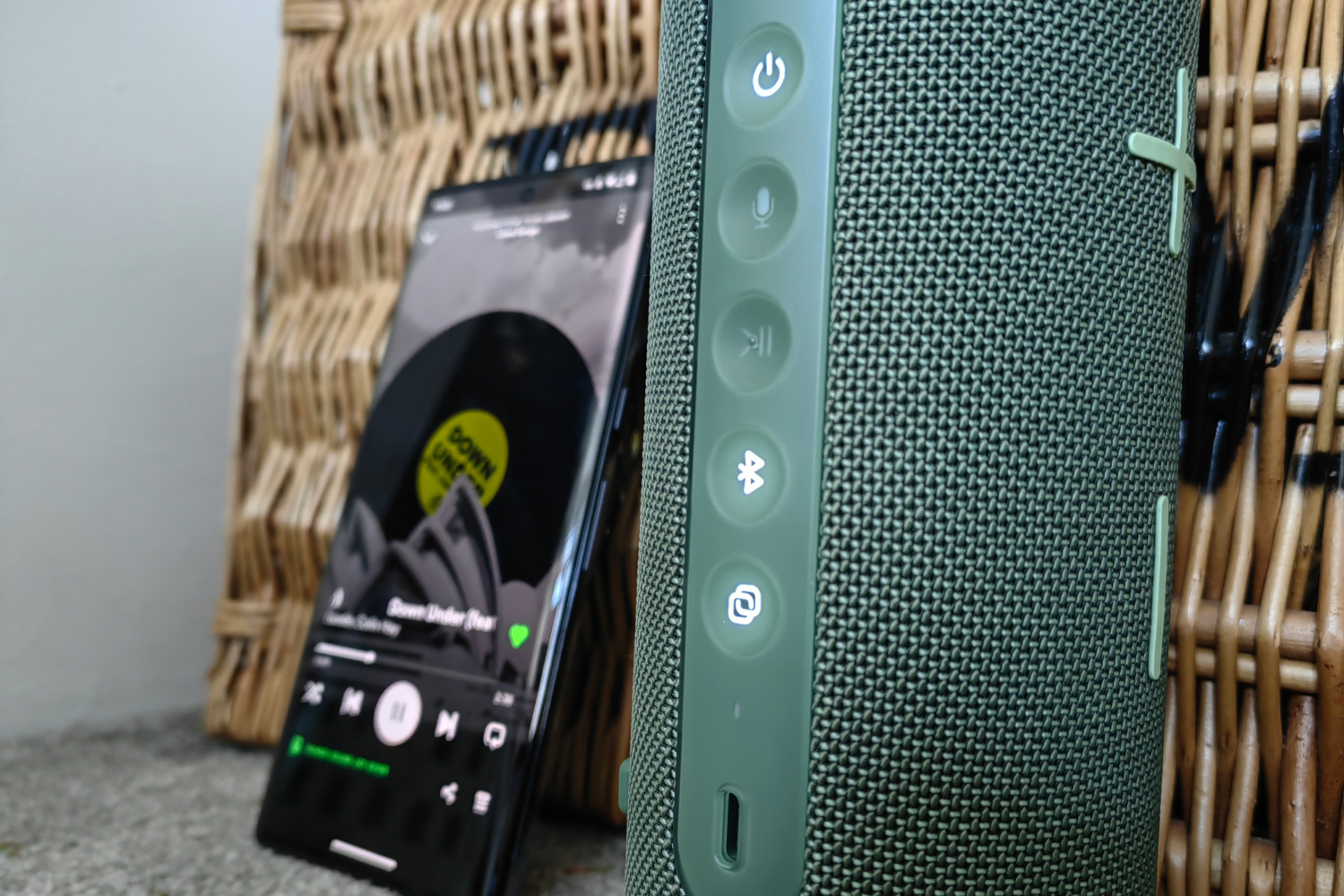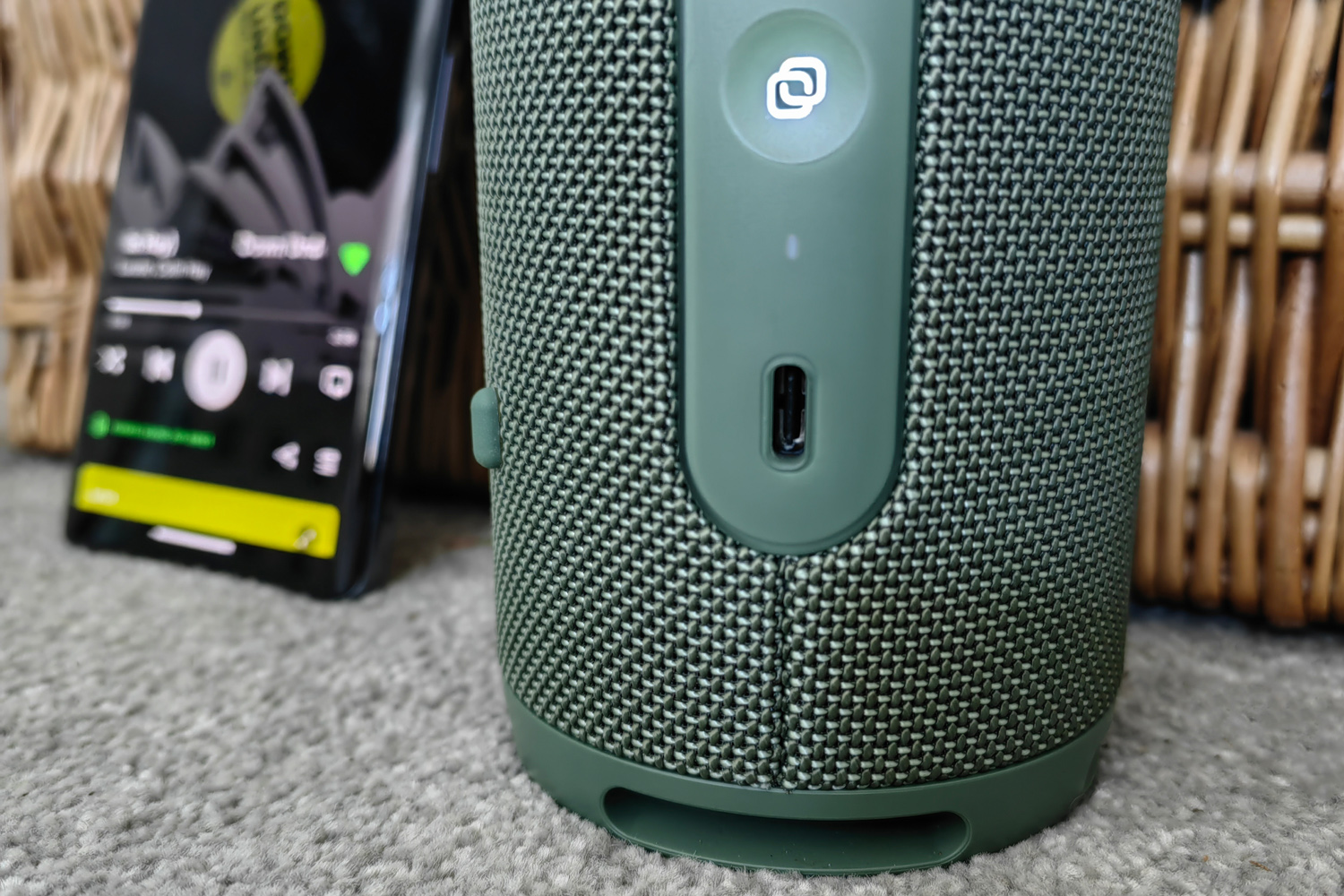 With no 3.5mm port for hooking up analogue gadgets, playback is done entirely over Bluetooth. Pairing to your phone is speedy enough, either using NFC or manually by holding the Bluetooth button down to trigger pairing mode. Don't expect hi-fi quality codecs, though: only AAC and SBC are supported, with no aptX, LDAC or Huawei's preferred LHDC on board.
You do get voice assistant support, with a dedicated button that'll work with Google Assistant and Bixby as well as Huawei's own Celia, and stereo pairing if you've got two Sound Joy speakers to hand. Shake both at the same time and they'll sync automatically, saving you from having to hunt down Huawei's AI Life companion app.
It's not available in the Google Play Store, and needs side-loading on non-Huawei Android phones once you grab it from the Huawei website. The version on the iOS app store didn't support the speaker at the time of writing. That means iPhone owners can't toggle between the three sound modes (Hi-Fi, Vocal and Devialet), tweak bass levels or control the LEDs – although the only options for the latter are on and off, with no way to set specific colours or patterns. You can turn them off manually by holding down the play button on the speaker itself, so is by no means a dealbreaker.
The 8800mAh battery is good for up to 26 hours of playback, depending on volume. That's easily on par with Huawei's closest rivals, and we lasted almost a week of daily listening during office hours without needing to plug it in to recharge. 40W top-ups over USB-C is faster than some top-tier smartphones, and means getting over an hour of playback from just ten minutes on mains power.
Sound quality: ample energy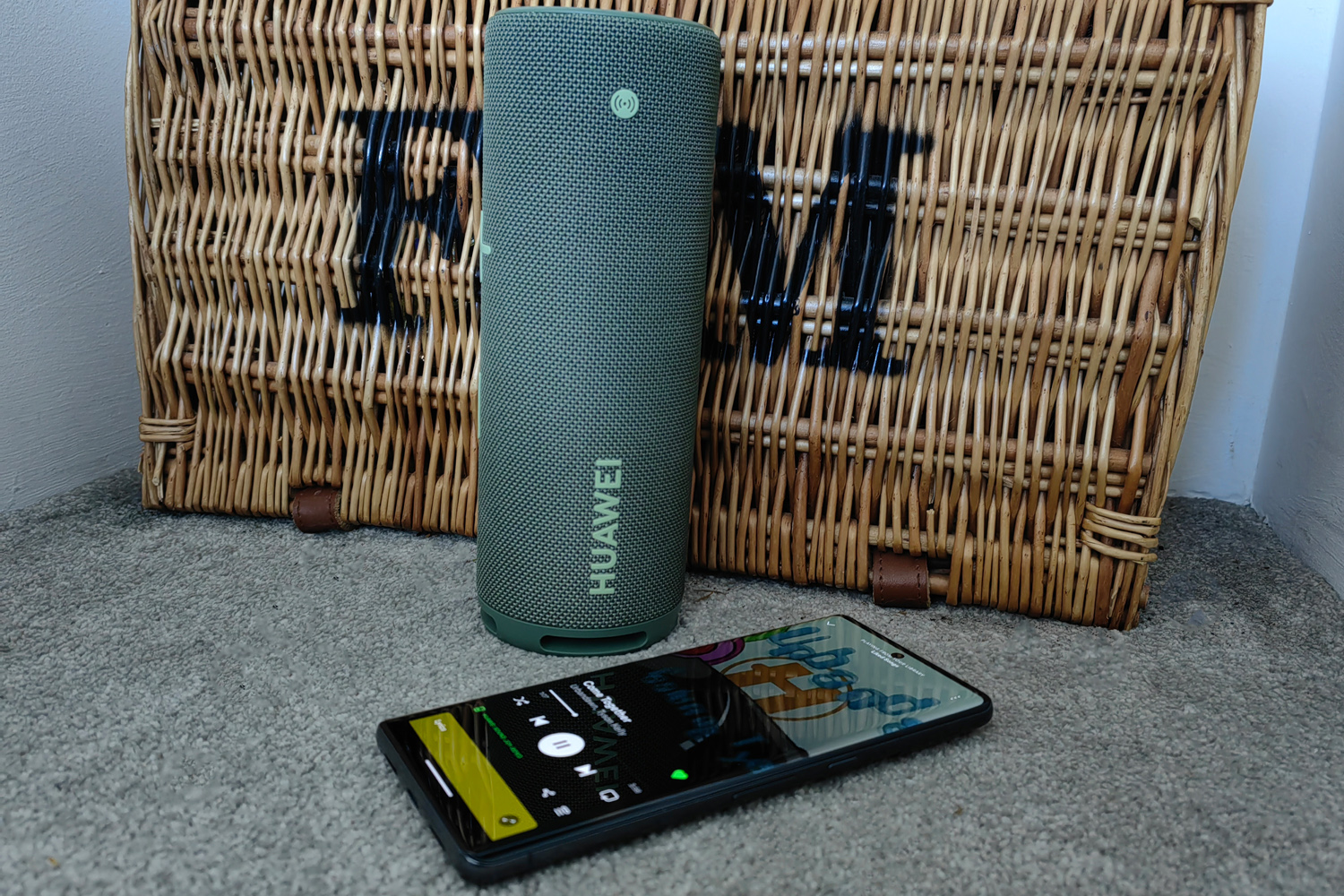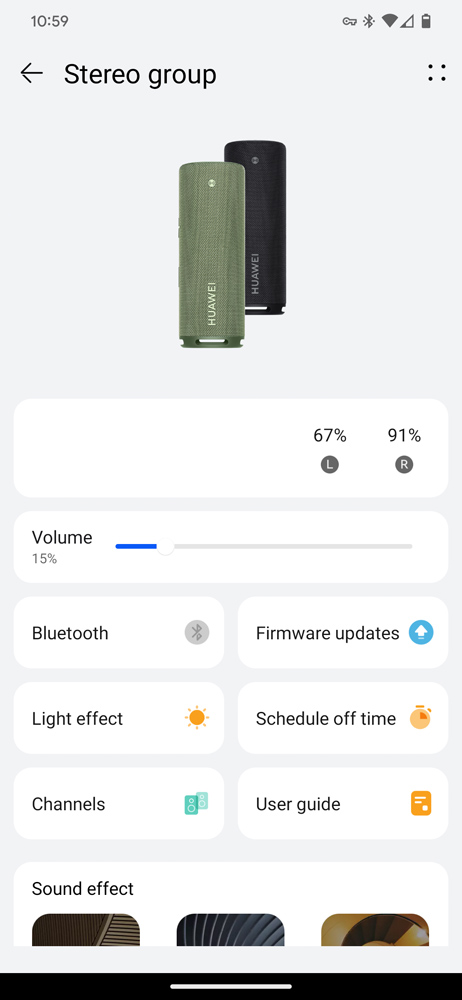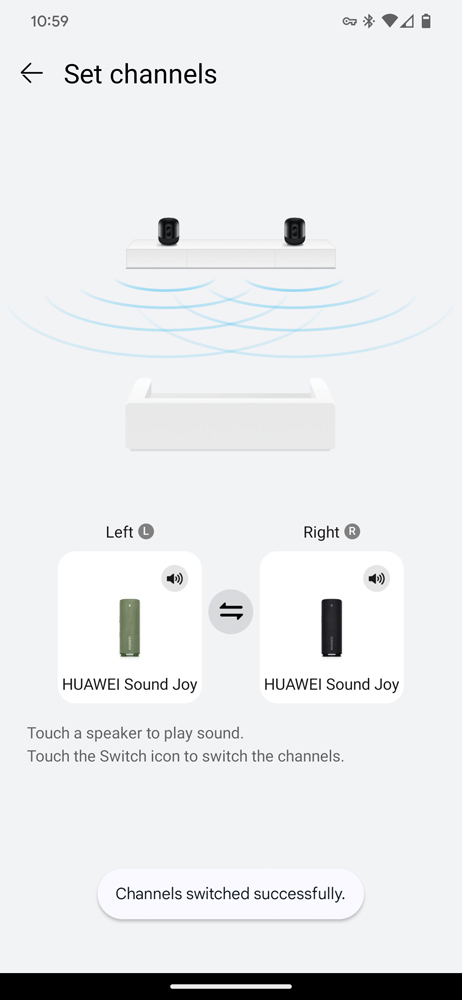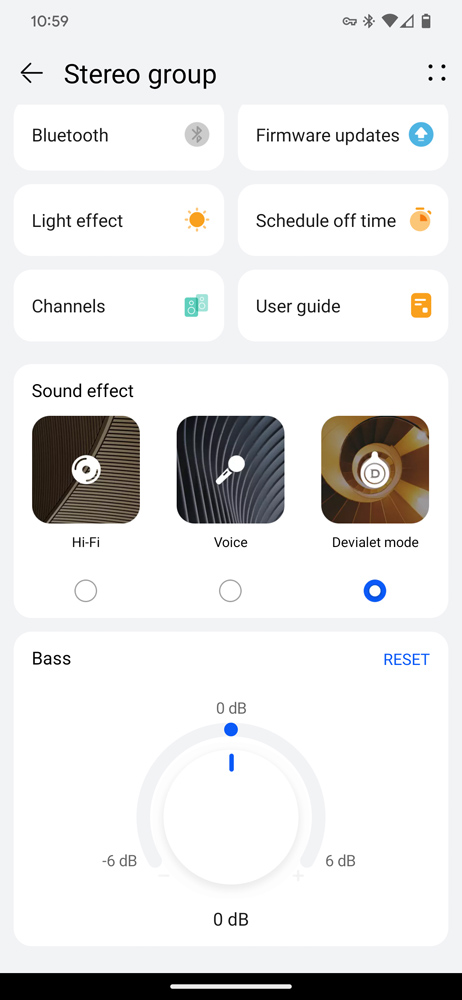 The Sound Joy relies on a 20W full-range driver, 10W tweeter and the two previously-mentioned bass radiators to pump out tunes. They do a convincing job, whether you're listening indoors or outside, with ample volume and an energetic presentation that isn't short on bass. The grilles at either end pulse along with the beat.
High-end frequencies don't make their presence felt to quite the same degree, meaning this isn't the speaker of choice for critical listening. Vocals and more delicate instruments can get a little lost in the mix, although they're reasonably crisp when listening at more moderate volumes.
The Vocal audio preset goes a small way to fixing this, but we preferred the Devialet mode for most genres: the mids are cleaner and the bass isn't quite so dominating.
This is a speaker that works well outdoors and at high volume, with a low-end ability that some similarly-priced rivals struggle to match. It has a respectably wide soundstage, too, delivering a more enveloping sound than you'd expect for its size. Set up as a pair, the Sound Joy delivers effective stereo sound, too. Just don't expect an analytical presentation – fun is very much the focus here.
Huawei Sound Joy verdict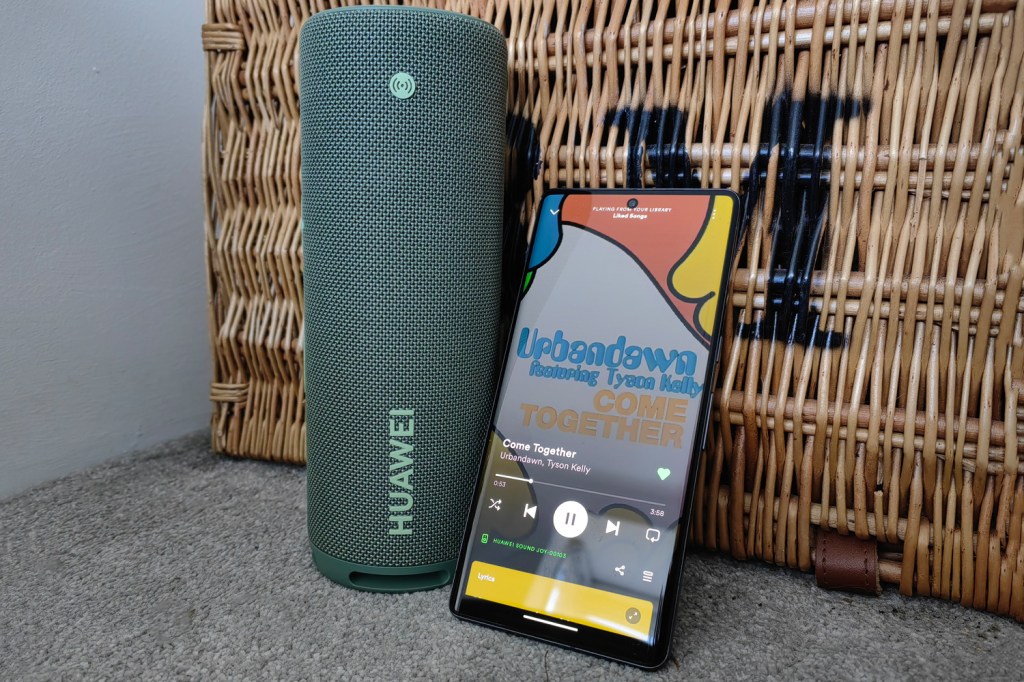 We're hardly short on choice when it comes to rugged Bluetooth speakers, but the Huawei Sound Joy still makes a strong case for itself. You're getting great audio quality for the cash, as well as a long-lasting battery and styling that'll fit in both at home and on the move. It's reassuringly resistant to the elements, too.
The colour-changing LEDs won't be to all tastes, and while the smartphone companion app isn't a necessity, you do have to jump through one or two extra hoops to install it on a non-Huawei handset. But those are minor quirks in an otherwise wallet-friendly speaker – and if you're rocking a Huawei phone it's something of a no-brainer.
In all other respects it's a worthy rival to class champs like the JBL Flip 6 and UE Wonderboom 3.
Stuff Says…
A take-anywhere Bluetooth speaker with punchy audio and a sturdy build that'll cope with a bit of rough and tumble. And all at a tempting price
Good Stuff
Substantial sound for the size
Solid, waterproof build
Excellent value
Bad Stuff
Downloading companion app not entirely straightforward
Stereo pairing not as one-touch as you expect
Huawei Sound Joy technical specifications
| | |
| --- | --- |
| Speakers | 50x75mm full-range, 19mm tweeter, 2x passive radiator |
| Power | 30W RMS |
| Durability | IP67 water-resistant |
| Connectivity | Bluetooth 5.2, NFC |
| Codec support | AAC, SBC |
| Battery | 8800mAh, USB-C charging |
| Dimensions | 73x73x202mm, 680g |