Huawei Vision S review
Huawei has decided to have a go at making TVs and its debut effort the Vision S represents a unique proposition at an attractive price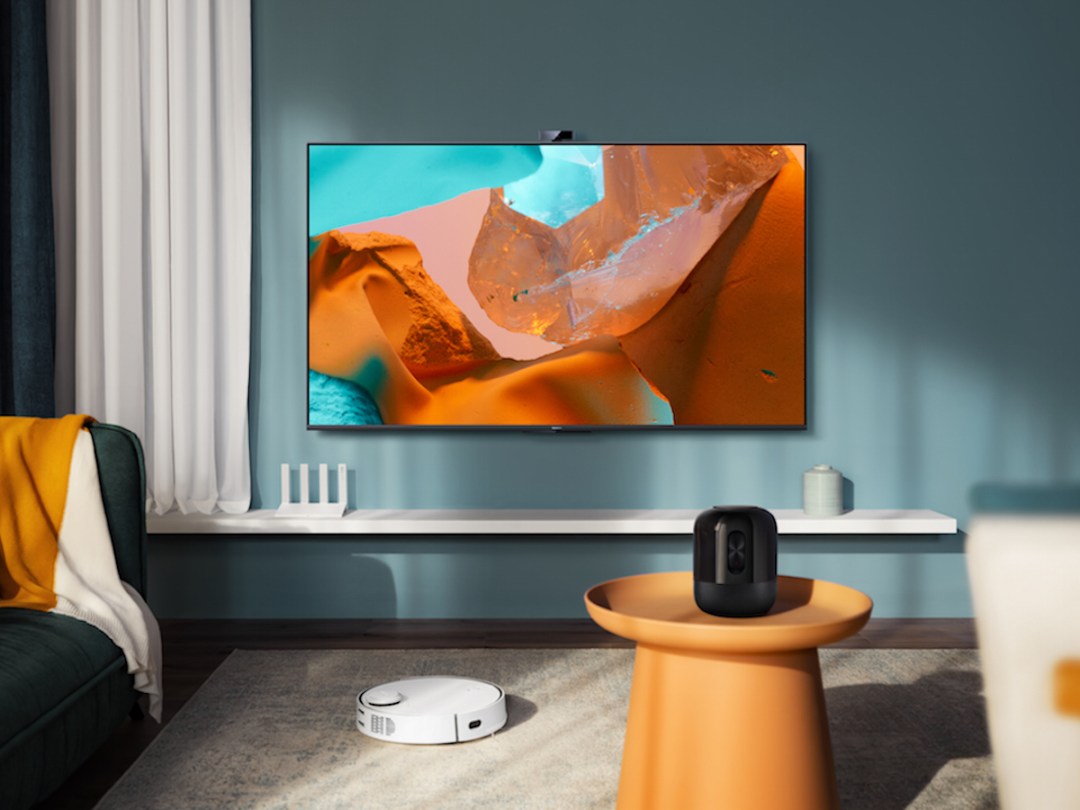 Huawei is a deeply serious company when it comes to the manufacture of smartphones where it regularly does battle with Samsung, but can it pull off the same trick with the Huawei Vision S – a smart 'TV' – expected to cost around £550?
Yes, that's right, Huawei is trying its hand at televisions, but if you're wondering why we've popped 'TV' in inverted commas, there are a few disclaimers to flick through first. 
The Huawei Vision S doesn't come with any TV tuners. More on this below, but that means it relies on apps and catch-up services on its smart platform. Huawei says it sees the Vision S as a smart screen that sits at the centre of a smart home, bringing together different experiences that can't be found on other sets.
This includes features like 1080p video calling, which can be switched from phone to TV to suit the user, and distributed gaming that allows you to play titles on the Huawei Vision S's 120Hz display using a handset as the controller.
There's are also a Samsung DeX-like mode that aims to turn the Huawei Vision S into a desktop, with a phone acting as a track pad. Did we mention that Huawei is a deeply serious company? 
It's also worth noting we got a bit of a jump on this Huawei Vision S review – which isn't officially a UK-specced product yet – so we hope to revisit things a little later down the line when it's taken its citizen test. 
Huawei Vision S design and build: Nothing's shocking
It would take a braver/more foolish* (*delete as applicable) company than Huawei to try and reinvent the way LED/LCD TVs look, so the Huawei Vision S looks more-or-less like every other flatscreen TV you've ever seen.
In no way is this a bad thing. The top, left and right bezels surrounding the screen are decently slim, while across the bottom there's a slightly bulkier version that's home to some discreet 'Huawei' branding.
If you fancy standing the Huawei Vision S on a shelf, table-top or other surface, it is supplied with a couple of slim metal feet the company suggests are reminiscent of the blades of ice-skates. More important than what they look like, though, is the fact that they're very far apart. So your surface will need to be as wide as the screen itself.
Wall-mounting seems the more likely option where most 65in screens are concerned, and this 65in screen is no exception. Our review sample doesn't appear to be ready to accept a Vesa wall-bracket (which is not all it goes without – more on that later), but with a maximum depth of a touch over 7cm it's not the flattest flatscreen you ever saw. So in any event, if it's positioned on your wall it's going to display a fair bit more profile than some alternatives.
As far as build quality goes, though, there's nothing here to take issue with. If the estimated price of £550 is even remotely correct (and we're confident it is), the Huawei Vision S is very well put together and built of materials (plastic mostly, of course) that don't feel like they've been hoicked straight from the bargain bin.
Huawei Vision S features: Some you win, some you lose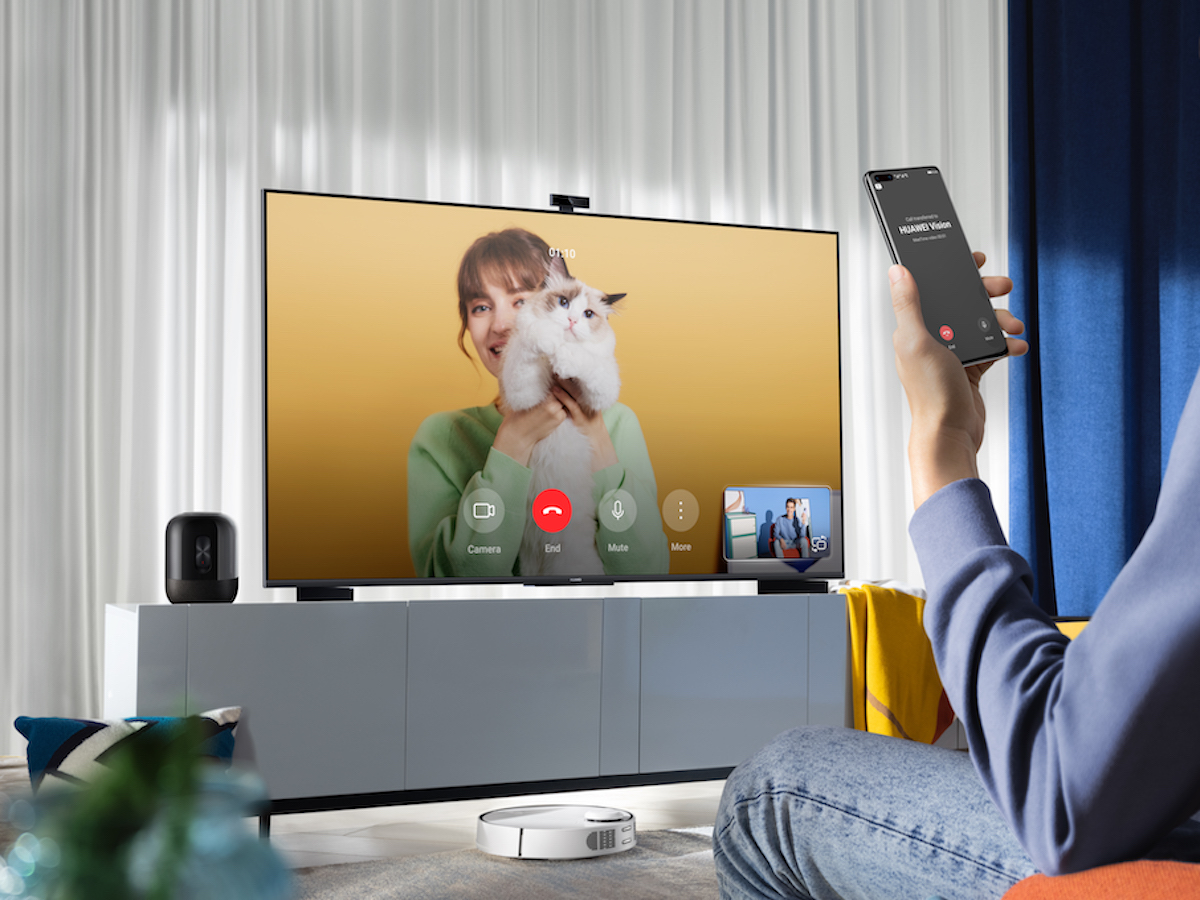 Huawei has tricked out the Vision S with quite a number of interesting features, but we're going to start with the stuff our review sample goes without. Some of these are unique to our screen, but some will be missing from every UK version of the Huawei Vision S.
Our Vision S is not a UK sample. Huawei has been promising/threatening this television for quite a while now, and quite obviously has become impatient to see how it's received in Blighty. So in the absence of a UK version, we're testing something that's tailored to the Malaysian market. Which means it goes without all of the most popular Western streaming service apps, as well as featuring some menus that this particular Westerner isn't educated enough to understand.
Of course, once the Huawei Vision S is ready for sale in the UK, those shortcomings will be rectified – or so Huawei promises. What won't change, though, is the lack of TV tuners here. That's right, the Huawei Vision S isn't, strictly speaking, a television – because a television has to be able to receive broadcast television transmissions. What the Vision S is, in fact, is a gigantic monitor.
In some ways, of course, that's neither here nor there. The way people consume video content has changed immeasurably during the course of this century, and if your Huawei Vision S features Netflix, BBC iPlayer and every other worthwhile streaming and catch-up service, the fact that it's not actually a television may not be that much of an issue. Don't imagine you'll get away without paying a license fee, mind you.
And anyway, there are plenty of quite television-y aspects to the Huawei's feature-set. This is an edge-lit 4K LED/LCD 120Hz screen, with support for HLG and HDR10 HDR standards – but no HDR10+ or Dolby Vision dynamic metadata capability. It has three HDMI 2.0 inputs, an Ethernet socket, a USB 2.0 input, a 3.5mm analogue 'AV' socket and a digital coaxial input.
Wireless connectivity is covered by Wi-Fi and Bluetooth. There's a little magnetic housing at the top of the rear of the panel – this is where the Huawei's 13MP camera clips into place. There's an app called MeeTime, from where owners of Huawei smartphones (or Android devices running 8.0 onwards) can make video calls to other MeeTime fans – and when you video calls are happening at a 1920 x 1080 resolution on a 65in screen, it's quite a different experience to the Skype-via-laptop we've all become used to.
The audio system features four horn-loaded drivers (two covering the full frequency range, and two high-frequency tweeters) powered by 10 watts each. Huawei confirms there's a sound cavity of a litre in which they're able to do their thing – which is a) a fair bit more than most flatscreens enjoy and b) goes some way to explaining the Huawei Vision S's relative depth.
Huawei Vision S interface: Sweet Harmony
Interaction with the Huawei Vision S happens predominantly via the remote control. It's a small, nicely shaped handset with the bare minimum of buttons – and it's all the better for it. One of the few buttons on there activates a mic, and when using it to issue voice commands the Huawei proves rapid and reliable in its responses.
There's an NFC patch on the handset, which means Huawei phones can send their content to the Vision S without them needing to be on the same network. Set-up isn't too taxing a job because there really aren't all that many options to be explored. There are eight picture presets, for example, which basically fiddle around the edges of image warmth without having any kind of fundamental impact on the overall picture quality.
It's possible to adjust sharpness, brightness, contrast and so on – but, again, it's difficult to exert any sort of profound influence on the quality of images. Mind you, that's even truer of sound quality. Six EQ presets are available, but the differences between them are miniscule.
Huawei has been hard at work on its Harmony operating system, and certainly in its Malaysian guise it's clean and logical. It seems likely that the UK version of Harmony will be a little more extensive, but hopefully it won't lose any of the slickness or straightforwardness of the version we've been testing.
Huawei Vision S performance: Nobody move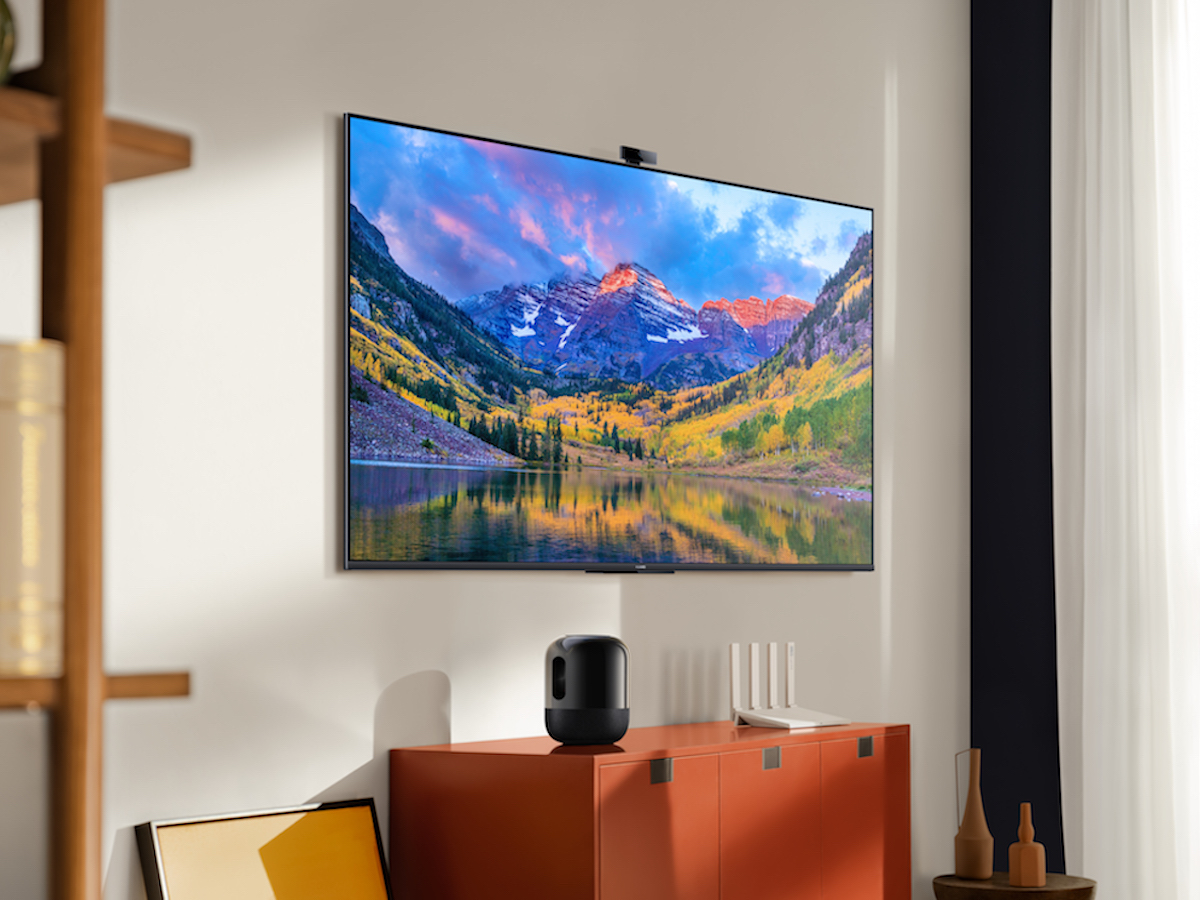 With no TV tuners and no UK catch-up apps on board, testing the Huawei Vision S relies entirely on external sources. So the majority of viewing is done using a Samsung 4K UHD Blu-ray player – usefully, it includes a number of apps (including Netflix and iPlayer) as well as its disc-drive.
Some 4K HDR content is the place to start, though, and with a UHD disc of Bad Times at the El Royale spinning in the Samsung the Huawei Vision S initially looks pretty enticing. Its colour balance is decent, and contrasts (despite a peak brightness of just 350 nits) look impressive enough thanks to how clean the white tones are and how relatively deep the blacks are.
The Huawei controls its backlighting zones pretty well, too – there's a good amount of detail retained in black tones, and very little blooming or haloing in evidence. Detail levels are reasonably high, which means skin-tones and skin-textures look good. Edge definition is smooth and convincing, and even the tightest patterns – the check of a shirt, for example – is controlled well.
There can be a little shimmering in extremis, but by the standards of big, affordable televisions the Huawei does well. That's always assuming our estimate of its price is correct, of course, and if we're prepared to be generous with the description 'television'.
The Vision S is nothing like as assured where motion is concerned, though. No matter if it's the slow movement of a character crossing the screen or the rather more hectic alternative of a car streaking out of a parking lot, the Huawei seems to be both working awfully hard and less than confident.
Particularly complex on-screen motion can result in the Huawei Vision S throwing in the towel somewhat, with doubling of edges and a mild, but definite, impression of smearing.
Stepping down to some Full HD content (a Samsung-derived Netflix-derived stream of the Coen Brothers' O Brother, Where Art Thou?) throws the Huawei's strengths and weaknesses into even sharper relief. There's the inevitable softening of images overall – that's no surprise.
Detail levels remain respectably high, though, and colour fidelity remains convincing too, but the Huawei Vision S's difficulties with motion are emphasised a little as well.
As far as sound goes, the Huawei outperforms its (anticipated) price-point to quite a degree. It's no substitute for a half-decent soundbar (and there's plenty of space between those slender feet to put one), but by the standards of affordable screens the Vision S sounds quite robust. Sound is spread reasonably wide, there's plenty of midrange clarity, and even at volume the Huawei resists getting hard or shouty.
Huawei Vision S verdict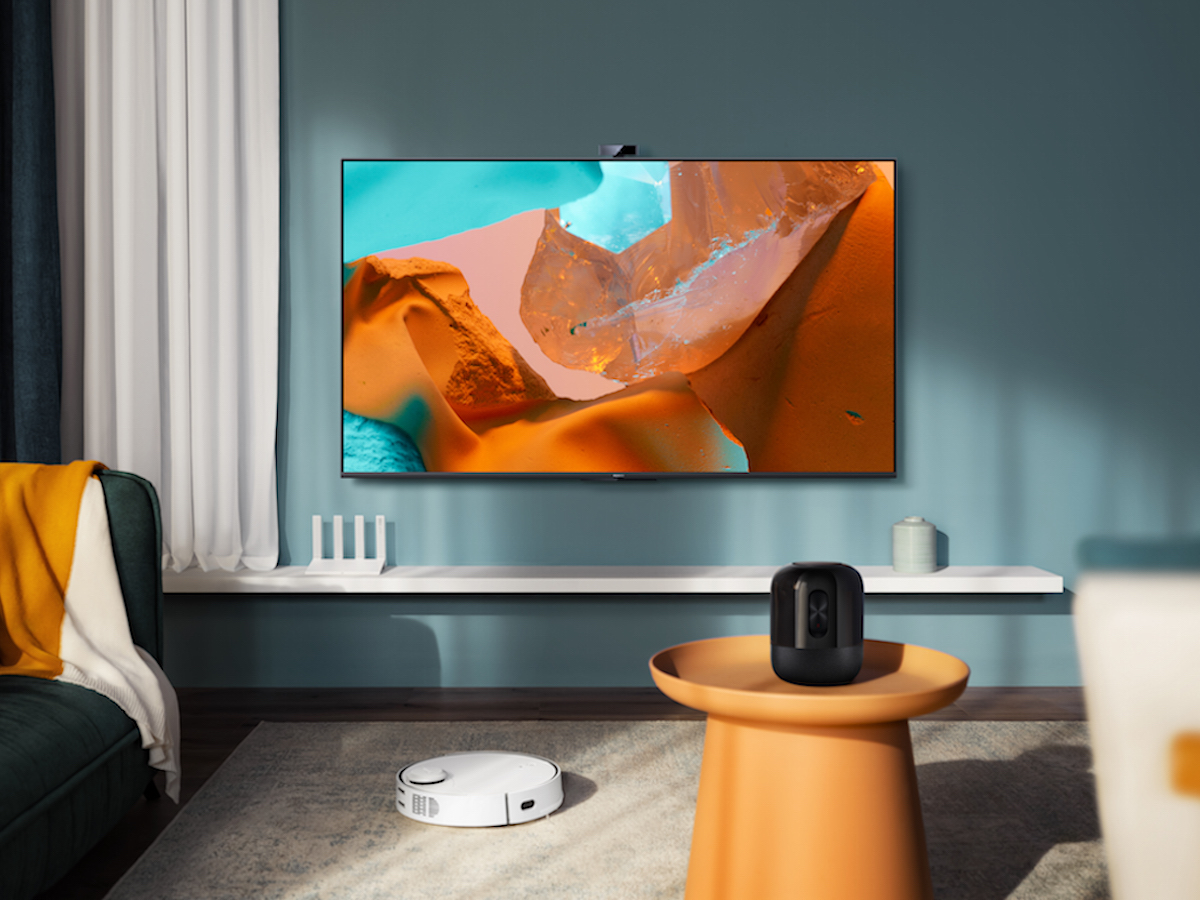 Obviously a lot depends on what the Vision S's UK specification turns out to be. A lot depends, too, on the price. And if you want an actual television, well, this Huawei screen isn't for you. But as a first serious attempt at a big screen at a keen price, with a bespoke operating system and an uncomplicatedly impressive audio system, the Vision S is ominous. But, you know, in a good way.
Rivals at this price will be plentiful, but whether they can match the Huawei Vision S's list of features is another thing. If you expect to increasingly use apps and a smart TV platform, however, the Hisense A7200 Roku TV is well worth a look.
Stuff Says…
If this is the Vision S that comes to the UK – and we won't know for sure until we know for sure – then it's a pretty impressive opening salvo from Huawei. It's not a television, though
Good Stuff
A lot of screen for the money
Accomplished Harmony OS
Impressive audio quality
Thoughtful extended functionality
Bad Stuff
Not, strictly speaking, a television
Can struggle to fully control motion
Quite a chunky cabinet