Huawei Watch GT 2 review
A handsome, glorified fitness tracker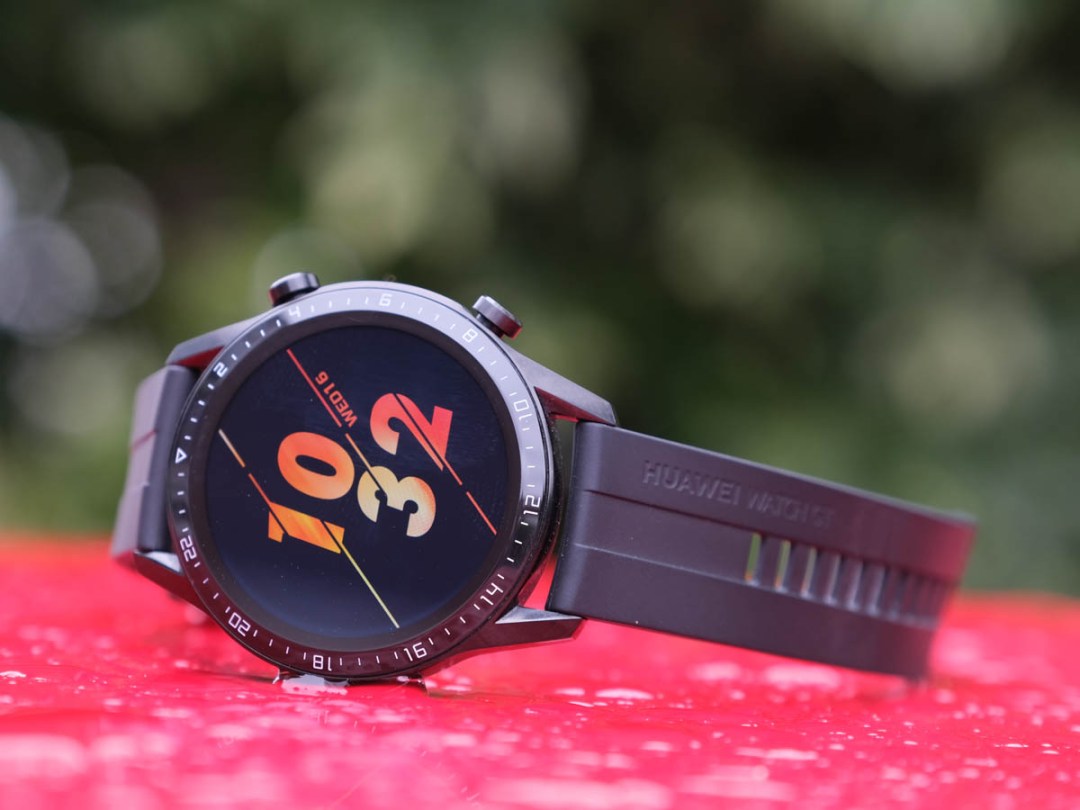 Huawei's Watch GT 2 is a beauty: round, sleek, relatively slim with a giant, bright screen; this is a smartwatch we've loved having on our wrist. There's just one problem – it isn't really a smartwatch.
Just like the Watch GT before it, the GT 2 is a very fancy fitness tracker in a smartwatch body. Running Huawei's own Lite OS, you can't download apps for it, but it covers the basics and boasts stellar two-week battery life.
So what does the GT 2 do that the GT doesn't? It gives you options. This this time around, there's a smaller, more elegant release – the 42mm version. This packs a totally different feature-set to the watch we reviewed, though, so enough on that for now.
Meanwhile, the larger 46mm model gets a speaker and full phone call functionality when connected to your phone, stress-tracking and storage for offline music.
But is a £179 fitness tracker in smawatch clothing a good thing, or should Huawei be sticking to bands?
Design and screen: Slick and suave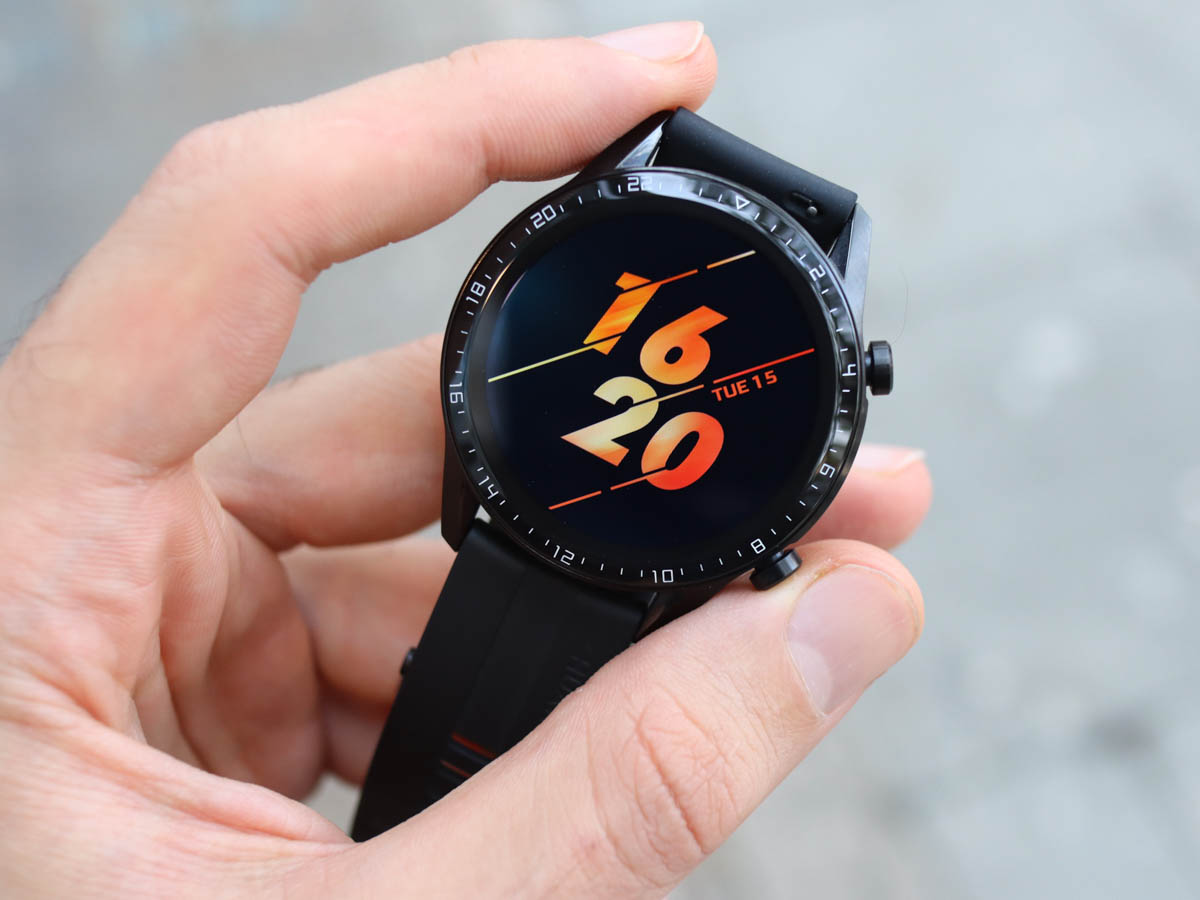 Available in plenty of styles and two sizes, both the Watch GT 2 46mm and 42mm feature deep, bright and zingy OLED screens.
The 46mm GT 2 features a 454 x 454 resolution display and a 22mm strap fitting. It also trumps the 42mm option in some key areas, with double the battery life and RAM and a higher resolution display. It's also the only one of the pair that can make calls. In short, the Watch GT 2 42mm could really have done with being called the Watch GT 2 Lite to avoid customers feeling shortchanged.
There are three editions of each size – Sport, Classical and Elite, each with different finishes and straps: fluorine rubber, leather and metal.
Our Watch GT 2 is the 46mm black Sport Edition, and it looks glorious. It has a dial etched into the black frame, two crown-esque buttons on the right and it isn't too thick. The fluorine rubber strap feels comfortable against the skin, doesn't yank hairy wrists, and the big, bold screen is a handsome centrepiece.
Around the back of the watch is a slightly raised heart rate monitor, bookended by two POGO pin connectors for charging. There's a proprietary charging disc that ships with the watch as well as a USB-A to USB-C cable.
If you opt for the leather or metal strap editions of the Watch GT 2, you'll also get a Fluorine rubber strap in the box, and with standard fittings, they can be swapped out in moments.
Interface: Lite OS indeed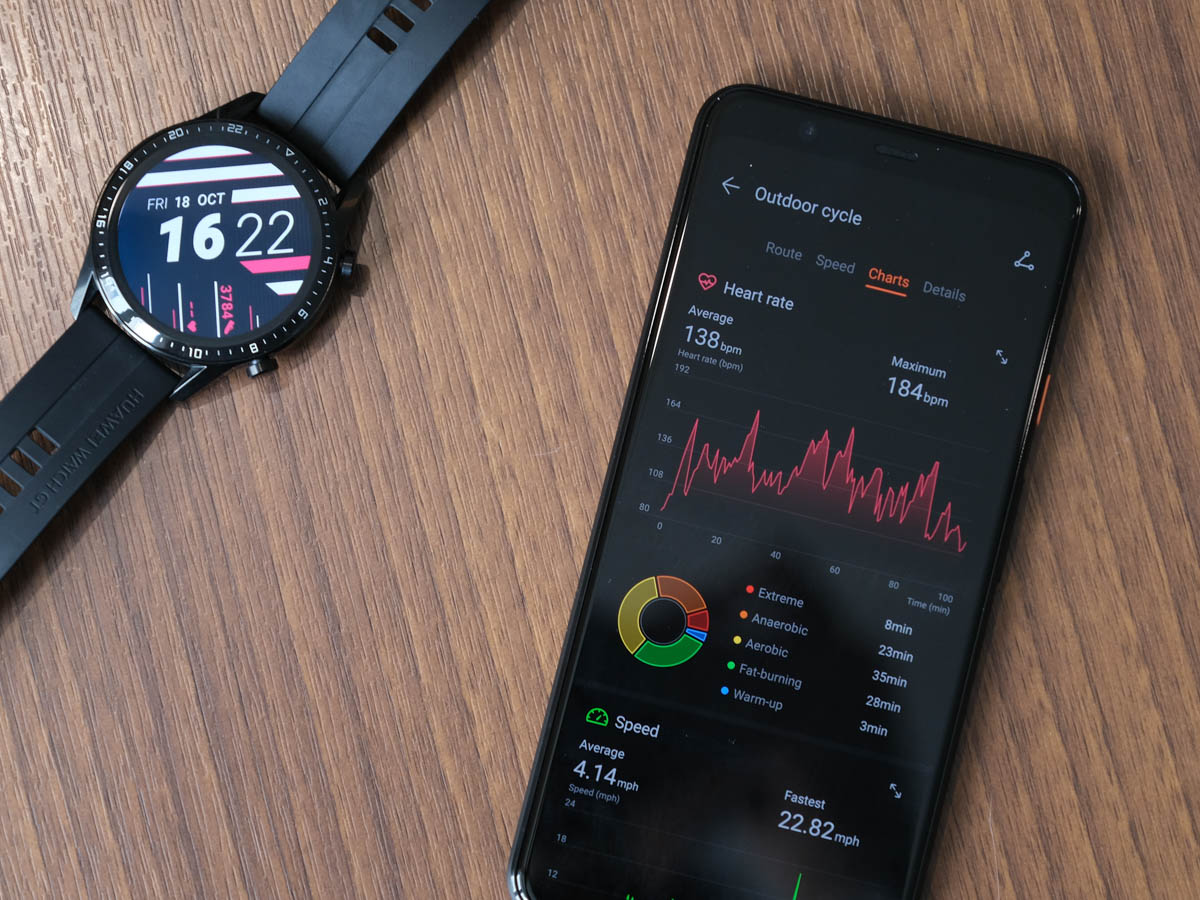 The interface, Huawei's Lite OS is indeed light and very easy to navigate around. While its functionality is limited compared to Wear OS, for example, it's a piece of cake to figure out.
Swipe down for quick settings and horizontally to scroll through key elements – music, fitness logging etc, and swipe up for notifications. The top right physical button fires up the pre-installed apps, while the bottom right button is customisable.
There's no app ecosystem here, and our GT2 has 23 watch faces, so if you don't like any of those, tough luck. It's also lacking a voice assistant, and as with the original Watch GT, message notifications give you truncated snippet previews with zero interactivity, much like fitness bands.
It does feature staples like a timer, alarm and stopwatch, but you can't multitask when training. Not great in the gym when you're mid-circuit and in need of a stopwatch or timer but are locked to the workout screen.
Performance isn't silky smooth by any means, definitely leagues behind the Apple and Samsung competition, but it betters that of the original and is perfectly usable. Also worth noting, we'd take a drop in smoothness for a boost in battery, and that's what the GT2 delivers.
The GT2 also has a loud speaker and is a handy phone call receiver in a pinch.
Fitness tracking: Healthy, but not appy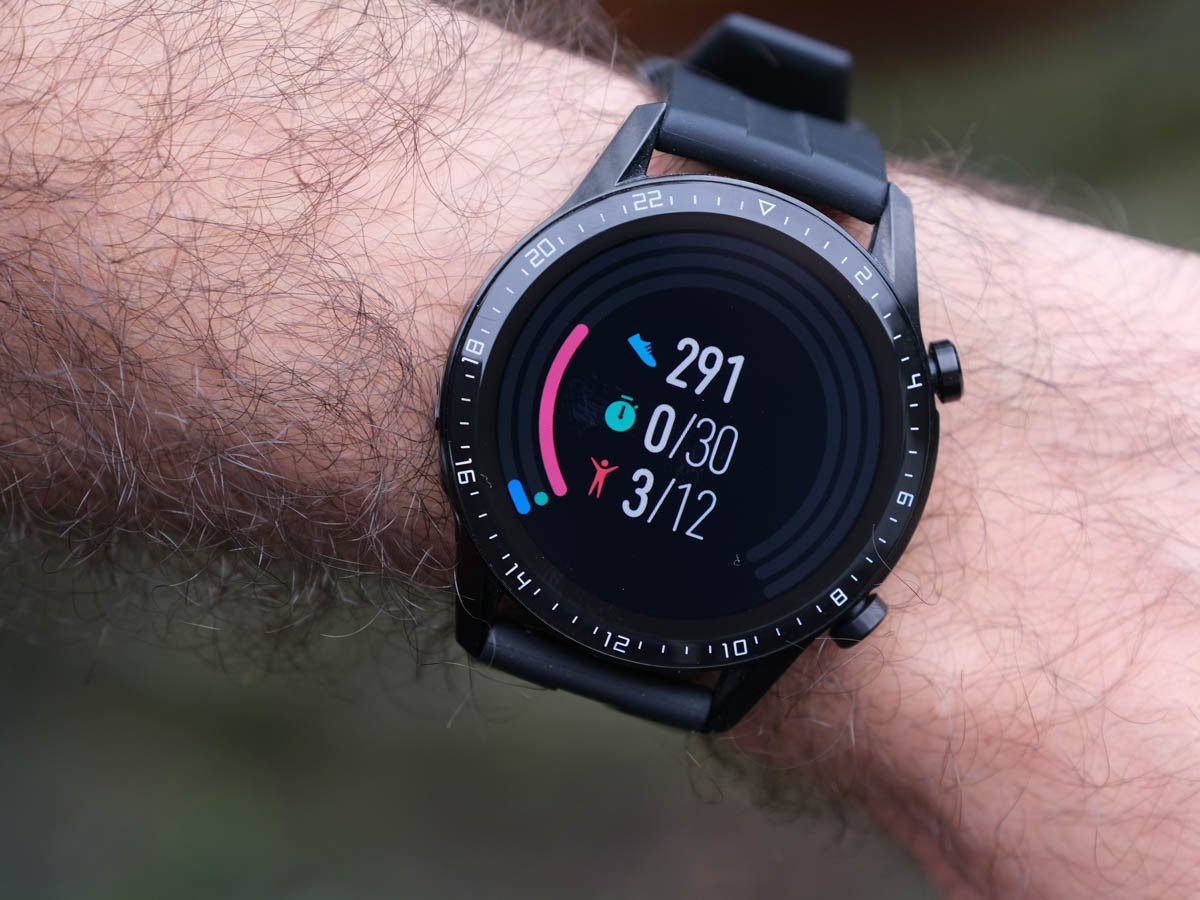 Huawei has upped its game for the Watch GT2's tracking, having included stress monitoring to the mix, as well as a barometer to measure air pressure.
There's detailed sleep tracking too, which worked well – although it couldn't tell when we woke up in the night unless we physically got out of bed. Additionally, anything less than three hours won't register as sleep, so it won't give you detailed insights. If you're a shift worker with fragmented sleep, you might want to look elsewhere.
We found the Watch GT 2's heart rate tracking to be accurate for the most part when active, and perfect when resting. The watch supports 16 workouts: running courses, outdoor run, indoor run, outdoor walk, indoor walk, outdoor cycle, indoor cycle, pool swim, open water, climb, hike, trail run, triathlon, elliptical, rower and other for gym workouts and the like.
The smartphone companion app, Huawei Health works with Android and iOS, linking with Apple's Health app, Google Fit and also My Fitness Pal.
That said, there's no linking directly to apps like Endomondo or Strava, which is a pain and relegates the Watch GT 2 to casual exercisers rather than serious enthusiasts or athletes.
Battery and specs: Low power, high yield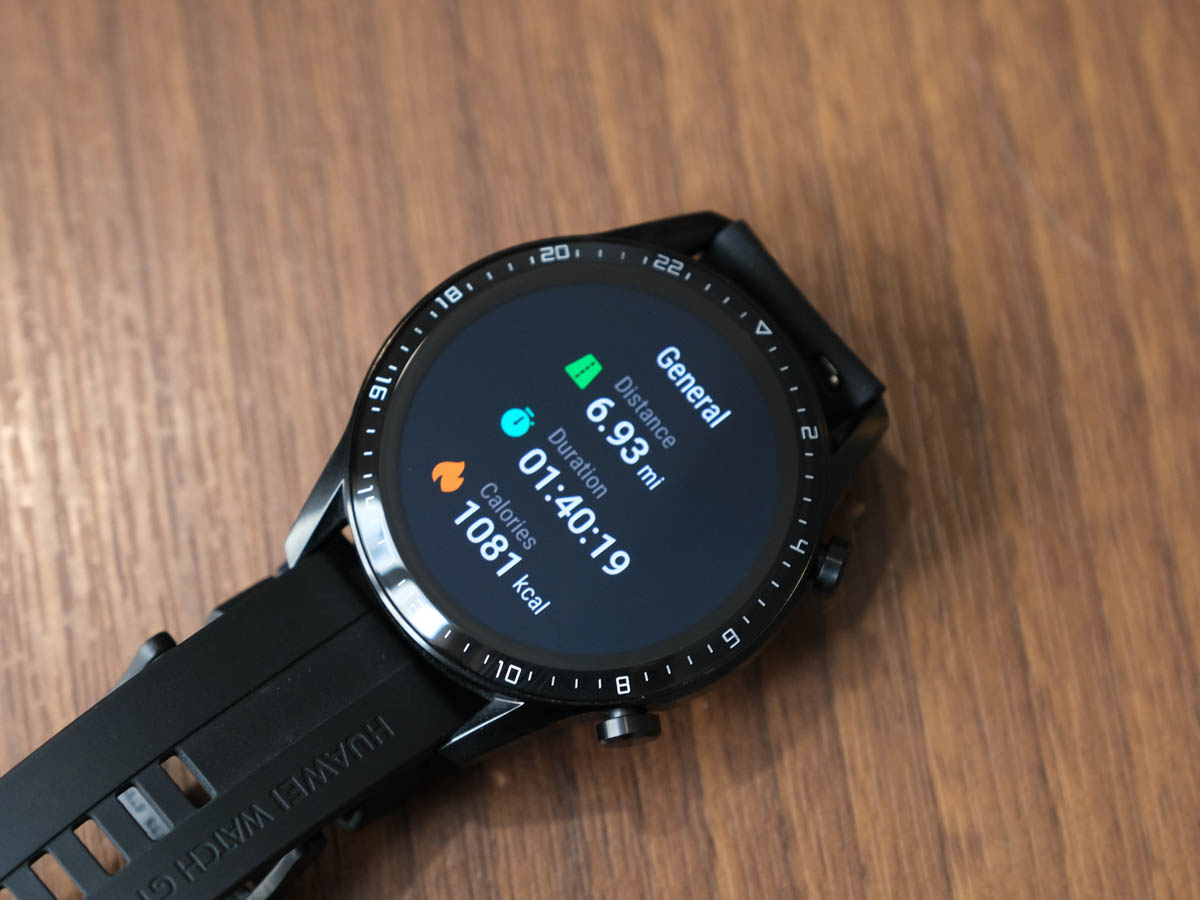 If you have automated heart rate and stress tracking turned off and don't fire up a lot of workouts in your fortnight with the Watch GT 2, you may be able to hit Huawei's purported two-week battery life. If, like us, you actually plan on using your watch, then that figure gets slashed in half, which is still excellent. Being relatively conservative, we were able to get around ten days, even with a few tracking features on.
Inside, there's 4GB storage primed for your offline music, which can be played back on the watch or via Bluetooth headphones.
Huawei has included its own wearable processor for the Watch GT 2, the Kirin A1, which is the same processor found in its FreeBuds 3 earphones. With just 32MB RAM in the larger version and 16MB in the 42mm model, it's a wonder the Watch 2s don't crumble with every swipe – but they don't, only really slowing down frame rates when swiping mid-workout.
Huawei Watch GT 2 verdict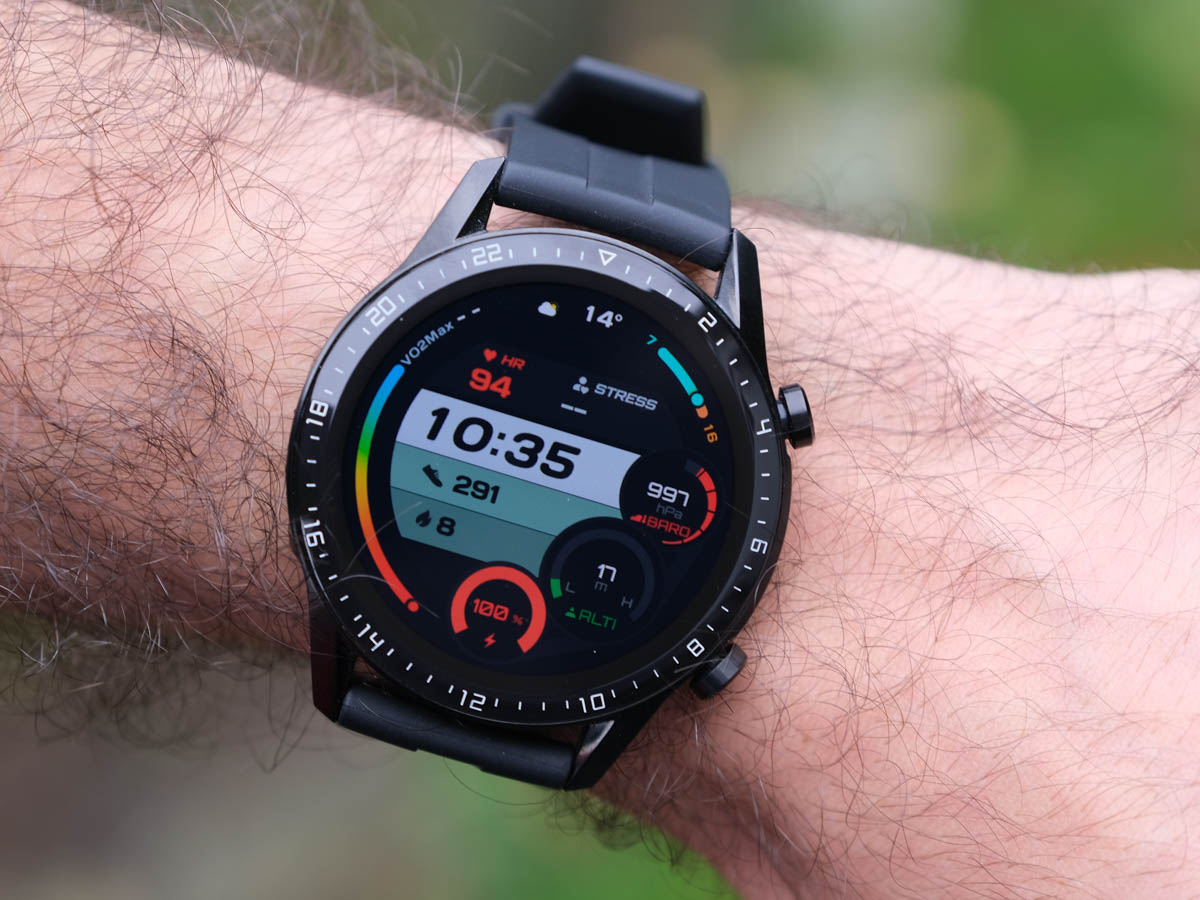 We can't stress this point enough: the Huawei Watch GT 2 is actually two smartwatches. The first is the suave but sizeable Watch GT 2 46mm, which packs the headline features: two-week battery and phone call functionality. That's the one we reviewed. The second, the 42mm Watch GT 2 is a lite version in our eyes, losing out on features, but it's more elegant.
In our month with the 46mm version, we've fallen for its design, and using it as a watch and passive fitness tracker has been great. The battery life is also solid, even if we couldn't squeeze two weeks out of it.
The Watch GT 2 is undeniably less functional than an Apple or Galaxy Watch, and doesn't play nicely with third-party apps, so won't be one for serious fitness fiends. If you're okay with all that though, it's cheaper and better looking and anything else under £180, and a great passive tracker.
Tech specs
| | |
| --- | --- |
| Screen | 1.39in (46mm) / 1.2in (42mm) 454×454 (46mm) / 390×390 (42mm) AMOLED |
| Chipset | Kirin A1 |
| Storage | 4GB |
| Operating system | Huawei Lite OS |
| Battery | 14d (46mm) / 7d (42mm) |
| Features | Accelerometer, gyroscope, geomagnetic, optical heart rate sensor, ambient light sensor, air pressure sensor, capacitive sensor |
| Dimensions and weight | 45.9×45.9×10.7mm 41g (46mm) / 41.8×41.8×9.4mm 29g (42mm) |
Stuff Says…
The best looking fitness tracker money can buy, but it's not a smartwatch
Good Stuff
Stunning design
Impressive battery life
Decent value
Bad Stuff
Limited third-party support
No app store
No notification interaction