Huawei Watch GT Cyber hands-on review: quick change
Hot-swappable cases can give your timepiece a more personal touch
Huawei hasn't been afraid to get experimental with its recent run of wearables. The Huawei Watch Buds found a way to stash a pair of true wireless headphones on your wrist – without compromising the Watch part – and now the Watch GT Cyber proves you don't need to settle on a single design. It's the first watch we've seen with a fully detachable frame, letting you swap out your entire look in seconds.
It went on sale in China late last year, but made an unofficial European appearance at this year's Mobile World Congress show. We stopped by Huawei's booth to strap one on.
Design & build: on the case
On first look the Watch GT Cyber is a chunky, G-Shock style smartwatch available in a selection of metal and finishes. There's a 1.32in circular AMOLED display, rotating digital crown and thick decorative bezel, topped off with decorative bolts. The matching silicone strap is permanently affixed, rather than using quick-release lugs.
It's not the largest smartwatch in Huawei's burgeoning line-up, despite the girthy frame, but has real presence on your wrist regardless of colour. The rugged aspect isn't just implied, either – it's earned, with a 5ATM waterproof rating.
Take it off your wrist and push down on the screen, though, and the whole watch 'core' pops out of the casing. You can then jam it into a different case/strap combo quicker than you could change the band on a rival smartwatch, for a completely new visual style. Huawei has a handful of its own, including a few more subtle looks, and you can also swap out the crown to match them if you want.
Features: once you swap you just can't stop
The core itself looks delicate, but has apparently been put through a torturous 16 different tests to ensure its sturdiness. The screen bezels are reasonably skinny, and the firm's TruSeen health tracking sensor unit doesn't bulge too much out the bottom.
It takes a fair bit of force to pop the watch out of a strap, so you're unlikely to do so accidentally, but it's easy enough to push into place when picking a new design. Huawei's own cases are all variations on a theme, with no leather or stainless steel strap options.
The firm's London design centre isn't short on ideas for other, non-watch uses, although there are no plans to make any of them a reality just yet. One mentioned during our briefing was as an alarm clock, and reckon a pocket watch casing and chain would add real old timey vibes, even if it would mean giving up the health tracking that comes with wearing the Watch on your wrist.
Theoretically you could 3D print an entirely new case if you wanted – although Huawei has no plans to release official CAD files to make that process easier for tinkerers.
Software & fitness tracking: in perfect harmony
The Watch was running a Chinese version of Huawei's HarmonyOS software, with different icons to the ones we're used to on wearables released here in the West, but the apps were largely the same. That means a comprehensive selection of fitness functions, including GPS exercise tracking, continuous heart rate monitoring, sleep records and SpO2 levels as well as step and calorie counting.
There's a familiar selection of sport and activity modes to choose from, including running, cycling and swimming. A packed convention centre wasn't the best place to attempt an impromptu workout session, so we can't vouch for its accuracy, but seeing how the firm's other watches are usually on point, we'd expect the same here.
It'll also manage Bluetooth calling through a paired smartphone, control music playback, show calendar appointments and display incoming messages, with canned replies to save you scrabbling for your smartphone.
Expect the usual selection of watch faces through the companion app, including the ability to take a picture of your outfit on your phone and have the watch face change to match it. There are also several bespoke styles you won't find on other Huawei Watches, which can appear automatically when you swap into a different strap/case combo.
Huawei Watch GT Cyber initial verdict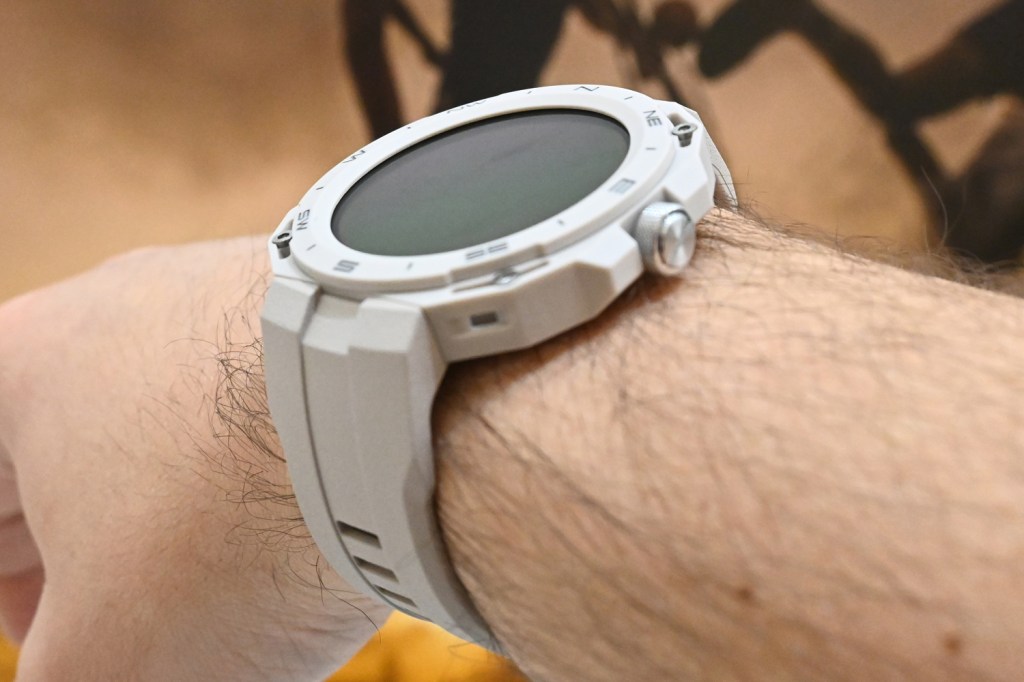 It's great to see Huawei trying new things in the smartwatch space. Plenty of people pick their wearables based on personal taste, so being able to swap one case for another would add real appeal. The G-Shock look is particularly popular right now, and the firm's mix of materials and colours will surely please plenty of watch fans. That it doesn't compromise on the actual smartwatch part is a big win, too.
Unfortunately the firm has no plans to bring the Watch GT Cyber Westwards any time soon – but hopefully it's a sneak peak of what might come in later Watch generations.