Huawei Watch GT review
A smart watch with a sharp, bright screen and a long battery life... Is it too good to be true?
"Hi, head of Huawei's marketing division here. We've spent the last six months trawling the internet to find out what you hate about smartwatches.
"Guess what? It turns out you hate everything. You hate the rubbish apps of Wear OS, the high maintenance battery life of the Apple Watch and the boring looking screens of Garmin runners' watches. You hate the lot.
"So, well, we fixed it all. Here's the Huawei Watch GT."
Fresh off the fax machine, that one. On paper the Huawei Watch GT sounds like just about the best all-purpose techy watch ever.
It has full GPS, a super-colourful screen and smartwatch notification essentials. Oh, and it costs half the price of a Series 4 Apple Watch.
Huawei gets full marks for really going for it here. And for some this is the best watch around, combining some smarts with sport tracking and ultra-long battery life.
You have to put up with a few sacrifices made to make the battery life as brilliant as it is, though.
Design: sneaky strap
The Huawei Watch GT is a smartwatch that really wants to look like a classy "normal" watch.
This frankly isn't possible if it has an LCD or OLED, used here. But Huawei has otherwise done as good a job as anyone to date, particularly in our silver and tan version.
It has a stainless steel case, ceramic bezel with neat-looking numbering and thoroughly normal-looking 10.6mm thickness.
The Watch GT is much better-looking than the Huawei Watch 2, and as it's water resistant to 5ATM, you can even take it for a swim.
Huawei has gone all-out sneaky on the strap. Buy the black Huawei Watch GT and you get a conventional silicone strap.
Our tan one is far odder, though. It's leather on the top, silicone rubber inside. It won't absorb all that nasty-ass sweat when you go running, but looks a fair bit classier than a Garmin Fenix 5.
Your mum won't suggest you take it off before that special birthday meal treat to Nando's.
There is downside to the Huawei Watch GT design, though. When worn as a day-to-day watch, it's comfortable.
However, get it ready for a run and you need to make the strap extra-tight. So much weight is centred around that ceramic and steel front, any slight bit of give makes the face wobble around enough to threaten your heart rate readings.
The look is great, as is the thickness and the ingenuity on show. But the most serious of runners may prefer a "traditional" GPS watch.
Display: Sharp and bright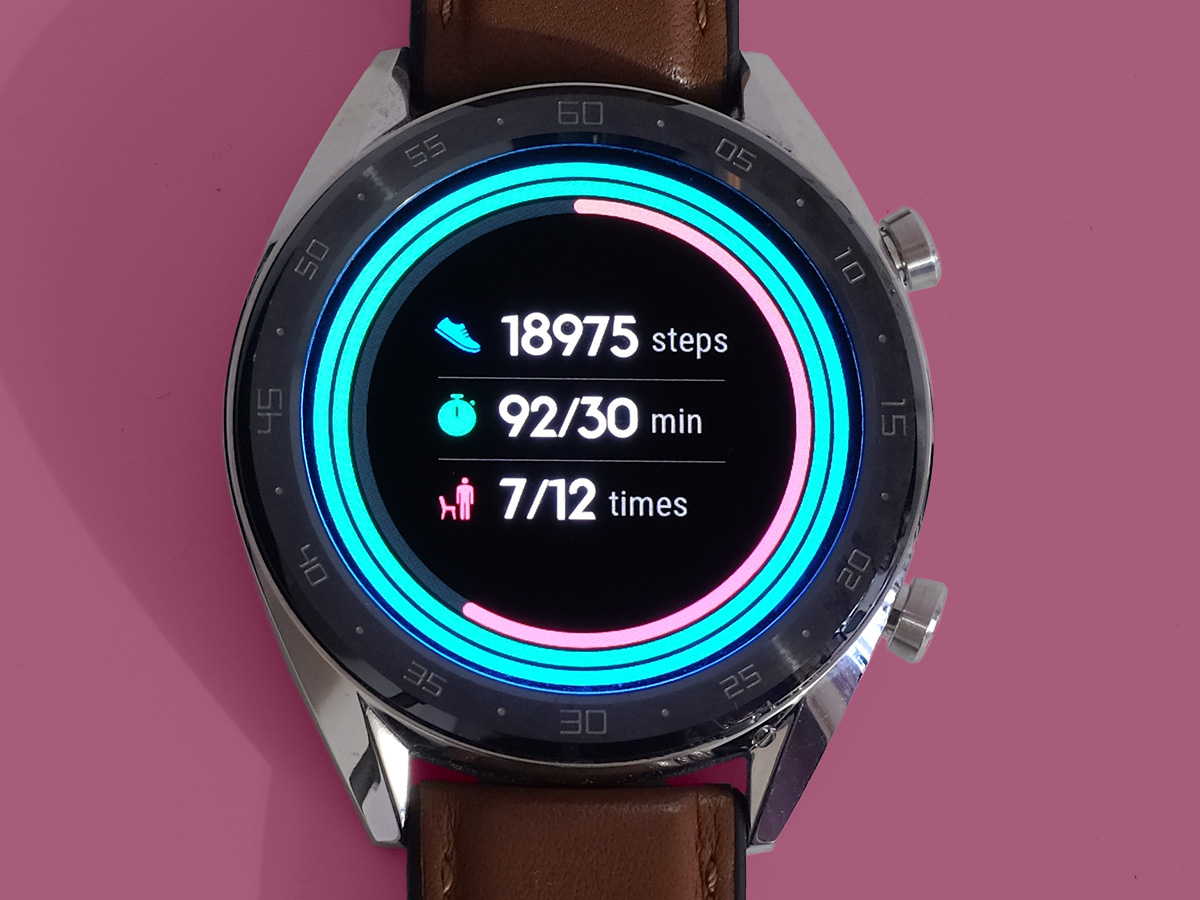 And the screen? Things get interesting again here. At first you think — how could a watch with a screen this bright, sharp and colourful last this long? Picture quality is similar to an Apple Watch or Samsung Galaxy Watch. It's true top-dollar smartwatch stuff.
This is great when you want to read notifications or look at graphs showing performance during your last run. You get much higher visual fidelity than a normal runner's watch.
However, it's not perfect. Either the refresh rate of the screen or the frame rate of the system is quite low, which makes scrolling through menus look jerkier than an Apple Watch or Galaxy Watch.
This isn't the kind of performance issue you see in some older (or bad) Wear OS watches. You can flick through menus quickly without annoying waits and pauses. The Watch GT screen just doesn't make it look quick and smooth.
Want the specs? The Huawei Watch GT is a pure circle shape of 1.39 inches diameter, and has an AMOLED panel of 454 x 454 pixels. That's an extremely high pixel count for a smartwatch. No wonder it looks so sharp when just sitting on the watch face.
Features: now you see me, now you don't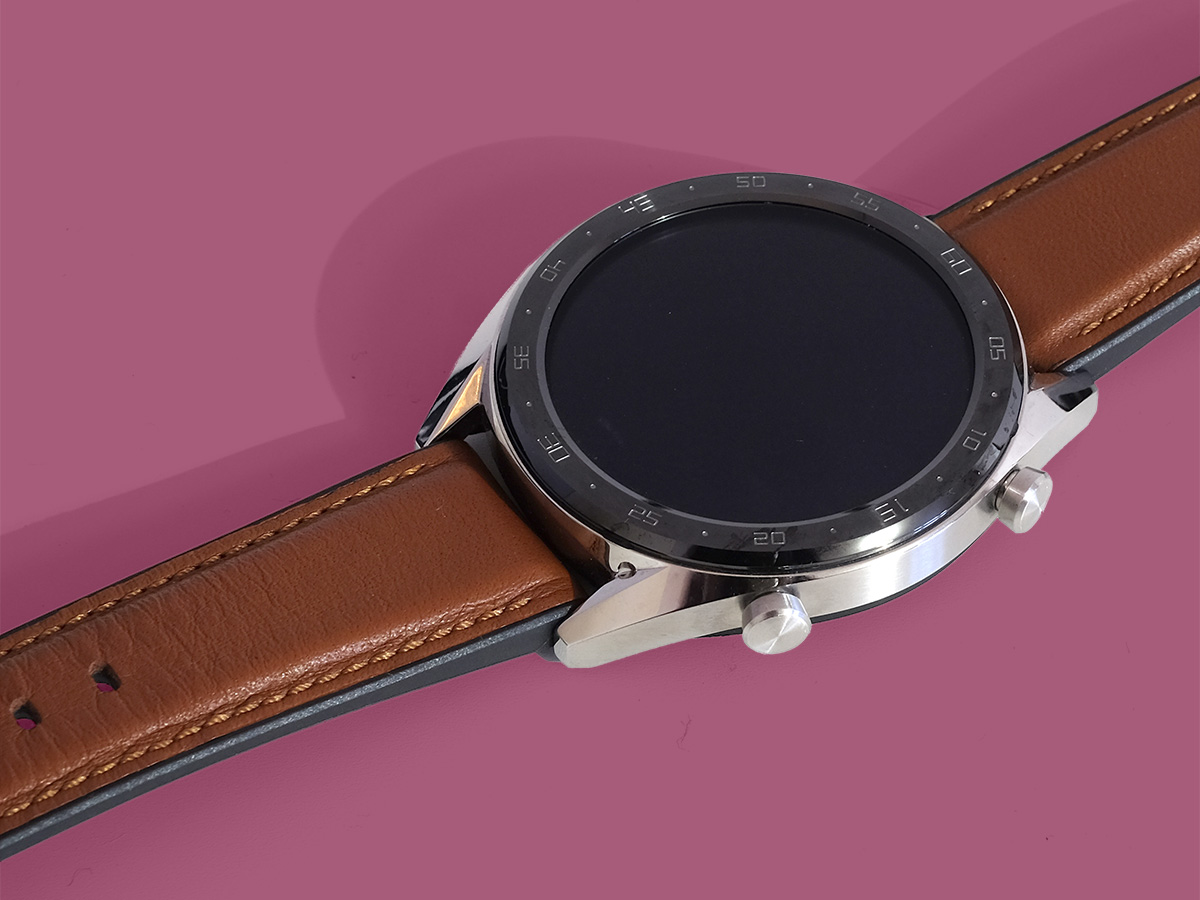 The sharpness of the watchface makes the limited face options all the more frustrating. There are 11 built-in watch faces (and an extra colour for one design) but not the thousands of other options available with a Wear OS or Apple Watch.
However, there are several good options, including some exercise-obsessed ones. The "rings" design is inspired by Apple's activity visualisation. Huawei's "realistic" analogue faces aren't great, though, as they pack in a few too many textures to look classy.
You can't complain about the sharpness of the visuals, mind. Many more expensive Wear OS watches look soft or pixelated next to the Huawei Watch GT. With any luck Huawei will add the ability to download extra faces in the future.
There's bags of potential here, even if Huawei doesn't let other devs make their own.
There's another missing feature too. You can't make the display "always on", where a basic clock display hangs around whenever the watch is worn. Instead it wakes up when you flick your wrist around to look at the face.
Leaving out "always on" seems odd at first. The Huawei Watch GT has the right screen tech, OLED, which minimises the juice use when only a handful of pixels are lit. Don't think of this as a silly mistake on Huawei's part, though. It knows what it is doing.
This watch is clearly made to use very, very little power most of the time, in order to max out battery life. Keeping the screen on even in a low power state would likely reduce stamina to a few days rather than up to 20.
Would we like the option for always-on anyway? Of course.
Operating system: Light it up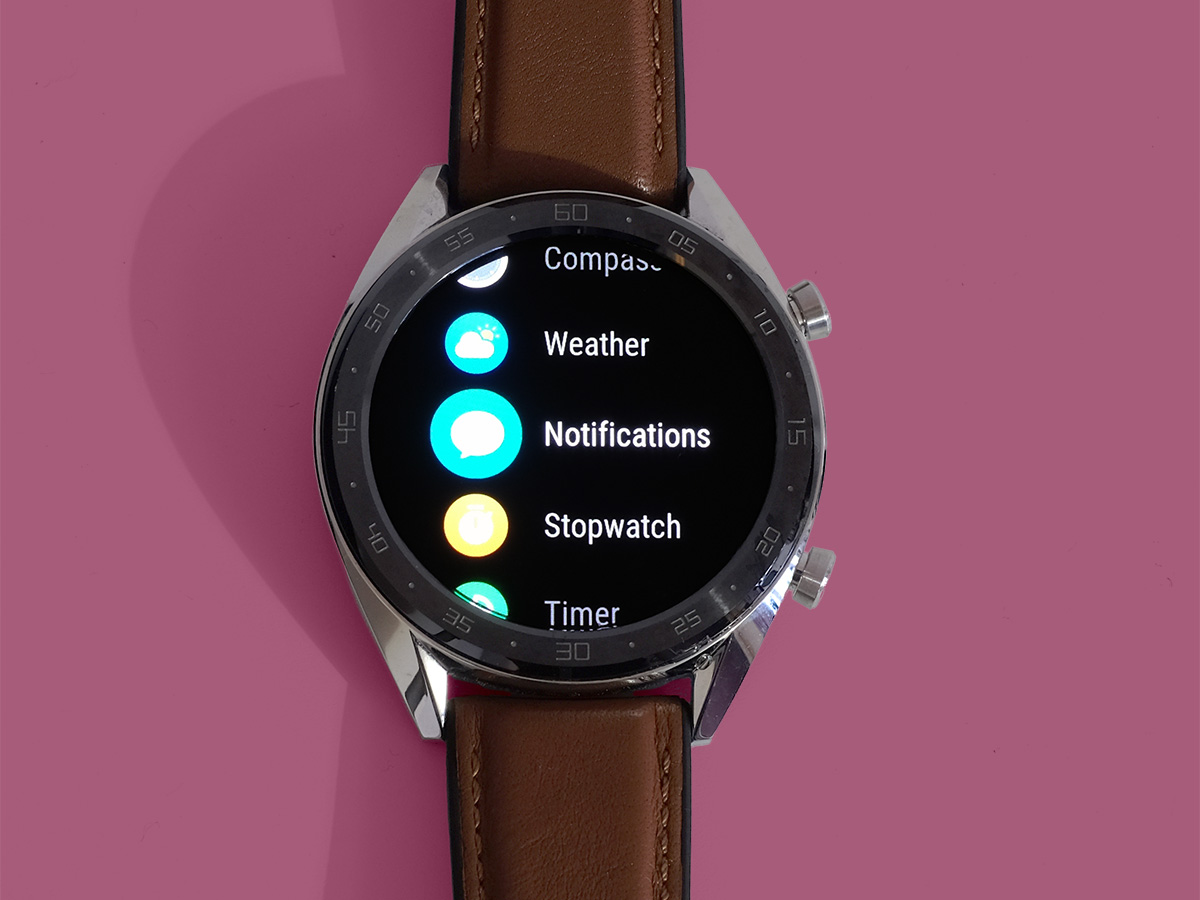 To get your head around the Huawei Watch GT, it's important not to think of it as a direct alternative to an Apple or Wear OS watch. This is something different.
It runs Huawei's own software, called Light OS. And while the hardware looks like something Fossil or a designer brand might come up with, the appeal is all about fitness tracking, not smarts.
The Huawei Watch GT does not have an app store, support for voice assistants or even a memo function. Smart features are limited. You just get the basics. These include notifications from your phone, a local weather report, flashlight (the screen turns white), alarms and "find my phone".
Notifications are, of course, the most important of the lot. You choose the apps you want included. And while the Huawei Watch GT doesn't make great use of the screen space, messages are clear and easy to read thanks to the sheer number of pixels on tap.
Limit your expectations, though. You can't reply to messages or see pics sent by, say, WhatsApp. That's a shame when they would actually look pretty good on this little screen.
There are no extra apps on offer with a Watch GT. You're not going to find the nearest McDonalds, ask Google Assistant to remind you to buy toilet paper or spend a disappointing two minutes playing a smartwatch game. We can live without most of these, but the lack of music control is a head-scratcher.
Even if playing music directly on the watch is a no-go, would adding play/pause and track skipping of tunes on your phone really be that hard to add? The Huawei Watch GT has the features of an advanced fitness tracker rather than a full-on smartwatch.
Fitness Tracking: On the run
It's a good job then that the watch has genuine tracker chops.
There's full GPS, a heart rate sensor with 24/7 tracking, a barometric altimeter and multi-exercise modes.
The Huawei Watch GT gives you as instant access to activity tracking as a Garmin watch does too. See those two buttons on its side? The bottom one takes you directly to the activity menu.
Here you'll see all sorts of modes for swimming, running and cycling, and a generic heart rate mode for other activities.
Take the Watch GT out for a run and the GPS reliability great, a match for Garmin's best. And the heart rate tracking is excellent for a wrist-worn sensor.
As you run you have access to a bunch fo different screens showing basic run stats like pace, distance and heart rate as well as cadence, height climbed and your performance relative to your norm.
All the right stuff is here, and there are even baked-in running courses, a great addition if you're a beginner who wants to run totally phone-free.
The Huawei Watch GT's running game is strong. All your tracked data ends up in the Huawei Health app, an alternative to Google Fit or Garmin Connect.
It's not even close to Garmin's software in terms of hardcore training info, but you do get graphs and maps for each workout, which you can dig deeper into by holding your phone landscape-wise and pinch zooming into the data.
There are some obvious shortcomings, though. Altimeter data, which can be used to estimate the number of stairs you schlep up every day, is all but thrown away outside of properly tracked exercise.
Similarly, you can't dig that deep into your heart rate through the day, just during full tracking.
The fun challenges of other platforms are missing too. You can earn medals for reaching certain milestones. But they're hardly going to motivate enough to get you through marathon training.
You can auto-migrate your Watch GT's stats to Google Fit, UP and MyFitnessPal, but we'd like to see Strava and a few other more popular options in here too. So, yes, this isn't the perfect choice for some cyclists.
Battery Life: Epically long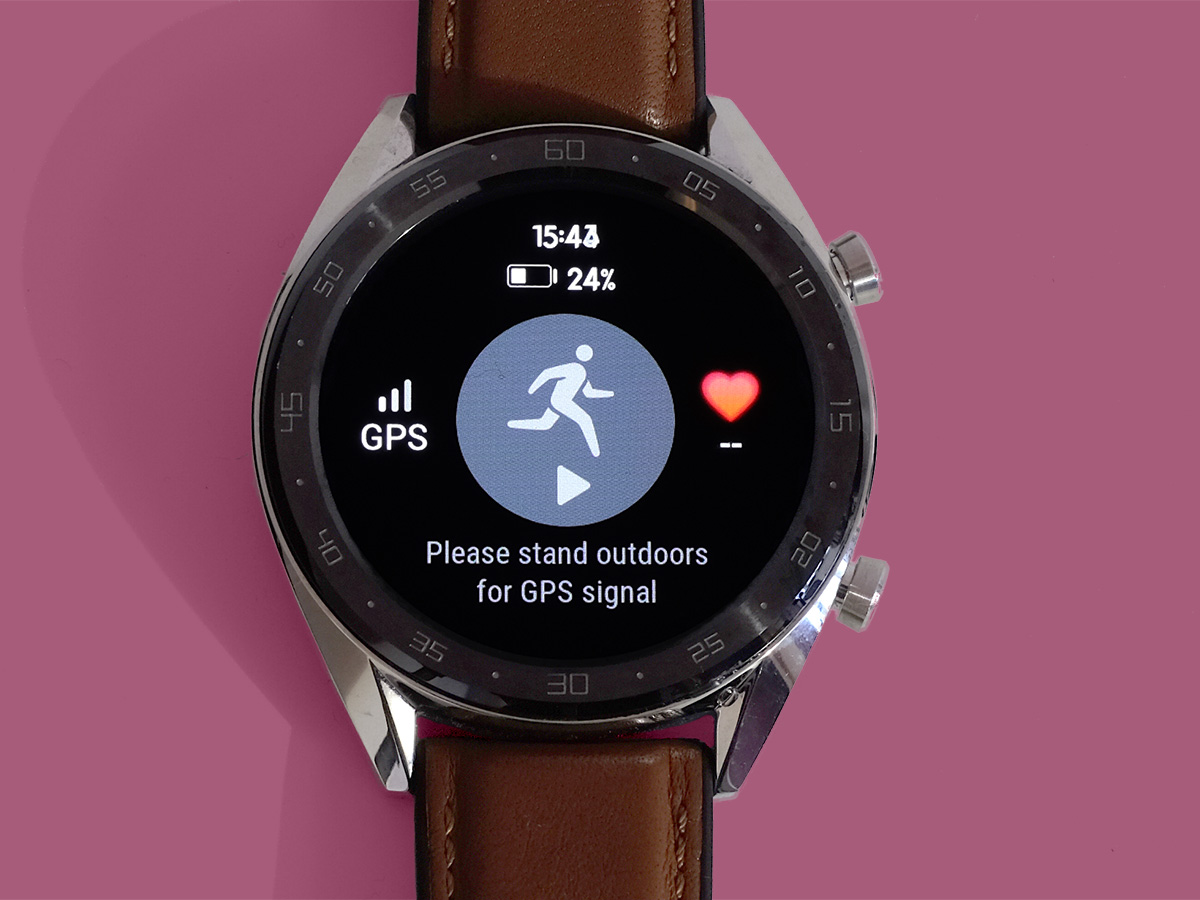 However, all the niggles kinda melt away as you start to appreciate the Watch GT's epic battery life, particularly if you switch from a Wear OS watch.
At launch Huawei said the watch had up to 30 days stamina. That has since dropped to 14 days of "typical" use, which seems more realistic. But, hey, that's still brilliant and even outclasses most watches with dull-looking monochrome or non-backlit displays.
Seeing an hour's worth of GPS tracking only slip a few percent charge is a bit of a revelation. And it's the ultimate antidote to that gnawing frustration of a smartwatch that needs an every-day charge. That it also embarrasses many more simplistic-looking trackers is impressive.
Such great battery life also makes the Watch GT the best model that looks like this, with a bold OLED screen, for sleep tracking. Huawei's TruSleep tracking gets you the usual breakdown of light, deep and REM sleep periods, and also rates your breathing and how your sleep stacks up against the norm.
Because, let's be honest, do you really know how much REM kip you should be getting each night?
Huawei Watch GT Verdict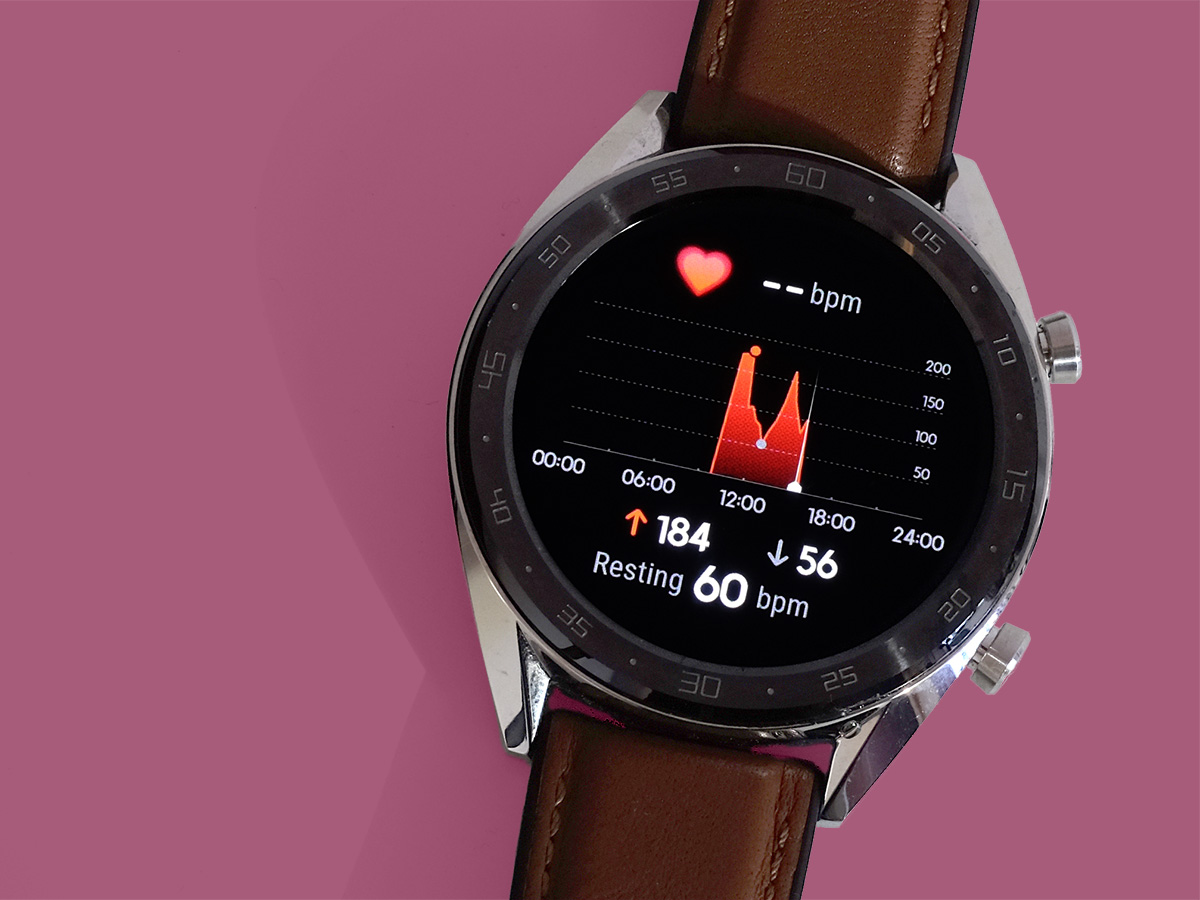 There are holes in the Huawei Watch GT. But it is also just about the best watch out there for those who want something that looks smart in the day, but has the exercise tracking skills to satisfy real run training.
That this is also matched with just about the best battery life seen in a watch with a screen this bright and punchy seems almost like magic.
Just make sure you're ready for the limitations. You can't choose from thousands of watch faces, download apps or even control music played on your phone. However, what it can do is handled well.
And not having to charge every week, let alone every day, is bliss.
Stuff Says…
The ultimate watch for those who think most of what smartwatches try to do is a waste of time. But it isn't that smart
Good Stuff
Superb battery life
Smart looks
Great run tracking
Bad Stuff
It's begging for music support
No extra apps
Baked-in watch faces only
Huawei app needs either more depth or fun