Insta360 Evo review
Make both 360 and 3D videos with this clever little cube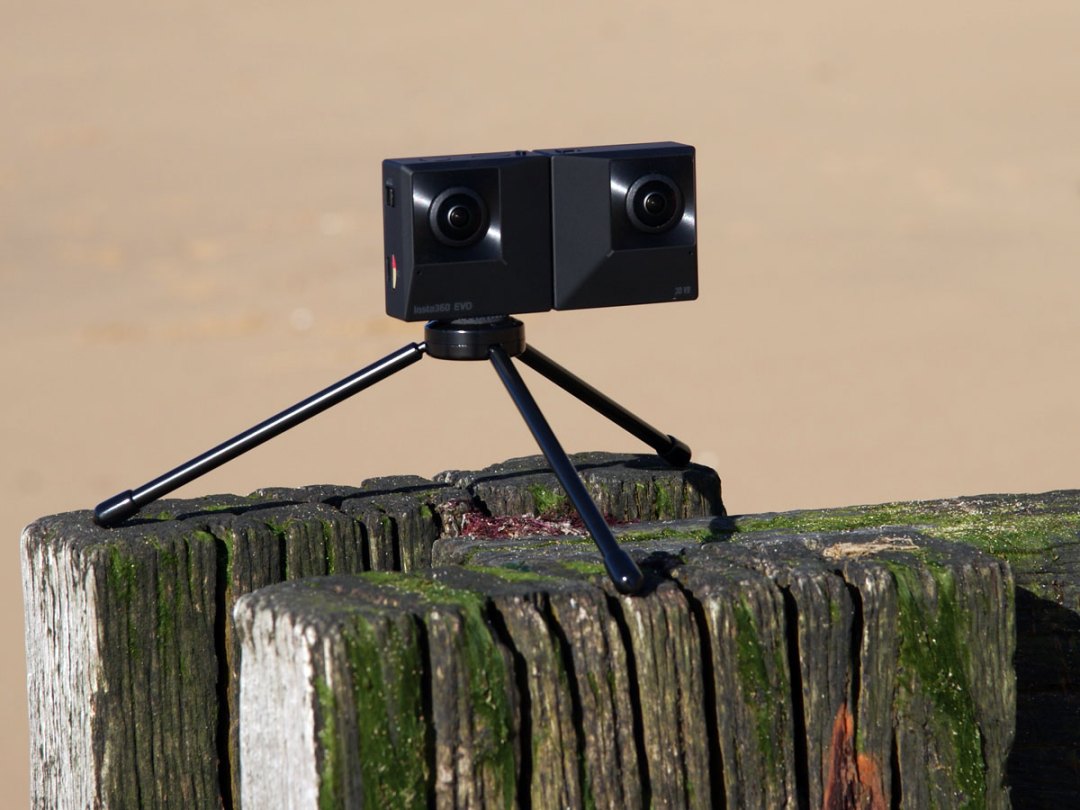 Hot on the heels of the Vuze XR comes the Insta360 Evo, another transforming action camera able to capture 360º content one moment and 3D VR 180º content the next.
Before the Evo and the Vuze XR turned up, you'd need two separate two-lens devices to grab both types of immersive content, so the idea behind these cameras is to make the life of share-happy adventurers, sporty types and vloggers easier.
The Vuze XR may have arrived a few weeks earlier, but the Evo promises a much richer software experience while offering the same 5.7K video quality. Is this dual camera dual shooter more worthy of creators' cash than its rival? Read on and we'll tell you.
Design and build: block and roll
With its blocky, rubberised shape, the Evo has a much more prosaic approach to styling than the more elegant Vuze XR – but its design has more than its fair share of advantages.
For one thing, it's small (only around 50 x 49 x 53mm when folded, and 98 x 49 x 26mm unfolded) and lightweight (113g), which makes it a little more pocket-friendly than its rival.
That being said, you'll likely want to attach some kind of handle to the Evo when filming, which will mean packing accessories. We mostly used Insta360's own extending selfie stick or a tiny folding tripod, both of which weigh next to nothing, and we happy to lug them around for the day (a tabletop tripod is supplied in the basic box, alongside phone-holding 3D glasses and a soft carry case).
The Evo opens out from its 360º-shooting cube shape to a VR-shooting side-by-side arrangement when a lock is disengaged. Again, it's not quite as "cool" a feeling as pushing a button to have the camera pop open, which happens on the Vuze XR, but it works, it's quick and, if we're being honest, it probably means there's less chance of the mechanism breaking in the future.
With controls being handled mostly by the companion app, there are just two buttons on the camera itself: a combined power/shutter button and a mode button. We really only used the former, and only to turn the camera on and off, during our review – there wasn't any real need to stray away from the app – but they worked just fine, and might come in useful if you're using the camera solo.
A micro USB port handles charging and data transfer duties, while footage and photos are stored on a micro SD card. These ports are fully open to the elements – so sorry, extreme sportspersons, but you definitely shouldn't use this underwater or in adverse weather conditions.
Features: app's amazing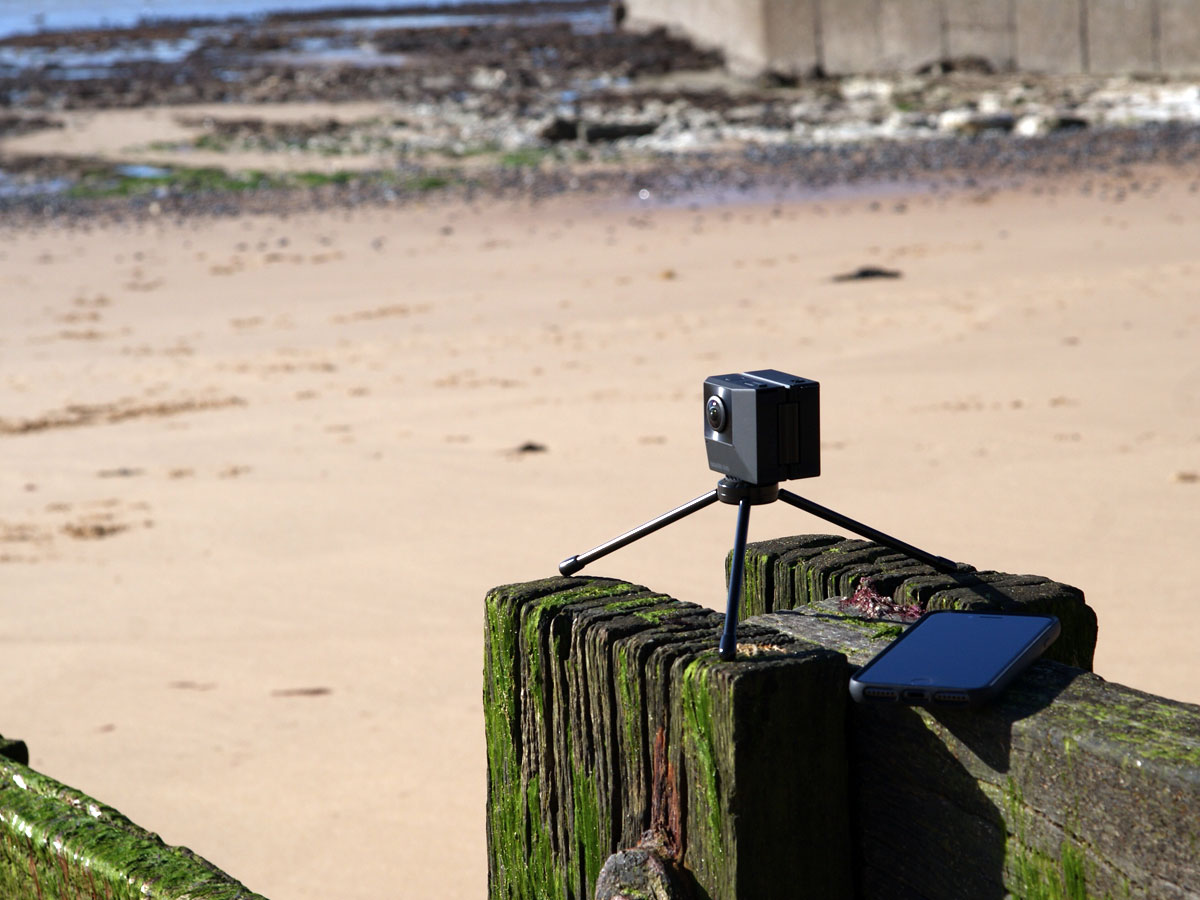 The Evo's cameras can work in two ways. When facing away from each other, they each shoot an 180º image or video. These are then stitched automatically by the software into a single 360º video.
When both cameras are facing the same way, each records its own slightly different perspective of the same scene, working much like a human pair of eyes; these two videos or photos, when viewed side by side in a VR viewer, will appear as a single 180º 3D image.
Those are the basics, but within these two spheres the Evo offers a number of shooting modes (including time-lapse, HDR and slow motion) and playback styles, as well as a companion app that allows you to edit videos and photos on the go, tweak frame rate and resolution, and share your creations immediately on social media or YouTube.
The straightforward, user-friendly app (available for free for iOS and Android, and basically the same as the One X's companion app in terms of design and UI) is a necessity if you want a proper shooting experience with the Evo, as it lets you preview what you're shooting, review footage and delve into photos and videos for rich edits.
It actually comes with more built-in editing features than the desktop app (also free), allowing you overlay music tracks, speed up and slow down videos (or even just parts of videos) and adjust exposure, among other things. This is one vital thing the Vuze XR's very basic app doesn't come close to matching, and a compelling reason to pick up the Evo over its closest (and really) only rival.
Performance: heart of the action
Like the Vuze XR, the Evo shoots video at a maximum 5.7K resolution and stills at 18MP (you can also record video at lower resolutions in order to speed up the frame rate to 50 or 100fps – handy if you plan on smooth slow motion playback later).
If a 5.7K resolution sounds remarkably high, it's worth bearing in mind that viewers will generally be seeing only a small part of the picture at any one time, due the nature of the way 360º/VR content is consumed. The upshot is, when you actually slap on an Oculus Go and look at what you've shot, the quality looks reasonably sharp rather than insanely detailed.
That's not a complaint, really – given the tiny size of the camera, image quality was never going to rival a DSLR. And it's easy to forgive a bit of softness or a blown-out sky when you're looking at 3D images that you yourself have taken; there's a real immersive impact from both the VR and 360º stuff that's impossible to deny.
It benefits too from Insta360's excellent FlowState electronic image stabilisation tech, which removes most of the disorientating bob from handheld videos and keeps the horizon more or less level no matter how much you're waving the thing about.
One thing we noticed about the 360º video is that the Evo does a noticeably poorer job of aligning its two separate images than its 360-only cousin the Insta360 One X. This is most notable with objects or people that are close to the camera – about 1-2m away – and that can mean some very obvious joins at times. You can re-calibrate stitching regularly to try and mitigate this, but we'd say get the One X if you're intent on virtually seamless 360º video every time. The Evo's battery is integrated, and by our reckoning will give you about 45 minutes to an hour of use before needing a recharge via the USB port. So if you're planning on a long day of shooting you'll need to bring a power bank or two.
Insta360 Evo verdict
In a face-off against the Vuze XR, the Evo edges it, making it the best dual VR/360º camera we've seen.
While image quality is on a similar level, the Evo's superior companion app makes it much easier to use the camera on the go, as well as preview, review and edit 5.7K files – things the Vuze can't do at all. While it lacks the Vuze's striking pop-out design, the Evo's cube shape is compact, hardy and perfectly functional, and lightweight enough to be attached to almost anything.
Overall, we're mightily impressed by Insta360's first combi-cam, and looking forward to its few kinks being ironed out in future iterations.
Stuff Says…
A tiny, flexible action camera with massive potential. It's not cheap, but for now it's the best of its type
Good Stuff
Offers lots of ways to shoot immersive content
Superb image stabilisation
User-friendly, feature-rich app
Compact, lightweight design
Bad Stuff
Some noticeable stitching