Insta360 One X review
This feature-packed 360-degree camera gives GoPro a run for its money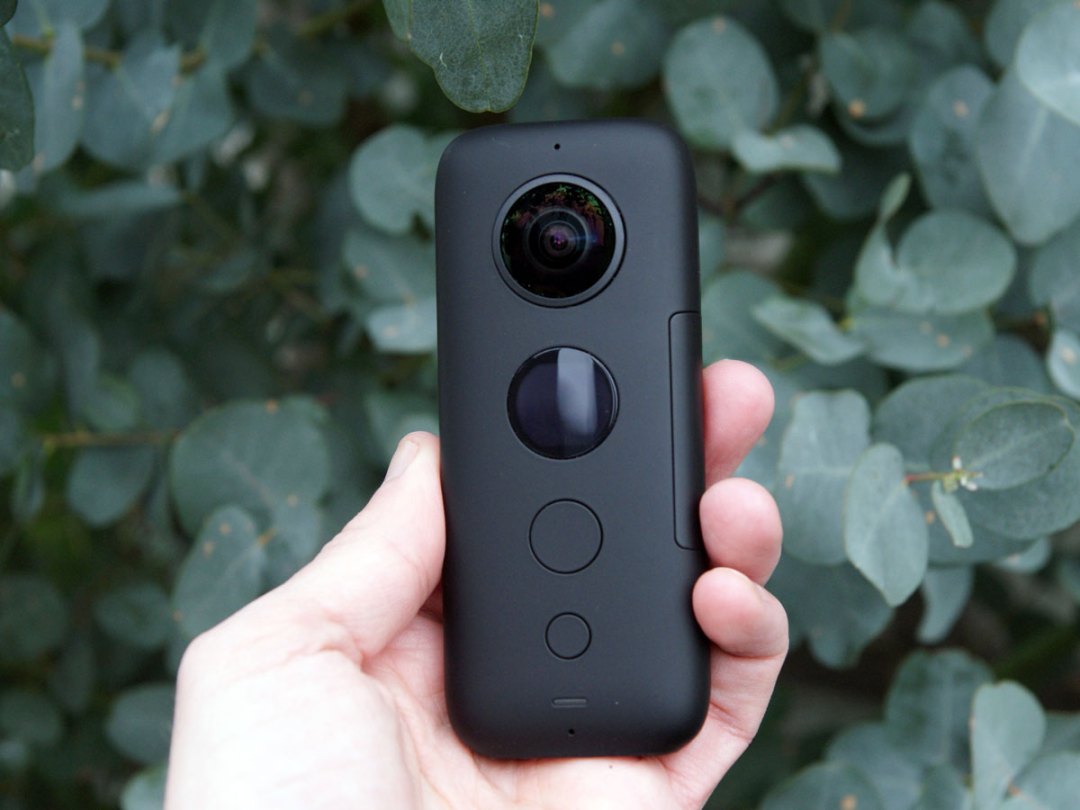 Think the GoPro Hero7 Black was a smooth operator?
This rival action camera from Chinese upstart Insta360 claims to offer even slicker image stabilisation than GoPro's HyperSmooth tech, not to mention full auto-stitched 360-degree videos and photos, and ultra slow motion and time-lapse modes. It even has the ability to erase that unsightly selfie stick from videos and photos.
Does the superb Hero7 Black have a real rival on its hands? We took the One X for a spin – quite literally – to find out.
Design: take the black pill
As you'd hope from an action camera, the Insta360 One X has a compact and lightweight design. It's very different from the squared-off GoPro shape, with the makers instead opting for a long, rounded-off pill shape. It's 115mm in length and 155g, and we think it fits better in both your hand and your pocket than a GoPro.
The design is necessary to allow the two camera modules – one facing the front, one the back – to properly function while the One X is being handheld. But holding it is just one option: the flattened-off base of the camera means it can stand on a desktop, shelf or floor while it does its thing, and there's also a standard tripod mount accommodating all manner of peripherals, including selfie sticks
And even if you're firmly planted in the "no" camp when it comes to these narcissist-enablers, you really need one to get the most out of the One X (there's more on why we think that in the section below). The bottom edge also houses a micro SD card slot, with capacities up to 128GB supported.
The device is short on buttons (there are only two: one for power and switching shooting modes, and one to initiate photo or video capture) and there's no on-board screen for composing your shots – just a simple monochrome LCD to indicate battery life, shooting mode and other basic information. So a smartphone running the companion app is an absolute necessity if you want to get anything like the best out of this camera – something you don't need to worry about with the far more self-sufficient GoPro.
One other noteworthy design aspect is a lack of water- and dust-proofing as standard. You'll need to buy one of the waterproof cases (which start at around £50) if you fancy taking this thing for a dip. The GoPro Hero7 Black, on the other hand, is waterproof right out of the box. And while the One X feels sturdy enough to withstand a bit of rough treatment, it's not strictly ruggedised either.
Features: appy days
The companion app is available for iOS and Android devices and acts both as a remote control and editing platform for the One X. You can hook up your phone or tablet via an included cable (you'll find Lightning, micro USB and USB-C cables in the box), or opt for the reliable high-speed Wi-Fi connection.
The app lets you take photos and stop/start video recordings, as well as change picture settings – although we generally found that the default settings do the job well enough.
Transfer your videos and photos over to your device and the app lets you trim them, adjust picture settings post-capture, slap on music and filters and alter playback speeds, including using several different slow- and fast-motion modes within a single clip.
One thing to note: you'll need a pretty muscular phone or tablet to run the app properly, apparently due to the huge size of the camera's 5.7K video files. Reviewing the One X using an Apple iPhone 6 (one of the phones officially supported, according to Insta360), we experienced a few crashes and freeze-ups; it was a persistent problem until we reduced the recording resolution to 4K.
Performance: who needs a gimbal?
Screw on a selfie stick (not included in the box but available in a bundle with the One X for about £425) and the One X's unique skills kick into gear. Built into its software is the ability to automatically remove the selfie stick itself from videos and photos, leaving them looking as if the camera is hovering in mid-air.
Team that up with the 360-degree capture and superb FlowState software-driven stabilisation tech and you've got a smoothly floating video camera that follows you at a fixed distance – it's a lot like having your own personal drone camera closely shadowing you. And because the videos are self-levelling too, the effect closely mirrors that of mounting a camera on a three-axis gimbal.
Like we said above, you really do need a selfie stick to get the most out of this camera. You can even screw a special handle into the stick and twirl the One X around your head, which looks completely daft but results in an impressive Matrix-esque "bullet time" shot with the camera circling you. Whoa, indeed.
The 5.7K top resolution for 360-degree clips sounds insanely high, given that most people still don't own a 4K screen, but it's really there so to give you something to crop down from with FreeCapture, the software feature that lets you punch out a flat frame from the video as your final clip.
The idea, which perfectly suits an action camera, is to record everything around you then pick the bits to focus on later. You can even change FreeCapture's perspective several times during a single video, which makes it a great way to keep the viewer focussed on the wheat that matters while removing the chaff.
In terms of actual image quality, the One X is adequate rather than stellar. It does do a fine job of auto-stitching and does offer a log recording mode for those who like to colour correct in post-production, but when you watch back your videos you can certainly tell they've been captured on a small, lightweight action camera with two ultra-wide lenses.
Battery life isn't astounding but acceptable, offering around an hour of video recording per charge. And if that's insufficient, you can stock up on additional batteries at about £17 a pop.
Insta360 One X verdict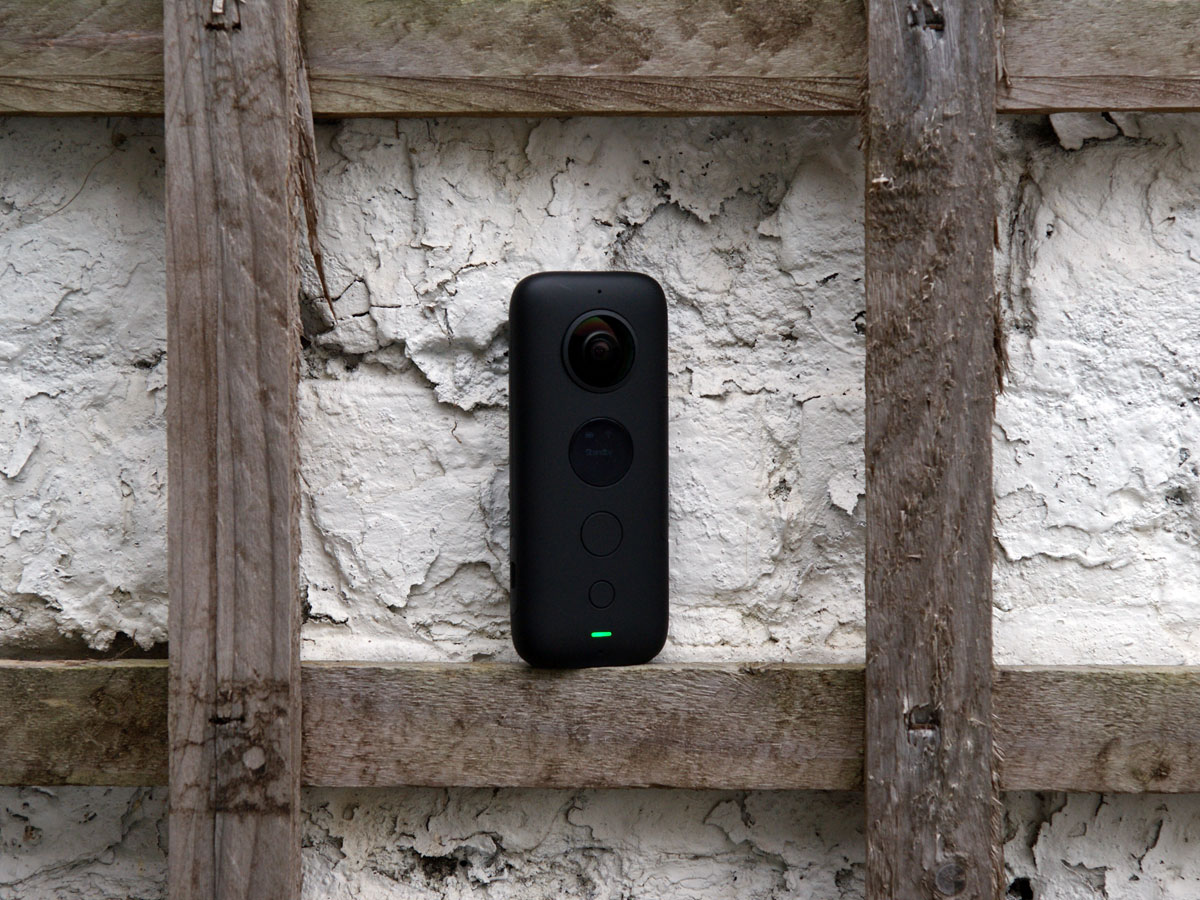 The Insta360 One X has some impressive qualities, mainly in its wealth of shooting modes and its user friendliness, plus its pocketable dimensions – here's a camera you can take pretty much anywhere on your adventures, where it'll be able to capture some impressive footage that can be immediately shared via its app.
It also comes with a form of electronic image stabilisation that we'd put right up there with the GoPro Hero7 Black's, while its ability to expunge an attached selfie stick from any footage is genuinely impressive.
That said, it's quite expensive, and you'll need to spend extra for its selfie stick or waterproof case – two things that many outdoorsy types will find essential. It also requires a companion smartphone to get the most out of it, which means the more self-contained and always-waterproof Hero7 Black isn't defunct just yet.
Stuff Says…
GoPro makes a more accommodating action cam, but for "capture everything, crop later" footage the One X is king
Good Stuff
Excellent built-in image stabilisation
Loaded with features
Compact design
Bad Stuff
Needs add-ons to make it waterproof
Requires a smartphone for its best features
Demanding on said smartphone