Insta360 One X2 review
The joy of X, volume two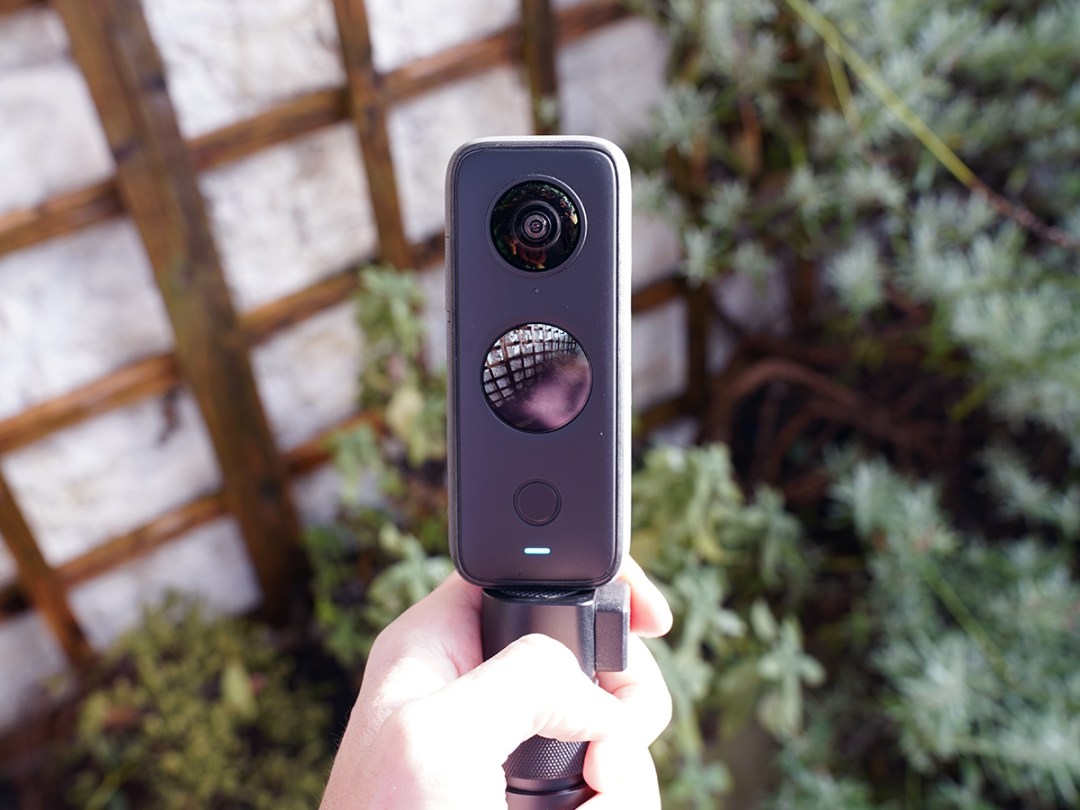 Arriving in early 2019, the original Insta360 One X was the first "capture everything, crop later" 360-degree action cam that felt user-friendly enough to widely recommend.
Now its successor the One X2 has arrived, promising an even more appealing blend of fuss-free filming, ruggedness, portability and outlandish shooting modes. We've enjoyed a few days in its company, so let's see how the improvements stack up.
Design: wet and wild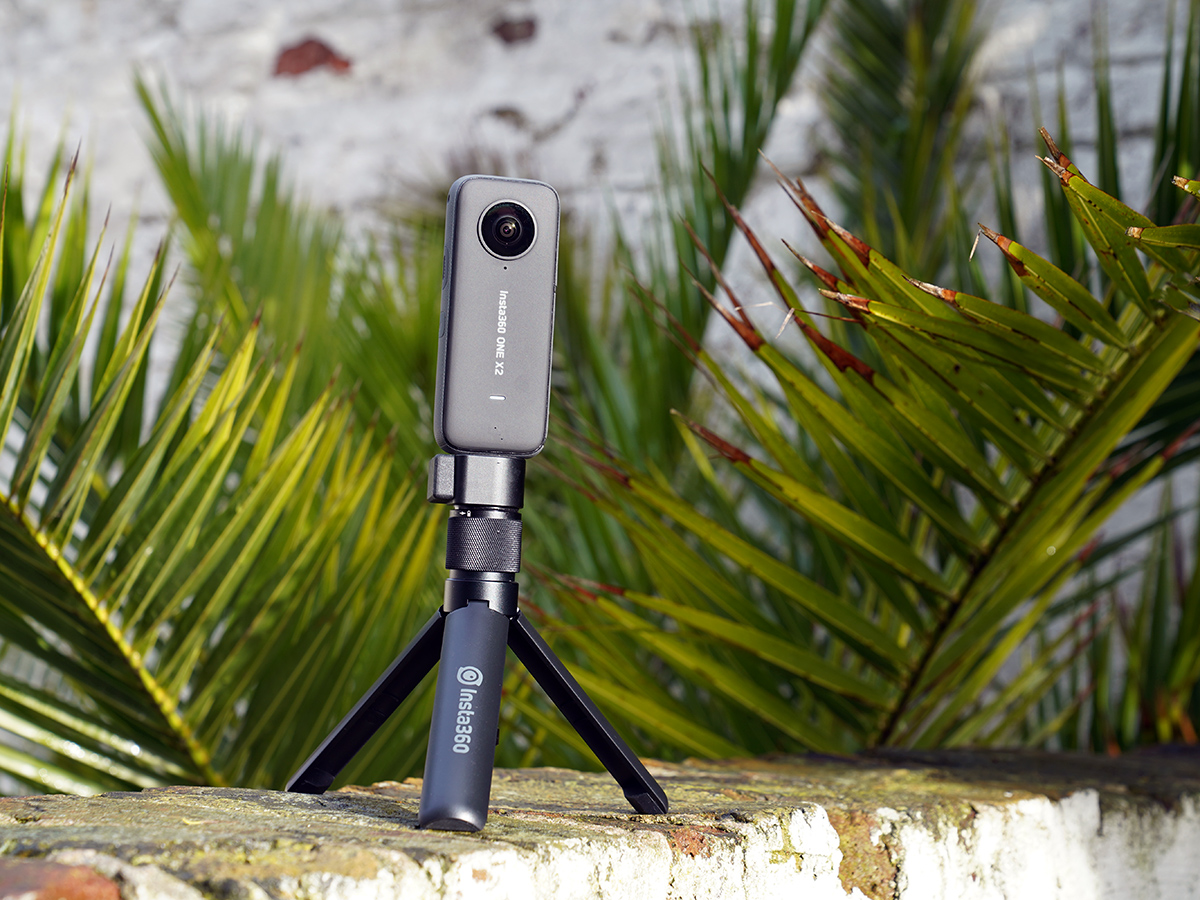 The overall look of the One X2 is similar to the One X: it's shaped like a rubbery, matt-black pill with just two buttons (one for power, one for the shutter) and a slightly bulging fisheye lens on each side.
There are two key enhancements though: built-in waterproofing; and a small round colour touchscreen that replaces the original's simple LED display. The advantage of waterproofing is clear: you no longer need to clad your cam in a bulky case to dunk it in the drink.
With IPX8 protection, it's good all the way down to 10m – or 45m if you buy the optional dive case. I suspect most people will just like the fact you can now use it in the rain without fear of bricking it.
The screen's appeal lies in its ability to effectively untether the camera from your phone. While the app is certainly better for reviewing and editing shots, you can now quickly see what's in frame before hitting the record button, just by glancing at the screen. It's also touch-sensitive, so you can tweak shooting settings and other options here.
One weather-sealed flap on the side houses a big battery and the MicroSD slot, while another conceals the USB-C port used for charging and transferring your files over to a computer. There's a standard tripod mount on the bottom.
The twin camera lenses have a habit of attracting dust and fingerprints, so you'll want to make use of the included soft case and microfibre cloth. You can also buy a rubber lens cap for £5, and I found that a bit simpler to use than the case.
Features: gambol without a gimbal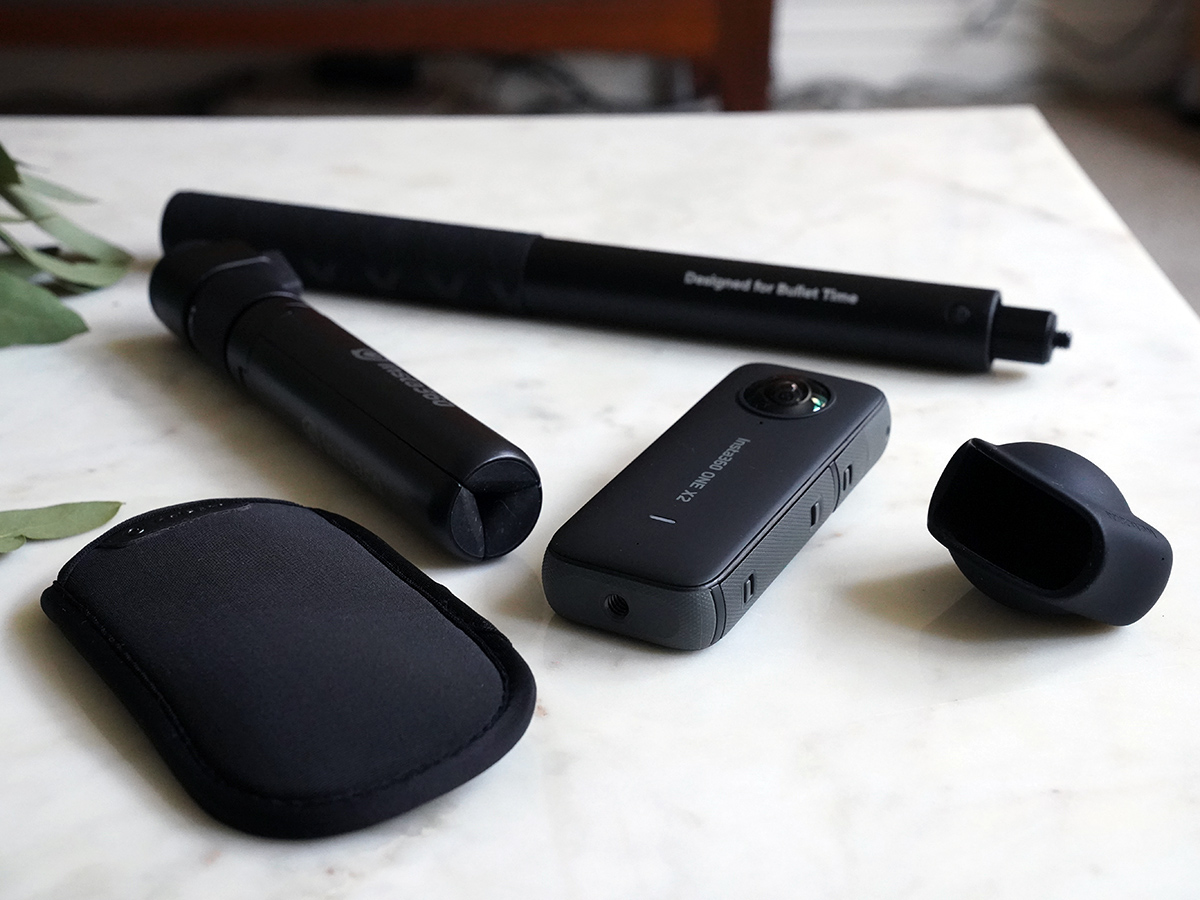 The big appeal of the One X2 is its twin cameras, which each film one 180-degree hemisphere. When the two images are stitched together – something that's done automatically, and almost seamlessly, by the camera's software – you get a full 360-degree photo or video. These images can be used as they are but work best as starting points for creative editing.
With videos, for example, you can change the aspect ratio, framing and tracking, adjust picture settings, overlay filters and do all manner of other seemingly magical tricks. They also get superb auto-levelling and image stabilisation to prevent nausea-inducing shake, so you can attach the One X2 to a selfie stick and wave it around fairly carelessly, knowing you'll still end up with usable footage – it's almost like having proper gimbal-mounted camera. Like its Insta360 predecessors, the One X2 expertly erases any visible trace of the selfie stick from photos and videos Speaking of selfie sticks, they seem fairly essential for the One X2.
Insta360 sent the "Creator Kit" to us for review, which costs almost £500 but includes an extending selfie stick, mini-tripod/bullet-time handle, rubber lens cap and 32GB memory card. If you're coming in without any of that stuff, it seems like the package to buy.
Performance: same difference
The camera captures 360 footage at the same 5.7K resolution and 30fps frame rate as the original One X, with faster frame rates available at lower resolutions.
Video bitrate is 100Mbps and you can now encode your footage in either H.264 or H.265, which is helpful.
Video quality isn't stunning by any means and doesn't seem like much of a leap (if any) over the One X, but we still think it's impressive given the camera's size and the issues that often plague 360 lenses: the auto stitching here works really well and flare and chromatic aberration aren't as overwhelmingly obvious and distracting as you often see on this type of device, so props to Insta360 for keeping these to a minimum.
Unhappy app
If there's one aspect of the One X2 that needs work, it's the companion mobile app. With your phone wirelessly tethered to the camera, you're can use the Insta360 app not only to control recording but browse, edit and share your images and videos, as well as use some of Insta360's more out-there and zany shooting modes in the Shot Lab.
Shot Lab seems designed with quick social media sharing in mind, as its modes aren't available in the desktop app – but it was here where we first encountered problems. Shot Labs' tutorial videos often refused to load over 4G, while trying to use previously shot footage was a constant struggle that swiftly drained battery life, made the phone heat up alarmingly and caused the app to become unresponsive.
It crashed on a few occasions too, so eventually I gave up on trying to create the eye-catching likes of Clone Trail and Fly Lapse videos. It's a bit of a shambles and hopefully some much-needed fixes will arrive soon. The desktop editing app worked fine for me, however, so if you're doing the majority of your work there, you probably won't encounter any of these issues.
Insta360 One X2 verdict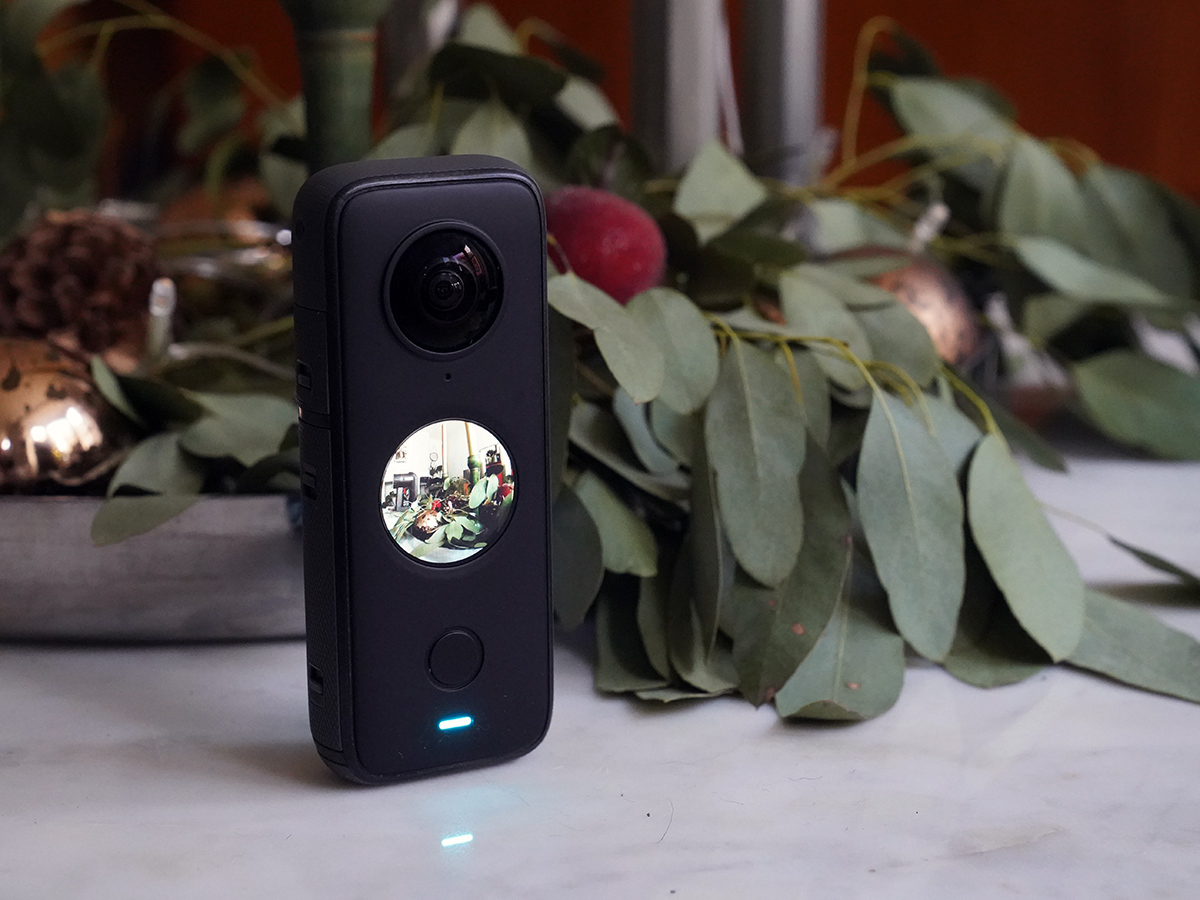 If you already own the Insta360 One X or One R, the One X2 is probably too minor an upgrade to warrant the cost. The image quality isn't any great leap forward and while the battery life, waterproofing and onboard screen are all welcome improvements, none of them are transformational to the tune of £400-odd extra being shelled out.
For new buyers, though, the One X2's tweaks make it the 360 cam to beat. If you can learn to live with the mobile app's frustrating crashes and quirks (which will hopefully be ironed out by an update very soon), it works well and is fun to use – and the camera hardware itself is lightweight, pocket-sized and tough.
For creating quick, eye-catching clips for social media, the One X2 has all the angles covered.
Stuff Says…
Occasional app frustration aside, this creativity-sparking action cam is an engaging box of tricks
Good Stuff
Waterproof, compact build
Excellent camera tricks and stabilisation
Solid desktop editing app
Bad Stuff
Shonky mobile app
Not a huge leap above original One X