iPod Touch (2019) review
A touch of nostalgia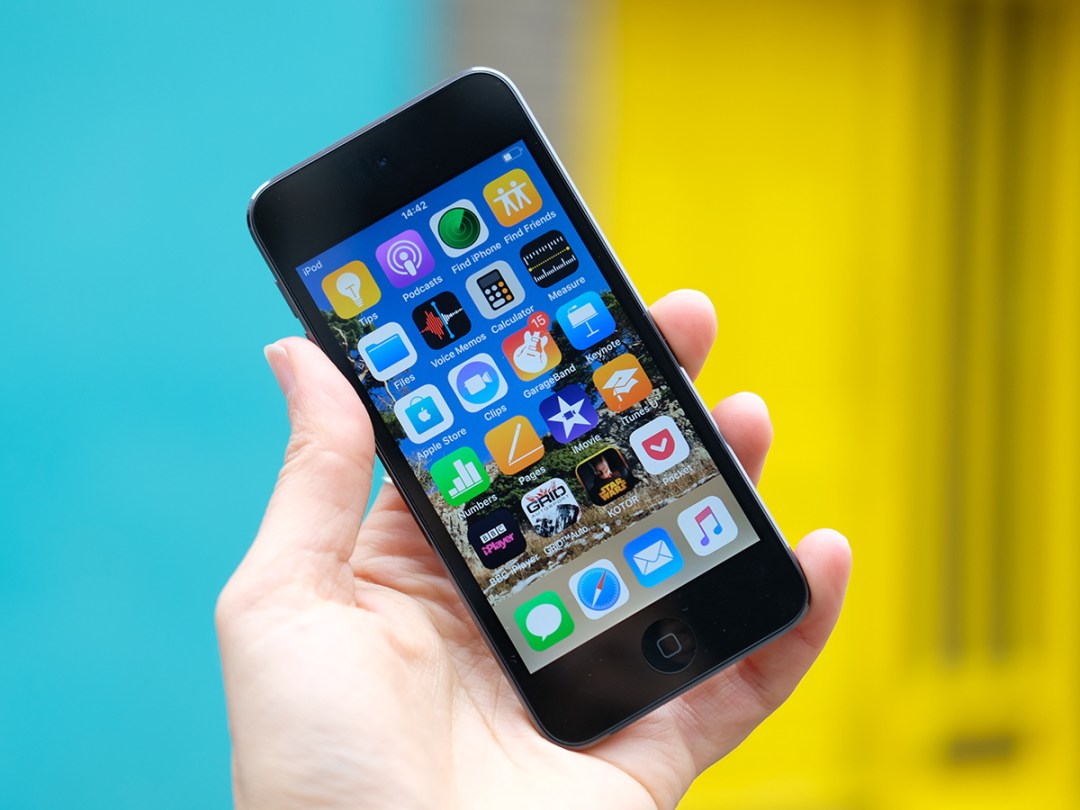 We've not heard a peep about the iPod since 2015, so assumed it was seeing out its last days with a content bunch of Nanos and Shuffles in a Cali home for retired tech.
That's not the case. Enter the 7th generation of iPod, which looks an awful lot like its predecessor, except it's hiding a bigger brain in the form of the A10 Fusion chip from the iPhone 7. This brings AR to the iPod for the first time and that's kind of a big deal, but an even bigger deal is that Apple Arcade is on the horizon launching this Autumn, making it more than just a music player.
With iTunes on the way out, and most of us streaming music on smartphones, is there really a place for portable music players in 2019?
Design and build: Magic touch
It's quintessential Apple. Old Apple. Retro Apple. The sight and feel of the Home button brings back memories of yesteryear.
At just 88g it's so light and so thin – it feels airy as we use it in tandem with our iPhone XR – a chunky giant in comparison.
It's got a dinky 4in 326ppi dinky display and as well as space grey, it's available in white, gold, blue, red and pink. There's no FaceID so you'll need to plumb in your 6-digit passcode every single time, which can be a bit of pain.
As with previous gen iPhones, the volume buttons are on the left hand-side with the on/off/lock button back to the top right. You'll find a Lightning port, a built-in speaker, a 3.5mm headphone jack (honestly), plus a pair of Lightning-wired EarPods bundled in the box.
The Touch's diddy dimensions make it supremely easy to use with one hand and a child would make light work of it too. We could get hung up on the fact it's not got the lofty display of the iPhone XS, but at £200 it's also a fifth of the price.
Sound: You touch my heart
What it lacks in new looks, it counters with the latest iOS update cycle, shipping with iOS 12.3.1 and available with most of the apps you'd expect on an iPhone. It is, of course, missing the crucial features of phone calling, SMS and accessing the internet on a mobile network, however.
It's the sort of phone you'd happily give a child and not worry they'll leave a 10-minute voicemail cooing 'baby shark' to your boss.
We tried the iPod with the EarPods and they were surprisingly capable in the sound department. Problem is they never stayed in my ears while on the move, so that didn't last long.
Swapping them for my dated, but still excellent wired Sennheiser Momentum 2.0 things start to pick up and I can triumphantly wave goodbye to the dongle.
For the task I've downloaded a free trial of Tidal's high-res and hi-fi quality music streaming service. Since the iPod Touch supports Hi-res Audio codecs FLAC and Apple Lossless it's an enticing proposition for audiophiles.
Tidal has excited the sound receptors within me to a dangerous level that precariously might cost me £25-a-month if I don't cut the habit.
I blame Metronomy's 'Salted Caramel Ice Cream'. I am a sugar fiend. The synth patterns and bouncy keyboard progressions are all perfectly articulated and the dreamlike vocals don't get lost.
Switching to Bach now, 'Cello Suite #1 in G' is a little less electronic and I suddenly feel compelled to buy an easel and start oil painting. A still life of a half peeled orange, a dusty loot and a colourful pheasant's feather. So, yeah, the sound quality is seriously good and the in-built speakers are even okay.
Gaming: Reach out and touch
Armed with the Apple A10 Fusion chip, the iPod Touch should be the best gaming iPod there is and Apple even claims it's optimised for immersive AR experiences.
We've been messing around with AR Dragon, which involves scanning a surface to summon your dragon using the camera. It's adorable too, with big puppy-dragon eyes – I've named mine 'JanetJackson'.
We managed to fling enough doughnuts at her to keep her alive, but sadly couldn't offer her enough playtime, so I think she's upset. Justified.
The app loaded quickly and there was no lag as I repeatedly flung a giant beach ball in Janet's tiny arms. This again is something youngsters would adore.
Next, I've launched GRID to let off some steam around the race track. It takes longer to load – partly due to the complexity and customisations on offer. The graphics look ace and everything runs smoothly. Despite the 326ppi – a far cry from 458ppi on the iPhone XS – it looks colourful and well balanced.
What is excellent is that you can play anywhere without Wi-Fi. And with double the memory of the 6th gen iPod, there's a lot more space on offer meaning the likes of PUBG and Star Wars Kotor will have no issues running.
Camera: Out of touch
You're not getting the full Apple camera experience here. In fact, it's the only part which feels bad retro.
But really you're likely to always have your smartphone with you, so it's more of a 'nice to have' than an essential with the iPod Touch. Plus, it's vital for AR.
There's an 8MP camera at the back with image stabalisation. There's no such magic as portrait mode or 4K video and the camera setup is identical to its predecessor.
Testing the camera in decent daylight isn't particularly fruitful. A lot of detail is lost in the sky and colour feels washed out. Like the time before smartphones got really good cameras.
It's not much better on the 1.2MP FaceTime HD camera, again it's a bit dull and lacking detail.
Apple iPod Touch (2019) verdict
During this review I've pinpointed two groups who this thing might appeal to: Audiophiles and children, or rather audiophile parents of children.
I am neither.
But where it does falls short on all the cool stuff that our iPhones can do – like FaceID and taking fantastic photos – you're getting access to what is an amazing set of games, which will only get better with Apple Arcade, at a starting price of £199.
Apple claims you'll get 40 hours out of the iPod Touch, but we found it to be a little shy of that, especially when you're trying to become the best leader of Tropico on your daily commute.
It's not essential. But it is fun. And for once, it's affordable.
Stuff Says…
The iPod Touch is a brilliant blast from the past, giving you access to Apple's plentiful iOS store and has now up-skilled its musical potential. A handful of Apple delights for under £200 is good value.
Good Stuff
iOS 12
Good capacity
Headphone jack
Decent battery life
Bad Stuff
No FaceID
Large bezels