Iris Flow review
Go with the Flow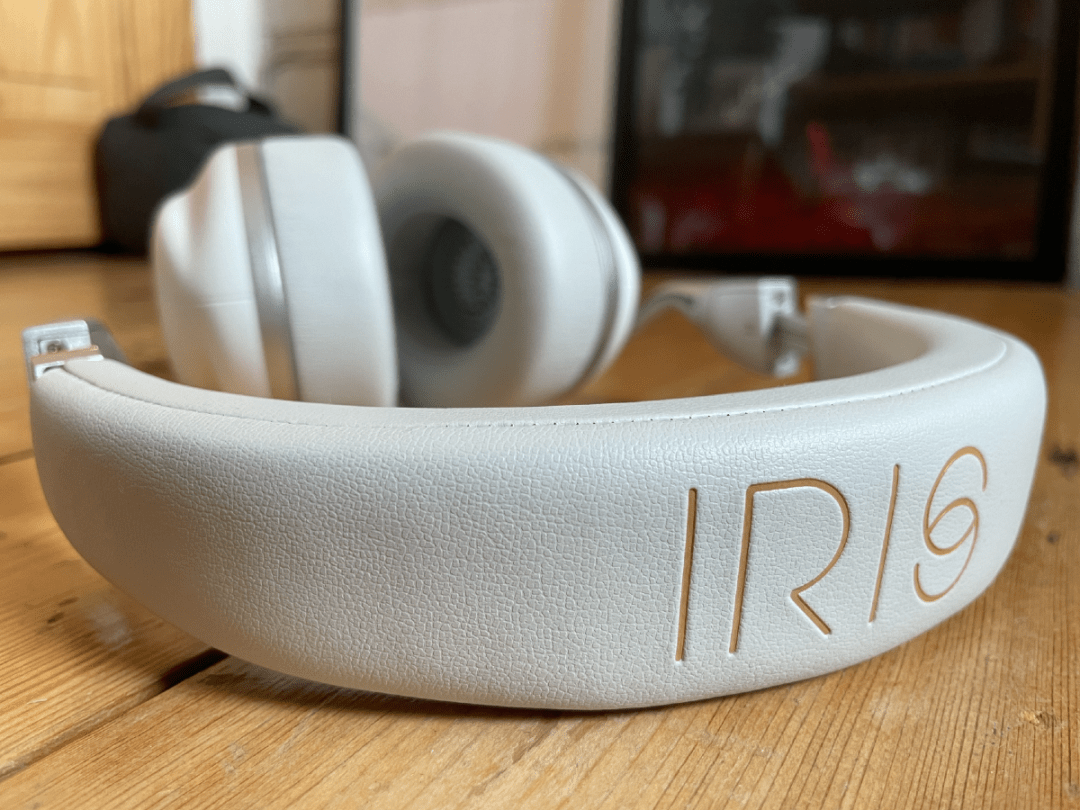 If you've got circa £350 to spend on some over-ear headphones you're not exactly short of options – but only one pair claims to make your tunes sound more like live music.
Funded by a £340,000 Indiegogo campaign, the Iris Flow cans have a built-in algorithm that "splits out and increases the phase information sent to the brain", which Iris reckons stimulates more "active listening". That might sound like a big dollop of marketing guff but it does have some scientific basis that's been backed up in a study by Goldsmiths. 
For normal people who just want to know what they're going to sound like, Iris claims the algorithm will give your music a "heightened live dimension". So does wearing them make you feel like Radiohead, Adele or The Beatles have set up in the spare room? We spent a week wearing a pair to find out.
Design and build: Visions of angels
Iris has aimed for something midway between the functional minimalism of Sony's WH-1000XM4, which some might find a tad boring, and the more look-at-me vibe of Apple's pricey AirPods Max. The white ones are perhaps a touch more ostentatious than the black pair, plus there's a special edition set (£399) in the colours of Red Bull Racing.
They feel immediately luxurious. The synthetic leather ear cups are soft and thick, a bit like a golden retriever, while the adjustable aluminium arms that attach them to the similarly coated headband feel suitably solid. At 315g they're a touch heavier than most of the competition but it's a pretty Goldilocks weight – not too heavy or too light. You can wear them for yonks without getting a dose of noggin fatigue.
Iris has opted for physical controls rather than often temperamental touch-sensitive ones, so you get buttons to adjust the volume and control playback on the right ear cup, which are easy to find while you're wearing them, although not being able to skip a track without digging out your phone is a bit of a pain.
The only one that's a bit more elusive is the Iris button, which activates the algorithm, but that's only because it's not very clear from the outset it's even a button. When you press it, a white glow appears beneath the surface of the ear cups to indicate it's switched on, but it's active by default.
Props should also be given to Iris for the lack of extraneous packaging the headphones come in. While tech brands often try to show off how clever they are with Tetris-like boxes, Iris makes a point of keeping things to a minimum. Inside the sturdy, recyclable box is a carry case that includes both the headphones and all the extra cables and co: one with a 3.5mm jack on each end, USB-C for charging, and adaptors for USB-A and 6.35mm headphone sockets. And that's about it. The polar bears will be happy.
Features: The Musical Box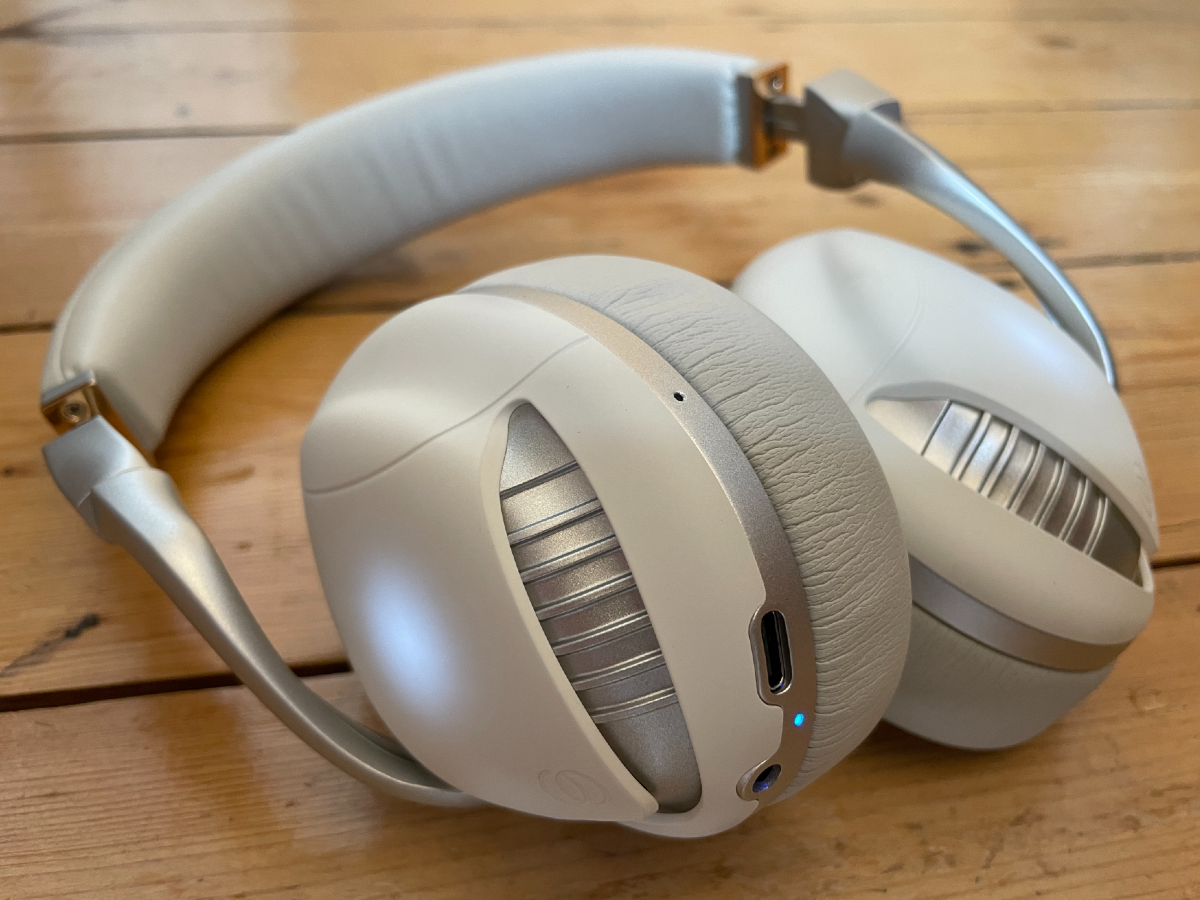 With most pairs of headphones in this price range you'd expect active noise-cancelling and perhaps accelerometers to automatically pause your music when you take them off. You get neither here, with Iris suggesting that noise-cancelling would be detrimental to the sound quality, but there is a built-in microphone for making and taking calls. You can also summon your phone's voice assistant with a long press of the play/pause button.
The real USP is… the algorithm. It's built into the headphones, which means it works on any source, whether you're connected wirelessly over Bluetooth or using the included aux cable – you don't need to listen through a special app or anything like that. We'll get into how effective it is shortly but the idea is it makes your music sound more like it's being performed than just played.
There is an app you can download called Iris Listen Well, which shows you how much life is left in the battery, lets you tweak the 'Integration' (the mix of the algorithm) and the 'Intensity' (the width of phase separation), turn off the Iris lights, and change how long it takes before the headphones switch themselves off when there's no music playing.
The app also works as an introduction to Iris's technology, so those who don't own a pair of the headphones can use it to hear how the algorithm affects their tunes, or test it with a set of five pre-loaded ones. That means it'll pause whatever you're listening to whenever you fire it up, which is a bit irritating, but we found little cause to use the app much anyway.
Performance: Turn It On Again
Even without the algorithm doing its thing the Iris Flow are solid performers, with good balance, natural-sounding vocals and a keen grasp of the bass. What else would you expect for £350? But nobody's going to buy a pair of these and ignore their party trick, even if turning it off will add an extra seven hours to the already impressive 30-hour battery life.
Turning the algorithm on seems to give a little volume bump – and anyone who's sat in the back of an Uber and implored the driver to "pump this one up" when Magic FM plays Dire Straits will know that's an easy way to make almost any tune sound better.
Things certainly sound fuller when it's doing its thing, often adding a bit of oomph to the overall delivery. Stereo effect is frequently less pronounced too, although that's not to say things all get mashed up together. You can still pick out individual instruments, they're just less artificially separated.
Does the algorithm make songs sound better? That depends what you're after and what's playing, but it often does feel like it gives tracks a bit more room to breathe. It gives Handshake Drugs by Wilco a more organic feel, puts more focus on Nipsey Hussle's vocals in Hussle & Motivate, and makes Napalm Death's On the Brink of Extinction sound like Slipknot being kicked to death by 10 robots instead of just a couple (whether that's something you want probably depends largely on how partial you are to the West Midlands' premier grindcore band).
But it's not a one-size-fits-all solution. Some tracks change more than others and there are those, such as Protect Ya Neck by Wu-Tang Clan and basically the whole of Radiohead's Amnesiac, that just sound a little wonky, although it's worth pointing out they're very much in the minority. Adjusting the algorithm in the app can help, but that's not something you want to be doing frequently, and you can make things sound very odd if you're not careful. It's easier just to turn it off if something doesn't sound quite right.
Iris Flow verdict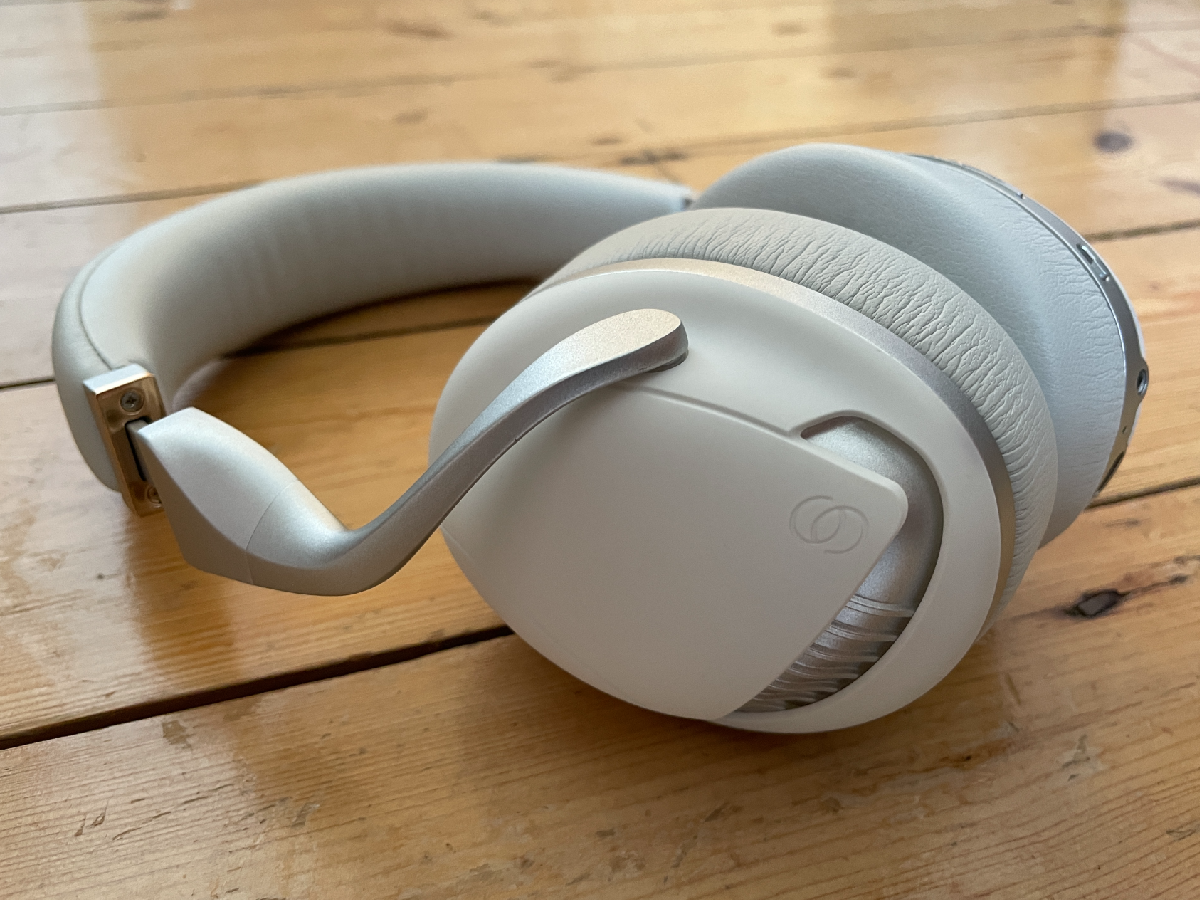 It probably goes without saying that these headphones are not for audio purists who want to hear songs exactly as the studio engineer intended, although it's worth remembering there's no actual frequency manipulation taking place.
As a first-generation product there are still creases to iron out, and with such stiff competition it is hard to work out exactly who might buy them, but if you're less bothered about what's 'correct' and just want your music to sound good, there's definitely a lot to like here.
As a technology it feels like it'd be better suited to being included as part of an existing streaming app rather than inside a pair of headphones. That makes the Iris Flow an interesting and impressive showcase for some intriguing tech, but it seems unlikely that they'll change the world – at least not yet.
Stuff Says…
Forward-thinking and often fun to listen to, but they won't be for everyone
Good Stuff
Well built
Long-lasting battery
Algorithm can give your music a boost…
Bad Stuff
… but not always
No noise-cancelling
Audio feedback a bit lo-fi