Izotope Spire review
The pro-quality recording studio that fits in your microwave (but please don't)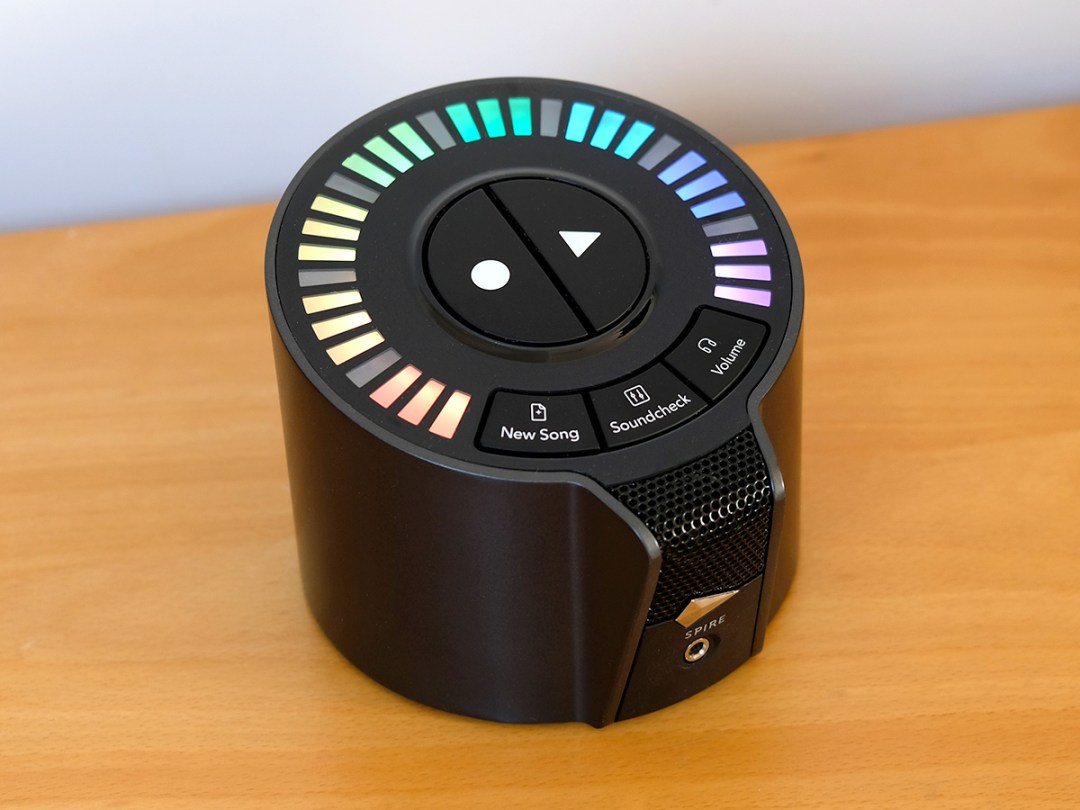 You're a genius, aren't you? Course you are. If only you had some way of getting down your brilliant, multi-layered ideas in hi-fi quality before you forget them. If only you had a miniature mobile studio, complete with built-in condenser mic, one-button recording and instant overdubbing. You'd be all out of excuses, wouldn't you?
There are already plenty of pocket audio interfaces and apps for multitracking on the move, but the Izotope Spire has a drawer full of secret weapons: that 'studio-grade' microphone, a clever 'soundcheck' function for setting input levels, the ability to record with or without a phone/tablet, and two separate mic/instrument inputs.
In theory, you could come up with a six-part barbershop masterpiece while abseiling down El Capitan and have it all recorded by the time you reach the bottom and get eaten by a bear. And if your family want to get your posthumous classic professionally mixed with added trombones and Minimoog, they can simply export the individual tracks to any DAW as wav files. It's what you would have wanted.
DESIGN: LIP UP FLATTY
A spire is supposed to be tall and thin; this one is the shape of a sawn-off Christmas pudding. But it's a nice ergonomic design for easy access to the top control panel, with the omnidirectional mic just in front.
There are mini headphone ports front and back, and the rear panel also hosts two combined jack/XLR inputs for external mics (with the option of 48v phantom power) and line-level instruments. Charging is via the included 5v adapter; the Spire should keep going for four hours away from the mains once fuelled up.
It does work as a standalone device, but you'll want to hook it up with a tablet or phone (iOS or Android) for mixing and song management. Pairing and syncing are quick – it uses its own Wi-Fi network rather than Bluetooth – and the app is all about novice-friendly simplicity.
RECORDING: TAPPER'S DELIGHT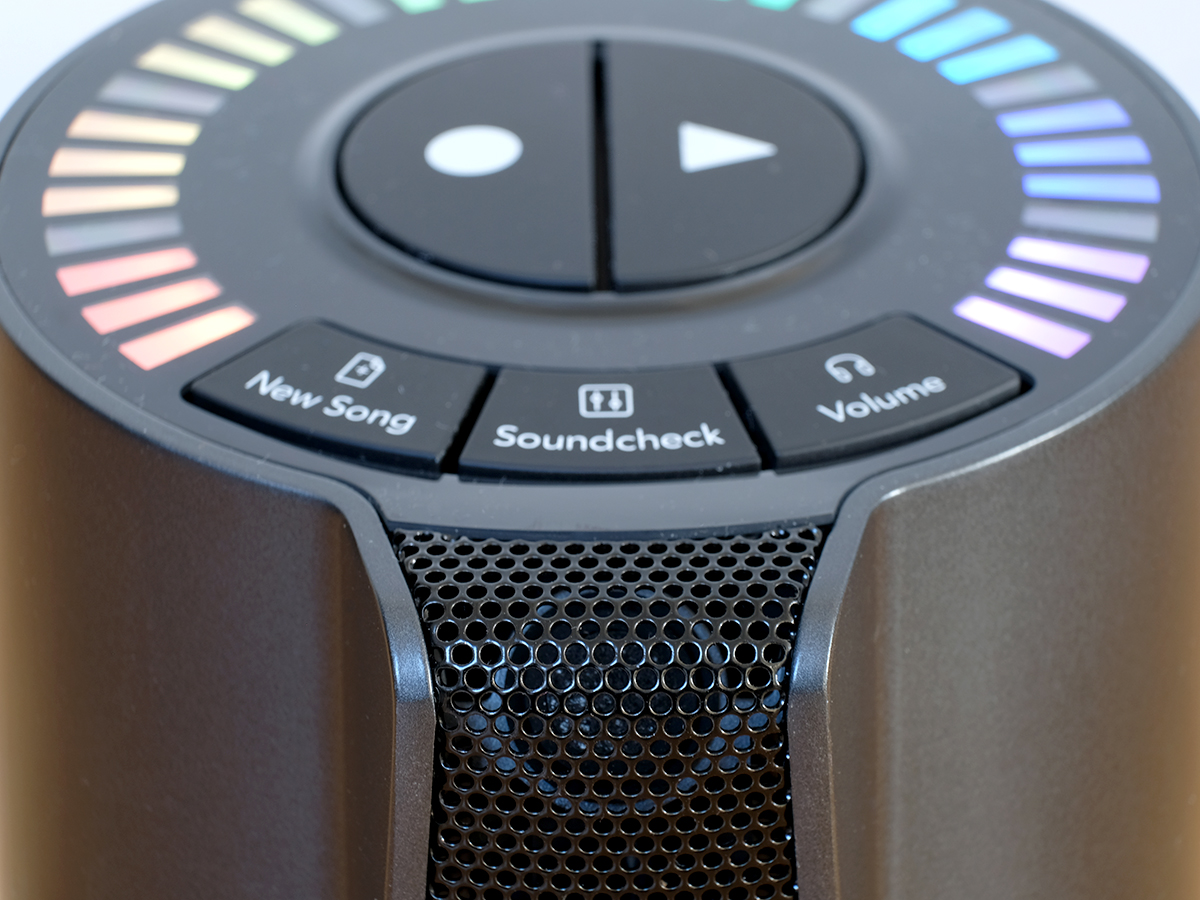 Right, so you've lugged your electric banjo all the way up that mountain, and the view from the top has given you a great non-derivative idea for a song about what a wonderful world this would be if we'd only listen to the flower people and be excellent to each other. Place the Spire on a flat rock, put your face near the mic and plug that banjo in round the back. Headphones on and you're ready to roll.
A press of the 'new song' button gets the device ready to record; a press of the soundcheck button launches a simple level-adjusting process to save you from input distortion; and a press of the record button is your cue to start that first take. So actually that's three-button recording, not one. Sorry. Anyway, that last button is the only thing you then need to stop recording one track (or pair of tracks) and start overdubbing the next, up to a maximum of eight.
This is the same Izotope that makes the widely acclaimed Ozone mastering software, so it's no surprise that the audio quality is good. You might get a slightly more spacious picture from a dedicated studio condenser, but the in-built mic is genuinely impressive and can handle densely layered vocal harmonies without getting harsh or honky.
MIXING: ROCKIN' BLOBBIN'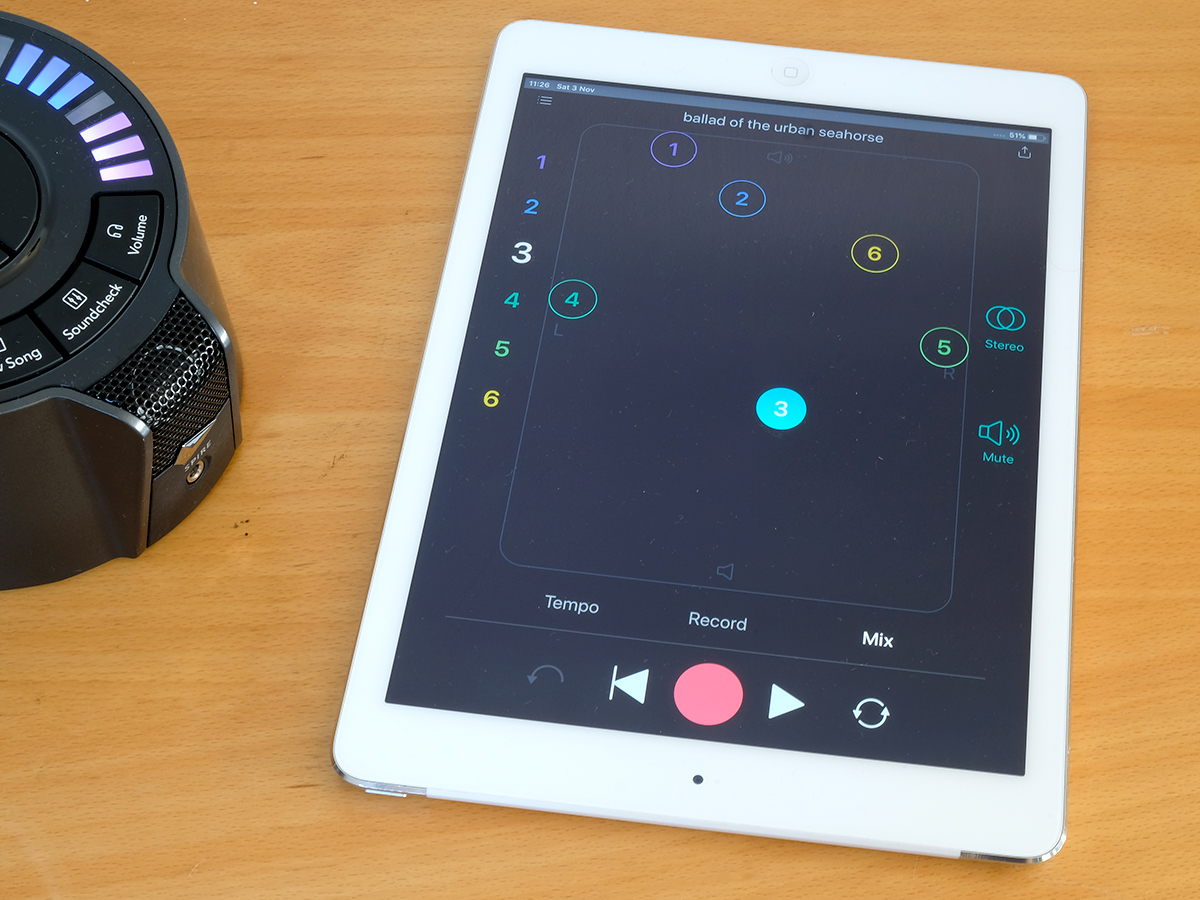 So, just like Moses, you've come down from the mountain with a Fjallraven backpack full of tablets. Well, an iPad. Get it out now, because it's time to start mixing – and if you know how to drink tea and pass wind, you know how to mix on the Spire.
The mixing interface looks like a graph, with each track represented by a colour-coded blob. Drag a blob up or down for level, left or right for panning, and that's your mix. It's instantly responsive and totally intuitive.
Now, shall we add some effects? Oh… too late. Yes, there are some basic effects on offer here – a few reverbs, a bit of modulation and even a couple of virtual guitar amps – but you can only apply these as you record, and can't remove or even adjust them afterwards. This alone is why the Izotope Spire isn't getting five stars: 'Tape it dry and add your effects in the mix' is the second golden rule of modern recording, right behind 'Don't pour beer into the microphone'.
So, use a feature effect if it's an essential part of the sound and you don't mind being stuck with it forever; otherwise, keep everything dry for now and worry about effects once you've exported the tracks to your DAW. Speaking of which…
NEXT STEPS: THE LOGIC(AL) SONG
Exporting tracks from an iPad is a doddle: tap the upload button then select where and how you want to send your song or export its individual tracks. You can choose between compressed m4a and uncompressed 48kHz/24-bit wav formats, and even have the option of sharing directly to social media.
Exporting tracks from an Android phone is not a doddle… because you can't. Whole songs can be fired off easily enough, but unless you have an iOS device you're not going to be able to use your Spire recordings as raw materials for a full studio production. That's not as much of a bummer as being eaten by a bear, but if you're Android-only it's close.
I used AirDrop to send wav files from my iPad to my Mac, then imported them into Logic Pro for proper mixing and mastering. The results were really quite stunning. Treat these tracks with pro-standard EQ, compression and reverb, and they'll fit right into any release-ready mix.
IZOTOPE SPIRE VERDICT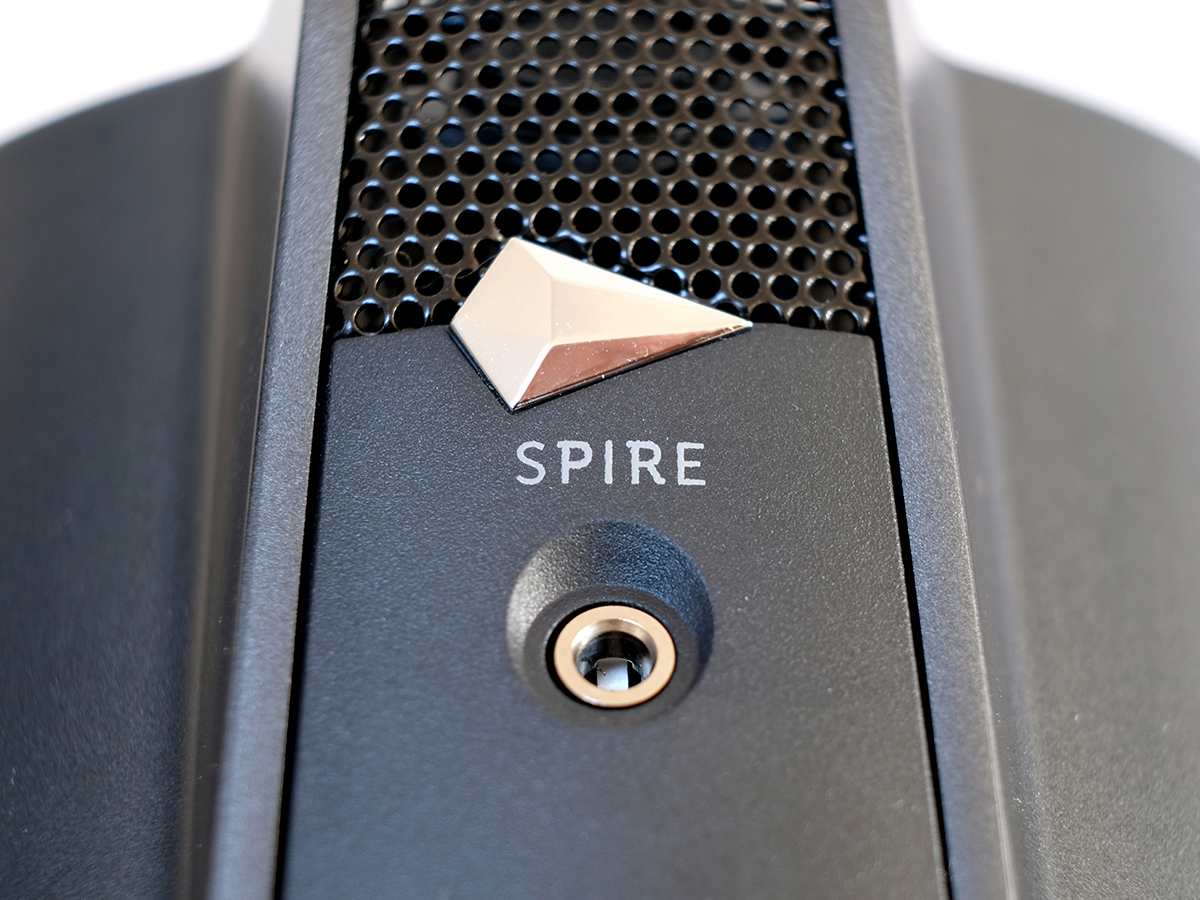 The Izotope Spire is a brilliant idea well executed.
There are two snags with the system – the on-board effects are of little use, and the Android app is bafflingly limited – but if you're an iPhone or iPad user looking for a portable sketchbook that can record multiple tracks, with audio quality good enough for turning those sketches into finished mixes at home later, it's a stumpy little gem.
Stuff Says…
Easy overdubbing and a classy mic make this a great gift for the mobile musician
Good Stuff
Never forget a song idea again
Immaculate audio quality
Neat interface for basic mixing
Works even without a phone
Bad Stuff
Effects aren't much use
Can't export tracks via Android