Jabra Elite 5 review: all about ANC
Comfortable and capable - but is that enough?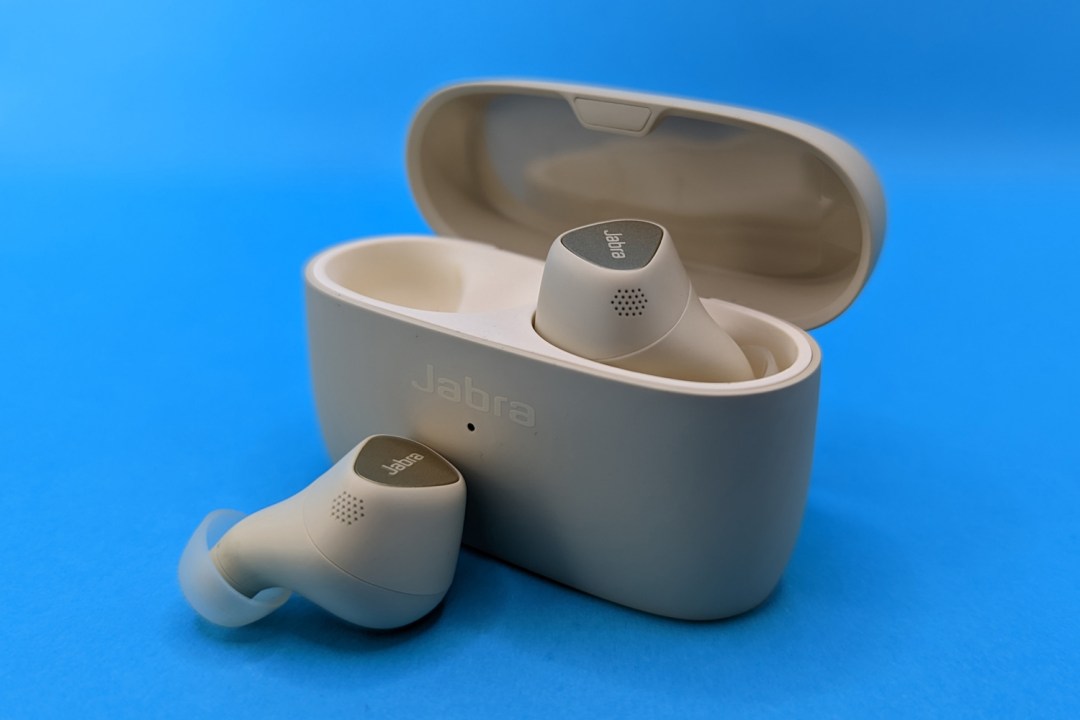 As all-rounder in-ears go, Jabra has long been a safe bet: the firm's active noise cancelling line-up can mute your commute, survive a sweaty workout, and deliver clear voice calls. The Jabra Elite 5 is the newest addition, and tries to do all the above while also keeping the price in check.
It's supposed to sit in the sweet spot between more entry-level 'buds like the Elite 4 and premium models like the Elite 7 Active, adding more effective hybrid ANC and higher quality Bluetooth to the mix but skipping out a few high-end extras.
The thing is, Jabra's range is already pretty comprehensive – and price cuts have blurred the lines between tiers. Can it really silence the outside world well enough to earn its place?
Design & build: feeling fit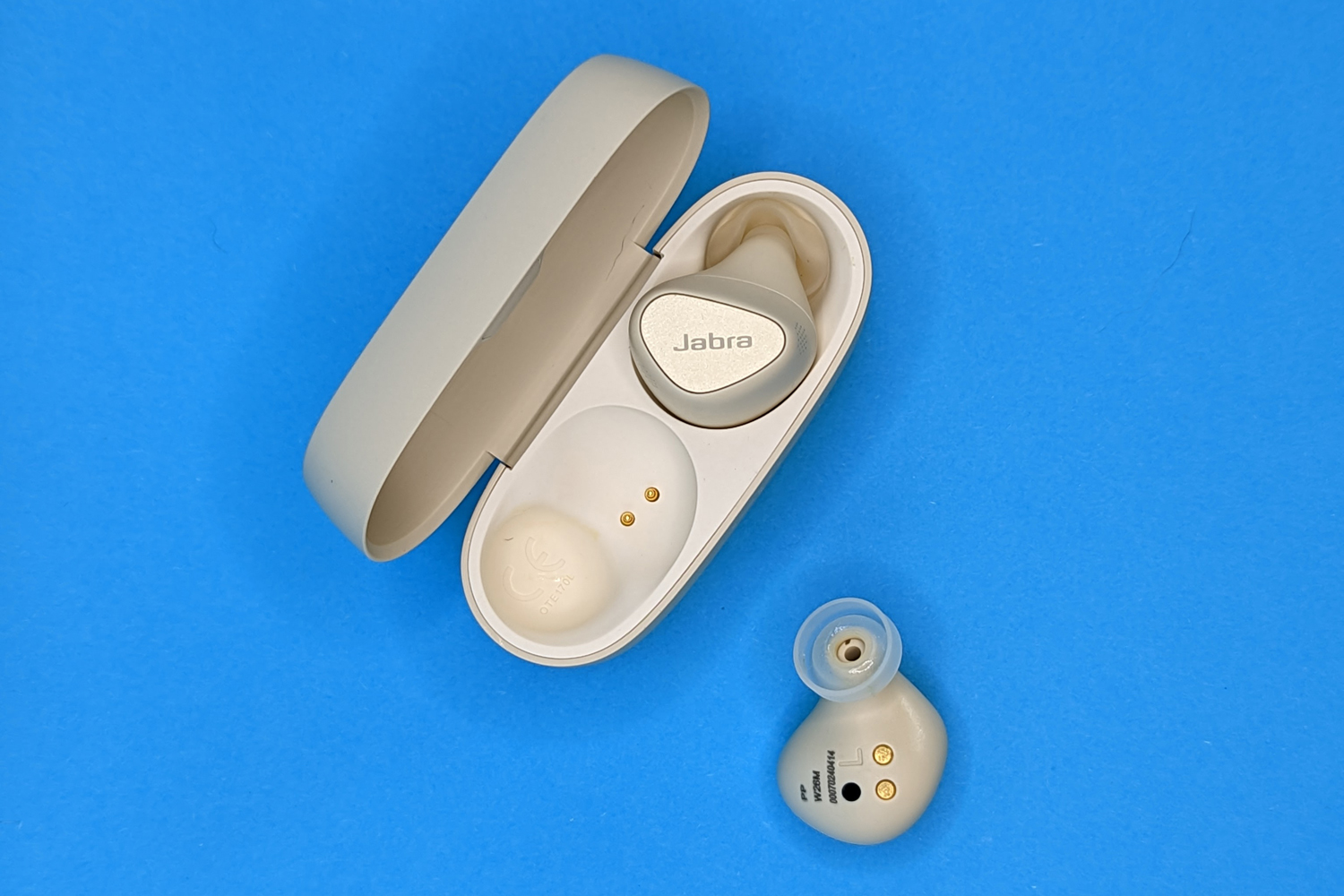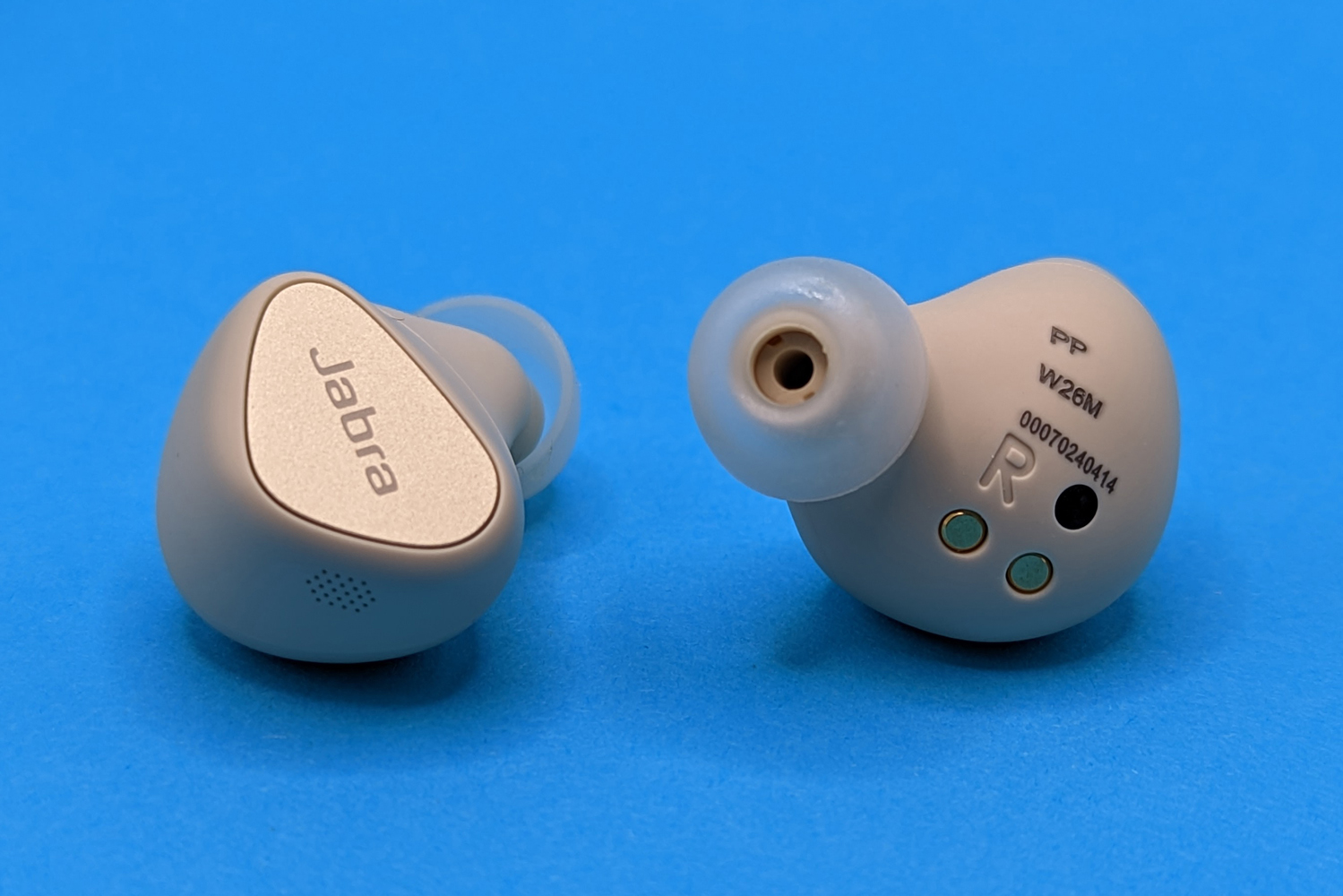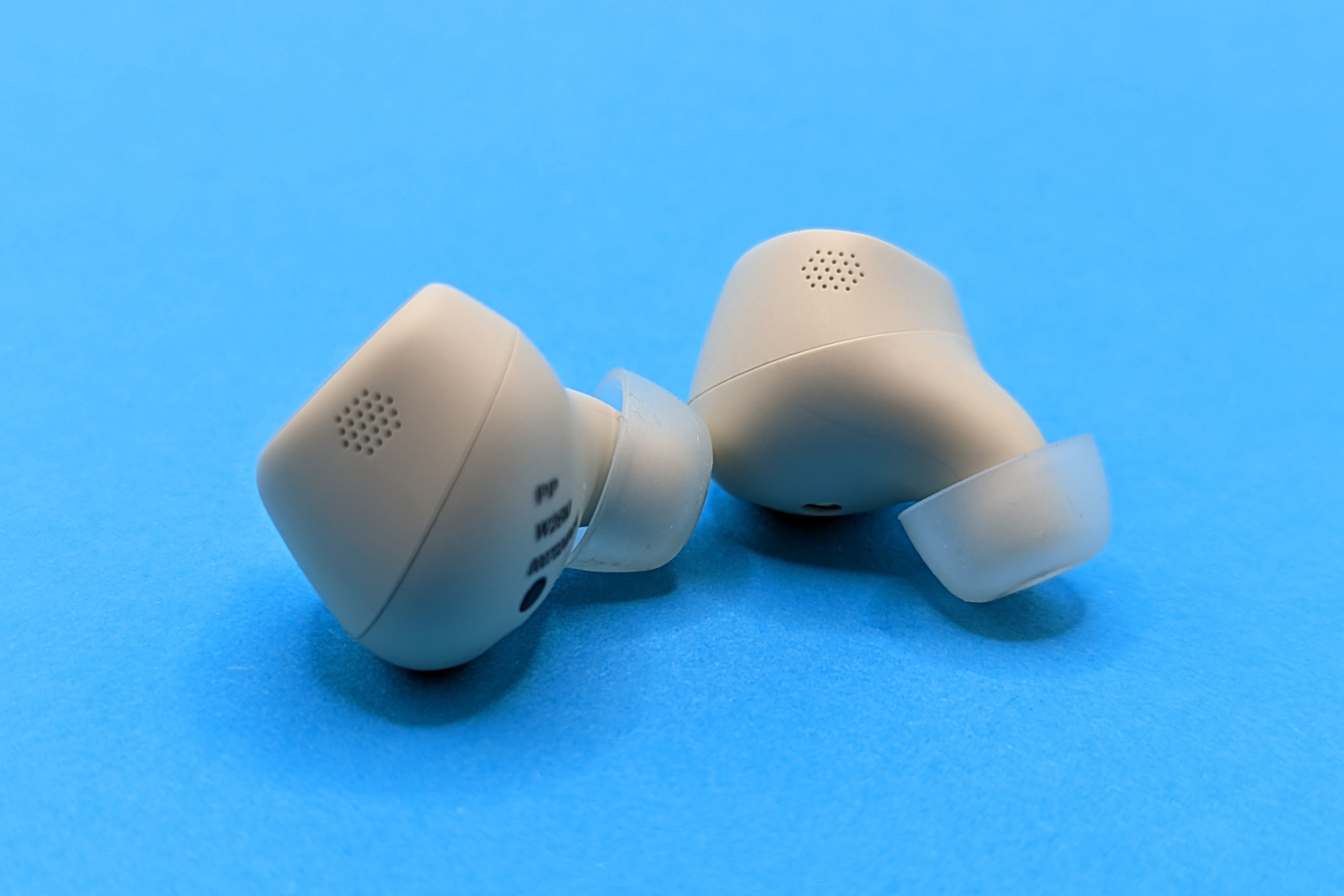 Jabra's familiar contoured shapes make a return, with a few extra microphone grilles being the only thing separating the Elite 5 from the cheaper Elite 3. We're fans of the Gold Beige colour scheme: it's easier on the eye than the somewhat anonymous Titanium Black option, without being overly blingy. The Jabra branding isn't too in-yer-face either.
Each bud is made from hard plastic rather than the soft-touch stuff seen on the firm's pricier models. That means they aren't as grippy in your ears, but the silicone ear tips help keep them largely locked in place without the need to constantly adjust them. There's a bunch of different sized tips included in the box.
Each bud is wonderfully light, and the general fit is comfy enough for hours-long listening sessions. IP55 water resistance is fine for hitting the gym, although fitness fanatics might feel a little hard done by: the Elite 7 Active isn't a whole lot more expensive, and has superior IP57 protection.
The charging case is as pocket-friendly as ever, being largely unchanged from the Elite 3 – only here you're getting wireless charging as well as USB-C. The lid flicks open and shut with a satisfying snap, and the teensy battery indicator gets the job done: you're good on green, dipping under 50% when it lights up yellow, and in need of a top-up once it turns red.
Features & battery life: app it up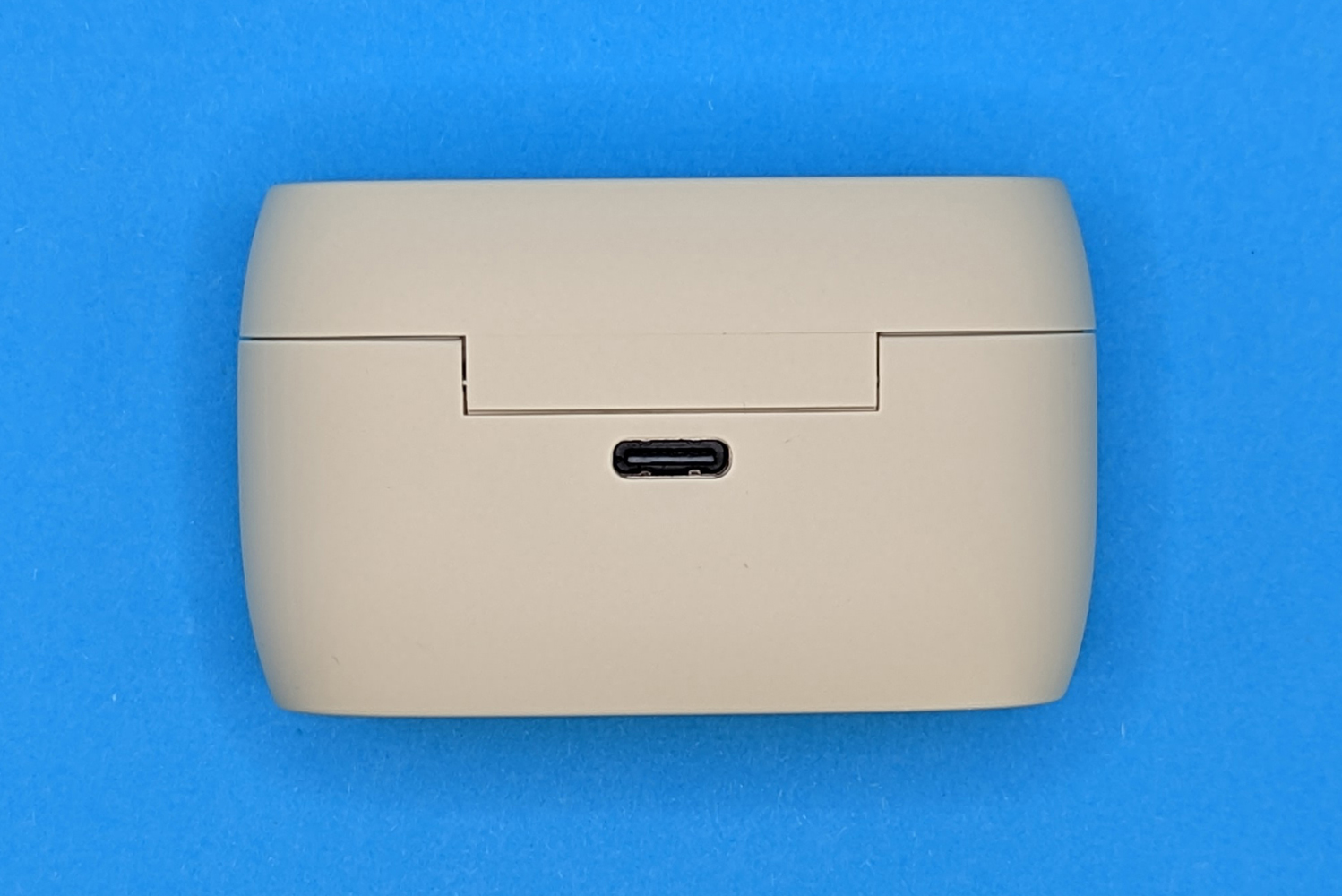 Jabra's not a fan of touch-sensitive controls, so each Elite 5 bud gets a big physical button for handling music playback, ANC, voice assistant and call controls. The way they rest on your ear's concha means pressing 'em won't also shove the tips further into your ear canal, so comfort is never compromised.
Single, double and triple-taps can all be customised through Jabra's superb Sound+ smartphone app, which also lets you customise the amount of active noise cancellation and tweak the audio EQ. It'll let you set up your choice of Google Assistant, Amazon Alexa or Apple's Siri for either tap-and-hold or trigger word waking, but we had mixed results getting it to detect our voice. Spotify Tap is a neat addition for quickly resuming your last listened-to playlist with one tap.
You miss out on a few features, like the MySound listening test that adjusts audio based on which frequencies you struggle to hear, and MyFit that accounts for how good a seal the buds create when calibrating noise cancellation. For those you'll need to step up to Jabra's Elite 7 range.
In-ear detection is nice to have, but it only pauses tracks when you pull out an ear bud; it won't also resume playback when you pop it back in.
Connectivity has been streamlined with Microsoft Swift Pair as well as Google Fast Pair and Made for iPhone certification. The former is handy if you split your listening time between a smartphone and a Windows laptop. Bluetooth multipoint makes it a breeze to swap between devices, and you're able to wander an impressive distance away from your paired gadget before sound starts to drop out. Even in heavily congested areas, the buds themselves never lost connection with each other.
Battery life is pretty good for a pair of mid-range buds, lasting up to seven hours with ANC enabled and getting close to nine with it switched off. We routinely managed over six hours of listening without needing to return the buds to the charging case, at moderate volume and with a few hands-free calls. The case can boost that lifespan to between 28 and 36 hours total before it'll need topping up itself, which is on par with rivals costing £50-£100 more.
Sound quality: not short of energy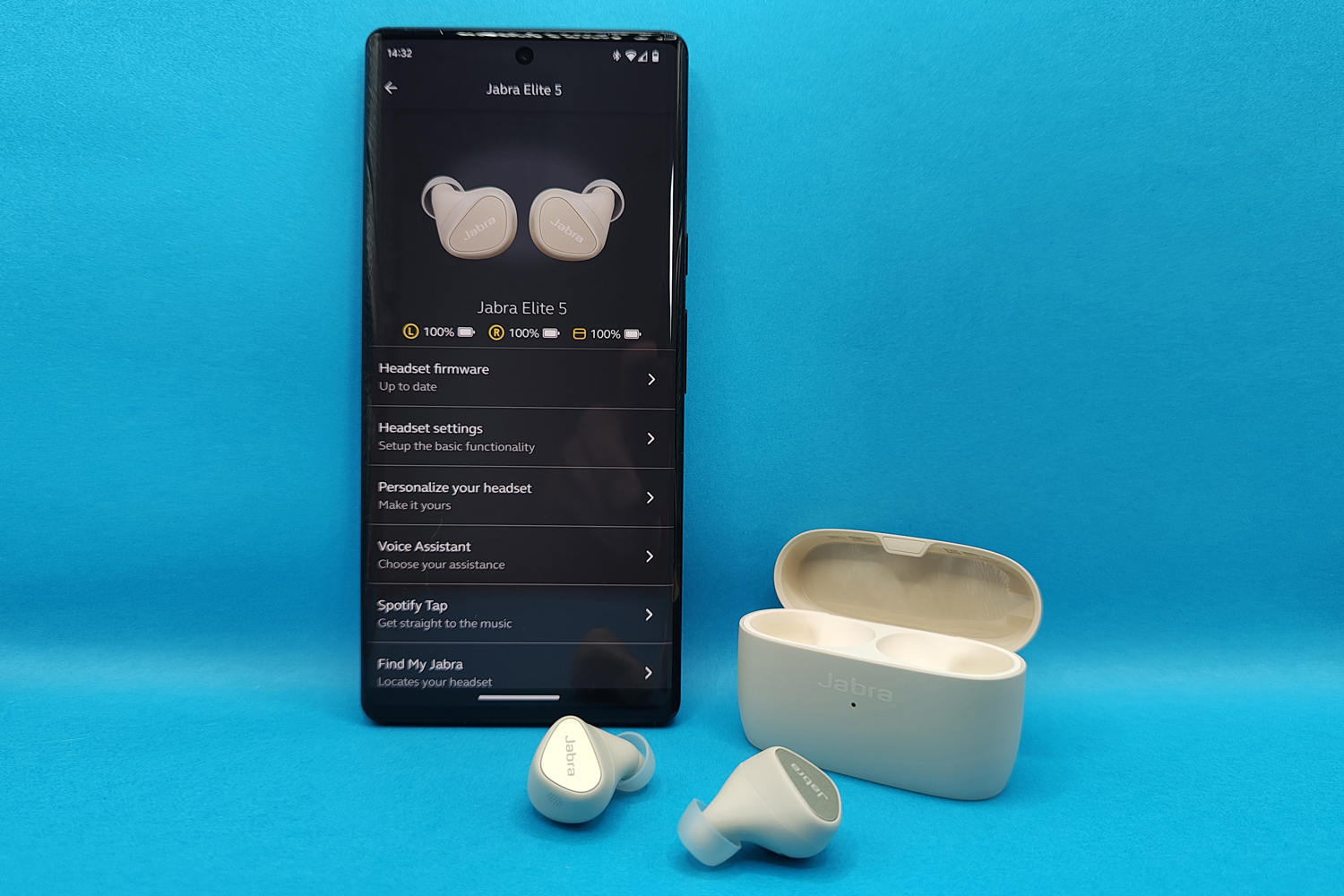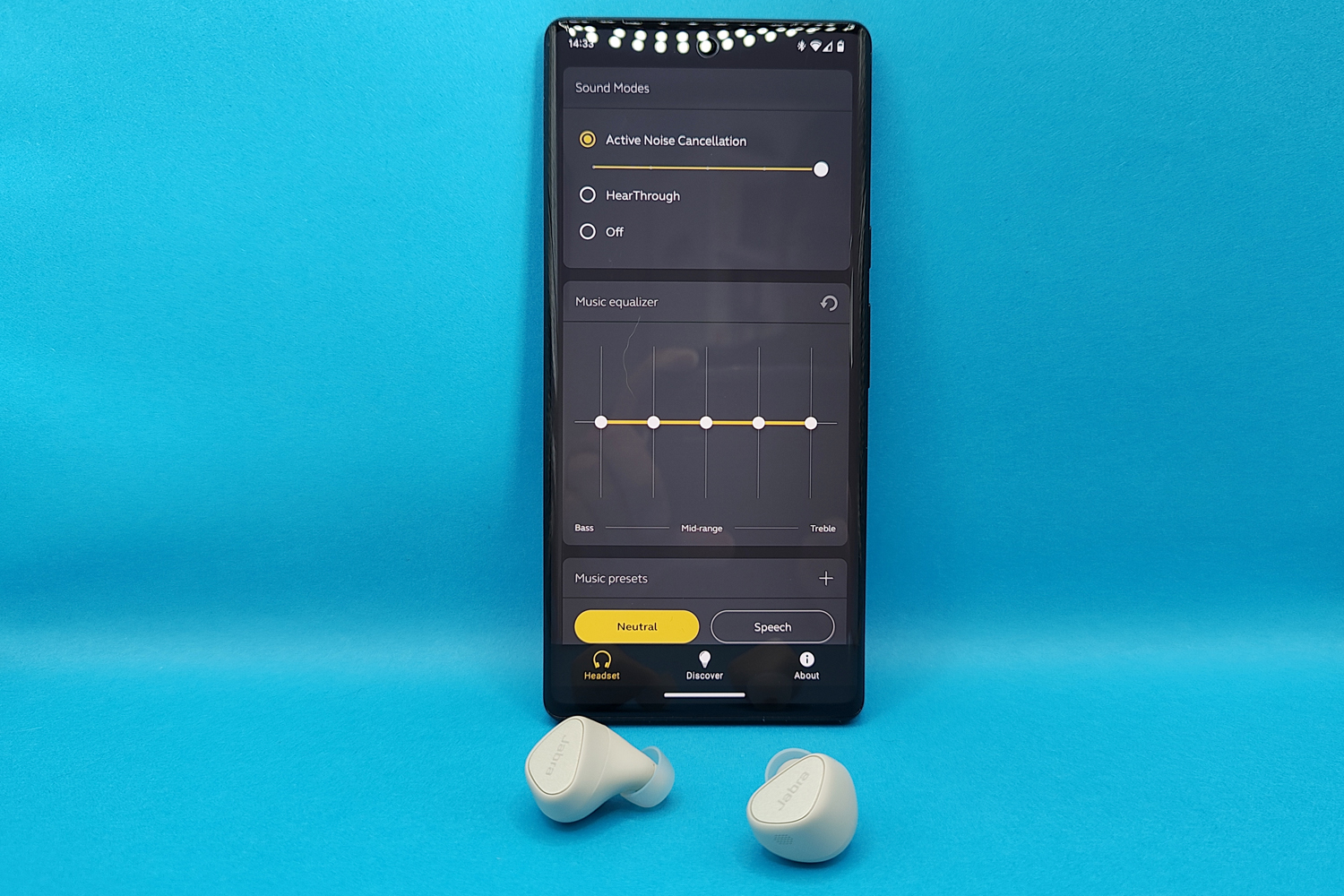 Noise cancelling is where the Elite 5 should impress the most: it's got three microphones on each earbud, facing forward and backward for multiple lines of defence, and a shape that provides a decent amount of passive isolation. It automatically adjusts the gain of the outer and inner microphones when it detects wind noise, so calls should stay nice and clear too.
In practice, they have no trouble drowning out the low-frequency rumble of a commuter train or the fan noise from a particularly toasty laptop. Passing cars are reasonably muted while out on the street, but it doesn't cope so well with conversations and other more high-pitched noises. You'll be spending more to get a pair of earphones with considerably better ANC, but there's no shortage of sub-£200 rivals that perform just as good as the Elite 5.
The Hearthrough transparency mode is effective, at least, letting voices and tannoy announcements through without delay and at a sensible volume. Call quality is also consistently brilliant, as you'd expect from a firm with a history in communication headsets.
With AAC, SBC and aptX codec support, the Elite 5 is a step up from both the Elite 4 (which goes without the Apple-friendly AAC) and the costlier Elite 7 (which lacks aptX). Whatever you connect it to, the 6mm dynamic drivers deliver the same kind of fun and V-shaped sound signature seen across Jabra's earphone line-up.
Bass has plenty of impact and there's a good amount of clarity at the high-end, with neither end of the frequency range dominating the other and no obvious distortion at sensible listening volumes. The mid-range is fairly well defined, even if it takes a slight back seat in the mix: hi-hats and sub-bass take precedence in Calyx & TeeBee's Anything for Attention, rather than the vocal. ANC doesn't colour the audio to any notable degree, though, so there's no quality penalty for enabling it.
These aren't audiophile-grade in-ears, and even with some EQ tuning the mix is still quite bass-centric. The soundstage isn't especially wide, either. Overall performance is about right for the price and perfectly enjoyable, whether you're working out, commuting or listening at home – just don't expect the last word in detail or definition.
Jabra Elite 5 verdict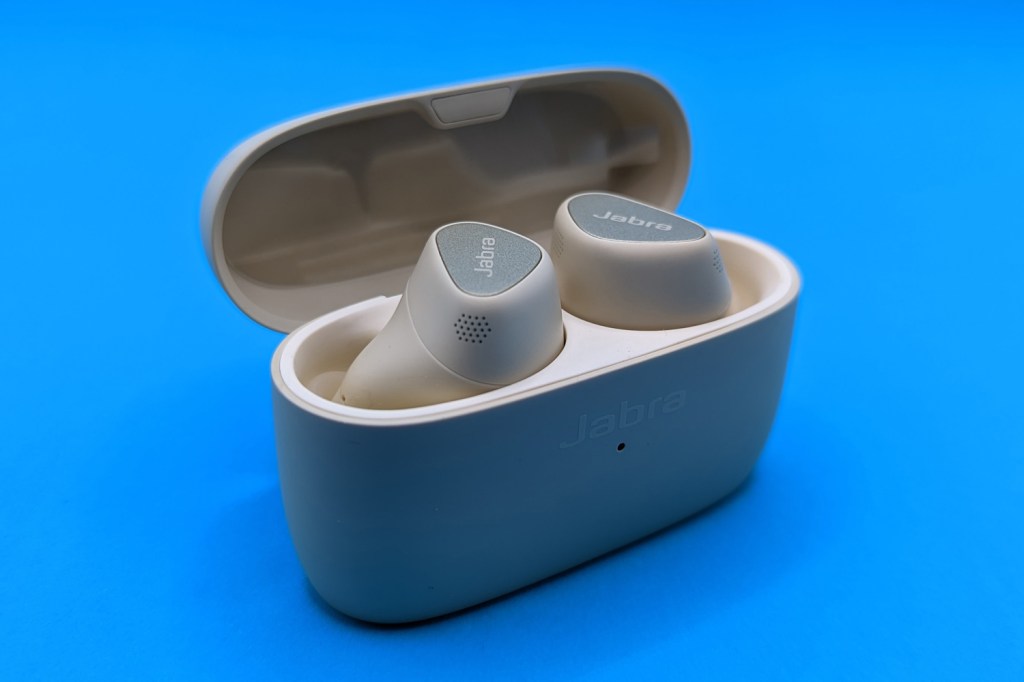 For a pair of mid-tier wireless earphones, the Jabra Elite 5 gets plenty right. They sound suitably punchy for fitness-focused 'buds, with plenty of scope for customisation through the excellent companion app, and the codecs to keep both Apple and Android fans happy.
They aren't the absolute best at noise cancelling for the cash, though, and there's no shortage of competition – including from within Jabra's own ranks. The Elite 7 Active is a better bet for exercise addicts, thanks to superior sweat resistance and a firmer fit, and only cost £20 more. Elsewhere, the Sony LinkBuds S offer a more nuanced sound for similar money.
For clear calls, a comfy fit and decent battery life, however, there's still plenty to like here.
Stuff Says…
Fitness-friendly true wireless in-ears with decent (if not class-leading) ANC and solid sound, but the Elite 5 feels a little lost in Jabra's extensive line-up.
Good Stuff
Energetic yet detailed sound signature
Decent battery life and convenient wireless charging
Extensive in-app customisation
Bad Stuff
ANC could be stronger
Adds to an already bulging earphone range
Jabra Elite 5 technical specifications
| | |
| --- | --- |
| Drivers | 6mm dynamic |
| Microphone | Yes, 6 |
| Connectivity | Bluetooth 5.2 |
| Codec support | AAC, SBC, aptX |
| Battery life | 7/9 hours (buds, ANC active/inactive) 28/36 hours (case, ANC active/inactive) |
| Dimensions | 20x21x27mm, 5g (buds) 26x39x64mm, 40g (case) |