Jabra Elite 75t review
Jabra's top-value, true wireless buds now punch even higher above their price tag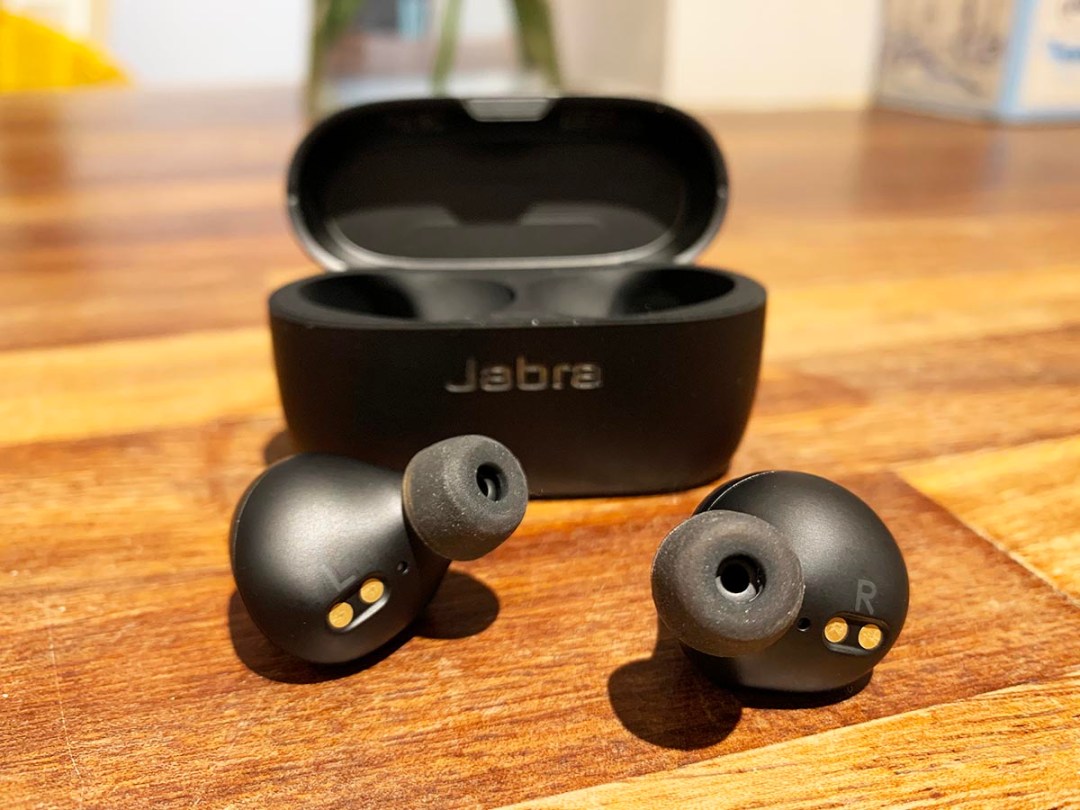 True wireless earbuds keep getting better. Sound quality, connectivity, comfort and battery life are all improving fast. Hot on the footsteps of Apple's AirPods Pro, the Jabra Elite 75t – the follow-up to last year's solid Elite 65t – are the audio specialist's latest attempt to keep up with the competition.
They're smaller, boast better battery life and have some enticing new features, all still for a pretty reasonable price.
But are these the best cord-cutting buds you can stick in your ears?
Design: Smaller and stripped back
The first thing you notice about the Jabra Elite 75t is that they look slicker than the Elite 65t. The 5g buds are streamlined to be lighter, more compact, and more ergonomic. Jabra says they're 20% smaller than the 65t and you can instantly see where some of those savings come from.
The distinctive protruding microphone arm from the 65t is gone – or at least significantly rounded off. In its place is a much smaller bump that houses the Elite 75t's microphones, with two in each bud powering improved outbound audio on calls.
The buds themselves are still quite deep, and stick out more than the likes of the AirPods Pro, but they're now more refined to look at and more comfortable overall. The new stripped-back design is a leap forward from the much bulkier likes of the Bose Soundsport Free or Sony's sporty WF-SP700N.
When it comes to the all-important fit, the eargels in the box come in three standard sizes: small, medium and large . These should accommodate most ears and in our tests we were generally impressed with the seal and comfort, though they don't quite disappear into the ears like the AirPods Pro. The lack of wing tips to hook the buds in place did make them less secure in the ear than we'd have liked.
Sitting and walking was fine but it's not that hard to shake them loose standing still and we were never 100% confident they wouldn't fall out while running – they actually made a break for it during more hectic gym drills like box jumps.
The matchbox-sized charging case has been improved too. It's smaller and lighter than the first-gen case and ever-so-slightly smaller than the AirPods Pro case. It's as lightweight and portable as any you'll find and perfectly easy to stash in the front pocket of your jeans, in those tiny pockets in your gym shorts, or a running belt. That makes it a great option for longer runs and rides where you might want to extend the battery life.
Another small thing: the case is flat-bottomed too so it'll stand up – something the AirPods case doesn't do that's a bit of a bugbear.
There's sadly no wireless charging and if we're really picking holes, we missed having a clip on the charging case, like you get on the Jaybird Vista, that lets you anchor your charging case to your bag. Very helpful if you're a serial Misplacer of Important Stuff. That's somewhat offset by the fact that the case closes magnetically and the buds clip securely – also magnetically – into the charging case which means they don't fall out in your bag, so they're less likely to get lost or damaged.
If you do happen to forget where you put them, the Elite 75t have a Find My Jabra feature that lets you track the last place you used your buds.
On durability, the Elite 75t are IP55 rated – that means they're dust resistant and can withstand a sustained, low-pressure water jet spray. So that's rain and sweat covered. There's also a two-year warranty against dust and water damage for added peace of mind. We put them through several decent drenchings on sweat- or rain-soaked runs and they held up just fine.
Set-up is easy enough. Pairing the Elite 75t first time took less than five minutes, you can pair to more than one phone and accept calls from either. After the initial pairing, the buds then auto-power up and auto-connect when you take them out of the case so there's no Bluetooth faff between you and your music.
Unlike the three styles offered by the 65t, the elite 75t only come in one colour: metallic grey with black gels. And the latter is definitely more forgiving for the waxy-eared among us than the white Airpods, which get dirty really easily. The matt black charging case isn't as pretty to look at as the AirPods case but it also marks less easily.
Features: Rival-slaying staying power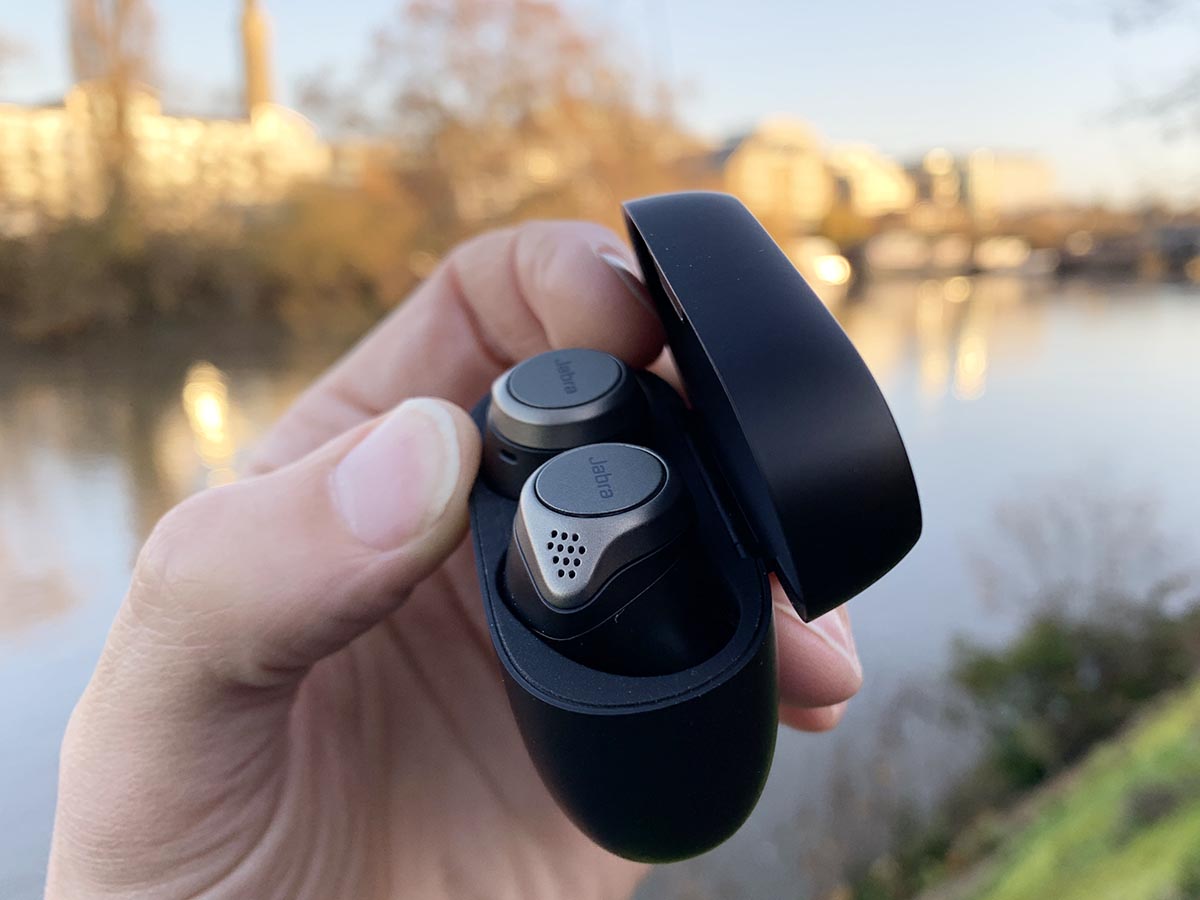 Beyond comfort, sound and durability, the feature that matters most when it comes to true wireless buds is battery life. The Elite 75t hold their own here with 7.5 hours from a single charge and a further 20.5 hours in the charging case – a total play time of 28 hours. That's almost double the 15 hours we got from the 65t and it means that battery life and charging were never an issue. A full juicing takes 2 hours and 20 mins and a single stint on the plug easily saw us through a week of average usage.
For those last-minute low power emergencies, there's also a fast charging feature which provides an hour's juice from just 15 minutes of charging. That's not as good as the Jaybird Vista which offers two hours on a five-minute charge, or the AirPods Pro where just five minutes on charge bags you an hour's listening.
There's no active noise-cancelling, which you'll find on some top-end true wireless buds, but the seal in the ear creates pretty decent passive noise-cancellation. We were happy enough with the 75t's ability to block out the Euro house in our local gym, or the hubbub while we were writing this review in a crowded cafe.
One sound feature carried from the 65t to the 75t is HearThrough transparency mode. In theory, this allows you to hear more of your surroundings for improved situational awareness, dead useful if you run or ride on busy streets. You can handily fire up this mode from the buds but on the pair we tested while music was playing, we couldn't tell the difference. It's certainly not as distinct and impressive as the transparency mode on the AirPods.
Calls are made much clearer by those four microphones we mentioned, which provide ambient noise reduction on outgoing calls. Even on a London's biggest, busiest roads, callers were able to hear us with good quality.
Connectivity is taken care of by Bluetooth 5.0 and in addition to instant sync out of the case, we also found they had reliably stable connectivity. We didn't notice any of the frustrating cut-outs that can be problematic with true wireless buds.
We enjoyed the fact that removing either bud from your ear automatically pauses the music, and returning it kicks it off again. You can also use just one bud but unlike some true wireless, with the Elite 75t you have to use the right bud for mono use and some of the music controls aren't available.
Another fairly standard feature we've come to expect is auto power off and the Elite 75t shut down after 15 mins without connection or 60 mins without activity. But we also love that these were customisable in the app too.
For the voice-assistant addicts out there, there's one-touch access to Alexa, Siri and Google Assistant.
Interface: A little learning curve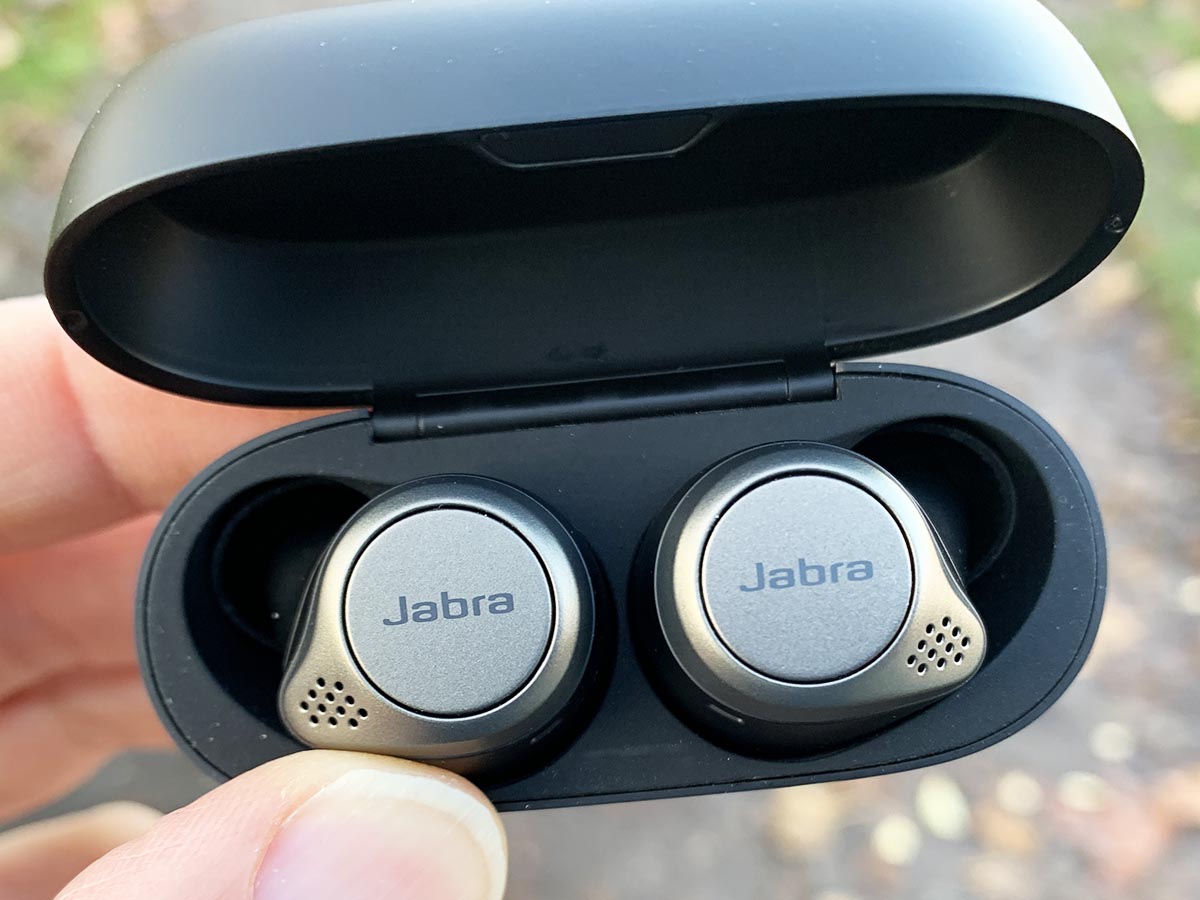 The Elite 75t feature single-button controls with one on each bud. That's pretty standard and with all true wireless buds you can expect a certain amount of learning before you grasp how many taps and presses control the key actions. The volume controls are split across the two buds which is a little odd and they do feel a little more complicated than some.
That said, the physical button on the buds makes it easy to switch tracks and cancel incoming calls from your boss while you're out running.
Performance: Getting back to bass-ics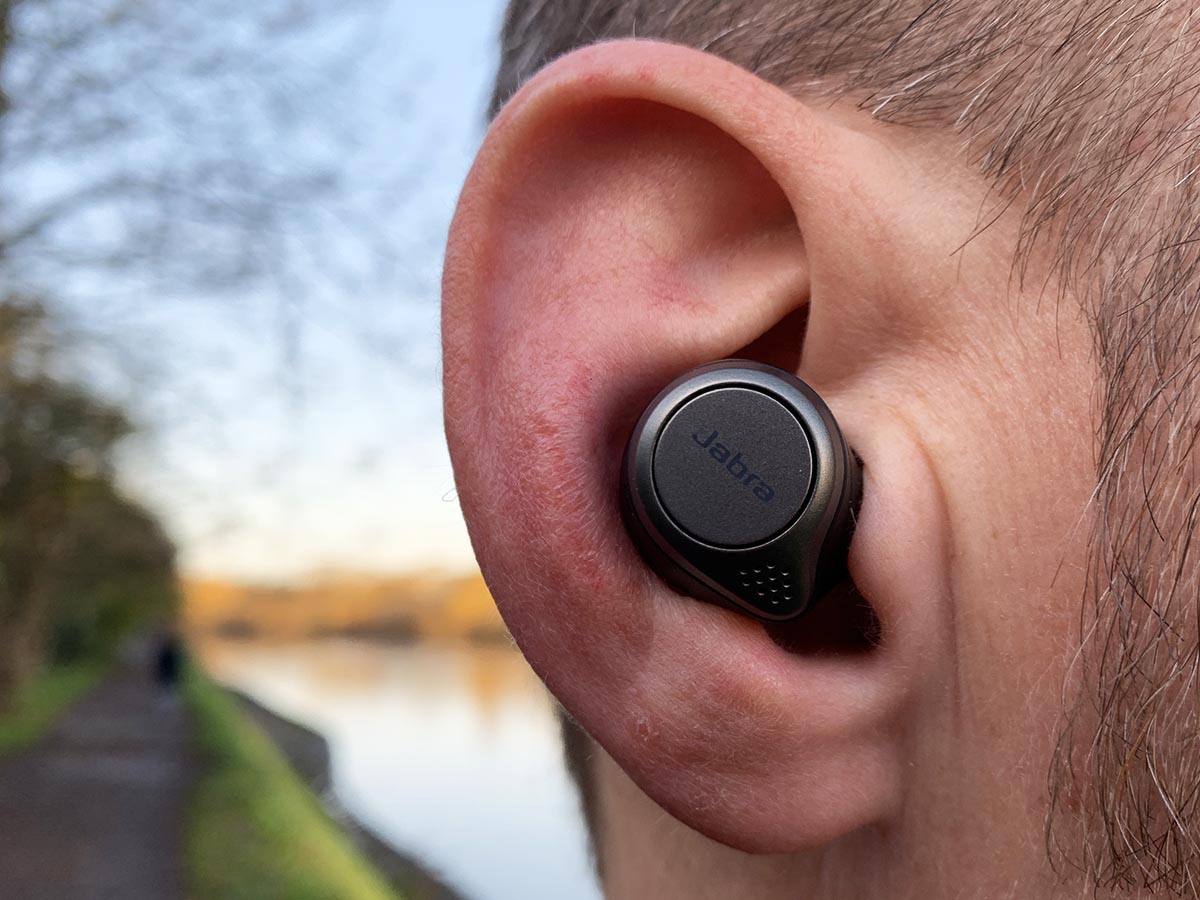 A common criticism of the Elite 65t was that the audio quality was just OK. The 75t have the same drivers as the last-gen buds but they fix one of the major problems of this which was a lack of bass. If you like you tunes with boom, you get a surprising amount of that from these tiny buds.
There's generally well-balanced, rich, full sound with plenty of oomph. You can also use the customisable equaliser in the Jabra Sound+ app to boost the bass, turn up the treble and get your levels just how you like them.
There are five presets (bass boost, treble boost, smooth, energise and speech) or you can use the slider to find your own levels. That's something the Apple AirPods Pro don't offer. Sadly, you can't create and save your own sound profiles.
Jabra Elite 75t verdict
The Jabra Elite 75t don't have all the bells and whistles of some leading true wireless buds. They're not quite as slick as the AirPods Pro and they're not as sporty as the Jaybird Vista or the PowerBeats Pro.
But you'll be hard pressed to find a pair of earbuds that pack in so much for the price. Solid sound, superb portability and a strong battery life in a slick little package that's enticingly wallet friendly.
Stuff Says…
Brilliant compact buds with solid sound, AirPods-beating battery life and more features than you should really expect for the price
Good Stuff
Good battery life
Pocket-friendly
Customisable audio
Bad Stuff
Rapid charge is slower than most
Fit not quite lock-tight