Jabra Elite Active 65t review
Great-sounding wireless in-ears that are all but unbeatable for exercise
When you live an active lifestyle, it's imperative that you a) don't bang on about it all the time b) always have an emergency banana in your bag, and c) invest in a decent pair of wireless in-ears that aren't going to pop out or internally flood with your sweat.
It's fair to say Jabra's totally wireless Elite Active 65t are up to the task, but these clever buds have a lot more going for them than just the basics. Their rock solid audio performance can be tweaked to your liking, there are built-in accelerometers, and your voice assistant of choice can be summoned mid-run at the touch of a button.
Feature-wise, the Elite Active 65t's sit between Jabra's Elite 65t and the Elite Sport. The former lacks the accelerometers this model has, while the heftier Elite Sport can track your heart rate.
The question, then, is whether Active is the way to go, and how they stack up against the non-Jabra in-ear competition, including Apple's similarly-priced and now critically acclaimed AirPods.
I wore them while walking, running and sitting in a sweltering train carriage to find out.
Design: No strings attached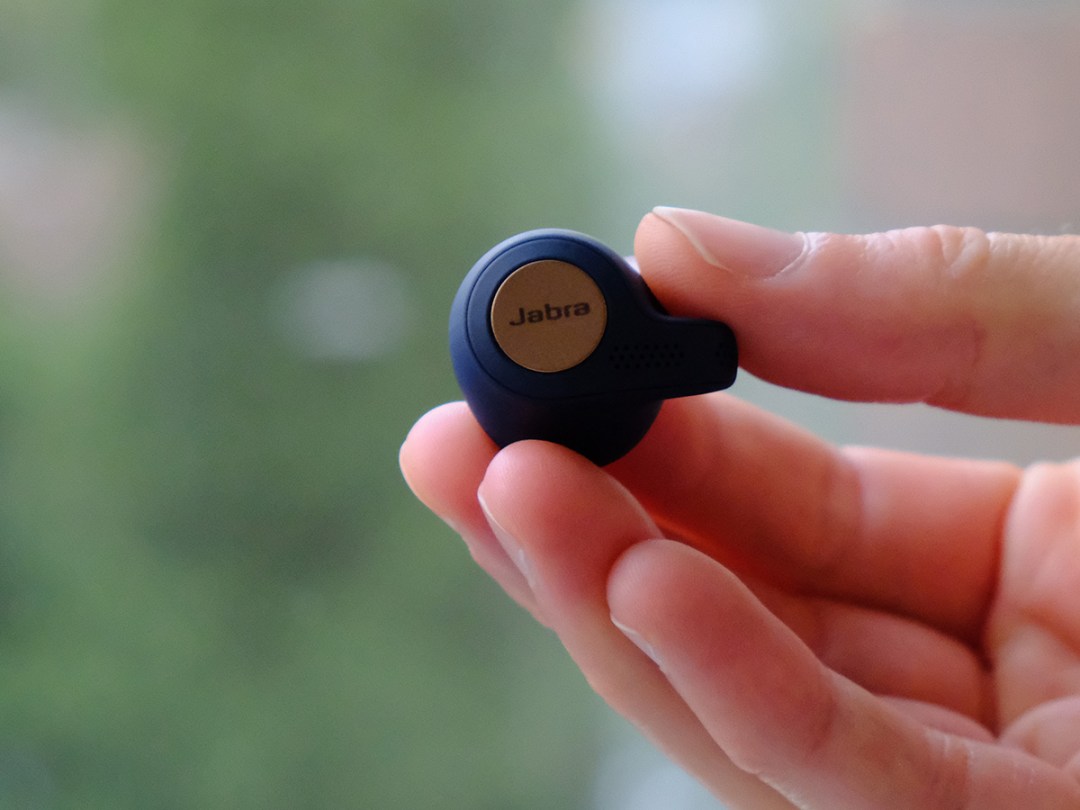 When asked to describe the Elite Active 65t, a colleague of mine went with 'steroid-infused tadpole'. This doesn't sound massively complimentary, but I think what he's getting at is: they're not small.
Bulbous though the buds might be, they're not unsightly, and the most important thing is that they slot perfectly into your ear. Some in-ears should be tried before you buy, but I'm fairly confident that these will work for anyone. They come with three different-sized pairs of silicone ear tips to ensure that's the case.
Being activity-focused headphones, the Elite Active 65t can't be dropping out mid-workout. That didn't happen to me once; once you've given them a twist, they're pretty much drilled into your ear.
While this definitely guarantees their exercise credentials, it means they can become a bit uncomfortable after extended wearage, especially if you're regularly having to jab at the controls, which just pushes them further into your lugs.
Each bud has a pair of microphones (the tadpole's tail) which you angle towards your mouth, and there's a single disc-like button on each one.
On the left side, you can adjust the volume, skip track, or long press to switch off that headphone should you only need one. The right is used to pause, recieve calls and bring up Alexa, Siri or Google Assistant. You can also use it to toggle the HearThrough function. More on that later.
Cramming this many control options into two earbuds is always going to be tricky, but Jabra has done an admirable job. I found it easy to press the wrong thing at first, but once I was used to the setup I didn't have a problem.
I'm a fan of the navy and copper colourway, but I guess it could be a bit showy for those who naturally lean towards black for all their tech.
Features: ear, there and everywhere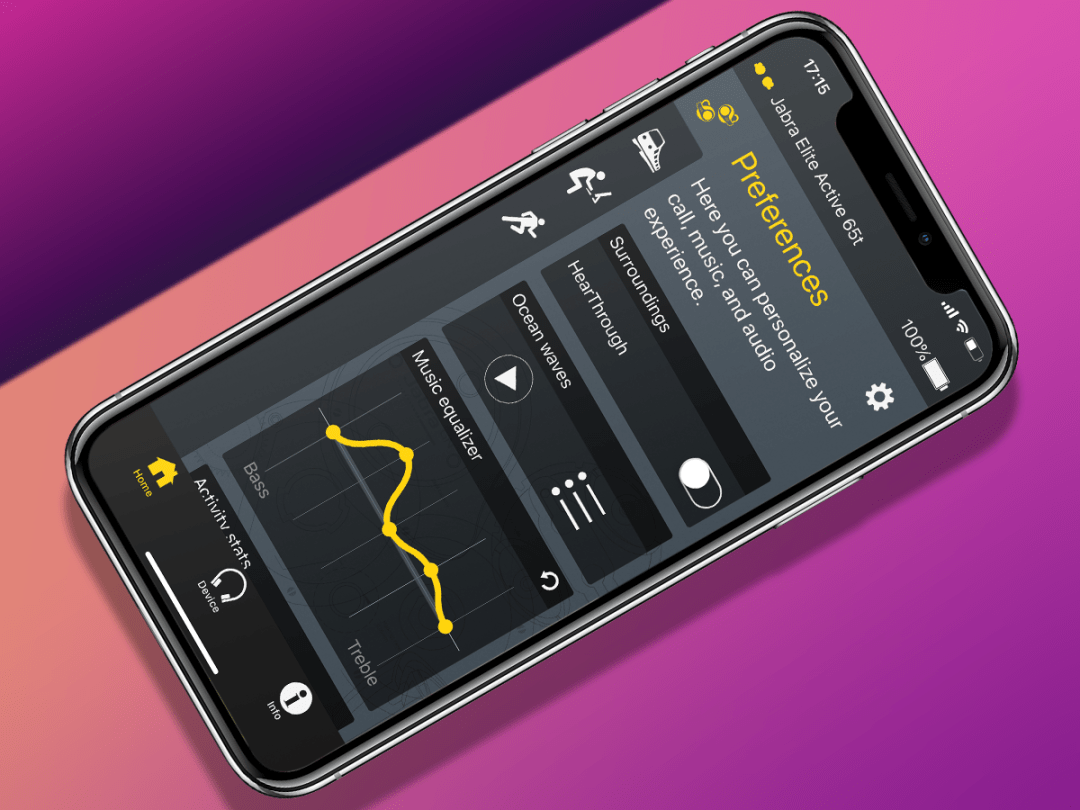 Pairing with with your smartphone is quick and simple; just press the right button until you hear the prompt. Once you've done that, you'll have access to Jabra's Sound+ app.
From here, you're able to perform all manner of audio-based tweakery. With the HearThrough slider on, the buds will allow some external noise to slip through, which is useful if you're running near traffic.
There are three additional listening settings: Commute, Focus and Active. They're all pretty self-explanatory, but I've been hugely impressed by the noise isolation afforded by Focus. I'm a big AirPods fan, but that's something Apple's in-ears just can't give me on a thundering London Underground train.
Each mode has its own EQ, where you can adjust bass and treble to your liking. And if you've had enough of your tunes, you can listen to the sweet singing of songbirds instead. There's a looping ventilation fan sound too, but given the weather we've been having, doing that to yourself would just be cruel.
The app is also where you select your voice assistant of choice. While I'm quite happy to have Alexa living in my headphones, I didn't find her to be massively useful.
She's not nearly as helpful on the road as she is on your Echo, so after a few frustrating episodes of miscommunication I decided only to call on her for quick weather updates and Wiki searches. I know everything about pigeons now.
Unlike the pricier Elite Sport model, you don't get a heart rate or VO2 monitor here. What you do get is a motion sensor for activity tracking. It'll monitor your step stats and the duration of your workout. Not worth the extra pennies over the standard Elite 65t for anyone with a smartwatch, but it's there if you want it.
With an IP56 rating, the Elite Active is capable of withstanding the force of a high pressure water jet, so you shouldn't be worried about sweat and dust upsetting them. In short, no workout is too hardcore for these buds.
I have a slight niggle, though. The accelerometers mean the buds can auto-pause when you remove them. Or at least that's the idea. I found detection to be a bit off, and a couple of times I was unwillingly halfway through an album by the time I'd decided what sandwich I wanted to order.
Performance: Jabra-cadabra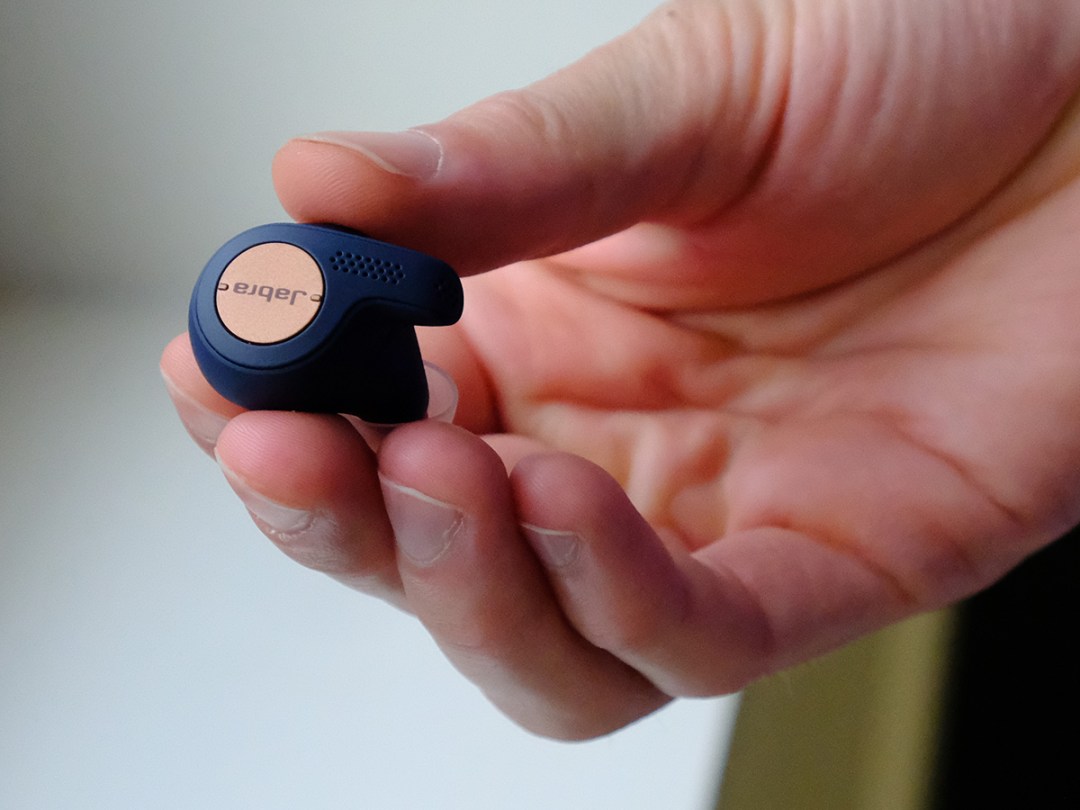 Like their predecessor, the Elite Active 65t's Bluetooth 5.0 connection gives them the strength and stability that the UK government can only dream of.
I don't recall experiencing any drop-outs in my time using them, while call quality is as good as you'd expect from a company long renowned for its call centre headsets.
I managed to catch 15 minutes of Stewart Lee's Content Provider on my lunch break too, and if there was any lag between his jokes reaching my ears, I didn't notice it.
As for music, you won't find many truly wireless in-ears giving Jabra's buds a lesson at this price point.
In Jungle's Heavy, California, there's a nice balance between the punchy bass grooves and the high end, while Young Fathers' downtempo In My View – which an inferior pair of headphones could easily crumble under the weight of – didn't make we want to reach for my over-ear cans.
Audiophiles will pick plenty of holes, of course, but as a pair of running headphones they're tip top. And there's always the EQ controls ready for tweaking if the stock sound feels a bit off.
Battery life: ear to stay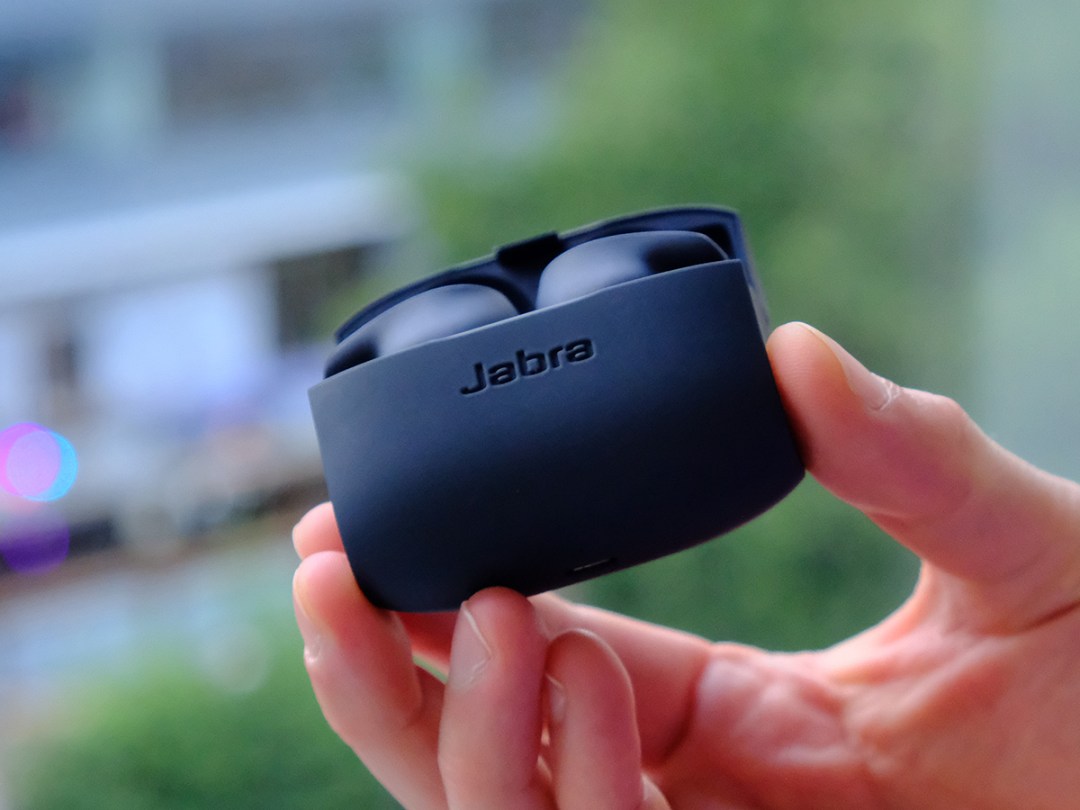 The Elite Active 65t has a pretty standard 5 hours of battery life, and you can add on another 10 with the included charging case.
If you're planning to squeeze a jog in before work and the headphones are flat, you can give them 1.5 hours of juice in 15 minutes. Handy.
The pocket-friendly carry case also features LED indicators to let you know how much is left in the tank, so as long as you pay attention you'll never have to go without podcasts.
Jabra Elite Active 65t Verdict
If you're the sort of devoted fitness buff that would give The Rock a run for his mountainous piles of money, you're perhaps better off opting for the more tech-heavy Elite Sport.
For everyone else, though, I'd fully recommend the Elite Active 65t. They're the best running earbuds I've come across, both in terms of build and sound quality. And the latter has me really deliberating over whether these buds could replace my beloved AirPods on the daily commute. If it wasn't for the fact that they do dig in a bit after a while, it wouldn't be up for debate.
Bells and whistles like Alexa compatibility are great, even if they are a bit half-baked, and I like that the app lets me quickly jump between different audio modes and settings.
They're not flawless, but if you're in the market for some truly wireless in-ear headphones that tick nearly all of the boxes, you'll be hard pushed to find better for the price.
Stuff Says…
Great-sounding wireless buds, for in and out of the gym, but a few usability niggles keep them from being perfect
Good Stuff
Outstanding connection
Impressively detailed audio
Snug fit
Completely sweat-proof
Bad Stuff
Accelerometers can play up
Alexa integration could be better
Quite large
Can become uncomfortable after extended use