Kia Niro EV review: everyman electric crossover
A nicely-sized, all-electric mini SUV with practicality and range aplenty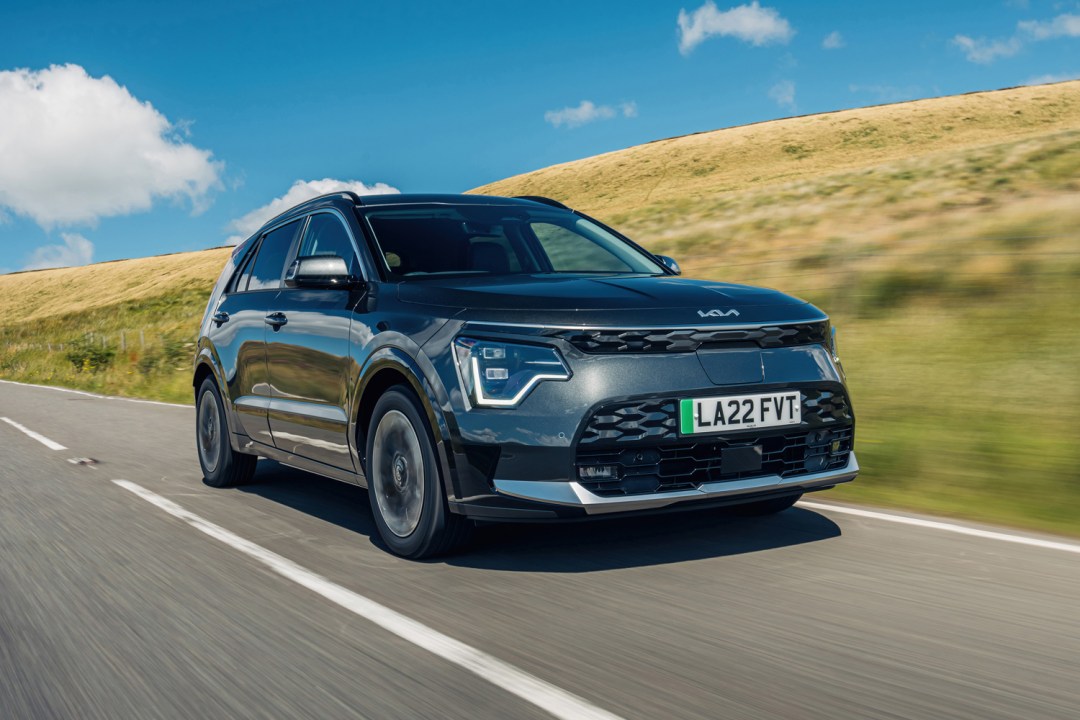 Kia has slowly evolved into an incredibly impressive car brand, with the EV6 being the all-electric car to own for anyone who can stretch to its fairly sizeable asking price. Not quite as costly, though just as appealing is this, the Kia Niro EV. It's the second incarnation of a car that doesn't look as delicious as the EV6, but has plenty to offer anyone tempted by the lure of full-on electric.
Now simply called the Niro EV as opposed to the earlier e-Niro, this is a slightly workmanlike exercise in EV creation, with looks that are acceptable rather than dazzling, while performance and power are similarly good but not great. That's not to take anything away from this car though, as the latest generation Kia Niro really grows on you and does everything you need it to do. If you're a little nervous about going the whole hog, there are hybrid and plug-in hybrid variants available too.
However, the Kia Niro EV comes with a very respectable range, which is more than enough for average everyday needs. It'll also cope admirably with longer runs too, realistically managing around 240 miles from a full 'tank'. Meanwhile, the mix of drive modes offers something for everybody.
The styling
Kia's designers are doing their best to make their cars look distinctive and, while the Niro doesn't turn heads like the EV6 does, it's okay from most angles. The only downside is it's a little anonymous, with packed car parks absorbing it without any trouble at all. Choose it in a livelier colour and things improve, but the design lines are a little too innocuous for their own good.
The front end is perhaps the most distinctive aspect of the Niro, with the new logo taking pride of place on the top of the nose, and a distinctive band along the front edge adding a touch of flair. Quirky headlights sit at each end and, in the middle, there's a flap that pops out to reveal the charging port when you need to access it. The location is much more practical than on some EVs with side-mounted offerings, so getting into a charging bay and connected is much easier as a result.
This practicality follows on as you head around the car, with four doors that open nice and wide, making it ideally suited to families and all their gubbins that needs to be squeezed inside. Equally, the high riding design of the car also makes it ideal for anyone who's not quite as mobile as they might like.
The angular taillights and neat design flourishes around the rear pillars work to good effect too, while the sides of the Niro come bedecked in large chunks of plastic trim on the lower halves of the doors. They actually work quite well in unison with the 17-inch alloy wheels. Overall, the looks are respectable enough, although quite how well the Niro will age compared to something like the inspiring design seen on the EV6 remains to be seen.
Inside, the cockpit has a whiff of the Kia EV6 and some controls will be familiar if you've liked what you've seen with that car. This is a cheaper model though, and as a result, there are some compromises on the trim and overall feel of the interior. It's nice enough however, with seats that will prove more than acceptable to most family types who will buy the Niro EV. Front occupants also have the benefit of heated seats and there's a heated steering wheel for good measure on higher trim levels. Headroom is impressive throughout too.
The drive
The Kia Niro EV turns out to be something of a treat to drive. It's not scintillating, but it is super easy to get down the road. In fact, the more you drive it the better this car gets, something helped by the option of the i-Pedal, which maxes out the level of regeneration you can get. This peps up the driving experience on country roads and despite its lofty stance and high-up driving position, the Niro EV feels surprisingly supple when you work it around rural roads. The i-Pedal also works especially well in town too, when stop/start driving can help you push a smidgen of power back into the battery.
Granted, the ride is a little spongy as you'd expect from a sub-SUV style car, but the Niro EV isn't really designed to set the world alight when it comes to handling prowess. If you've got other folks on board, sensible driving will see them happy and contented. When you're on your own though, there's enough of a mischievous edge delivered from Sport mode to bring an occasional smile to your lips.
You get just the one battery and power option with the front-wheel drive Kia Niro EV and the simplicity of this is ideal for anyone venturing into all-electric territory. There's also more than enough power on hand to get you off to a good start at the lights and when you're pulling out on busy roundabouts. It's certainly more than adequate.
The technology
Kia sells the Niro in a trim grading system, so if you opt for 2 you'll get an 8-inch touchscreen, which carries all of the infotainment goodies. Move up the scale and this enlarges to 10.25-inches, which was what we got in our 3 level car. Either way, the display is clean, clear and delivers the goods on a usability level. Indeed, the satellite navigation works well, with decent graphics and an easily tweaked interface so you can personalise it to suit. Apple CarPlay and Android Auto also feature.
While there's plenty that can be done via the touchscreen, or controls on the steering wheel too for that matter, the inclusion of physical controls on the dash is great. You can easily fine-tune the temperature, with dual options for each side of the cabin too. There's a peppering of ports plus wireless charging, all of which is contained in a central cubby hole that also features some neat little pop-out cupholders that keep small children entertainment for, well, minutes if you're parked up for a snack.
Kia Niro EV verdict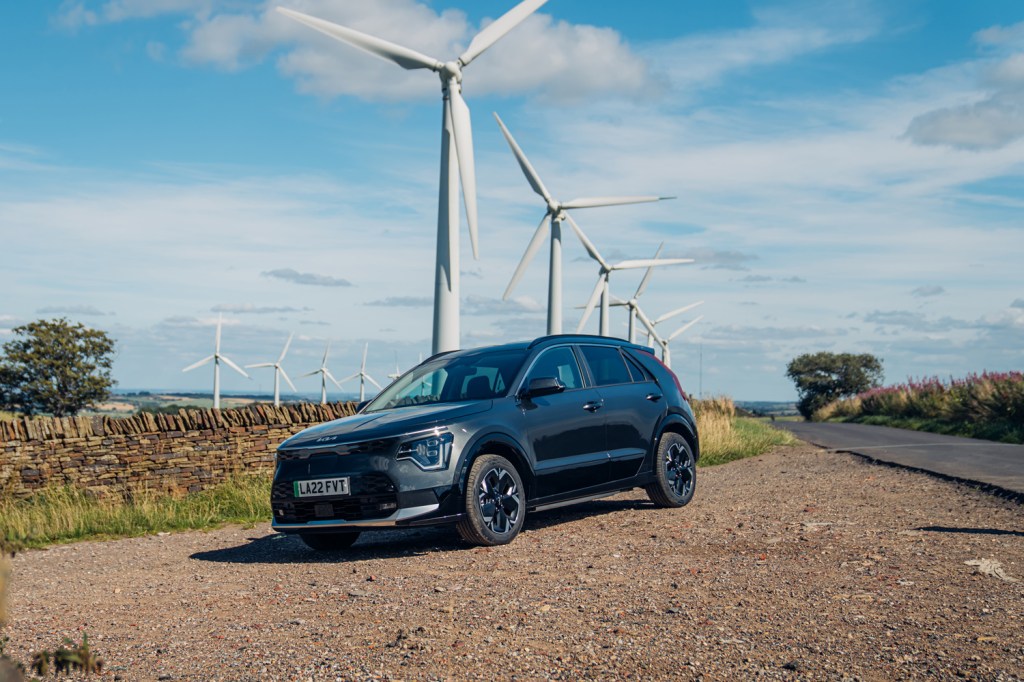 While the looks don't make it one of Kia's most memorable cars to date, the Niro EV is a success on all other levels.
It's got space, practicality and a range that makes it suitable for all kinds of uses. Build quality is good, comfort levels are fine and the pricing is pretty keen for what you get. This is a very easy car to live with, and it's more fun to drive than you might expect.
Stuff Says…
An excellent family-friendly mini SUV that offers realistically priced all-electric motoring.
Kia Niro EV technical specifications
| | |
| --- | --- |
| Motor | front-mounted electric |
| Battery | 64.8kW |
| Power | 201bhp |
| Torque | 384lb ft |
| 0-60mph | 7.8sec |
| Top speed | 103mph |
| Range | 285 miles |
| Charge rate | 72kWh |
| Cargo volume | 475 litres |