Leica M10 review
Is this new take on the revolutionary rangefinder a modern classic?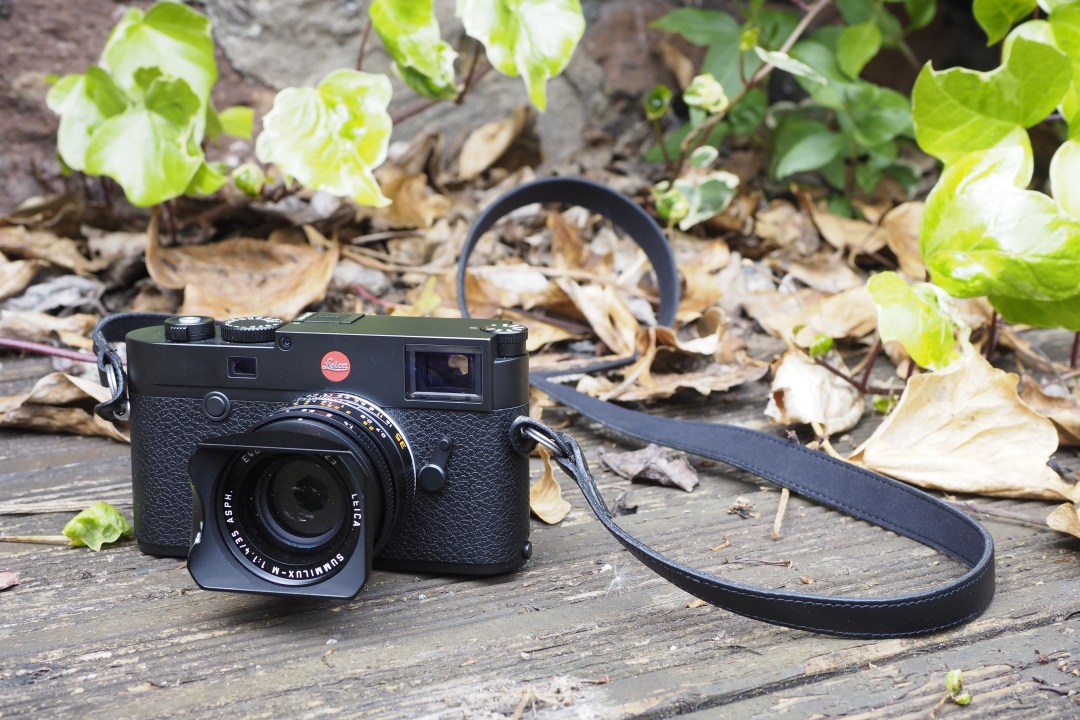 There's just no mistaking that iconic red dot, is there?
Photography fanatics have been flocking to Leica for decades, because of its uncompromising focus on quality – in terms of the cameras themselves, as well as the pictures they take.
The Leica M10, which follows the incongruously-named Leica M Typ 240, has all the retro stylings that any photographer with a keen sense of style (and heritage) will be lusting after.
It's a rangefinder, which means it's probably nothing like any camera you've used before – in short, you'll be using manual focusing and old-school techniques to get your shots.
Oh, and it costs a small fortune. But boy does it look good, and if you happen to have some of your grandad's old lenses kicking around in the attic, you can use them with this digital rangefinder too. Interested? Keep reading…
Hang on, what's a rangefinder?
Most rangefinders, including this one, are manual focus only – it's a type of focusing that has been around for well over a century and was favoured by the great and good of the street and reportage photographers during the 20th century.
It's quite a simple idea, but it takes a fair amount of practice to get the knack. You line-up two boxes while looking through the viewfinder. When the two are matched, the subjects in focus. Sounds easy, doesn't it? In reality it's a tricky thing to get used to, especially in a world populated by "world's fastest autofocus" cameras. That said, having to stop and consider your photograph makes for a more thoughtful approach to photography that can only be described as a good thing.
However, there are also other issues to get around when working with a rangefinder. As you can only use the centre of the frame to focus, if your subject lies on the outer periphery of the scene, it's a little more difficult to ascertain the correct focus. You could try focusing and recomposing, but if you're shooting at reasonably wide apertures, it's very likely that you'll throw it off and the focusing won't be quite right.
So, how do you get around that? There's a couple of options – always placing your subjects in the middle of the frame, being one, or shooting at narrower apertures so that a little bit of missed focus isn't quite so obvious.
Leica M10 design: detox diet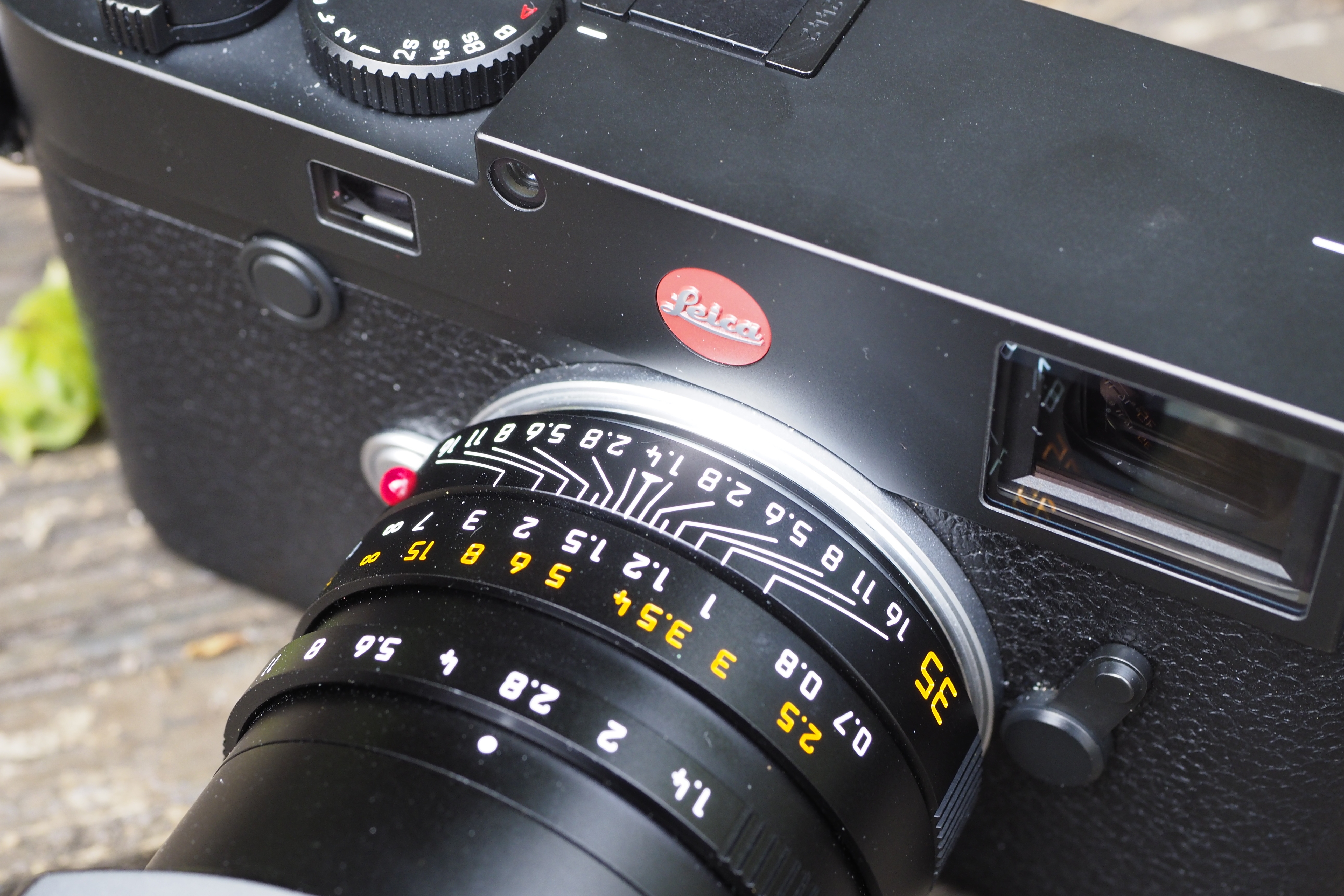 You'll instantly recognise the familiar rangefinder shape, but the M10 isn't just a slightly upgraded version of the outgoing model. It's significantly thinner – so much so, in fact, that it matches the original M-series film cameras from the 1950s.
This is quite a feat of engineering. In fact, Leica reckons it's the smallest full-frame camera out there with interchangeable lenses.
These kinds of cameras have been favoured by street photographers for good reason – they don't stick out like a DSLR or large camera. In fact, thanks to its old style looks and small lenses, subjects will probably think you're using a specialist camera, rather than just another pesky street photographer attempting to take photos on the sly.
You certainly won't be taking any street video, as the M10 doesn't have any video modes. Yep, this thing is built purely for taking stills. And very well built it is too, with everything machined from brass. This gives it a reassuring heft when you pick it up, and it's weather-sealed too – a bit of rain won't be enough to end your shooting session.
Another throwback to original M series cameras is the necessity to remove the entire baseplate of the camera in order to change battery or memory card. You'll be warned by the camera screen if you switch the camera on with the base-plate missing, but, you need to be careful not to leave it lying around somewhere as it completely detaches.
This is exactly how you used to load 35mm film in the analogue versions of this camera, so it's a cute nod to the 1950s to see it here.
Leica M10 controls: simpler times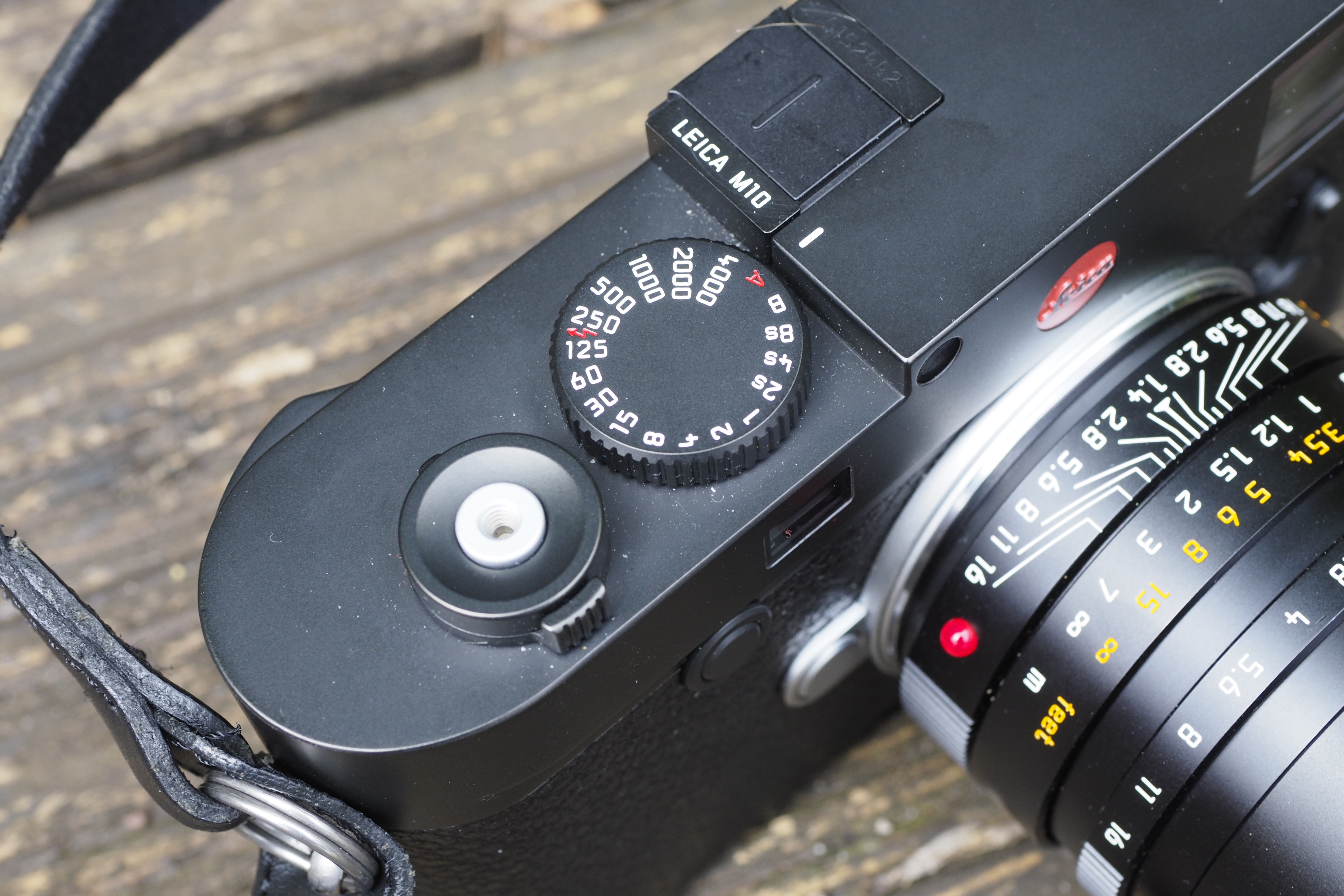 Leica has attempted to really simplify how the camera works, and as such, you won't find an extensive smattering of buttons and dials.
Stil, there is quick access to key settings – a shutter speed dial on the top of the camera, and a newly added ISO dial on on the top left.
To adjust aperture you twist a ring around whichever lens you're using. That means you can set all three parameters in a jiffy, with the ISO and shutter speed dials having "automatic" options available too. You can adjust these settings while the camera is switched off, making it useful for planning a shot before you even switch the camera on.
A small criticism here is that the ISO dial is a little too stiff for our liking, but that may improve the longer you use it. On the back of the camera next to the larger 3in screen you'll find just three buttons on the left hand side, while there's a navigational pad on the right hand side.
The buttons access Live View, playback and the main menu. It's this main menu you'll have to use if you want to adjust anything other than shutter speed, ISO or aperture – so you can find things like white balance and metering in here.
It's not a particularly complicated menu to get your head around, and you can assign any functions you use often to the favourites tab which appears when you press the button.
Live View can be useful if you're trying to focus on something which isn't in the centre of the frame. As you focus when using Live View, you'll see areas of the screen display red areas (focus peaking) – this means that focus has been acquired and you can take the photo. If you like, you can leave Live View on and still use the viewfinder from time to time – as the viewfinder is optical, having Live View switched on has no impact on its operation.
Leica M10 new features: an even better view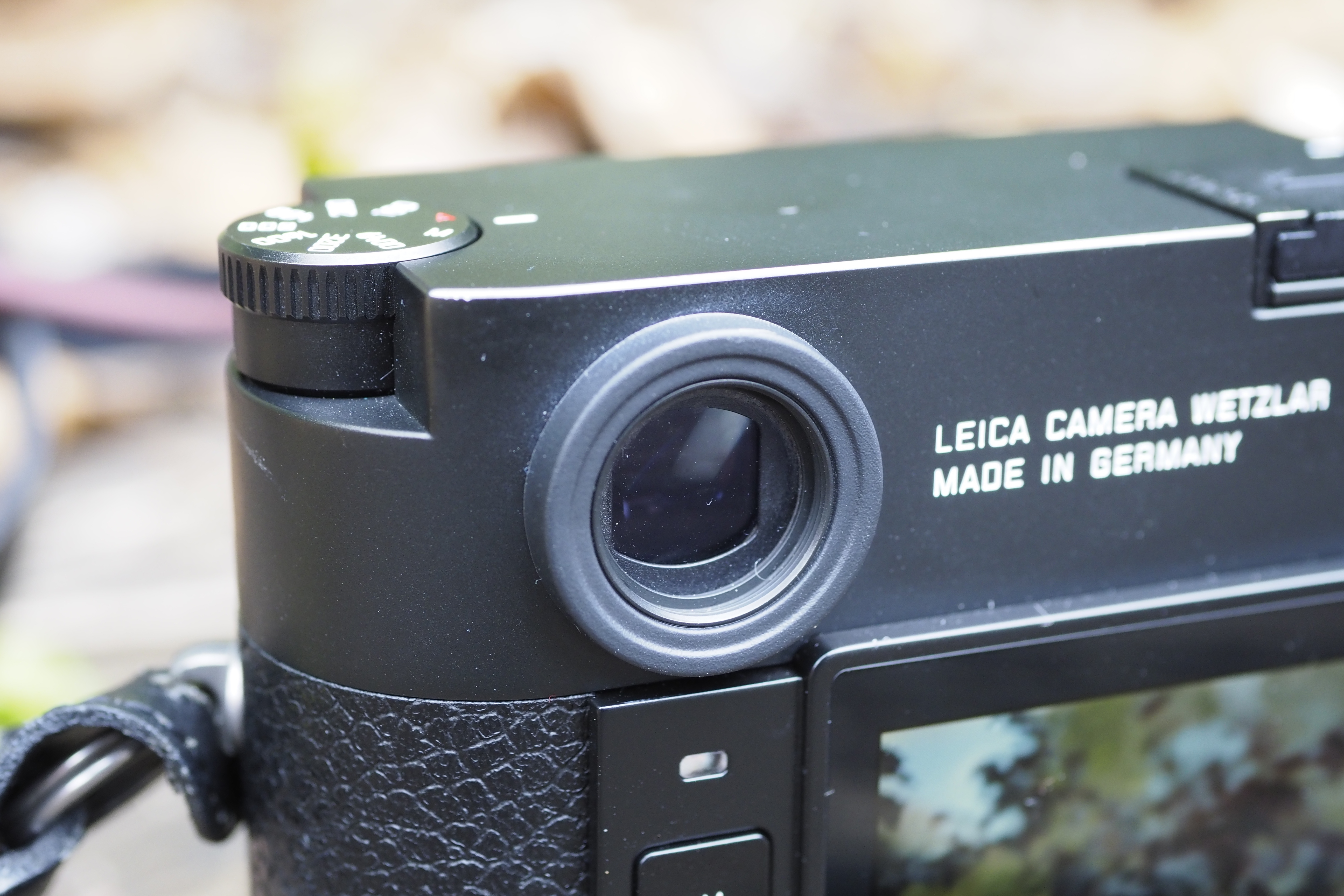 The M10's viewfinder is bigger and clearer than the one on the Typ 240.
It's an optical viewfinder, but there's no mirror inside this camera so you won't be looking at exactly what will appear in your frame. Instead, you'll need to rely on guide lines around the viewfinder which demonstrate where the captured area starts and stops.
A plus side of this is that as well as seeing what it's in the frame, you can also see anything that's just about to enter it – that makes it particularly handy for street photography as you wait for the definitive moment to happen.
Another new addition for this model is the introduction of Wi-Fi. You can use it to control the camera remotely, or send images over to your smart devices for quick sharing on social media sites, email and the like.
It seems relatively unlikely you'll use it all that often for the former, since you can't autofocus, or remotely fine-tune the manual focus lens. Still, if you're using the camera for street work and documentary, the opportunity to share your work while you're out is going to appeal to many. The app itself is easy and quick to use, being self-explanatory to set-up and operate.
Although it can be quite tricky to get the hang of focusing with the M10, when you do pull it off, the resulting photos are wonderfully sharp and detailed. They also have a lovely "filmic" quality to them, which lend certain subjects a beautiful appearance.
Skin tones are rendered beautifully, while out of focus areas in shallow depth of field photos are very attractive. In low light, the camera performs well in terms of keeping noise to a minimum, while still maintaining a good level of detail – of course there's no comment on the speed of autofocus since it's not an option.
You may find it tricky to focus in very low light conditions, since you're relying on a small box in the middle of the viewfinder. Still, depending on how you use it, you could squeeze up to 600 shots out of a single battery – easily enough for a full day behind the lens. Turn on live view and that figure will drop, though, so use it sparingly if you haven't got an extra battery with you.
Leica M10 verdict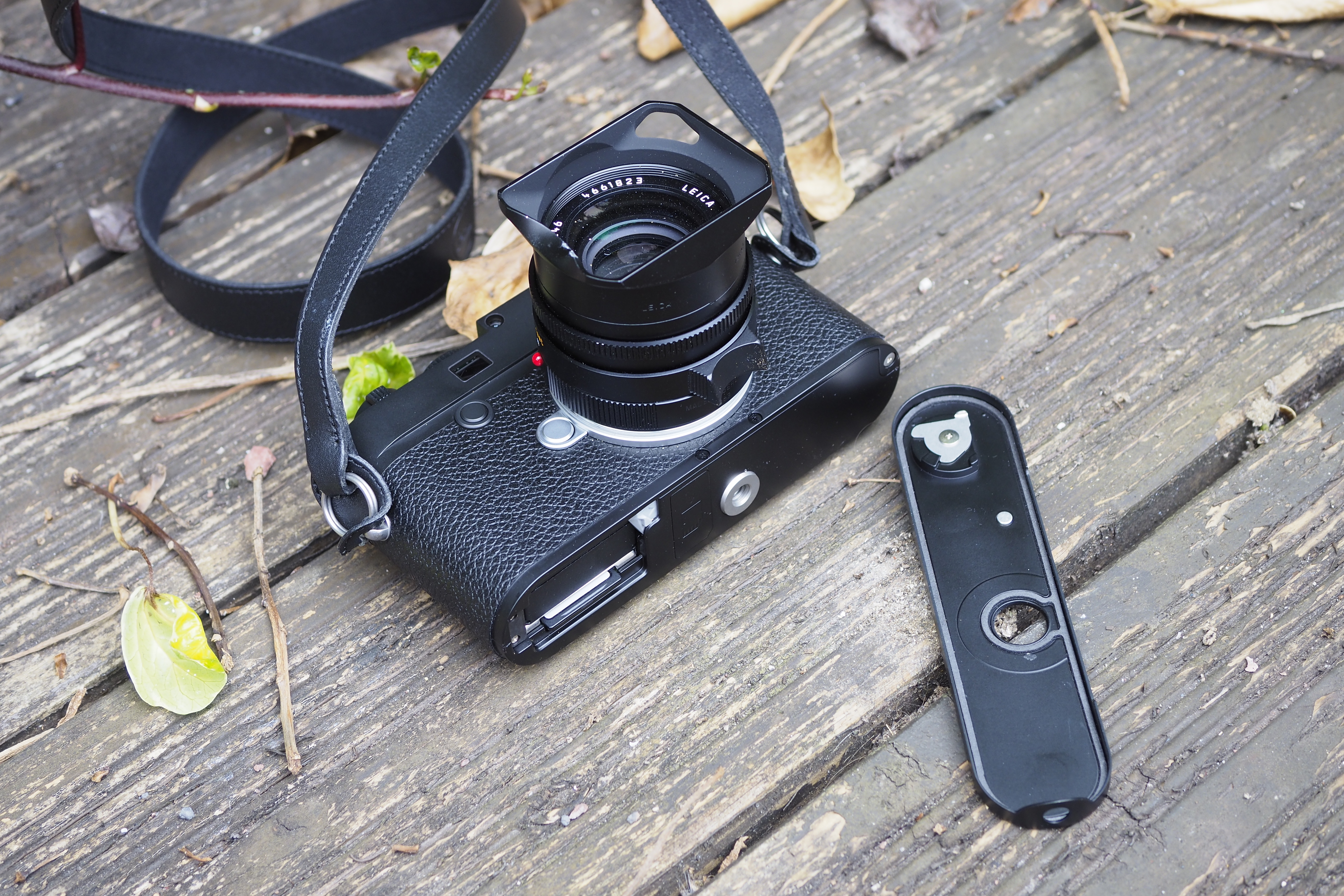 This is obviously not a camera for anybody on a budget. As beautifully crafted as the M10 is, you'll be forking out £5,600 for its body alone – so that's before you've even added any lenses to use it with.
Getting to grips with rangefinder photography also isn't for everyone – while it has its proponents, anyone who is used to speedy autofocus will probably find it frustrating.
That said, the M10 is a great street photography camera that delivers truly stunning image quality. Thanks to that super high quality construction, it's also a real investment that'll last you for many years to come.
If you don't quite have the readies to splash out on the M10 right now but are attracted by its retro stylings, have a think about a Fujifilm like the X-Pro 2. You won't quite have the same prestige hanging around your neck, but you will have some spare cash left over to buy, say, a car.
Tech specs
| | |
| --- | --- |
| Sensor | 24 megapixel full-frame CMOS sensor |
| ISO range | 100 – 50,000 (extended) |
| Screen | 3 inch TFT LCD monitor |
| Burst rate | 5fps |
| Dimensions/weight | 139×38.5x80mm/660g (with battery) |
Stuff Says…
Pricey and tricky to master, but rewards you with some stunning results. This is the best M Series camera yet
Good Stuff
Stunning image quality
Built to survive the apocalypse
Very little noise in low light
Now has Wi-Fi
Bad Stuff
No video mode
Can take a while to master focusing