Leica TL2 review
Meet the compact system cam that feels like a smartphone...
In theory, the perfect camera is one that's as easy to use as a smartphone, but takes photos like a DSLR.
That's not something every photographer would agree with, particularly those who enjoy buttons and dials like the reassuring clunk of a manual gearbox.
But it is the lofty aim of Leica's new mirrorless, 'affordable' (well, in Leica-land) TL2. With its sci-fi minimalism, smartphone-like touchscreen and stunning TL lenses (quite literally, when you see their price), this is a camera that wants to rocket your Instagram game into the stratosphere. Albeit while taking your bank balance in the opposite direction.
I took one out around London to find out whether it's worth selling the family cat for…
Design and build: heavy metal
It's hard to avoid hearing a Jony Ive voiceover in your head when handling a TL2. "Magical, profound piece of engineering…"
Leica's TLs look unlike any other camera out there and the TL2 is, externally, identical to its predecessor. The whole 'milled from a single block of unobtainium' has become a bit of a design cliche, but it doesn't feel like hyperbole here. The body feels so solid that if you dropped it, you'd probably only need to buy new floorboards.
The flipside of this incredible build quality (aside from the price) is that it can end up feeling quite heavy for a mirrorless camera. With a 35mm, f1.4 lens attached it weighs 828g, which isn't far off an Apple MacBook. No doubt it'd feel a little more balanced with a smaller piece of glass like a 23mm, f/2 attached.
Not that this at all adds up to an uncomfortable shooting experience. The TL2's chunky grip helps you keep it steady (handy, as there's no built-in image stabilisation) and the ergonomics are spot-on.
There are just a couple of annoyances. The screen doesn't pop out and tilt, so framing shots when kneeling down low is a little tricky. And there's no built-in electronic viewfinder as a back up to the screen for bright, sunny days.
As bright and crisp as the TL2's screen is, the £390 Visoflex viewfinder is an essential add-on, which takes your investment past the £2000 mark.
Fortunately, it's so much fun to use that you might still consider renting out your spare room to afford it…
Controls: camera touchscreens done right
For a long time, camera touchscreens felt like half-hearted attempts to get in with the cool smartphone crowd. They've improved a lot, but none have nailed it quite like the TL2.
Its stripped-down control system is so good that beginners will pick it up in minutes, while more experienced photographers will find themselves happy to shoot in a much simpler way.
All you get are two blank thumb wheels, a programmable function button and a shutter button. There are no buttons on the back at all, yet this somehow doesn't feel like form over function.
This is because the 3.7in touchscreen is as responsive as a smartphone and, along with the physical controls, completely customisable.
Leica has built the whole TL system around the touchscreen, which means you can drag settings around like apps on your phone, and also change the thumb wheels to control things like exposure compensation and ISO. Flicking up from the base of the screen brings up your snaps, while swiping down on the side menu locks the controls to prevent accidental touches.
It's a bold move that's bound to split opinion. I actually enjoyed not feeling the urge to constantly fiddle with dials, and it's great to see a camera with such serious power (there's a new 24MP APS-C sensor and processor under the hood) embrace the strengths of of a proper touchscreen interface.
Still, I suspect die-hard manual photographers will still find the lack of visible analogue controls to be a tad frustrating.
Performance: a speedy photographic sidekick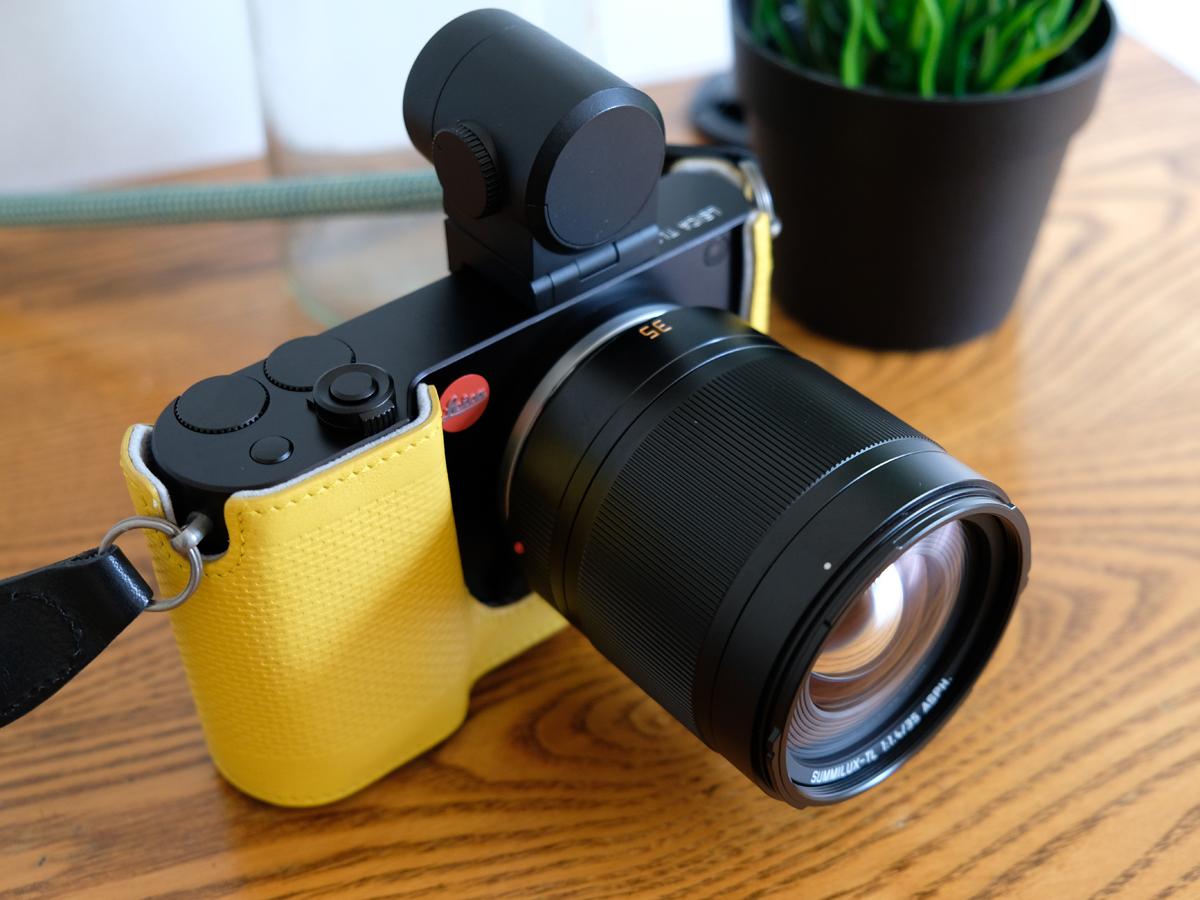 Ooh, that's a fancy yellow coat, isn't it? That'll be another £110 please.
Not that wearing its 'leather protector' slows the TL2 down – its impressive speed made it a great photographic sidekick during my travels around London.
The TL2 turns on swiftly thanks to its new processor, and autofocus is impressively fast (if not the absolute fastest on a CSC).
The only niggle? Because the viewfinder is bolt-on rather than built-in, there's often a slight delay when switching from the screen, which more than once meant missing a great photo opp.
Still, the 49-point autofocus area gives you lots of flexibility, and I spent most of the time using touch focus, which means you just touch the screen to choose where you want it to lock onto. Old-school centre focus works well, too, though it can struggle a little at long range in low light.
In everyday conditions, the TL2's speed and quiet operation (as well as its subtle good looks) make it a great tool for street photography. Throw in an incredible burst mode, in which the electronic shutter can handle speeds of up to 1/40000s and 20fps in continuous shooting, and you're well set up for fast action.
When used with the light-gulping 35mm, f1.4 lens (which costs a mere £2000), the TL2 is capable of glorious bokeh and analogue-like portraits which truly draw the eye in. But out of the camera, its colour saturation won't be everyone…
Image quality: suited but muted
The TL2's JPEGs don't deliver the same punchy colour saturation as something like the Fuji X-T2, feeling quite washed out by comparison.
Yes, you can tweak the white balance settings, but out of the box the TL2 feels like it doesn't want to lap up the world's hues. This was particularly noticeable in tricky lighting conditions (at dusk, or on a heavily cloudy day).
Of course, this is fine if you like your snaps gritty and muted, and some will say that the TL2's colours are simply more accurate than its rivals. But it's worth knowing if you want a camera that'll knock out punchy, one-click thrillers in anything other than bright, sunny conditions.
Things are slightly different in RAW, mind. Stripped of the camera's in-body processing, sunny skies were bluer, though still felt like they could do with some post-processing.
Saturation aside, there was no lack of detail: that 24MP APS-C sensor does plenty to deliver print-worthy snaps that you can blow up without fear of finding jagged edges. At faster shutter speeds, snaps felt a little processed versus results from higher end DSLRs, but in most situations there was nothing to grumble about when it came to sheer detail.
All of which means that if you're a serial picture tweaker you'll be absolutely fine with the TL2. But if you want a glorified point-and-shoot that delivers DSLR-rivalling quality in a simple shell, you might be slightly disappointed with the auto-mode results.
Leica TL2 verdict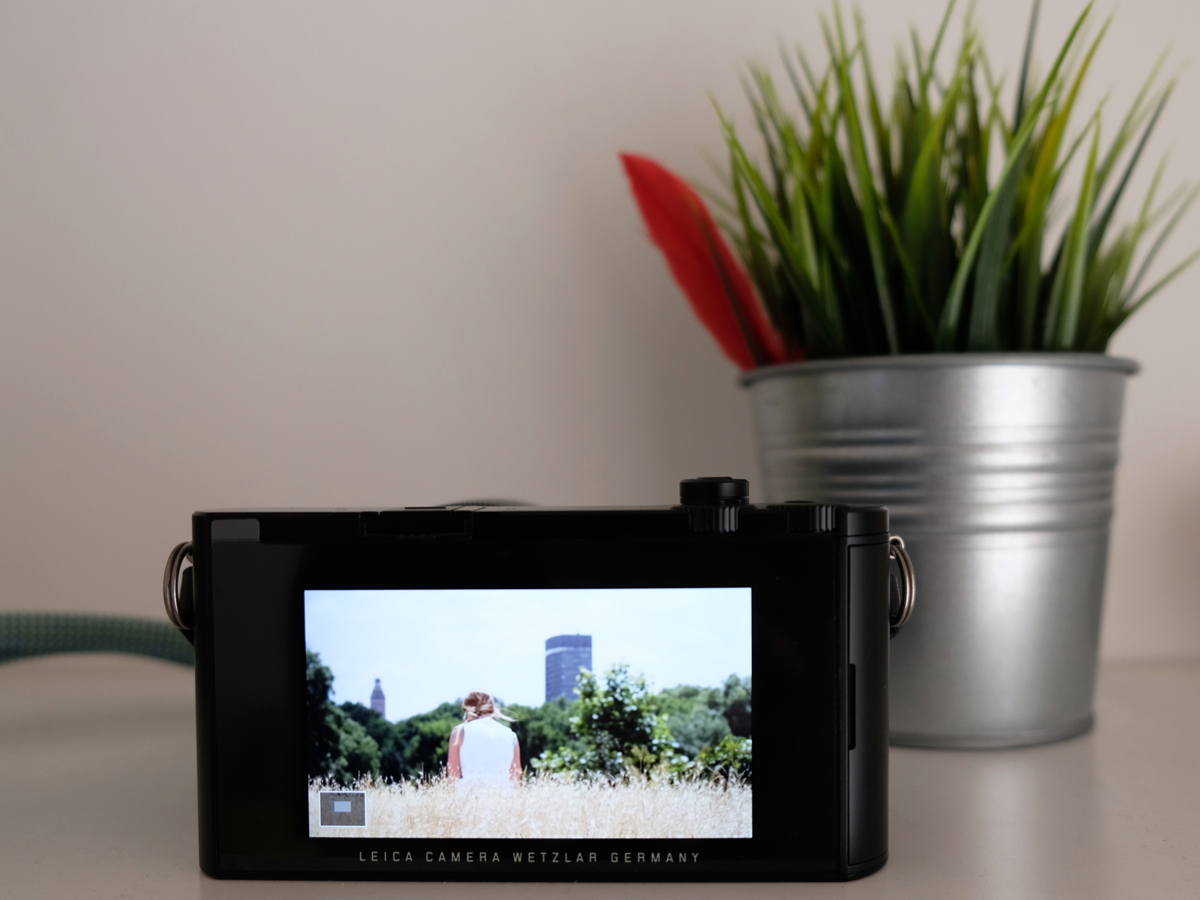 For most of us, the TL2 is like a limited edition concept car – a vision of the future with features that will hopefully trickle down to cameras that won't tempt us into bankruptcy.
There's certainly lots to love, and for other camera makers to learn from. Even if you're dubious about touchscreen controls, the TL2 might just convince you that they can be the mission control of a 'serious' camera.
Like any gadget that's as concerned with its looks as the TL2, there are compromises. It's a shame there's no built-in viewfinder and the lack of a tilting screen is, if aesthetically understandable, annoying in practice. Depending on your taste, you might find unedited images to be a little on the muted side compared to something like the Fujifilm X-T2, though there's certainly no lack of detail.
Then there's the price. The TL2 is in a strange spot because photographers who traditionally spend upwards of £3000 on a camera (with a lens) are pros, but the TL2 isn't really for them. It's for well-heeled enthusiasts who want lots of control (but not necessarily lots of controls) from an incredibly desirable CSC-smartphone hybrid.
As always with Leica, there are more sensible choices. But one of the best things about having the financial clout to buy a TL2 is (we imagine) surely not needing to be sensible.
Stuff Says…
A stunning combination of CSC performance and smartphone controls, but it's one for the heart rather than the head
Good Stuff
Incredible build quality
The best camera touchscreen system around
Very fast autofocus and menus
Bad Stuff
Your wallet has gone into hiding
JPEG colour saturation feels a little muted
No built-in viewfinder
Screen doesn't move or tilt