Lenovo Legion Slim 7i review: power-packed
A gaming laptop with subtlety on its side
You might find this hard to believe, but gaming laptops don't need to be in-your-face. RGB backlighting isn't a legally required addition, and battery life can genuinely be measured in hours, rather than minutes. Case in point: the Lenovo Legion Slim 7i.
This 16in stunner is thin and light enough to be your everyday work machine, yet underneath beats a heart that's equal parts 12th-gen Intel Core i7 CPU and Nvidia 3060 dedicated graphics. GPU-switching tech ensures you don't need to lug a power brick everywhere you go, and the price isn't as eye-watering as your typical hardcore gaming laptop either.
The combo sounds like a winning one on paper. How does it translate to the real world – especially now, just as new-gen chips are starting to appear?
Design & build: metal marvel
At a shade over two kilos, you'd call the Legion Slim 7i portly for an ultraportable – until you consider the mighty hardware that lurks within. It's a relative featherweight among gaming-grade rivals, despite making room for a 16in display underneath the aluminium lid.
This is no unibody machine, but the individual panels are reassuringly solid and give a slicker appearance than similarly-priced alternatives that go for a plastic build. Aside from the neatly etched Legion logo on the lid, and the abundance of cooling vents at the rear, there's little to suggest this laptop is meant for gaming.
Connectivity is very good for such a slim machine, with twin USB-C/Thunderbolt 4 ports on the left, an SD card reader and 3.5mm headphone port on the right, and three full-size USBs next to an HDMI output on the rear. This is also where you'll find the proprietary power port, needed because USB-C can't yet deliver enough juice to power the latest generation of mobile graphics chips.
There's also a slider at the side to physically disable the 1080p webcam built into the display bezel. It's a step up from 720p quality-wise, but not a massive one: streamers will still want to use dedicated hardware, even with the best studio lighting.
We've seen a few manufacturers bring the screen hinge away from the edge of the chassis to help make room for extra cooling, but Lenovo has gone a step further with its design. The hinge can open a full 180 degrees, so there's no excuse for light reflections distracting you from what's onscreen.
Keyboard & touchpad: a light touch
Lenovo hasn't gone wild for the Legion Slim 7i's keyboard. It uses the same island-style keys you'll find on the firm's non-gaming models, and makes room for a separate numerical keypad. That's a welcome addition in a machine that'll likely be used for work as well as play, even if the keys have had to shrink slightly to fit.
We like the full-size cursor keys, for gamers that never made the switch to WASD, and the white LED illumination is evenly spread across the entire keyboard tray. Order a Legion Slim 7i directly from Lenovo and you can step up to full RGB lighting for not a whole lot more. Gamers should also appreciate the power button's placement above the keyboard tray, where it's unlikely to get pressed accidentally. It doubles as a fingerprint reader, and is quick to detect your digits for skipping the Windows login screen.
Each key has a respectable amount of travel, given the laptop's skinny dimensions, and they all spring back into place keenly. There's a teensy bit of flex in the middle of the tray, but not enough to slow you down while typing.
The glass touchpad is slightly offset to the left of the keyboard tray to make room for those full-size cursor keys, and isn't the largest around, but is perfectly responsive to swipes, taps and multi-finger gestures. It'll do just fine until it's game time, at which point you'll want to hook up a mouse.
Screen & sound: big and bright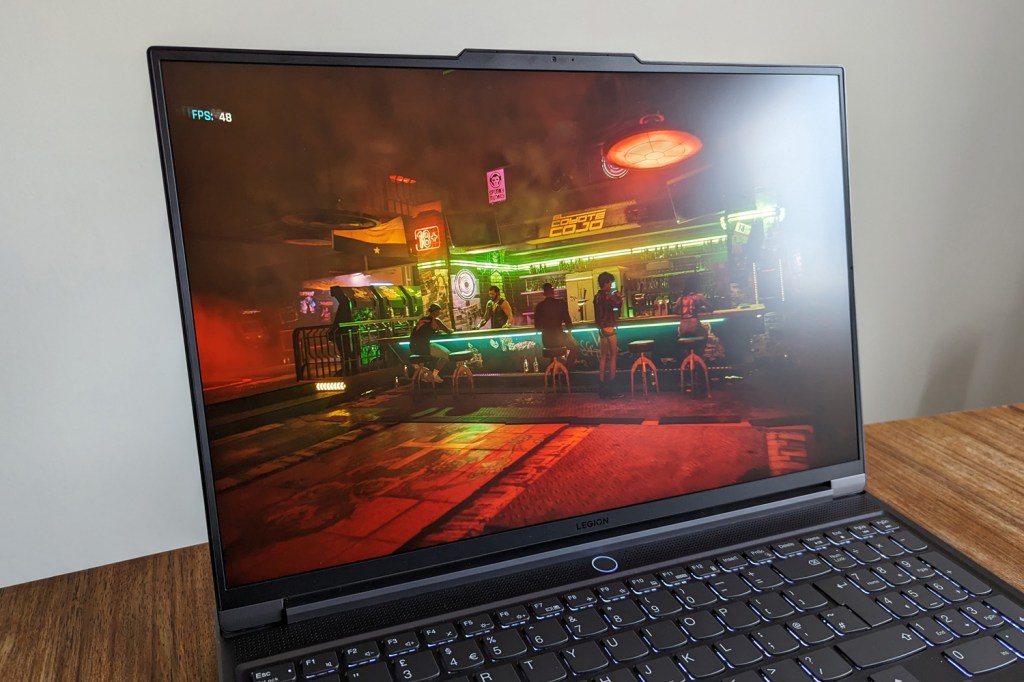 You can equip the Legion Slim 7i with a 1080p display if you like, or step up to the 2560×1600 panel seen on our test unit. Both are IPS LCDs, with skinny bezels and a rapid 165Hz refresh rate for smooth gaming, but the higher-res one has the edge on brightness. It tops out at 500 nits, which is plenty during the daylight hours and enough you'll want to dial it back a bit when gaming in the dark.
It supports HDR content, although modest HDR 400 certification puts it a step or two behind the brightest panels currently doing the rounds (if you're willing to pay for them).
Colours are vibrant and refreshingly accurate. Creators will appreciate the built-in X-Rite software, which lets you toggle between sRGB and Rec709 on the fly. Contrast is merely average, though: if you want better, you'll need to look for an OLED-equipped alternative. Viewing angles are stellar, at least, and the matte screen finish does a great job of cutting out reflections.
Audio is merely OK, with downward-firing stereo speakers that get plenty loud, but deliver a fairly narrow soundstage. You were never going to get properly rumbling bass from such a skinny unit, but there's a decent tonal balance that matched our expectations from the Harman branding. YouTube and Spotify will do just fine, but you'll want headphones for when you boot up a game.
Performance & battery life: gaming goodness
With an Intel Core i7-12800H CPU running the show, the Legion Slim 7i isn't wanting for performance. The 14-core chip has six hyperthreaded performance cores for serious gruntwork, and eight efficiency cores that handle simpler stuff to keep power consumption under control. Synthetic tests put it above the M1 Pro-powered Apple MacBook Pro 16, and for desktop duties it proved perfectly potent, editing photos flawlessly and scrubbing through 4K video footage with little effort.
The processor is paired with 16GB of RAM, but 8GB of that is soldered to the motherboard. With only one free slot, you won't be able to upgrade to matching memory in the future, which could mean a slight performance penalty. At least the 1TB M.2 SSD can be swapped out easily enough if you need more storage later down the line.
Gaming performance is commendable, with the RTX 3060 dedicated graphics card able to run esports titles at 165Hz without relying on Nvidia's DLSS upscaling trickery. That said, the screen's 2560×1600 native resolution asks a lot from the silicon. Cyberpunk 2077 wouldn't top 60fps with ray tracing enabled, unless we cranked the DLSS levels right up. You can get perfectly playable results in the latest titles if you don't mind dropping some settings and engage the Performance mode, which kicks the fans into overdrive without creating a racket. Still, an RTX 3070 ti is arguably a better fit for the 1600p panel.
We had no complaints on the battery life front. Our Legion Slim 7i had an expanded 99wHr battery, a sizeable increase over the standard 71wHr cell and one that doesn't add much to the total price, so seems like a box worth ticking. Away from the mains, the dedicated GPU is bypassed in favour of the one built into the processor, letting it last for up to ten hours in simple tasks. That's up there with the best 16in machines, and impressive for a gamer-friendly model.
Lenovo Legion Slim 7i verdict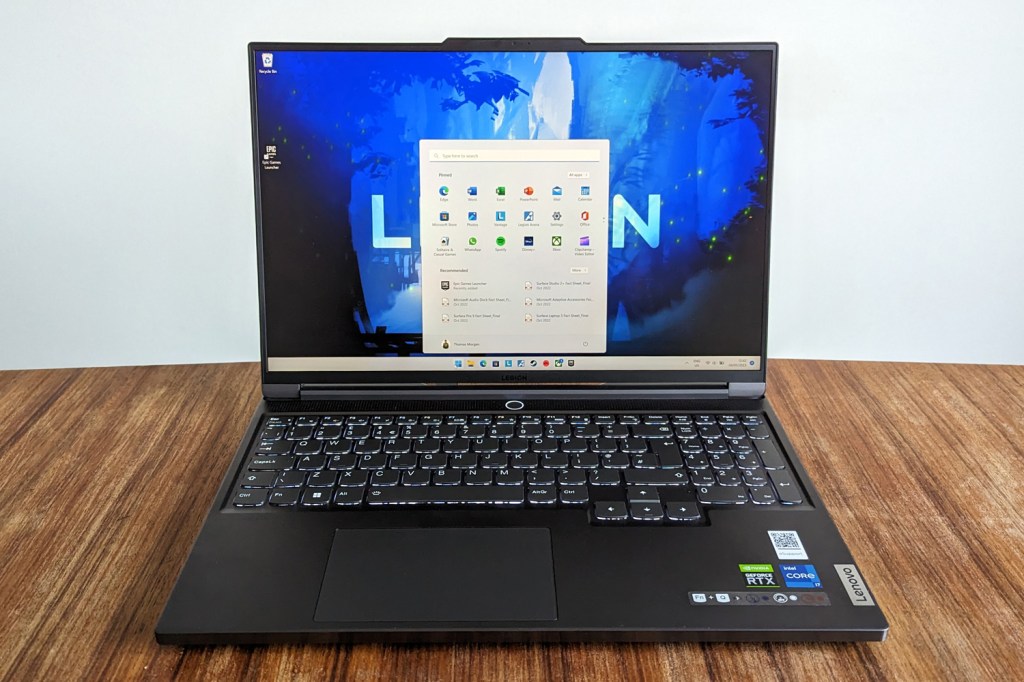 With sharp looks, a high quality screen and more than enough desktop performance for both work and play, the Legion Slim 7i is a real portable powerhouse. It's got gaming pedigree, but doesn't scream that fact from the rooftops, so it won't look out of the place in the office. Add in impressive battery life courtesy of clever GPU-swapping tech, and there's little it can't do.
That said, we don't think the version tested here is the pick of the bunch. Now that Intel and Nvidia have announced their next-gen processors and graphics cards, prices of 'older' models have quickly begun to dip, meaning you can pick up an otherwise identical machine with an RTX 3070 ti for pretty much the same money. Rivals like the Acer Predator Helios P300 are very closely matched, although the Legion bests them for sheer portability.
13th-gen Intel CPUs and Nvidia 4000-series GPUs might be the next big thing, but they'll carry a big price premium for the foreseeable – and the hardware inside the Legion Slim 7i isn't far behind. Grab one in the right spec and there's an awful lot to like here.
Stuff Says…
Powerful enough for gaming, yet slim and stylish enough to take on the move – the Legion Slim is a capable all-rounder. Just be sure to shop around, as the version tested isn't the sweet spot of the line-up.
Good Stuff
Slim, sturdy build looks and feels classy
Superb desktop performance
Sharp and sizeable screen
Bad Stuff
RTX 3060 outmuscled by rivals
Limited upgrade potential
Lenovo Legion Slim 7i technical specifications
| | |
| --- | --- |
| Screen | 16in, 2560×1600 LCD w/ 165Hz refresh rate, HDR400 |
| CPU | Intel Core i7-12700H (6 performance core, 8 efficiency core) |
| Memory | 16GB DDR5 |
| Graphics | Nvidia RTX 3060 6GB |
| Storage | 1TB NVMe SSD |
| Operating system | Windows 11 |
| Battery | 99wHr |
| Connectivity | 2x USB-C/Thunderbolt 4, 3x USB, HDMI, SD card reader, 3.5mm headphone port |
| Dimensions | 358x260x17mm, 2.17kg |