Lenovo Moto Z review
Do modular tricks make this Moto flagship utterly Z-licious?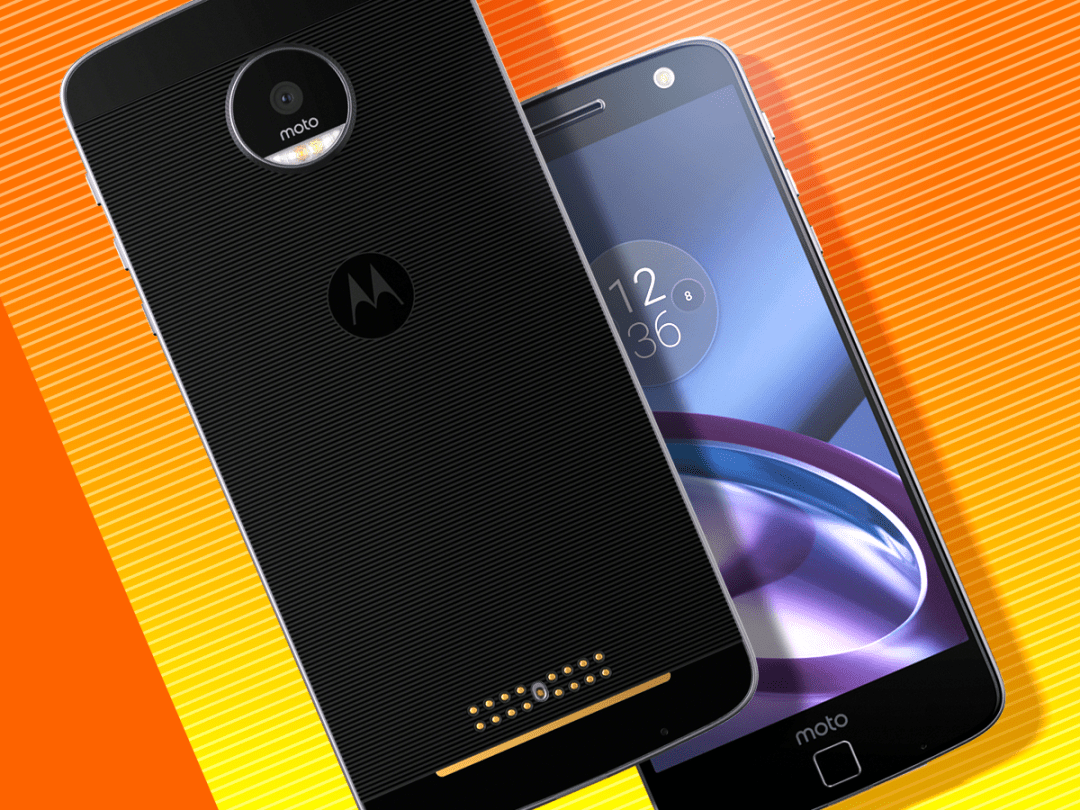 Lenovo has done more than shake up the name for 2016's top-spec Moto.
Last year's Moto X was a flagship phone that didn't put a massive hole in your wallet, but its replacement has an all-new purpose.
The Z is the first Moto to go modular.
That means snapping on and plugging in accessories, a bit like you can on the LG G5. Instead of a snap-off slot on the bottom, Moto's slab-like peripherals attach to the back with super-strong magnets – letting you add a battery pack in a pinch, or pump up the party with some speakers without powering down the phone first. It works and it's cool, but is it essential? Let's find out.
I've been using a Verizon-exclusive Moto Z Droid Edition, but international versions coming this Autumn won't have the "Droid" branding. Otherwise, the plain Moto Z ought to be pretty much identical to what you see here.
MOTO Z DESIGN: MODDABLE MOTO
It's on the back where the magic happens. Those 16 metal dots connect and lock each Mod into place. It seems a bit odd to have all of those exposed on a smartphone, but there's no danger in holding the phone without a case – it just feels a bit awkward to have 'em against your fingers.
Without a Moto Mod plugged into the back, the Z is a remarkably slim phone. Sure, the camera module pops out a few extra millimetres, but the rest of the body is a paper-thin 5.19mm.
I'm tempted to call it too thin. The side edges don't sit flush with the flat back, and feel a bit too rigid in your hand without a Mod or back cover connected.
The Droid Edition comes bundled with a wooden back cover that snaps right on like any other Mod, but it's purely decorative and adds a welcome bit of thickness. It's thick enough to close the gap with the camera module and make the back properly flat. It's still slippery though, so I couldn't find a great grip.
MOTO Z DESIGN: OUT OF TOUCH?
Once you look past the upgrade pins, the Moto Z isn't the flashiest of flagships. I like the striped pattern on the back, even if it is a complete smudge magnet, and the unibody build means no unsightly seams.
Otherwise, it's mostly defined as black and aluminium. So basically just like two thirds of all Android phones out there right now.
The fingerprint sensor is the one exception. It doesn't double as a home button, and isn't flanked by the Back and Recent Apps keys. It floats around in empty space, rather than somewhere convenient.
Oh, and there's no headphone port here: Lenovo preempted Apple's rumoured iPhone 7 plans and pulled the plug on the classic 3.5mm port. That means using an included 3.5mm-to-USB-C adapter, USB-C headphones, or a Bluetooth-connected model.
Yes, that's definitely a drag if you have traditional earbuds or cans.
MOTO Z MODS: WORTH THE FUSS?
At launch, you've got three Mods to choose from: the Incipio offGRID Power Pack (US$60), JBL SoundBoost speaker case (US$80), and Moto Insta-Share projector. I've only had the chance to play with the first two, but fingers crossed I'll be testing the projector soon.
Incipio's 2,220mAh battery pack basically doubles the Moto Z's own capacity, so pair them together and you've got one hell of a phone powerhouse. They'll easily clock up two days if you don't go crazy, but even Pokémon Go addicts will be able to play all day without also bringing along a portable power pack.
The phone recognises the extra battery pack immediately once connected, and shows you its battery level alongside the core phone's charge.
Meanwhile, the JBL SoundBoost speaker packs a powerful punch for its size, plus it has a kickstand for blasting tunes while propped up on a desk – or for when you're watching a movie on the go.
It's bulky, and not something I'd want to keep attached at all times in my pocket, but it works with zero effort once connected. It's also got a 1,000mAh battery built in, so it's not sucking power from the phone when the tunes are blaring.
I like the concept, but you'll get much better sound from a slightly larger and pricier standalone speaker – one that'll play nicely with other devices too. That's pretty much my takeaway from the battery pack as well.
It's neat that these Mods plug right into the phone, but is that benefit so great you're happy to tie yourself in to the phones they actually work with? I'm not so sure.
MOTO Z SCREEN: QHD BEAUTY
It might not match the Moto X for sheer size, but the 5.5in screen is still a sharp one: a QHD, 2560×1440 resolution makes the Moto Z an absolute eye-popper.
LCD has been ditched in favour of AMOLED, which gives dark pictures and video incredible depth and contrast. Moto's panel isn't as lurid as a Samsung Galaxy, either. Colours still pop, but look lifelike while they're at it. You can flick between Standard and Vivid colour options, but there's not a major difference between the two. Whichever you pick, you'll get crisp text and graphics.
The always-on screen might help put your mind at ease that you haven't just missed a crucial call, too.
Infrared sensors on the bottom trigger the screen when your hand gets close, putting dim notification previews on the black backdrop. It's handy for quickly seeing if it's worth replying to that WhatsApp group or not, without fully powering on the screen or using much battery in the process.
MOTO Z CAMERA: A SHARP SHOOTER?
Optical image stabilisation, laser focus, twin LED flash and "zero shutter lag" – the 13MP rear camera sounds brilliant on paper.
In my hand, though, it felt a little sluggish; snaps would sometimes take a couple of seconds to save, and you'll get scolded for moving the phone while it works whatever magic it's doing at that precise moment.
On the upside, my photos were consistently impressive, even on the default settings. You get lots of detail, especially in close-up shots, with bright colours and (mostly) natural-looking results.
Your pics will have more pop on a Galaxy S7, with the wider aperture catching more light for vivid snaps. It's still the best phone camera around, but for most people, the Moto Z will be plenty capable.
It can also record some pretty stunning 4K video, even if your clips are limited to 30fps. Drop down to Full HD and you can record at 60fps, and you can flick on HDR for better dynamic range too.
The 5MP snapper on the front will do the trick for selfies and group shots, even when you're out on the town – that front flash means you won't have to fill your Facebook feed with grainy photos the morning after while you deal with a crushing hangover.
MOTO Z PERFORMANCE AND BATTERY: POWER PACKED
Want to run with the big boys in 2016? You'd best be packing a Snapdragon 820 CPU and 4GB of RAM. The Moto Z has got you covered here, putting it on par with the LG G5, HTC 10, and U.S. version of the Galaxy S7.
There's no doubt it's fast – not miles faster than one of last year's flagships, mind, but enough to whip through Android Marshmallow without any lag. 3D games are no problem at all, and multitasking won't slow you down either.
It can run pretty warm inside the Moto Z, though, and the wooden Style Mod cover doesn't help things. After a 15 minute benchmark blitz, it felt really toasty.
The CPU might not be a power vampire, but battery life still isn't the best. The super-thin build means there's only room for a 2,600mAh battery. That's enough to get you through the day on average use, without having to stop for an afternoon top-off, but anyone cranking Netflix or playing Pokémon Go may struggle to hit the end of the night.
It's enough to make the Incipio battery Mod seem essential, especially as it adds super-convenient wireless charging, but it's a little bulky and muddles the premium look of the phone.
At least is uses Qualcomm's fast charging, so you won't be sat around forever while you wait for it to refuel.
MOTO Z SOFTWARE: PURE MALLOW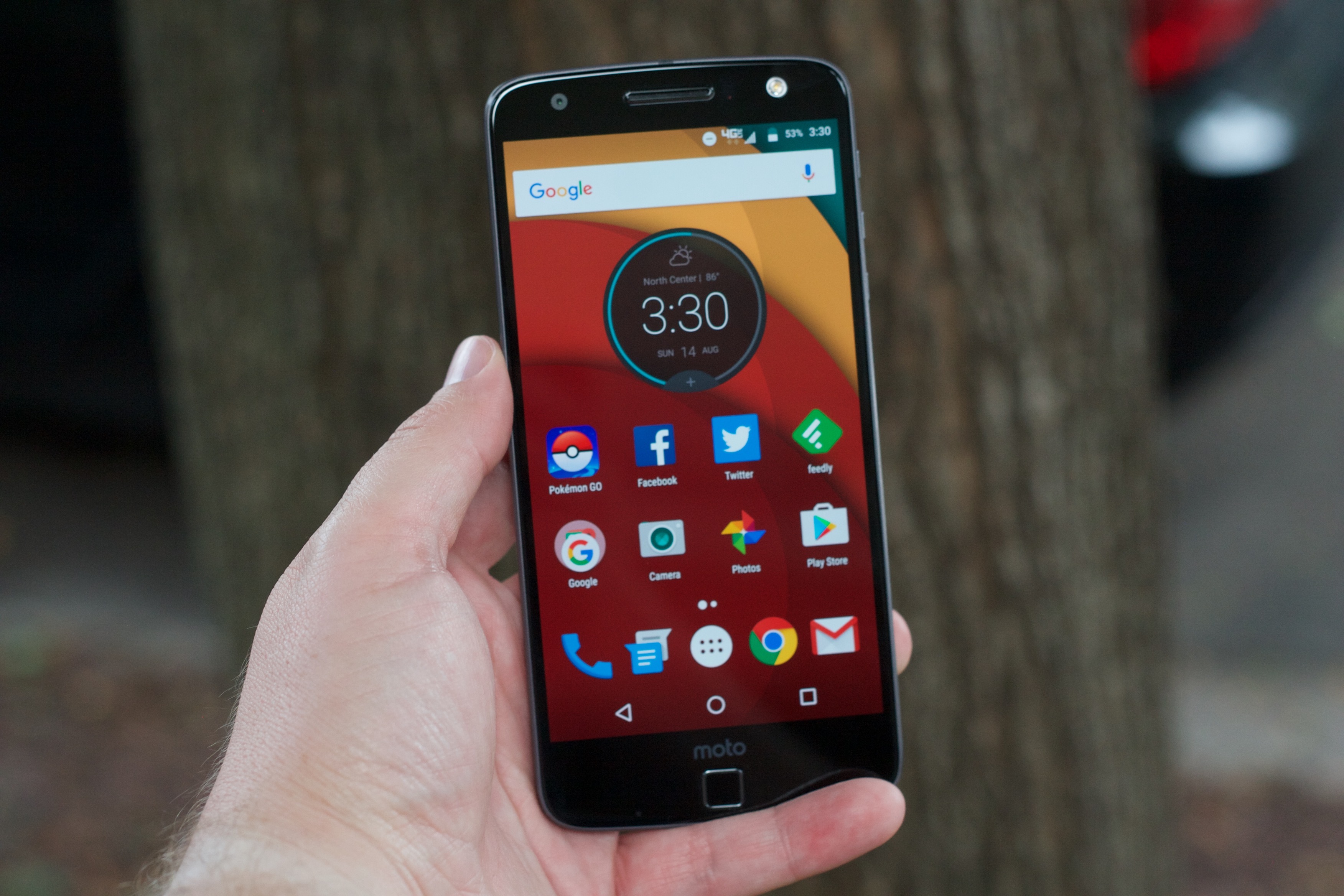 Lenovo might be shaking things up with design and price, but the Moto Z keeps one of our favourite bits of Motorola phones. Stock Android.
Or rather, almost stock. This spin on Google's OS isn't entirely pure, but it's uncluttered – unlike the thicker skins found on other big-name phones. It runs super well here too. If you've used a Nexus phone before, you'll be right at home here.
You get Android 6.0 Marshmallow out of the box, but hopefully the near-stock experience means it won't take long for Android Nougat to show up once it gets officially released.
MOTO Z VERDICT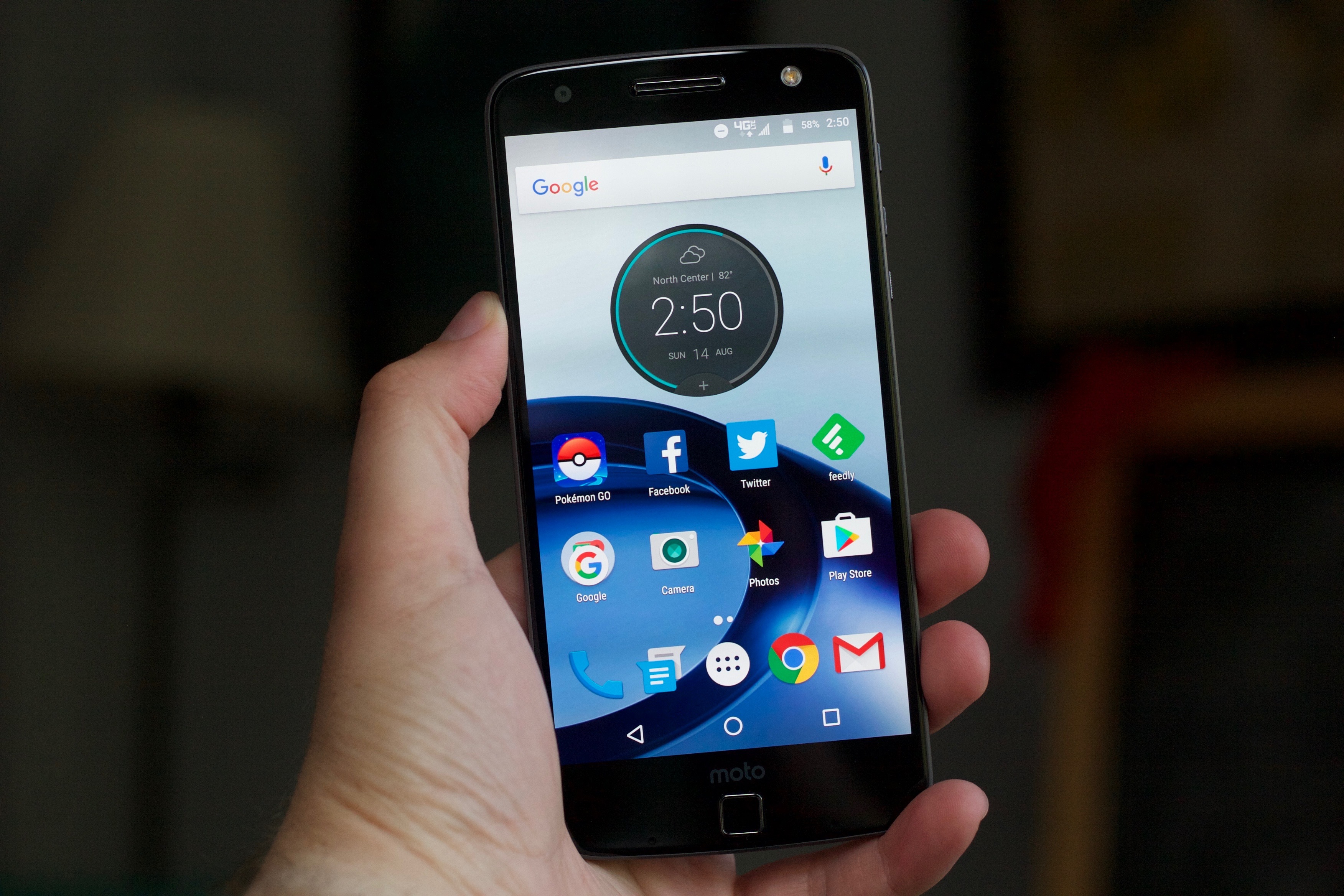 Last year's Moto X Style squeezed flagship specs into an affordable body. That approach has gone out the window for the Moto Z; it's a pricey phone with pricey optional perks, ones that'll set you back between US$60 and $300 apiece.
Lenovo says more Mods are coming, but right now they're all "nice to haves" rather than must-haves. Even if you're impressed by the potential of plug-in upgrades, it's tough to justify splashing the cash when the Mods aren't absolutely brilliant essentials.
That leaves the OnePlus 3 pretty much unopposed as the inexpensive flagship of choice, and the Galaxy S7 stays on top at the high-end. If you're thinking about spending £500+ on an Android phone right now, it handily tops the Moto Z in core features and overall appeal.
Lenovo's clearly onto something with how its Mods attach and work, but we'd still rather have an awesome phone that checks all the boxes without also having to shell out for attachments.
Tech specs
| | |
| --- | --- |
| SCREEN | 5.5in, 2560×1440 AMOLED |
| CPU | Qualcomm Snapdragon 820 |
| MEMORY | 4GB RAM |
| CAMERA | 13MP f/1.8 (Back), 5MP f/2.2 (Front) |
| STORAGE | 32GB on-board, microSD card slot |
| OPERATING SYSTEM | Android 6.0.1 Marshmallow |
| BATTERY | 2,600mAh |
| DIMENSIONS | 153x75x5.19mm, 139g |
Stuff Says…
Flagship appeal, but Mods can't make up for the Moto Z's shortcomings
Good Stuff
Excellent QHD screen
Plenty of power
Moto Mods work like magic
Bad Stuff
Awkward design elements
Sluggish camera